When thinking of the beautiful country Argentina, what are you impressed about? How about delicious Argentine desserts? I am sure you all fall in love with them at first glance!
The elegant combination of sweet and aromatic ingredients creates addictive and typical desserts that are waiting for you to discover.
It's time to add some new stunning dessert recipes to your favorite collection because some sweets after a meal will surely bring you pleasure.
To help you get more sweet choices, I will offer you 25 nice ideas for desserts coming from Argentinian cuisine. Now, take out your cooking notebook and save the recipes you love for later use!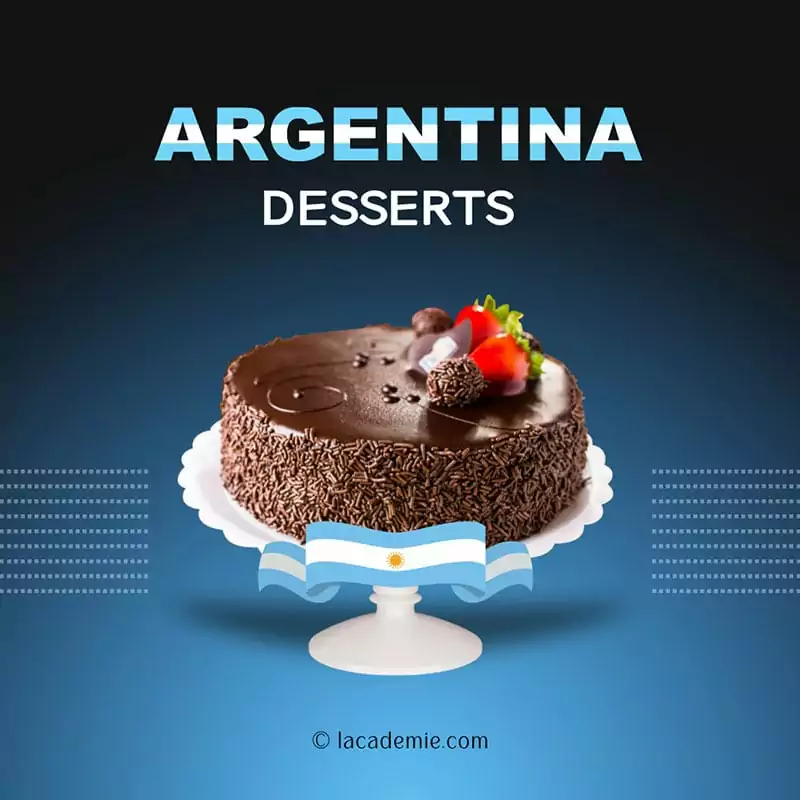 List Of 25 Mouth-Watering Argentina Desserts You Should Not Miss.
When it comes to Argentine desserts, there is a variety of simple but super delicious sweet options you can choose from.
1. Dulce De Leche (Sweetened Condensed Milk Caramel)
2. Dulce De Membrillo (Quince Paste)
3. Dulce De Batata (Sweet Potato Paste)
4. Alfajores (Dulce De Leche Sandwich Cookies)
5. Chocolate Alfajores (Argentine Chocolate-Dulce de Leche Sandwich Cookies)
6. Arroz Con Leche ( Rice Pudding)
7. Chocotorta (Chocolate Cake)
8. Flan
9. Garrapiñadas (Caramelized Peanuts)
10. Panqueques Con Dulce De Leche (Dulce De Leche Crepes)
11. Pasta Frola (Argentinian Lattice Tart)
12. Coconut & Dulce De Leche Tart
13. Pastelitos de Dulce de Membrillo (Quince Paste Pastries)
14. Pionono Relleno con Dulce de Leche
15. Argentinean Rogel
16. Tortas Fritas
17. Argentinian Medialunas (Croissant-style Pastries)
18. Dulce de Leche Gooey Bars
19. Dessert Empanadas (Chocolate & Dulce de Leche Empanadas)
20. Alfajores Cupcakes
21. Dulce de Leche Brownies
22. Dulce de Leche Cronuts
23. Dulce de Leche Ice Cream
24. Café Con Leche (Coffee With Milk)
25. El Submarino (Argentinian Hot Chocolate Drink)
25 Delightful Argentina Desserts Of All Times
Let's dive into the following simple but wonderfully palatable desserts of Argentina.
Dulce de Leche is a caramel-colored confection commonly used in Argentine desserts. Or you can find it in other countries, like desserts in Dominica, Chile, etc. Now, let's learn how to make this baking ingredient within 5 minutes!
In this recipe, sweetened condensed milk is the only ingredient you will use. So, the result will be a sweet, decadent, and sticky dulce de leche that can be used as a topping, filling, or dipping of different baked goods and desserts.
Or if you want, it can be a great gift for your friends or neighbors. Everyone will surely love this sweet stuff!
Dulce de Membrillo is a popular Argentina paste and candy made of quince, a hard fruit looking like a cross between a pear and an apple. This fruit or vegetable starting with "Q" has a complex flavor that makes it a great addition to both sweet and savory dishes.
However, you cannot eat the fruit raw. Instead, it needs to be cooked for consumption. The perfectly sweet floral aroma of cooked quince allows it to be a beautiful ingredient in this recipe.
The fresh quince will be cooked with sugar until it becomes a sweet jam that can be used to spread on sandwiches, crackers, cakes.
Dulce de batata is a sweet potato candy in the form of jelly. To make the dessert, the mashed sweet potatoes will be cooked slowly with vanilla flavor and then mixed with gelatin to create a firm and soft texture. This will be a beautiful treat for every kid!
The Alfajores are one of the most traditional and perfect cornstarch cookies of Argentina. In fact, there is another version in Peruvian sweet course which is similar to those Argentina cookies.
It contains two discs of cookies sandwiched together with dulce de leche, a caramel-like sweet jam. Then, the cookies' sides will be coated with some shredded coconut that brings a slightly aromatic sweetness to the cookies.
The soft and tender texture of the sweet dessert will mix well with the heaven match of coconut and dulce de leche. Everything will melt gently in your mouth. What is better than these cookies?
Just follow some simple steps, and you can make addictive chocolatey cookies that are a famous dessert in Argentina. The soft cookies will be filled with Dulce de Leche, like the traditional Alfajores.
However, instead of coating them with shredded coconut, a semi-bitter and smooth chocolate layer will cover the whole cookies, which creates a mouth-watering look of the cookies. The sweet and rich chocolate flavor of the dessert will surely rock your world!
Are you curious about how a traditional and yummy Argentina pudding is made with rice? Let's discover the secret here. This is such a special dessert made from rice, water, milk, and cinnamon.
To be more specific, the rice will be cooked over low heat in a milk mixture until it gets a thickened consistency.
The cinnamon-flavored rice can be served warm or cold, both of which can bring you a new delightful favorite!
Chocotorta is a quick and easy dessert originating from Argentina. This no-bake recipe is usually prepared as cakes for celebrations and birthday parties. Even if you have no skill in cooking, making the Chocotorta is just a piece of cake!
The base is made with milk-dipped chocolate cookies, and then one layer of silky Dulce de Leche and cream cheese mixture is topped on it.
After that, just repeat the layers of cookies and cream until you use up all of the prepared ingredients.
The pieces of rich and indulgent Chocotorta will be a wonderful gift you can give your family members after a meal!
Have you ever made fragrant flans for your ending meal? If not yet, you should try it at least once, and you will never go wrong with it!.
Flan is a well-loved dish worldwide. There are numerous flan varieties based on different countries. For example, you can find this dish in German dessert menus, Caribbean, American, or Asian countries. But regardless of what recipe, flan is easy to make.
The soft flan custard is the perfect combination of some common ingredients, including eggs, condensed milk, vanilla extract, and sugar, which create a rich and slightly sweet dessert.
Serving the flan with some topping of whipped cream and homemade dulce de leche will be a match of heaven!
Garrapiñadas is a specialty of Argentinian street food. It is simply peanuts caramelized with sugar.
All you need to do is cook the peanuts in water and sugar until the water content has almost evaporated, and then the rest will be peanuts and caramel.
The aromatic peanuts blended with the sweetness and vanilla flavor of firm caramel will be a favorite snack or dessert of all occasions.
This is one of the most popular breakfasts or desserts of every single Argentine family. It consists of a light crepe filled with a thin layer of dulce de leche for a slightly sweet and aromatic dish.
The sweet dessert comes with variations of serving. You can top the crepes with some powdered sugar if you like a sweeter taste.
Or, if you love creamy dessert, a topping of whipped cream or scoops of ice cream will fulfill your favorite. In addition, some fresh berries or slices of banana will also help highlight the savory crepes.
Enjoy some light and flaky tarts for your perfect dessert. Why not?
In this recipe, the vanilla-flavored pie crust will be filled with dulce de leche for an Argentinian-style tart, or you can also substitute it with quince paste, a sweet and aromatic jam made of quinces.
When serving the tarts, you just need to sprinkle some powdered sugar on them for a slightly sweeter dessert.
If you are a loyal fan of desserts made with coconut and dulce de leche tart, you will never go wrong with this treat! This recipe is so simple to be made with only three layers of base, filling, and topping.
It is a flaky, buttery, and citrus crust filled with a thick layer of dulce de leche and then topped with aromatic and sweet bits of coconut. The sweet and moist tarts will be a big hit with sweet lovers!
The combination of sweet jam and crispy pie dough is always a match of heaven! It also applies to this recipe.
The flower-shaped pastries filled with quince paste seem to be simple but super delightful when they melt gently in your mouth! The special note of the desert is the method of making flaky pie crust with a slightly sweet taste.
And the rest of the job is so simple to put small amounts of quince jam on the doughs' center and cover well before you deep-fry them. This is a yummy dessert for every celebration, especially buffet parties.
This is one more dessert recipe with dulce de leche I want to offer you. Bite-size Piononos will surely blow your mind! It is simply an almond-flavored thin sponge cake filled with a mixture of rich dulce de leche and whipping cream.
Then, it is rolled up to shape a log before being cut up into smaller slices for serving. For a perfect sweet and savory flavor, you can drizzle caramel frosting on the Piononos.
This will be a hit with your children after meals due to its sweet and creamy flavor!
The Rogel cake is a classic dessert in Argentina's culture. It is so versatile to be presented on various occasions such as birthdays, weddings, or any parties calling for a delicious dessert.
And of course, you can prepare it for serving after meals. It is the stacked layers of crispy york-based pastry filled with tons of dulce de leche.
Until now, is it still simple? The answer is yes because you need to top off the cake with delicious Swiss or Italian meringue, a foam of air bubbles made with sugar and egg white.
Such a sweet, easy, and decadent dessert recipe. So, what is better than this one?
Tortas Fritas is not only a famous street food in Argentina, but it is also known as a great dessert on rainy days.
Enjoying a cup of hot coffee or chocolate while chewing pieces of tortas Fritas will be the wonderful enjoyment you should try!
Sweet and buttery deep-fried tortas will be sprinkled with powdered sugar. Its simplicity in terms of flavor and ingredients allows it to mix well with favorite fruit jams.
It can be a vegan-friendly recipe when you replace butter with vegetable oil. Of course, it will lose some buttery flavor, but I believe vegetarians can easily accept this!
Medialunas is a soft crescent pastry made from butter and eggs that create the rich flavor of the desert.
The sweet rolls are flavored with lemon and vanilla, which bring you a distinct taste. They can be served with sweet condiments, dulce de leche, or chocolate spreads.
In addition, drinking some milk coffee while grabbing some medialunas will bring you to heaven!
Are you craving the chewy texture of cool sweet dulce de leche? If yes. Let's make some gooey sugar cookie bars with it!
The cookie dough will come with a filling of dulce de leche and then be topped with sprinkles of the cookie dough and brown sugar mixture if you want a sweeter topping.
After that, you will bake it until the top starts turning light brown. Adding some scoops of ice cream near the bars for serving will bring you a perfect dessert of all times!
Let's say "Hi" big fans of chocolate! It's your turn to fulfill your chocolate dream with yummy empanadas – a popular dessert in many countries, including Argentina, Mexico, even in Cuban dessert ideas. And each of them has their own way to shine at your party.
To make this, the chocolate pastry dough will cover dulce de leche filling before it goes through the baking process.
The result will be sweet and chocolatey empanadas that are better served warm with sprinkles of cocoa powder and a scoop of vanilla ice cream.
Should you prefer a more savory version of empanadas, allow me to introduce you to a signature dish from Uruguay – Empanadas Criollas (Creole Meat Pie). Although this dish was heavily influenced by Spanish and Portuguese cuisine, it still has unique Uruguayan flavors.
If you love stunning cupcakes, you should not miss this baking recipe! The center of rich chocolate Alfajor cupcakes will be removed and then filled with the sweet caramel dulce de leche.
After that, the dulce de leche and Swiss meringue frosting will be used to top the cupcakes. The special note dressing for the dessert is a flaky and light Alfajor cookie put on the top.
The appealing look of the cupcakes will attract people to hold them before their distinctive flavor is realized in the first bite!
Dulce de leche brownies are a delightful combination of caramelized milk and chocolate. This is a big hit for all children.
Just try the thick and fudgy brownies once, and you will be hooked with the rich and decadent dulce de leche. A topping of ice cream or drizzles of lovely caramel will bring you a divine dessert!
Dulce de leche glazes topped on baked goods are always a special note of every dessert.
Similarly, in this recipe, the fluffy and airy layers of cronuts will be topped with some sweet and silky caramel.
This makes the cakes eye-catching and also highlights the sweetness and decadence of the dessert.
It would be a big mistake when we cannot transform the addictive sweetness of dulce de leche into something more special than the filling or topping of a cake. So, just cool your brain with dulce de leche ice cream!
To make the ice cream, you just need to prepare only three ingredients, including whipping cream, dulce de leche, and vanilla extract, and especially no ice cream maker is required here. So wonderful!
Instead of eating some sweet cakes for your dessert, enjoying a cup of espresso coffee with creamy steamed milk and some foaming topping will also rock your world!
Coffee in Argentina style is different from Vietnamese coffee – a classic Vietnamese dessert. But they share the same characteristics – they can be a perfect way to start new days.
To make the hearty cafe con Leche, you need to be careful and patient in every single stage ranging from making coffee to mixing the milk and coffee together.
Everything should be in its best quality, which brings you a perfect blending!
The Argentinian hot chocolate drink will be a beautiful treat for your family members, especially children, on winter days.
By putting some dark chocolate bars into a cup of hot vanilla milk, the heat will melt solid chocolate gradually, which creates a super milky and chocolatey drink.
It is perfect for busy days when you do not have enough time for time-consuming desserts, a mug of hot chocolate vanilla milk is enough for a bright day!
Make Your Life Sweeter With Some Lovely Dessert!
During hectic days, what is better than enjoying some tasty desserts after dinners with your beloved family? Just put something sweet in this up and down life, and you will feel better!
In comparison to making main courses, preparing some sweet stuff will not take you much time and effort. By sharing with your family members slices of yummy cakes, you send your caring and love to them. A cozy family should never lack sweetness!
Last but not least, if you have any other ideas or experiences related to Argentine desserts, please feel free to share them with me in this post. In case you love what I bring you today, give me a like or share as a big encouragement from you. Have a nice day!
Nutrition Facts
6 servings per container
---
Amount Per ServingCalories342
% Daily Value *
Total Fat 11.5g

17

%
Cholesterol 45mg

15

%
Sodium 173mg

8

%
Potassium 420mg

12

%
Total Carbohydrate 49.7g

17

%
Protein 10.9g

20

%
---
* The % Daily Value tells you how much a nutrient in a serving of food contributes to a daily diet. 2,000 calories a day is used for general nutrition advice.