Dominican desserts will have some significant features from an island country located in the Caribbean sea. Dominican cuisine is strongly inspired by Spain and some countries in Africa.
As a result, you might find some aromatic scent in the taste of many dishes in the Dominican. Spices and flavors are strongly affected by Spanish cuisine. Sounds lovely and exciting, right?
Now, let's follow me and find the specialties of Dominica desserts.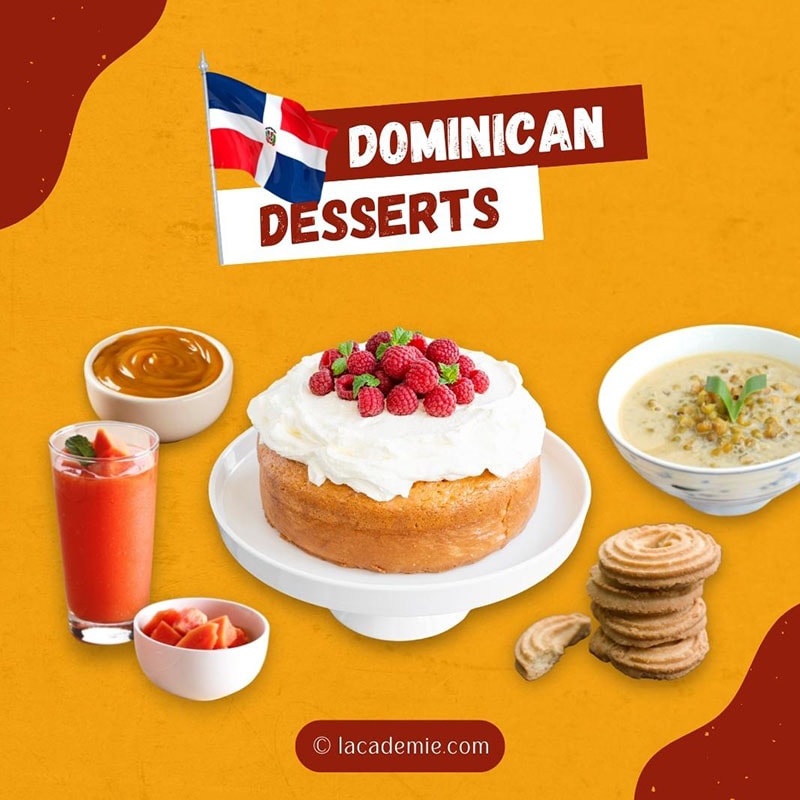 22 Yummy Dominican Desserts That You Should Try At Least Once In Your Life
Hang in there! I will fly you into the middle of the Caribbean sea and discover all these tasty dessert recipes from Dominica. Let's go.
Cake
Tres Leches Cake (3 Milk Cake)
Bizcocho Dominicano (Dominican Cake)
Dominican Arepa Dulce De Maiz (Cornmeal Coconut Cake with Pumpkin)
Pudding
Majorette Dominicano (Dominican Corn Pudding)
Maiz Caquiao or Chaca (Cracked Corn Pudding)
Pudin de Pan (Spiced Bread Pudding)
Jalea de Batata Dulce (Sweet Potato Pudding)
Arroz Con Leche (Rice Pudding)
Beverages
Morir Sonando (Orange and Milk Cocktail)
Batida de Lechosa (Papaya Shake)
Avena Caliente (Spiced Hot Oatmeal Drink)
Mantecaditos (Butter Cookies)
Coconetes (Rustic Coconut Cookies)
Dulce de Leche en Tabla (Milk Fudge Squares)
Dulce De Leche Brownies
Other Desserts
Dulce de Leche Cortada (Curdled Milk Dessert)
Guava Empanadas
Habichuelas con Dulce (Sweet Dominican Beans)
Dominican Bunuelos (Fried Dough Balls)
Classic Caramel Flan
Paletas de Coco (Coconut Popsicles)
Jalao (Coconut and Honey Candy)
Dominica, Here I come!
Top 3 Typical Dominican Cakes That You Should Take A Look
To be honest, who does not love cakes? As a most-like dessert, the Dominican loves to enjoy these creamy cakes on the holidays or even on non-occasion. Thus, let's take a look at some of my suggestions.
As the cake's name has spoken up its ingredients, the tres leches cake is made of 3 types of milk. Which includes evaporated milk, sweet condensed milk, and whole milk or heavy cream milk.
Therefore, the cake has an incredibly dense and moist texture. Because the sponge cake has been soaked in sweet condensed milk, the flavor is delightful and creamy. Plus, a thick layer of whipped cream on top makes it even tastier.
Due to its luscious taste, tres leches cake can be spotted in many countries around the world. You can spot this dessert in Peru, Mexico, Spanish, the Caribbean, etc. This really goes to show how well-loved tres leches cake is.
The most distinguishing factor in making the cake is how the cake is kept frosting. Therefore, the cake is always cold and very pleasant to enjoy.
Since orange juice is necessary to enhance the cake's flavor, make sure you pick the most suitable orange types for juicing. Then, the whole cake will be coated with whipped cream and decorated with some colorful sprinkles.
You can see this video to know more:
The Dominicans like to make their meal with corn or rice. It seems to be their essential daily component. That is how Dominicans created this cake.
It is an excellent combination of cornmeal versus pumpkin and coconut juice. Plus, it is super simple to make as well. To be honest, the cake is worth the try, a great fresh from the oven cake will never disappoint you.
Here Come 5 Most-Liked Puddings For Your Dessert List
From Western countries to the Dominican Republic, pudding has always been a prominent ingredient for various desserts. Follow me, I will show you my favorite pudding recipes.
Besides the Habichuelas con dulce, Majarete or corn pudding is also a great choice if you are looking for something sweet and creamy.
The combination is made by cooking fresh corn in a great mixture of coconut milk and evaporated milk. Therefore, the final appearance of the dish will be very smooth and has a creamy yellow color.
The dish is one of the traditional Dominican Republic desserts. The locals will remove the dry corn with ashes and then grind it in a big mortar to loosen the corn skin. Then, it is washed and boiled until the corn is tender.
In general, the corn pudding tastes pretty creamy and mild. It combines with a gentle hint of cinnamon that will bring along an excellent fusion dessert for everyone to share.
As an overall view, the spiced bread pudding is incredibly tender with crunchy edges. Plus, its flavor has a unique signature. To illustrate, it is very creamy and mild that may come from the special sauce that it has been soaked in.
In addition, this pudding is super easy to make. You can possibly cook it with just a one-skillet or a cast iron pan.
Here comes the very famous traditional pudding of the Dominican. It is usually served on Easter days when family and friends are gathering and sharing happiness.
The pudding combines white sweet potato, milk, and some spices such as cinnamon, cardamom, nutmeg, and clove. Therefore, the whole mixture tastes pretty creamy, mild, and luscious.
Rice pudding seems to be the most popular dessert that you can easily get in the Dominican Republic. The pudding is a great combination of rice, milk, and cinnamon.
The locals like to eat rice pudding as a perfect dessert to balance the whole meal. Plus, the dish is suggested to be enjoyed warm, when its smell is still fragrant and aromatic.
Hey Gourmets, Check Out These Lovely Beverage Ideas!
As a country of the West Indies and the Caribbean Sea, the Dominican signature dishes, including its desserts, have been affected by geology and tropical ingredients. And here are some examples that you can take a look at.
Do you believe orange juice and milk can pull off a delicious drink together? I didn't before, but I've changed my mind after I tried this famous drink. Its ingredients are super easy to find, including orange juice, milk, sugar, and some ice cubes.
As a matter of fact, the Morir Sonando has become the most favorite choice for summer cooling drinks. Plus, it is also nutritious and can be a perfect drink for the young generation.
A remarkable Dominican beverage to add to your daily diet, Papaya shake is considered one of the great boost drinks that will provide nutrition for you.
The stunning papaya is super easy to make anyway. The specifically required tool is just a single blender and all the prepared ingredients. Then blend the whole mixture until it is smooth and add some customized flavors such as vanilla or chocolate as your taste.
I feel so refreshing watching this video of making Papaya smoothie
In America or Europe, they have hot chocolate as their kid's most-like treat. In contrast, the Dominican likes to make a hot oatmeal drink called avena Caliente to comfort the sweetness craving.
It is made by soaking oatmeal overnight and simmered in milk and water until the whole consistency becomes fusion. Plus, it is usually served with some cinnamon to highlight the flavor.
Every country has some signature snack that the foreigners will remember. Well, so do the Dominicans. The local variations of snacks are so diverse that you should check them out right away!
I would like to suggest these Mantecaditos to you about how buttery the cookies are. This one has become the best Dominican Christmas treat all over the Caribbean sea or the North Atlantic ocean countries.
There are many ways to recreate the cookie's appearance to be more attractive. Some people like to add some colorful sprinkles to it, some are obsessed with the guava paste. In general, the cookie taste depends on how you love to make it and enjoy the cooking time.
These cookies are full of coconut smell and amazingly crumbly. With a touch of cinnamon to balance the creamy taste from coconut and butter, Coconetes are great to serve at any party.
Coconetes are often served with a cup of coffee, cocoa, or even fruit shake. In any case, the combination will blow your mind. Try it now!
Besides many exciting desserts that have been mentioned, there is another cute candy that you should try.
In case you have plenty of condensed milk that you wonder what to do. Then making a patch of sweetened milk fudge candies will solve that. It is super easy to make it, you can simply do it with just a single pan.
How can you resist these sweet treats? Let's check them out.
If you are trying to find a creative way to transform your ordinary brownie recipe, here come the Dulce De Leche Brownies.
With this recipe, your brownies will be more gooey, creamy, and of course, tasty. You can add some chopped pecans or walnuts to create a bit of crunchiness for your brownie bars.
Looking For Some Other Dessert Ideas? These May Solve Your Concerns.
Hey, let's discover some other Dominican desserts recipes. I guarantee that you may find something interesting to note in your must-cook list.
It can be implied that this one is another version of milk fudge squares. It is also a type of candy but in a curdled appearance and is made of sugar instead of condensed milk. It promoted itself to be one of the best-loved of the Dominican Republic people.
In general, this dessert is not sweet because the amount of sugar is adjusted to be balanced with lime juice. Therefore, the whole mixture is incredibly delightful, tasty, and usually indulged with cinnamon to enhance the spice and earthy taste.
No matter what you have, guava can transfer it into a wholesome dish, just like these guava empanadas. They can be a perfect snack with a sweet guava paste and ideally good with some cream cheese.
The ingredients are straightforward. Prepare the guava paste and add it to the dough as much as possible. Then you can fry it with oil or with air frying. Plus, if frying is not your favorite method, you can try to bake it, also very tasty.
The sweet pureed beans have become the most favorite dessert of the Dominican. The dish is also cooked with different types of milk: coconut milk, and evaporated milk. Therefore, the dessert is pretty sweet, mild, and creamy.
Habichuelas is a name of red kidney beans, a good source of fibers, vitamins, and many minerals. Thus, eating a glass of Dominican beans is not only delicious but also has a great nutritional value for your body as well.
If you can visit the Dominican Republic during the Lenten season, it is very easy to run into some Bunuelos street vendors. During this period, it becomes the local's favorite snack because the dish is tasty and it is very simple to make.
In general, the light brown well-cooked dough balls will be coated on a nice layer of cinnamon sugar. Plus, you can possibly eat those tasty Bunuelos with some whipped cream or caramel. The choices are yours because the season idea is to enjoy and feel gratitude.
As you know, flan is one of the most popular Mexican desserts. Its caramelized taste is a great highlight from the other dishes. Therefore, its affection has widened to many countries, of which the Dominican is one of them.
In general, it is a great consistency of milk, egg, and caramel to bring along a very tasty dessert. In my viewpoint, I would like to eat it cold when the flan texture is denser and add some espresso to balance the dish's sweetness.
Of course, you have to mention coconut when it comes to sweet treats. The Dominican has well-known coconut popsicles that, whenever you have tried, it is hard to forget.
I mean, the specific popsicles seem to be the most quality dessert that I have ever tried. It is made of authentic blended coconut mixed with sugar to create its sweet and creamy tropical taste.
You can not run away from these yummy Coconut Popsicles, watch it now!
Suppose you are still interested in candy and being thrilled for some more. Trust me, this Jalao or as known as coconut candy, will not disappoint you.
The candy's main ingredients consist of coconut and honey. Thus, the overall flavor seems to be a bit sweet and mild. In addition, you can find it no difficult to make. The candy can be made quickly, which is how it becomes the local Dominicans favorite treat.
How Was Your Flight?
After discovering the top 22 desserts in Dominica, how do you feel? What are your favorite recipes? In Dominica, there might be some usual ingredients that you have never heard of before.
As a result, try to learn about the ingredients in the recipes before you start trying them. It is excellent to find out new tasty ingredients, right? Otherwise, you can also learn some ingredients in cooking.
I hope you have a great cooking time! Good luck.
Nutrition Facts
12 servings per container
---
Amount Per ServingCalories529
% Daily Value *
Total Fat 18g

28

%
Cholesterol 105mg

35

%
Sodium 158mg

7

%
Potassium 244mg

7

%
Total Carbohydrate 86.9g

29

%

Dietary Fiber 0.9g

0

%
Sugars 62.1g

Protein 7.4g

15

%
---
Calcium

98

%
Iron

2

%
Vitamin D

21

%
* The % Daily Value tells you how much a nutrient in a serving of food contributes to a daily diet. 2,000 calories a day is used for general nutrition advice.