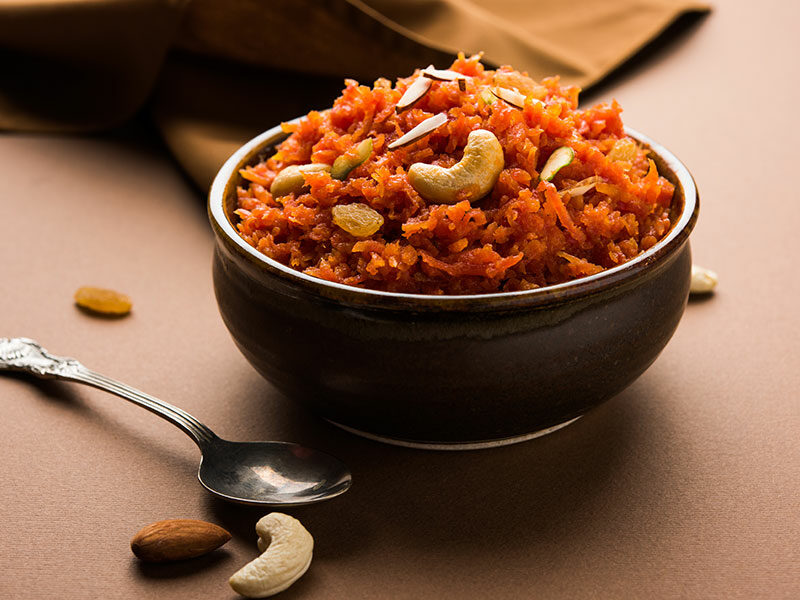 Whether you're a novice chef or a veteran, these easy Indian desserts are a fool-proof way to prepare scrumptious treats. Another bonus point to these easy recipes is that they're not time-consuming by any means, meaning you can have delicious desserts with little preparation.
Roll up your sleeves and gather your ingredients; you're about to make desserts so delectable that your tastebuds will burst with flavors. With these delicious and simple recipes at your disposal, there's nothing to stop you from mastering Indian desserts.
Top 25 Easy Indian Desserts With Complex Flavors
These easy Indian desserts may be simple, but they undoubtedly pack complex and enticing flavors. Add these sugary treats to your cooking list, for your loved one will surely love these.
Finger Food
Toasted Coconut Ladoo
Mysore Pak
Boondi Laddu
Milk Peda
Jalebi
Kalakand
Kaju Katli
Peanut Chikki (Indian Peanut Brittle)
Urad Dal Laddu (No-bake Protein Balls)
Sweet Soup
Gulab Jamun (Indian Milk Balls)
Rasgulla
Rasmalai (Indian Cheese Dessert)
Kheer Seviyan
Basundi
Pudding Or Cakes
Gajar Ka Halwa (Indian Carrot Puddings)
Aam Ka Halwa (Mango Halwa)
Kheer (Indian Rice Pudding)
Phirni (Indian Rice Pudding)
Puran Poli
Sooji Halwa
Cold Desserts
Shrikhand
Falooda (Indian Dessert Drink)
Fruit Custard
Kulfi
Shahi Tukra
Easy Indian Dessert Recipes To Prepare Fun Finger Food
Among easy Indian desserts, finger food usually calls for simple ingredients, straightforward procedures, and little preparation time. This is why if you're not certain of success, you can start with these easy Indian finger foods.
A simple snack you can make at any time of the year, toasted coconut ladoos are made from a few simple ingredients: coconut, condensed milk, cardamon, as well as coconut sugar. It's also possible to use other flavors like lemon, chocolate, or vanilla to prepare these coconut balls.
As one of Indian's simplest desserts, toasted coconut ladoos take only a few minutes to make. Because these delightful finger foods are so easy to prepare, you can even get your children to help you.
Ghee is an important ingredient in the dessert of Egyptian people. Similarly, it also plays a key role in this Indian recipe. Mysore pak, indeed, is a beloved South Indian dessert featuring chickpea flour, melted ghee, and sugar.
It has a soft, crumbly texture that will melt as soon as it's in your mouth. With its rich and buttery goodness, mysore pak has stolen the hearts of many people.
When preparing mysore pak, you should be careful not to let the ghee reach a boiling point. It's always better to let the highly-clarified butter melt slowly on medium-low heat. If your gram flour has a raw smell, you can toast it lightly to get rid of this unwanted odor.
Prepare sweet mysore pak with the clear instructions in this video.
A great dessert to serve with toasted coconut ladoo, boondi laddu is a buttery treat with a pleasant nutty note. It has a deliciously crunchy texture that makes it a perfect choice for comfort foods.
Boondi laddu is usually served during festive seasons in India, such as Diwali (festival of lights). Because this Indian treat is always associated with celebrations, people of all ages in this country absolutely love it.
While you can add various other ingredients like saffron, pistachio, or ghee to milk peda, at its core, this Indian dessert is all about milk. This decadent treat originated from how Indian people used to simmer milk until they can get to the evaporated milk solids.
Today, with various hassle-free recipes, there's no longer the need to wait for hours on end to prepare milk peda. You can simply get store-bought milk solids, mix them with sugar and your desired flavors. Within 10 minutes of cooking time, you can have a fresh tray of milk peda.
How many food's name start with the letter J that you know? Have you heard about Jalebi yet? If not, you must check this recipe now. A beloved food in Afghanistan as well as India, Jalebi boasts an appeal that even adults can't resist.
Also, if you like your finger foods extra crunchy, this dish will satisfy you. Deliciously crispy and crunchy, jalebi is a decadent Indian treat deep-fried to gain its famous texture. You might be surprised to know that Tulumba, one of the most popular Serbian foods, is also cooked the same way.
Although jalebi is one of the easiest Indian desserts, you need to be mindful of its batter consistency, which is the secret behind its delightful texture. While the batter should always be thick, make sure that it's not too thick that the batter can't flow free.
Make jalebi in record time with the simple recipe here.
Another fantastic milk-based Indian dessert, Kalakand has a sweet, creamy taste. Due to the elaichi flavorings and nut toppings, this popular Indian dessert also boasts a pronounced cardamon and nutty note.
Upon first glance, some people might think that kalakand is crisp and crunchy. In actuality, Kalakand is deliciously soft, grainy, and moist. When you hold the treat long enough in your mouth, the treat will melt rather satisfyingly.
If you go to Indian during festival seasons, you'll notice that Kaju Katli is served virtually everywhere. Simple yet delicious, kaju katli is a great gift in India for friends and families during celebrations or anniversaries.
Considering how delicious kaju katli is, many people are surprised to learn that this Indian treat is actually low-fat and gluten-free. Indeed, it's quite hard to imagine that something so smooth and tasty can be low-fat.
If kaju katli is a must-have during festivals in India, peanut chikki is a popular dessert come wintertime. The Indian's take on Peanut Brittle, this dessert consists mainly of peanuts and jaggery.
The key to delicious peanut chikki is not the combination of complex ingredients. Rather, it is how you prepare the jaggery that matters. You should always cook the jaggery until it turns crisp and hard. Undercooked jaggery will result in a soggy, pliant mess.
If you ever ask an Indian to name a fruit or vegetable that begins with "U", there's a high chance that they'll name urad beans, aka black gram lentils. These are a popular ingredient in Indian cuisin and is often used in both savory as well as sweet dishes.
Made from black gram lentils, urad dal laddu is exceedingly rich in protein and vitamin B9. Aside from that, urad dal laddu also features jaggery and ghee, which are great sources of iron and healthy fats, respectively.
As you can imagine, Urad Dal Laddu is incredibly nutritious, making it ideal as an Indian grab-and-go food at any time of the day. This Indian dessert might look like a huge indulgence, but it's actually quite a lot healthier than you may think.
Easy Indian Sweet Soups To Sate Your Inner Child
Beside serving soups as Indian-style appetizers, there are some soup ideas for easy Indian desserts.
I've compiled these simple Indian sweet soups that anyone can make without any hassles. As sweet soups are a prominent treat in Asia, it's not strange that India would also have plenty of sweet soups to boast.
Simply put, gulab jamun is Indian milk balls soaked in sugar syrup mixed with rose water. In addition to India, these sweet delights are famous in Pakistan, Bangladesh, Nepal, and the Maldives.
Like milk peda, gulab jamun is made from milk solids, which can be found in most Indian grocery stores. Aside from that, you'll need to prepare the flour and a leavening agent to make gulab jamun.
Although the milk balls are the stars of this iconic Indian dish, it doesn't make the syrup any less important. You'll need to make sure that the syrup is slightly sticky but not too thick. With the right consistency, the Indian milk balls will be able to soak up the mouthwatering syrup.
Make irresistible gulab jamun at home with the instructions in this video.
Deliciously spongy, rasgulla is a simple yet popular Indian dessert made from curdled milk. This mouthwatering milk-based dessert has a texture similar to cottage cheese and is usually served in hot sugar syrup.
Because rasgulla balls are incredibly spongy, you can adjust their sweetness depending on your preferences. If you like them sweet, soak the balls thoroughly with hot sugar syrup. Otherwise, you can squeeze the extra syrup from the balls to reduce the sweetness.
And if you love Indian rasgulla, you can't miss the authentic Bangladeshi dish for this sweet treat as well. Whether it's the Indian or Banglaedshi version of rasgulla, you'll be greeted with a gratifying sweetness and a swoon-worthy melt-in-your-mouth texture.
Prepare to be blown away by how delicious this rasgulla tastes. You can see this video to know more:
Take the rasgulla balls and dunk them in silky, thick cream, sprinkle in some cardamom, saffron, as well as pistachios, and you'll get Rasmalai. If you think rasgulla sounds delicious already, wait until you get your hands on rasmalai.
Enticing and hearty, rasmalai is suitable for any time of the day and any time of the year. You can serve it at any temperature you want, but I'd recommend that you chill the treat before serving. Cold Rasmalai makes the best dessert.
This North Indian dessert is an amazing combination of roasted vermicelli, ghee, milk, coconut, pistachios, almonds, cardamom, and sugar. While kheer seviyan somewhat resembles Western puddings, they are actually thinner in consistency and more like soup.
Kheer seviyan is quite a flexible dessert, meaning that you can add or subtract certain ingredients to suit your appetite. For instance, you can substitute almonds with roasted cashew, or you can use some pieces of dried fruits to give this more complex flavor.
Basundi is perhaps the easiest Indian sweet soup to make. It's simply thickened sweet milk mixed with cardamom, saffron strands, pistachios, and dried fruits. I know that when I put it like this, this dessert sounds painfully simple. However, one sip is enough to prove otherwise.
If you can't find cardamom, try to use other alternatives of cardamom like cinnamon, nutmeg, cloves, etc. To the naked eye, basundi resembles a drink. However, its thick consistency makes basundi closer to a pudding.
While basundi is not as thick as rabri, which is a type of thickened sweetened milk, its texture is quite close to that.
Simple Indian Desserts As Puddings Or Cakes
These easy Indian dessert recipes will make sure you can whip up a bowl of decadent pudding or some fluffy cakes. What's stopping you from giving these a try?
If you have a kid who keeps refusing to eat their carrots, you can try making these easy Indian carrot puddings. Mouthwatering and delectable, these vegetable-based puddings are so delicious that most won't be able to guess that carrots are the main ingredients for these.
Apart from carrots, ghee and milk are essential ingredients to these fluffy puddings as they will impart a rich, creamy taste to them. Best served warm, Indian carrot puddings will whet your appetite and warm your heart.
This will help you steal everyone's heart with the perfect gajar ka halwa. You can see this video to know more:
As the name suggests, this appetizing Indian sweet pudding is made from mango puree. The recipe also calls for ghee and cream, which will lend the dessert a robust, buttery flavor. For some crunch, throw in some cashew, pistachios, or your nuts of choice.
If you want your mango halwa to be as thick as possible, you can use thickening agents like cornflour. However, I've found that simply cooking the mango puree on low heat is enough to achieve a thick, creamy consistency—Yummy in my tummy.
Rice doesn't just appear in main dishes or accompaniments in Indian. In fact, this Indian rice pudding is an excellent example of tasty pudding desserts. Utilizing short-grain rice or basmati, this recipe guarantees a creamy texture that you will be raving about for weeks.
While you can add various different flavors to your Indian rice puddings, the most common one is rose water, which lends the dish a pleasant floral taste. In this case, you can add complexity to the dessert by adding some ground cardamom and saffron to it.
Making Indian rice pudding is easy with this recipe. You can see this video to know more:
You might be scratching your head in confusion. Isn't Kheer also Indian rice pudding? Yes, although when translated into English, these two go by the same name, Kheer and Kirni are actually two different desserts.
The main difference between Kheer and Phirni is that Phrini calls for ground rice, while Kheer typically is made from basmati. Due to this, these two have different flavors. Phirni is always served cold while the other can be served at whatever temperature.
Puran Poli is an amazing Indian-style bread filled with sweet lentils, cardamom, nutmeg, and sugar. After stuffing, the flatbread is usually fried with an abundance of ghee until golden brown to gain a rich, earthy, and buttery outer layer.
Even though puran poli does take quite some time to prepare, the easy preparation method makes up for it. As long as you're sticking close to the recipe, you'll have guaranteed success with these fluffy Indian desserts.
Soft, moist, and fluffy, sooji halwa is all you'll be looking for in a pudding. Sooji halwa starts out as a simple pudding until you add ghee, semolina, cardamom, and nuts to it. I can guarantee that by adding these ingredients to the pudding, you'll make it irresistibly delicious.
To make the perfect sooji halwa, you should make sure that all the main ingredients are more or less the same, except for water – which should always be doubled. Additionally, the semolina should always be lightly roasted to get rid of the raw taste.
Cold Easy Indian Desserts To Chase The Heat Away
Whenever the weather gets unbearably hot, you should make the easy Indian desserts below. Best served cold; these sweet desserts will make you forget the heat of the summer.
A staple yogurt in India, shrikhand is a thick, creamy yogurt that is then flavored with nuts, saffron strands, and cardamom powders. Because shrikhand comes from a fantastic blend of various ingredients, it boasts subtle yet complex flavors.
You can add other fruits into this dish, like mango, to create a yummy dessert that is made with mango. It not only looks stunning but also can refresh your summer.
In reality, Shrikhand is a dessert commonly found in India when summer comes or during the Indian festival called Rakhi/Raksha Bandhan. Aside from its role as a dessert, shrikhand can be served alongside curry and bread.
Discover two more unique ways to prepare shrikhand. You can see this video to know more:
Although falooda originated from India, its delicious flavors have made this a popular dish in Pakistan and many other South Asian countries. To put it plainly, falooda is a concoction of milk, vanilla ice cream, falooda seeds, basil seeds, rose syrup, and pistachio.
Most ingredients necessary for this tasty Indian beverage can be found in a store, so there's little preparation involved. If you can find all pre-made ingredients, then you'll simply need a spoon to mix these scrumptious ingredients together and enjoy your dessert.
You can see this video to know more:
What is better than fresh and juicy Indian fruits doused in creamy custards? Not to mention, everything is chilled in a fridge before being served during the afternoon. Now that's what I call heaven.
​​The main difference between Indian custard and conventional ones is that this wonderful Asian-themed dessert does not contain eggs. Aside from the addition of fruits, pistachios or other kinds of nuts can be thrown into the dessert for extra flavors and textures.
If you're craving some new ice cream flavors, why don't you check out kulfi? A popular treat during summertime in India, kulfi consists of full-fat milk, cream, cardamoms, and sugars. To garnish, you can sprinkle crushed pistachios or almonds on top.
As kulfi is made from thickened milk, it has quite a dense texture. As a result, one bite of this ice-cold dessert is packed with delicious and creamy goodness. Kulfi might not look that outstanding, but it's certainly a dessert you should try at least once in your life.
Shahi tukra refers to deep-fried bread pieces topped with thickened sweetened milk or sweet syrup. Due to its luscious flavors and decadent nature, it is sometimes referred to as a royal treat. Indeed, shahi tukra proves to be a luxurious treat to even the most demanding taste buds.
Depending on the weather, shahi tukda can be served either warm or chilled. However, if you have the chance to, you should try dunking hot, ghee-fried toast in ice-cold rabri. The two contrasting temperatures will surely please your palates.
Bring Asian Flavors To Your Kitchen With Easy Indian Desserts
Making these easy Indian desserts is a great way to unwind yourself and bond with your loved ones.
There's no need to fuss about complex preparation procedures, hard-to-find ingredients, or confusing instructions. And once you're used to these, you'll find making Indian desserts quite therapeutic as well.
Did you like these easy Indian desserts? If you have to choose, what Indian dessert will you make for your friend and family? Let me know your thought in the comment section below.
Nutrition Facts
24 servings per container
---
Amount Per ServingCalories114
% Daily Value *
Total Fat 4.4g

7

%
Cholesterol 11mg

4

%
Sodium 9mg

1

%
Potassium 121mg

4

%
Total Carbohydrate 16.2g

6

%

Dietary Fiber 3.7g

15

%
Sugars 9g

Protein 3.1g

7

%
---
* The % Daily Value tells you how much a nutrient in a serving of food contributes to a daily diet. 2,000 calories a day is used for general nutrition advice.