Are you searching for the best Filipino appetizers to start the next party or family gathering on the right foot? If that's a yes, I'm here to help! Filipino food culture has many diverse and tasty starters; I'm sure you'll find a new go-to!
From Lumpiang Shanghai to Kilawin, these infamous Filipino recipes have gained a significant reputation in the country and a special place on the dining tables of locals. And they're worth the hype, which you can experience at home without a hassle.
In today's virtual culinary trip, I introduce Filipino hors d'oeuvres at their finest, flavor profile, and quick recipes. You probably don't want to miss out on any of these, considering how many compliments you'll get after serving each!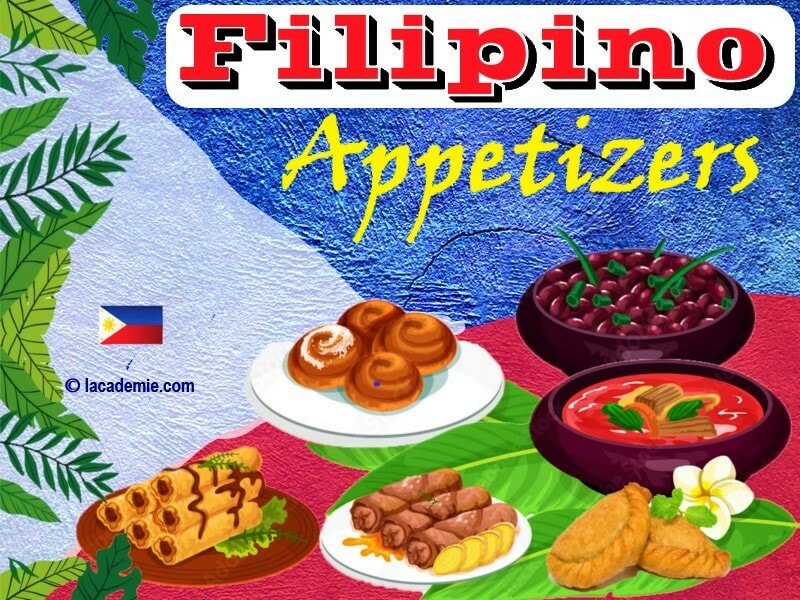 26 Crowd-Pleasing Filipino Appetizers For Starting The Party
It's time to discover the dynamic of Filipino food culture through this round-up of appetizers. Keeping these recipes up your sleeves will ensure beautiful meals and impress everyone around the table.
Total time: From 1 hour 10 minutes to 1 hour 30 minutes
Topping this round-up is none other than the all-time favorite: Chicharon Bulaklak. In essence, this Filipino appetizer is deep-fried ruffle fat. It's not the pig's intestines per se, but rather the tiny tissues connected to the pig's intestines.
When it comes to serving Chicharon Bulaklak, the options are endless! It's a popular pulutan (Filipino snack to accompany alcoholic drinks) and appetizer. For an adventurous eater, this crispy treat also makes a beautiful Filipino side dish for lunch or dinner.
Like other deep-fried foods, this mesentery dish is best served after cooking when it's still extra-crispy and warm. More often than not, locals have it with a vinegar-based dipping sauce on the side.
Prepare some Chicharon Bulaklak from scratch with this recipe!
Total time: 1 hour 15 minutes
Any seasoned foodie knows that Beef Empanadas originated in Spanish and Portuguese cuisines. It was carried to the Philippines during the Spanish colonial era and has remained a well-loved appetizer.
The basic version of this show-stopping Filipino ground beef dish comprises a tomato-based beef stuffing all wrapped up in a golden, flaky crust. These hand pies are so savory and full of flavors with a certain sweetness from sugar that Filipinos love in their recipes.
Total time: 15 minutes
A tasty starter that looks as delightful as it tastes, Panara is guaranteed to win everyone's heart. Complicated as it may seem, making this cherished Asian recipe is very easy and quick, taking less than 20 minutes in the kitchen.
Essentially, Panara features a wonton wrapper filled with a mixture of minced shrimp and bottle gourd (chopped upo). Upon deep-frying, this triangular-shaped boasts an incredible crunchiness on the outside that locks a rich, juicy, and delicious filling in every bite.
Total time: 2 hours 15 minutes
Even casual fans of Filipino food culture know a thing or two about Lumpiang Shanghai. The name itself hints at its Chinese origin, although it's considered to combine both Chinese and Spanish influences.
It's safe to say that this quintessential Filipino food has some of the most variants in Filipino cuisine. But if you're looking for a friendly and straightforward appetizer, wrap a thin crepe around a ground meat and veggie mixture before deep-frying the whole thing. Give it a try!
The easiest way to cook Lumpiang Shanghai is at your service!
Total time: 30 minutes
A crowd-pleasing appetizer to share with your family and guests, Kilawin is essentially the Filipino take on ceviche. The traditional way to make this dish is by marinating meaty and raw fish in a sharp blend of vinegar, ginger, tomatoes, and chiles.
One may consider Kilawin a quintessential Filipino fish-starring delight that celebrates the abundance of seafood since the country is a large archipelago. Tangy, refreshing, and toothsome, this simple ceviche is perfect to start any meal.
Hear it from a chef to see how you can nail Kilawin at home!
Total time: 30 minutes
Treat yourself to this easy and savory Filipino dish when you have some tofu around. At its core, firm tofu is cooked twice and added in to cook with red, green, chili pepper, and garlic.
The best thing about this recipe yet? It's a vegetarian dish packed with protein, making for an extra-healthy Filipino dish. Authentically, locals serve it on the sizzling plate or a cast-iron skillet for the eye-pleasing sizzling effect that makes you want to dive in quickly!
Total time: 30 minutes
Walking the busy streets in the Philippines, it's hard to miss the many stalls and eateries serving hot Pork Siomai. Originally a timeless Chinese specialty, this delightful Filipino pork recipe now owns a special place in the heart of Filipino adults and kids alike.
Essentially, this easy recipe features ground pork and a variety of vegetables. The filling is then wrapped in a wonton wrapper and left to steam away.
Crazy-delicious and straightforward, these bits of goodness are best paired with a calamansi dipping sauce with chili garlic paste.
Total time: From 25 minutes to 40 minutes
Undoubtedly, the one thing that sets Lumpiang Tinapa apart from other variations in the filling. Instead of ground pork, this beloved Filipino snack features flaked smoked fish and fresh vegetables. One teaspoon of filling per roll is best to keep it from turning soggy too fast.
From the first bite, you get the smokiness of the fish, the crispiness of the wrapping, and a refreshing taste of veggies. All of which make Lumpiang Tinapa the ultimate must-try appetizer.
Here's the easiest way to make Lumpiang Tinapa without a hassle!
Total time: 40 minutes
This unique Asian appetizer is guaranteed to win hearts, whether eaten as a savory appetizer or a hefty main course. A combination of minced pork lungs, carrots, annatto powder, and other seasonings is stewed until dry.
In terms of flavor, Pulutok is a significant and hearty fusion. It's so unique and delicious that it gives your taste buds an unforgettable mouthfeel. If the lung and heart give off a pungent smell, fret not! Boiling these organs in salt, lemongrass, and ginger will do the trick.
Total time: 2 hours 45 minutes
These Filipino beef ribs are made and shared whenever there's a beer party or drinking session. Twice-cooked beef spareribs and an Adobo-like (Filipino national dish) marinade meld together in this indigenous Pulutan (Filipino snacks to accompany alcoholic drinks.)
True to its name, Crispy Tadyang Ng Baka is incredibly crispy and addictive. A simple vinegar dip on the side is a must for this dish. Or else, enjoy it like a main course alongside a bowlful of warm rice!
Total time: About 30 minutes
Nothing says summer get-together like a tray full of Buffalo chicken wings. That's right. Easy yet bursting with flavors, this Filipino-style chicken specialty are just the ticket to impress anyone at the next barbecue party.
It's not the Filipino version without a great twist. Besides the tangy and spicy taste you often get from this dish, there's a certain sweetness from the sugar. Also, it's totally customizable whether you want it on the sweeter or spicier side.
For the final touch, a drizzle of sesame seeds or some chopped parsley will elevate the dish's visual even further. These fiery and good-tasting treats can be either enjoyed as hors d'oeuvre or as a main course with heaps of rice.
The Filipino take on buffalo chicken wings to take things to the next level!
Total time: 20 minutes
I bet you've never seen any dish like this! A treasured street snack across the country, Tokneneng gets its different orange color from either annatto powder or food coloring. These appetizing hard-boiled eggs are genuinely a street eats of wonder upon frying.
If you visit the Philippines, it's easy to find vendors everywhere selling this treat from early afternoon until late evening. The traditional way to enjoy this tasty treat is to pair it with a sweet and sour sauce.
Total time: 16 minutes
Let's be honest! Who doesn't love cheese sticks? These hot treats with a golden crust are an excellent way to start a meal. Plus, it's a great dinner recipe for the entire family – including kids and picky eaters.
Making these cheese sticks are way more straightforward than you may expect. From start to finish, the appetizer takes 16 minutes to pull together. At its best, the cheese should be wholly golden and crispy on the outside, with a melted gooeyness as you bite into it.
Total time: 30 minutes
Whether throwing a dinner party or simply feeling fancy, you can't go wrong with trays that showcase lovely pan-fried battered shrimps. Abundant in seafood produce, it's no surprise Camaron Rebosado is a mainstay starter in Filipino households.
Thanks to the delicate touch of calamansi juice and pepper, the luscious dinner dish hits the spot every time. Freshly deep-fried, it pairs beautifully with banana ketchup or a sweet and sour sauce. Be sure to make a super-huge batch because everyone will come back for more.
Get a visual demonstration of Cameron Rebosado right here!
Total time: 25 minutes
Pork and tofu are indeed a match made in heaven. This delicious and perfectly balanced dish is a go-to for when you want big flavors without much time to spare. Tender, soft, and bursting with flavors, Tokwa't Baboy is one of the most delicate Filipino originals.
A mixture of soy sauce, onions, vinegar, and chili pepper flavors the whole assembly. Adventurous eaters also toss in pork ears and snouts besides pork belly to add extra textures. Feel free to add sugar and reduce the chili pepper if you're going for a sweeter version.
Total time: 25 minutes
Calamares is the Filipino version of deep-fried squid rings, drawing inspiration from Mediterranean cuisines. "Camamares" is derived from "Calamari," which means squid in Italian. This seafood fare doubles as a hors d'oeuvre and the main course.
Visually speaking, these eye-catching golden squid rings have all eyes on them. In busy cities of the Philippines, Calamares is a familiar sight at carinderias (Filipino food stalls) and restaurants. And it's worth the hype!
Total time: From 15 minutes to 35 minutes
Another delicacy starring shrimp as the show's star, Rellenong Hipon, is a budget-friendly and easy recipe to put together. The tricky part of this shrimp roll is making a small incision on the shrimp to stuff the fillings, which are often minced pork and vegetables.
The stuffed shrimp is then wrapped up and fried until golden and thoroughly cooked. When it comes down to the flavor, Rellenong Hipon is perfectly crispy, juicy, and meaty at the same time. It's best enjoyed fresh, but you can keep it frozen for up to 3 months if needed.
Total time: 40 minutes
On any given day, when you have some extra leftover vegetables, don't let them go to waste! Vegetable Okoy is an excellent way to turn those into a brand new and delicious meal. This fritter works perfectly as a quick meal on a busy Thursday night.
There're many ways to prepare this Okoy, depending on the particular region and personal taste. However, ingredients like green beans, carrots, and scallions occur frequently. You can also choose all-purpose flour or any other at your disposal.
The key to nailing this dish? It's about starchy products like sweet potatoes and pumpkins. Not only do these add an extra hearty bite, but they also act as a good binder for the mixture. Pair it with white rice and a sweet chili vinegar sauce for a family-friendly treat.
Recreate Vegetable Okoy from scratch with this simple recipe!
Total time: 45 minutes
Grilled pork belly is something you can't get enough of! One thing that sets Inihaw Na Liempo from the crowd is the Inihaw marinade made of lemon juice, soy sauce, banana ketchup, and ground pepper.
For best results, you should leave the meat to marinate overnight. The tender and juicy beef melts across your tongue from the first bite. It also carries the perfect balance of tangy and spicy taste that works great as a starter and main dish.
Total time: 22 minutes
Chicken Lollipop needs no introduction. This ubiquitous appetizer is rarely missing in a Filipino celebration table and has an established place in Filipino cuisine. By pushing the wing meat to the end of the bone, you get a spherical-shaped piece that looks like a lollipop.
Flavor-wise, these drums of heavens have a delightfully light and crispy batter, while the inside is super juicy, soft, and tasty. When little ones join the feast, this chicken treat is guaranteed to be the centerpiece during parties and summer BBQ picnics.
Total time: 1 hour 10 minutes
A little something to awaken your appetite without filling you up right away, Atchara easily tops Filipino cuisine's list of appetizers. In fact, this popular condiment makes an appearance in most Filipino kitchens. And it's such a breeze to make from scratch.
The basic version of Atchara consists of green unripe papaya, sometimes carrots and bell peppers, all brined in a sweetened solution. As a result, you get a crispy texture and an outstanding balance of sweet, tangy, and spicy flavors at the same time.
Atchara – the infamous Filipino condiment in a few simple steps!
Total time: 11 hours 1 minute (Including overnight marinating time in the fridge)
Chicken and macaroni already taste incredible on their own. Imagine how their flavors end up together in a refreshing and delightful salad!
Heavy cream and mayo create an extra-creamy and thick texture. On the other hand, bits of pineapples and raisins add pops of color to elevate the visual. Otherwise, don't hesitate to round out a meal with this Filipino dish if you want to end on a tropical, slightly sweet note.
This chicken macaroni salad in Filipino style is a guaranteed hit at potlucks and summer cookouts, making it an absolute must-know for every home cook.
Total time: 10 minutes
Undoubtedly, the combo of ham and cheese is a classic that never goes out of style. This way, this Filipino rendition of fried ham and cheese roll is something you can count on during rush hours.
This mini treat is loaded with eggs, ham, cheese, and bread, all the well-loved elements that no one can resist. Taking as much as 10 minutes, it's undoubtedly one of the quickest Filipino dishes to get on the table, so you can spare more time enjoying dinners.
Total time: About 14 minutes
This eggplant meatball packs more flavor than anything else when done right. Having Talong Bola Bola in your repertoire ensures a never-boring weekly routine.
For the best experience, make sure to eat your eggplant meatballs at least 15 minutes after making them. With eggplant being the powerhouse of vitamins and minerals, this Filipino meatball is just the ticket to providing your body with more nutrition.
Total time: 45 minutes
If you're seeking a different way to cook tilapia, this recipe is just for you! Flaky and crispy on the outside while soft and rich inside, the Filipino tilapia stick's texture is second to none.
While this specific recipe recommends frying the fish, you can also bake them for about 15-18 minutes to get the job done. A side of sweet chili sauce perfectly complements the fish.
For folks who roll on a hectic schedule, these fish sticks can be frozen for about one month, so you'll always have a homemade meal no matter what!
Total time: 25 minutes
From street vendors to family gatherings and daily meals, sweet and spicy dilis is a staple Filipino food culture. These dried anchovies coated in a mesmerizing layer of granulated sugar and chili powder will awaken your taste buds!
When it comes to devouring this delight, the options are endless! You can serve them as an appetizer or one of the main dishes paired with steamed white rice. Otherwise, simply munching on it as a snack while working or relaxing is delicious enough!
The Best Filipino Hors d'Oeuvres You'll Ever Make!
Whether you're expanding your repertoire or planning to treat your family to luxurious meals, Filipino appetizers are just the ticket! I hope I've successfully helped you choose the best starter for this dinner through this culinary journey.
In comparison to its neighboring cuisines, Filipino cuisine is considered the most underrated foodie destination in the world. Simple, delicious, and with an unforgettable mouthfeel, this food culture is destined to hit the spot every time!
Have you found your new favorite hors d'oeuvre? Tell me everything about your experiences. If you find this culinary blog helpful, don't hesitate to share it on social media platforms!
Nutrition Facts
4 servings per container
---
Amount Per ServingCalories228
% Daily Value *
Total Fat 13.8g

20

%
Cholesterol 11mg

4

%
Sodium 383mg

16

%
Potassium 358mg

11

%
Total Carbohydrate 18.5g

6

%

Dietary Fiber 1.9g

4

%
Sugars 10.1g

Protein 11.5g

22

%
---
Calcium

195

%
Iron

3

%
Vitamin D

2

%
* The % Daily Value tells you how much a nutrient in a serving of food contributes to a daily diet. 2,000 calories a day is used for general nutrition advice.