Korean soup recipes are surprisingly diverse in variety and flavors. If you're looking for some popular Korean cooking methods to try right at home, then you've come to the right place. This post will offer you some of the most basic Korean soups.
In Korea, people usually refer to any variety of soup as Guk. It's a tradition in many Korean households to include a flavorful Guk along with their main dishes. Sometimes, the Guk itself can be considered as a main dish as well.
But that's enough with the introduction about Korean Guk. Let's jump in to see what Korean cuisine has to offer.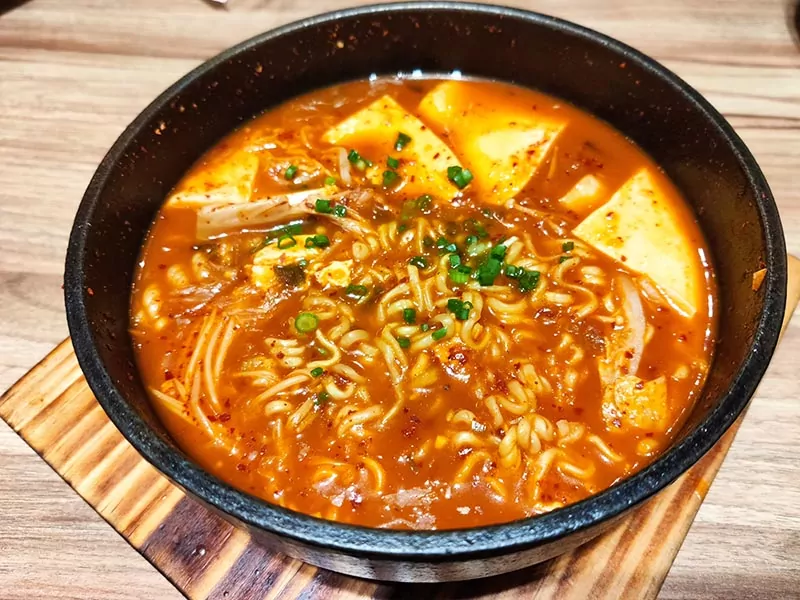 Top-Notch Korean Soup For Your Homemade Asian Meal
If you're relatively new to Asian cuisine, then Korean soup is the perfect dish to practice your taste buds. These recipes are super simple to follow. It's just a matter of time before you start serving your family with fantastic soup.
Total time: 55 minutes.
In Korean, Samgyetang means "ginseng", a type of plant that has roots with high medicinal values. Locals combine this pricy herb with warm chicken soup to optimize its nutrient content. Samgyetang often appears during summer as a custom for locals to cool themselves.
The hot chicken soup is believed to make people produce more sweat. Therefore, when evaporation kicks in, it takes away the heat from the body.
Although it is unclear when Koreans invented Samgyetang, the modern version was first recorded in a cookbook (Joseon Yorijaebeop) in 1917. The ginseng chicken soup began its commercial path to the world's cuisine as a dish in many Korean restaurants in the 1940s.
Samgyetang is a reliable protein source thanks to the flavorful chicken meat. The broth provides an incredible array of valuable minerals and vitamins. The incorporation of ginseng helps the soup have signature bitter and earthy flavors.
Interestingly, the Korean locals either cook the chicken whole or only cut it in half. By doing this, the chicken doesn't become too tenderized from the cooking process.
Total time: 20 minutes.
To my surprise, Naengguk refers to any type of cold soup in Korean cuisine instead of being just a dish. Like Samgeyetang, Korean residents often consume Naengguk to beat the heat during the summer.
Most often, people categorize Naengguk into 2 types, depending on the ingredients and seasoning. The first type of Naengguk only has a broth made with vinegar and water, while the second variety utilizes high protein ingredients like chicken, sesame seeds, or beans.
Therefore, the latter variation of Naengguk has more nutrients and flavors in the broth. The recipe I'm telling you about falls under this category.
You can use shredded cucumbers to mix with some finely chopped garlic. The broth concoction is a mixture of cool water with Joseon Ganjang (Korean soy sauce) and Yangjo (Korean vinegar).
A small tip: You should add ice to your Naengguk if extra coolness is what you're looking for. Naengguk is relatively easy to make as all you have to do is combine the ingredients. Remember, you can always store Naengguk in the fridge for later consumption.
Cool yourself down in the summer heat with an amazing bowl of Naengguk.
Total time: 40 minutes.
Kongnamul Guk doesn't possess a bold flavor or vivid color like other Korean dishes. Instead, the dish is warm and light in flavor that will heal your soul. If you're having a hard time getting over your cold, then Kongnamul Guk is perfect for aiding you through the recovery process.
However, Korean locals usually consume the dish as a way to cure hangovers. I guess it's mostly because of the high amount of Amino acid asparagine in the soybean sprouts that helps reduce the ethanol level in your liver.
In Korea, people use anchovies to set the tone for the stock. Then, the addition of dried kelp provides an extra layer of flavor for the Kongnamul Guk. Cooking the soybean sprouts is simple as you only need to keep them for around 8 minutes in the boiling stock.
However, you should wait for the sprouts to cook fully before opening the lid. This is to prevent the stock from having any fishy flavor. Finally, you can sprinkle some chili powder and serve the dish along with rice.
Total time: 45 minutes.
Dduk Guk, most often known as Tteokguk by Koreans, is a traditional dish that is often featured during the New Year celebration in Korea. Although no one knows the origin of Dduk Guk's consumption on New Year, people usually have it to celebrate gaining a year of age.
The highlight of Dduk Guk is the delicious rice cakes, usually a simple blend of tapioca starch and rice flour. To accompany the rice cakes, I suggest adding some proteins by using ground beef. In addition, you can use nori seaweed to deepen the flavor of the Dduk Guk broth.
Before serving the dish, make sure you whip up some beaten eggs to drizzle over the soup mixture. Remember, you need to be careful not to drizzle the egg over the cooked rice cakes.
Uncover how you can create a homemade version of Dduk Guk.
Total time: 7 minutes.
Don't let yourself mix up the word ramen here as a traditional noodle of Japanese cuisine, instead, the recipe calls for instant Korean ramen. The spicy and hot ramen soup is perfect for anyone with an empty stomach for a late-night snack.
The recipe is super simple as you can utilize the soup package of the instant ramen to set the tone for the broth. However, to make it more flavorful, my suggestion is to combine Gochugaru (Korean pepper flakes), soy sauce, and finely chopped garlic into the broth mixture.
Normally, locals often have spicy ramen at night. To accompany the ramen, people often have it with some tasty side dishes in Korea to diversify the overall taste.
Don't forget the sliced beef for additional proteins to your night meal. In addition, Shiitake mushroom is a fine inclusion to the dish, which helps enhance the rich, buttery, and meaty flavors when cooked.
Total time: 2 hours 40 minutes.
If you're a fan of tenderized and juicy short ribs, then the Galbitang will take your favorite ingredient to another notch. The dish has an amazing history because it was a part of the traditional Korean cookbooks in the 1890s for the royal family.
However, some of the earliest records state that Galbitang first appeared much earlier, presumably at the end of the Goryeo Dynasty in 918 – 1392.
On average, it takes some time to make Galbitang as it requires a long-simmering process to soften the beef ribs. To cure the unwanted smell of this ingredient, Koreans boil them in a mixture of ginger, garlic, and onion.
Commonly, Koreans use radish to give the broth a natural sweetness. When served, the soup of Galbitang needs to be clear and has a delicate flavor. An additional side dish to Galbitang is often Dangmyeon (Korean glass noodle).
Total time: 20 minutes.
There's nothing better than having a hot bowl of creamy pumpkin porridge on cold nights. Hobakjuk is exactly what you're looking for. The porridge is a combination of pumpkin and rice flour. In Korea, the dish is a favorite for mothers after giving birth to aid with their recovery.
The porridge has a smooth texture with the appearance of tasty rice balls for extra textures. People prefer using Kabocha squash for the creamy and buttery flavors. Commonly, the pumpkin will be blended until it has a smooth consistency.
For the rice balls, you will need to mix rice flour with hot water, be careful not to burn yourself. After kneading the dough into individual small balls, it should take around 2 minutes to fully cook them in a boiling pot of water.
You can also use an instant pot to make Hobakjuk as it helps save some time on your hand. Plus, the instant pot is more versatile and creates less of a mess during your cooking procedure.
Making Hobakjuk is the perfect way to comfort your family members after a hard-working day.
Total time: 30 minutes.
Janchi Guksu is a traditional noodle soup in Korean cuisine. In the country's culture, the word Janchi means "feast" or "banquet", which explains why the dish often features in many wedding, or birthday events.
Typically, the anchovy and dried kelps will dictate the flavor of the Janchi Guksu broth. In addition, you can use a blend of vegetables like zucchini, carrot, and onion with eggs to diversify the flavor of the noodle.
As for the noodles, I recommend using Somyun noodles (Korean wheat flour noodles). To adjust the flavor of Janchi Guksu to your liking, you can whip up a sauce mixture of soy sauce with Korean chili flakes, sesame, and plum extract.
Thanks to the harmonious combination of the ingredients, Janchi Guksu has a savory flavor and a refreshing taste at the same time.
Total time: 2 hours 20 minutes.
Hearty and comforting, Yukgaejang is simply a spicy soup that you cannot miss on your next meal. Most often, Korean locals consume the dish during summer, but thanks to the spiciness level, people also have it during winter to keep themselves warm.
In the past, people used to serve Yukgaejang to the Korean royal family with other main dishes. Due to the hot and spicy nature of this delicacy, many think the dish offers various benefits to their health.
For the stock, people use a blend of Korean spices, like chili powder, sesame oil, and chili oil, to bring the heat and the signature bright red color. In addition, beef is shredded into pieces to cook along with the spicy broth until they become tenderized.
Although Yukgaejang itself is already a main dish, you can always have it along with rice or Kimchi for extra flavors. Despite the intimidating red color, Yukgaejang only possesses a mild spicy taste.
Total time: 3 hours 20 minutes (with 3 hours of soaking the soybeans).
Kongguksu is another popular representative of the Korean cold soup category. If you're looking for some healthy Korean vegetarian recipes, then Kongguksu should make it to your list. I'll be honest: It's quite exhilarating to taste the soy milk broth of Kongguksu.
The secret to making delicious soy milk stock is always a quality pack of soybean. After unpacking your soybeans, you should let them soak in water for at least 3 hours. Then, I suggest pulling out your blender to pureé the soybean.
Most often, Korean locals serve Kongguksu with wheat noodles. However, in some cases, buckwheat noodles are also an acceptable choice.
Interestingly, you will use the pureéd soybean mixture to create homemade tofu for your Kongguksu. Make sure you also save some of the soybeans to make the stock. Kongguksu is perfect for serving in a bowl with some extra ice cubes to keep it chill.
The refreshing nature of Kongguksu is exactly what you need for a hot day.
Total time: Around 1 hour 15 minutes.
Any fan of the standard American chicken noodle soup will soon fall for this Dak Gomtang from Korea. The soup is essentially the Korean version of your favorite chicken noodle. Dak Gomtang is also packed with important vitamins and minerals that your body needs.
To get the best broth flavor, you will need to boil an entire chicken to get all the goodness from the bones and cartilages. In addition, you can also complement the chicken essence by adding garlic, onion, and carrot to furthermore deepen the flavor.
When you're done with rendering all the chicken flavor, I suggest shredding the chicken to mix with various types of condiments. Your chicken seasoning should consist of Gochukaru (Korean pepper flakes), sesame seeds, and soy sauce with a touch of sesame oil for the nutty flavor.
As for the noodles, my best pick is the Dangmyeon (Korean sweet potato noodle) for an added chewy texture. You will need around 10 – 15 minutes to soak the noodles before cooking them.
A small note for you, make sure you serve the chicken in a different bowl and do not put the seasoned chicken back in the broth. That way, you will ruin the flavor of Dak Gomtang.
Total time: 1 hour.
To my surprise, Seolleongtang has a fascinating story about how the dish was born. It all started when King Seongjong demanded the residents of Joseon to create a dish using as few ingredients as possible.
So the people of Joseon came up with Seolleongtang to serve their king. Traditionally, people create Seolleongtang by boiling the beef bone to extract all the fatty goodness. The result is a murky white broth of the Seolleongtang.
For a modern recipe of the dish, you no longer have to waste hours boiling ox bone since you can always use the store-bought version of the ox-bone broth. Remember, adding additional beef brisket will take your Seolleongtang to another level.
Seolleongtang is packed with flavorful stock that you have to try for yourself.
Total time: 20 – 35 minutes.
Jjamppong is the first dish that you should take to Asian techniques of cooking seafood. The dish is characterized by a pale red appearance with a variety of seafood combinations. Although Jjamppong is popular in Korea, the origin of the dish dates back to China.
A conventional recipe for a delicious bowl of Korean seafood consists of fresh noodles with numerous vegetables and flavorful seafood. For the seafood, I prefer having clam, squid, and shrimp together since their flavors complement each other well.
I recommend including young bok choy and cabbage to accompany the flavorful broth of Jjamppong. Depending on your tolerance for spicy food, you can tone down the heat by adjusting the amount of chili in the Jjamppong.
Total time: 15 minutes.
Originating back in the Joseon period, Soondubu Jjigae is an iconic Korean dish that utilizes freshly curdled tofu as the main star of the dish. In Korea, locals make this type of tofu in the shape of cylindrical tubes.
Soondubu Jjigae tends to have a viscous texture with bright red color from the finely chopped Kimchi and a generous amount of chili flakes. For extra protein, the dish can be served with beef, pork, or shrimp.
When served, Soondubu Jjigae usually has a raw egg yolk on top. People often serve the dish bubbling hot with a delicious bowl of rice as a side dish.
Total time: 1 hour 5 minutes.
Soegogi Muguk is a cornerstone of Korean soups. The mild and soothing flavors of the soup will mesmerize anyone trying it for the first time. Most often, you will even find Korean airlines serving this classic recipe of Soegogi Muguk.
I recommend using chuck roast or boneless short rib to achieve the best result in terms of flavors for the broth and the meat texture. The daikon should only be added to a frying pan to sauteé with the beef before being added back to the broth for further cooking.
Finally, serve the Soegogi Muguk in a bowl with some green onion, and you're good to go.
A light and hearty bowl of Soegogi Muguk is all you need for your day.
Total time: 30 minutes.
Kimchi needs no introduction as it is one of the most iconic Asian dishes that everyone around the world loves consuming. However, just to make sure you understand Kimchi correctly, it's a traditional pickled vegetable dish in Korean cuisine.
You need to notice that Kimchi is not limited to cabbage only. Instead, any type of vegetable can be made into Kimchi. If I remember correctly, Koreans even make Kimchi from green onions.
As for Kimchi Jjigae, locals tend to take advantage of the cabbage Kimchi variety as it is more widespread. Interestingly, people will usually combine the Kimchi brine with the chicken stock to create the broth mixture for this popular stew recipe from Korea.
Koreans love having Kimchi Jjigae with the addition of tofu and slices of pork belly for the extra protein. The stew's bold flavor is incredible when you have it with rice.
Total time: 10 – 25 minutes
Despite the Korean name, Gyeran Guk is a dish that originates from Chinese cuisine. An authentic egg drop soup combines the boiling stock with beaten eggs to create thin and silky strains that float on top of the broth.
Normally, you can either use chicken stock or a concoction of anchovy and dried kelps to be the base for Gyeran Guk. To adjust the flavor of the broth, people usually add soy sauce and onion. Remember, you need to stir the beaten egg gently to prevent the eggs from clumping up.
If you're simply bad at handling spicy Korean dishes, then making Gyeran Guk is the perfect way to enjoy the country's cuisine. Gyeran Guk possesses a light taste with a slightly savory flavor.
Total time: 10 minutes.
Don't you just love the feeling of getting home to enjoy a hot pot with your family? If your answer is yes, then I suggest making a hearty Mandu Guk for your meal. In Korea, people refer to Mandu as dumplings, a type of food that has a layer of dough wrapped around minced meat.
In the 14th century, Mandu first made its debut in Korea and became a specialty of the Hamgyong and Pyongan regions. Commonly, people will fry or boil Mandu to perfectly cook it.
Mangu Guk has a base broth made of anchovy or beef broth, but you can always use chicken stock for substitution. To accompany the dumpling, many Koreans use a mix of vegetables like cabbage, zucchini, and enoki mushroom for the added crunchy texture.
Don't forget to make your sauce concoction to dip the dumpling. My recommendation is a blend of Korean chili powder along with soy sauce and Maesilaek (Korean plum extract).
Mandu Guk is a recipe you shouldn't miss out on your menu.
Total time: 20 minutes.
Miyeok, or seaweed, has high contents of calcium and iodine, making it a perfect food for pregnant women. Miyeok Guk is a classic Korean soup that packs full of nutrients from the seaweed. In Korea, post-labor mothers usually consume this dish to recover their strength.
Typically, people make the stock of Miyeok Guk from anchovy, but you can also use beef broth as a substitution. Locals allow the seaweed to expand by soaking it in water before dicing it into bite-size pieces.
Because the seaweed is already salty, I need to remind you to take it easy on the seasoning. Overall, Miyeok Guk has a mildly sweet flavor from the seaweed with a clear broth. It's a great dish to serve alongside rice and other Korean side dishes.
Total time: 35 minutes.
First of all, a fish cake is not your regular sweet treat. Instead, people make it by grounding fish with various types of condiments. In its raw form, the fish cake is a bit sticky and has a smooth texture. The cooked fish cake tends to have a firmer structure and a certain chewiness to it.
The word Odeng is a loan word from the Japanese to refer to the fish cake. Eomuk Guk has a base broth dictated by the flavor of anchovy, radish, and rice wine. Normally, the fish cakes are skewered for cooking in the pot with other ingredients.
It should take around 10 minutes to completely cook the fish cake so you better pay attention to the time. If you want to adjust the flavor of Eomuk Guk, make sure to use only rice wine and soy sauce to avoid ruining the original taste brought about by various types of condiments.
Will You Feature Korean Soup On Your Next Meal?
Although some ingredients that Koreans utilize in these soup recipes may sound strange to you, they're widely sold in your nearby Asian supermarkets. So don't just let the craving for Asian food get the best of you; instead, let's jump into the kitchen and whip up amazing Korean soups.
I hope you all feel excited about your next Asian meal. It's all I have to offer you guys. If you have any suggestions about these Korean soup recipes, please let me know in the comment section. Don't be afraid to share this post with everyone you know.
Nutrition Facts
4 servings per container
---
Amount Per ServingCalories408
% Daily Value *
Total Fat 18.5g

29

%
Sodium 2427mg

102

%
Potassium 245mg

8

%
Total Carbohydrate 22.1g

8

%

Dietary Fiber 9.3g

38

%
Sugars 4.5g

Protein 33.8g

68

%
---
* The % Daily Value tells you how much a nutrient in a serving of food contributes to a daily diet. 2,000 calories a day is used for general nutrition advice.