What do dragon roll sushi ingredients contain? Many people wonder about that question, but the answer is not as complicated as you think.
You might think that the dish is near impossible to make at home due to its complex appearance. However, looks can be deceiving as you can absolutely make dragon roll sushi by yourself.
In this article, I'll show you 3 dragon roll sushi recipes that are simple to make!
Dragon Roll – An American Take On Sushi
If you're familiar with Japanese cuisine, you're certainly no stranger to sushi – the signature rice-based dish that is often accompanied by raw fish, eggs, or vegetables.
Traditionally, there are 6 types of Japanese sushi: Chirashizushi, Inarizushi, Makizushi, Narezushi, Nigirizushi, and Oshizushi. There's also the Sukeroku set that consists of Inarizushi and sushi rolls.(1)
As you can see, with the various sushi types, it's not strange when people have difficulty distinguishing sushi, sashimi, nigiri, and maki. Like I've always said, Japanese copmlex cuisine is like a rabbit hole, the deeper you dig, the more fascinating things you'll find.
Don't be surprised when you don't see dragon roll sushi on the above list of the most popular varieties of Japanese sushi since this dish was created in the Western world. Yep, it's technically not a traditional Japanese dish.
Dragon roll sushi is an "inside-out" sushi which means that the inside ingredients will be wrapped by nori (seaweed) then layered with sushi rice on the outside.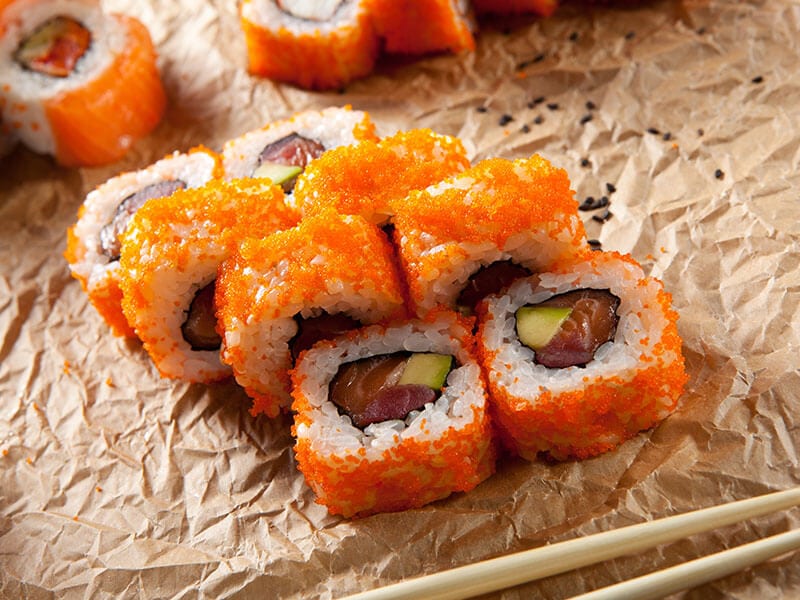 The fillings of these tasty rolls are made with shrimp tempura and cucumber wrapped neatly under a sheet of nori (seaweed). Over this food that begins with "N" is a layer of seasoned sushi rice and thinly sliced avocado.
When you cut the roll, the avocado will turn into spectacular green dragon scales., adding unmistakable avocado flavor to your roll. A little tobiko (flying fish roe) and light drizzles of unagi sauce on top will help round out the dish beautifully.
The crunchiness of the classic Japanese shrimp treat and cucumber will pair perfectly with the creamy avocado top layer. Add some well-seasoned sushi rice and rich, umami unagi sauce to the mix, and you have a mouth-watering dish that people just can't get enough of.
Because of the green color of avocado, some people call these rolls "caterpillar rolls," but I prefer the name dragon rolls more as it sounds fancier!
Why This Recipe Works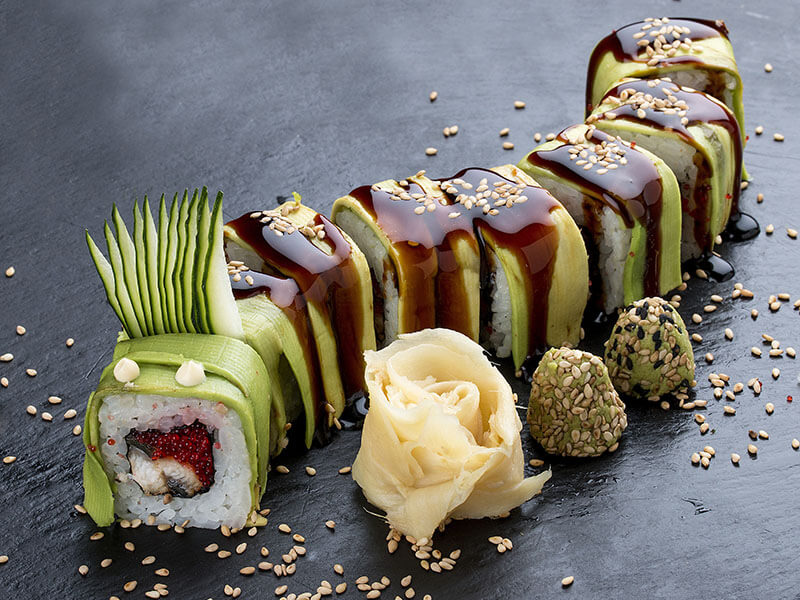 Dragon rolls are indeed tasty but are they suitable for making at home? The answer is absolutely, and here are the reasons why.
They are not that difficult to make: don't be discouraged by their complex looks; making dragon rolls are pretty straightforward. The only thing you need is an easy-to-follow guide, and this post is here to do just that.
They are delicious: dragon rolls sushi has always been one of the most popular dishes at American-style sushi restaurants, and for good reasons.
Dragon rolls are healthy: as they are packed full of green ingredients like avocado and cucumber, dragon rolls will provide you with many essential vitamins and minerals.
They are visually appealing: a vibrant-looking "dragon" on your dining table – what could possibly beat that?
3 Delicious Types Of Dragon Roll
Apart from the classic dragon roll sushi that everyone knows and loves, there are also red dragon rolls and black dragon rolls.
Classic dragon roll sushi: the most common type of dragon roll. Its main ingredients include sushi rice, nori sheets, avocado, cucumber, shrimp tempura, and eel (or unagi) if you can find some.
Red dragon roll sushi: a variation that uses sushi-grade tuna instead of shrimp tempura. If you're into raw tuna, this is the variation for you.
Black dragon roll sushi: a more intense tasting version of the dragon rolls with spicy tuna fillings. Try this version if you want a little kick of spiciness in your sushi.
What You Need
Depending on the version that you plan to make, the necessary ingredients will vary a little. That said, you'll always need 2 essential ingredients for every type of sushi: sushime (sushi rice) and nori (seaweed) sheets.
You might also need a durable and easy-to-use sushi making kit, especially if you're a beginner. Without a good bamboo mat, it might prove impossible for you to make a beautiful dragon roll sushi.
For Sushi Rice
For Tezu (Vinegar Water For Hands Dipping)
¼ cup of water
2 teaspoon rice vinegar
For Classic Dragon Roll Sushi
2 cups of cooked sushi rice
2 sheets nori (seaweed)
1 Japanese/ Persian cucumber
2 avocado
8 Black Tiger prawn
Potato starch or cornstarch
2.4 cup cooking oil (vegetable, canola, and other neutral-flavored oil is preferred)
1 large cold egg
0.6 cup of iced water
0.8 cup of all-purpose flour
2 tablespoons of tobiko (flying fish roe)
Optional: unagi (eel)
1 teaspoon sriracha sauce
1 tablespoon mayonnaise (use Japanese Kewpie mayonnaise for the best taste)
For Red Dragon Roll Sushi
3 cups of sushi rice
1 tablespoon black sesame seeds
6 sheets nori
½ small cucumber
1 small avocado
6 ounces sashimi-grade tuna
¼ cup of fried onions
¼ cup of tobiko
1 tablespoon sriracha sauce
For Black Dragon Roll Sushi
50 grams sushi rice
2 sheets nori
4 ounces sashimi-grade tuna
1.5 tablespoons of sriracha sauce
½ teaspoon toasted sesame oil
2 scallions (green onions)
1 Avocado
Let's Get Cooking!
Let's get to the fun part of actually making your own yummy dragon roll sushi. I'm going to show you 3 styles of dragon roll, but before that, you'll need to learn how to cook sushi rice first.
How To Cook Sushi Rice
Sushi rice is the deciding factor of every sushi dish. No matter how delicious the other ingredients are, your sushi dish will be ruined if the sushi rice is cooked badly.
This is why I always say cooking rice is an art. You'll need to choose first-rate sushi rice, pay attention to the ratio between water and rice in the rice cookers, keep in mind the cooking durations, etc. There are so many aspects about cooking rice that may leave you overwhelmed.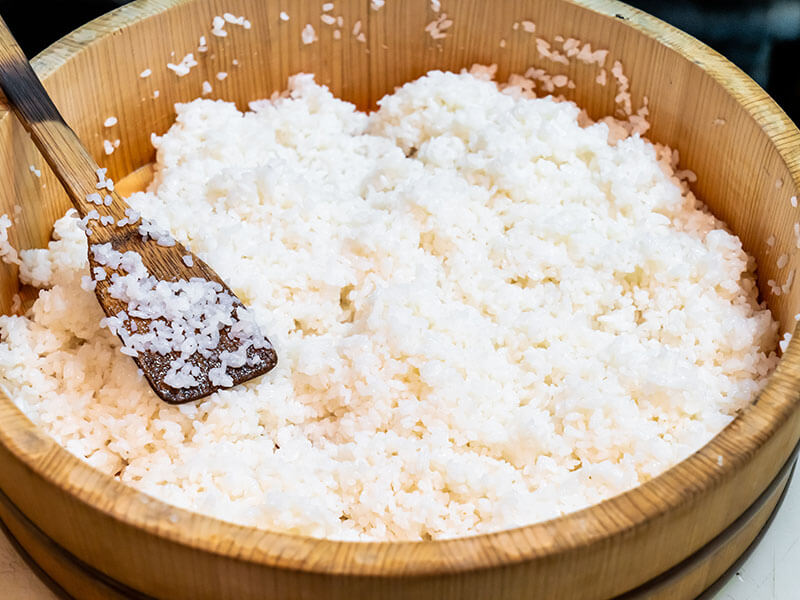 One small note before we start: remember that there are 180 ml in 1 rice cooker cup, as opposed to 240 ml of a normal cup. For 1 sushi roll, you'll need about ½ to ¾ cup of sushi rice (about 90g-135g)
Add the rice into a large bowl (you can use the bowl of your rice cooker).
Fill the bowl with just enough water to submerge all the rice.
Quickly discard the water so your rice won't absorb the water.
Gently wash the rice with your finger in a circular motion for 15-20 seconds.
Repeat the first 3 steps until the water is clear (2-3 rounds of washing and draining should do the trick).
If you're still unsure how to wash sushi rice, you can learn from this Japanese chef.
Drain the rice with a fine mesh.
If you decide to cook your rice with kombu, check the kombu for dirty spots or dirt.
Use a damp cloth to wipe your kombu if needed (don't wipe away the white powder, kombu is supposed to be covered in that white substance).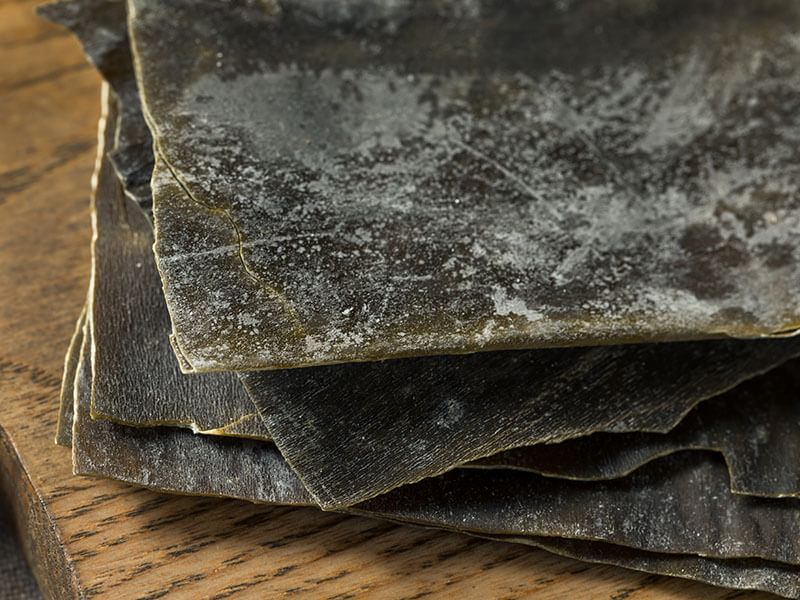 Add the rice into the rice cooker bowl.
Fill the bowl with water until it reaches just under the 3-cup mark. If your rice cooker bowl has a mark dedicated to making sushi, add water accordingly.
Add the kombu on top.
Leave the rice for 20-30 minutes, then start cooking.
When the rice is done cooking, moisten your sushi oke. If you don't have one, you can use a baking sheet lined with parchment paper instead.
Take out the kombu.
Transfer the cooked rice to the sushi oke.
Add sushi vinegar over the rice while it's still hot.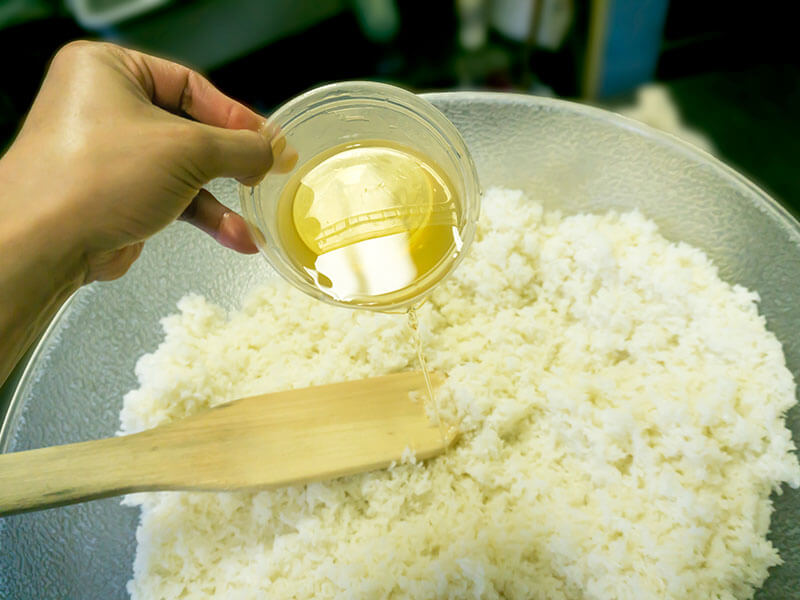 Slice the rice downward at a 45-degree angle using a rice paddle.
Blow the rice with a fan to add sheen to the rice and prevent it from turning mushy.
Gently turn the rice over in between slices. Repeat until your rice has cooled.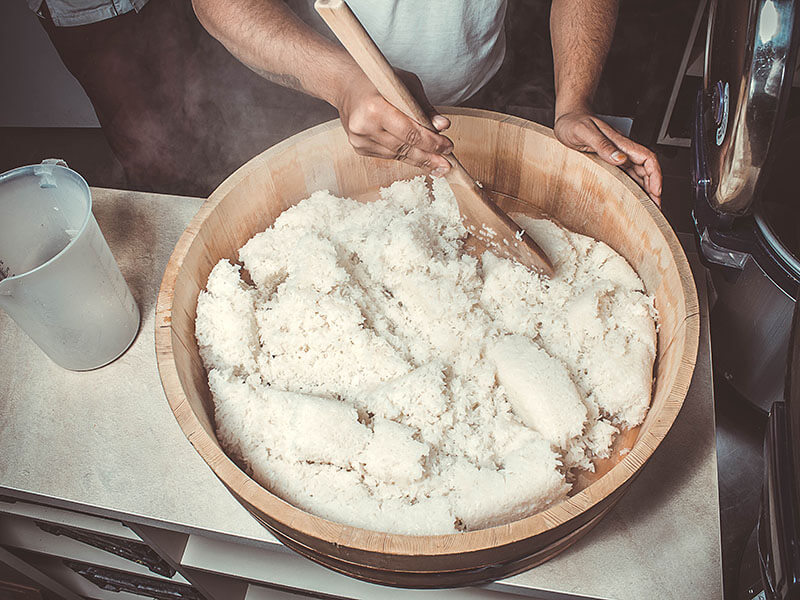 Cover the mixing bowl with a damp towel or paper towel.
Make sure that the towel is touching the top of the rice. Your rice will keep for a few hours at room temperature this way.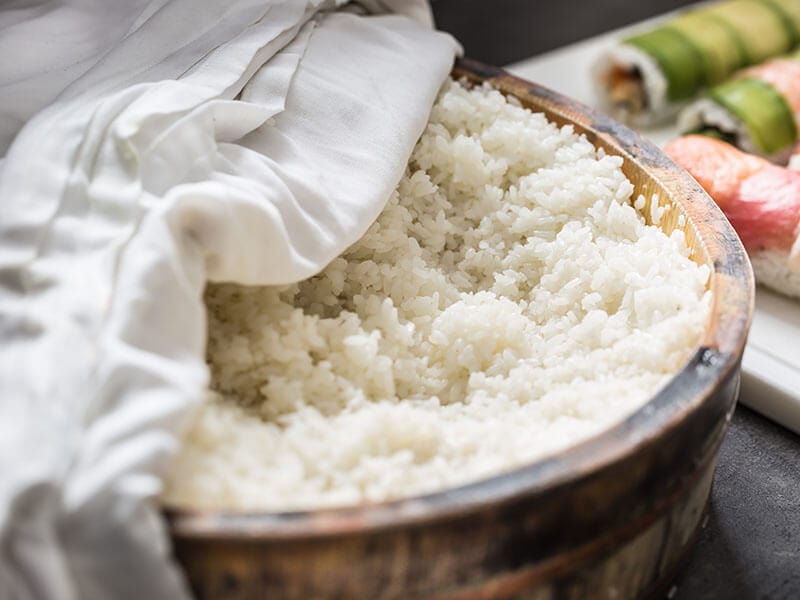 Learn an easy way to make sushi rice in under 3 minutes. You can see this video to know more:
When you're done with the rice, it's time to make your dragon roll sushi.
How To Make Tezu (Hand Vinegar)
At first sight, the tezu might seem like an unnecessary ingredient as it doesn't add any taste to your sushi. However, you'll be needing this hand vinegar for sushi making as it'll prevent the rice from sticking into your hands.
Mix the tezu by using ¼ cup of water and 2 teaspoons of rice vinegar. Distilled water is also an acceptable choice. To make the best tezu, make sure to thoroughly examine the distilled water and vinegar to see how likely it is for distilled water to spoil or for vinegar to go bad.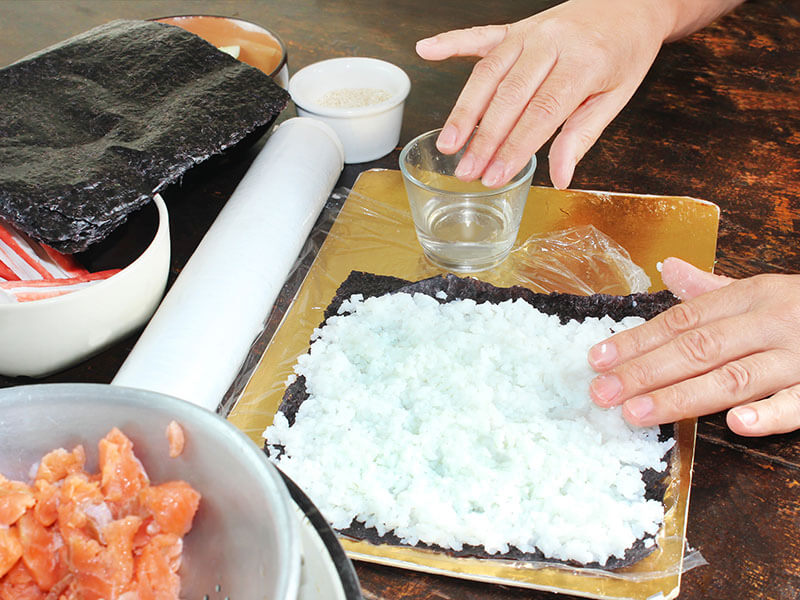 How To Make Classic Dragon Roll Sushi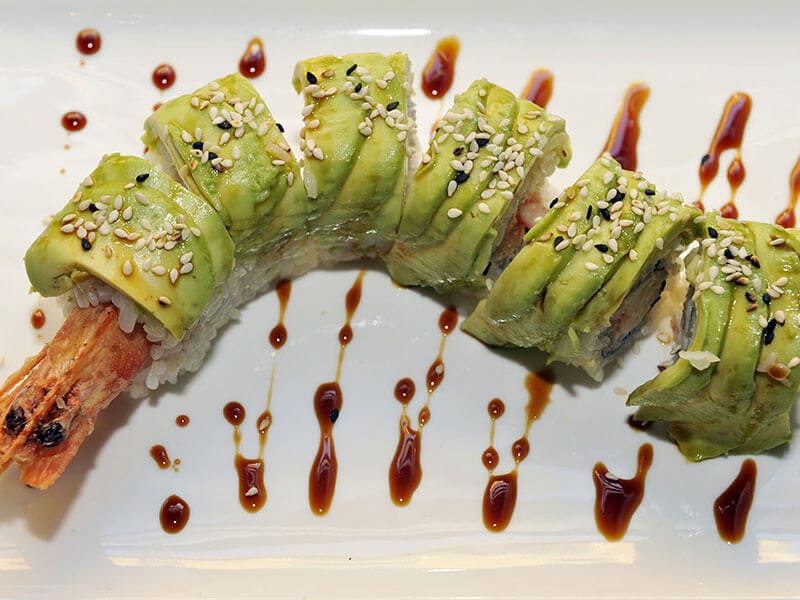 The classic dragon sushi is the one that most people are familiar with. It's a safe, crowd-pleasing option that everyone in your family will love.
Fun fact: Although dragon roll sushi is made by hand, it's not called a hand roll. Why? Because there are many elements that set sushi rolls and hand rolls apart. Once you know these, you'll instantly understand why dragon roll sushi is not classified as a hand roll
Making The Tempura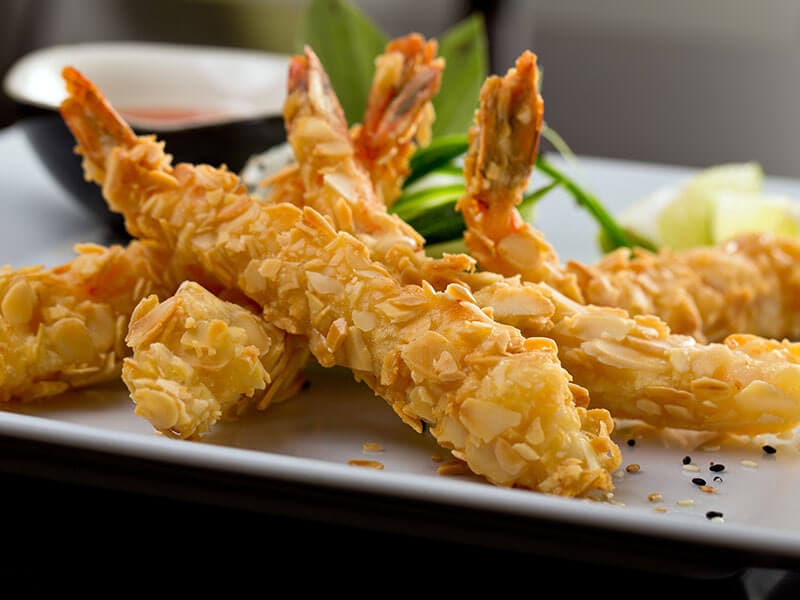 If the shrimp's head is still attached, pull it off first.
Slide your knife under one side of the shrimp's shell.
Remove the shell but keep the tail's shell.
Place the shrimp on your cutting board (belly facing down).
Make a shallow cut (about 0.5 inch) along the shrimp's back.
Remove the black vein with the tip of your knife.
Flip the shrimp and remove its white vein in the same manner.
Make 4-5 shallow cuts across the shrimp's body.
With the shrimp's belly facing down, gently press the shrimp to straighten it.
Cut the tip of the tail off.
Use the tip of your knife to squeeze the dirty water out of the shrimp's tail to prevent it from splattering the oil when fried.
Your shrimp is now ready for tempura making.
Learn how to prepare your shrimp for tempura. You can see this video to know more:
Add 1.5 inches of cooking oil to a medium-size pot or a wok.
Heat the oil up to 340-350ºF. You'll need to maintain this temperature at all times.
Add the flour to a large bowl.
Add the egg to about 0.6 cups of cold water.
Whisk the egg and remove the foam.
Pour the whisked egg mixture into the flour slowly.
Mix the batter.
Dust the shrimp with potato starch (cornstarch works fine as well).
Coat the shrimp with the batter.
Deep fry the shrimp for about 2 minutes or until they turn golden brown.
When cooked, place the shrimp on a wire rack to drain excess oil.
You can see this video to know more:
Making The Spicy Mayo
Mix 1 tablespoon of mayonnaise and 1 teaspoon of sriracha sauce together to make spicy mayo.
Making The Sushi Roll
Cut the cucumber along its length into 4 parts.
Remove the seeds.
Cut the seedless cucumber parts in half along the length.
Cut the avocado in half along its length. Remember to cut around the seed.
Twist avocado to separate it into 2 halves.
Gently dig your knife into the avocado's pit.
Hold the avocado with your other hand and twist it in counter directions to remove the pit.
You can quickly discard the avocado's pit this way.
Peel the skin.
Slice the avocado thinly along its width.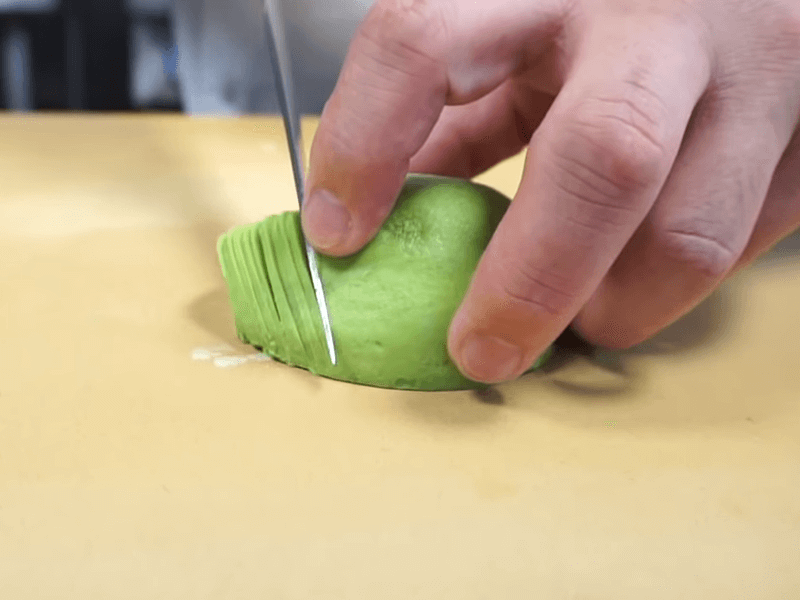 Pat the sliced avocado gently with your fingers.
Use the side of your knife to pat the avocado slices gently until their length is the same as your sushi roll.
Slice the nori sheet in half.
Use plastic wrap to wrap your bamboo mat and place the nori sheet on it. Remember to keep the sheet's shiny side down.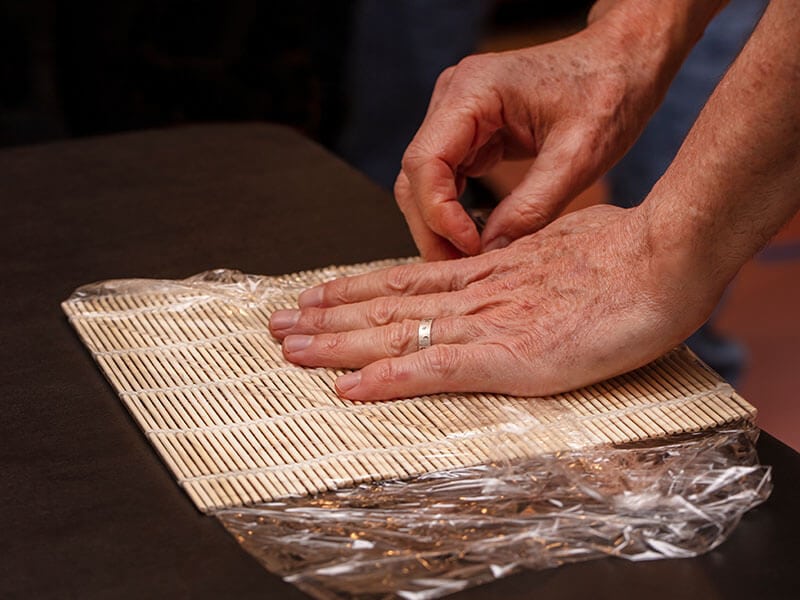 Dip your hands in the tenzu before touching the rice.
Spread ½ cup of rice evenly on the nori sheet.
Flip the nori sheet.
Add your tempura, cucumber, tobiko, and unagi (optional) at the bottom of the nori sheet.
Roll the nori sheet from the bottom over the filling firmly and tightly.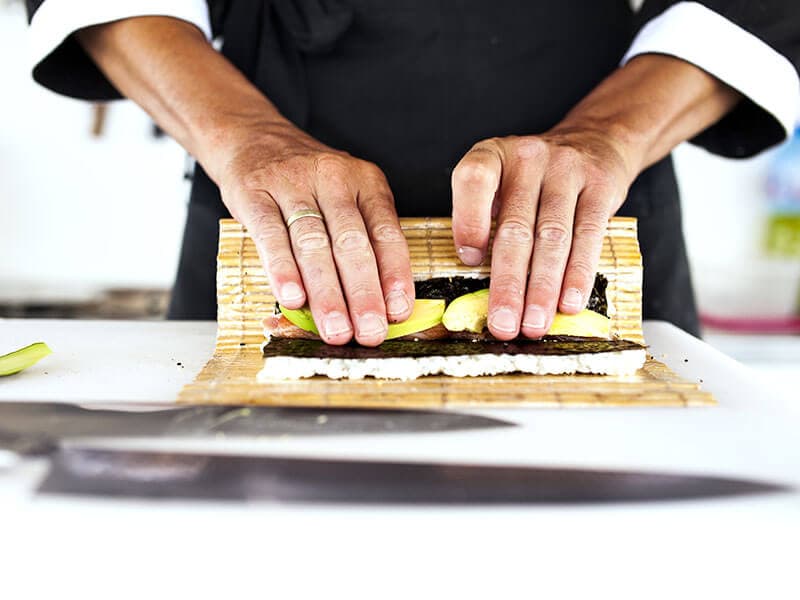 Squeeze the roll tightly with the bamboo mat.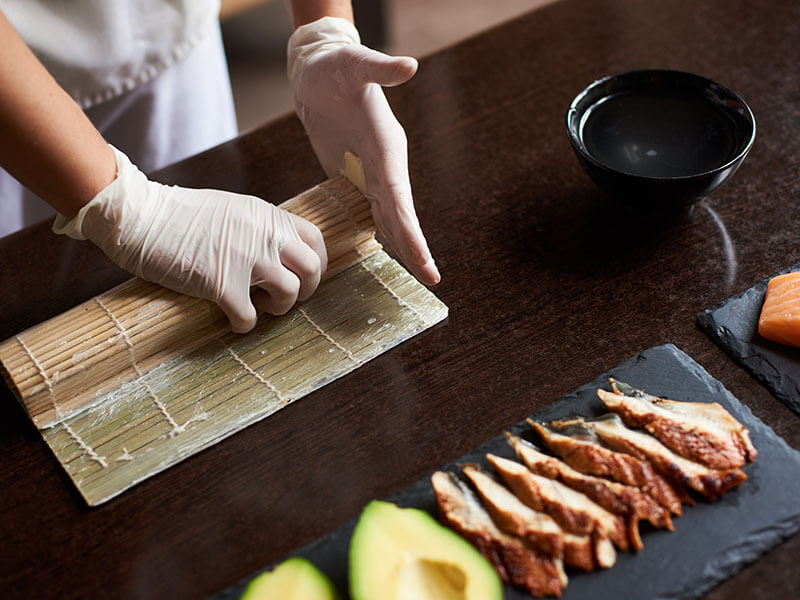 When you've finished rolling the sushi, take it out of the bamboo sheet.
Carefully pick up the avocado with the side of the knife and place it on top of the roll.
Cover the sushi with plastic wrap, then place the bamboo mat on the sushi and squeeze tightly to make the avocado stick to the rice.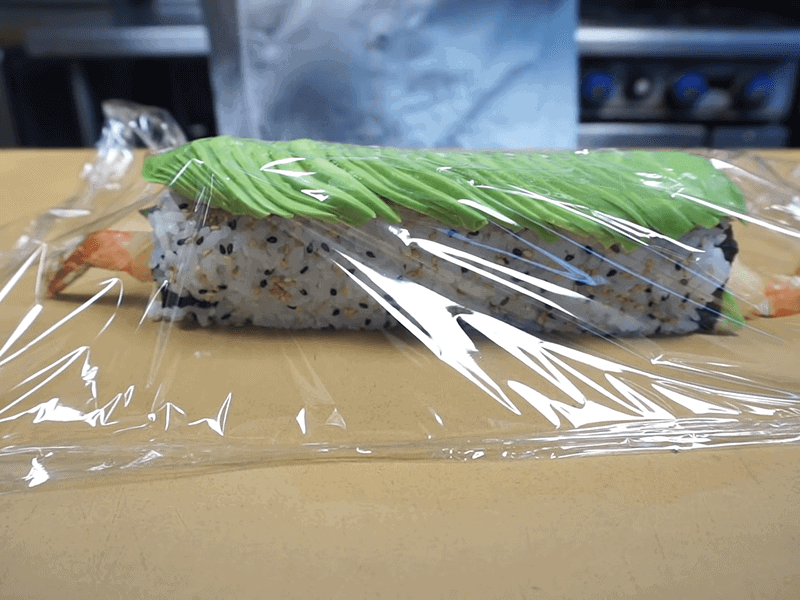 With the plastic wrap on, cut the sushi into 8 pieces.
Remove the plastic wrap.
Add tobiko, spicy mayo, black sesame seeds on top of your sushi and serve with some unagi sauce.
Image source (for step 9, 22): Hiroyuki Terada – Diaries of a Master Sushi Chef
You can see this video to know more:
How To Make Red Dragon Roll Sushi
To switch things up a bit, you can use sashimi-grade tuna in place of the shrimp tempura. Make sure that your guests are fine with eating raw fish, though. With this, it's also essential to keep in mind how long sushi can stay fresh, or else you might face some unwanted food hazards.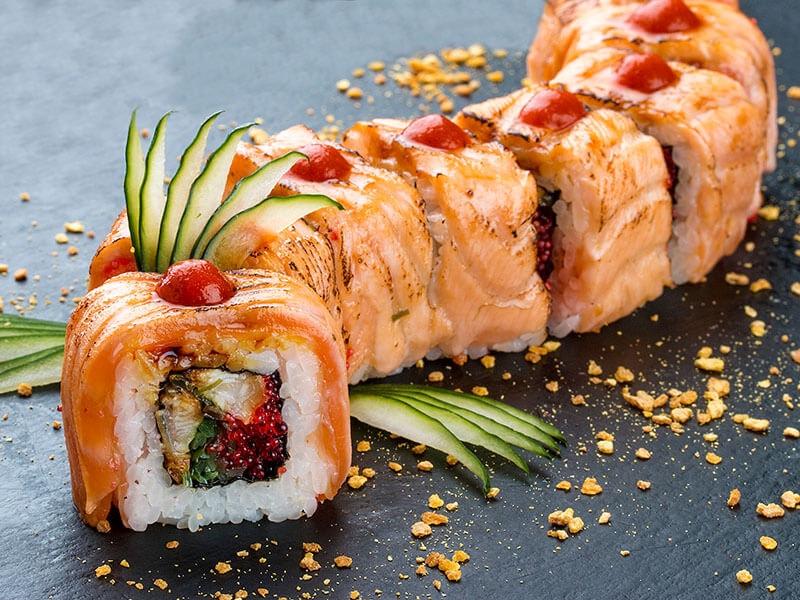 Cook the sushi rice
Slice your tuna into 1 cm square sticks.
Use the technique above to cut the avocado into two halves and remove the pit.
Scoop out the avocado's flesh.
Slice your avocado thinly.
Continue to slice the avocado into thinner sticks.
Dip your hands in the tezu before touching the rice.
Roll the sushi inside-out using the same technique as above, then fill it with tuna, cucumber, avocado, and some drizzles of sriracha sauce.
Add fried onions, black sesame seeds, and tobiko on top.
Another way to make a red dragon roll. This time, you'll also be using shrimp tempura!
How To Make Black Dragon Roll Sushi
For spicy food lovers, black dragon roll sushi is an excellent choice. Plus, you don't have to be as meticulous with the decoration as with the classic rolls. Like with red dragon roll sushi, you should remember the maximum time sushi can sit at room temperature. It's very important.
Making The Spicy Tuna
Cut the scallions (green onions)
Keep the green parts and the white parts separated.
Mix 1.5 tablespoons of sriracha sauce and ½ teaspoon of sesame oil together
Slice the tuna into ¼ inch cubes.
Mix the tuna with the spicy sauce and the white part of the scallion.
Spicy tuna is much more straightforward to make than a shrimp tempura. You can see this video to know more:
Making The Sushi Roll
Cook the sushi rice
Slice the nori sheet in half.
Set the rice evenly across the nori sheet.
Repeat the above steps to slice up your avocado and place it on your rice.
Add another layer of nori sheet.
Press it down with a bamboo mat to compact it.
Place your spicy tuna on the roll.
Roll it up tightly.
Cut the roll, add toppings and serve.
The Perfect Finishing Touches For Your Dragon Rolls
After spending an hour making those beautiful dragon rolls, you might as well enjoy them to the fullest. These are some sushi food companions in the forms of condiments/toppings that will elevate the taste of your sushi.
Unagi sauce has a complex and deep flavor that goes exceptionally well with dragon roll sushi. To describe it simply, this sauce is the perfect combination between sweet and salty with rich umami and smoky notes.
Spicy mayo sauce is really simple to make and would usually be served as a topping for classic dragon roll sushi. They have a creamy texture with a balanced tangy and spicy taste.
Apart from dragon roll, you can also pair spicy mayo sauce with sandwiches, burgers, or BBQ meats. You can make this condiment by following the recipe above.
Sesame seeds are usually something that people sprinkle on their food and forget about. However, the nutty, slightly sweet taste of sesame seeds can really add depth to many rice-based dishes.
They're also cheap and easy to find, so do yourself a favor and go get some.
Tobiko (Flying Fish Roe)
Tobiko or flying fish roe is frequently used as sushi topping thanks to its lively color and salty, smoky taste. The crunchy texture of tobiko will also go well with raw dishes like sashimi.
The Best Method To Store Your Sushi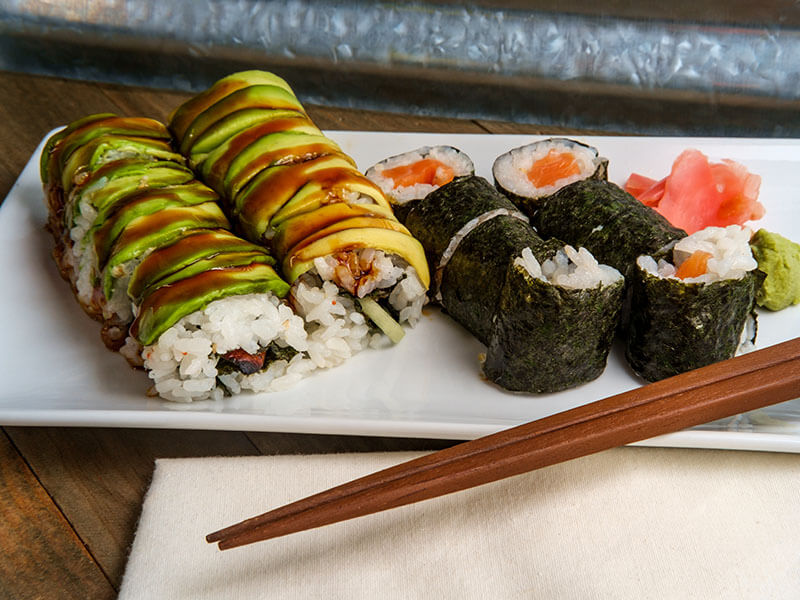 Dragon sushi rolls typically won't keep for long. For the best taste, you should enjoy them right after making. However, if there are some leftovers that you want to store for the next day, you can do so by refrigerating them.
Remember to wrap each roll individually in plastic wraps and put them in an air-sealed container first before storing. To be safe, you should eat your sushi rolls in the next 24 hours.
Tips For A Smooth Cooking Experience
There are many twists and turns in making dragon roll sushi. To make things easier, check out these cooking tips.
With classic dragon rolls, if you're not going to serve the sushi right after making it, you can squeeze some lemon over the avocado. The acidic content of lemon will prevent your avocado from turning brown.
When slicing a sushi roll, you should clean your knife with a wet towel after each slice. This will help remove any sticky rice on the knife and give you a cleaner cut.
Short-grain Japanese rice will give you the best consistency and flavor for sushi since they contain more moisture than other types of rice.
When cooking sushi rice, aim for the 1 to 1 water to rice ratio. Since you're going to season the rice with vinegar afterward, the rice will need to be a bit more firm than normal steamed rice.
FAQs
Not everyone is well-versed in Japanese cuisine or sushi, but it's never too late to ask. Here are some of the most frequently asked questions regarding sushi rolls.
Nutrition Facts
4 servings per container
---
Amount Per ServingCalories569
% Daily Value *
Total Fat 26g

40

%
Cholesterol 289mg

97

%
Sodium 1017mg

43

%
Potassium 778mg

23

%
Total Carbohydrate 46g

16

%

Dietary Fiber 3.7g

15

%
Sugars 11g

Protein 37g

74

%
---
* The % Daily Value tells you how much a nutrient in a serving of food contributes to a daily diet. 2,000 calories a day is used for general nutrition advice.
Elevate Your Dragon Rolls With These Side Dishes
If you want to enhance the tastiness of your dragon rolls further, you have to try them with these side dishes.
Tamagoyaki is a Japanese omelet with a slightly sweet taste and creamy texture. They're well-loved among children and adults alike for their pleasant taste and versatility. You can pair tamagoyaki with almost anything, and it will turn out delicious.
Tempura is the common name for Japanese battered and deep-fried vegetables, meats, or seafood. Apart from sushi, tempura is one of the most well-known dishes in Japanese cuisine.
As long as you're using the proper batter, you can almost deep-fry anything and call it tempura.
Seaweed salad is simple to make and is a perfect choice for a healthy side dish to pair with your dragon roll. Seaweed has a naturally tangy flavor that is elevated by the rich taste of soy sauce, ginger, and sesame oil.
You can find this dish in most sushi bars, so don't hesitate to give them a try.
Green Tea
Not only is green tea widely loved and consumed by Japanese people, but it's also a cultural icon of the country. Although dragon roll is technically not an authentic Japanese dish, there's no harm in learning about this culturally rich country through its most famous drink.
Learn more about the Japanese's "sadou" (way of the tea) ceremony. You can see this video to know more:
Dango is a must-try traditional Japanese dessert. They are pleasantly sweet with a chewy consistency. After your fulfilling rice-based main dish, Dango will make an exceptional finishing touch to a satisfying dinner night.
Enjoy Your Sushi Treat
It's finally time to enjoy your delicious sushi! To get the best out of your hard work, don't forget to pair them with the condiments and side dishes recommended above!
Do you still think that this dish is too complicated to make at home? Or are you confident that you can handle dragon roll with ease from now on? Leave your answers in the comment and please give this post a like and share if you enjoy reading it.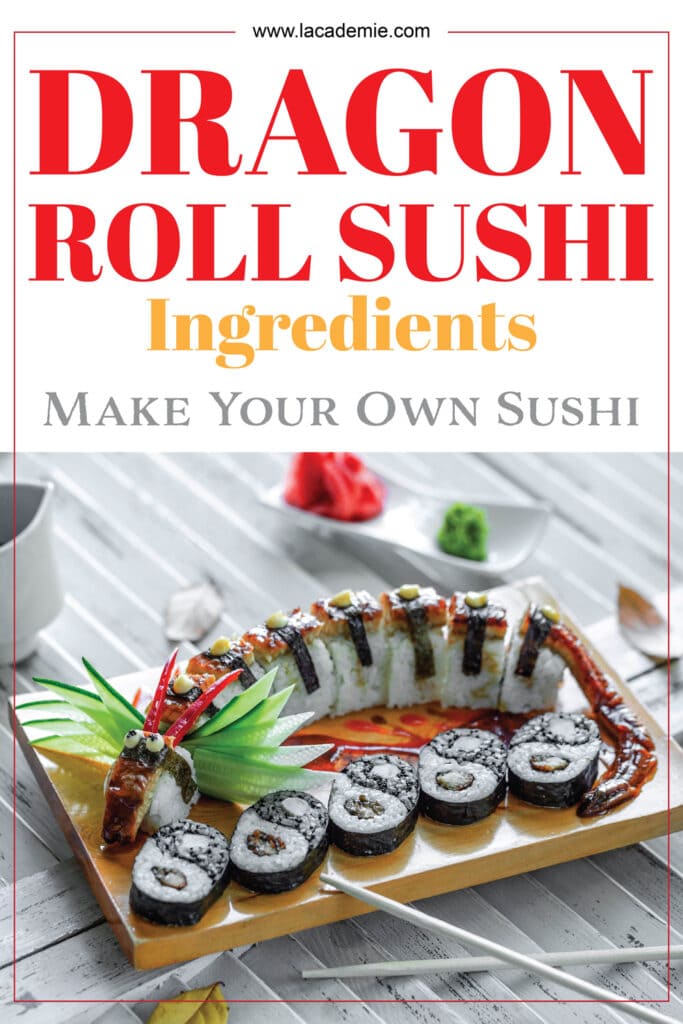 References
Contributors to Wikimedia projects, (2001). Sushi – Wikipedia.
Nutritionix.