If you are a sushi lover, you must have heard about this familiar question: How long is sushi good for? This problem is famous among gourmets as much as whether sushi is suitable for gluten-free diets.
If you have similar questions, please refer to this article of mine. A lot of helpful information is waiting for you to find out.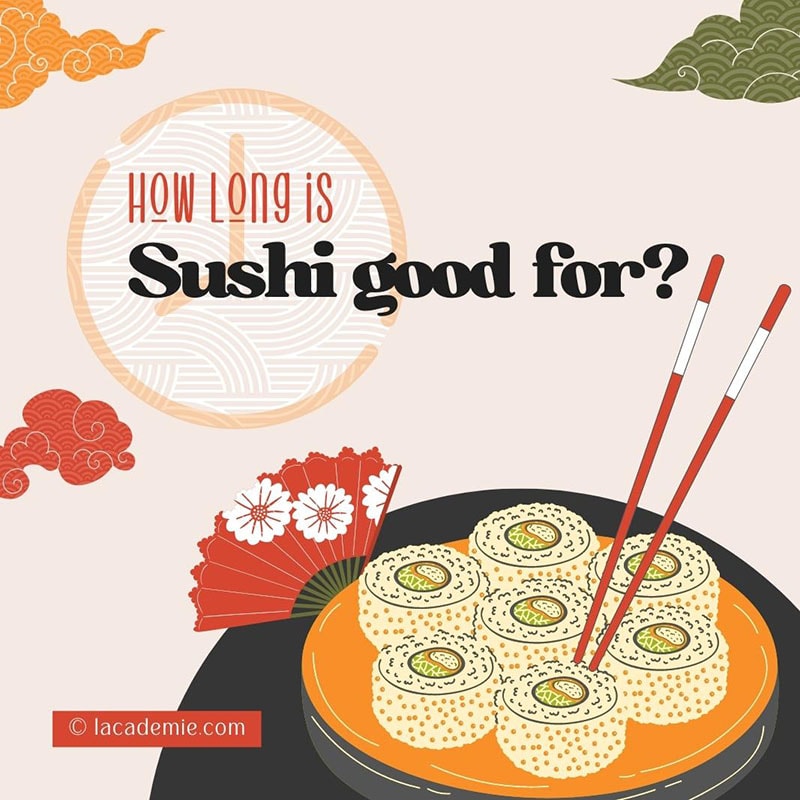 How Long Is Sushi Good For?
To make it clearer, sushi stored in the refrigerator can't "taste good" like fresh ones. Because the ingredients will change their flavors after a short time, such as the seaweed being mushy and torn, the vinegar rice becoming harder, etc.
However, the raw fish portion of sushi is partly safe to eat within the first 24 hours (if you freeze leftovers as quickly as possible).
Not every type of sushi has raw toppings. Some of them have half-boiled shrimp, fried tofu, or even special fried eggs. Therefore, to these types, you can store them longer (up to 3 to 5 days) in the proper conditions.
Overall, the finest sushi is eaten within 30 – 60 seconds of being made by the chefs. However, the time limit sushi can stay fresh at room temperature is much longer than that, so rest assured if you can't finish your sushi within a mere minute.
You Might Shock If You Know These Facts About Sushi!
Are you waiting to explore new facts about this aesthetic dish? The following information might shock you!
You might think every kind of sushi comes from Japan but actually, not. Some of them originate from America, for example, "California roll" (with avocado, cucumber, sesame seeds, crab) and "spicy tuna roll" (with spicy mayo-mixed tuna, chili sauce, and "nori").
Another popular sushi variation that comes from America is dragon roll sushi. If you look closely at the must-have ingredients for dragon roll sushi, you'll see a clear influence from American cuisine in the dish. However, dragon roll sushi still manages to maintain most of its Japanese inspiration.
There are still many other types of sushi affected by American cuisine, as sushi has already been served in America since the 1900s.(1)
Not every sushi has raw ingredients like raw fish. Although a delicious and juicy piece of salmon is the first image that comes to your mind, most of their toppings have gone through many processing methods. Just a few of them are truly raw.
Depending on the types, the sushi with raw fish has usually been soaked in sake, blanched, or even pickled, etc. The other types of cooked or half-cooked toppings are shrimp, eggs, fried tofu, and so on.
Sushi is not served alone but with other side dishes or Asian dressings and traditional wasabi soy sauce. One of the best side dishes of sushi is pink pickled ginger, which can help you refresh your mouth before tasting another piece.
Eating sushi like a native is not that hard! Let's see this video to know:
Some Popular Types Of Sushi You Should Try
There are many types of sushi, but today I will share the 8 most popular types that you can see at any sushi restaurant. After this, matters like distinguishing between sushi, nigiri, sashimi, and maki will be easy as pie for you. So let's keep on reading.
1. Nigiri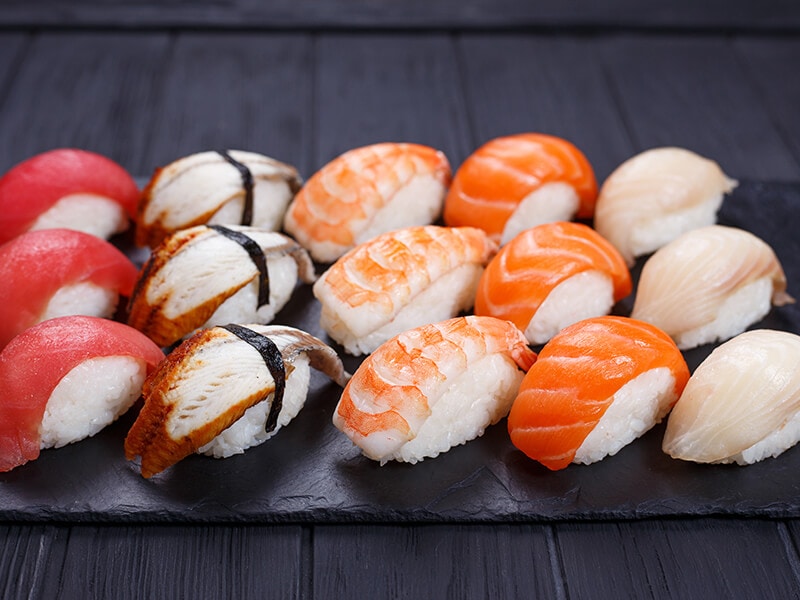 The image of a glorious piece of fluffy sushi rice from the best brands, topped by a finely sliced salmon, that comes to your mind is a nigiri piece. Because a portion of nigiri always fits in a bite, it is believed that it was initially made as a fast food dish.
Topping of nigiri is also very diverse, not just limited to raw seafood. They can be fried eggs, grilled eel marinated in sauce or some vegetables, and so on.
2. Gunkan Nigiri (Battleship Sushi)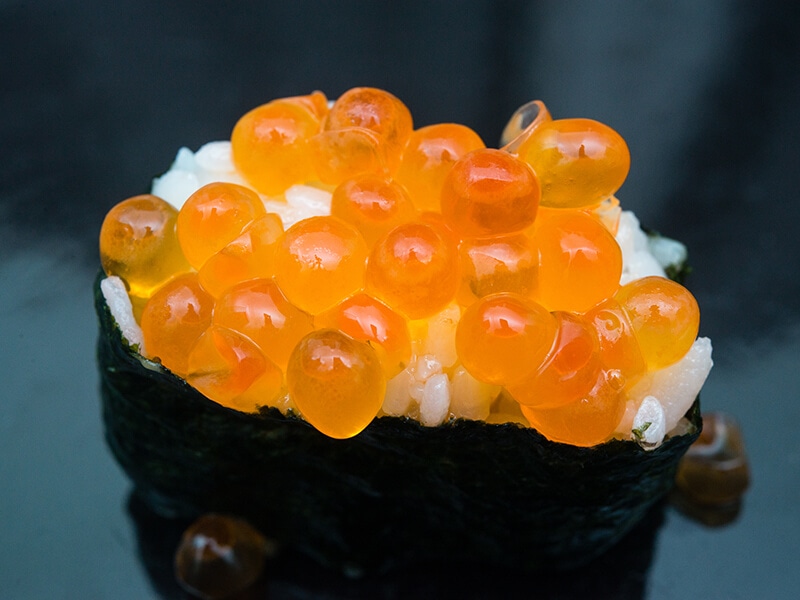 Gunkan in Japanese means battleship, and that explains everything. This type of sushi doesn't have a round shape but is a little longer sideways.
You can have many choices for topping, such as salmon roe, sea urchin, or some mixed dishes like negitoro (tuna belly mixed with scallions) or kanimiso (mixed crab brick).
3. Hosomaki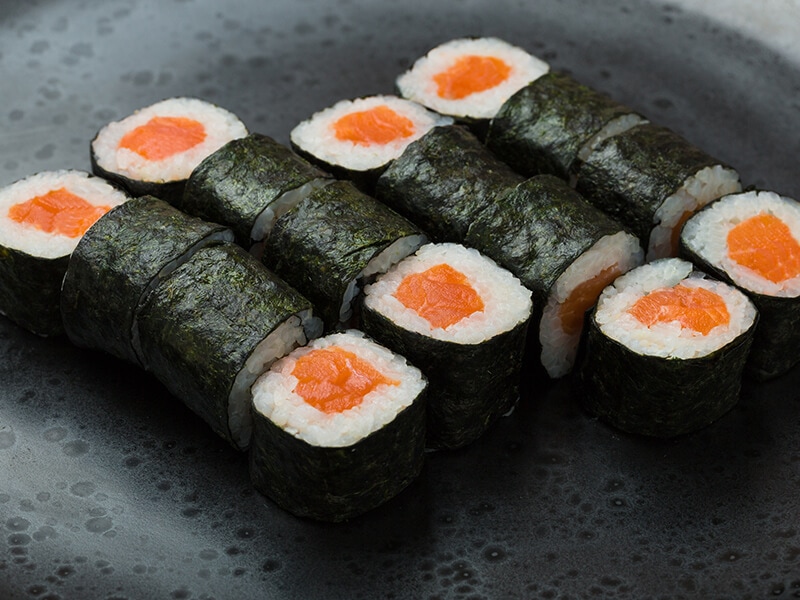 This might be the simplest sushi, with only one ingredient used in each roll. The ingredients are varied. It can be raw salmon, tuna, or just some kinds of vegetables.
Tekkamaki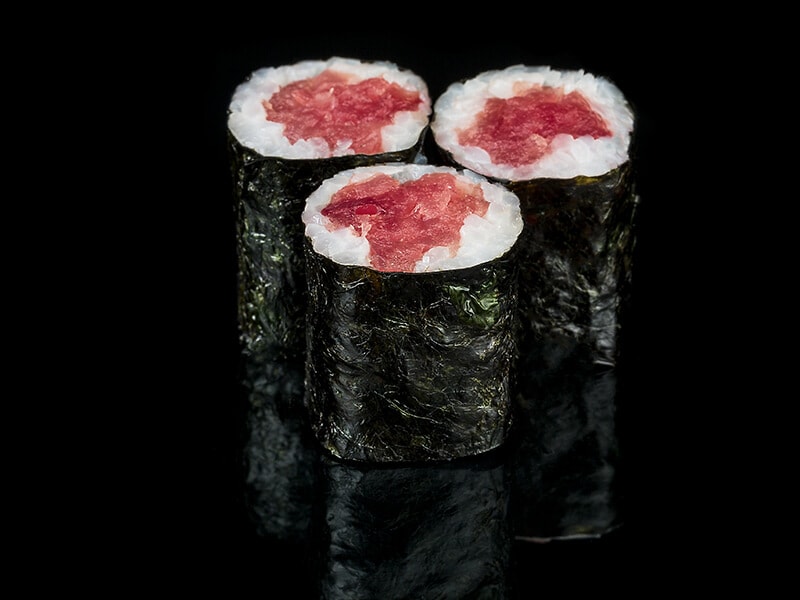 Interestingly, the hosomaki with tuna has its name tekkamaki.
Tsunamayomaki
And the hosomaki with mayo mixed tuna is called tsunamayomaki.
4. Futomaki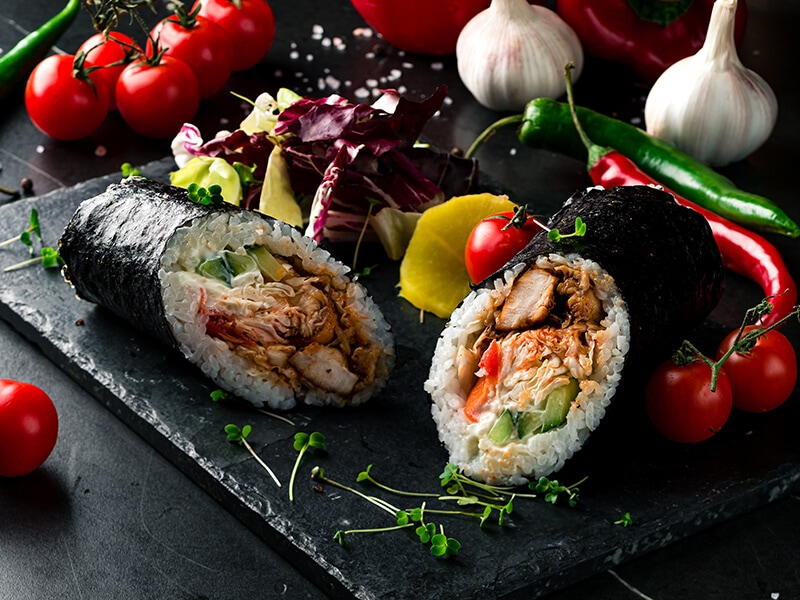 In Japanese, the word "futo" means "fat." Therefore, futomaki is a big roll of sushi that contains many ingredients that range from anything.
A futomaki is much bigger than the average size of maki so that you can have a mouthful of it to enjoy different flavors in one bite.
Because futomaki is considerably bigger than most, you'll need to have a trustworthy kit for making sushi to successfully roll the sushi. Otherwise, you might encounter issues such as the nori constantly breaking, or the final result might look unsightly.
5. Uramaki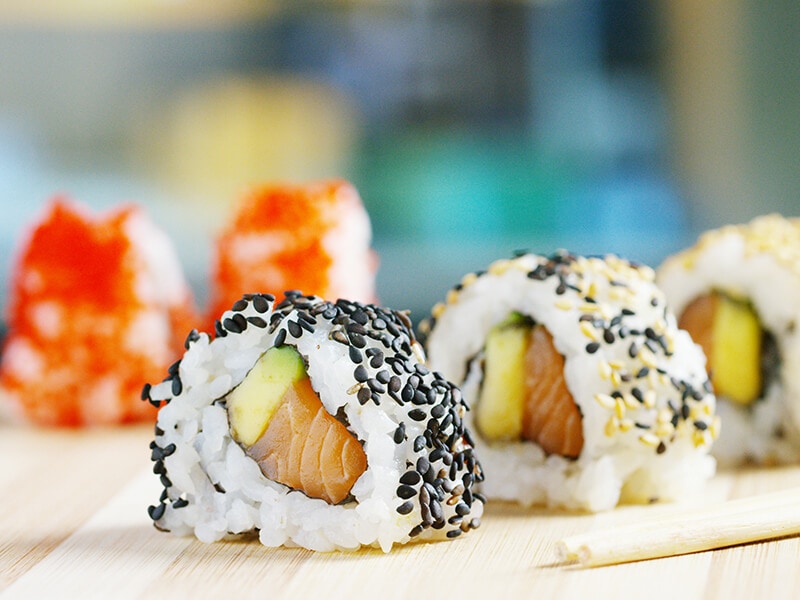 This type of "makizushi" has its rice inside-out, and the "nori" or other ingredients such as raw fish or crab stick are wrapped inside.
The most popular uramaki types in America are "California roll" and "Spicy tuna roll."
6. Temaki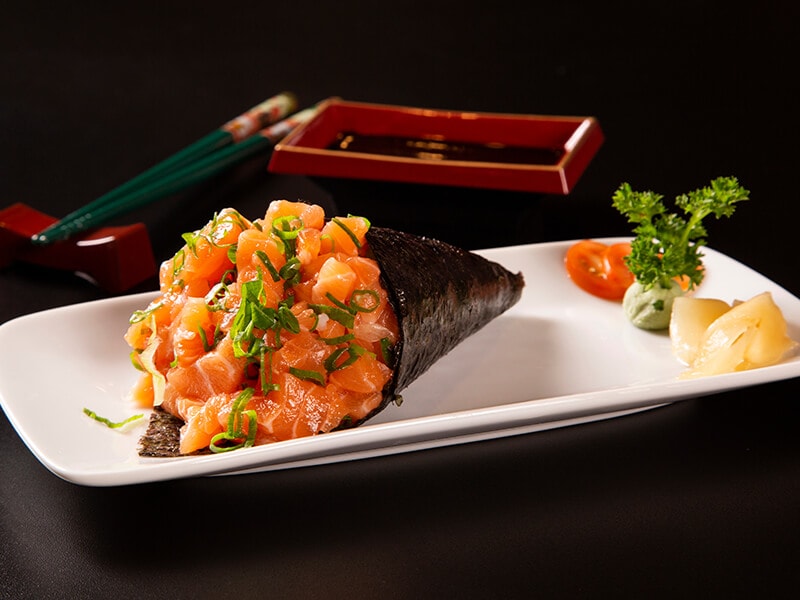 It is "maki," so temaki is also rolled by a "nori," but it is rolled into the shape of an ice cream cone. Your "ice cream cone" will have a topping of squid (with or without natto), fish, and sweet omelet, not sugar sprinkles or chocolate.
Due to its distinct shape, maki makes the job of differentiating between hand rolls and sushi rolls unbelievably easy. While there are several other dissimilarities between the two that most don't know about, with just appearances alone, you can effortlessly tell which is which.
7. Chirashi (Sushi Bowls)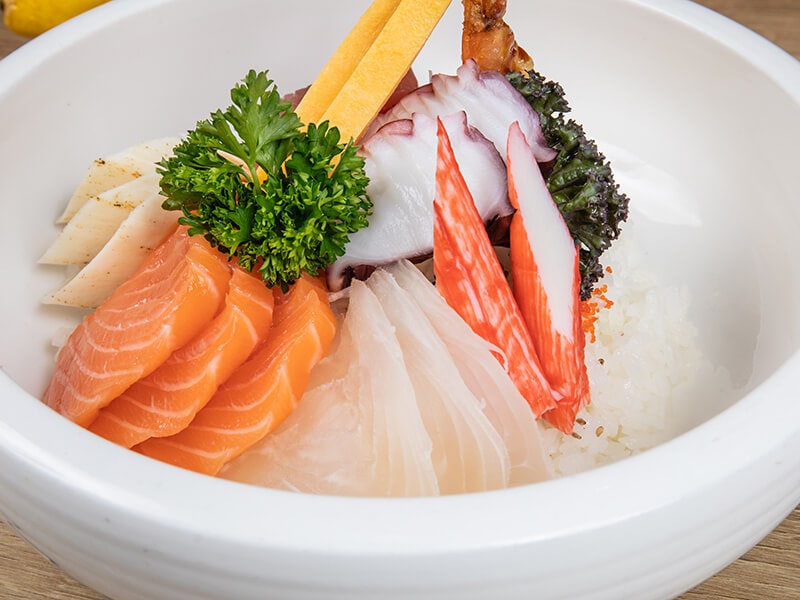 This is simply a bowl of vinegared rice topped with many ingredients, including pieces of salmon, squid, cucumber, shredded omelet, boiled prawns, and so on. That is why its name is "chirashi," which means "scattered sushi."
Every piece is a piece of art. Eating these must-try Japanese dishes once can bring your phenomenal tasting experience. So, knowing how to store each type of them is necessary because no one wants to have diarrhea for a new experience.
A Detailed Guide To Storing Different Types Of Sushi
To differentiate the best way of storing each type of sushi above, I will group them by their ingredients. Therefore we can see there are 3 main groups below.
Raw ingredients (sashimi, nigiri, gunkan nigiri, chirashi)
Cooked ingredients like sweet omelets, imitation crab (hosomaki, etc.)
Vegetables (California roll, etc.)
Sushi is a delicacy dish, so they need an appropriate way to be preserved. You also need to remember that stored sushi can not have the same quality as freshly made ones.
| Types of toppings | Storing places | Temperature | Available storing time |
| --- | --- | --- | --- |
| Raw ingredients | Room | Room temperature | Under 20 minutes |
| Raw ingredients | Freezer | At 41 degrees F (~ 5 degrees C) | Maximum 24 hours |
| Cooked ingredients | Room | Room temperature | Under 4 hours |
| Cooked ingredients | Cooler compartment | At 59 - 64 degrees F (~15 - 18 degrees C) | Under 5 days |
| Vegetables | Room | Room temperature | Under 4 hours |
| Vegetables | Cooler compartment | At 59 to 64 degrees F (~15 - 18 degrees C) | 5 to 7 days |
1. Sushi With Raw Ingredients
Almost every type of sushi has raw ingredients, and the most common one is raw fish. So keep this in mind, no type of fish can be eaten raw if they are at room temperature for 20 minutes.
Every 20 minutes at room temperature can double the number of bacteria on your fish. If you are having a dish of sashimi in front of your eyes, then you should eat them right away.
But if you want to store them for later, keeping your raw fish in the refrigerator is the best way.
And, the temperature should be nearly precisely at 41°F (~ 5°C). Higher temperatures can spoil your fish, and you can probably make "fish ice cream" at a lower temperature.
Note:
Even storing the exact temperature inside the fridge, your raw ingredients are only safe to eat for a maximum of 24 hours.
Remember to patch your fish dry with clean, absorbent paper towels before storing them.
Wrap your dry fish pieces in plastic wrap, put them in airtight containers, or vacuum Ziploc bags. This can also prevent your rice from being too dry.
Only store leftover raw fish sushi 30 minutes after they are made.
These notes are necessary as eating spoiled raw fish can cause severe nausea, vomiting, stomach cramps, and diarrhea.
2. Sushi With Cooked Ingredients
If your sushi has cooked ingredients, it is easier to store because your only concern might be the firmness of the vinegar rice and the differences in storing time of your cooked toppings in the fridge. For instance,
| | |
| --- | --- |
| Common Toppings | Shelf Life (In The Cool Compartment) |
| Imitation crab | 3 to 5 days |
| Sweet omelets | 3 to 4 days |
| Boiled shrimps | 4 days |
| Boiled octopus | 3 days |
And mainly, those ingredients can be eaten in under 5 days in the fridge.
After 4 hours at room temperature, your sushi rice will be so stiff and hard to eat. So you should better eat them before that.
3. Sushi With Vegetables:
Vegetable sushi (which only has veggies) can be eaten in the cool compartment after 5 to 7 days. But you still need to notice if your green leaves fillings or toppings become slimy or wilted before that time.
You Should Also Consider This
As you probably know, to eat raw fish in sushi, the fish used needs to go through many strict handling and preservation procedures to prevent harmful bacteria.
Sushi chefs are trained to strictly follow concise procedures to minimize the fish's exposure to the air. Therefore, eating leftover raw fish that is frozen for the second time can create a health hazard. The fastest and most prominent symptom is diarrhea.
Therefore, it is recommended not to eat raw fish sushi after it has been refrigerated to minimize the risk and preserve full flavors.
You should not eat refrozen sushi! Let's see this video to know:
Signs That Your Sushi Has Gone Bad
It's not that hard to check if the piece of fish on your sushi is still edible. You will only need to pay attention to 3 simple factors:
1. The Smell
To be served on your plate, the sushi fish must not smell fishy. This is because the fishy smell is produced by improperly frozen fish or being correctly defrosted. Therefore, if you smell unpleasant odors from your sushi, tell the chef right away.
Identical to the other ingredients, they are no longer edible if they give a weird rotten smell or some kinds of acidic and sour aromas. When you have any doubts, just throw them away.
2. The Texture
Fresh fish has a certain elasticity on the meat. When you press the piece of fresh fish, it will spring up immediately. Boiled or cooked ingredients can also be mushy and slimy after a time in the refrigerator.
Next is about the base of your sushi, rice. Vinegar rice is quickly hardened in inappropriate storing conditions. You can see it right away since your rice will not bind anymore and fall off like crumbs.
So why not try if you are in doubt.
3. The Color
When fish is left in the refrigerator for too long and is no longer fresh, it loses its natural color. You can use this to see if your piece of fish is still edible.
Each piece of sushi needs to be carefully polished from the hand of the fisherman to the chef's hand to bring you the best taste experience.
Also, if your vegetables look discolored or somehow wilted, you should tell the chef immediately. You should always be careful to protect your health.
Practice recognizing the signs and safety rules against poisoning to protect not only you but your family.
FAQs
You might have many other questions about sushi, then let's scroll down and take a look to find your answers.
Everyone Should Try Sushi Once In Their Life!
Knowing how long is sushi good for and other knowledge about sushi can help you to have the best taste experience and at the same time not affect your health.
Every piece of sushi is an art, and the sushi maker is an artist. Even how to eat sushi properly is a big lesson that needs to be conducted through many experiences.
Do you have any fond memories of this dish? Do you have any other questions about sushi and need a prompt answer? Feel free to share with me in the comment section!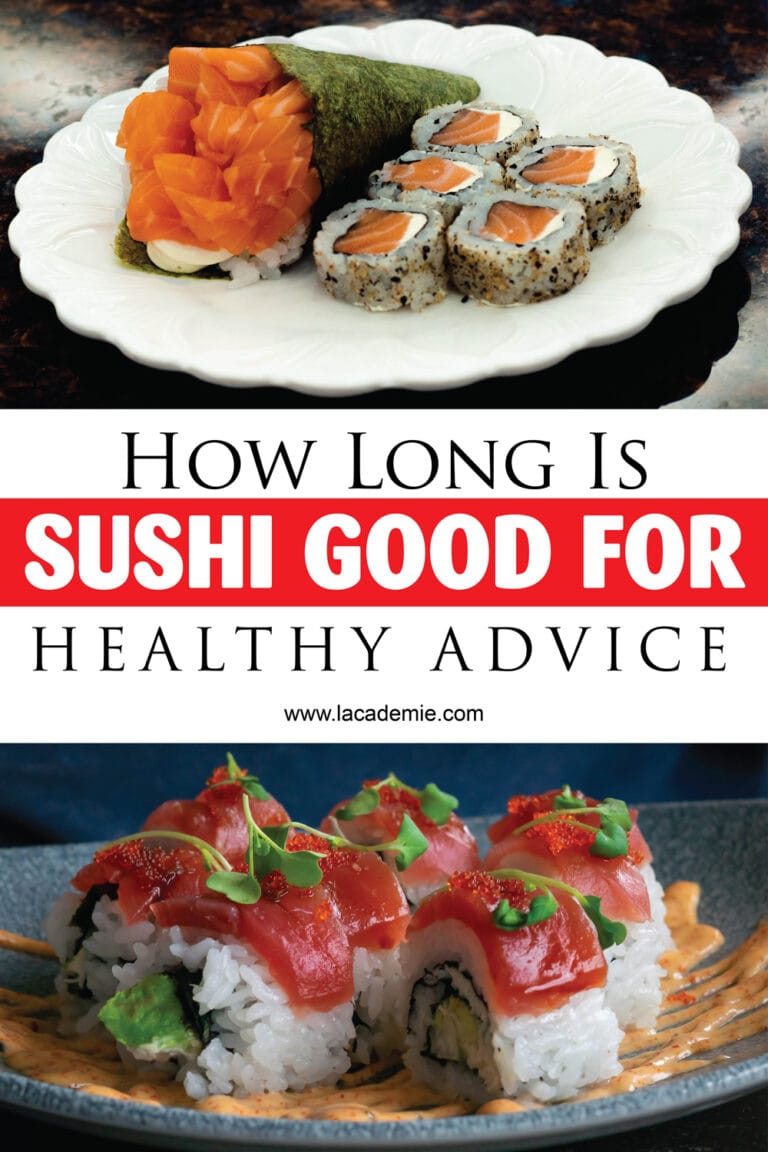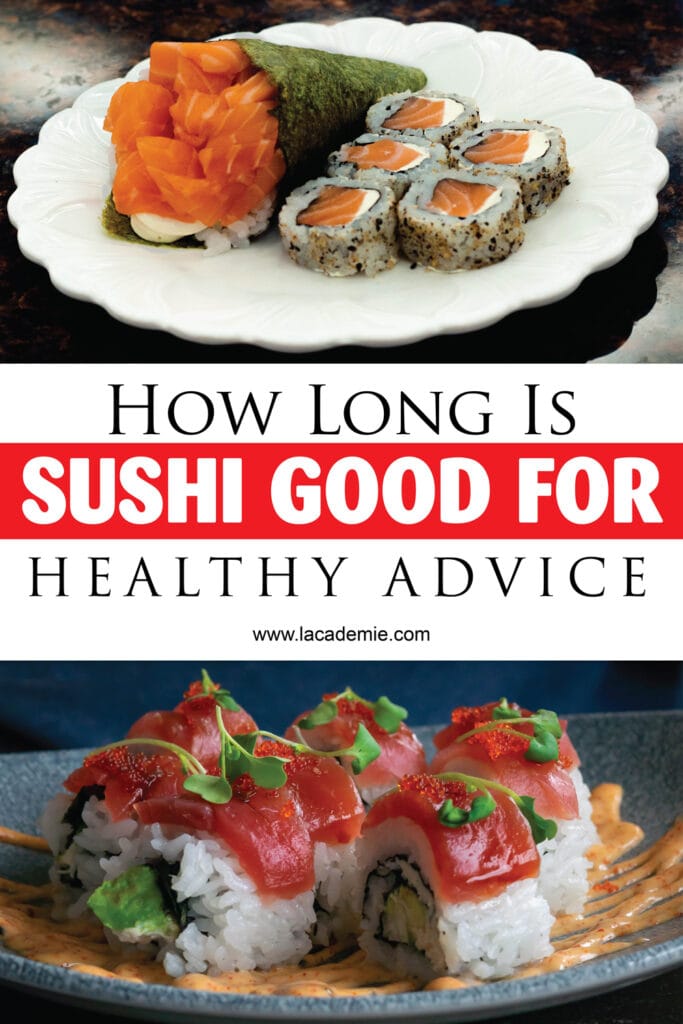 References:
Anon, 2021. History of sushi. Wikipedia.
Healthline. 2021. Food Poisoning: Types, Symptoms, & Treatment.