Sushi roll vs. hand roll might be easy to tell for native Japanese but not for foreigners. Sushi is, without a doubt, Japan's most famous dish, and its popularity has extended throughout the world, particularly in America.
However, because there are so many different types of sushi with various components, it might take a certain time to memorize them all. Indeed, you might find it challenging to differentiate sashimi, sushi, nigiri, or maki in the world of Japanese cuisine.
But you can learn about sushi in small steps, starting with 2 concepts: sushi rolls and hand rolls, like in this post.
And it will not cost anything but only 5 minutes to read this article so you can prepare yourself with some exciting information about sushi rolls and hand rolls. Let's get it started.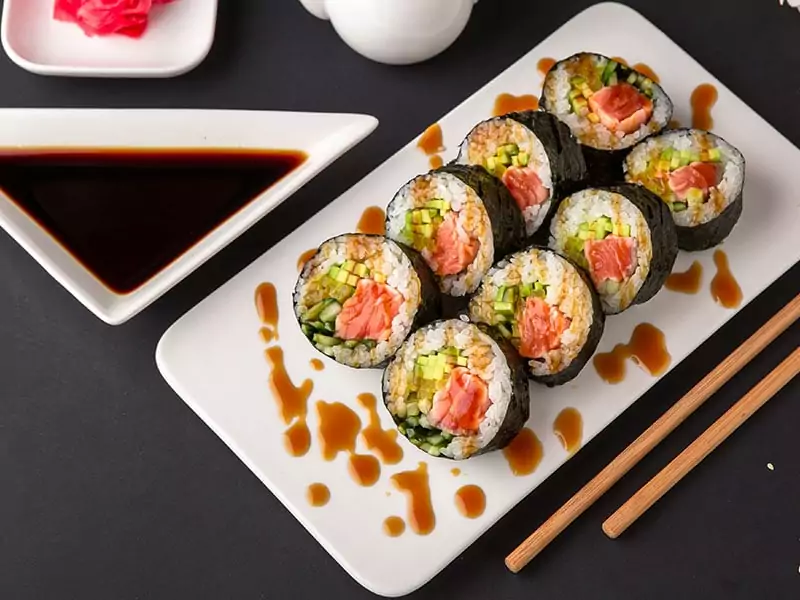 How To Tell The Difference Between Sushi Roll And Hand Roll
Some people may be perplexed by the terms sushi roll and hand roll, but they are simply different ways of preparing sushi. Sushi rolls can be rolled with a bamboo mat in the good-grade sushi making set; hand rolls, on the other hand, can be rolled by hand.
Besides, there are similarities and differences between them regarding appearance, preparation, ingredients, consumption, and other factors to tell sushi roll and hand roll apart.
So sit tight and roll the page down to absorb numerous useful knowledge about them now.
Sushi Rolls – What Are They And How Many Types Of Them?
You might have seen and tried many sushi rolls with rice and filling that were covered by dried/roasted seaweed (or called nori). Technically, they are a basic form of sushi roll. But do you know the Japanese term for them? The following parts will tell you.
The General Information About Sushi Rolls
The most traditional sushi rolls are Maki sushi that includes vinegared rice and fillings like vegetables, eggs, fish, eel, etc., on the inside, then usually rolled by a sheet of seaweed or soy paper (occasionally).
In fact, rice is the main ingredient in sushi. That's why it needs to be made with top-notch sushi rice to ensure they meet all the requirements of the greatest sushi rolls. Plus, the standard length of a sushi roll is around 8 inches (about 20 cm).
Japanese people believe that maki sushi originated during the Edo period in the 1700s (1). They were then widely spread to other places in Japan with different versions. But I will explain them more in the next part, so make sure you will not skip anything.
The first term for this sushi roll is 'makizushi', and 'maki' means 'to roll' in Japanese. People use a bamboo mat to roll the sushi as well. Before serving, the sushi roll is usually cut into bite-sized pieces.
As they come in small round pieces, maki sushi is easier to share with more people. And you can use chopsticks or hands to eat them.
Types Of Sushi Rolls
There are 5 common types of maki sushi, which are Hosomaki, Chumaki, Futomaki, Temaki, and Uramaki. If you are looking for a cold appetizer to start your party, you can give them a shot.
And of course, they have distinctive characteristics regarding the sizes, ingredients, or the way to prepare. Here is the brief information about them.
Hosomaki: They are small-sized rolls with vinegared rice and 1 filling ingredient rolled in a sheet of seaweed. A regular hosomaki is around 1 inch (2.5 cm) in diameter, so they are the smallest sushi rolls compared to other rolls.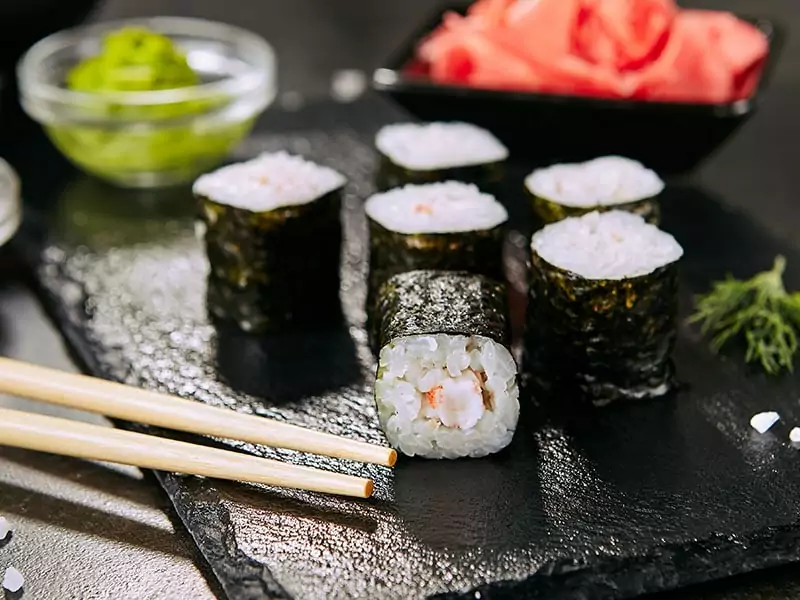 Chumaki: They are medium-sized rolls with vinegared rice and 2 to 3 filling ingredients that are wrapped by seaweed. A regular chumaki is around 1 to 1.5 inches (2.5 to 3.8 cm) in diameter.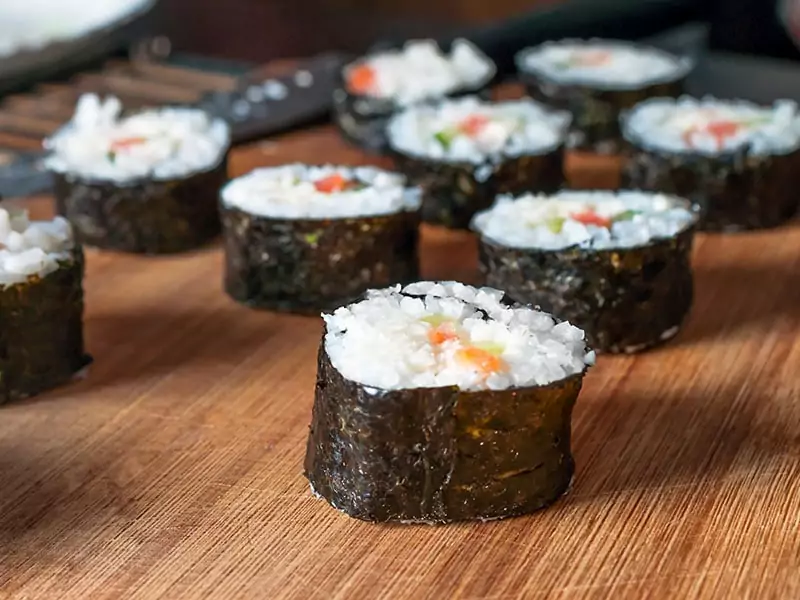 Futomaki: This delicious variety of sushi is large-sized rolls with vinegared rice and more than 2 filling ingredients wrapped in seaweed. The regular diameter of futomaki might be from 2 to 2.5 inches (5 to 6 cm).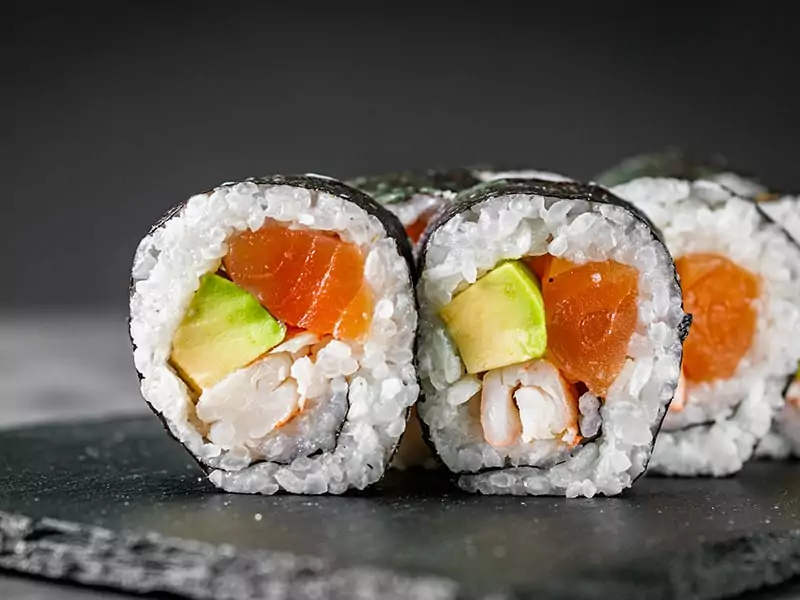 Temaki: Temaki is hand-rolled sushi with vinegared rice and more than 1 filling ingredient wrapped by seaweed. A regular temaki's length is around 4 inches (10 cm).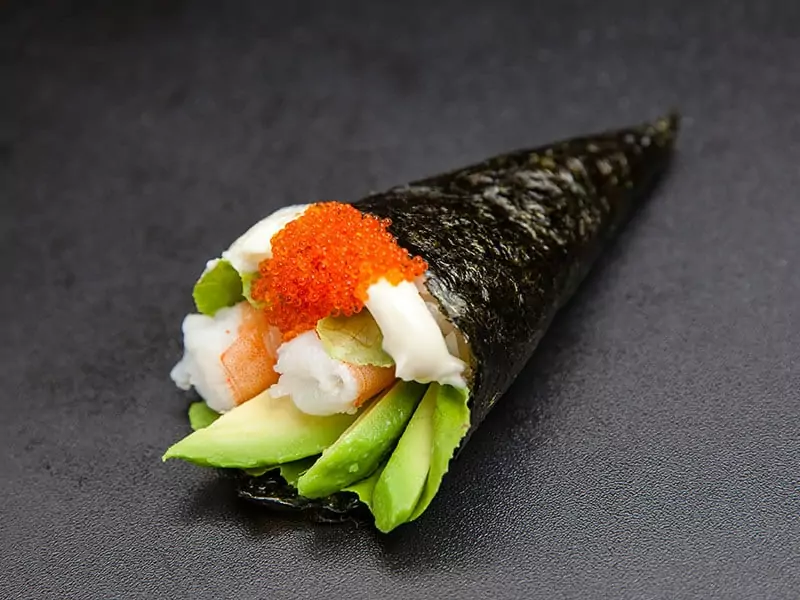 Uramaki: This sushi roll, surprisingly, originated not from Japan. They are claimed to be from California. That's why they are also called California rolls. Uramaki is the inside-out sushi as the filling is wrapped by seaweed, then rolled by rice on the outside.
Here is a quick review of some popular sushi types (including sushi roll and hand roll) with short introductions.
Advantages and Disadvantages Of Sushi Roll
After general knowledge about sushi rolls, I will sum up some pros and cons of sushi rolls for better understanding.
Advantages
Disadvantages
● Come in small-bite, so they are easy to share with more than 1 person
● Can either use hands or chopsticks to eat (especially for those who want to practice their chopstick skills)
● Might not be enough to fulfill your hunger if you share your sushi roll with many people
At this point, you might know what hand roll sushi is. That's right; they are Temaki sushi. So keep reading to find out more about this particular sushi type.
Temaki – The Hand-Roll Sushi With Special Shape
Unlike the cylindrical sushi rolls, the hand-rolled temaki have a different shape due to different preparation techniques. So, what do they look like and their ingredients? Let's find out now.
What Is Temaki Exactly?
Temaki, as mentioned above, is a sushi type in the maki group. You can imagine them like an ice cream cone, and temaki is usually 4 inches (around 10 cm) in length.
Temaki also consists of vinegared rice (or not) and filling, then wrapped by seaweed. They are open-end sushi with large-sized cone shapes.
Though normal sushi rolls can be prepared in advance, hand-rolled is much better to be eaten right after they are made because the rice will soften the whole seaweed sheet, making them limper and chewier.
Also, temaki is meant to be consumed as a whole roll for one person. Therefore, you will never find smaller sushi cuts of temaki.
As their name suggests, you will use your bare hands to roll sushi, making them easier to prepare. However, you cannot use chopsticks to eat them due to their big size.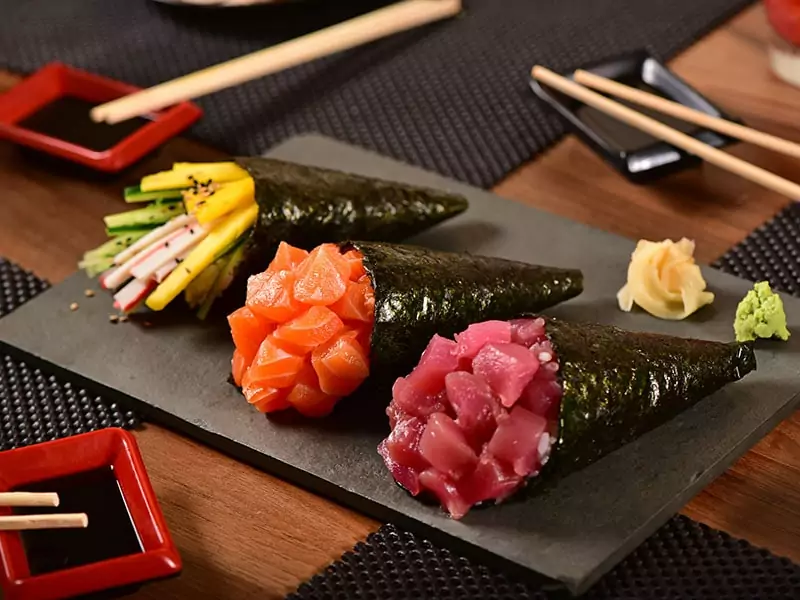 Advantages and Disadvantages Of Hand Roll
Similarly, let's see some short pros and cons of hand-roll sushi to determine which roll is better for you.
Advantages
Disadvantages
● Come in big size so it would be easier to fulfill your stomach
● Easier to prepare without requiring any special rolling skills
● Can be eaten on the go, especially when you are in a hurry
● Cannot use chopsticks to eat (only use hands)

● Cannot share with more people (only for 1 person)
Sushi Roll Vs. Hand Roll – The Dissimilarities and Similarities Between Them
The bottom line of this article is to provide separate views of sushi roll and hand roll. So let me draw the line between them, then you can learn their differences better. Besides, there are some common characteristics between them that you should remember as well.
Dissimilarities Between Sushi Roll And Hand Roll
The following table with a summarized comparison of sushi and hand rolls will help you memorize the differences between them more easily. Take a quick look.
| Sushi Roll And Hand Roll | Sushi Roll | Hand Roll |
| --- | --- | --- |
| Name | Maki, or makizushi | Temaki |
| Type | There are various types as Hosomaki, Nakamaki, Futomaki, Temaki, and Uramaki | The only type of hand roll sushi |
| Appearance | Cylindrical shape then cut into 6-8 pieces | Conical shape without any cut |
| Rolling method | Use a bamboo mat to roll | Use hands to roll |
| Preparation | Require more skills to roll; Can be made them in advance | Easier to roll; Should not make them in advance as hand-rolled sushi must be consumed as soon as possible (rice will soften the whole seaweed sheet) |
| Ingredients | Main ingredient is vinegared rice with other cooked or raw components (like fish (mostly cooked), seafood, egg, fruits, and vegetables); Wrapping: By seaweed or soy paper | Does not contain rice (occasionally); Can only contain fish (mostly raw), seafood, egg, fruits, or veggies; Wrapping: By seaweed only |
| Consumption | Eaten in smaller pieces so you can finish it in 1 bite | A whole large roll so you might need more than 2 bites to finish |
| Sharing | Can share with everyone | For one person only |
| Eaten by | Hands or chopsticks | Hands-only |
| Serving with | Wasabi, pickled ginger, and soy sauce | Wasabi, pickled ginger, and soy sauce |
| Availability | In any sushi restaurant, or in some supermarkets and Asian-styled convenience stores | As they are easy to make at home so you cannot find temaki in some Japanese sushi restaurants |
1. Appearance
The most significant and noticeable difference between these 2 is their shapes. As sushi rolls (maki sushi) are rolled with a bamboo mat, they have a typical cylindrical shape.
However, temaki – the hand-rolled sushi has a conical shape that is rolled by bare hands. So you do not need a special tool like bamboo mats to make them.
Also, the preparation of them is quite different, making them have a varied appearance. There are 5 basic types of sushi rolls, including temaki, with different ingredients and ways to prepare; they will have some distinctive look.
For example, hosomaki, nakamaki, futomaki, temaki are rolled by seaweed on the outside, while uramaki is rolled by rice on the outside. Moreover, as explained, temaki is the only hand-rolled sushi type in maki sushi, making them the most notable appearance compared to other rolls.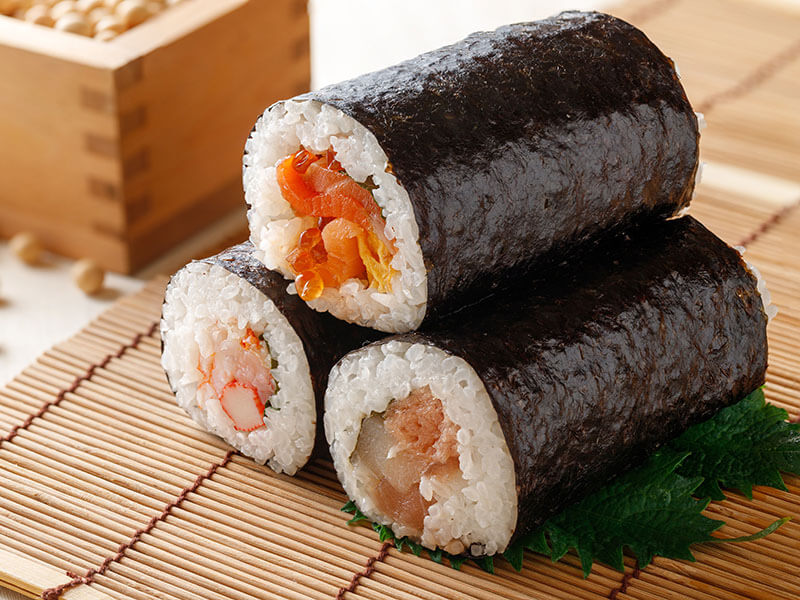 2. Ingredients
Another significant difference between sushi rolls and hand-roll Temaki sushi is that temaki sometimes does not contain rice.
Sushi rolls' main ingredient is rice and other components like fish, seafood, egg, fruits (mostly avocado), and veggies, whereas hand-roll sushi's filling might be just veggies, fruits, fish, seafood, or eggs.
However, typical maki sushi rolls mostly come with cooked fish, while hand-rolled sushi's fish component is usually raw.
Besides seaweed, sushi rolls can be rolled in soy paper, while hand rolls must use seaweed to wrap.
3. Consumption and Sharing
Sushi rolls are typically cut into 6 to 8 bite-sized pieces; therefore, you can share with everyone. And you can finish a whole piece in just 1 bite.
Since you can share your sushi plate with many people, sometimes it might not fulfill your empty stomach. That's why there are many side-orders served along with sushi. They can be soup, salad, or some fried foods.
Hand rolls, on the other hand, are served as a whole instead of cut into pieces. That's why they are suitable to eat alone for 1 person, and it might take more than 2 bites to finish 1 hand-rolled sushi.
As sushi rolls come in small sushi pieces, you can use hands or chopsticks to eat them. But you might face some difficulties if you use chopsticks to eat hand-rolled sushi due to their big size.
You can serve sushi rolls and hand-rolled sushi with pickled ginger, soy sauce, and wasabi for the best flavor.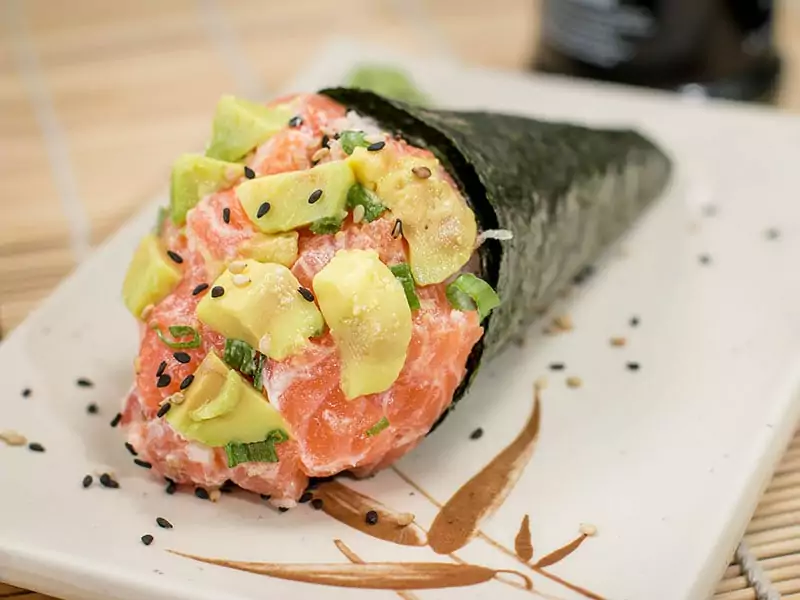 4. Availability
Sushi rolls can be easily spotted in any sushi restaurant, some supermarkets, or 24/7 convenience stores (Asian-styled stores).
However, as hand-roll does not require a special skill to roll, they can be easy to make at home, so sometimes you can barely find them in Japanese sushi restaurants.
Similarities Between Sushi Roll And Hand Roll
After learning their differences, there are 6 key similarities that you can find in sushi rolls and hand rolls, namely:
They are both famous Japanese sushi dishes.
They both use seaweed to wrap.
3 common condiments served with sushi rolls and hand rolls are soy sauce, wasabi, and pickled ginger. You can use shoyu sauce as the alternative to soy sauce because this replacement has some similar ingredients as soy sauce.Most of the ingredients for both are similar (e.g., seasoned rice, fish, seafood, veggies, etc.).
They are a good source of nutrients with various health benefits.
You can eat them as an appetizer (in small quantities) or a main meal.
You can have various choices for them as they can contain multiple filling ingredients.
Health Benefits and Side Effect Of Sushi Roll And Hand Roll
Like most food, there are always good and bad sides that affect your health. Here are some essential health advantages and disadvantages that you should consider before eating them.
Benefits That You Can Get From Sushi In General
Generally speaking, sushi is a healthy dish with several benefits in terms of heart, skin, muscle, etc. And how healthy they are, let's check the following points.
Prevent Heart Diseases: The most common ingredient in sushi is fish, especially tuna and salmon. They are a good source of omega-3 fatty acids with abundant health benefits to decrease the risks of strokes, heart attacks, or any cardiovascular disease (2).
Good Friend For Your Brain: The omega-3 in sushi consisting of fish is also great for improving brain cells. Also, the protein and good fats in other components can enhance your concentration and memory, making sushi is a great food to eat during your lunch break at work.
Good Balance For Hormones: Seaweed wrappers are high in iodine that can regulate the endocrine and hormones in your body, ensuring a good balance and avoiding chronic disorders. It also consists of various vitamins and minerals.
Enhance Metabolism and Muscle Repair: Thanks to the protein and calories in most sushi types; they can boost the formation of new cells, metabolism, and muscle repair that help your body become stronger.
Good For Your Immunity: Minerals like calcium, magnesium, phosphorus, iron, etc., and vitamin C, A, and E in most sushi are perfect for your immune system.
Lower The Chances of Wrinkle Appearance: The antioxidants in sushi are good for your skin and prevent wrinkles.
Do not underestimate a thin paper-like roasted seaweed (nori). They contain many surprising benefits that you might not know. Let's have a look at the following video!
3 Cautions Of Eating Sushi
Well, you might see eating sushi can improve your health, but there are also some side effects that I think you should not skip.
Bacteria and Parasites Contamination: Some sushi made with raw fish might contain bacteria and parasites that lead to foodborne illness.
The Risks of Mercury: Some fishes contain high mercury, such as yellowtail, tuna, mackerel, etc., that can jeopardize human health, especially in pregnant and their babies.
High Salt Content: Sushi might contain a large salt quantity. For example, salt can be added to cook rice or the high salt level in smoked fish and pickled vegetables. Plus, sushi is always served with soy sauce that also contains more salt.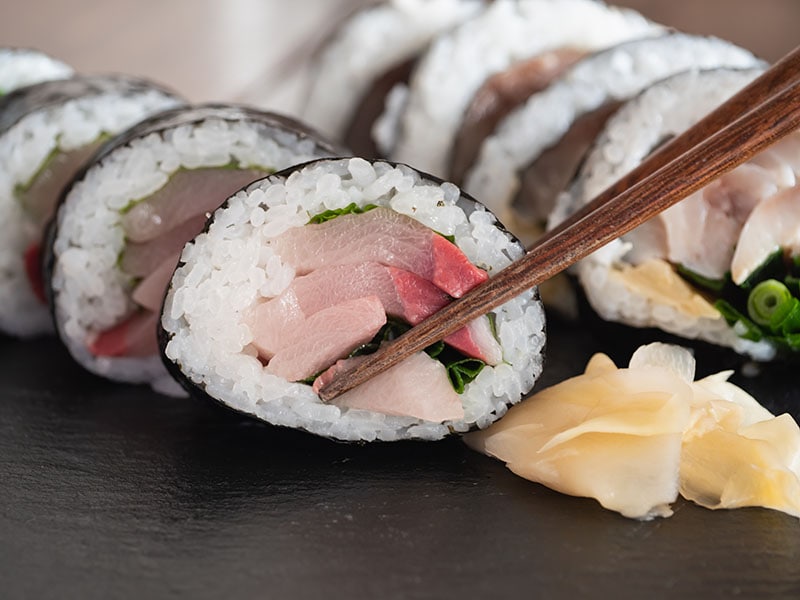 3 Ways To Roll Sushi That You Can Do At Home
Can you guess what 3 ways to roll sushi are? That's right; it is the classic sushi roll with seaweed on the outside (e.g., hosomaki, chumaki, futomaki), inside-out sushi – uramaki wrapped by rice on the outside, and of course, hand-rolled ones – Temaki sushi.
You will need a sharp knife, a large cutting board, plastic wrappers, a bamboo mat (except for hand roll sushi), a clean wet towel, a small bowl of cold water, and ingredients depending on what sushi you want to make.
Wait no more, here are the step-by-step instructions to make a wonderful sushi dish.
Basic Sushi Roll With Seaweed On The Outside
You might wonder why you need plastic wrappers. Well, you should use them to wrap the mat entirely and tightly to prevent the rice from sticking on the mat.
Do not forget to cut some slits on the plastic wraps to eliminate air bubbles during the rolling process. Now you are all set for making a sushi roll.
Step 1: Place a seaweed sheet on the mat and leave around 1 inch of space from the mat's bottom. Be noted that there are 2 sides of seaweed that are a smooth side and a rough side. Remember to place the rough side up, and the smooth side can be on the outside of a roll.
Step 2: Wet your hands with water but not too wet, then grab a ball of rice by your hands and spread them on a seaweed sheet.
Leave around 1 inch of space from the top and 1/2 inch of space from the bottom. Make sure you spread the rice evenly and thinly all the way from left to right edges of the seaweed.
Step 3: Gently press the middle of the rice to form a small creek so you can place the filling on the creek. Plus, it will be easier for you to roll the sushi.
Step 4: Placing the filling ingredients on the creek. It could be more than 1 ingredient as it depends on the types of sushi you make.
Step 5: Grab the bottom of the sushi mat and place your fingers to hold the filling, then roll from the bottom of the seaweed to the top with a gentle press to the mat to tighten the roll.
Step 6: Now you have a nice sushi roll that a seaweed sheet completely covers the rice and filling. Cut them into 6 to 8 smaller pieces before serving.
Inside-Out Sushi With Rice On The Outside
The difference here is that the rice will be on the outside of the roll, but the technique is relatively similar. Here are 5 steps to make the inside-out sushi (or uramaki sushi).
Step 1: Same as step 1 in making the classic sushi roll.
Step 2: Wet your hands with water but not too wet, then grab a ball of rice by your hands and spread them on a seaweed sheet. But for this type of sushi roll, you will spread the rice fully on the seaweed without leaving any space on the top and bottom.
Step 3: Slip them over so the seaweed side is up.
Step 4: Place the filling on the center of a seaweed sheet.
Steps 5 and 6: Same as steps 5 and 6 in making the classic sushi roll.
And Hand-Rolled Sushi
To make this hand roll sushi (temaki), remember to use your dominant hand to grab the rice. And the other hand must be completely dried to prevent the seaweed from moistening. Use paper to wipe your non-dominant hand first if they are wet.
Step 1: Place the seaweed on your non-dominant hand while grabbing a ball of rice with the other hand.
Step 2: Spread the rice on a seaweed sheet on the half left side of the seaweed. You do not need to cover the rice on this side fully, especially on the bottom part, as too much rice will be hard for you to roll later.
Step 3: Place the filling on the rice from the top left to the bottom middle.
Step 4: Grab the seaweed from the bottom left corner, then roll them from the bottom to the top middle of the seaweed. During the rolling process, use the other hand to hold the ingredient inside. Continue to roll until you have cone-like sushi.
Step 5: Place a piece of rice on the seaweed corner to glue the sushi roll so the filling will not run out.
That's it. Now you have an easy but tasty hand roll sushi that you can do without a bamboo mat.
Wanna know how to roll your sushi in these 3 ways? This short yet concise presentation will help you:
Famous Recipes For Sushi Roll and Hand Roll That You Can Try
Are you feeling hungry yet? Let these friendly-budget and easy sushi recipes stimulate your hunger, and after reading this post, all you want to do is go to the supermarket, buy sushi ingredients and make an excellent batch of sushi.
Here is one of the most basic sushi rolls with avocado and raw salmon. For the best sushi rolls, use white Japanese rice with the 'sushi rice' label to make them.
But if you are concerned about your health, brown rice is preferred. Besides these important ingredients, a touch of mayonnaise sauce is also critical to make your rolls more delicious.
Why don't you give these California rolls a shot this weekend? Or serve them at your next party to impress everyone?
You do not need too many things or effort to make them at home, but you need a bamboo mat. These sushi pieces are a perfect appetizer or even a main meal for any gathering. Do not forget to serve them with wasabi, soy sauce, and pickled ginger and enjoy them like a pro.
Let's have some fun with this inside-out sushi – California rolls. Do not worry; it is not as hard as you think.
You can guess the ingredients in this sushi, right? Yes, they are all about vegetables and tofu – a widely-used vegan component that everyone loves.
Moreover, with some fresh and crisp vegetables such as carrots, cucumber, cabbage, or soft avocado, you have provided your body with various nutrients that can improve your health.
Either your tuna is spicy or not, this tuna temaki will not fail you. You can use raw or cooked tuna like store-bought canned tuna to make this dish.
And obviously, they are easy to make with some other ingredients like rice, veggies, spices, and sauces. You can garnish them with mint leaves or sesame seeds if desired.
You do not need very skillful hands to roll a sushi as this recipe is easy to make and super tasty also.
I will use cooked shrimp for this recipe. And by adding marinate sauces or spices to your shrimp, they will provide more flavors in your hand roll temaki sushi.
Besides, with a handful of veggies and sauces (like mayonnaise), your sushi now is full of contrasting texture with crunchy veggies, soft shrimp, and creamy sauces that will blow your mind away.
FAQs
Is there anything else that trips you up about sushi rolls and hand rolls? Let me wrap this article up with some short answers relating to them so you can grasp the information quickly.
So, What Is Your Favorite Sushi Shape?
Sushi has gained a place in people's hearts for decades, no matter what shapes they come in. Today, you can easily buy ingredients in the supermarket and make sushi at home.
If you want to test hand skills, try some rolls with a bamboo mat. Or, if you want to serve something quick without another special tool, hand roll sushi is a better choice for you.
Finally, as you just have learned the difference between them, now you will never be confused when ordering sushi in a sushi restaurant. And if you love my post, please give me a like or spread this valuable information to your sushi-lover friends. Thank you and enjoy.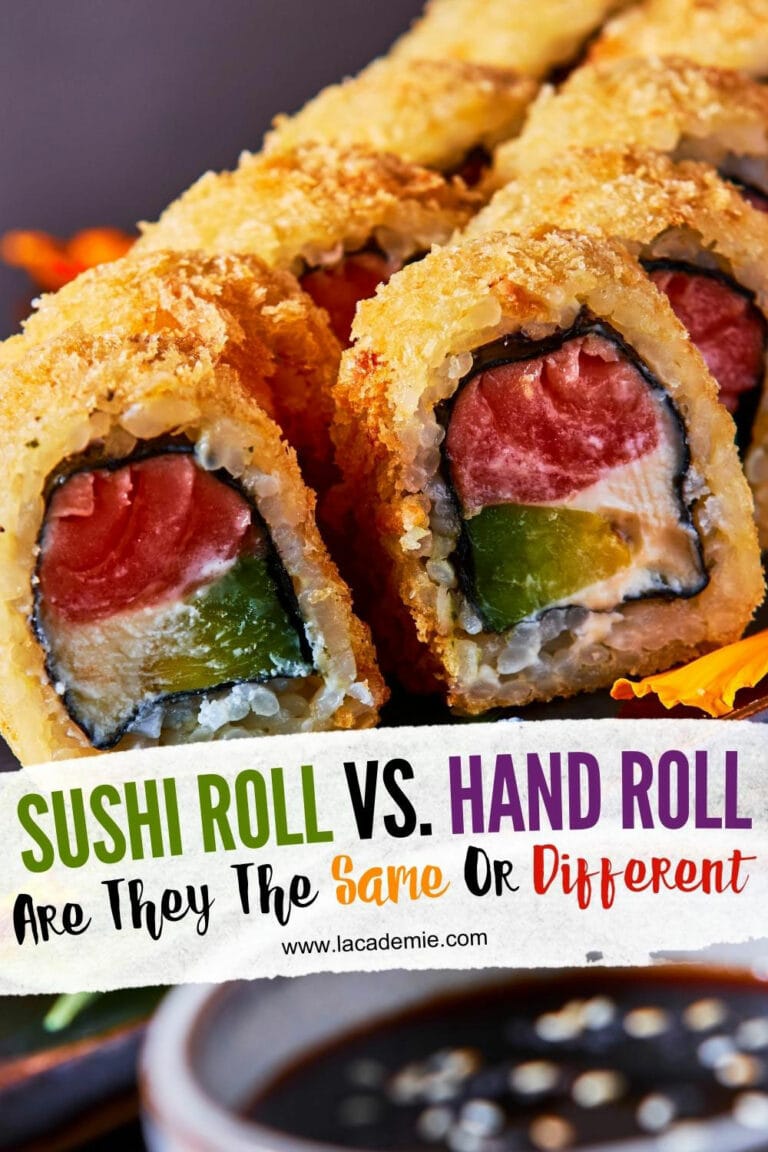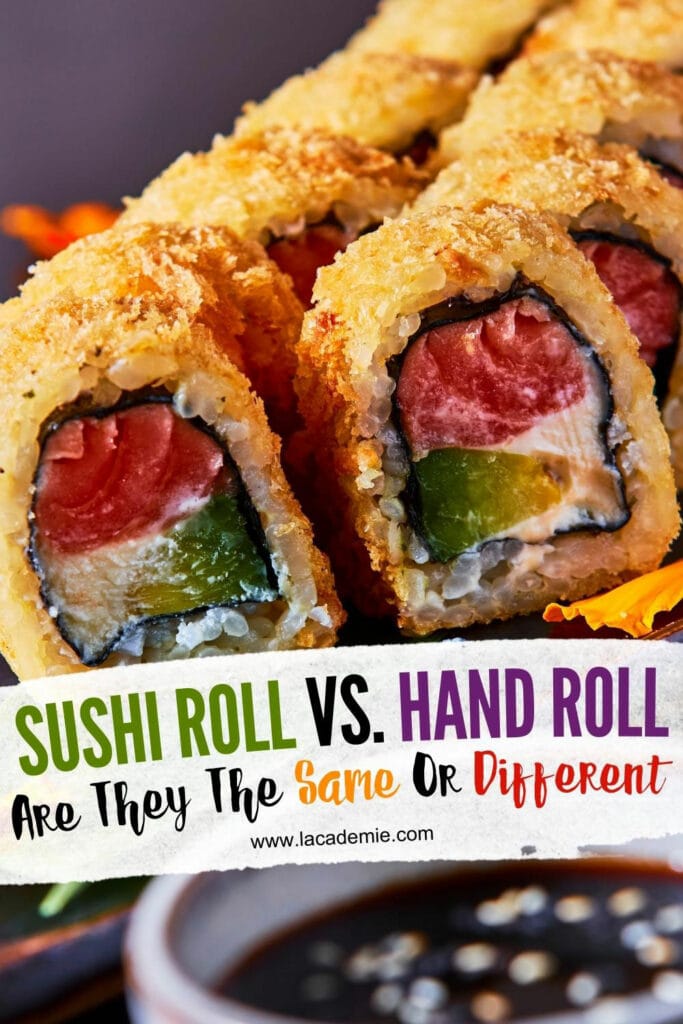 References
En.wikipedia.org. 2021. History Of Sushi – Wikipedia.
Ruxton, C.H., et al. (2007), 'The Health Benefits Of Omega-3 Polyunsaturated Fatty Acids: A Review Of The Evidence', Journal Of Human Nutrition and Dietetics, vol.20(3), pp.275-285.