Okra and peppers stuffed with fish cakes are undoubtedly one of the essentials when it comes to Vietnamese street foods and side dishes. By combining the savory flavor of fish cake with the veggies' gentle sweetness, the locals have created a one-of-a-kind dish that tastes just as good as it looks.
Whether you're looking for a new snack to enjoy or want a delicious accompaniment to traditional Vietnamese delicacies, today's recipe fits the bill perfectly. So what are you waiting for? Let's get right into the kitchen and whip up some mouth-watering stuffed peppers and okra.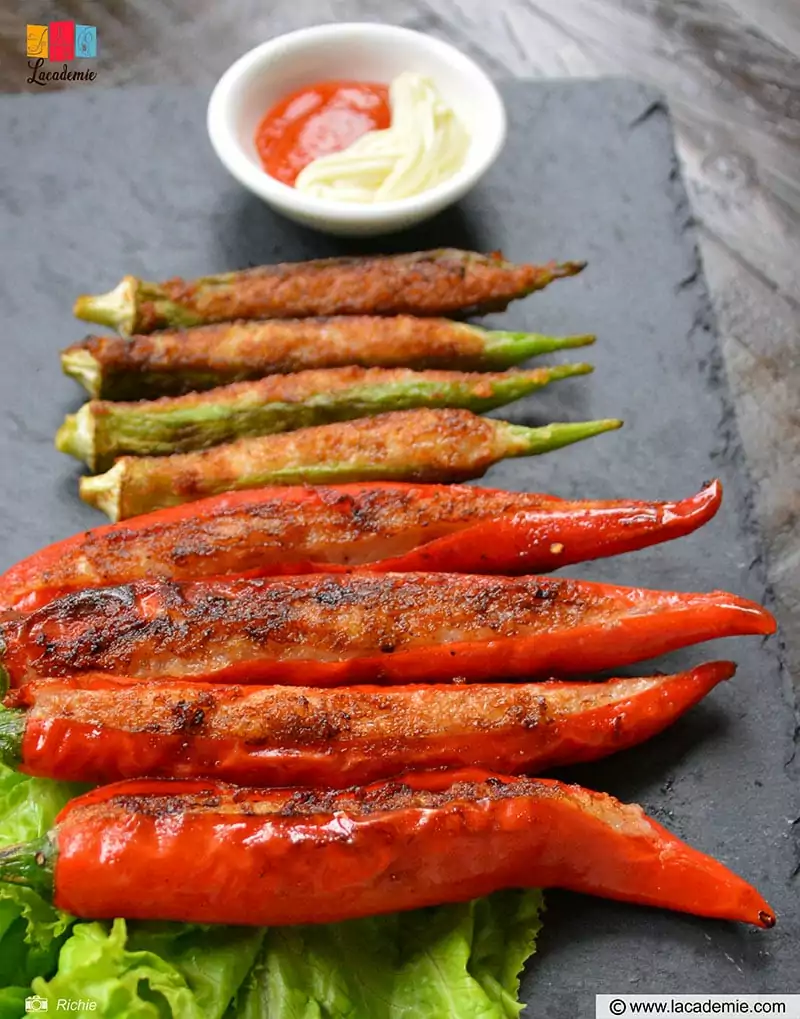 Let's Learn A Bit More About These Stuffed Veggies
The street food culture in Vietnam is impressive, with numerous vendors selling mouth-watering treats in every nook and cranny. Wandering on the streets of this country, you will come across carts filled with snacks, such as fish balls, fried tofu, egg rolls, pork balls, and, of course, okra stuffed with fish cakes.
While you can commonly find stuffed okra on the side of a bustling street, the version made from peppers is usually served in restaurants as an accompaniment. In particular, the Vietnamese love having stuffed peppers (as well as okra) with Bun Mam, a bold-tasting noodle soup.
Overall, both of them taste incredible and are ideal choices for a delightful Vietnamese-style snack or as a side dish. In addition, peppers and okra are healthy and full of nutrients, meaning that you can enjoy them without feeling guilty!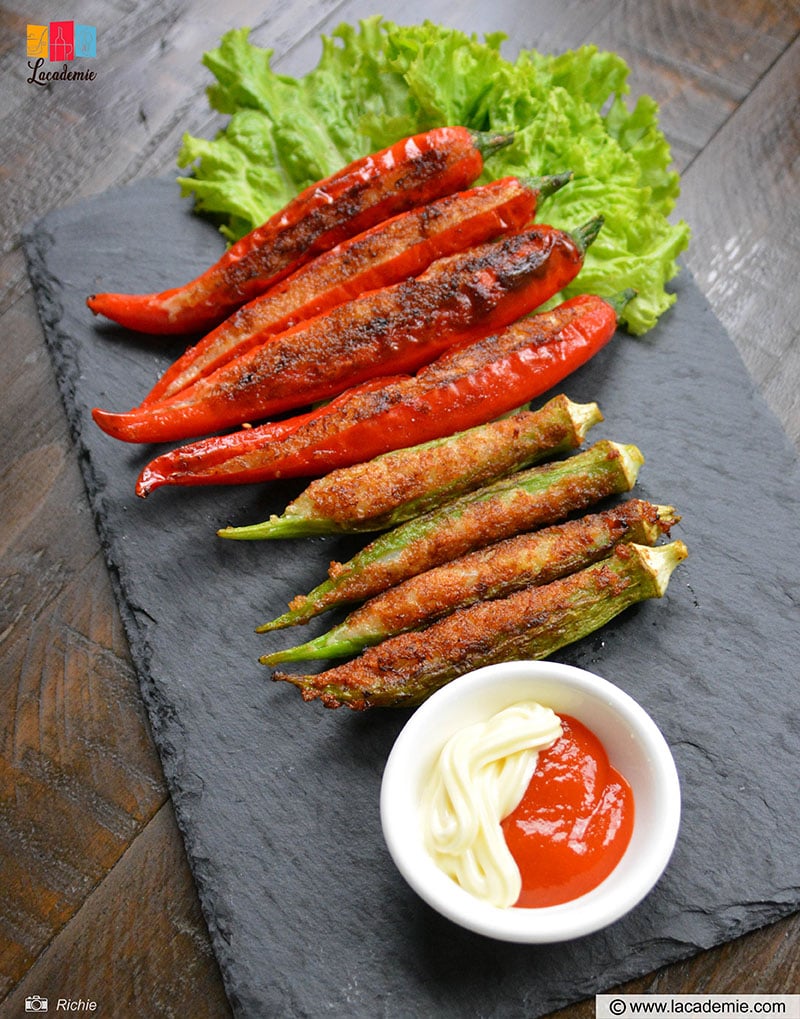 Tools
First and foremost, you should get the following tools. They are all essential kitchenware, so I believe you have already had them.
Frying pan: For frying the stuffed vegetables.
Tongs: For maneuvering the ingredients.
Knife and chopping board: Help you handle all cutting and slicing tasks.
Other tools you might find helpful: A spoon and a paring knife.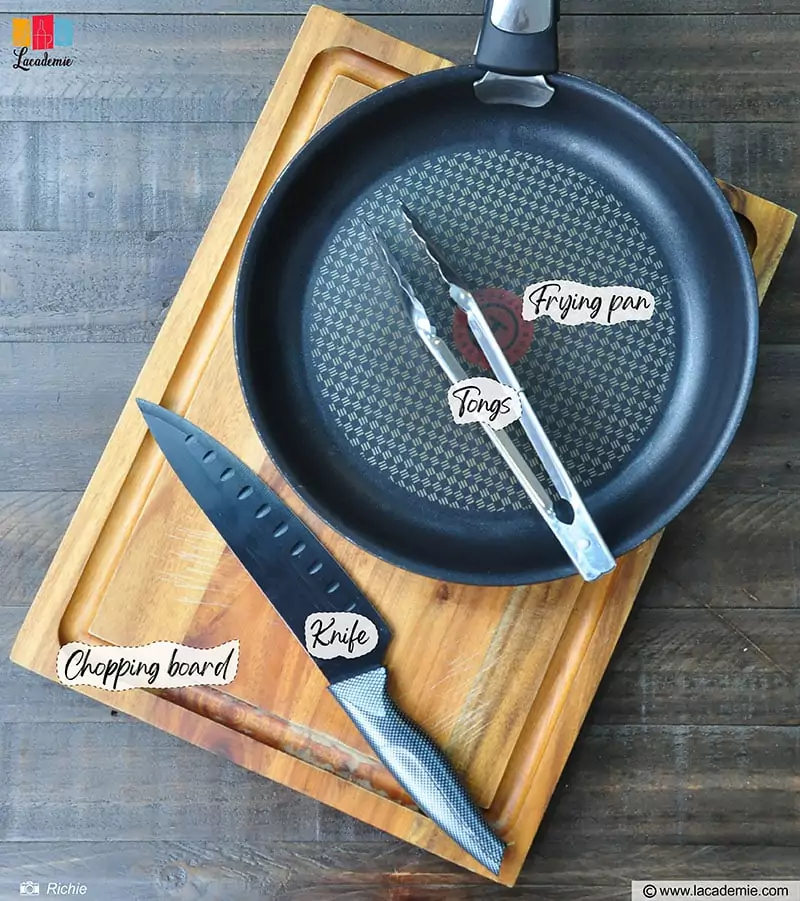 Ingredients
Peppers, okra, and fish paste are the base ingredients for today's dish. Depending on whether you like spicy food or not, you can use different kinds of peppers.
Fish paste: You can go for any kind of fish paste you like. Pork paste is also a decent choice.
Goat horn peppers: Also called cow horn peppers. The red and green varieties are not spicy, while the yellow ones can be quite hot. You can also opt for bell peppers if you don't want any spiciness at all.
Okra: Choose the ones that are not too young or too old.
Aromatics: Onion and garlic.
Spices: Sugar, soup powder, and pepper.
Cooking oil: Pick a type that has a neutral flavor.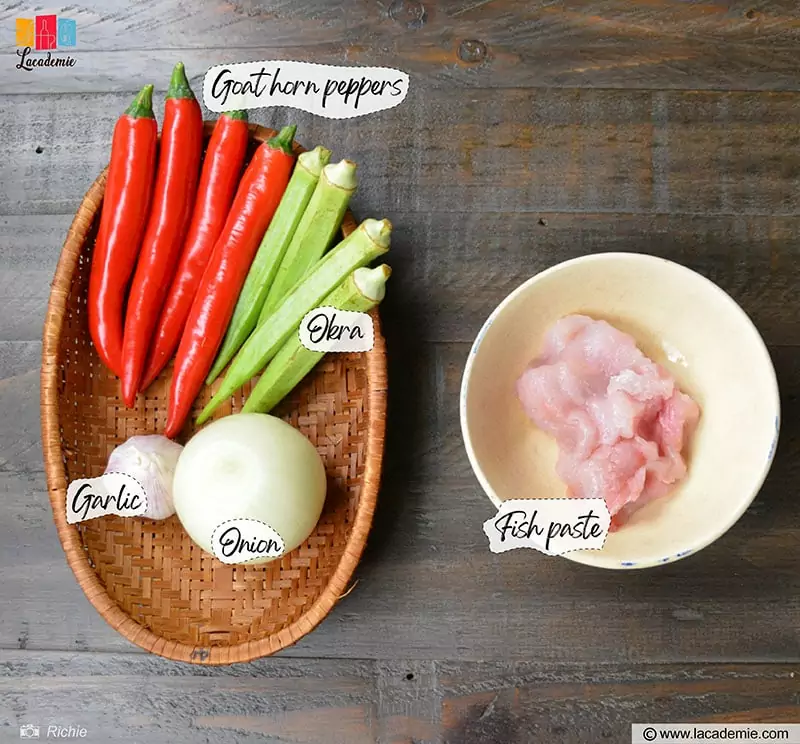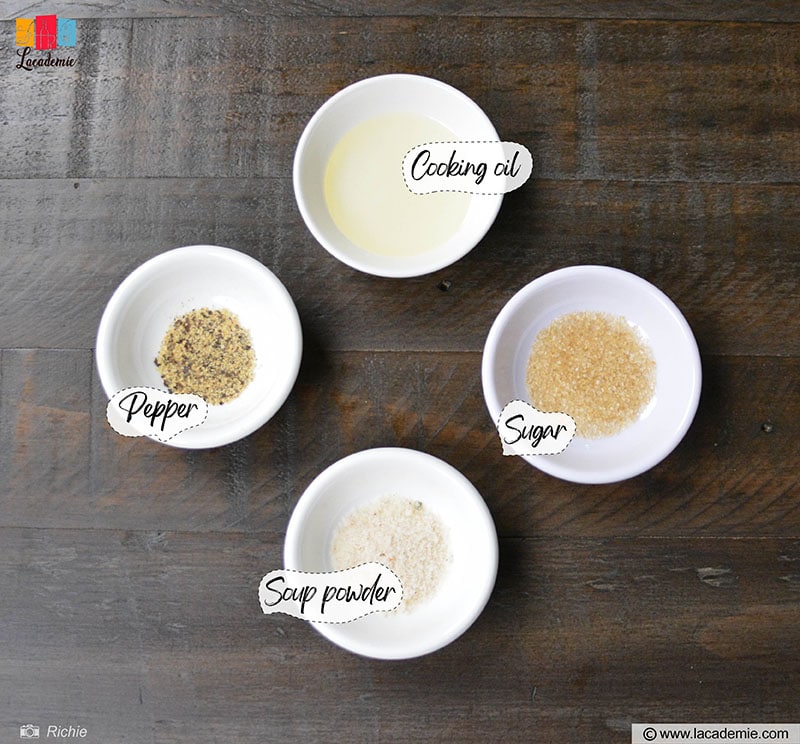 Directions
Here's the detailed recipe that you've been eager to know. There are only 3 steps, and they are incredibly easy to follow.
Step 1: Prepare The Vegetables
Finely dice the onion and mince the garlic.
Make a cut on each okra lengthwise. Remove the seeds from the okra using your fingers or the handle of a serving spoon. Repeat these steps with the peppers.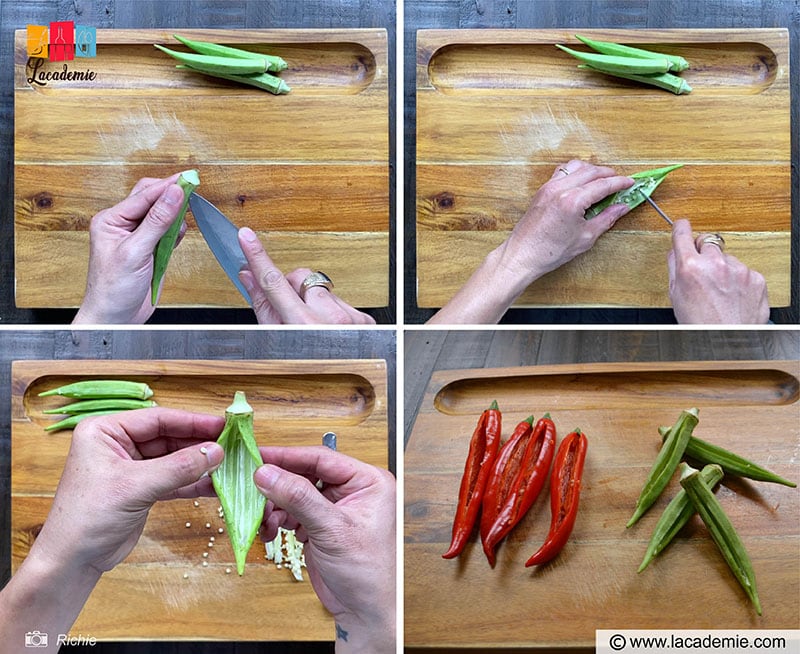 Step 2: Season The Fish Paste
Season the fish paste with pepper, sugar, cooking oil, and soup powder. Mix well.
Add half the onion and garlic to the mixture. Mix well to combine. Then, repeat this step with the rest of the onion and garlic.
Let the fish paste rest for 15 minutes.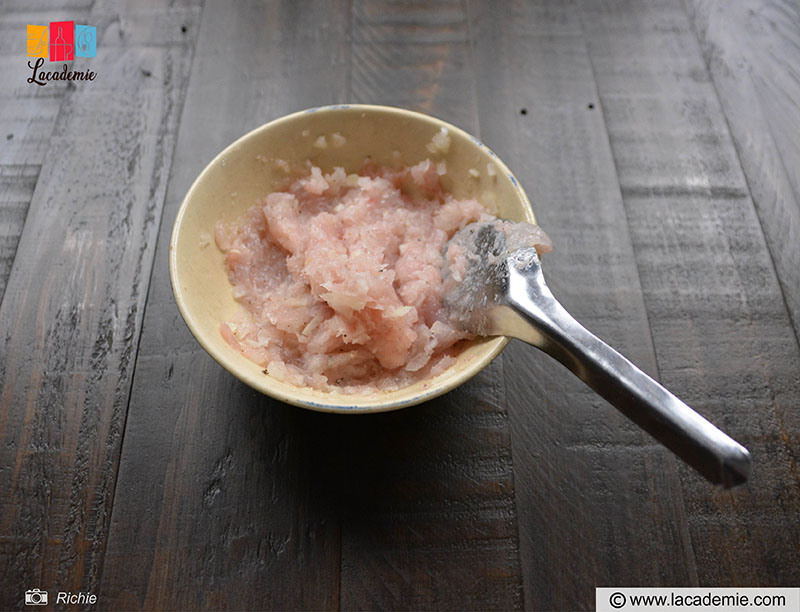 Step 3: Stuff And Cook The Okra And Peppers
Use a teaspoon or the handle of a serving spoon to scoop the fish paste into the peppers and okra.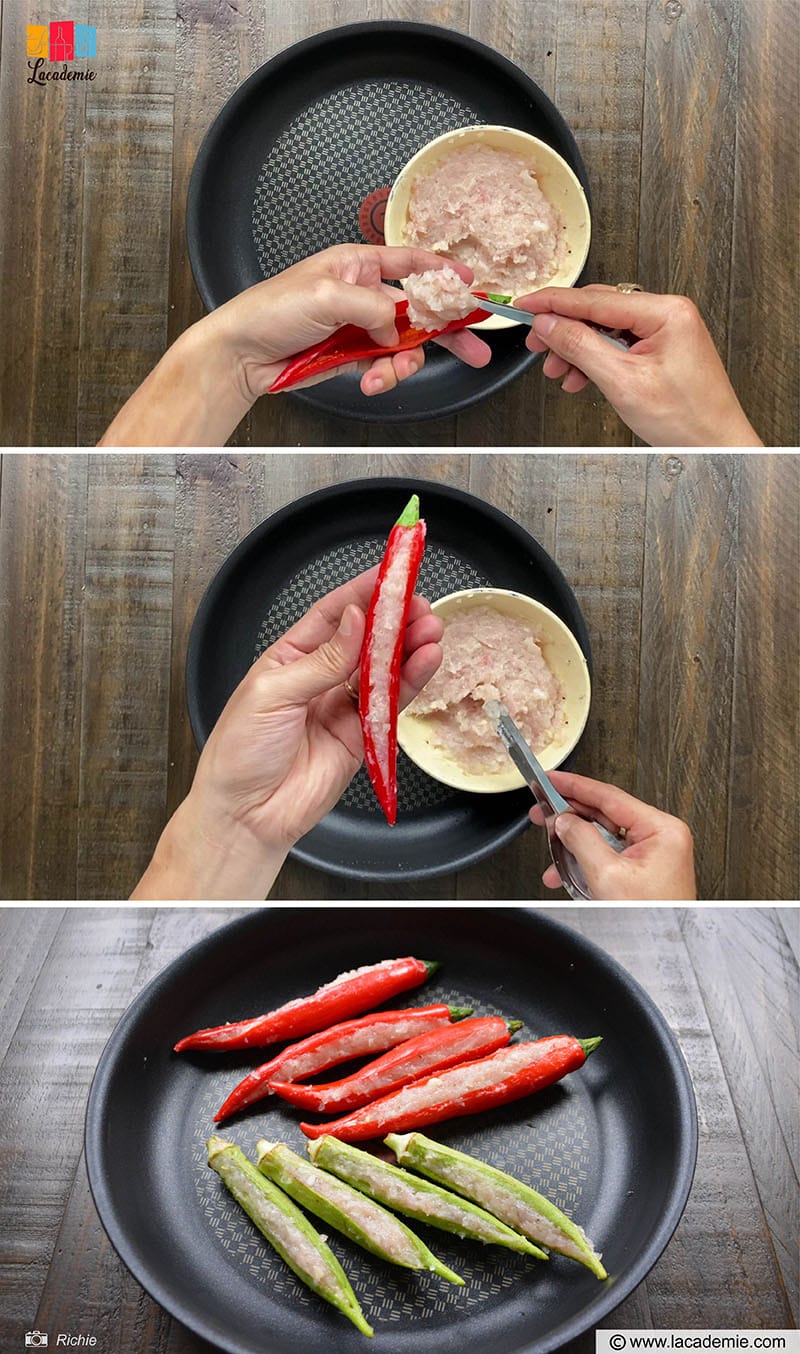 Pour about ⅖ cups of cooking oil into a heated pan. Once the oil is hot enough, fry the stuffed vegetables over medium-low heat until cooked on all sides. Remember to turn them so that they're cooked evenly.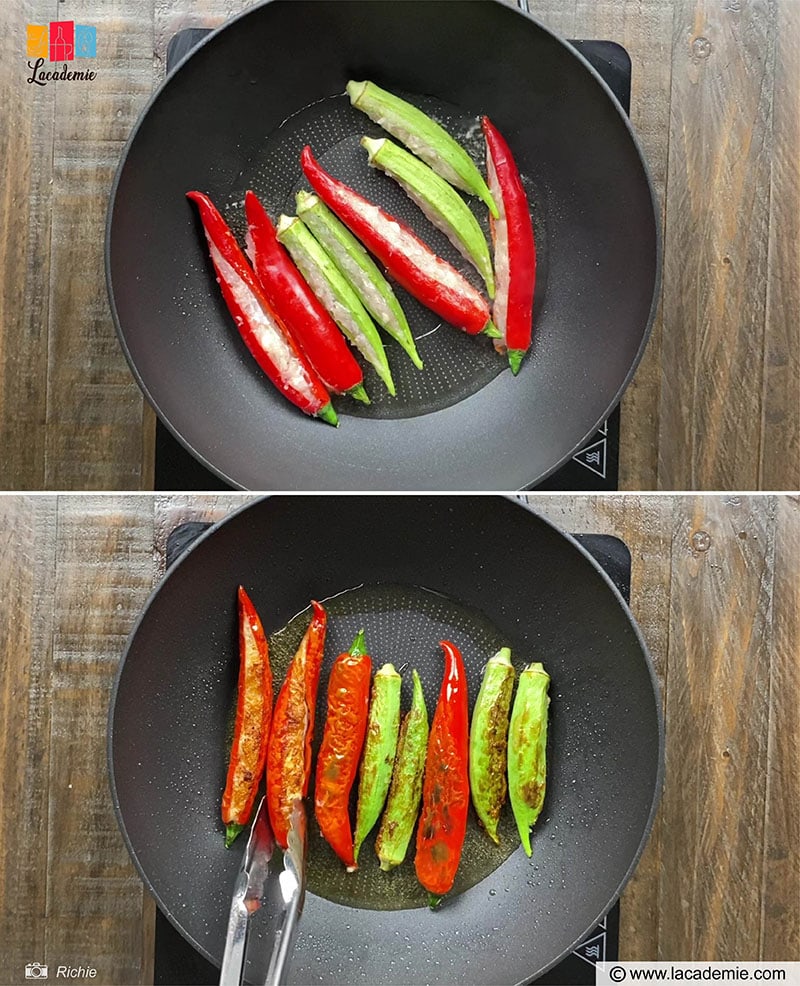 Transfer the peppers and okra onto a plate line with paper towels to remove the excess oil.
Enjoy these tasty Vietnamese treats with mayonnaise, chili sauce, or your favorite dips!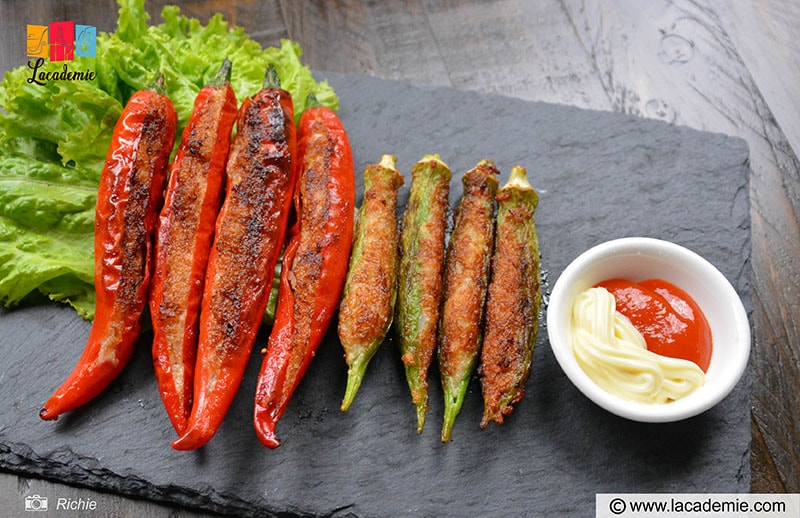 Tips And Tricks
For this final section, I'll show you useful tips and tricks to ensure that everything turns out flawlessly. Check them out!
The oil doesn't need to be smoking hot! If it gets too hot, it will splatter once you add the vegetables.
Keep the cooking temperature at medium-low. Increasing the heat to high will also cause oil spattering.
If you want the carrots and okra to be extra crispy, try coating them with tempura flour.
You can freely adjust the seasonings to your liking.
Impress Everyone With This Flavorful Vietnamese Snack!
Okra and peppers stuffed with fish cakes are a simple yet addicting dish that brings together many unique aspects of Vietnamese cooking. The slight spiciness of horn peppers and the earthiness of okra go so well with the savory fish cakes that you can't resist returning for more.
And that's it! You've learned every step to make a classic Vietnamese street food right in your kitchen. Please let me know the result and whether you enjoy today's recipe in the comment section. Besides, kindly give the post a good rating and share it with the people you know. It would be a huge help!
Nutrition Facts
2 servings per container
---
Amount Per ServingCalories275
% Daily Value *
Total Fat 16.9g

26

%
Sodium 10mg

1

%
Potassium 550mg

16

%
Total Carbohydrate 24.6g

9

%

Dietary Fiber 5.6g

23

%
Sugars 7.1g

Protein 8.2g

17

%
---
* The % Daily Value tells you how much a nutrient in a serving of food contributes to a daily diet. 2,000 calories a day is used for general nutrition advice.