Kashmiri foods are at the top of the world, literally. The land from which they spring up lies side by side with the mighty Himalayas and at an average elevation of nearly 2,000 meters above sea level. Therefore, you can expect the foods to be unlike anywhere else.
Sitting at South and Central Asia's crossroads, Kashmir is influenced by multiple cultures and civilizations. As a result, local foods rank high in terms of diversity. They are also highly adaptable to mountain survival, containing a high amount of nutrients.
Due to its complicated past, the region of Kashmir has disputed territory with India, Pakistan, and China. But because India controls the largest amount of land, the terms "Kashmir" and "Kashmiri" in this post refer to India's Jammu and Kashmir union territory.
Now, sit back and enjoy the best of Kashmiri cuisine.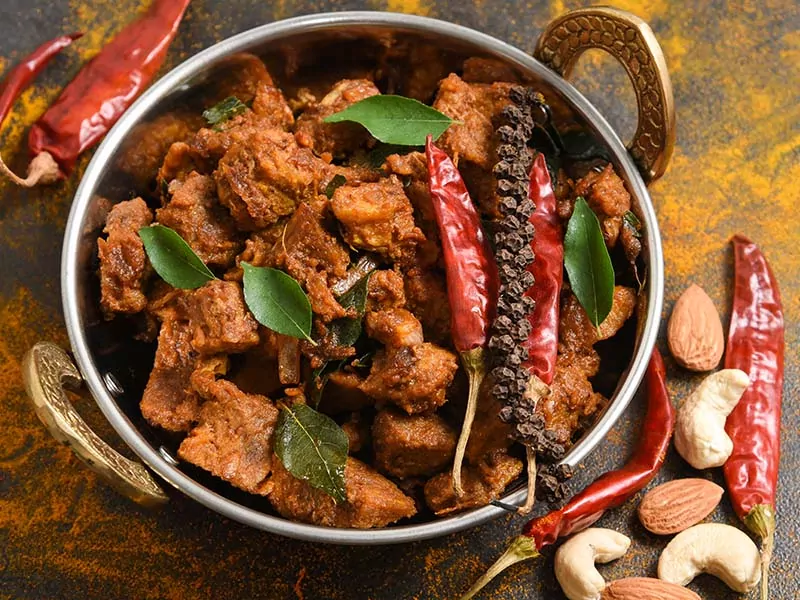 6 Superb Kashmiri Staple Dishes To Build Your Diet Around
When it comes to the Kashmiri diet, rice is the star of the show. People eat it as the main dish with other foods. But flour wheat also plays an important role, usually in the forms of bread and flatbread.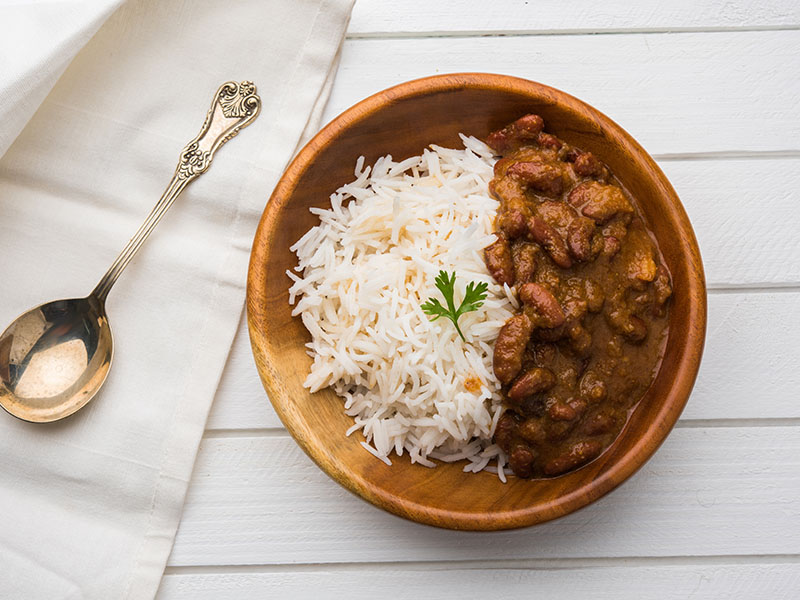 What is this bad boy with an attractive contrast of color? It is Rajma Chawal, a great vegetarian recipe that is invaluable to South Asian cuisine. In India, one of the best places to enjoy it is the state of Jammu & Kashmir.
You can easily see why Rajma Chawal is an indispensable breakfast in many Kashmiri houses. It is effortless to whip up. The process is merely about cooking red/ kidney beans (Rajma) in pureed tomatoes and onions before arranging them with rice (Chawal).
The dish is appealing enough on its own, but it can be enhanced with the many kinds of spices that India is known for. Simple in making yet incredibly high in proteins, Rajma Chawal is a must-try vegan food for those seeking a nutritious meal without having to slaughter.
Check out how to cook Rajma Chawal from A to Z here.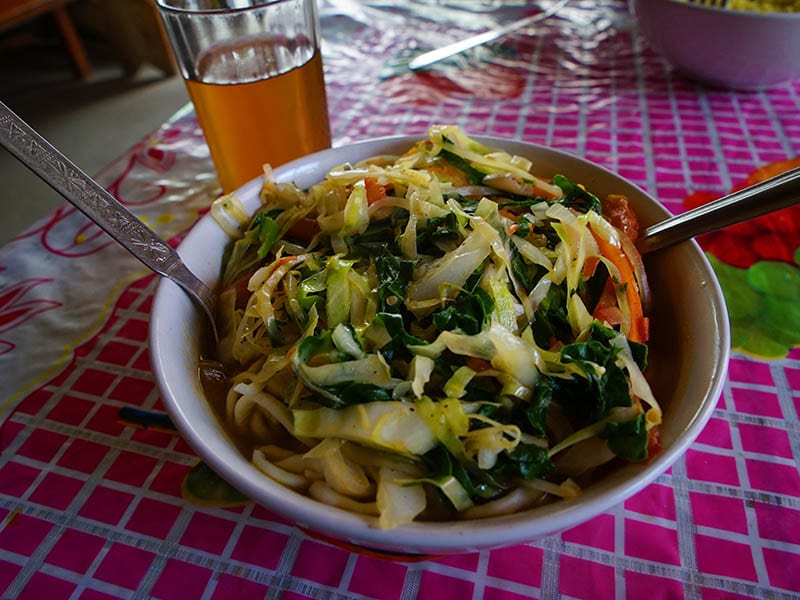 The state of Jammu and Kashmir borders Tibet to the east. Consequently, quite a few exotic dishes from Tibet – a holy and mysterious land in China spread westward to Kashmir and increased its culinary repertoire. One such contribution is the noodle soup Thukpa.
If you are looking for a rich dish from Kashmir, this is your guy. Its scrumptiousness comes from wheat flour noodles and rich, flavorful vegetable stock. Add some eggs or slices of mutton, and now you can practice contemplation over a divine meal.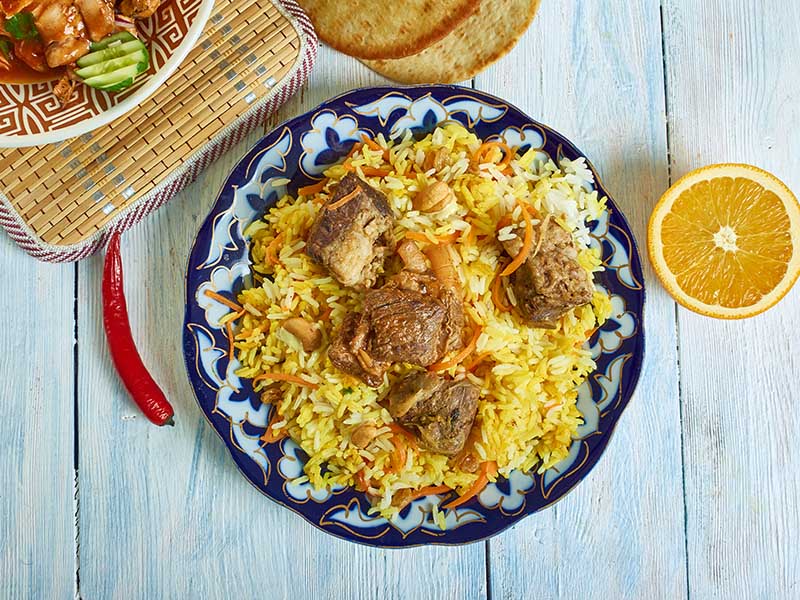 Between the 16th and the 19th century, India (including Kashmir) was under the rule of the powerful and Persianized Mughal Empire. As a result, many dishes of Persian origin arrived in the South Asian country and enriched its cuisine. One of them is Yakhni Pulao (chicken rice).
Pulao (or Pilaf) is a generic term for spicy dishes from cooked rice with meat and veggies. Apparently, the earliest recorded recipes came from the Persians living in the 10th century. Today, there are many Pulao variations across the whole world.
However, Yakhni Pulao stands out from the crowd for containing an unrivaled abundance of spices that only its host country can supply. Besides spices, it uses aromatic basmati rice and chicken (or mutton). Its intense taste is highly suitable for the cold climate of upland Kashmir.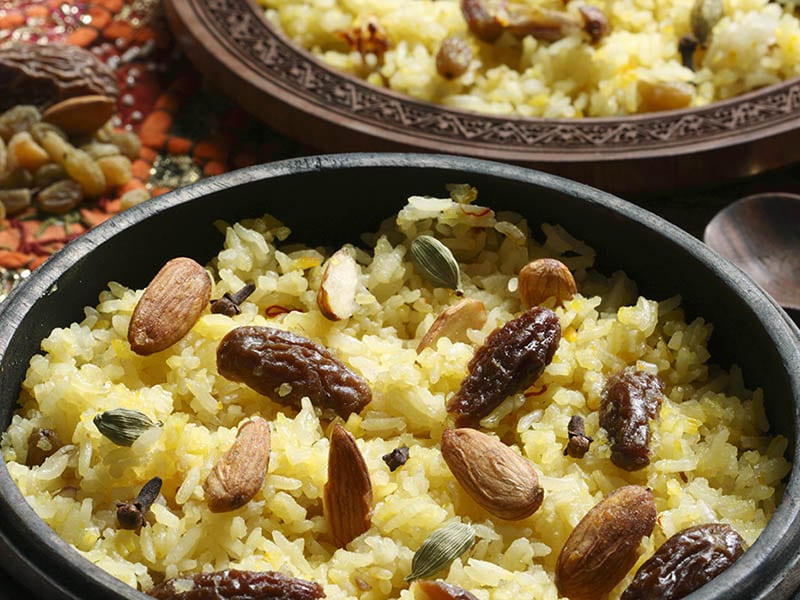 Although they are both Pulao, this dish represents a stark contrast to Yakhni Pulao. For one thing, it is rather sweet, thanks to plenty of dried fruits and nuts. For another thing, an alarming quantity of ghee in Modur Pulao makes it extra fatty and yummy.
Like other jewels of Kashmiri cuisine, Modur Pulao is full of spices. But not just any spice, their chief is the golden saffron. The people of Kashmir have cultivated saffron for over 2 millennia, and their product is world-renowned for its excellent quality.
The people of Kashmir have cultivated saffron for more than 2 millennia, and their product is world-renowned for its excellent quality.
To counterbalance the creaminess of Modur Pulao, you can pair it with something spicy. As you'll see, Kashmir never runs out of such exciting delights.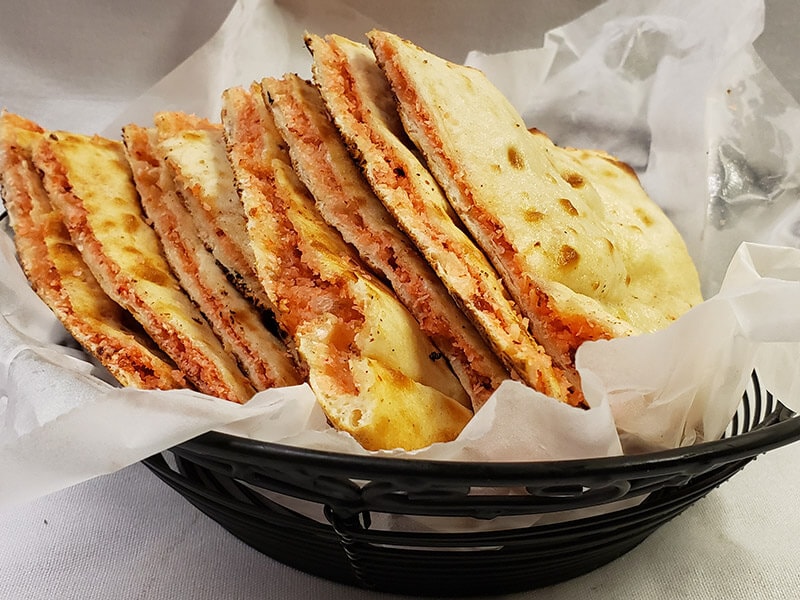 The fact that rice is the staple food in Kashmir doesn't steal the spotlight of other cereals. So when you visit this place, don't be surprised to see the ubiquitous sight of Naan greet you everywhere.
In case you're wondering about Naan, it is a kind of flatbread extremely prevalent in the gastronomy of India and many countries. The local version is based on yeast-leavened dough improved with yogurt, ghee, spices, dried fruits, and nuts.
People bake flat balls of Naan in the pan until fluffy and golden brown. This flatbread of Persian origin is perfect to go with every Kashmiri dish on the menu, from curry to stir-fried greens. Otherwise, you can simply eat it with sweet chutneys or tea as a light snack.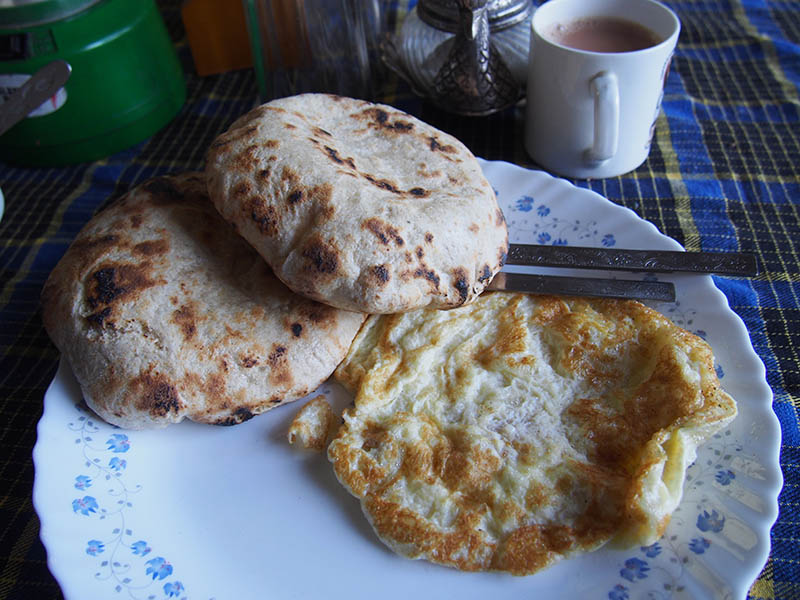 By 2019, the Ladakh region was largely part of the state of Jammu and Kashmir. Though it is now a separate union territory, it still has many things in common culturally with Kashmir. Therefore, the Ladakh bread Khambir is unsurprisingly a favorite with the Kashmiri population.
You will be hard-pressed to find any bread as peculiar as Khambir, which has a thick, circular shape and a chewy texture. It partly derives its special flavor from the local hardy wheat varieties.
Intrepid travelers shouldn't leave out the exciting regional combo of Khambir with salty butter tea.
7 Tasty Kashmiri Curry Dishes To Beat The Cold
As Kashmir is part of India, it naturally possesses multiple attractive curry dishes. They are spicy enough to burn your tongue and warm your heart. Don't worry because the chilly air of the land will make that a very exciting experience.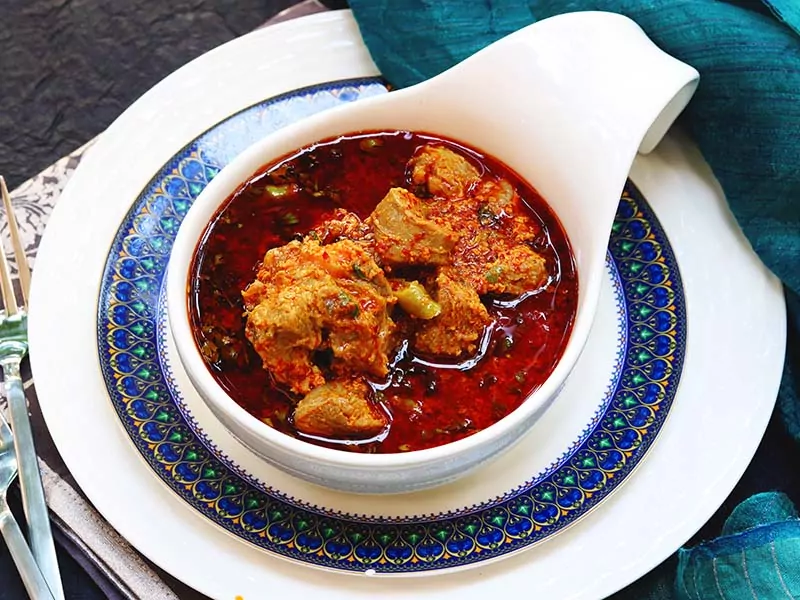 Rogan Josh, if spoken quickly, may sound like a Western male name. But it really means "clarified butter" or "red meat" in Persian and Urdu. The latter is one of the official languages spoken in Kashmir. Another interchangeable name for the dish is Roghan Ghosht.
The main ingredients for this traditional Kashmiri curry are mutton, yogurt, and spices. Aromatic spices such as cloves or cinnamon are indispensable in this recipe, whose allure lies in the chunks of fragrant, hunger-provoking meat well braised in the rich gravy.
A Mughal legacy, Rogan Josh is so delicious that it is now a byword for the best for Kashmiri cuisine. You should never miss any chance to enjoy the hot curry in the chilly air against the dramatic background of the land.
Dive into this detailed tutorial for making homemade Rogan Josh.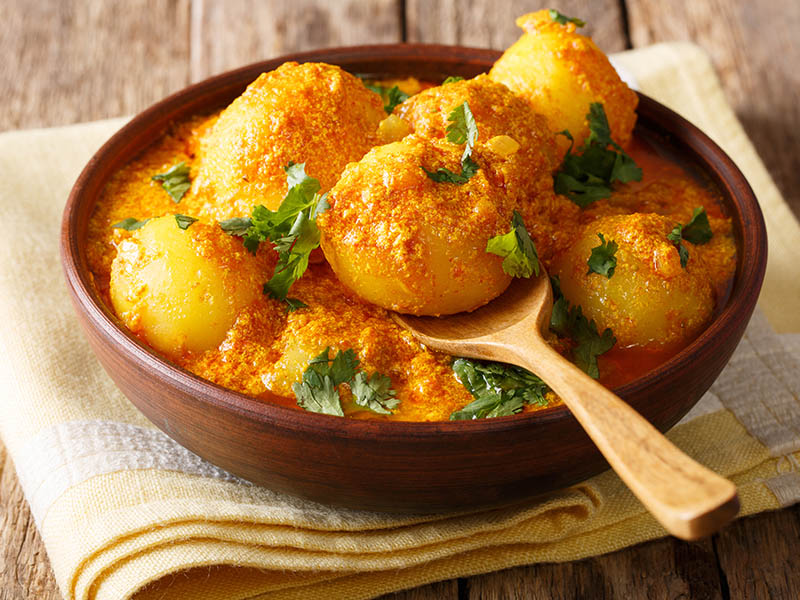 Forget your stereotype of curry as a greasy, spicy dish stuffed with meat. I am proud to give you Dum Aloo (or Dum Olav), a vivacious vegan curry recipe. Well, the spicy part still holds true for this one, but it is a 100% meatless delicacy from Kashmir.
In Hindi, "Dum" is "slow-cooked", while "aloo" means "potato". So you know what this curry is all about. Cooking Dum Aloo involves braising potatoes with onions, veggies, and spices carefully for hours, usually in the traditional cooking basin Handi.
There are many ways to improve the flavor of the curry, such as deep-frying the potatoes before cooking or adding yogurt to the Handi. But the best method is to cook Dum Aloo with baby potatoes for extra sweetness.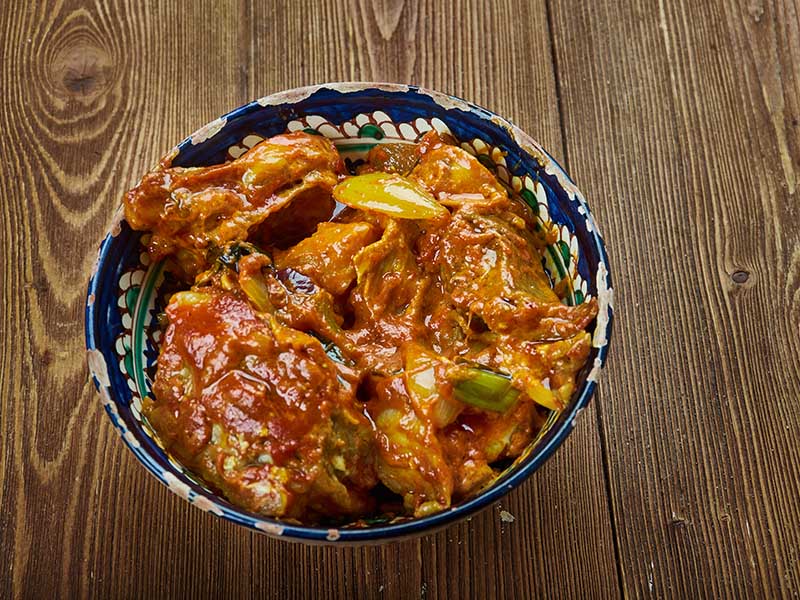 If you're looking for a lunch meal full of authentic Kashmiri flavor, end your search with the signature dish of the land Aab Gosht. It is a traditional mutton curry characterized not by a spicy taste but by its tender milky meat.
"Why do the Kashmiri people eat so much mutton?" you ask? One possible reason is that the majority of the local population is Muslim. Anyway, people prepare Aab Gosh by first cooking mutton with spices until tender. Then, they simmer it with milk to create a creamy curry.
To bring out the best flavor of Aab Gosht, you should enjoy the succulent, aromatic meat with plain steamed rice. The warmth of the curry will light up an undying flame in your heart to withstand the bitter mountain climate of Kashmir.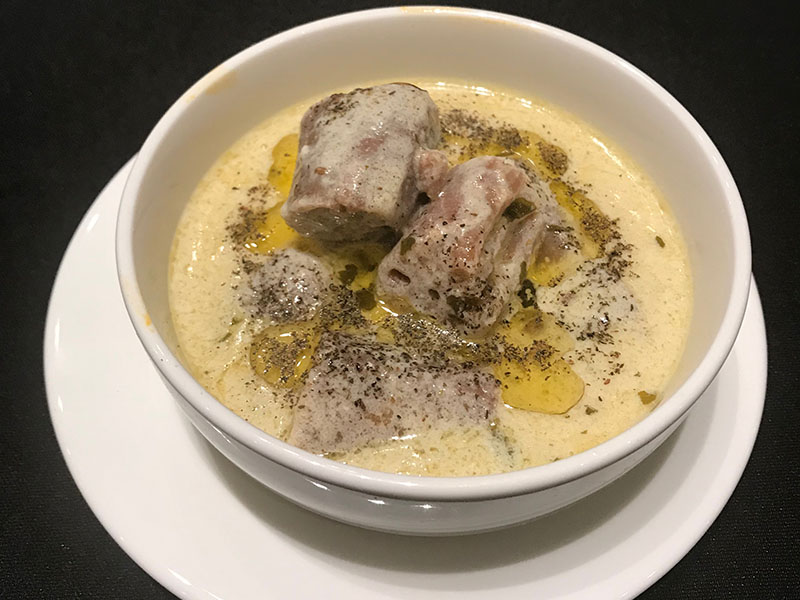 A pity for people living outside Asia is that they don't enjoy the privilege of eating chewy and creamy lotus roots. This low-fat, fiber-rich, vitamin-packed vegetable is the key to the temptation of one of the most iconic dishes from Kashmir: Nadru Yakhni.
The name illustrates the main ingredients of the dish: "Nadru" means "lotus stem" and "Yakhni" for "yogurt gravy" in the Kashmiri language. Of course, no culinary wonder from this land is complete without a large number of spices like aniseed, cinnamon, and cloves.
Raw lotus roots are relatively tasteless. But behold the magical transformation as they absorb the creaminess and spiciness from other ingredients. Don't forget to pair Nadru Yakhni with rice or Naan for a nourishing meal.
While this tasty local delicacy has been around since the 15th century, it recently faced the threat of oblivion. In 2014, ferocious floods devastated Kashmir and destroyed much of the lotus population. So local farmers had to work hard for years to bring the lotus stem back on the menu.
Discover how Kashmiris cook delicious Nadru Yakhni here.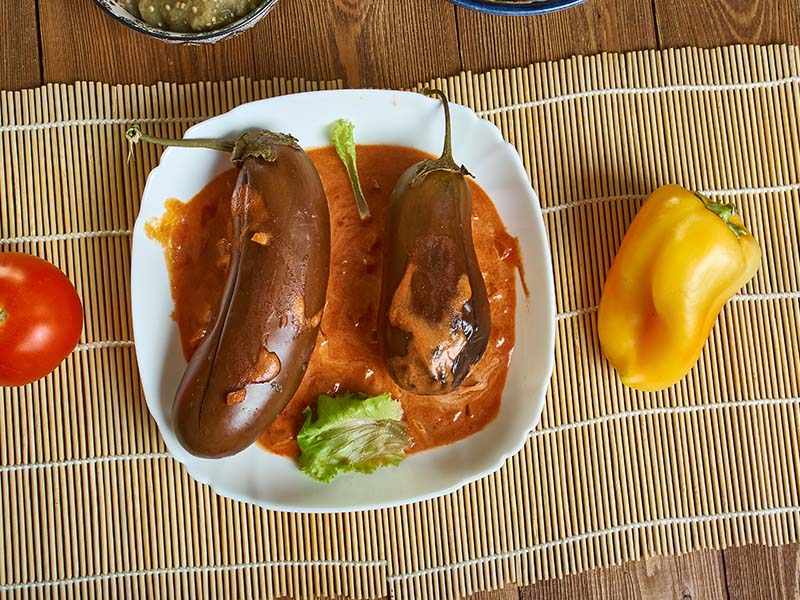 Like the rest of South Asia, Kashmir is full of fascinating vegetarian dishes that will tempt even the most steadfast meat lovers into loving them. Let's review the case of Khatte Baingan, a straightforward recipe with eggplants.
The vegetable (called Baingan in Hindi) is a common and affordable part of countless side dishes in India, one of the centers of its origins. Anyhow, Kashmiris whip up Khatte Baingan by frying eggplants with a mix of spices until golden before cooking it in a tomato-based gravy sauce.
The combination of the sweet, spicy, and sour flavors found in this dish will make even plain rice a mouth-watering treat. Remember to pair them with a cup of traditional Kashmiri tea to aid digestion.
Kashmiri menu for wintertime festivities in December can't be complete without the finger-licking fish curry Muji Gaad. It may appear similar to the popular Malabar Matthi curry in Southern India and Sri Lankan cuisine. But except for containing fish, the two are vastly different.
Sauteed fish filets are the principal part of the curry. But no less important are the strips of radish fried and added to the pot alongside numerous spices.
Cook the fish with everything else until the gravy thickens, and your hot, appetite-provoking Muji Gaad is ready.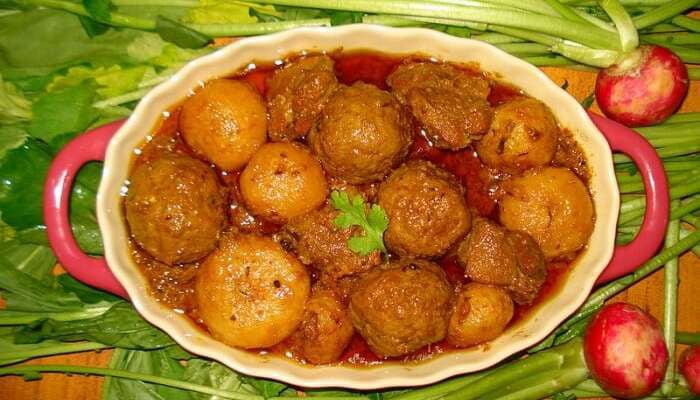 What differentiates Shab Deg from hundreds of other Kashmiri juicy meat dishes? One notable feature is how considerably long it takes to cook. "Shab" and "Deg" mean "night" and "cooking pot", respectively. Logically, a whole night is necessary to cook the meat until very tender.
Therefore, in the past, mothers were usually the only patient enough to make this stew. Shab Deg was a hearty stew to keep people warm in the cold winter when food was difficult to get. Sharing the rich stew with loved ones and neighbors was a hallmark of the community spirit.
Today, with some luck, you can come across Shab Deg (also known as Shab Daig) at select restaurants and eateries. The most delicious meat is rooster which cooks will braise with turnips and spices in a dough-sealed cooking vessel overnight.
Other Delectable Dishes From The Beautiful Land Of Kashmir
What flavor do you like? Is it sweet, spicy, tangy, fatty, or umami? Whatever your preference is, you're going to find all of them in the following finger-licking Kashmiri dishes.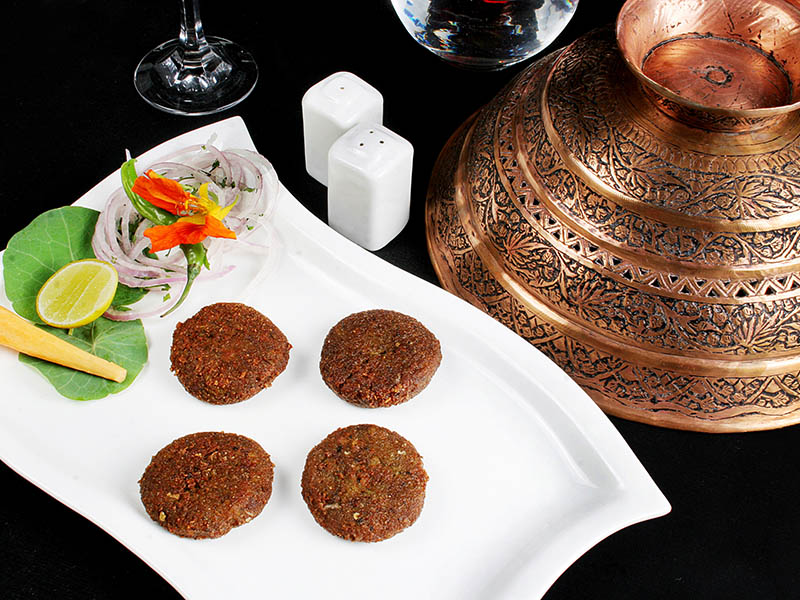 Are Kashmiri snacks good? The answer is a big no because the correct word to describe them is "perfect". Allow me to present a worthy opponent of famed French fries, the irresistible and gluten-free Nadru Ke Kebab.
How do locals turn flavorless lotus roots into this toothsome snack? First, they roast and mince the vegetable into a coarse paste. After mixing it with potent spices, they divide the pulp into small patties and go on to fry them. A dollop of green chutney later, and your killer snack is born.
Make your own Nadru Ke Kebab with this easy guide.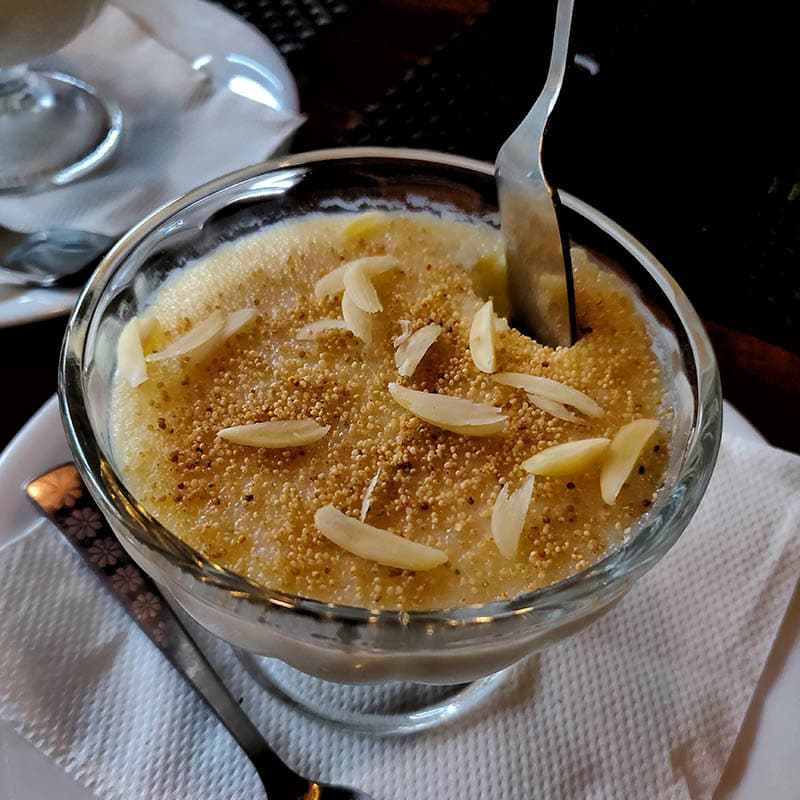 Compared to other main dishes, sweet treats in Kashmir aren't as sizable in number. But they will still delight your taste buds to the extreme. A local treat that will easily ensnare travelers with a sweet tooth is the savory rice pudding, Kesar Phirni.
It is a strongly aromatic combination of ground rice, milk, rose essence, and Kashmiri's world-famous saffron. People always serve the dessert in kulhars (also called shikoras), a type of unpainted, unglazed earthen bowls in South Asia.
Both the pudding and its container bespeak simplicity, but it is the kind of simplicity that masks sublime deliciousness. Kesar Phirni is particularly popular in the season of festivities, such as the Hindu festivals Diwali and Holi or Islam's Eid al-Fitr.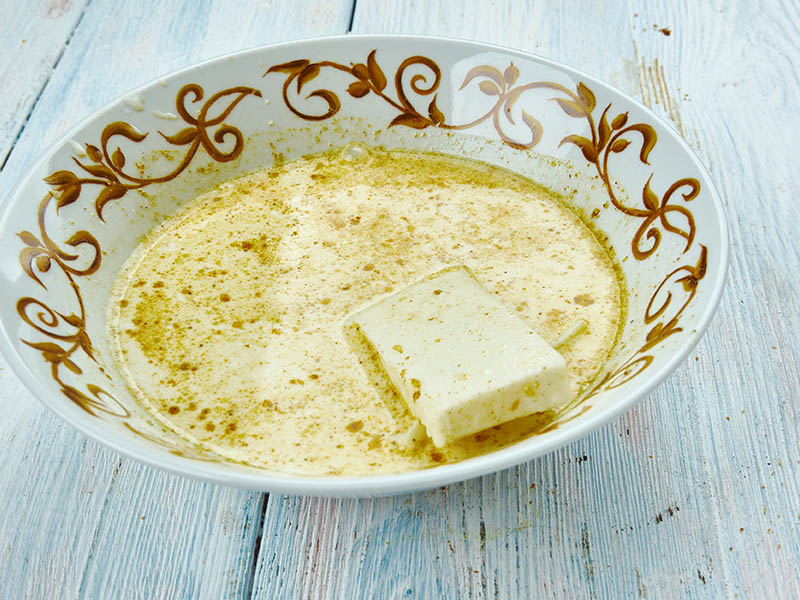 Are you fed up with the commercial cheese bought from convenience stores and supermarkets? I would like to introduce to you Paneer, a South Asian cottage cheese that will greatly improve your meal. One way to use it is by cooking the Kashmiri plant-based delicacy Lyodur Tschaman.
To cook this heavenly delight, you need to melt Paneer with an array of spices, especially turmeric and local red chilies, in a pan first. Then, add heavy cream to the mix and cook until it thickens. You have successfully whipped up Lyodur Tschaman to eat right away.
It is a little difficult to define what kind of dish it is, but one thing is for sure: it is delicious. Paneer is usually derived from buffalo milk which is richer in vitamins and proteins than cow milk. So rest assured about the nutritional value of this dish.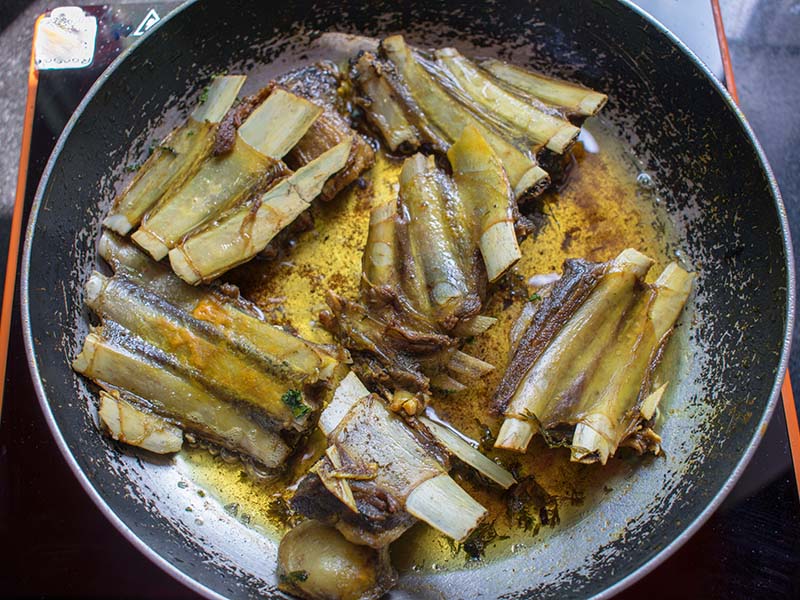 One of the most important concepts you should know about Kashmiri cuisine is Wazwan, a sumptuous multi-course meal for special occasions. It can include anywhere between 15 and 30 dishes. Whatever the number is, a salty dish of lamb ribs called Tabak Maaz is always present.
Its status varies from place to place. It is a tasty snack for some people, but others consider it a side dish, while there is no problem with enjoying the dish with rice or bread as a full meal.
However, its preparation remains the same wherever you travel in Kashmir. Lamb's ribs are cut into rectangular pieces in such a way that the meat still attaches to the bones. The next step is to cook them in a spice-milk mixture before finally deep-frying the tender lamb until crispy.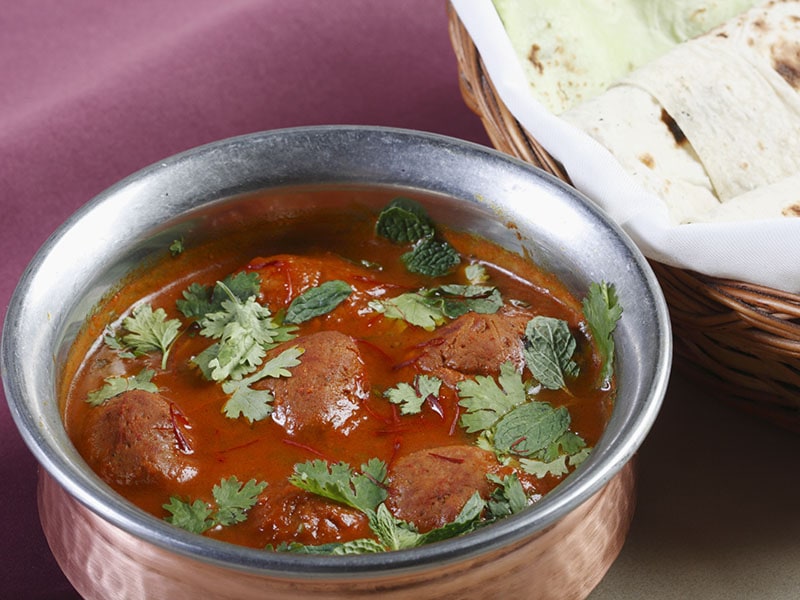 Every culture has its own version of meatballs. But the Indian one, Rista, distinguishes itself with the use of lamb (healthier than other red meats) and native saffron (stronger than other spices). It is a recipe that all waze (Kashmiri chefs) have to know by heart to prepare for the Wazwaan.
Making Rista involves mincing lamb, fat, and spices into a paste from which cooks will form small balls. While it is acceptable to cook the meatballs right away, many people prefer to brown the meatballs in the pan first before boiling them in saffron-flavored lamb stock.
The whole process takes much less time than other main Kashmiri dishes. So if you have a tight schedule, Rista is your best chance at enjoying a taste of authentic Kashmiri cuisine.
Learn the best recipe for cooking Rista at home here.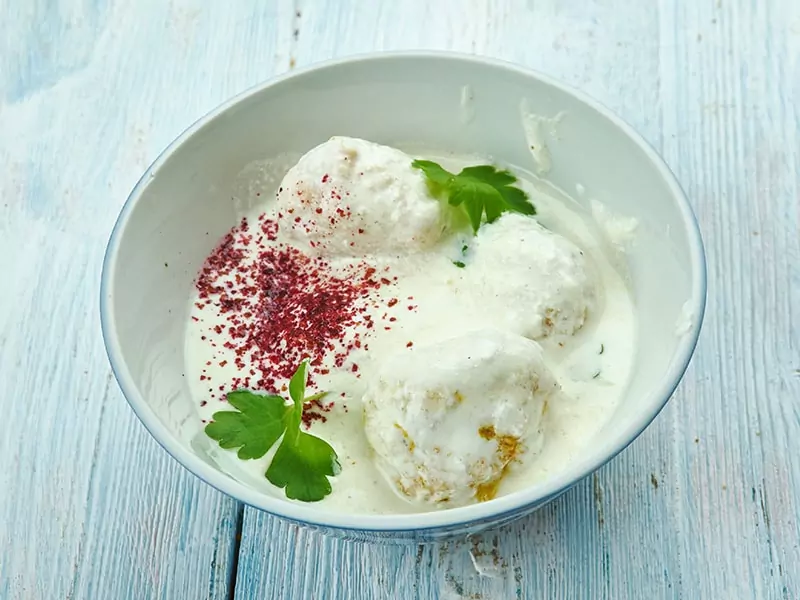 Like Muslims all over the world, Kashmiris celebrate major Islamic holidays with lavish and superb dishes. Among the names that will make your mouth water with desire is Goshtaba, an upgraded version of Rista.
The two dishes are prepared in roughly the same way during the first steps. But making Goshtaba doesn't require browning the meatballs. It goes straight to the stage of cooking them in an incredibly rich spiced gravy of yogurt and ghee.
Some occasions for enjoying Goshtaba in Kashmir are Eid al-Fitr and Eid al-Adha. The first is held at the end of Ramadan, while the second commemorates Abraham's sacrifice. Lamb dishes are especially popular during Eid al-Adha, which involves the ritual slaughtering of animals.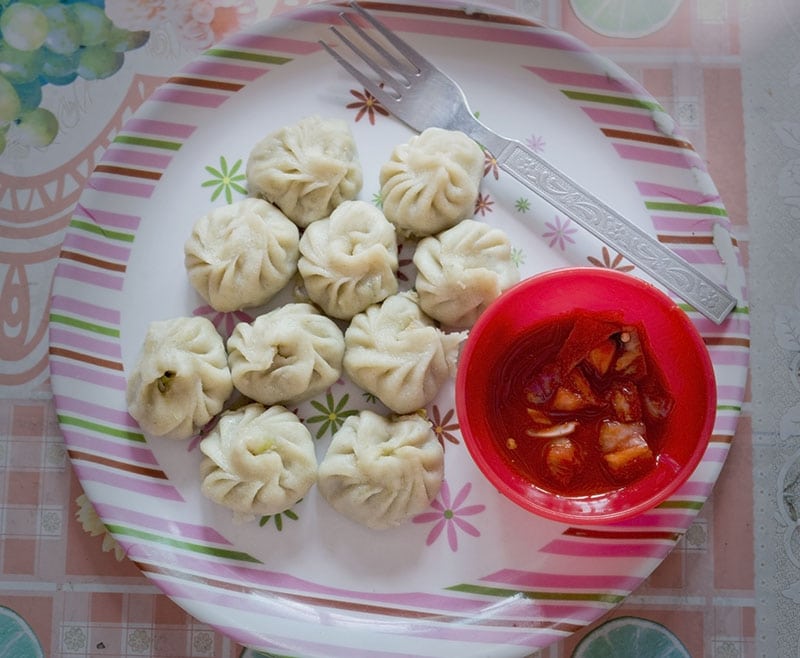 Most doctors recommend not to eat too much at night. This easy-to-eat Kashimi evening dish will help you with that, providing sufficient energy without stressing your stomach. The adorable-sounding crescent-shaped Momo is believed to come from Tibet.
The exterior of this dumpling is a simple flour dough that sometimes includes yeast to be more fluffy. As for the interior filling, there are many options: meaty and vegetarian. In Kashmir, Momo is usually stuffed with lamb or yak meat minced and mixed with spices.
Steaming is the preferred way to cook the dumpling, but you will encounter little difficulties finding fried Momo. Don't forget to dip it in spicy chili sauce or sweet and sour chutney.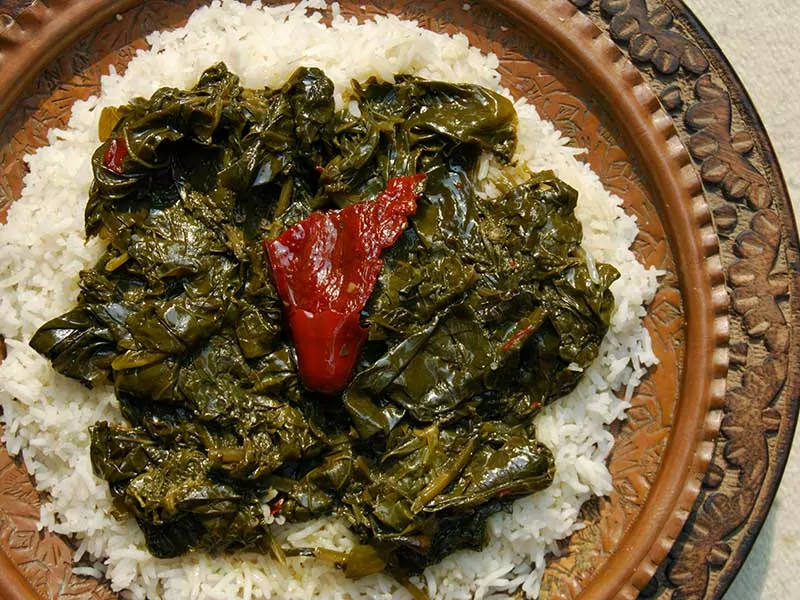 Due to living at a high altitude, Kashmiris consume a huge amount of meat and spices in their food to hold out against the cold weather. But that doesn't stop them from developing frugal, down-to-earth recipes, such as Haak Saag.
Basically, it is a simple preparation of local leafy greens. It involves chopping roughly spinach, collards, broccoli, etc., and cooking them in mustard oil. A useful tip is to cook the greens uncovered to preserve their emerald color.
Haak Saag only demands a sparse quantity of spices and Paneer (this one is optional). When the dish is ready, you should eat your greens with steamed rice for an unsophisticated but really healthy meal.
In the cold winter, any source of extra calories and nutrients count. Even fried fruits can help banish the chilliness of the weather. So Shufta, a Kashmiri special made from assorted types of fried fruits and nuts, is a natural favorite with everyone.
There is no fixed recipe for this dish, but it usually contains spices, local cheese, dried dates, and nuts. Almonds, walnuts, or cashews are a few common choices. They are fried together in a pan to create a deeply sweet and chewy snack for the wintertime.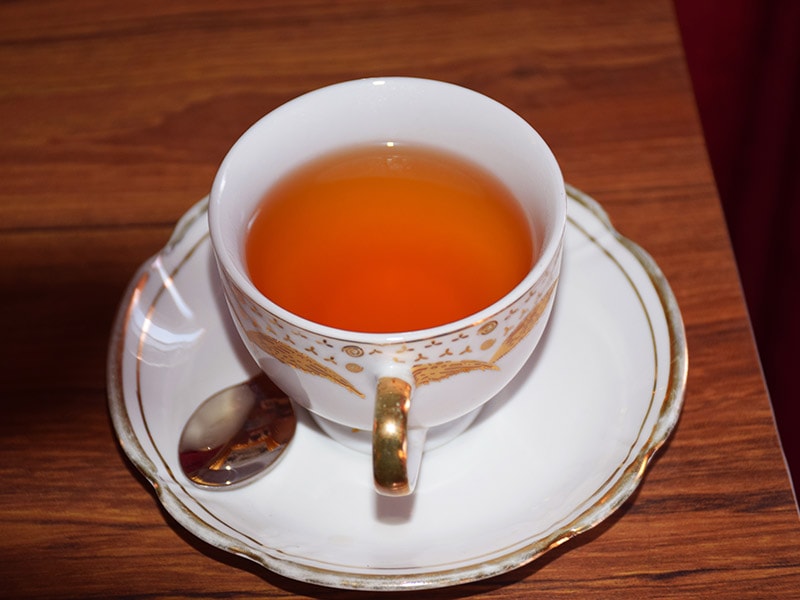 You have probably heard of butter tea, a Tibetan delicacy that has found a huge fan base in Kashmir. But how about Kahwa, a truly Kashmiri traditional tea? It is a must-try drink if you want to experience local cuisine at its best.
Kashmiris prepare Kahwa by brewing green teas with local spices, not least saffron. They are usually keen on sweetening their tea with sugar, honey, or in some cases, milk. Interestingly, the Russian-originated copper kettle samovar is preferred to prepare tea.
It isn't feasible to cultivate tea in Kashmir, but the local population is hopelessly enamored with the beverage. When this love affair started is unclear.
One prevalent theory says that the Mughals brought tea to Kashmir. This is evident in the fact that these days, many Kashmiris call Kahwa by the name Mughal chai (tea).
See how Kashmiri villagers share Kahwa with one another here.
Warm Your Heart With Kashmiri Foods
The beauty of Kashmiri cuisine is as stunning as the lofty mountains and roaring rivers that dominate the land. Go there with your eyes beholding the picturesque landscape, your hands holding hot Kashmiri dishes, and your tongue tasting how sublime they are. What can be better?
Local cuisine is a harmonious blend of meaty wonders and vegan delights. Whether you're a hearty eater or someone abstaining from animal products, Kashmiri dishes will fulfill your needs perfectly.
Don't forget to share this post if you like it. Any comment or question will be greatly welcome. Have a good day and see you soon in other charming lands!