Besides traditional hot appetizers like soup, cold appetizers have been more popular as they are so easy and save time. They are also versatile as they can be excellent snacks or side dishes to stimulate your appetite.
As I recognize the importance of cold appetizers in every meal or party, I decided to list 40 cold-serving appetizers that deserve a try. So, why don't you scroll down to see what they are? Who knows, maybe some of them may become your new favorite appetizers.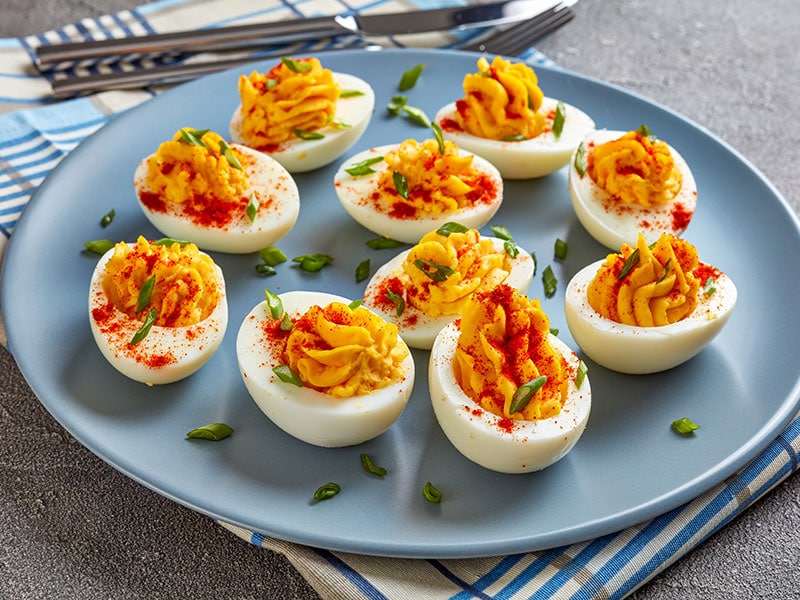 Amazing 40 Recipes Of Cold Appetizers For A Perfect Meal
Because cold appetizers are so vital and unique at every gathering or meal, they need greater attention. And with these 40 cold appetizers ideas here, I hope you can best enjoy your food.
For your convenience, I have categorized 40 cold-serving appetizers into the following categories: Dipping, Spreading, Salsa, Ball-bites, Skewers/Kabobs, Cups, Rolls/Pinwheels, and Others.
Dipping Cold Appetizers
Beef Taco Dip
Creamy Jalapeño Dip
Beer Dip
Onion Dip
Mexican Corn Dip
Greek Layered Dip
Spreading Cold Appetizers
French Quarter Pecan Cheese Spread
Artichoke Olive Tapenade
Chicken Liver Pâté
White Beans Spread
Salsa Cold Appetizers
Fresh Corn Salsa
Crisp Cucumber Salsa
Kiwi, Mango, and Strawberry Salsa
Cranberry Jalapeño Salsa
Fresh Mango Salsa
Skewer Cold Appetizers
Fruit and Cheese Skewers
Caprese Skewers
Melon, Prosciutto and Mozzarella Skewers
Antipasto Skewers
Pineapple Tofu Skewers
Ball/Truffle-Shaped Cold Appetizers
Cheeseball
Pumpkin Cheese Ball
Goat Cheese Avocado Truffle
Cranberry Pecan Goat Cheese Truffles
Cup-Shaped Cold Appetizers
Spinach Artichoke Phyllo Cups
Greek Cucumber Cups
Jalapeño Popper Wonton Cups
Sushi Cups
Roll/Pinwheel-Shaped Cold Appetizers
Tuna Sushi Rolls
Vegetable Tortilla Roll-ups
Smoked Salmon Pinwheels
Chicken Avocado Roll-ups
Salami Cheese Roll-ups
Summer Rolls With Peanut Sauce
And, Other Cold Appetizers
Cheese Cracker
Deviled Eggs
Marinated Olive and Cheese
Shrimp Cocktail
Prosciutto Wrapped Asparagus with Boursin
Stuffed Mini Peppers
Brilliant Ideas For Cold Appetizer With Dipping Sauce
If you have a food processor at home, try to make some delicious dipping sauce and serve with crackers or bread for the best cold appetizers.
Beefy taco dip is a cold and super-fast appetizer that is perfect for any party or potluck in the summertime. I guarantee it will be a big hit in your meal.
Ground beef, Picante sauce, sour cream, tortilla chips, and other chopped veggies are the main components, which create a creamy and pleasant sensation in your mouth.
How about twisting your tongue with a slight heat? Jalapeño – a star of this dipping, is a Mexican chili pepper commonly harvested when they are unripe with green color.
Use your food processor to puree all ingredients until they have a smooth texture. Do not worry about whether it is too spicy for you. The sour cream will balance the overall flavor. Let them chill in the fridge overnight and serve with chips or vegetable sticks.
Fun fact: Fully ripped jalapeño have a bright red color. And they are spicier than the unripe green jalapeño. That's why I use green jalapeño for this dipping.
Wait, how is it possible to use beer for making dipping sauce? Let me show you how.
Beer dip, in fact, is a delicious dipping that everyone would fall in love with. They are as creamy as the combination of beer and cheese. Mix beer and cheese by an electric mixer, or just mix them by hand until smooth.
You can use whichever beer you like, or for those concerned about getting drunk, light or non-alcohol beer is absolutely fine. So, let's make beer dip this weekend; your husband would love you more.
With only 2 ingredients, sour cream, and onion, you can have a thick and flavorful dipping sauce that cannot get easier to make.
Keep in mind to choose the suitable onion for this dish. I recommend you choose sweet onions for better taste. Cut them into slices and fry them until caramelized. Or, if you do not have time, store-bought dried onions in the supermarkets are not a bad option.
Finally, mix sour cream with cooked onion with a mixer for a smooth texture. Store the dipping in the fridge before serving to keep them fresh. Do not let them sit out for more than 2 hours, as sour cream will be bad at this point.
Here is another incredibly delicious Mexican-inspired first course that you can easily make at home. It is a Mexican corn dip that is full of flavors that I am sure will make you overwhelmed.
Both fresh and canned corn is acceptable for this dish. But if you choose canned corn, buy whole kernel corn or little-spicy corn to enhance the flavor for this dip.
The preparation is so simple as all you have to do is just combine the ingredients in a big bowl and stir them. You can top them with some herbs and shredded cheese.
This is a masterpiece in the dipping sauce. In fact, this first course dish from Greek cuisine is known for its vibrant visuals and taste so delicious on so many levels. With up to 7 layers, Greek layer dip is guaranteed to please even the most discerning palates.
Indeed, the Greek 7 layer dip is a unique and easy-to-make dip. The flavor of all ingredients is so contrasting but blended simultaneously, leaving a perfect experience with dipping sauce. Just one bite of them with crunchy chips, then you tell me how heavenly delish they are.
If you are looking for a cold appetizer with a festive look, this Greek 7-layer dip will satisfy you. You can see this video to know more:
No-Fuss Yet So Yummy Spread For The Best Cold Appetizers
Here are 4 spread recipes that come with vegan and meat choices. Similar to the dipping sauce, spreading options are best served with bread, sandwiches, and crackers.
If you want something mixed of sweet and salty, French quarter pecan cheese spread is a suitable recipe for your cold appetizer menu.
When you look at the ingredients, you might question how they possibly combine to make a delicious appetizer. But this is the beauty of them.
Creamy cheese mixes salty and tangy flavors of Worcestershire sauce and mustard; adding pecan topping is so interesting to eat. Spread them on the cracker, grab a bite, and you will love it.
Here is another superb appetizer for vegans. But first, let me explain what tapenade is. The term 'tapenade' refers to an appetizer that has originated in France and is often made from olives, olive oils, capers, and anchovies.
Tapenade is a popular spread for sandwiches and bread. But in this recipe, you have to prepare green olives, olive oil, parsley, lemon juice, and marinated artichokes.
All of them will be blended in a food processor until you see they have a chunky texture. Serve them with crackers, bread, or even pizza; they pair perfectly with this spread.
This is my favorite spread. Chicken liver is an ideal component for making many pâté types. And they are a kind of appetizer that will make you go wow with their smooth and creamy texture yet super delicious.
Easy-to-buy ingredients with simple preparation, chicken liver pâté is an ideal spread of sandwiches, flatbreads, or toasted baguettes. A little tip to choose liver: If possible, you should choose paler chicken liver as they are richer in flavor than the dark red ones.
This chicken liver pâté absolutely deserves a thumb-up. You can see this video to know more:
If you want an appetizer that both looks fancy and healthy, try this white bean spread. Serving them on chips or using them as a dipping sauce, either way is fine.
It should not be too complex for a cold appetizer, and with this recipe, you do not have to be concerned about them. Roasted garlic, boiled beans, herbs, oil, salt, and pepper will be pureed in a food processor.
You can top them with a little bit of cilantro to make your spread sauce more colorful. And voila, now you have an intensive but full of nutrient appetizer.
Whether smooth or coarse in texture, salsa is an excellent cold-serving appetizer that can be kept fresh and flavor-blended in the fridge. Can salsa be stored in the freezers? Since you're trying to impress everyone with your cooking skills, I think it's best that you serve fresh salsa.
The reason that makes me love this salsa is they are so versatile. They can be a great appetizer served with chips, or they can be a side dish for any meal.
The preparation is also simple. Just combine every component into a bowl. Fresh corn or canned corn is wonderful; you can even use grilled corn if you want to add some smoky flavor. With a touch of spicy jalapeño, it will give a little twist to your tongue.
The combination of cucumber and other vegetables never seems to get old for summer days.
Refreshing, crunchy, and a little hint of spicy is all you can have with this salsa. They are simple salsa but come with a restaurant-style appearance. So if you want an inexpensive appetizer yet super healthy and delicious, this crispy cucumber salsa is meant to be.
Let's dig in a fresh salsa with kiwi, mango, and strawberry. This fruit salsa is so mouth-watering and can blow your hot days away. Therefore, they are also ideal for any summer party or picnic.
Apparently, you cannot say no to this salsa once you see them. Yellow mango, red strawberries, and green kiwi are like beautiful summer paintings. It'd help to learn the best ways to store kiwis, mangos, and strawberries so that your salsa look and taste more appetizing.
Also, pick fully ripe kiwi and mango for a wonderful fruit salsa; otherwise, they will be sour and hard, making your salsa taste less appetizing. While the ways to ripen kiwis and mangos are quite easy, you'll need to select ripe strawberries as their ripening process stops once they're picked.
Cranberries are a good package of vitamins, fiber, and carbs. So why don't you turn them into a wonderful cold appetizer that your family and friends all love?
Use a food processor to puree cranberries, onion, jalapeño, lemon juice, and ginger. And that is all for preparation. Ridiculously fast, right?
You should make this salsa in advance and store it in the fridge for flavor-blending. Or you can store them in the freezer for up to 1 month. Remember to sprinkle some cilantro before serving.
Let's bring the summer feelings to your party with mango salsa – a well-loved fruity salsa that no one can resist.
The sweetness and juiciness of fresh mango are unrivaled. When it mixes with onions, bell peppers, and jalapeño, each taste is delicious and distinct. They are great with chips or tacos but still also delicious on their own.
Skewers – Delicious Cold Appetizers From Wooden Sticks
The mix of numerous components on a single skewer will give you a wide range of pleasures, making you feel as if your life can't get much better.
Your kids will love this appetizer for sure. Nothing better than fruit and cheese comes with one skewer. And I cannot describe how easy they are. A no-cook and no-fuss dish sounds so perfect for any beach day or picnic.
All you need to do is just cut fruits (except grapes) and cheese, then put them together with the skewers. You can ask your kid to do it with you. I bet they would love to do so.
This is a fantastic combination of fruit (or veggie), herb, and cheese that I believe you will like. Mozzarella cheese cubes, grapes (or tomatoes), and basil are skewered on caprese skewers.
Small basil leaves are preferred since the strong flavor of big basil leaves may overpower other flavors. Remember to spread cooked balsamic vinegar on the skewers before serving for a more bursting flavor.
Do you know what the best thing about this appetizer is? You can get all the different tastes like salty, sweet, and creamy with just one bite of them.
Melon, prosciutto, and mozzarella cheese skewers are genuinely fantastic appetizers that can wow everyone. They are so delicate, fresh, and creamy that I guarantee many of you will devour them after one bite.
Antipasto skewers are so colorful and delicious with many ingredients. A popular Italian dish to serve during the first course, antipasto skewers are also flexible as you can replace different components according to your personal preferences.
With this recipe, cherry tomatoes, cheese tortellini, olives, prosciutto, cheddar cheese, and basil leaves will be put together by a bamboo skewer and then served with basil pesto sauce. Nothing is complex.
With this entertaining tutorial, let's learn how to create antipasto skewers. You can see this video to know more:
If you are having a BBQ party, these grilled pineapple tofu skewers should be on your appetizer list.
In this recipe, the best flavor will come from marinated tofu. Therefore, you should do it in advance so the tofu can absorb the mixture of flavors of olive oil, lime juice, chili powder, and garlic.
Easy And Cute Balls/Truffles For Cold Appetizer
All of the recipes for ball-shaped cold appetizers here are made with cheese. So you should not skip this part if you are a huge fan of cheese.
This is a favorite appetizer at any celebration, especially on New Year's Eve. Let's try them to celebrate your next holiday.
These cheese balls are also fun to eat. They are cute little balls prepared with dried fruit, cream cheese herbs, and chopped bacon and nuts to cover the balls. Also, do not forget to decorate them with a pretzel stick to make them look like a Times Square Ball Drop on New Year's Eve.
The yellow color of these pumpkin cheese balls is an excellent treat for the Halloween holiday or party. And they do not need any fancy cookware to make it as they are easy as pie.
Fun fact: There is no pumpkin in these balls. Instead, cream cheese, pesto, and paprika are the main stars of this appetizer. The combination of them has a yellow color like pumpkin. After mixing them in a bowl, shape them into small cheese balls.
Let them refrigerate for a few hours. Then, using chive leaves and pretzel sticks, adorn them like a pumpkin.
Want a rich appetizer? Try these avocado and goat cheese truffles. And though they have gooey flavor, they are a low-fat and low-calorie dish, so you do have to worry if they are too much for you.
Goat cheese is used as a filling, covered by avocado and pureed nuts, chili, and lemon zest. The goat cheese is quite tangy and earthy. Combining them with other ingredients makes your appetizer more distinctive and toothsome.
I was so overwhelmed with the color of these truffles. So vibrant and eye-catching. That's why they are so perfect for a Christmas party. Moreover, they are not only beautiful but also yummy.
First, goat cheese, cream cheese, honey, and cinnamon will be mixed together and formed into small balls. Then, coat them with pecan, dried cranberries, and parsley. Crackers would be a great companion with these cheese balls.
Delectable Cold Appetizers That Come In Cups
How do cold appetizers resemble little cups? In fact, cups can be phyllo shells, wonton wrappers, or even rice. So let's find out how to make them with the below 4 recipes.
Spinach, artichoke, and cheeses are the main components of this appetizer. And if you worry about the high content of fat, there is a solution for you with this recipe.
You can choose low-fat cream cheese and yogurt instead of sour cream to make them less gooey. The mixture of spinach, artichoke, and cheese will be scooped into phyllo shells. But in case you cannot find this shell, wonton wrappers are a good alternative.
Bake them in the oven for 10 minutes until the shells (or wonton wrappers) turn brown. Now you have a perfect appetizer for your game day or gathering.
What to do when you have a surplus of cucumbers, and you can't tell for sure if cucumbers are freezable? What do you think about turning the cucumbers into enticing appetizers by making some Greek cucumber cups?
Greek cucumber style is filled with cheese, olives, and cubed veggies. From the ingredients, you can tell how healthy they are, and they have an eye-catching look that everyone would like to grab immediately
Plus, the different textures and tastes of their ingredients are the reason why these Greek-style cucumber cups are so delicious.
Let's bring a little bit of a Southern European atmosphere to your party with these Greek cucumber cups. You can see this video to know more:
Another hit comes from the jalapeño. Indeed, jalapeño popper wonton cups are filled with joy and flavors. You might ask for more than 1 wonton cup with this recipe.
This amazing appetizer is made with bacon, cheeses, jalapeño, and sour cream in crispy wonton cups. They are also extremely simple to prepare as well. In less than 30 minutes, you have created a crowd-pleasing dish that your guests will ask you for the recipe.
Don't have a bamboo mat for rolling sushi? There's no good kit for making sushi at your home? Do not be upset because what I am introducing here is an excellent choice for making sushi without a mat.
Instead, you need a muffin-making tray to shape the cup. And you might expect more time-consuming and more ingredients in this recipe than the tuna sushi that I introduced above. But trust me, all of your efforts will be worth it.
They are a mini cup of sushi rice with tuna, red pepper, avocado, and cucumber. Therefore, their flavors are so diverse and delicious to become a great starter for any meal.
Satisfy Your Tummy With Roll/Pinwheel-Shaped Cold Appetizers
Some of the recipes in this section do not require cooking yet are still delicious and look stunning. From Asian to Western cuisines, take a look to check which one is your favorite recipe.
If you are into Japanese cuisine, do not miss this appetizer. Tekkamaki tuna rolls are raw tuna rolled with sushi rice and seaweed. Sounds so simple, right?
Tekkamaki simply means sashimi tuna sushi roll. They are a popular sushi kind in Japan. You can also spot them in the Japanese restaurant easily in your area. However, nothing beats homemade sushi.
As you do not have many things to do with tuna, you might care more about the rice part. Choose sushi rice or any round rice and cook them properly; otherwise, it might be too soft to make good sushi rolls. Also, you might need a bamboo mat to roll the sushi for a nice shape.
Veggie tortilla roll-ups are the ideal appetizer that is not only tasty but also so healthy. They are so perfect for any gathering, picnic, or potluck. So why don't you try them?
Nothing is difficult as it is a no-cook dish. A tortilla will roll around fresh vegetables such as green bell pepper, carrot, broccoli, or any other vegetables you choose, as well as cream cheese mixture. And I am sure the combination of creamy taste and crunchy fresh veggies will leave you breathless.
With only 10 minutes of preparation, they are a perfect solution for a last-minute appetizer. So let's try this super-quick appetizer for your next party.
The ingredients are simple with tortilla, cream cheese, smoked salmon, lemon juice, and herbs. These salmon pinwheels are a no-fuss and no-cook dish but still taste amazing. All of the ingredients blend well, creating a great balance right in your mouth.
Avocado and chicken are also a perfect couple for a quick and healthy appetizer. This is also a good way to use your leftover chicken.
Wrap shredded chicken and avocado by tortilla and cut them into a bite-sized treat. You can add other ingredients like onion, tomatoes, and herbs to enhance the flavor. Make sure the ingredients are well chopped and shredded so that your roll will look evenly.
Salami is a cured pork sausage and can sit out for 40 days at room temperature. That's why they are ideal for making a cold appetizer.
Combining salami with cream cheese is a brilliant idea as it is so easy and yummy as well. It only takes 10 minutes to prepare it with 2 main ingredients. You should buy a large salami round. It would be easier for you to place them on the cream cheese.
To improve the flavor, do not forget to top the cream cheese with a few chopped herbs (like basil or parsley) or some veggies (like green pepper). It is also common to serve the rolls with crackers.
Why summer rolls? Because they will cool off your hot day with just one bite. Let's find out how amazing they are.
Summer rolls are an Asian-inspired appetizer with fresh veggies wrapped in rice paper. You can add shrimp to the rolls as well. There are at least 3 kinds of veggies inside the rice paper; that's why they are so refreshing and healthy.
But you know what makes this appetizer better? It is the peanut sauce. Just imagine a crisp roll of veggies dip in a silky-smooth and flavorful sauce; I bet that you can never get enough of them.
Finally, Other Cold Appetizers For A Perfect Foreplay
If you are still undecided about which dish to try from the above parts, here are some additional alternatives for your cold appetizer menu. And they are all fantastic, making you want to try more.
Cheese-It is a well-known cheese cracker around the world. But do you ever think about making cheese crackers by yourself at home? They could be a perfect appetizer idea for you.
Do not worry; the recipe is simple. You can make these tiny crackers with cheese, cornstarch, salt, butter, water, flour, and a little bit of patience. Your children may want to participate in the baking as well.
To make the dough, you'll need a food processor to blend all of the ingredients. Roll out the dough and cut them into small square pieces like Cheese-It crackers, then bake it in 16 to 20 minutes. The longer you bake the cheese crackers, the crunchier they get.
Here is another classic cold appetizer that is widely used on special occasions, like Easter. Deviled eggs are simple boiled eggs with the seasoned yolk. Mayonnaise, hot sauce, mustard, and other components will be used to season the yolks.
However, you must ensure that the cooking time for eggs is sufficient to produce a fully cooked and solid yolk. But why 'deviled egg'?
In the past, deviled eggs have originated from ancient Rome. They were boiled and seasoned with spicy sauce. Back then, people believed something between hot temperature and spiciness resembles hell. So they are called deviled eggs.
Deviled eggs are a gluten-free, keto, low-carb, and generally healthful dish. You can see this video to know more:
The ingredients of this cold appetizer might be right on your pantry. A no-fuss and beautiful beginning for any dinner may be made with a jar of marinated olive and cheese.
The herb (such as basil, rosemary, or sage) also plays an essential part in this recipe, giving earthy, fragrant tastes that make you want to eat more.
Cheese can be shaped into cubes or slices. You can choose your favorite cheese, such as pecorino, feta, or manchego. Shape the cheese into small cute cheese balls if you want your easy snack to appear more amazing.
A shrimp cocktail is a to-go appetizer that is very popular in many restaurants. It's so simple even a beginner can make it. The only concern you'll probably have is the timespan cooked shrimp can last in fridges as it's common to make this recipe in advance.
Generally speaking, you can prepare shrimp cocktails ahead for 24 hours and keep them fresh in the fridge. If you bought shell-on shrimp, you should peel it off and devein them. But for saving time, there are many deveined shrimp available in your local stores or supermarkets.
Another important part is making the sauce for this appetizer. It can be easily made from ketchup (or chili sauce), lemon juice, and horseradish.
If you are an asparagus lover, you should not skip this recipe. An effortless yet fresh and tasty dish is coming up. Two main ingredients are right in the title of this appetizer, but it is absolutely fine if you want to add some cheese or Balsamic sauce.
The salty taste of prosciutto pairs with a little bit of pungent and strong flavor of cooked asparagus, making them a perfect appetizer or a side dish at every party.
And you know what the best part is? They can be served hot or cold or at room temperature. Sounds versatile, right?
These little peppers are such a wonderful crowd-pleaser idea. Their colors are also the highlight of this dish. And, of course, it cannot get any easier to make them.
Similar to jalapeno, mini sweet peppers are the ideal ingredient to create a quick and yummy appetizer. If you are looking for a low-carb recipe, this is the one for you.
Cut peppers in half, fill them with cream cheese and other ingredients, then bake them in the oven for 20 minutes until the cheese turns golden brown and the sweet peppers are softened.
Make-Ahead Cold Appetizers – The Ideal Solution For Busy Hosts
Indeed, cold appetizers are so flexible that you can make them ahead and store them in the fridge before serving. Also, some of them are the easiest and fastest recipes that no matter how busy you are, you can still have a wonderful dish for your party.
Cold appetizers come in a variety of textures and forms, but they are known for their bite-sized delights that I know you cannot get enough of with just a mouthful. By these 40 ideas here, you can have for yourself comprehensive information about them.
So why don't you click like and share these 40 recipes right away? Practice makes perfect, so please feel free to share with me your experience with cold appetizers. I'd love to hear how happy you are with your treats. Enjoy!
Nutrition Facts
12 servings per container
---
Amount Per ServingCalories61
% Daily Value *
Total Fat 2g

4

%
Cholesterol 8mg

3

%
Sodium 250mg

11

%
Potassium 65mg

2

%
Total Carbohydrate 3g

1

%
Protein 6.5g

12

%
---
* The % Daily Value tells you how much a nutrient in a serving of food contributes to a daily diet. 2,000 calories a day is used for general nutrition advice.