Thai appetizers are always so unique and versatile, both in appearance and taste. That's why in a long menu of dishes to start the Asian party, I always search for Thai foods.
Indeed, they are perfect complements to any meal, whether it is fancy or casual. Put them in your menu and you can stop worrying about ways to diversify your meals or how to kick start your Asian feasts.
Thai cuisine is best known for its ability to make playful meals out of some very standard ingredients. Its versatility reflects most in the contrast of flavors that will keep you fascinated for the entire meal. Put away any fear you may have and try them out for yourself.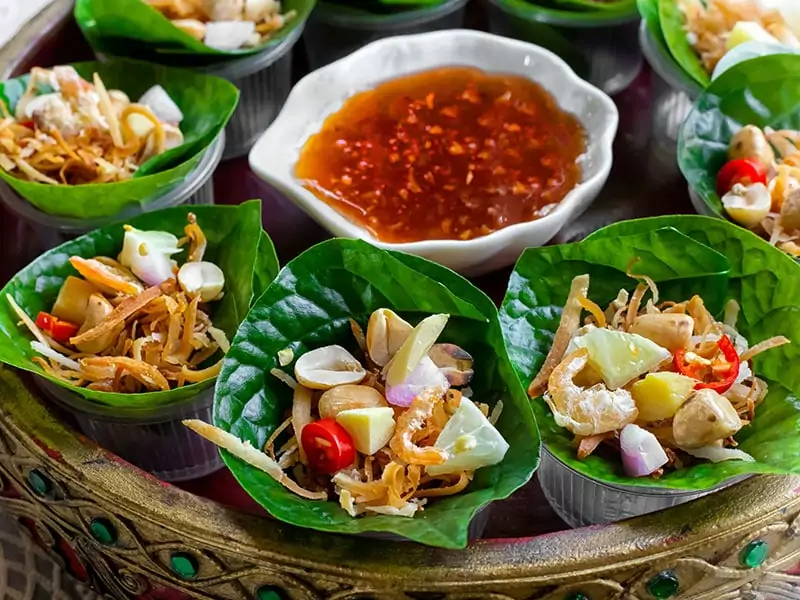 22 Delicious Thai Appetizers For Your Next Party
No matter what you are looking for, there's always a Thai dish that will guarantee to meet your demands. Here they have been categorized into classic types of appetizers: salad, dips, finger food, hors d'oeuvre, and cocktails.
Thai Salad Appetizers
Thai Crab Salad
Thai Green Mango Salad
Thai Noodle Salad With Shrimp
Som Tam (Green Papaya Salad)
Thai Cucumber Salad
Thai Appetizer Dips And Sauces
Peanut Dipping Sauce
Thai Basil Pesto
Green Curry Sauce
Tom Yum Paste
Thai Finger Food Appetizers
Stuffed Chicken Wings
Chili-Garlic Shrimp
Classic Thai Fish Cakes
Miang Kham (Leaf-Wrapped Salad Bites)
Fresh Spring Rolls
Thai Bite-Sized Appetizers
Mar Hor (Galloping Horses)
Kai Ho Bai Toei (Thai Pandan Chicken)
Thai Salad Wonton Cups
Thai Beef Salad Cucumber Bites
Thai Cocktails
Thai Lemongrass Margarita
Spicy Thai Chile Paloma
Thai Basil Gin Gimlet
Thai Mango Martini
Top 5 Fresh And Fun Thai Salad Appetizers For All Occasions
There's nothing like a good mouthful of vegetables to keep yourself healthy and happy. These Thai salads are not only nutritious but also very diverse in taste and ingredients.
Thai crab salad is a delightful summer treat you won't want to miss out on. People often make it with several native fruits in Thailand, such as grapefruits or pomelos. However, if you can't find these tropical fruits nearby, using mango will still give a similar authentic taste.
This salad is a delicate medley of sweet, salty, sour, sour, and bitter. It offers a great range of flavors that immediately invades your senses at first taste. Have a light summer meal with it besides a cold glass of white wine or beer.
What are the refreshing summer appetizers that everyone looks for? The answer is Thai Green Mango salad. So brace yourself for an incredible burst of flavors when you try this salad.
It features unripe mango, fresh herbs, and spicy seasonings, all tied together by a savory fish sauce. The highlight is the green mango, which gives the overall dish a very unique crunchy and tangy taste.
You can tweak this recipe to fit your preferences as much as you like. It's great on its own, but you can add leftover shrimp to this dish to make it more filling. Cooked chicken is another viable option you can consider. If you are a vegetarian, deep-fried tofu is a fantastic add-on choice.
Make a fresh bowl of green mango salad to eat alongside Thai chicken. You can see this video to know more:
Noodle salads always make a great light meal for all your busy days and outdoor activities. This recipe, in particular, is easy to make and so unbelievably good. Not only that, but it also includes a lot of fresh ingredients that make for a healthy meal.
The best thing about this salad is the tamarind-lime vinaigrette. It completely transforms all the foods with its sweet, sour, and tangy mixture of flavors. Don't skip out on making this sauce if you want to fully experience how good this entire dish is.
Som Tam is a very popular Thai salad that uses green papaya as the main ingredient. It is well-loved for its multitude of flavors, from sweet, tart, to an aromatic spiciness. It looks a bit messy and colorful, but that's why it's so much fun.
Even though it is an appetizer, you can still make it a full meal by topping it with some shrimp or chicken. If you want a tasty Thai vegetarian dish, noodles or sticky rice are great as well. Either way, you will still be able to enjoy this traditional Thai dish to the fullest.
If you love the mild flavor with high water content veggies to begin your meal, you might need a list of starters made with cucumber. And this salad will not fail you.
Thai cucumber salad is probably one of the simplest dishes you will ever make. The ingredients are just some cucumbers, onions, peanuts, herbs, and basic seasonings. The process requires nothing more than just chopping vegetables and letting them marinate.
Despite the simplicity, the dish itself is incredibly bold and intense in flavors, all thanks to the tangy-sweet dressing. It's a staple side dish for many when eating other Thai foods, especially savory ones like Pad Thai, Thai noodles, or chicken satay.
4 Thai Appetizer Dips And Sauces That Will Pair Perfectly With Any Dish
Dips and sauces can always bring new life into a dish, no matter how plain and simple it is. Thai dips are easy to make and can be used with almost any dish, Asian or not. Elevate your food in a blink of an eye with these Thai dips and sauces.
If you love Thai food, then this peanut dipping sauce is absolutely essential for all of your meals. This creamy and smooth sauce only takes about 5 minutes to make, but the result is so satisfying.
The flavor of this sauce goes beyond just regular peanut sweetness. It's also tangy and savory, with a hint of spiciness hidden underneath. It goes well with just about anything, from salads, spring rolls, various Thai noodles types to even pizza. Many also use it to marinate meat.
Pesto is a typical food in numerous yummy dishes with basil. It is a slightly sweet sauce originally from Italy, but this recipe puts a Thai twist to it by using Thai basil and sesame oil instead. These changes make the Thai version taste a bit stronger, tangier, and more aromatic.
This sauce is an easy and healthy way to spice up all your foods. You can eat it with savory noodle dishes, grilled meat, salads, or spread it all over sandwiches and baguettes. It also makes a flavorful gluten-free topping for those who want nutritious spaghetti.
Green curry is one of Thailand's most popular delicacies. It's typically eaten as a main dish with rice and meat, but you can totally make it as a dipping sauce using the same ingredients and spices.
You can immediately spice up any of your appetizers by dipping them in this creamy sauce. It's loaded with herbs, so it's very aromatic and spicy. Try it with some roasted vegetables or drizzle it over meat like seafood, chicken breast, and grilled pork.
Tom Yum is undoubtedly one of Thai's most popular dishes. It's a spicy, sour, and deeply aromatic soup made from various herbs, fish sauce, and crushed chili peppers. This paste is usually used as a flavoring for this classic Thai soup, but you can also use it as a marinade or dipping sauce.
You can probably find manufactured Tom Yum paste at the store. However, it rarely tastes as authentic and intense as the homemade version. All you need is a food processor and fifteen minutes in the kitchen to make a large amount that you can use for months to come.
Top 5 Thai Finger Food Appetizers You Won't Be Able To Stop Eating
Everyone will be happy and satisfied in no time with these Thai finger food appetizers. They are not too big so no one will lose the appetite for the coming dishes, but flavorful enough to intensify the cravings.
Get ready to learn some brand new techniques for cooking chicken. In Asia, it is pretty common to debone chicken wings and stuff them with different foods. The process can take some time and energy, so this dish is usually reserved for special occasions only.
You will find that all the effort put into making these Thai chicken-based delicacies is totally worth it. The chicken is crispy and savory on the outside but very tender on the inside. The best part of all is instead of hard bones; you get to have juicy pork and chewy noodles when you bite into them.
In case you are too busy to prepare anything, there are some top-rated frozen chicken wings to try. Some of them are ready-made so all you have to do is throw them on a grill, stovetop, or microwave to cook.
Eat seafood like a true Asian with this recipe. It's a quick and easy dish of shrimps covered in juicy Thai garlic sauce. The flavor versatility is incredible with this one, ranging from sweet, spicy, tangy to a bit garlicky. Each shrimp is a flavor bomb waiting to explode inside your mouth.
This recipe is quite flexible, so you can make it in a different way each time. Even though it is an appetizer, you can turn it into a main course by serving beside a steamy plate of white rice. You can also cook it in multiple ways, like stir-fry, bake, and grill.
Detailed instructions on how to make a tasty dish of chili-garlic shrimp. You can see this video to know more:
Fish cakes are a popular food in every Thai street. Unlike the Western version, they aren't battered, so the flavors are much more natural and organic. They're known for the savory and deep spiciness, which comes mainly from mixing red curry in the ingredients.
Another special thing about these cakes is their texture. They are pretty tender and spongy overall but have a bit of crunchiness here and there from the green beans. Pair them with some sweet chili sauce and fresh veggies to make a simple appetizer everyone will adore.
Miang Kham is eaten mainly as a light snack amongst friends in Thailand. It's a wrapped food consisting of betel – a vine native to Asia, chili, lime, lemongrass, shrimp, ginger, and other ingredients. Everything is then dipped into a unique sour and savory sauce.
Diversity in ingredients equals diversity in taste. This one-bite wrap takes you on an adventure with different flavors and textures every time you eat it. The only downside to this dish is some of the ingredients may not be found easily, so you will have to replace them with other things.
Treat your guests with these healthy and flavorful spring rolls. Apart from the freshness, the other great thing about these colorful rolls is their adaptability. You can use anything you want and however much you want for the fillings.
Many tend to stay away from making these because the wrapping process seems complicated. All the veggies, meat, and rice paper look intimidating at first, but it's easier than it seems. Practice makes perfect, and your rolls will look better and better the more you make them.
Make Your Meal More Elegant With These 4 Bite-Sized Thai Appetizers
At this point, you may figure out that Thai sweet dishes aren't the only one gorgeous. These effortless appetizers below are no less beautiful and delicate. Also, despite their small size, they taste just as good as a regular dish.
Don't let the strange name stop you from trying this dish. They're actually just spicy minced meat and relishes served on top of sliced vegetables or fruits. At parties, they are often served alongside a fruity cocktail to complement each other's sugary taste.
Fresh pineapples and oranges are most commonly used as a base for these appetizers. The meat can either be minced pork or shrimp, anything with a chewy texture to add some diversity. These bite-sized foods may be small, but they deliver a burst of flavor like no other.
This Thai-style fried chicken is unique not just in appearance but also in flavor, and it's all because of the pandan leaves it's wrapped in. Pandan is a tropical plant whose leaves have a signature aromatic floral-like fragrance that many Asians use to infuse in their food.
This recipe is ideal for everyone to try out because, unlike most Thai recipes, it's not at all spicy. It's tender and wrapped in an aroma that is a grassy cross between vanilla and almond. This original appetizer will surely be the center of attention at any dining table.
Learn how to make pandan chickens with this easy guide:
Whenever talking about wontons, you might think they are Chinese food. But this version is Thai wonton. Obviously, there are many distinctive aspects to consider in the comparison between Thai and Chinese food. But one thing I can guarantee here is that they are super tasty.
Whip up a beautiful plate of appetizers for all your summer get-togethers in no time with this recipe. You just need to bake wonton wrappers in a muffin pan, fill them with some Thai salad, and then your dish is ready.
There's a great selection of Thai salads for you to choose from. You can try any of the ones suggested above, or just make your own favorite salad, then drizzle some Thai peanut dressings over it.
Thai beef salad is one of Thailand's signature dishes. It's as spicy and flavorful as you would expect a Thai dish to be. These little hors d'œuvres offer a glimpse into all of its savory goodness, one small bite at a time.
This dish is a great way to make use of all your leftovers. Instead of wondering if you can extend cucumbers' shelf-life by freezing them, make this instead! The ingredients here are mostly things you use in every dish, so why not turn what's left into a beautiful decorative appetizer?
4 Thai Cocktails That Are Refreshingly Fun To Drink
If you're having a small gathering or an outdoor summer party, cocktails are a great way to lighten the mood. Nothing cheers people up faster than fruity alcoholic beverages. These Thai cocktails with their own little twists are a great way to do so.
Lemongrass is a plant used in a lot of Asian food and beverages for its citrus and minty flavor. It gives this margarita an extra exotic kick that will wow you from the very first sip. It still has the same signature strong tart taste, only with a bit more fresh and earthy aroma.
Since lemongrass is quite strange and unique in flavor, you can consider adding some more syrup to make this drink sweeter. However, if you usually take your cocktails with lime and ginger, you should have no problem handling this amazing drink from Thailand.
Also, it's best if you stick to the original recipe, despite there are numerous lemongrass replacements. After all, lemongrass is the star of this recipe, so to replace lemongrass would be the equivalent of taking the "soul" from this dish.
Paloma is a traditional Mexican cocktail whose main ingredients are tequila and grapefruit. This recipe brings a special Thai twist by infusing some Thai chile into the mix. It adds a subtle heat underneath the layers of sweet and earthy flavors.
If your meal has some spicy dishes, this cocktail will make a great appetizer. The hidden spicy aftertaste is not too overwhelming but still enough to stimulate some spice cravings in your guests.
A gimlet is made of gin, lime, and syrup. This drink is a pretty good choice for those who like their cocktail sour and sweet. However, by adding some Thai basil, this drink becomes much more complex with an extra layer of spicy and licorice-like taste.
If you think this drink's flavor is too intense, you can always switch out some of the ingredients. The gin can be replaced with vodka to make the base milder, and use some more syrup if you want it to be sweeter.
Take your tastebuds on a tropical adventure with this gorgeous and vibrant martini. This cocktail is more than just meets the eyes, however. It's refreshing, natural, and packed with all the fruity sweetness you could need on a summer day.
This light and fun drink is best served at barbecues or get-togethers, but you can also simply enjoy it on a casual night as well. Whether you're having a huge feast or just gathering for a plate of Pad thai, its authentic taste makes it the perfect companion for all your Asian meals.
Find out how you can make the best Thai mango Martini. You can see this video to know more:
Celebrate Great Culture With Great Food!
Thai cuisine is an excellent reflection of its wonderful and diverse culture. It carries an exotic taste that combines many different flavors, from sweet, sour, spicy, to salty, and still manages to create a perfectly balanced mixture.
Don't miss out on all the magic that Thai food has to offer. Try making these easy and quick appetizers to see for yourself just why they are so well-loved. Don't hesitate to let me know how everything turned out and if you loved what you created or not.
Nutrition Facts
6 servings per container
---
Amount Per ServingCalories84
% Daily Value *
Total Fat 0.6g

0

%

Saturated Fat 0.1g

0

%
Trans Fat g

Sodium 493mg

21

%
Potassium 331mg

10

%
Total Carbohydrate 18.4g

6

%

Dietary Fiber 1.6g

4

%
Sugars 12.4g

Protein 3.9g

6

%
---
* The % Daily Value tells you how much a nutrient in a serving of food contributes to a daily diet. 2,000 calories a day is used for general nutrition advice.