Basil recipes are varied and delicious. You can make tons of dishes, from savory dishes to sweets or even beverages. Indeed, basil is famous for its aromatic and pungent smell with a slightly peppery taste; therefore, they are a perfect ingredient to add more flavor to every treat.
You can buy fresh basil in the supermarket or grow them yourself as they are easy to grow. Sun, well-drained soil, and water are enough to let them develop. Or, if you know some tips to store fresh basil in the fridge or freezer, you can have them available in your kitchen all the time.
So wait no further; let's dig in the 40 most desirable recipes to cook with basil.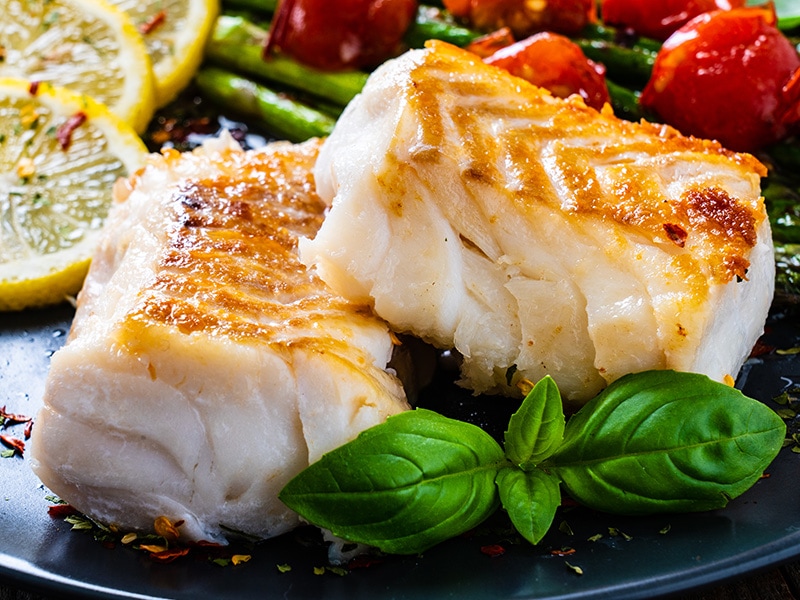 Best List Of 40 Recipes To Cook With Basil
With 40 ideas here, you can easily find your favorite ones by my clear categories for dishes, such as Vegan and Vegetarian, Non-vegan, Desserts, and Drinks recipes with basil.
Basil Recipes For Vegan and Vegetarian Treat
Vegan and Vegetarian Main Dishes
Tomato Basil Pasta
Summer Squash and Basil Pasta
Vegan Margherita Pizza
Basil Tomato Tart
Asparagus Frittata
Vegan and Vegetarian Appetizers/Side Dishes
Caprese Salad
Basil Pesto
Basil Vinaigrette
Vegan Summer Roll
Basil Fruit Salad
Grilled Corn Salad
Strawberry and Watercress Salad
Bruschetta and Basil
Caprese Flatbread
Basil Recipes For Non-Vegan Treat
For Non-Vegan Main Dish
Pan-fried Cod with Basil Sauce
Caprese BLT Sandwich
Lemon Chicken Orzo with Basil
Turkey Pesto Meatball
Chicken and Basil Cream Sauce
Basil Pesto Shrimp and Broccoli
Lemon Basil Pork Chops
Thai Basil Beef
Salmon and Basil Pasta
Salmon Burger and Basil Sauce
For Non-Vegan Appetizers/Side Dishes
Watermelon Caprese Skewers
Melon and Prosciutto Salad
Roasted Tomato Basil Soup
Basil Recipes For Dessert
Strawberry Basil Cake
Basil Mousse
Lemon Yogurt Cake With Basil
Lemon Basil Shortbread Cookies
Basil Popsicles
Basil Ice Cream
Basil Recipes For Drink
Fresh Basil Lemonade
Cantaloupe Basil Agua Fresca
Cucumber Basil Smash
Gin Basil Smash
Strawberry Basil Mojito
Basil Gimlet
Watermelon Basil Vodka
Vegan And Vegetarian Basil Recipes For Your Healthy And Fit Body
This aromatic herb is ideal for making many plant-based and vegetarian dishes. Either they are cooked or fresh, basil is the ultimate ingredient to increase the flavor of the whole dish. Here are 14 easy vegan recipes with basil. Let's explore them now.
Delicate-Yet-Delicious Main Dish Recipes With Basil For Vegans And Vegetarians
With the 5 basil main dish ideas listed below, you can enjoy simple delicacies with well-balanced flavors that are difficult to forget.
Let's talk about how well pasta can pair with basil. This simple pasta with tomato and basil is a must-saved recipe because there is no special cooking skill requirement. Simply cook the pasta and combine it with the remaining ingredients.
One thing to keep in mind is that lengthy pasta, such as spaghetti or fettuccine, will absorb flavor better than other types of pasta.
Summer has come. Let's get some squash and combine it with the basil to make delicious pasta in less than 30 minutes. The mildly nutty and buttery flavor of summer squash makes your traditional basil pasta more enjoyable.
Do not forget to top them with some shredded Parmesan cheese before serving to add more flavors.
This is a vegan pizza with 3 main ingredients: dough, cashew mozzarella cheese, and basil. Let's prepare them for your Italian dinner on any night! This recipe is simple, but you will be overwhelmed by the gooey and flavorful topping with cheese, tomato paste, pepper flakes, and other spices.
You must add yeast to the dough; otherwise, your pizza will be lumpy and cannot rise. So you can make the dough in advance.
Basil tomato tart is a savory pie filled with cheese, mayonnaise, tomato, basil pesto that is so creamy and rich with crunchy golden brown pie crust.
In fact, basil pesto is an essential ingredient that makes your tart tangier and garlicky. And before serving, garnish them with chopped fresh basil for an attractive visual.
Frittata is an Italian egg-based dish that looks like an omelet and can be served at room temperature or cold. Frittata with asparagus is a quick and easy dish that only takes around 20 minutes to prepare. The basil will be put into the egg mixture before it is cooked, rather than sprinkled on top before serving like other basil dishes.
Non-Heavy And Undoubtedly Tasty Appetizer/Side Dish Recipes With Basil (Vegan And Vegetarian-Friendly)
And basil not only shines in the main dish, but many vegetarian dishes also go perfectly with basil. And here are 9 recipes to prove so.
This classic Italian-style salad is very appealing, with red, white, and green colors mixed together which is truly made for a BBQ starter dish. So if you are going to throw a backyard party this weekend, pin this recipe now! Or you might regret it!
Indeed, Caprese salad's main ingredients are tomatoes, mozzarella cheese, and of course, fresh basil. Drizzle olive oil and tangy balsamic glaze before serving for the most delicious salad dish.
Basil pesto has herby, slightly tangy, and peppery flavors that perfectly serve with pasta, salad, or veggies. In order to make this sauce, the mixture of basil, lemon juice, nuts, garlic, and olive oil will be pureed in a food processor until smooth.
If you have not had basil pesto before, try to make it now. I believe it will become your favorite green sauce because it is so simple to prepare.
Increase your passion for cooking with this simple but so versatile basil pesto sauce. You can see this video to know more:
This is another sauce made of basil and can upgrade your dish to a higher goodness level. Basil vinaigrette ingredients are quite different from basil pesto, but both of them taste excellent.
Once you have done it, you will want to spread them on every dish, from veggie treats to meaty ones.
Basil is a must-have ingredient in Asian-style rice paper wrap rolls. Regardless of what vegetables you use in the rolls, basil is a wonderful match.
These summer rolls, made with fresh, crisp carrots, bell pepper, basil, and tofu, are a great choice for a light and nutritious vegan meal. And nothing could be better than dipping them in a rich and gooey peanut sauce.
Basil lime fruit salad is the freshest appetizer (or side dish) that no one could resist. First, they look amazing in various summer colors. Second, succulent and sweet fruits mixed with lime syrup composed of chopped basil and honey will provide you with a full taste of tangy and sweet flavor that brings so much joy to the table.
This grilled corn salad must be your go-to dish when the grilling season arrives. Add some smoky flavors to your plate by grilling corn, then mix them with a dressing made of olive oil, cider vinegar, lime juice, and spices. For an intense flavor, this salad should be finished with salt and chopped basil leaves.
Watercress is a vitamin and mineral-rich green vegetable. Therefore, strawberry and watercress salad are healthy, delicious, and fresh options for your diet.
With less than 10 minutes to prepare, this no-cooking salad will give your dish an outstanding balance of flavors with strawberries, lemon juice, honey, and other herbs like basil and cilantro.
The basic bruschetta refers to a toasted sandwich topped with garlic and salt. In this recipe, I'd like to present to you another variation of bruschetta with tomato and basil topping.
They are a perfect bite-sized appetizer to start any party with crispy bread and a flavorful tomato mixture. This mixture should be done ahead and kept in the fridge to combine the flavors.
Can you believe that you can finish making this dish in just 15 minutes? So if you are a busy bee, the Caprese flatbread recipe was created just for you.
With simple and convenient ingredients and a handful of basil, you can treat yourself to a crisp flatbread with healthy and fresh veggies and top with fresh chopped basil.
A short and clear instruction on how to make a delicious Caprese flatbread.
Terrific Non-Vegan Recipes That You Can Make With Basil
Do you want to discover recipes that combine meat and basil? In reality, basil can also be a highlight in numerous meaty dishes by its distinctive flavor. Though there are some substitutes for basil, they never taste exactly the same as basil.
Hearty And Meaty Main Dishes With Basil Recipes
Similarly, I will divide 13 meaty basil recipes into two categories: main dishes and appetizers/side dishes. Starting with the main courses, I hope you will be able to make a variety of delectable goodies with joy in the kitchen.
How can you resist succulent pieces of cod that drizzled with the tangy basil sauce? And by adding other veggies or fruits, for example, tomatoes, or oranges, you will be mind-blown how delicious they are when everything is blended. The peppery flavor of basil sauce makes your fish fillet more bursting in flavor for sure.
This lively tutorial will make a hearty dinner of pan-fried fish with basil sauce a lot simpler.
First, let me explain what BLT is. It means Bacon, Lettuce, and Tomato, which are also some of the main ingredients to make this sandwich. But whenever I talk about the Caprese recipe, it would be a huge miss if these Caprese-style dishes are not served with basil.
The crispy sandwiches with bacon, avocado, tomatoes, lettuce, cheese, and basil in the middle will become your new favorite sandwich style that is so easy to take away or served immediately.
Orzo pasta is a rice-shaped type of pasta. And once again, the mixture of lemon and basil seems never to get old in cooking recipes with basil. Chicken pairs with lemon sauce, garlic, and basil to become a hearty treat that is incredibly tasty and healthy. If you want to turn them into a vegan dish, just opt out of the chicken part.
With basil pesto, your turkey meatballs are full of flavor and juicy. They might look like a 5-star dish with an impressive appearance, yet the turkey pesto meatball dish is simple to cook. Plus, by shaping ground turkey into small balls, your kids will find them, so fun to eat.
You can even teach your kids this recipe. This can also be the perfect occasion to teach them how to detect that ground turkey is spoiled. These fun activities will provide a great opportunity for parent-child bonding while equipping your child with essential life skills.
And the basil pesto is the vital ingredient to make them a hit at the table due to the distinctive and garlicky flavor.
A fabulous golden brown chicken breast served with basil cream sauce will be your new go-to recipe. Why? The crispy exterior of the chicken breast, along with the soft and juicy within, is all you need for a wonderful meal.
And the creamy sauce with chopped basil, you will be speechless and overwhelmed after you took one bite of chicken and the sauce together, like heaven is already here, right in your kitchen.
Shrimp with pasta is also an ideal option to enjoy with basil pesto. They are a tasty dish full of flavors with fresh shrimp, broccoli, and basil pesto, giving you an excellent balance for creamy pasta. Also, they are so easy to cook, so you can be sure that your pasta will come out beautifully.
Do you love pork chop and basil? If yes, just save this recipe without considering it. Why? Because there is no better recipe to cook with pork chop with a touch of lemon basil sauce than this recipe.
The soft and juicy pork with a herby, light sour sauce is the reason why these pork chops are so yummy. So if you are hosting a party this weekend, let's make this dish and watch your guests devour everything in just a blink of an eye.
How to differentiate Thai basil and regular basil? This recipe will tell you. With just a few ingredients that can be easily spotted in the supermarket, now you can make your kitchen smell like a Thailand night market with this dish.
Their flavor is complex yet excellent, with a hint of basil and other sauces that make the beef taste more distinct from other stir-fried beef dishes.
Another kind of sauce for pasta that you should not miss is pesto sauce. Either basil comes in the pesto sauce or the fresh form, they are still a superstar for pasta dishes with salmon.
Fresh basil will provide the peppery flavor to your creamy pasta, while the pesto sauce will make them garlicky, grassy, and delicious in their own way.
But be careful not to overcook the salmon since it will become dry and tough, making your salmon pasta less appetizing.
You might say goodbye to beef burgers after you tried a salmon burger. And do you know the secret that makes a salmon burger so tasty? It is the basil sauce that you use to drizzle over the salmon.
The combination of tender and flaky grilled salmon with a light sour sauce consisting of yogurt, garlic, lime juice, and basil creates tastes that are hard to find in other meals.
Indulgent Non-Vegan Basil Recipes For Appetizer And Side Dishes
Nothing sounds better than a perfect entree to start a meal or a wonderful side dish to accompany the main course. And with these attractive and colorful ideas like below, nothing can stop you from getting a place in everyone's heart.
Here is another last-minute skewer that you can make with basil. Watermelon will be shaped into small balls. Then, skewer these fruity balls with Mozzarella cheese, slices of prosciutto, and fresh basil leaves together on the skewers.
See, there is no cooking requirement and no fussiness. Remember to drizzle these skewers with olive oil and lemon juice before serving.
Fruit, ham, cheese, and pungent herbs are all in this salad to optimize the flavor. The 2 main ingredients are melon and prosciutto, but fresh herbs like basil and mint also play an important role in brightening the overall flavor.
Plus, some people claim basil and mint come from the same family, which means they share the same taste. So why don't they use just all basil or all mint for this dish?
In fact, there are other distinctive features between basil and mint, making them a perfect duo for this salad. And this no-cook recipe takes only 15 minutes to create and is really delicious yet so fun to eat.
Roasted tomato soup is a healthy and flavorful soup that everyone can cook. First, you will need to roast tomatoes in the oven, then combine tomatoes, basil, chicken broth, and other components in the big pot to cook.
After that, puree them in a food processor for a smooth and slightly thick texture. You can make the plant-based version of this soup with vegan broth. Both of the broth taste delicious.
Dessert Recipes Made Of Basil That You Might Not Know Yet
"Basil for a dessert? No way!" might be your first reaction about it. But trust me, you would never know how amazing they can fit into any dessert type, from cakes to ice cream. Let's find out the 6 recipes below for more surprises.
Strawberry and basil are the perfect couples for making the salad, but they are also a great combination to create a stunning cake. Here is a specific example. Strawberry basil cake is a summery and buttery cake that you will not be disappointed with.
Why? Because they are so soft and delicious with strawberry buttercream and a light hint of basil. So why don't you celebrate your summer with this cake? Your family will be impressed for sure.
Basil mousse is also another example to prove basil is so versatile. This soft and light mousse will give you the perfect balance of rich and herbal flavors. Make sure that you infuse and strain basil first to remove the bitterness. Moreover, their eye-catching light green color will tempt you to eat them right away.
Lemon and basil are the greatest combinations to make a refreshing dessert. They are not only perfect for summer but also for spring weather. Soft, fluffy, and delicious with the perfect balance of sweet and sour are all the things I can describe them.
Plus, lemon basil yogurt cake is easy to make as you just have to mix ingredients in a big bowl, whisk them before baking in the oven.
Want to upgrade the classic British dessert with shortbread cookies made from butter, flour, and sugar? Let's amaze people with lemon basil shortbread cookies instead. This recipe might take a few hours to prepare, but do not hesitate to try this one if you want to test your baking skills.
And I am confident to say that you will love it as these cookies are so tender and crumbly and melt in your mouth with a touch of lemon zest and fresh basil.
I am sure your kids will go crazy for these popsicles, and they will not even realize that it was made from a herb. Besides basil, coconut, honey, and lemon extract will give your popsicles a variety of flavors, making them a one-of-a-kind treat to cool yourself on hot days.
However, be sure to use the appropriate quantity of basil leaves because they can overpower other flavors.
Get bored with vanilla, chocolate, coconut, or strawberry ice cream? How about basil ice cream with a bit of sourness of lemon?
I know it is an unusual kind of ice cream, but once you try it, the whole refreshing summer is in your mouth. The ingredients are also simple to buy, but you might need an ice cream maker for the best quality basil ice cream.
A taste of summer is all in here, basil ice cream. You can see this video to know more:
Summertime Drink Recipes With Basil To Cool Off Your Days
Basil is an important ingredient for cocktails and lemon-based beverages to increase the green look of these drinks. They can be blended with other components or garnished on the top.
On hot days, this sugar-free beverage is ideal. A glass of fresh lemonade with honey and basil is one of my favorite drinks because it's light and refreshing, with notes of sweetness, sour, and a hint of pepper.
You can prepare this drink ahead for flavor blends. Garnish them with lemon slices and basil leaves on top and serve with ice.
This is an alcohol-free beverage you can enjoy on a hot summer day. Aside from the cantaloupe's decent shelf life, the fruit also has several health benefits, including providing a high content of vitamin C and A to your body, which helps to boost your immune function and keep your eyes healthy.
That's why when the harvesting time for cantaloupes rolls around, you need to try this dish. Cantaloupe basil agua fresca is not only delicious but also a super healthy drink to remain hydrated during summer.
Now, let me introduce some drinks with booze and basil. To make a glass of basil cucumber smash in this recipe, you also need vodka to add some difference in taste.
Keep in mind that when you add sugar at the beginning with cucumber and basil, you have to wait for them to dissolve before pouring vodka in.
In the same way, instead of vodka, I will use gin to add some bitterness to the cocktail. Gin basil smash combines gin, basil, syrup, and lemon juice, so I can confidently state that each taste in this cocktail complements and blends beautifully.
Before adding anything else to a cocktail shaker, do not forget to put basil leaves in first. This is the most effective method to muddle basil.
This humble gin basil smash will make your day, I guarantee. You can see this video to know more:
Strawberry is ideal for any beverage. This recipe can use both strawberry syrup and fresh strawberry to make this fruity basil drink unique.
Even though they are rum cocktails, they are sweet enough to consume even if you do not enjoy the flavor of alcohol. So let's have some fun with this strawberry basil mojito this weekend.
Take a sip of this basil gimlet, and you will get a taste of summer right on your tongue. With a touch of lime juice, syrup, gin, and basil, you can make a delicious and herbal drink that no one will turn down. Serve them in your summer holiday; they are such a perfect crowd-pleaser.
Take a handful of fresh basil from your garden and make this delicious summer drink. Even on super hot days, a watermelon basil vodka drink is a great way to stay hydrated.
You can add ice to the mix and puree it with the rest of the ingredients in a blender for a colder drink. Watermelon, lime, and a basil sprig can be used to garnish this cocktail as well.
Basil Recipes Can Be Substituted By Other Herbs? Yes And No
Yes, because in some recipes, you can use other foods in place of basil which can still work amazingly in a pinch. For example, oregano and tarragon, also have a peppery flavor like basil.
And no, because these herbs are not exactly the same as basil. So if you are a perfectionist, you do not want to replace basil with any other similar herb.
Basil is so unique. That's why every dish that you cook with basil is always special. Finally, with the 40 basil recipes here, you do not have to struggle to think about how to use your good-growing basil in the garden.
And if you love my list, please keep supporting my blog with your likes and shares. Thank you for reading, and I hope to see you become a real chef soon.
Nutrition Facts
6 servings per container
---
Amount Per ServingCalories317
% Daily Value *
Total Fat 12.7g

19

%
Cholesterol 15mg

5

%
Sodium 580mg

25

%
Potassium 199mg

6

%
Total Carbohydrate 41.1g

14

%

Dietary Fiber 4.2g

16

%
Sugars 1.2g

Protein 15.1g

30

%
---
* The % Daily Value tells you how much a nutrient in a serving of food contributes to a daily diet. 2,000 calories a day is used for general nutrition advice.