If you enjoy basil as much as I do, you will often find yourself wondering, "What to do with too much basil". Well, after years of growing and harvesting various types of basil in my home garden, I have come up with many valuable ways to deal with leftover basil.
If you want to save your beautiful basil from ending up in the trash can, this article is perfect for you. After reading it, you will get to know some delicious basil recipes as well as the proper storage methods. So please don't waste another second; let's get started!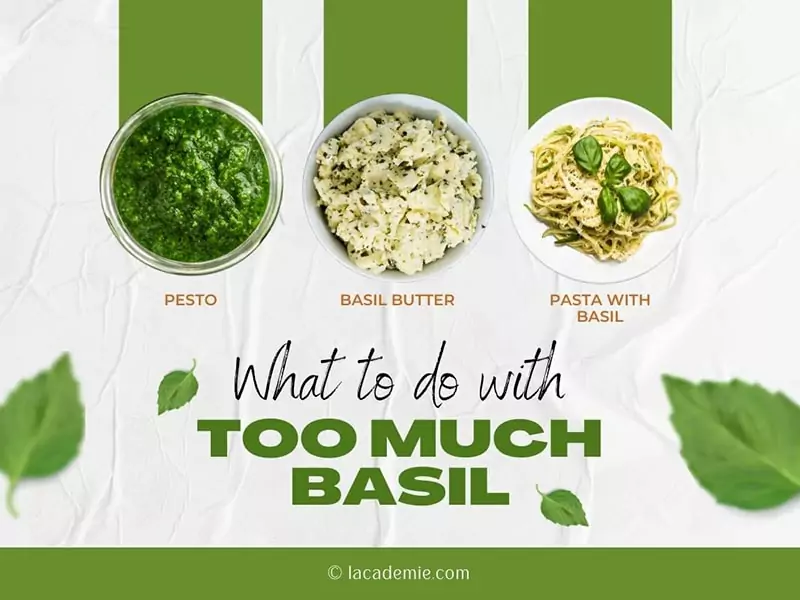 3 Easy Ways (And 20 Recipes) To Use Up Basil
The signature taste of fresh basil can be used in both food and drink. It can even help spice up some of your condiments. Here are my suggestions for the dishes you can recreate when having a basket full of leftover basil.
Tasty Condiments Made With Basil
Basil can be used in various sauces and condiments to help bring out the best flavor of your home-cooked dishes. Take a look at these ideas for some helpful ideas:
When people think of basil, they will think of pesto. This is, without a doubt, the perfect way to use up your basil.
The sauce is dense and jam-packed with flavor due to the combination of basil (the star ingredient), pine nuts, Parmesan cheese, and olive oil. Pesto will be the base for so many great dishes you can try later: pasta, pizza, salad, pastry, toast, meat, just to name a few.
You can make your pesto in bulk and store them for later use. To avoid having to check if pesto can get spoiled, you should remember that it can last a full week in the fridge and 6 months in the freezer.
Another equally delicious pesto you need to try is oregano pesto. Thanks to the dissimilarities between basil and oregano, you'll get to experience a new pesto variety with exciting flavors. You can slather it onto toast, mix it with pasta, or use it as a aromatic dip.
Let's learn how to make authentic pesto from an Italian!
Known to be the perfect pairing with Indian curries, the addition of basil elevates this well-loved condiment and brings it to a whole other level.
Basil chutney can be used as a dip for fried foods, a spread for bread, and a dressing for meat. It's incredibly versatile and can be enjoyed by everyone.
You might think that basil-infused olive oil must be tough to pull off since it sounds so sophisticated. However, it is so incredibly easy to make that I am sure that you will master the art before you have the chance to be surprised.
A jar of basil-infused olive oil could last you 7 days at room temperature. However, it can hold up much longer when stored in a fridge. Basil oil can be used to treat antibiotic-resistant illnesses, so this recipe is not only delicious but also healthy.
It is so simple to make yet so complex in flavor. This fabulous mixture pairs perfectly with toast, pasta, and steamed veggies.
And if you think basil butter is already delicious in the first place, you need to try parsley butter. With the clear distinctions between parsley and basil, butter varieties with these two herbs can bring about a different culinary experience, but satisfying all the same.
These Basil Beverages Will Freshen Up Your Day
Despite the vast differences between basil and mint, they also share many similarities in adding freshness into famous drinks, which is why mint is a viable substitute for basil. Here are a few drinks that I highly recommend you try making when having basil on hand.
Basil lime cooler is a staple summer drink that incorporates basil in its recipe. It should not be too hard to make, but it involves cooking your own basil syrup. Combine the basil syrup with fresh basil, sparkling water, lime juice, vodka, and voila!
You can even try making the non-alcoholic version of basil lime cooler to serve the little ones. The drink is tangy, sweet, aromatic, and refreshing. It is exactly what you will need after a long day out in the sun.
Another notable mention! Honey basil lemonade is fragrant, light, fresh, and sophisticated. Plus, it's super simple to make and equally easy to enjoy. Your kids would appreciate having a big glass of this to drink after playing outside.
Make yourself a glass of refreshing basil lemonade with this tutorial!
Being in the same family as mint, basil can substitute for mint in this well-known Cuban drink. You just need to make this the same way you make mint mojitos, by mixing sugar, lime juice, club soda, white rum, and of course, fresh basil.
The drink is everything you need on a nice sunny day with your friends.
I am not going to lie, basil tea does initially sound strange. But once you find out about its fantastic health benefits, I am sure this drink will become one of your favorites.
Fresh basil carries lots of antioxidants, vitamins and minerals (1). Black tea is known to help with your heart and gut health, improve your metabolism, and keep you stay energized. So overall, this drink is healthy and soothing, perfect for helping you unwind after a hard day at work.
We have covered quite a few alcoholic drinks in this article already, but I think that this refreshing cocktail should not be overlooked.
Just mix a bit of gin (vodka would do just fine) with fresh lemon juice, simple syrup, fresh basil, and you shall have the perfect drink for a dinner date with your significant other.
Delicious Basil Dishes That You Cannot Miss
People from East to West have found creative ways to incorporate this aromatic herb into their cuisine. In fact, there are even several uses for basil flowers. So, it's no wonder how there are so many dishes there are out there that feature basil.
Even though I can't list out all the recipes using basil in a short article, I still hope that you are inspired to try out new dishes after reading this.
Basil can go with almost every pasta dish out there by simply adding a few leaves over a freshly cooked plate as a garnish, or you can go heavy-handed and toss a handful in with the pasta itself to bring your dish to a whole new level.
I think you can agree that nothing, and I mean absolutely nothing, beats a hefty serving of pesto pasta. The striking green of the sauce combined with the vibrant yellow noodles is sure to make every tummy rumble.
Need more instructions on making pesto pasta? Check this out!
Fresh basil, tomato, and ricotta cheese combined make a visually stunning Italian dish. Try adding a drizzle of balsamic vinegar on top, and you are ready to impress anyone at your dinner party.
The fool-proof combination of basil, tomato, and vinegar on freshly toasted bread. Need I say more? Bruschetta is honestly one of the finest ways to enjoy the beauty of summer.
Generally speaking, salad is just a mixture of herbs and veggies tossed with a bit of sauce. So why not spice it up with a handful of fresh basil leaves? It will add a remarkable depth of flavor to your salad.
This Italian classic is a simple yet mouth-watering dish, a true star at the dinner table, a dish where every ingredient gets a chance to shine. Sure, it is easy to get store-bought pizza, but making pizza at home is an experience that you don't want to miss!
With a fresh dough ball, a smear of tomato sauce, a handful of your cheese of choice, and a sprinkle of fresh basil on top, you will have yourself a delicious homemade pizza ready to be baked.
Fans of basil can even add dried basil to their pizza for a more concentrated taste. Although there are a few differences between dried and fresh basil, you're guaranteed to welcome the presence of dried basil in your pizza.
Homemade pizza is pretty tricky to make, so let's hear some tips from a professional!
Remember the pesto sauce from before? Let's make a pizza out of it! Just spread the sauce on your dough, add a bit of cheese on top and call it a day. The combination of crispy baked dough and creamy pesto is to die for.
A signature Thai dish that is now enjoyed by many around the world. The mild flavor of chicken is a perfect canvas for the earthiness of basil and the heat from chili to shine through. This dish is usually served with a bowl of white rice to balance out the intense flavors.
Should you use Thai basil or regular basil for this recipe? While this might seem like a difficult question, you'll know the answer once you know what makes Thai basil different from basil. Choosing the right variety will ensure that your dish will come out successful.
Savory, sweet, and flavorsome, spicy basil chicken can be a true show-stopper to impress all your guests.
If you can get your hands on fresh clams, give steam clams with basil a try. It's a dish well-loved in Asian countries, especially in the busy streets of Vietnam.
The aroma coming from basil will give the clams' natural sweetness a considerable boost. Add a pinch of salt and a bit of minced chili to the mix, and you have got yourself one of the best street foods in Vietnam.
Known for its signature sour, spicy, and creamy taste, this iconic dish is considered a gateway to Thai cuisine. Basil is a must-have when it comes to making tom yum, as the aroma from the herbs brings a unique flavor to the dish.
When you have mastered the art of making tom yum, try mixing it up by turning the famous soup into a hotpot dish, where your guests can experience a wonderful Eastern gathering and dining.
Curry is an actual flavor bomb in the culinary world, using tons of spices, and herbs, including basil. Fresh basil leaves can be used as a garnish and an additional boost of earthiness and freshness to many kinds of curry.
Basil chicken coconut curry is creamy, spicy, savory, and aromatic. It will pair perfectly with a bowl of steamed rice.
Clever Non-culinary Ways To Use Leftover Basil Leaves
The greatness of basil extends beyond its incredible flavor and alluring aroma; basil is also packed with nutrition and vitamins (2).
Many people have been using basil solely for the health benefits basil offers, not just for cooking. So if you're not a fan of cooking, here are some non-culinary uses of basil that you must know:
1. Chew Raw Basil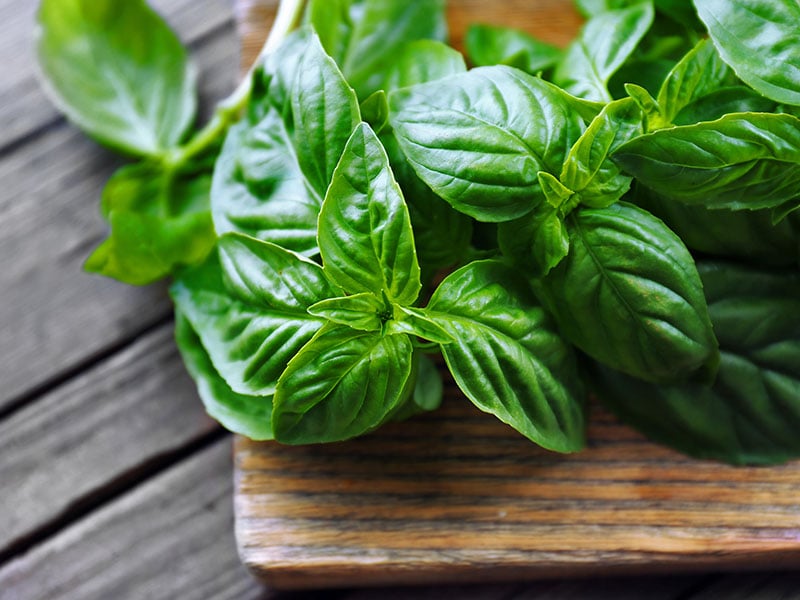 Basil is said to be an excellent home treatment for coughs and colds. You don't need to do much; just chew some fresh basil leaves, and you will be able to calm your cough.
2. Drink Basil-Infused Water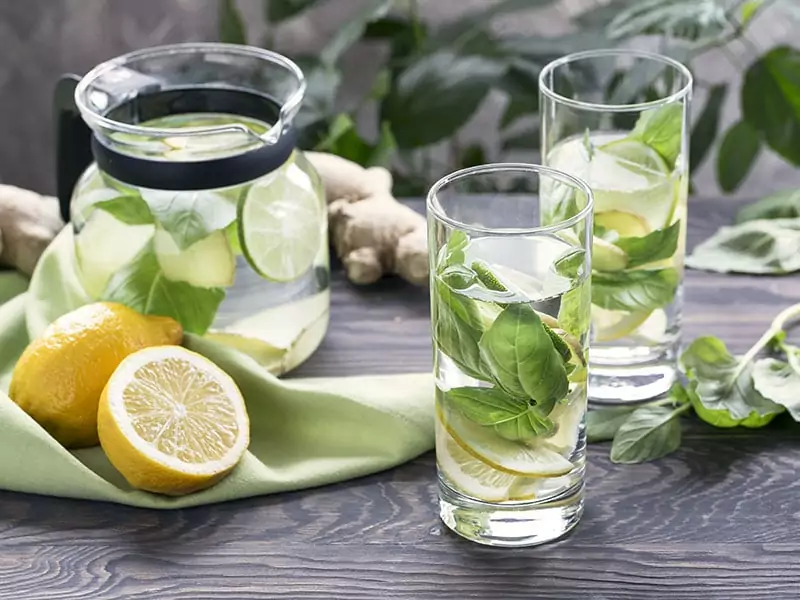 If you have an upset stomach, make yourself some basil-infused water by mixing ½ of either fresh or dried basil in the water. This drink can relieve indigestion and the sense of fullness that makes many people feel queasy.
It's also a good idea to mix basil seeds into your drink. Never heard of basil seeds before? Well, basil seeds look very similar to chia seeds, which can lead to confusion as to how different basil seeds are from chia seeds. However, note that these two are NOT the same.
3. Make Use Of Basil Juice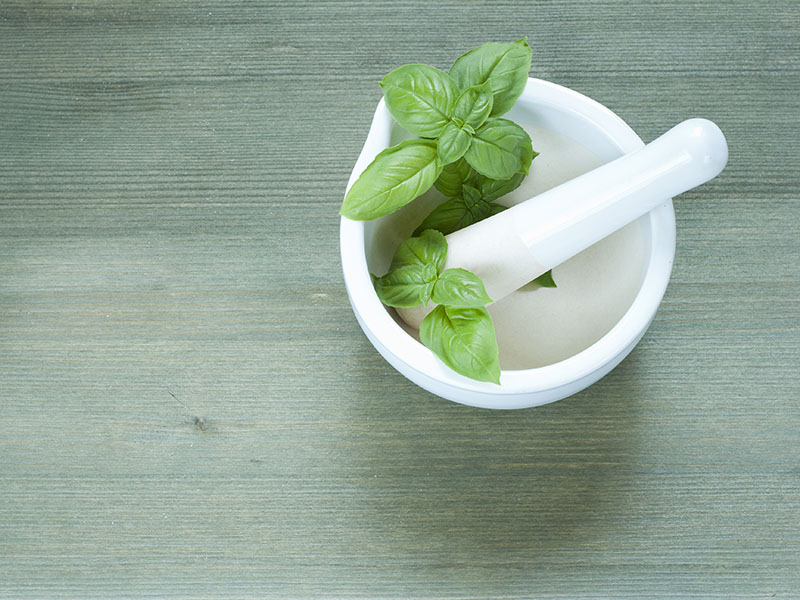 Basil leaf juice is effective in lowering a high fever. So whenever you're sick, remember to boil some fresh basil with cardamom and drink it throughout the day. Or take a step further and make some basil tea out of dried leaves instead; this drink will also help you combat a bad cold.
Plus, basil juice also helps you maintain a healthy blood sugar level. So make sure to juice or make tea out of basil and drink them daily.
Applying its juice to your face can also make your skin become softer and prevent acne and inflammation.
Another great thing about basil juice is its ability to treat bug bites and stings. Just chew a fresh leaf and apply the liquid to the bite marks; the pain and irritation will soon disappear. Basil-based bug bite cream will also do the trick.
4. Make Some Basil Essential Oil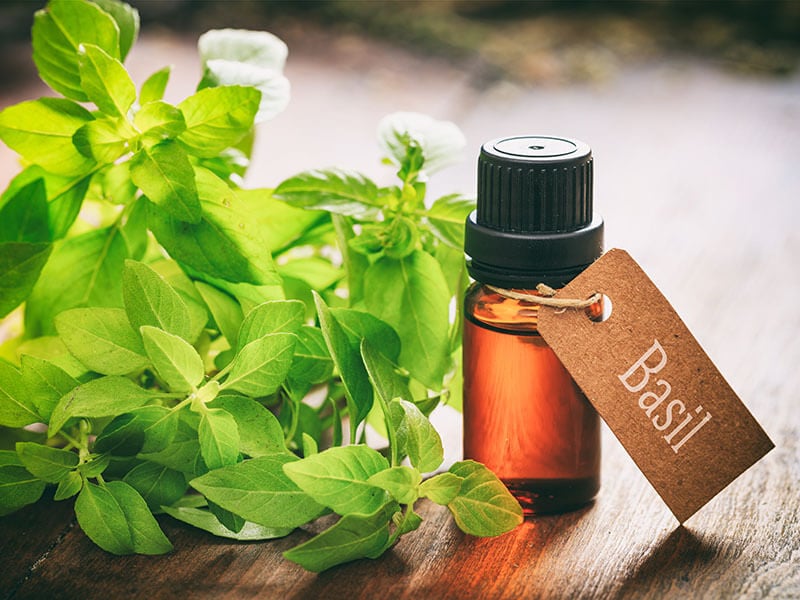 Basil essential oil is well-known for its ability to help with muscles and joint pain. You can apply diluted basil essential oil to your sore muscles. Alternatively, you may also add the oil to your cream to use it wherever and whenever.
Besides, essential oil made from basil is antimicrobial, so you can use it to treat infections on the outside of your ear. Don't put it inside your ears, though.
5. Give Yourself A Facial Steam With Basil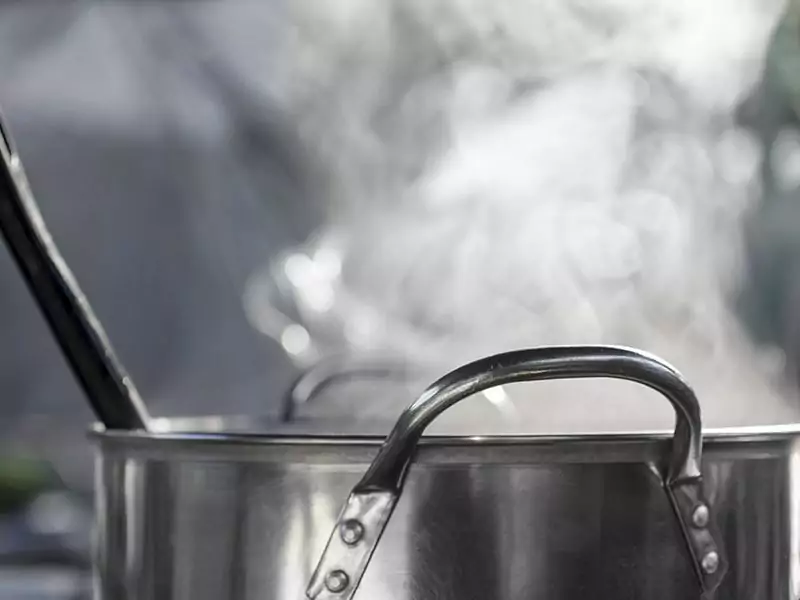 A facial steam with dried basil leaf is an intriguing home treatment for headaches. Simply boil 2 cups of water with a spoonful of dried basil leaf in a pot.
Once the water begins to boil, lean your face over the pot with a towel on your head. Inhale the steam for 5 to 10 minutes, and your headache will soon disappear.
6. Take A Bath With Basil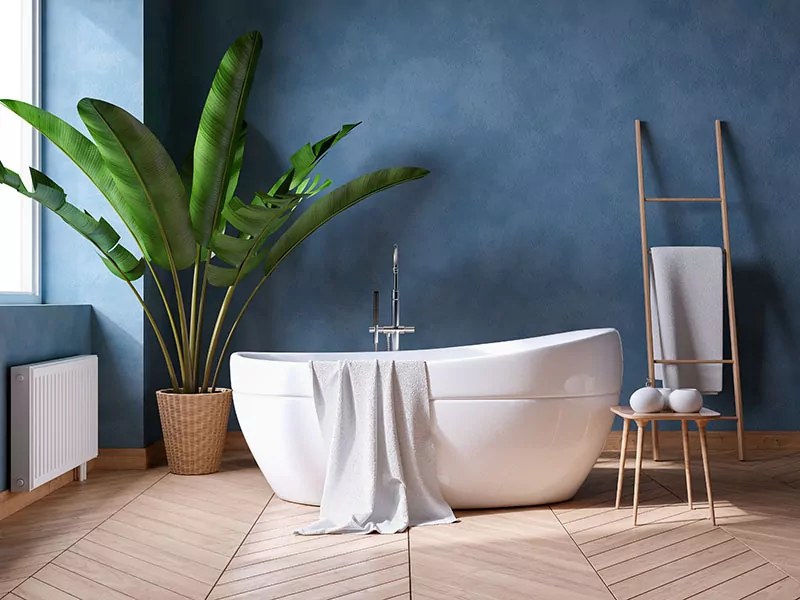 Basil contains stress-relieving agents that can make your life less stressful. So after a long day, just add 2 cups of strong basil tea to your bathtub filled with warm water and give yourself a calming bath.
Better yet, you can put a few drops of basil essential oil in a bathtub. This is very beneficial for your joints and muscles.
7. Clean Your House With Basil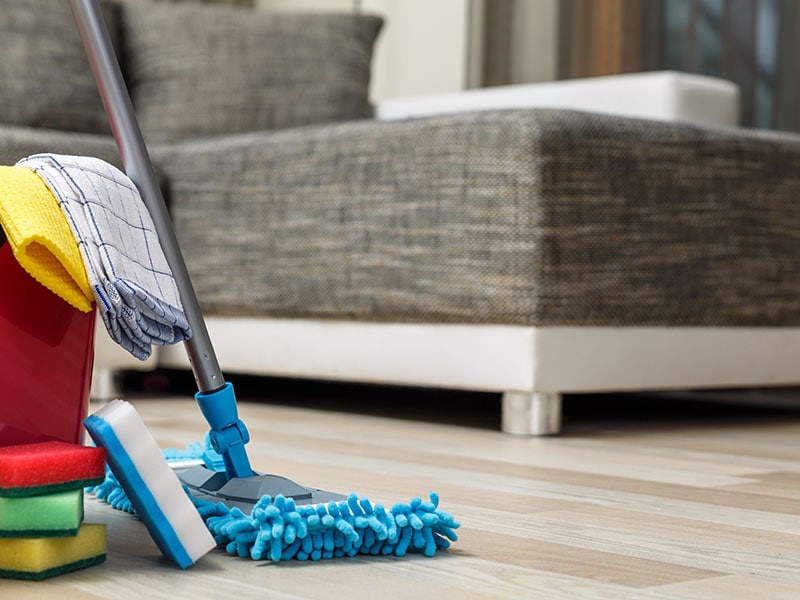 Basil essential oil can be used in homemade household cleaners. Just add 20 drops of basil essential oil along with 15 drops of lemon essential oil to a vinegar-based house cleaner and you will never think of the chemical ones again.
The Ultimate Guide On Freezing Basil
Now that I have covered a decent amount of recipes for fresh basil, it is only natural that I show you the proper storage methods for basil. However, after trying out the recipes above, I doubt you will have any left.
Trying to keep it in the fridge will not work after 1-2 weeks. So what now? What can you do to ensure your ingredients will not go to waste? Well, store them in the freezer instead! Check out the tutorials below, and you will be able to extend their shelf life to 1-3 months!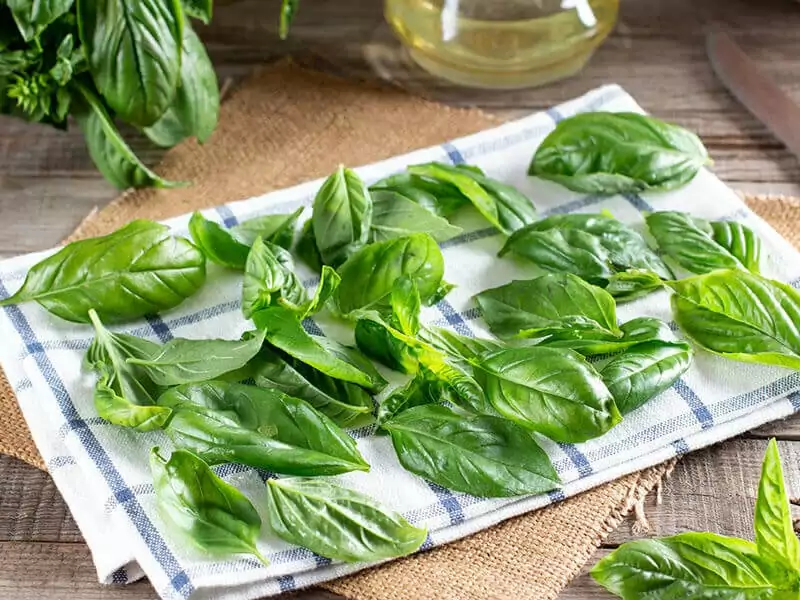 1. Freezing Blanched Basil Leaves
This is the most effective and common way to freeze basil leaves. Blanching them before storing them will help basil maintain its color and freshness.
Step 1: Prepare The Basil
Remove the basil leaves from the stems and wash them well. Then allow your basil to air dry. Meanwhile, prepare a pot of water and bring it to a boil.
Step 2: Blanch It
Put the basil leaves in the pot and blanch them for about 5 seconds. You can put the basil in a colander before dropping it in the boiling water for easy removal.
Step 3: Ice Bath It
Immediately transfer the basil to a bowl of ice-cold water to stop it from cooking. Then dry them completely with a salad spinner or paper towels.
Step 4: Freeze It
Lay a single layer of basil leaves on a baking sheet and freeze for 12-24 hours. Once they are nice and firm, place the leaves in a freezer bag or container, separating them with a piece of parchment paper.
Alternatively, instead of laying them on a baking sheet, you can roll them in a paper towel before placing them in the freezer bag. However, peeling the leaves off the paper towel might be tricky.
2. Freezing Unblanched Basil Leaves
If you don't have much time to wait, you can shorten the process by skipping the blanching. However, remember that unblanched frozen leaves can turn brown in the freezer.
Step 1: Prepare The Basil
Just like before, remove the basil leaves from their stems. Then wash and dry them thoroughly.
Step 2: Freeze It
Lay the clean, dry leaves on a baking sheet and place them in the freezer. After 12-24 hours, transfer them to a freezer bag or container. Try to press all the air out.
Note: You can put the cleaned basil directly in the container or freezer bag to save time. However, you'll have to break the leaves off when you want to use them.
3. Freezing Basil Puree
This is the perfect storage method if you plan to make some basil soups or stews. You can use it for pesto and vinaigrette.
Step 1: Prepare The Basil
Prepare the basil leaves by removing them from the stems, washing and drying them well.
Step 2: Puree It
Put the basil leaves in a food processor with a bit of olive oil (use 1 tbsp of oil for every cup of basil). Blend the basil until it becomes a puree.
Step 3: Freeze It
Pour the puree into an ice cube tray and place the tray in a large container. Or you store it in a big resealable freezer bag.
For more instructions on freezing basil puree, take a look!
4. Freezing Basil With Oil
Coating the basil with some olive oil can help preserve its leaves and boost the basil flavor and aroma. Check out these simple steps to see how:
Step 1: Prepare The Basil
Wash and dry the basil carefully. Then roll up the leaves on a chopping board and chop them.
Step 2: Toss It
Add 2 tbsp olive oil to 3 cups of basil leaves and toss them well.
Step 3: Freeze It
Place the oil-covered basil in a mason jar and place it in the freezer. Remember that this method will make it hard to remove small amounts of basil leaves during the cooking process.
Note: If you don't mind losing the authentic taste of fresh basil, you can learn how to dry basil using the oven and DIY your own jar of dried basil. But remember that the taste of dried basil is entirely different from fresh ones.
Bonus Tips: How To Grow Your Leftover Basil Into Fresh Basil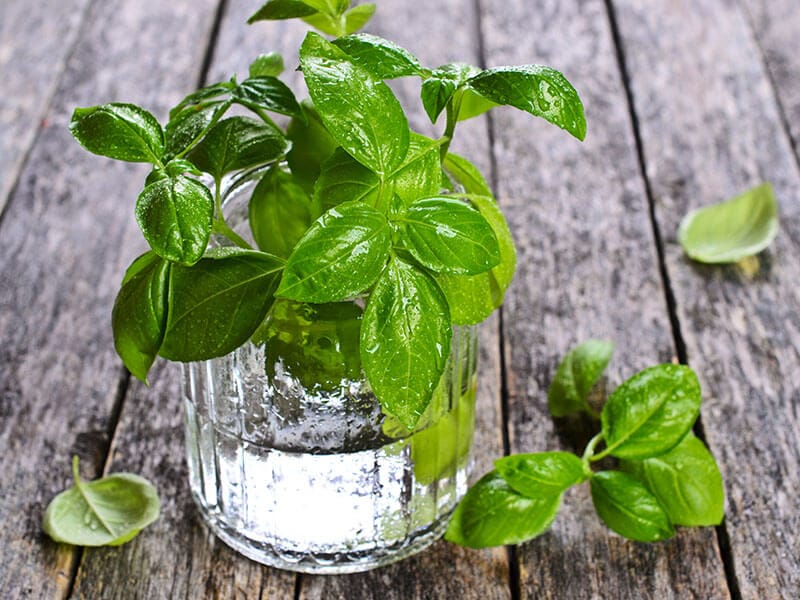 If you know for sure that you can't eat all your basil despite how delicious it is, it is time you grew it into a new plant. This method works best on basil with 4-6 inches long stems.
Step 1: Prepare The Cuttings
Clip the basil at a 45-degree angle to increase the surface area for water intake.
Step 2: Place Them In Water
Transfer the cuttings to a glass or small jar of water and place it somewhere sunny. Change the water daily to prevent bacteria.
Step 3: Move Them Into Soil
When the cuttings grow enough roots, pot them in a container filled with soil or a pre-moistened potting mix—and done!
FAQs
If you still have concerns, take a look at the commonly asked questions below to see if you can find the answers you're looking for.
Don't Throw Away Your Beautiful Basil!
Having too much basil on your hand might be troublesome. However, you will never complain about having leftover basil again with these tips in mind!
Did these ideas and recipes inspire you? Which one is your favorite? I'd love to read your thoughts in the comment section down below.
Also, don't forget to leave a like and share this article with all your friends and loved ones. I wish you all the best and see you soon!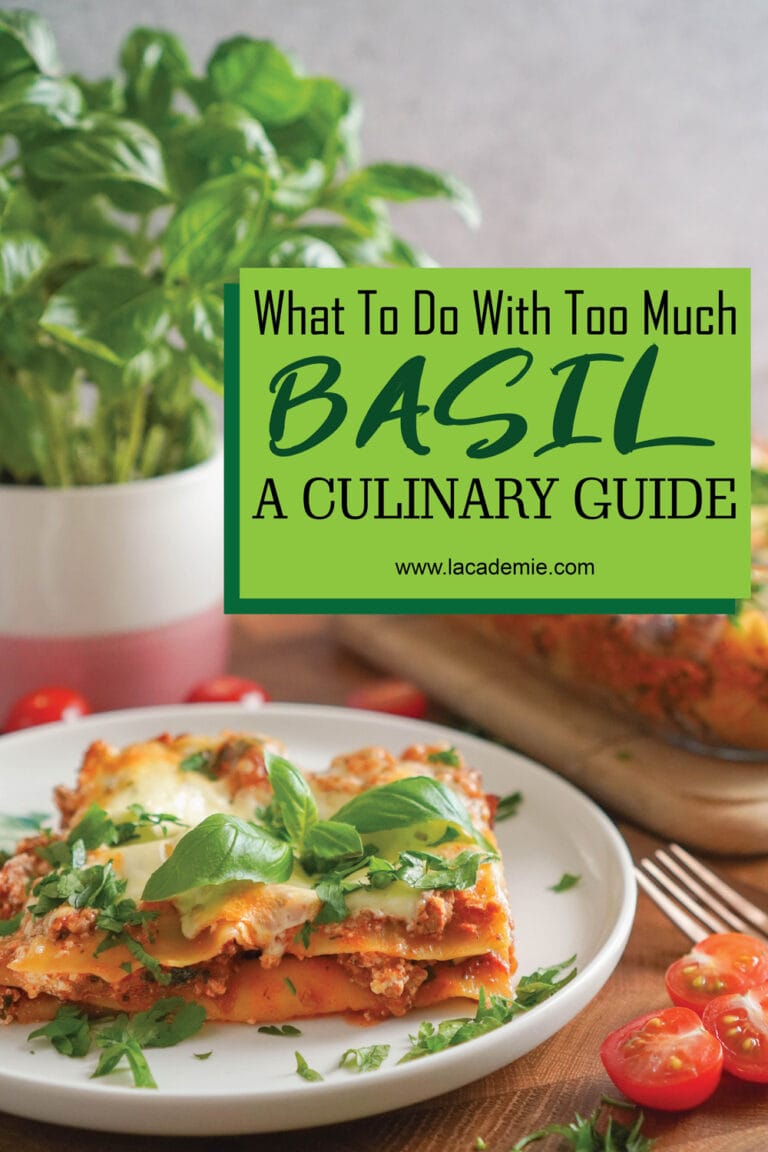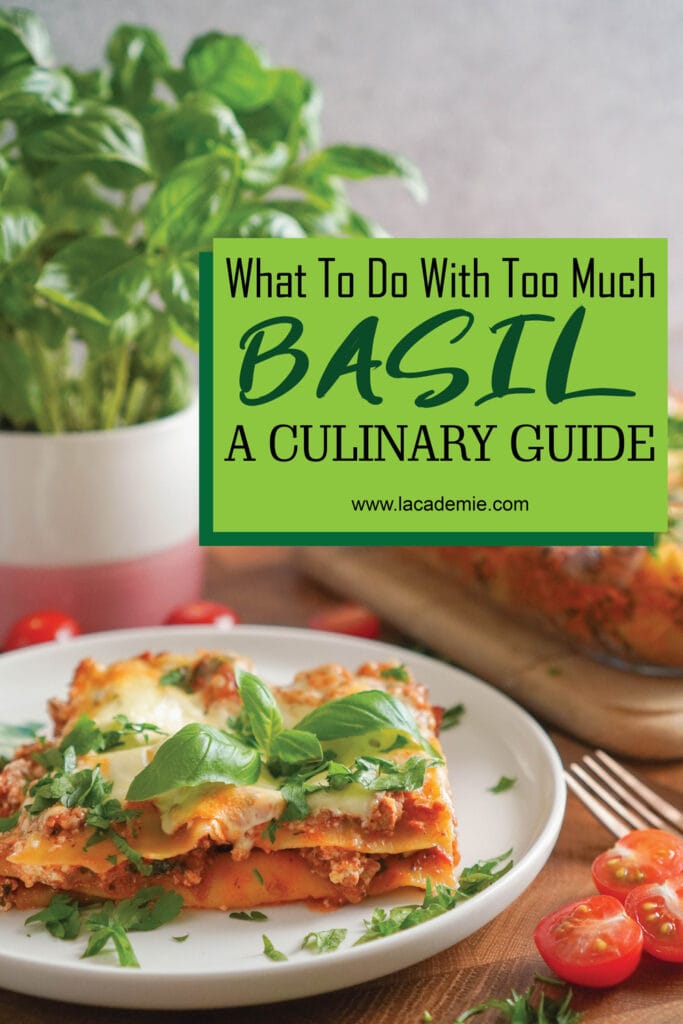 Reference
WebMD, 2020. Health Benefits of Basil.
Healthline, 2018. Basil: Nutrition, Health Benefits, Uses and More.