After taking a long hard look at Thai basil vs basil, you will notice more differences than similarities in these 2 plants. Still, it isn't easy to distinguish the two, especially when you are familiar with neither of them.
Knowing how to tell these herbs apart is more important than you think. Because once you acknowledge their differences in appearance, taste, or smell, you will be able to incorporate them into your meals and improve your cooking skills.
If this is something you are struggling with, no need to worry! After reading this post, you will become a certified herb expert. So take out your notebook and pen, and let's get learning!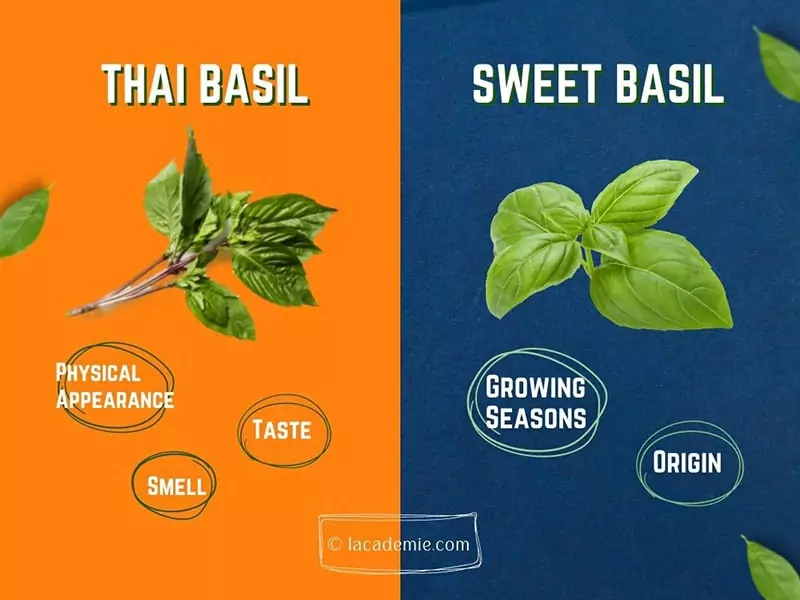 Let's Learn A Few Things About Basil!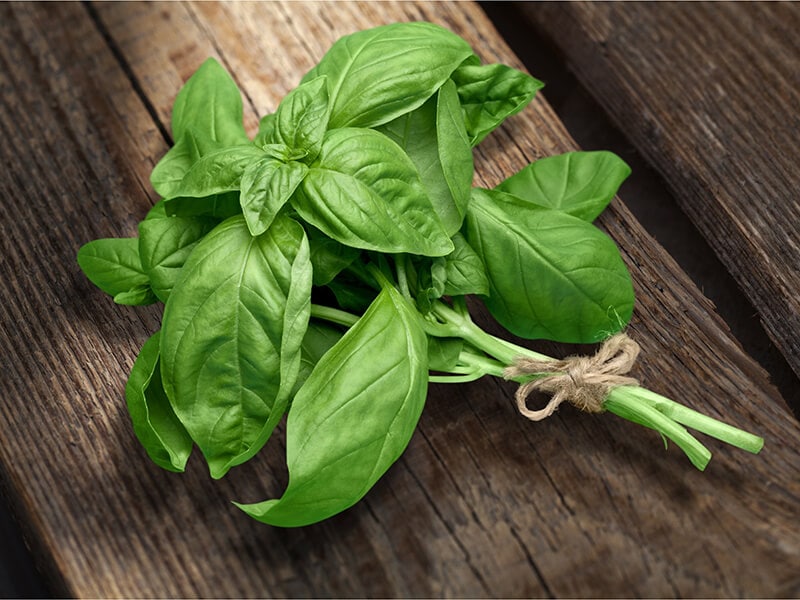 There are about 150 different types of basil worldwide, but the most common one is, without a doubt, sweet basil. Some people also call it Genovese basil or Italian basil.
Another herb that belongs to the same family as basil is oregano. Again, there are many aspects that make oregano different from basil, despite them coming from the same mint family. However, oregano is a great alternative for basil when you've run out of fresh basil leaves.
What About Thai Basil?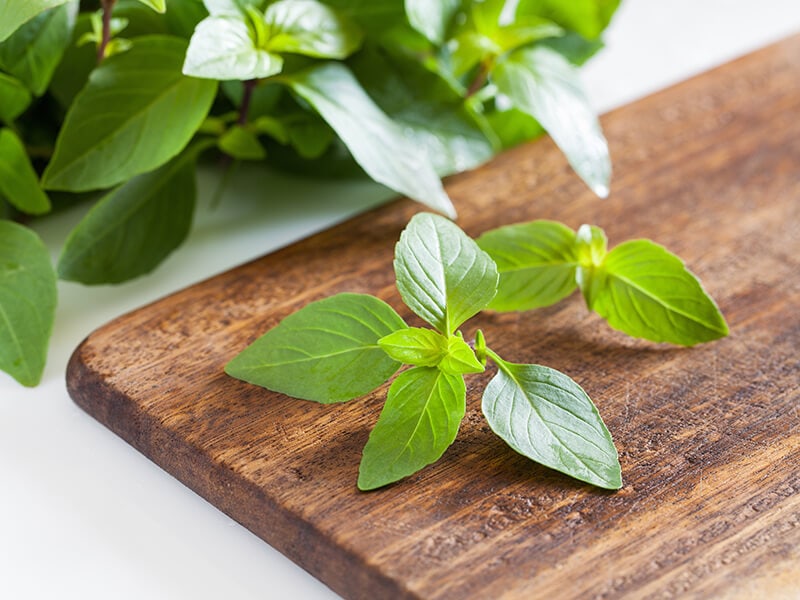 Although Thai basil is not nearly as popular as sweet basil, it is well recognized in Asian and Thai cuisine.
Because of its anise and licorice-like smell and flavor, this basil can sometimes be called anise or licorice basil. Some Vietnamese people also call this plant "Cinnamon basil", which can be pretty confusing since Cinnamon basil is a distinct basil cultivar.
The Major Differences Between Sweet Basil And Thai Basil
These basil plants share almost nothing alike, from their physical appearance to their taste, smell, color, or growing seasons. Take a look at the chart below for more details:
Differences
Sweet basil
Thai basil
Physical appearance

Rounded leaves with a shiny surface.
Sweet basil leaves are pretty floppy and can't withstand heat well.
Green stems.
Tiny purple or white flowers (only appear when the plant is not pruned).

Narrow, long, and thin leaves with a serrated edge.
Its leaves are sturdier and can withstand heat better.
Purple stems.
Tiny pink and purple flowers.

Taste

Sweet taste with peppery undertones.
Works best in Italian dishes like pesto, pasta, or salads.

Unique taste of spice, licorice, and anise.
Goes well with Asian dishes.

Smell

Clove-like scent (not as strong as Thai basil).
Spread aroma when rubbed.

Strong anise and licorice scent.
Does not spread aroma when rubbed.

Origin

Initially grown in China, India, or Africa.
Now widely cultivated in Italy, France, Egypt, California, Morocco, and other warm climates.

Native to Southeast Asia.
Originated in Thailand, hence its name.

Growing seasons

An annual plant
Only lives up to 4-5 months

A perennial plant
Can live up to 2 years
Want to learn more about the differences between sweet basil and Thai basil? Take a look!
The Physical Appearance Of Sweet Basil And Thai Basil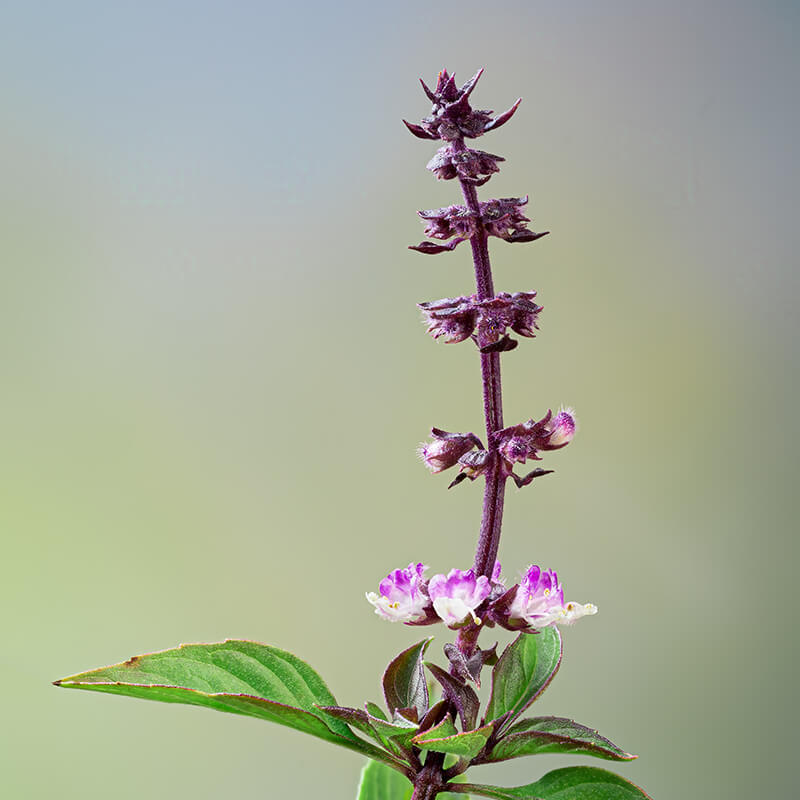 When comparing sweet basil and Thai basil, the most noticeable thing is their appearance. You might think it's hard to distinguish between these 2 green plants. But by focusing on their leaves and stems, you can tell them apart with ease.
1. Sweet Basil
The leaves are more rounded and delicate. The surface of the leaves is also much smoother and shinier. However, since they are so delicate, the heat from the cooking process can wilt the leaves and destroy their flavor.
Sweet basil has regular green stems. The plant also produces tiny purple or white flowers when it has not been pruned.
2. Thai Basil
Thai basil leaves are narrow, long, and thin with a serrated edge. They are also much sturdier than regular basil leaves so they withstand heat better.
Thai basil has purple stems, which is a distinguishing feature compared to sweet basil plants. During the summer, it can sprout small pink and purple flowers, slightly bigger than sweet basil flowers.
The Taste Differences Of Sweet Basil And Thai Basil That You Don't Know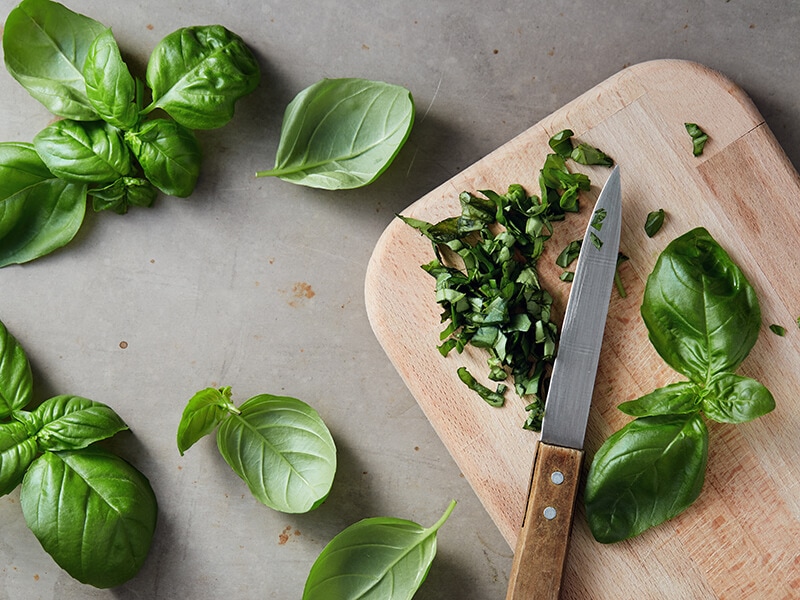 This is perhaps the most important section of this article. Knowing exactly the flavor of basil can help you learn how to combine its taste with other ingredients and make your dishes more cohesive and balanced.
1. Sweet Basil
Sweet basil has a sweet taste with minty and peppery undertones. It also has a subtle anise flavor but is much milder than Thai basil.
This flavor works well in European dishes, mainly Italian. Pizza, pesto, pasta; all of them can be elevated by adding a touch of fresh sweet basil.
2. Thai Basil
Thai basil has a unique taste of spice and anise. The licorice flavor of Thai basil is also noticeable, which is why it can sometimes be called Licorice basil.
Its flavor might not suit Italian dishes, but it is irreplaceable in Southeast Asian cuisine. You can easily find Thai basil at any Asian market since it is considered a mainstay in Asian kitchens.
What Do Sweet Basil And Thai Basil Smell Like?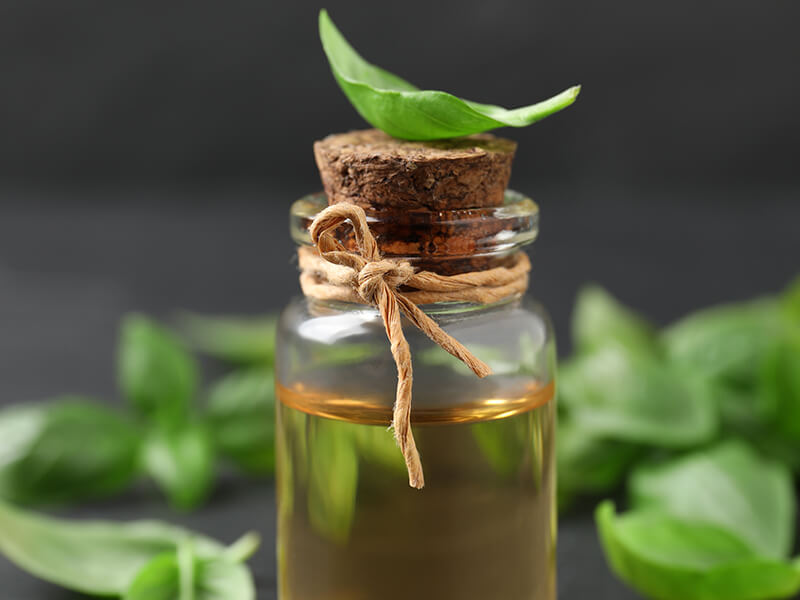 The second most effortless way to tell the difference between the 2 types of basil is by smelling them. The smell of sweet basil and Thai basil is very distinct, so you should recognize them the moment you sniff their leaves.
1. Sweet Basil
Sweet basil has an aromatic clove-like scent. This smell will make you instantly think of pesto since, after all, sweet basil is the main ingredient of this dish. It is considered milder than the scent of Thai basil, but it is still relatively strong.
Additionally, that intense clove aroma will be released when you rub the leaves with your finger. However, I don't recommend doing this since the smell will stick to your fingers.
2. Thai Basil
Thai basil smells like spices, anise, and licorice, and it is pretty intense. Most Vietnamese will say this smell reminds them of Pho – Vietnamese traditional noodle soup. Unlike sweet basil, the Thai basil smell won't spread after being crushed or rubbed.
The Truth About The Origin Of Of Sweet Basil And Thai Basil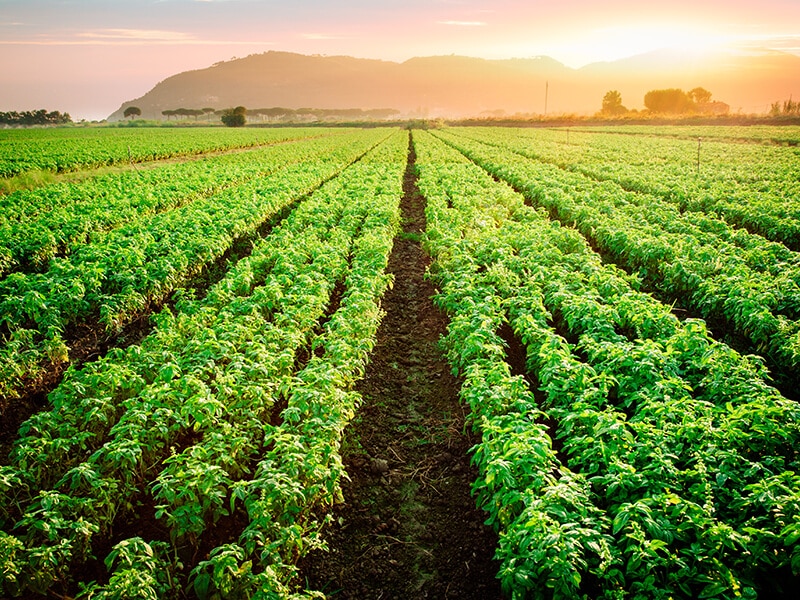 The subject of these 2 varieties' origin is still a subject to debate. Give this section a read for details about their initial locations.
1. Sweet Basil
Sweet basil has been initially grown in China, India, or Africa. However, the exact origin of this plant is still under debate.
Either way, sweet basil is now widely cultivated in Italy, France, Egypt, California, Morocco, and other warm climates.
2. Thai Basil
As you can probably tell from its name, Thai basil is a Southeast Asian herb that is said to have originated in Thailand. However, some scholars believe it may have originated in India or Iran.
Despite its exact origin, Thai basil is a prevalent ingredient in Southeast Asian cuisine. You can spot these herbs in many signature dishes in Laos, Vietnam, Cambodia, and Thailand.
Helpful Tips For Growing Sweet Basil And Thai Basil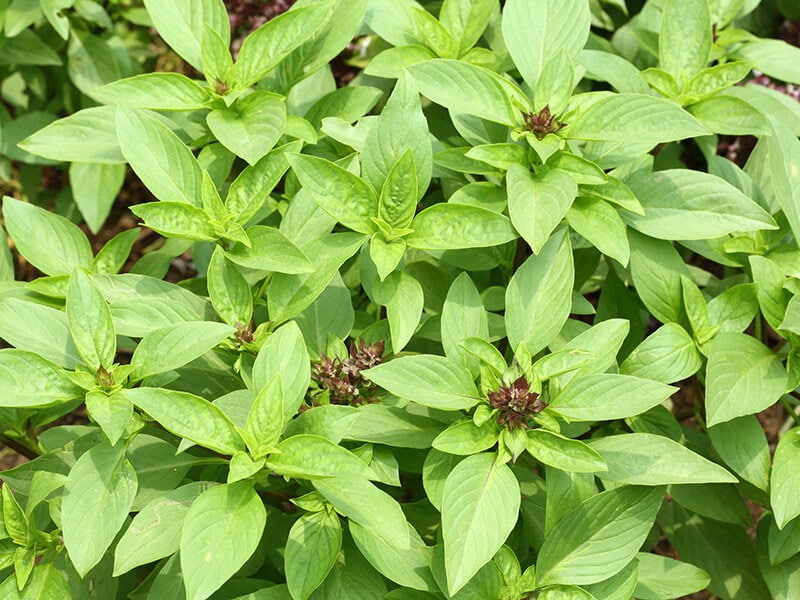 Basil has to be one of the most common plants in a home garden. With a few tricks to store fresh basil, and the valuable tips in this section, you'll have fresh basil leaves for every meal. Take a look:
1. Sweet Basil
Sweet basil is considered an annual plant since it seldom lives for more than a year. To be exact, this herb can only thrive for about 4 to 5 months.
Afterward, it has to be replanted in locations that get 6-8 hours of full sun each year. Growing basil during the winter is not ideal.
This is one of the few features that set basil apart from bay leaf, whose tree can more or less tolerate the winter, especially when grown in a container. So if you crave some fresh herb in the winter, consider opting for bay leaves, which are great for savory winter recipes.
However, if you want to have basil for recipes in winter, you can consider the method to dry basil with ovens. Although there are many distinctions between fresh and dried basil, I'm pretty sure that the dried variety can satisfy your taste buds when fresh ones aren't available.
2. Thai Basil
Thai basil is stronger than sweet basil in terms of growing seasons since its plants can live up to 2 years. Additionally, while sweet basil is an annual plant, Thai basil is a perennial that thrives year after year.
Because of its Southeast Asia origin, Thai basil grows best in hot, humid locations with little to no cold. If the temperature is under 50°F, it may not come back in spring.
To ensure that your herb lasts longer and continues to produce new branches, pinch the flowering buds the moment they develop. But don't throw them away since there are many things you can do with basil flowers.
If you want to know more tips to grow Thai basil at home, this can help you!
How Sweet Basil And Thai Basil Handle Hot Temperature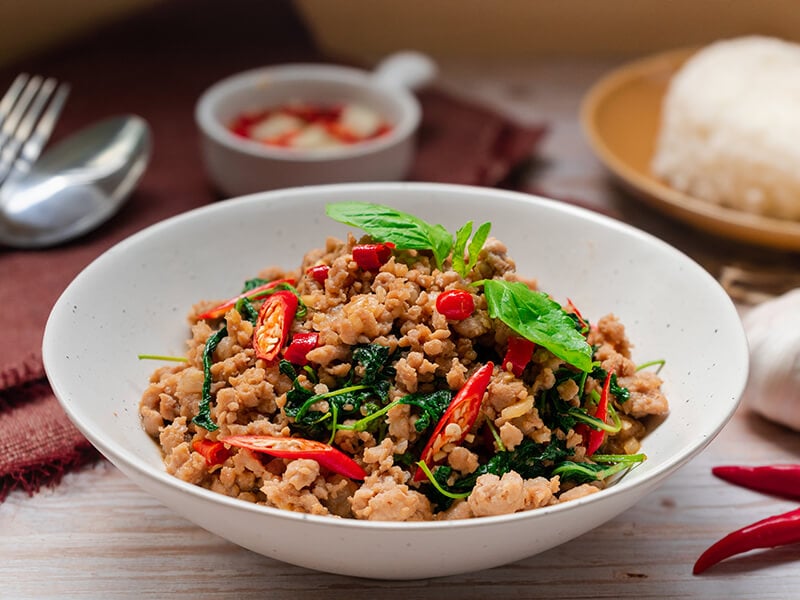 Basil, especially sweet basil, is typically used as a garnish. Perhaps this is why sometimes you'll see people comparing basil with parsley. Overall, it is possible to cook sweet basil, but there are a few things you should know beforehand:
1. Sweet Basil
Because of its delicate leaves, sweet basil should not be added to your meals during the cooking process. The excessive heat from cooking can wilt the leaves, stripping away their natural oils, freshness, and flavor.
Sweet basil should only be added at the end of the cooking process. This way, you can prevent the leaves from being overcooked and retain their sweet and flavorful taste.
2. Thai Basil
On the other hand, Thai basil can withstand heat quite well. Its leaves can be added to soups or stirred fried dishes, and they will still maintain their pungent taste and smell. In fact, Thai basil can even release more flavor once cooked.
However, remember to add the soft and small leaves last to prevent wilting.
Health Benefits Of Sweet Basil And Thai Basil
Besides their culinary advantages, both sweet basil and Thai basil have many medicinal purposes. So if you are trying to find the motivation to incorporate basil in your daily diet, this section can help you out!
1. The Benefits Of Sweet Basil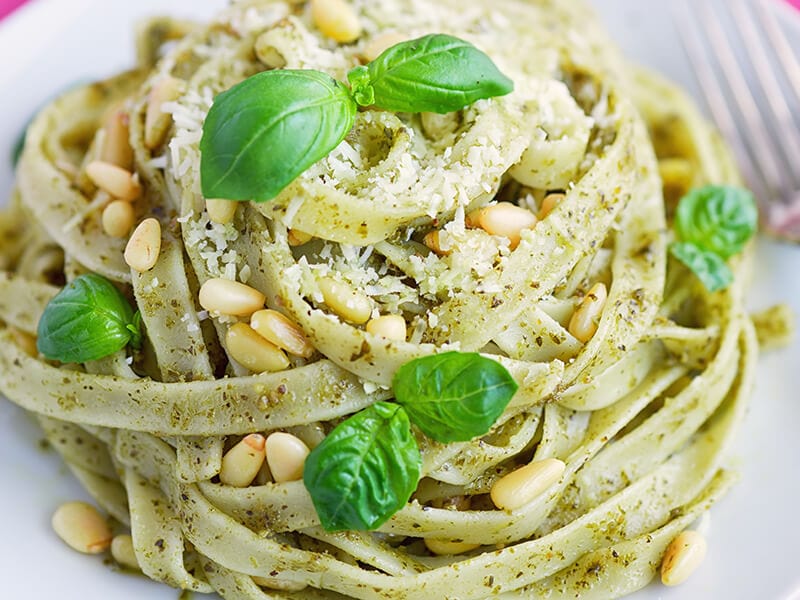 There have been countless studies regarding the health benefits of this beloved herb. And according to preliminary research, it is safe to say that:
Sweet basil reduces depression caused by chronic stress as well as the effects of stress and aging on memory.
Stroke damage is reduced.
The blood pressure of hypertensive people will be lowered.
It improves fasting blood sugar, cholesterol, triglyceride levels and relaxes blood vessels.
It prevents malignancies of the breast, colon, and pancreas.
Your intestines are protected from the harmful effects of aspirin, including ulcers.
It provides an alternative to antibiotics in treating infectious disorders, particularly against antibiotic-resistant bacterial strains.
Mental alertness is boosted.
It prevents tooth decay.
Essential oils extracted from sweet basil can promote relaxation.(1)
2. The Benefits Of Thai Basil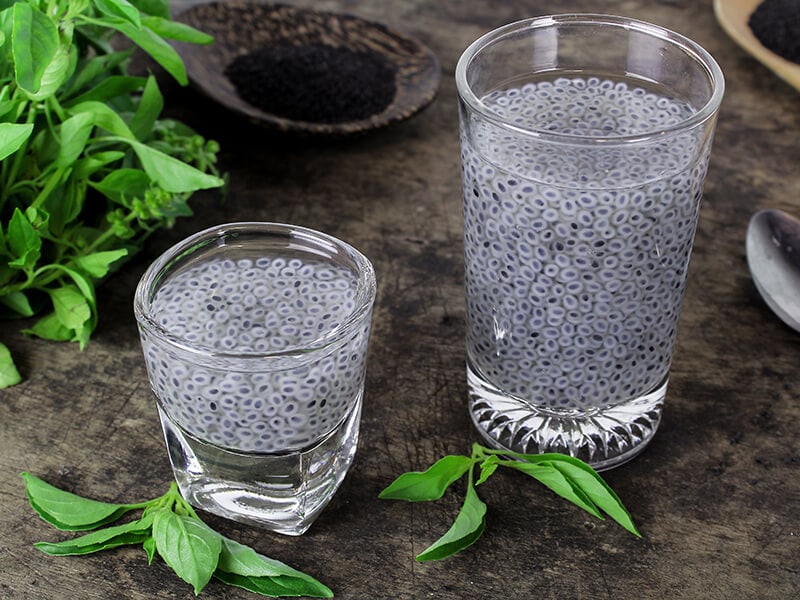 Being overshadowed by its famous Italian cousin, there aren't as many research or test-tube studies about Thai basil. Despite that, the health benefits of Thai basil are also widely-known, such as:
Thai basil seeds are a good source of magnesium, calcium, and fiber.
Drinking beverages containing Thai basil seeds can prevent fever, dry cough, and colds. That's why you can compare basil seeds with chia seeds, which have a similar look and share many health benefits as well.
Thai basil smoothies can help with weight reduction and digestion.
Inhaling Thai Basil aromas can help ease tension.
Applying crushed basil leaves under your eyes, around your temples, and on your forehead can encourage relaxation.
Thai basils can also prevent bacteria and fungi.(2)
3 Healthy Recipes With Sweet Basil
There are countless recipes for basil, but in this section, I will only highlight 3 recipes that work best for sweet basil.
Unlike Thai basil, sweet basil is perfect for Italian dishes. So if you are in love with the cuisine from this beautiful country, take a look and try them out!
Just by mentioning sweet basil, everyone will instantly think of pesto. Homemade basil pesto is pretty easy to make. All you need are some pine nuts, Parmesan cheese, olive oil, and garlic. Combine them, and you will have a vibrant green condiment to go with your pasta or pizza.
Adding sweet basil to your salad is one of the best ways to enjoy the freshness and flavor of the basil leaves. This herb pairs amazingly well with ripe tomatoes and fresh mozzarella. Drizzle some Balsamic vinegar on top, and you will have the perfect side dish for your dinner or lunch.
Yet another healthy and simple recipe using basil! You already know basil goes excellent with pasta, you just need to add some chicken, tomatoes, and olive oil to the mix. This might not be the most authentic Italian dish, but it is a wonderful weeknight dinner that everyone can enjoy.
3 Ways To Incorporate Thai Basil In Home-Cooked Meals
The taste of Thai basil is very different from the familiar taste of basil. Its licorice and anise flavor doesn't work well with Italian cuisine, so you can't substitute Thai basil for sweet basil in the dishes above.
However, this basil variety is irreplaceable in Thailand, Vietnam, Cambodia, and Laos. Try these out if you have too much basil, maybe you'll find a recipe you love.
This dish is called a "classic" for a reason. Chicken and Thai basil already taste great with each other, but this combination becomes even more flavorful and delicious once you add garlic, onions, and spices. Don't forget to serve it with a steaming bowl of rice.
Do you want to keep the freshness of Thai basil? Then how about some Vietnamese spring rolls? Just with 1 bite, you can taste the chewy rice paper, crisp bean sprouts, fresh seafood, and of course, aromatic Thai basil. This dish will make a fantastic appetizer or lunch.
If you are a huge fan of Vietnamese cuisine, you must have heard of Pho – one of the world's greatest noodle soups. The flavor of this signature broth is out of this world. Add a few fresh Thai basil leaves on top, and this soup will become even more addictive.
Making Pho from scratch can be a bit intimidating, but with the right ingredients, proper guidance, and a LOT of patience, you will be able to tackle this tricky dish. And it will be worth it!
If I have successfully convinced you to make Pho, check this out for more instruction!
Bonus Info: Thai Basil Vs Holy Basil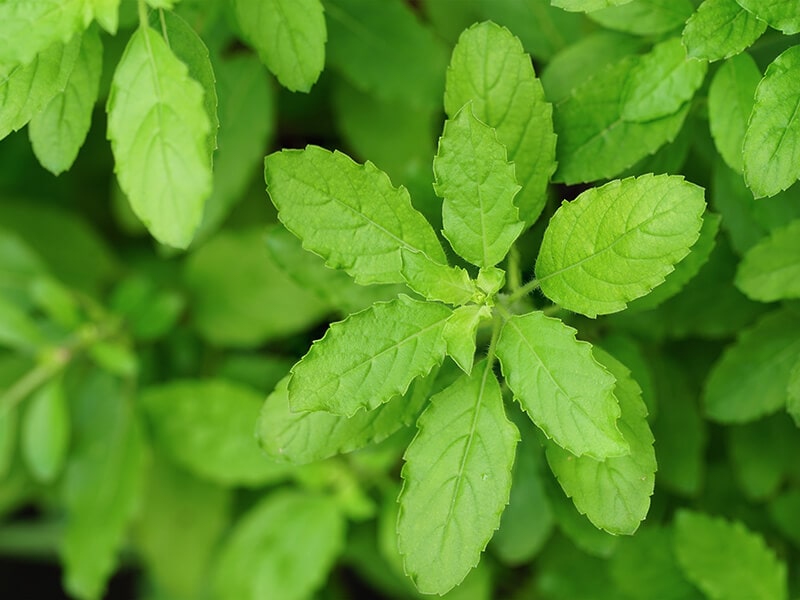 People constantly mix Thai basil up with Holy basil since both of them are commonly used in Thai and other Southeast Asian cuisines. Though it is understandable to make this mistake, you must learn to distinguish them to avoid adding the wrong flavor to your dishes.
Another herb that Holy basil is often compared to is ashwagandha, although there are several dissimilarities between Holy basil and ashwagandha. However, I suppose you could say that these two herbs are very prevalent in Indian cooking with many health benefits.
1. The Difference In Appearance
Just like before, the distinguishing feature between Thai basil and Holy basil is the color of their stems. Holy basil has green stems with small hair, while Thai basil's ones are purple and smooth. Holy basil plants are also taller and have rounder leaves.
2. The Difference In Aroma
Thai basil and Holy basil have a similar licorice scent. In addition to that, Holy basil also provides a peppermint, cloves, and lemon scent. Essential oil made from Holy basil is extremely common, which indicates the adoration of this aroma.
3. The Difference In Taste
Although the taste of spice, anise, and licorice in Thai basil is very noticeable, Thai basil is still sweet and can be eaten raw.
On the other hand, Holy basil's flavor might be too intense for direct consumption. When you eat it raw, your tongue will go numb, just like how you eat spicy peppers.
4. The Difference In Cooking Uses
Both of these herbs work great in stir-fries, soups, curries, and Asian-style noodles. However, Thai basil is a more suitable choice for Thai and Vietnamese dishes, while Holy basil is the ideal herb for Indian curries or tea.
Either way, it's preferable to add them near the end of the cooking process, as the heat and extended cooking periods might deplete the flavor and texture.
FAQs
Still have some concerns about this topic? Well, check out the FAQs below to see if you can find the answers you need.
Thai Basil Vs Basil: What Did You Learn?
And there you have it, folks! These are the most noticeable differences between Thai basil and regular basil. With all this information in mind, not only will you be able to tell them apart, but you will also know which basil type is suitable for your home-cooked meals.
Did you enjoy this article? If so, consider giving it a like and share! Also, comment down below your favorite ways to cook sweet basil and Thai basil; I'd love to learn them all!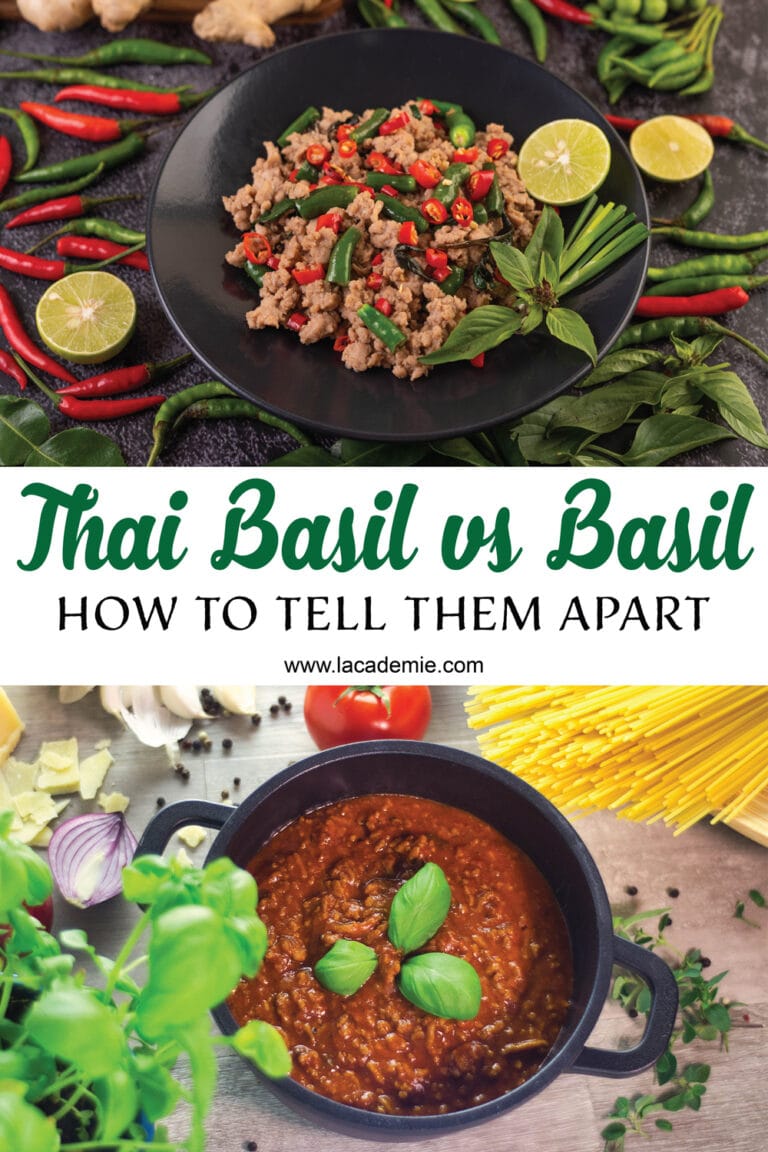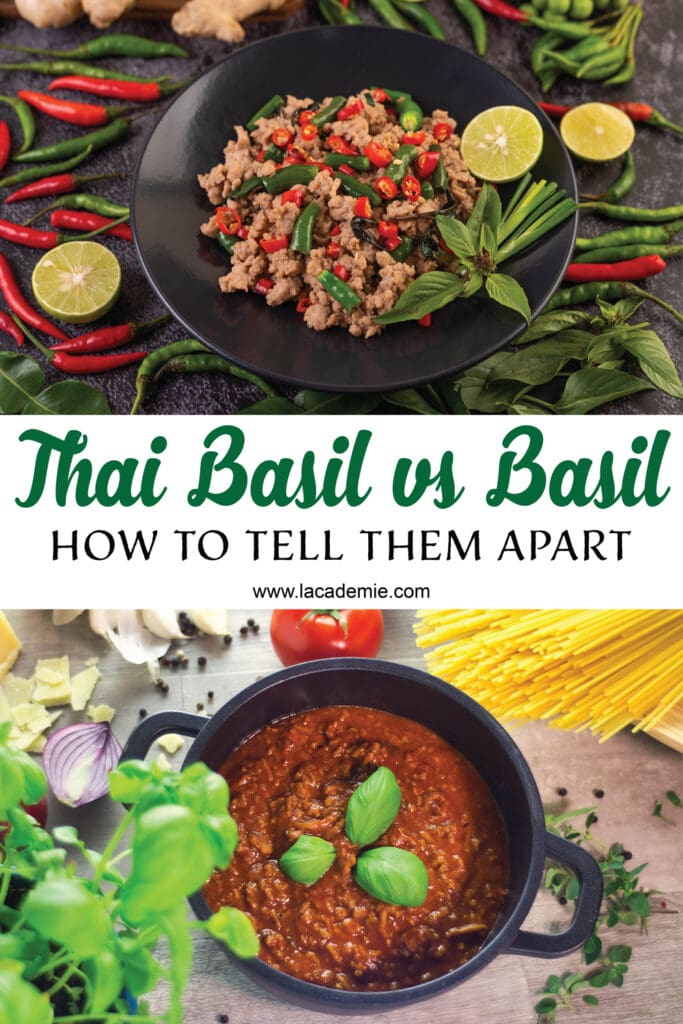 Reference
Healthline, 2018. Basil: Nutrition, Health Benefits, Uses and More.
Sasidharan, S., 2016. Chemical Profiling and Antioxidant Activity of Thai Basil.