Bay leaf vs. basil, which one is better? If you've been cooking your own meals, chances are you've heard of or even used these two herbs before. But can you answer for certain what their differences are?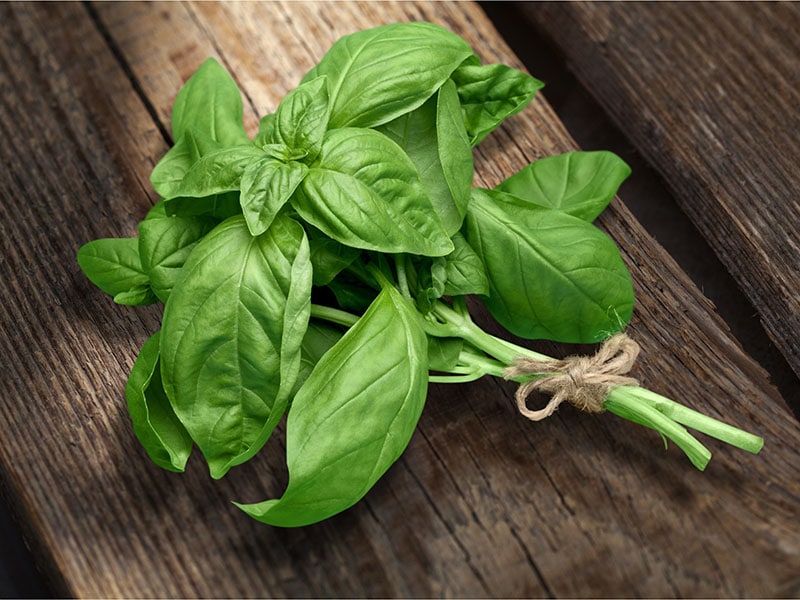 If the answer is "I'm not sure," then this post is meant for you. In this article, I'll take you through all the unique features that bay leaf and basil are known for, along with their best uses in cooking and where you can purchase them.
A Quick Introduction To Bay Leaf
Bay leaves are aromatic leaves commonly used as a seasoning in cooking. The leaves come from multiple cultivars of the bay laurel trees – a fragrant evergreen plant grown in warm climates worldwide.
Some common varieties of this herb include Mediterranean (or Turkish) bay leaves, California bay leaves, Indonesian bay leaves, Indian bay leaves, Mexican bay leaves, and Indonesian bay leaves. (1)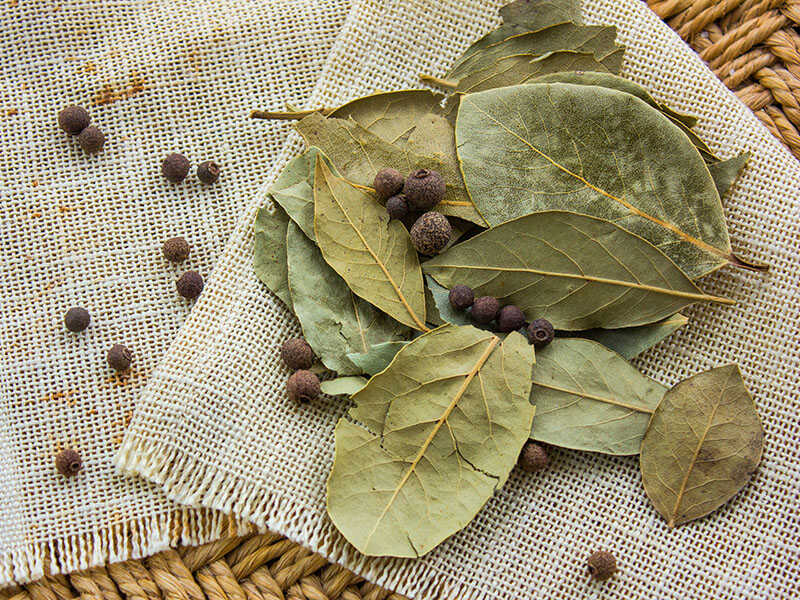 Although it is believed that these aromatic herbs originated in South Asia, they are more frequently found in Mediterranean and French cuisine.
They have a long history that dates back to Ancient Greek and the Roman empire, where bay leaves were considered a symbol of honor and accomplishment.
Bay leaves are available in whole (dried or fresh) or powder form. Most dried bay leaves sold in the United States are the Turkish variety, while the fresh ones come from California. Although you can buy dried California bay leaves, the Turkish cultivar is often preferred.
You should see the video below:
Basic Information About Basil
Basil is an annual or perennial herb native to tropical climates from Central Africa to Southeast Asia. Like bay leaves, basil is mainly utilized in cooking and is an essential ingredient in Italian, Thai, Vietnamese, and Indonesian cuisine.
There is an abundance of basil varieties grown throughout the world, most of which are cultivars of the ever-popular sweet basil. Others are hybrid and related species such as spice basil (also called holy basil), lemon basil, or Thai basil.
So, although they're all basil, different varieties will show different traits. That's why when you compare Thai basil against regular basil, you'll spot quite many dissimilarities, including shape, flavor, smell, and even growing seasons.
Basil comes in two forms: fresh and dried. A pronounced difference between fresh and dried basil is that fresh basil is generally more preferred for cooking. That's not to say one is always better than the other since there are many things that make fresh and dried basil unique.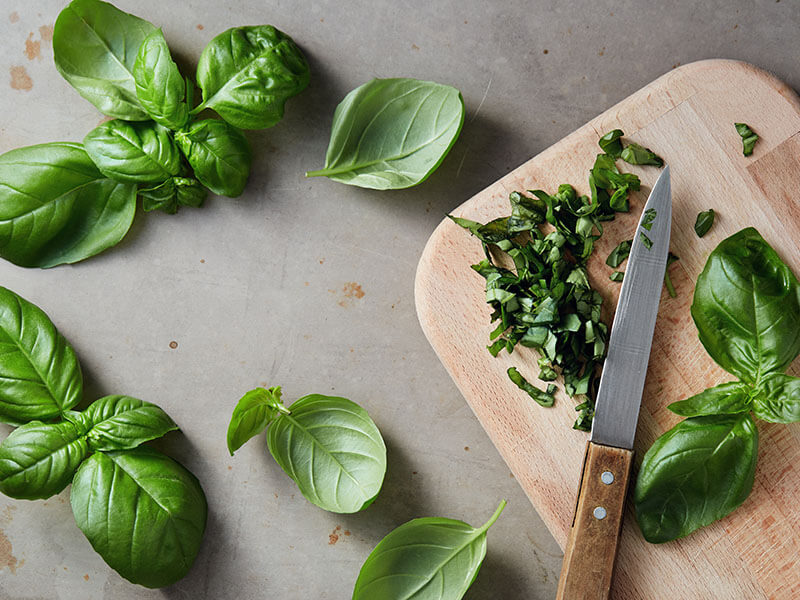 Fun fact: The name "basil" is derived from the word "basilius" in Latin or "basilikón phutón" in Greek, which translates to "royal or kingly" plant. This is probably because basil was believed to have been used in producing royal perfume. (2)
In addition to being an incredible ingredient, basil also brings plenty of health benefits.
Bay Leaf Vs. Basil – All The Differences
The information above should give you a rough idea about bay leaf and basil. Now, let's dig deeper into the key characteristics of these two herbs to see how they are different from one another.
Key Characteristics
Bay Leaf
Basil
Origin
South Asia
Central Africa to Southeast Asia
Available forms
Fresh, dry, and powder
Fresh, dry
Varieties
Many varieties
Numerous varieties
Shape
Elongated shape, pointed end, thick and rough texture
Ovate shape with slight downward curve and pointed end
Color

Fresh: Shiny, dark green (top), pale green (underpart)
Dry: Matte olive green

Fresh: Glossy green, some varieties are purple
Dry: Darken and more intense

Aroma
Herbal and elegant floral fragrance
A combination of mint, pepper, anise, and clove
Flavor
Woodsy and slightly bitter
Sweet and minty flavor
Cooking Utilization

Used in various dishes in French, Spanish, Filipino, Thai, and Indian cuisine
Best for soup and stew recipes

Commonly used in Italian, Indonesian, Vietnamese, Thai, and other Asian cuisines.
Best known for being an essential ingredient of pesto

Shelf life

Fresh: 1-2 weeks (refrigerated), 3 months (frozen)
Dry: 2 years (in the pantry)

The same as bay leaf
What Bay Leaves And Basil Look Like
Experienced chefs and home cooks can differentiate bay leaf from basil just by looking at them. While that may sound impressive, it's not that difficult to do since these two herbs' appearance have quite a lot of distinguishable features.
Bay Leaves
Bay leaves typically have an elongated shape with pointed ends and thick, rough texture. Since there are numerous cultivars of bay leaves, you might see some that are larger or smaller than the others.
For example, Indian bay leaves are twice the size of the Mediterranean cultivar and contain three veins instead of one.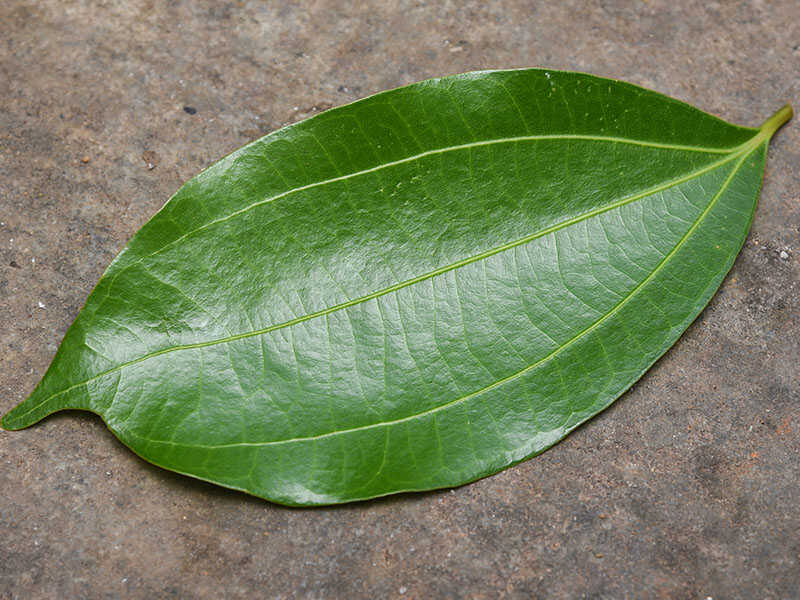 Fresh bay leaves are covered in shades of green, with the top side being a shiny, dark green and the underpart a pale green. Once dried, their color will turn into a uniform matte olive green.
Basil
Common basil species come in an ovate shape with a slight downward curve and rounded middle. They're pointed toward the end and have a grooved, rough texture along the veins.
While sweet basil, one of the most widely-used cultivars, has a rich and glossy green appearance, there are some varieties that grow purple leaves. Basil leaves' color will darken and become more concentrated once dried.
Another popular basil cultivar, especially in Indian cuisine, is holy basil. It has a spicy flavor with bitter undertones. And despite the many distinctions between Ashwagandha and holy basil, these two herbs are often compared with one another.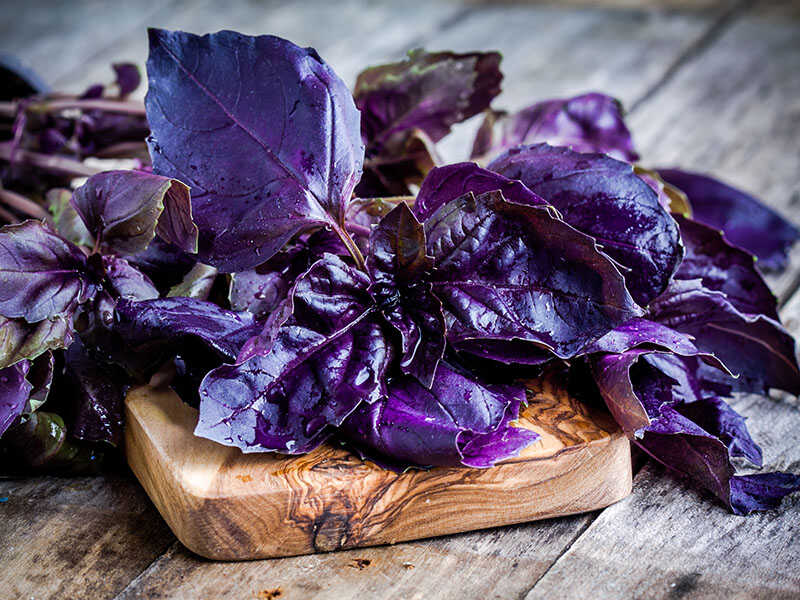 Additionally, basil varies in size, ranging from 3 to 11 cm lengthwise and 1 to 6 cm widthwise. In comparison, most basil leaves are smaller than bay leaves.
The Unique Flavor And Aroma Of Basil And Bay Leaves
Flavor and aroma are the most vital aspects of any seasoning herbs. If you can't tell bay leaves apart from basil through their appearances, their smell and taste will make all the difference.
Bay Leaves
Like many other seasoning herbs and spices, bay leaves are revered for their fragrance rather than taste. If you decide to eat a bay leaf whole, you'll notice that it is quite pungent with a bitter and sharp flavor, thus why this herb isn't typically used for eating.
Bay leaves will shine the best when you use them for flavoring. Dried bay leaves have an herbal and elegant floral fragrance that can add depth to any dish. The herbs' aroma is often compared to that of thyme and oregano.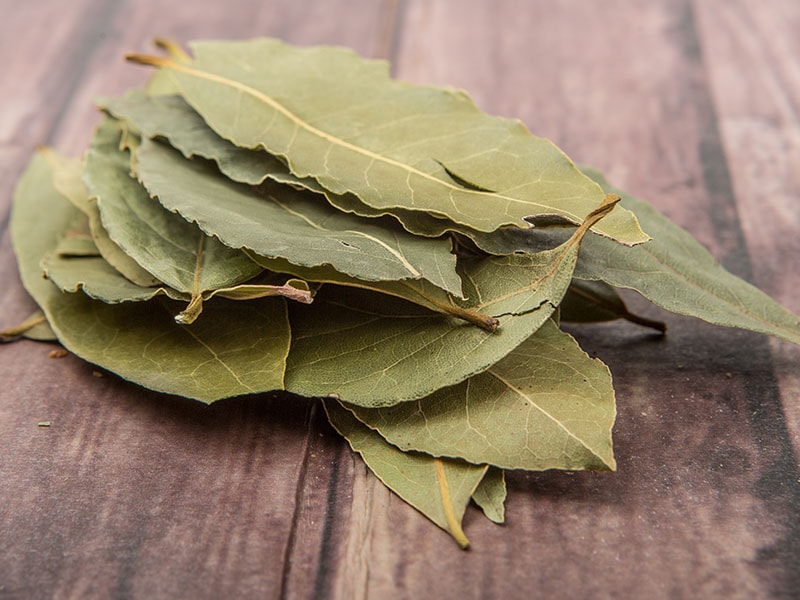 Once cooked, these aromatic leaves will infuse the dish with an earthy, woodsy, and cinnamon-like flavor. Its bitterness is also reduced to a mild and pleasant one, making it a perfect wrap-around to complement and balance other flavors.
Keep in mind that different types of bay leaves will have slightly different aromas and flavor profiles. For example, California bay leaves will taste mintier and more intense than Mediterranean bay leaves.
Basil
It's hard to pinpoint the exact flavor of basil as there are simply too many cultivars. In general, basil smells like a combination of mint, pepper, anise, clove and has a sweet and minty flavor.
For instance, sweet basil smells fresh with a slightly minty and peppery flavor, while Thai basil is more anise-like in scent and has a subtly spicy, licorice taste. You'll also find some cultivars with apparent notes of citrus and spice.
Fresh And Dry, Is There Any Difference?
When buying bay leaves and basil, many people are torn between fresh and dry ones. The real question here is, are dry leaves better than fresh leaves, or is it the other way round?
Bay Leaves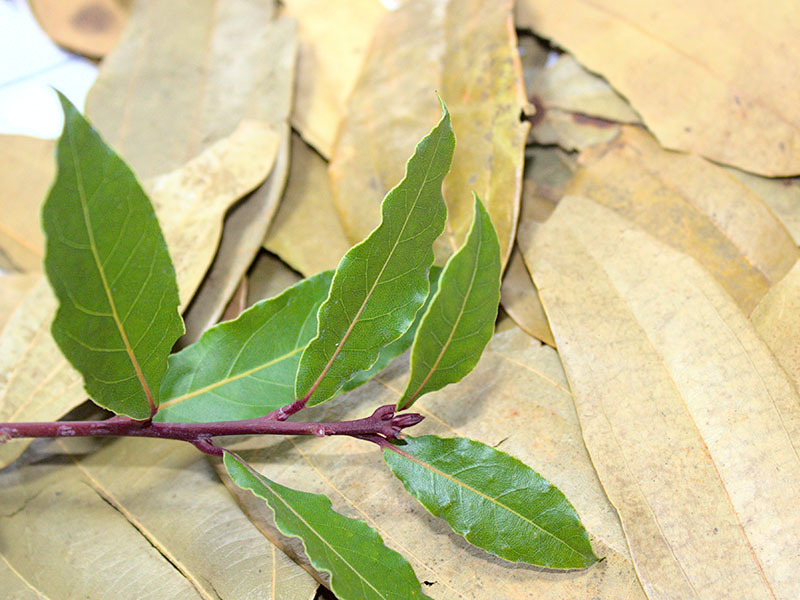 For bay leaves, the dried version is more widely used for several reasons.
First, dried bay leaves have a more concentrated scent and taste than fresh ones. The drying process actually brings out more flavor in these herbs as they are much less pronounced when new.
Moreover, fresh leaves often cost more and are harder to find. They are also more prone to spoilage and can be overpowering in a dish when misused. If the recipe calls for dried leaves, you usually need only half the amount of fresh ones.
However, some people do like their bay leaves fresh rather than dried since they offer a lighter and more floral flavor profile.
Basil
While most people prefer dried bay leaves over fresh ones, the opposite happens with basil.
Although basil is available in both dry and fresh form, when it comes to this herb, the fresher, the better.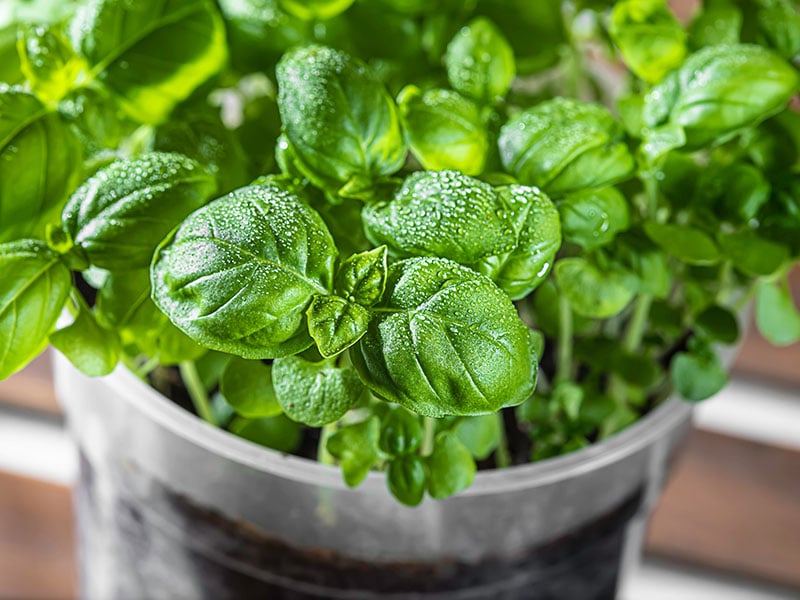 In general, dried basil doesn't have the same taste as when it's still fresh. Once dried, basil leaves become mintier while the anise flavor is reduced. This is because some of their volatile oils are lost during the dehydrating process.
While it's possible to use dried ones as a swap-in for basil, many dishes won't taste the same. A pesto, for example, won't be nearly as tasty when cooked with dried basil.
With that being said, it's not a bad idea to dry fresh basil so that you'll always have this herb in your kitchen. The necessary procedure to dry basil in ovens is not rocket science, and with a comprehensive guide, anyone can prepare dried basil with ease.
Cooking Utilization For Bay Leaf And Basil
Bay leaves and basil are known for their excellent uses in cooking. Here are some common ways to utilize these two ingredients.
Bay Leaves
Bay leaves are a staple in many cuisines worldwide, from French, Spanish, to Filipino, Thai, and Indian. They excel in hearty winter recipes such as soups and stews and are a fantastic addition to pot roast, game meat, beef or chicken stock, and bean dishes.
These herbs are also used for braising meat and making pickles together with other spices. In addition, their aroma and flavor lend well to spaghetti sauces, curries, and even vinegar or pate.
Typically, bay leaves will be added at the beginning of cooking and removed before serving. Apart from whole leaves, many recipes also call for crushed and ground bay leaves since they provide more fragrance.
Basil
Similar to bay leaves, there are numerous delicious dishes that you can make with basil. They are an essential part of Italian cooking and are the core ingredient of the world-famous pesto sauce.
You can also see basil listed as a seasoning for countless tomato-based dishes and pasta sauces. Fresh basil shines when used as a garnish for pizza and many summer dishes such as the tomatoes and mozzarella-filled Caprese salad.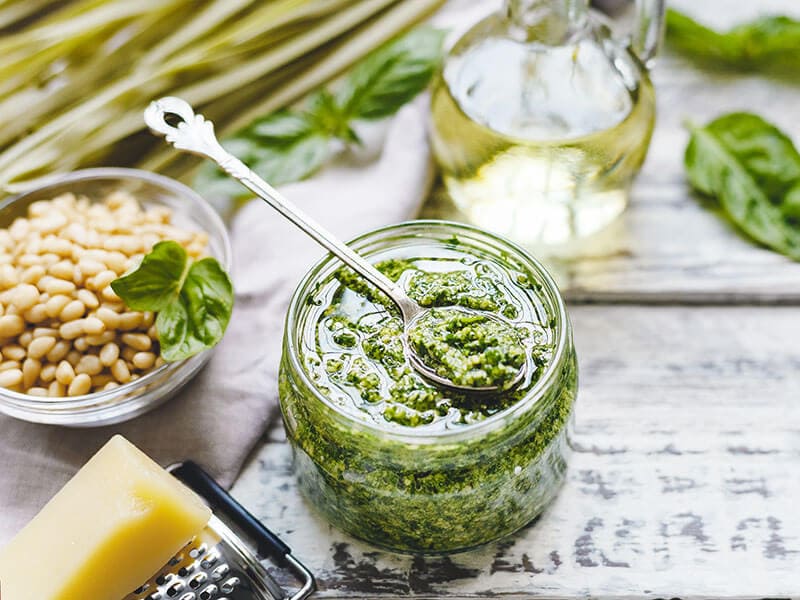 At the same time, dried basil fits well in various vegetable-based dishes that contain eggplant, zucchini, and more. In addition, both dried and fresh basil make for great seasoning in poultry and fish recipes.
Apart from Italian cooking, basil is also utilized in Indonesian, Vietnamese, Thai, and other Asian cuisines.
Fresh basil leaves are best added in the last 5 minutes of cooking as they will lose some of their oil content if simmered for too long. On the contrary, dried basil is included at the beginning, just like dried bay leaves.
Watch this video to know more:
The Shelf Life Bay Leaves And Basil
While storing the dried version of either leaf is pretty straightforward, you'll need to be more mindful when keeping fresh basil and bay leaves. Dried herbs can last for as long as 2 years and fresh ones about 3 months when properly stored.
Bay Leaves
To store dried bay leaves, put them in an airtight container placed in a dry, cool, and dark place like your pantry or the spice cabinet. This way, the leaves can last up to 2 years.
Fresh bay leaves should be kept in a Ziploc bag or sealed container and refrigerated. You can enjoy your fresh herbs for 1-2 weeks if you store them this way. You can also freeze them to retain their flavor and aromatic nature for about 3 months.
You should see the video below:
Basil
Dried basil can be stored in the same manner as dried bay leaves and will last for around the same amount of time. However, since these herbs will lose their potency the longer you keep them, you should consume them within 6 months for the best flavor and fragrance.
Fresh basil leaves are trickier to store, depending on what form you bought them in. Don't sweat, I'll show you the ultimate way to store your fresh basil so that it'll last much longer than expected.
If they still have their stems intact, keep them standing upright in a jar of water while covering the leaves lightly with a plastic bag (just like a basil boutique). Store fresh leaves at room temperature for 1-2 weeks, and remember to change the water every few days.
For fresh basil leaves, wash and dry them with paper towels, then transfer them into a sealed plastic bag and refrigerate. You can store them for 1-2 weeks this way.
Freezing is another great way to store and retain fresh basil potency. Once frozen, you can safely keep your basil for up to 3 months.
Watch this video to know more:
Substituting One For Another – Yes Or No?
Both basil and bay leaves possess a very unique flavor profile, but can you use one in place of another? Well, this depends on how meticulous you are with your dish's taste and whether you're using dry or fresh herbs.
Dried basil has a mild, minty, and woodsy taste, making it a "good-enough" alternative to bay leaves. However, fresh basil is a bit too sweet for this task as they lack the leaves' savory notes.
Likewise, you can use bay leaves to replace basil in stews, soups, and braised recipes, but making pesto or salad with these herbs instead of fresh basil won't yield the same result.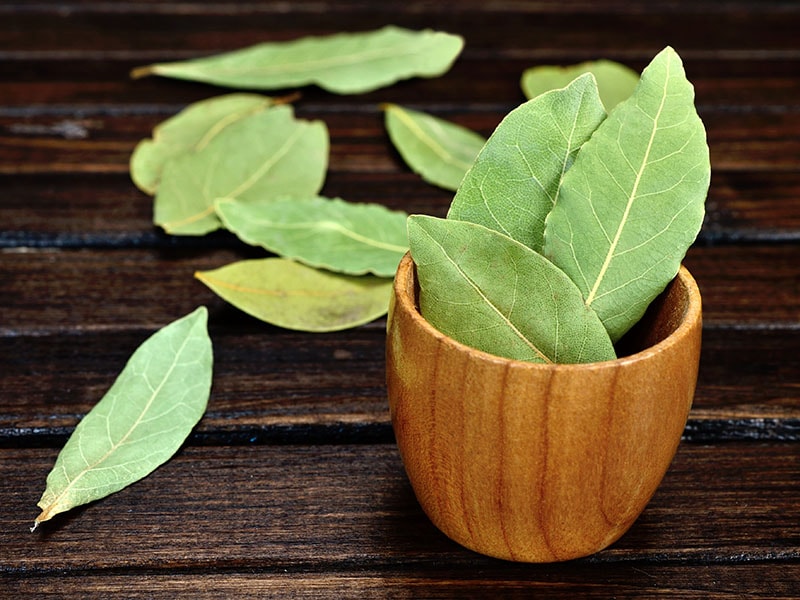 Some people advise against substituting bay leaves with basil (and vice versa) entirely for those reasons. Instead, you can opt for more similar-tasting alternatives for basil and bay leaves.
For example, you can replace basil with other summer herbs like fresh mint, thyme, parsley, tarragon, or oregano. As for bay leaves, juniper berries or rosemary sprigs are suitable substitutes.
If You're Looking For Bay Leaf Or Basil, Try These Brands
Since basil and bay leaves are very well-known, they can be purchased easily in most major grocery stores and supermarkets.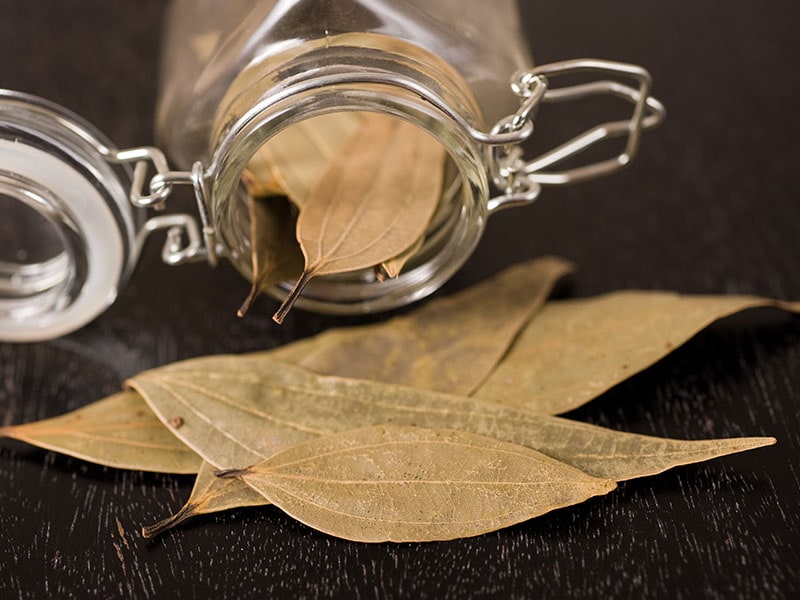 Bay Leaves
You can often find dried bay leaves in jarred form in the spice aisle. McCormick and Rani are two popular brands of whole dried bay leaves that you can trust. If you want to buy organic herbs, give 365 Whole Food Market or Simply Organic a try.
Fresh bay leaves might be a bit trickier to find and are usually available in the produce section along with other fresh herbs. Look for leaves that are bright green, lustrous, and aren't torn.
Basil
Like bay leaves, you can also find dried basil in the spice department. McCormick basil leaves are one of the best sellers. For frozen basil, Litehouse offers a non-GMO option. Otherwise, you can go for Simply Organic's certified organic basil.
To buy fresh basil, go to the produce section and look for leaves that are bright green and contain no signs of browning or drying around the edges. Fresh basil can be sold in plastic containers or as a whole plant.
FAQs
If you still have any questions about bay leaf and basil, this FAQs section will answer all of them.
Be Mindful Of Your Herbs
While you can somewhat use bay leaf and basil interchangeably, they are very different from each other and will work the best when added to the right types of recipe. To fully enjoy these amazing herbs, you should be careful not to confuse one with another.
Are you a fan of bay leaves and/or basil? Comment your thoughts about these two herbs down below. While you're at it, please press the like button and share this article with your loved ones.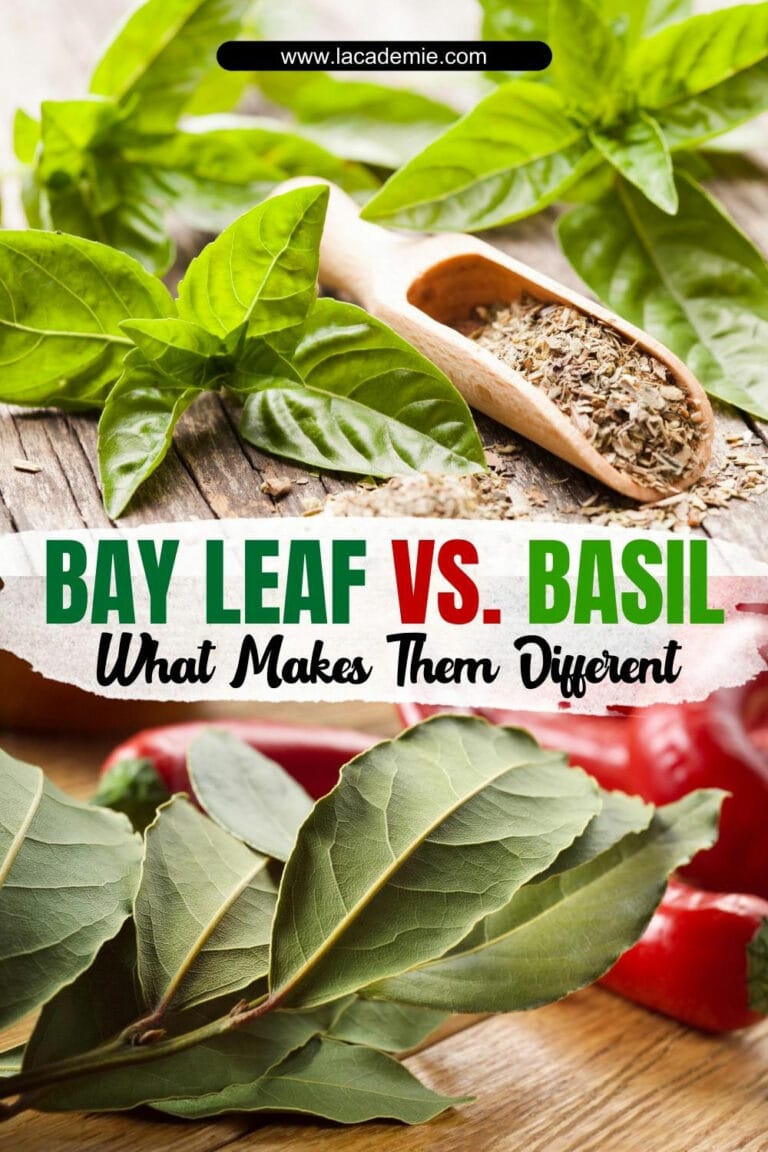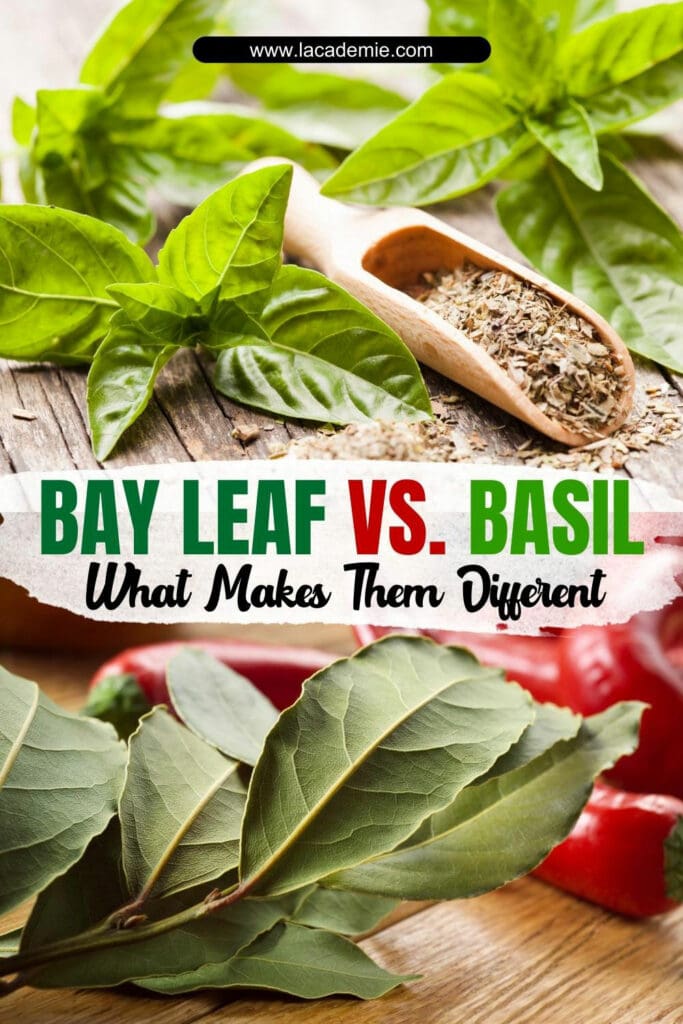 References
Contributors to Wikimedia projects, (2001a). Bay leaf – Wikipedia [online].
Contributors to Wikimedia projects, (2003). Basil – Wikipedia [online].