If you're new to cooking with herbs, basil vs. parsley is surely a topic that you need to know about. Although you might find them somewhat similar, it would be a big mistake to carelessly use one in place of another.
Since an error in the kitchen can easily lead to a disaster on the dinner table, it's best that you know all the key characteristics of basil and parsley. Keep scrolling to equip yourself with useful culinary knowledge about the "what, when, and how" of these herbs.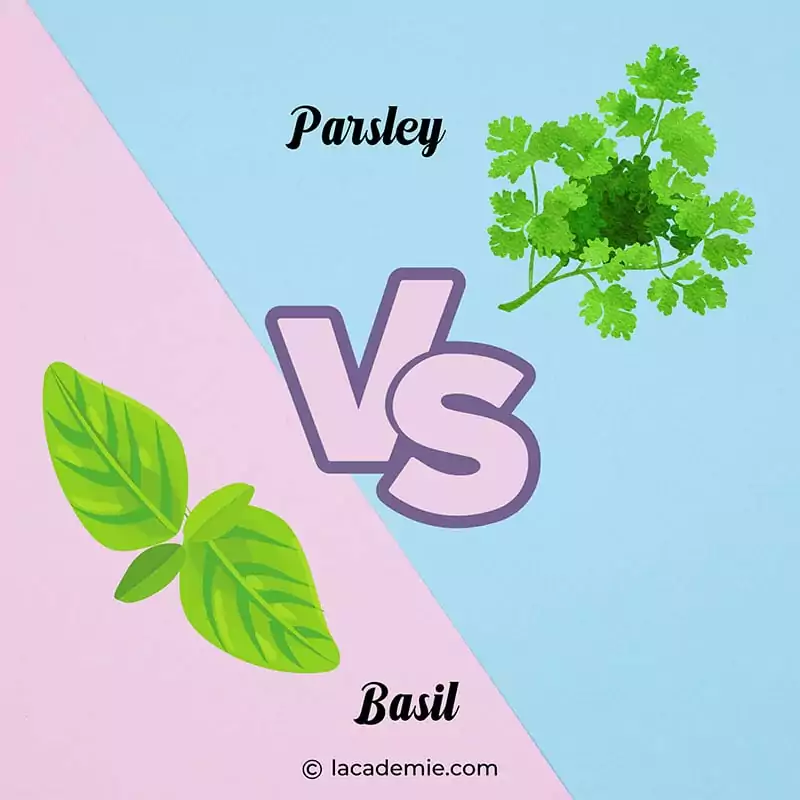 Common Knowledge About Basil
First on today's menu is basil – a classic ingredient in Italian and other Asian countries' cuisine. Botanically speaking, basil is an annual or perennial cooking herb belonging to the Lamiaceae (also known as Mints) family.
Although this herb originally comes from the warmer areas spanning from Central Africa to Southeast Asia, its popularity has spread all over the world. Every region you travel to probably has its own basil varieties. In fact, there are well over 50 species of basil! (1)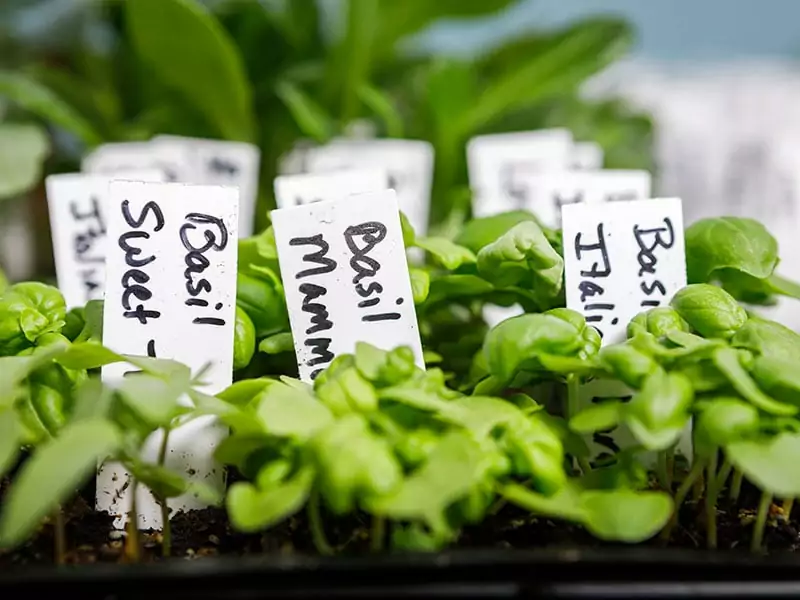 Since basil belongs to one of the most prominent culinary herb families, it's hard not to compare the plant with its (many) cousins. For example, mint and basil are a common comparison due to their similarities in flavor.
When buying basil, apart from choosing the right variety, you also have to decide whether you want it fresh or dried. While fresh and dried basil possess different traits, they both are excellent choices for flavoring and cooking. You just need to learn the correct way to utilize each type.
I think that's enough information to warm you up. More details on basil's flavor profile, appearance, and utilization will be covered later on. For now, let's move on to parsley!
Go through 16 basil varieties in under 11 minutes.
Things You Should Know About Parsley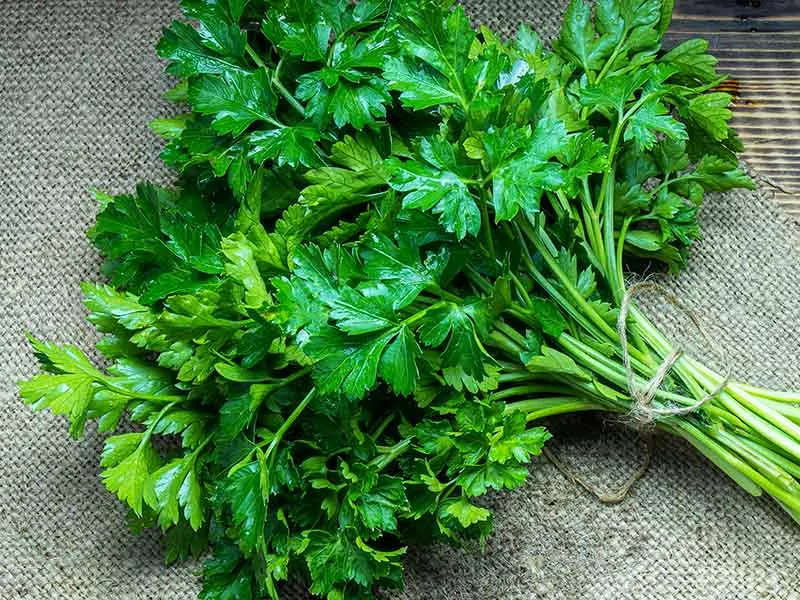 The Apiaceae plant family is home to many important flowering plants (such as anise, carrot, celery) and parsley is one of them. The plant grows natively in the central and eastern areas of the Mediterranean region but has made its way to other parts of Europe.
It's no exaggeration to say that parsley is loved almost globally. From its hometown Europe to the Middle East, America, and even Asia, people all around the world greatly enjoy this plant as either a herb or vegetable. (2)
The most famous types of parsley are French curly leaf parsley, flat-leaf (or Italian) parsley, root (or Hamburg) parsley, and Japanese parsley. Although they all taste phenomenal, each type is preferred in a particular area's or nation's cuisine.
In temperate climates, parsley is biennial, meaning its life cycle will last for 2 years. However, the cultivars in tropical or subtropical regions are annual plants, just like basil.
Basil And Parsley – A Full Comparison
As promised, I'll dig deep into every essential characteristic of parsley and basil in this section. After reading this full comparison, I'm sure that you will never mistake basil for parsley (or vice versa) ever again!
Main Characteristics
Basil
Parsley
Plant Family
Lamiaceae
Apiaceae
Type Of Plant
Annual or perennial
Biennial or annual
Origin
Central Africa to Southeast Asia
Central and eastern Mediterranean
Leaves' Appearance

Oval to elliptical leaves
Pointed ends and sometimes jagged (yet smooth) edges
Bright green, purple, or wine red

Broader, albeit not as thick as basil leaves
Pointed around the edges
Only come in green

Flowers And Stems' Appearance

White or purple flowers
Fibrous stems

Aromatic white flowers
Thin yet tough stems.

Taste
Taste like a combination of mint, anise, pepper, clove, licorice
Grassy, bright, clean, and fresh with bitter, pepper-like notes
Shelf Life

Fresh herbs: 5-7 days (at room temperature)
Dried herbs: 2-3 years

Fresh herbs: 5-7 days (should be refrigerated)
Dried herbs: 2-3 years

Nutrition Value
Contain more magnesium and calcium
Richer than basil in fiber, sugar, fat, carbs, vitamin K, vitamin C, and iron
Health Benefits

Have anti-inflammatory potency
Help with digestion, improves skin, stomach and liver's health, prevent diabetes and depression.

Prevent and fight heart diseases, diabetes, and even cancer
Good for bones and eyes

Best Uses

Widely used in Italian and Southeast Asian recipes
Good for both savory and sweet dishes
Can be a stand-alone herb

A well-loved ingredient in Europe, the Middle East, America, and Asia
Mostly used for savory dishes
Work best when combined with other herbs and spices
Appearance
First thing first, let's find out how these two herbs are different in appearance. For a short answer, they are practically apples and oranges!
Basil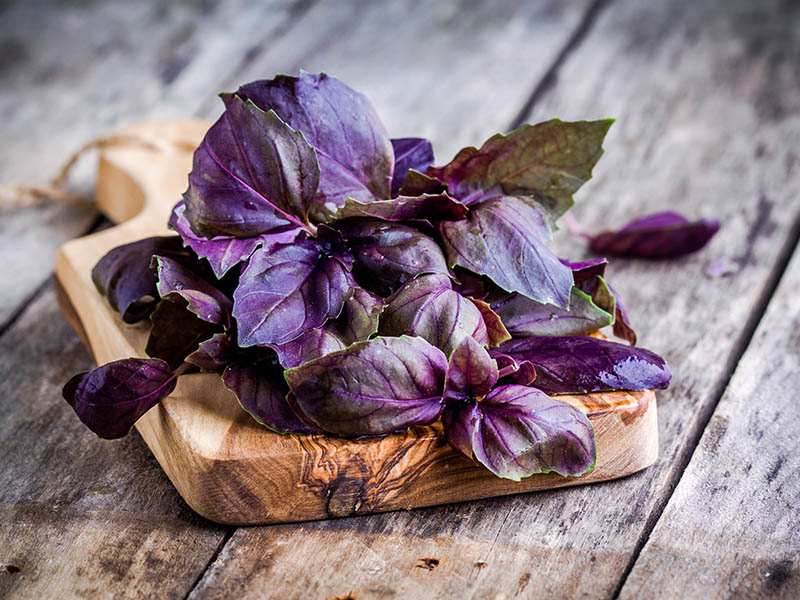 Most cultivars of basil yield oval to elliptical leaves that are about 1 to 4 inches long. They have pointed ends and smooth (sometimes jagged) edges. The glossy leaves can be bright green, purple, or even wine red, depending on the varieties.
If you have the chance to grow basil at home, you'll also notice that the plant is very bushy and full of branches. On average, a basil plant can grow to about 12 to 24 inches tall. It has fibrous stems, from the center of which purple flowers bloom.
Parsley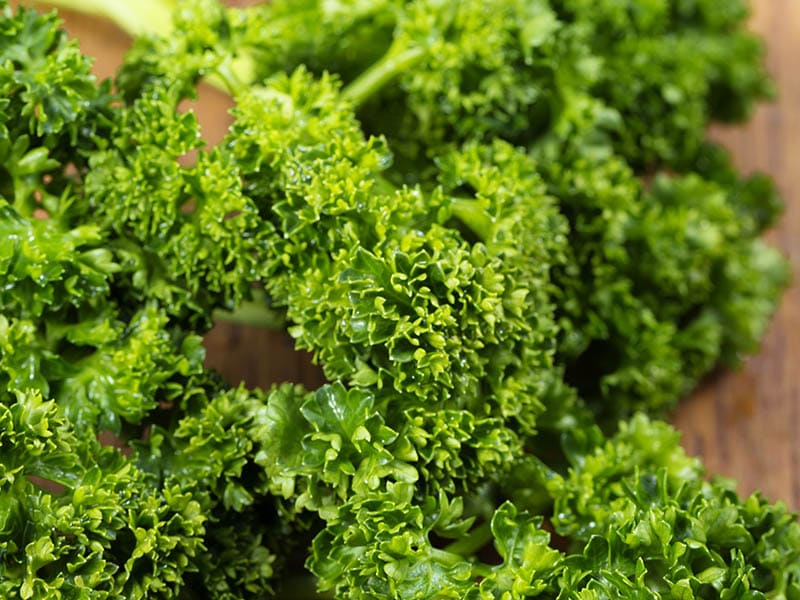 In general, parsley leaves are broader, albeit not as thick as basil leaves. They are usually pointed around the edges and only come in shades of green.
Unlike basil, a parsley leaf consists of several rosettes, which are smaller compound leaflets. French parsley (or curly parsley) leaves are especially thin and have a distinguished curled shape. On the other hand, Italian parsley produces flat and broad leaves.
The size of a parsley plant will vary depending on the cultivar. The ones from France usually grow to 12-18 inches, while their Italian counterparts can reach 24-36 inches in length.
Although this plant only bears white flowers, they are incredibly aromatic and are great at luring in predatory flies and wasps. As opposed to the rather fragile stalks of basil, parsley has thin yet tough stems.
Last but not least, Hamburg parsley is an edible root that looks like a carrot but is beige or white.
Taste
The flavor is what makes a seasoning herb unique, and fortunately, both basil and parsley really stand their ground in this department.
Basil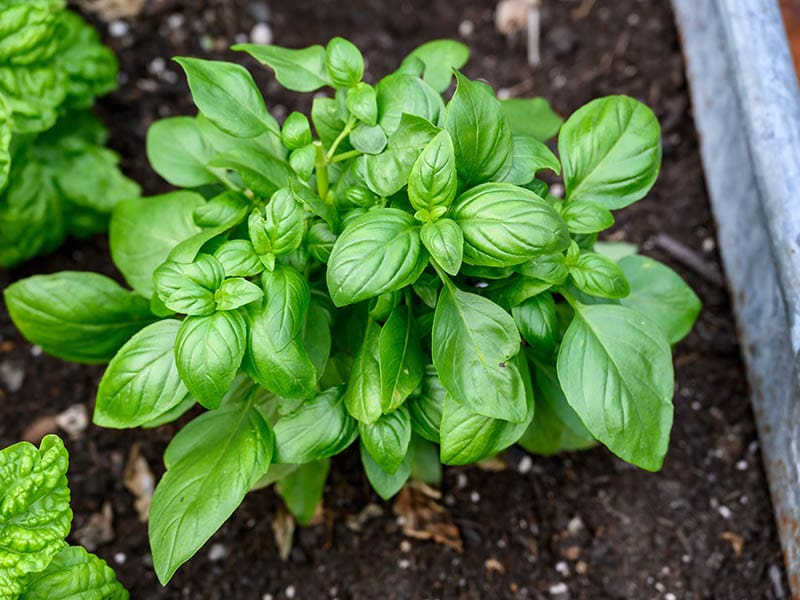 I would be lying if I say that it's easy to describe precisely the flavor profile of basil. These aromatic herbs take bits of mint, anise, pepper, clove, licorice and combine them into an unmatched sweet-savory taste.
In addition, there's a world of basil's flavor for you to explore since every cultivar boasts a different taste. For example, Greek basil is packed with a spicy aroma and intense flavor, while mammoth basil is more clove-like and tastes rather sweet.
Parsley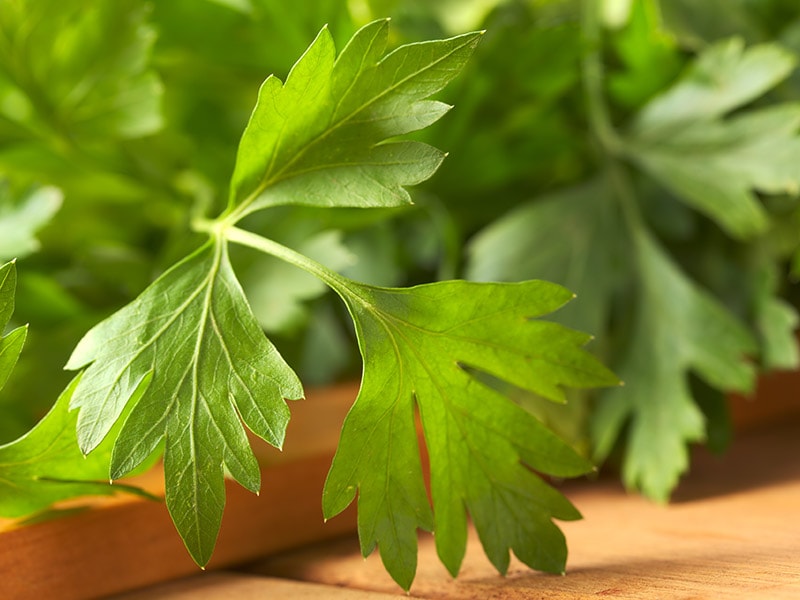 Parsley leaves are packed with essential oils that give them an incredibly unique flavor. If you're looking for something sweet and minty, parsley isn't the right choice, and you'd be better off with some basil.
However, this herb is perfect for people who crave something grassy, bright, clean, and fresh. Rounding off the taste are subtle notes of pepper and a slight bitterness that provoke a tangy, earthy edge.
Typically, flat-leaf parsley will have a more intense taste than their curly cousins. For a more prominent bitterness and clove-like notes, go for Japanese parsley.
On a side note, don't expect much flavor from Hamburg parsley leaves since the plants are grown for their roots, which taste like a mixture of celery and carrot.
A brief comparison between Italian and French parsley.
Shelf Life
There are plenty of ways to preserve fresh basil and parsley. Some methods are pretty simple, while others take a bit more effort. Fresh herbs will generally last for about 5-7 days when stored properly.
Because fresh parsley leaves are notorious for withering quickly, you should keep them in a fridge. On the other hand, you can safely store basil at room temperature, and refrigerating can cause the herbs to turn black.
Once parsley and basil are dried, they will stay edible for about 2-3 years. Remember to put the dry leaves in airtight containers and place them somewhere dark, cool, and away from sunlight.
Nutrition Facts And Health Benefits
Not only are basil and parsley delicious, but they're also rich in nutrients. Here is a chart of the nutrition values found in 100 grams of these herbs when fresh.
| Nutrients | Basil | Parsley |
| --- | --- | --- |
| Calories | 23 kcal | 36 kcal |
| Fiber | 1.6 g | 3.3 g |
| Sugar | 0.3 g | 0.9 g |
| Fat | 0.6 g | 0.8 g |
| Protein | 3.15 g | 2.97 g |
| Carbs | 2.7 g | 6.3 g |
| Vitamin K | 415 mcg | 1,640 mcg |
| Vitamin C | 18 mg | 133 mg |
| Magnesium | 64 mg | 50 mg |
| Calcium | 177 mg | 138 mg |
| Iron | 3.17 mg (3) | 6.2 mg (4) |
Overall, parsley is richer than basil in calories, fiber, sugar, fat, carbs, vitamin K, vitamin C, and iron. On the other hand, basil boasts a more potent amount of magnesium and calcium. They share almost the same protein value, with basil being just a bit higher.
Apart from the above minerals and vitamins, basil is also full of antioxidants and anti-inflammatory components. It can help with digestion, improve skin, stomach, and liver health, as well as prevent diabetes and depression.
As for parsley, these herbs are great for preventing and fighting heart diseases, diabetes, and even cancer. Plus, they are considered good for your bones and eyes.
Best Uses
Thanks to their distinct flavor, basil and parsley found their way into many tasty recipes worldwide. Here are some ways that master chefs around the globe utilize them.
Basil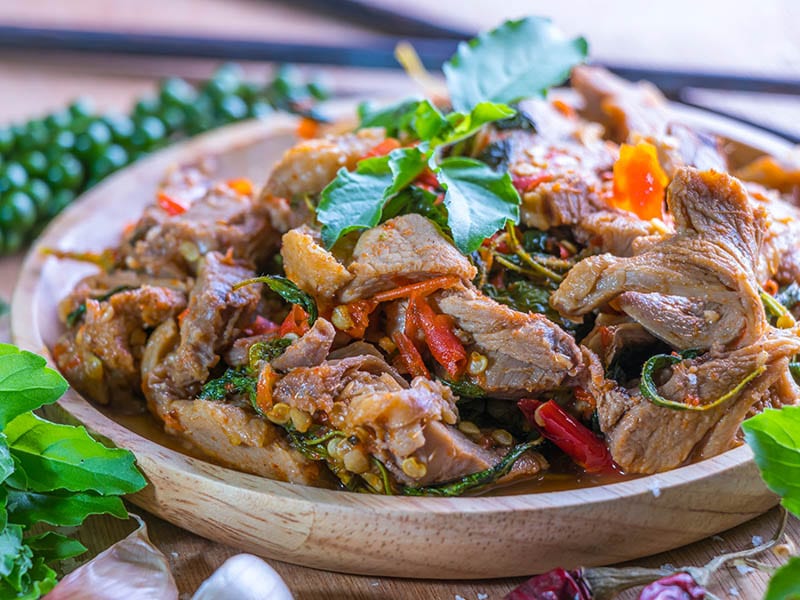 As mentioned in the beginning, you'll find basil in plenty of Italian and Southeast Asian recipes. In particular, people in Thailand, Vietnam, and Indonesia are head over heels in love with these herbs.
One fact about basil: it goes flawlessly with tomatoes. As a result, you'll see this divine-tasting combination everywhere, from sauces or salads to stews. The fragrant nature of these leaves also pairs well with any savory and vegetable-based dish you can think of.
Moreover, you can add a touch of basil to your fish and poultry to enhance their flavor greatly. Various basil cultivars, like holy basil, are also excellent for brewing tea.
Lastly, don't forget that you can use basil in sweet dishes like ice cream and chocolate or lemon drinks.
Parsley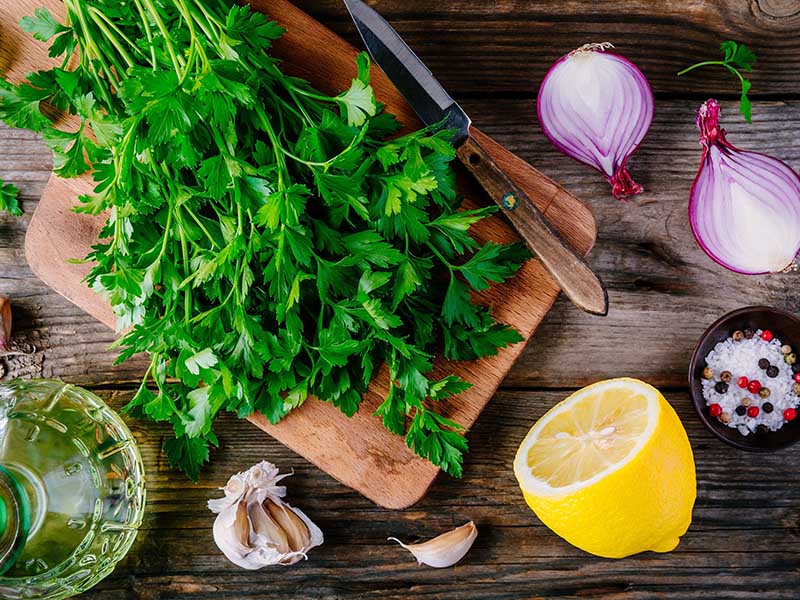 People in central, eastern, southern Europe, and western Asia love to cut up curly leaf parsley and use the herb for garnishing. They practically add these herbs to every savory recipe, from soups, fish, meats, salads, to sauces.
The Italian people especially love the taste of parsley in their salsa verde – a kind of traditional green sauce consisting of capers, anchovies, parsley, and garlic.
One downside of parsley is that it isn't a particularly great stand-alone seasoning herb. Therefore, it's best used in conjunction with a mixture of fragrant herbs and spices like thyme, oregano, basil, and rosemary.
One example of a mouth-watering herb combination is Brazilian cheiro-verde. To make this "green aroma", Brazilians will mix chopped parsley with chopped scallion. They then use this mixture to season an array of rice, meat, chicken, fish, stew, and soup dishes.
As for parsley roots, people in southern, eastern, and central Europe love to enjoy them as a snack or add them to casseroles, soups, stews, and broth.
1 minute is all you need to learn how to use parsley.
Is Basil Good For Replacing Parsley And Vice Versa?
To keep the answer short, yes, you can replace parsley with basil. At the same time, parsley can substitute for basil in a majority of savory recipes. That said, due to their clear differences in flavor, your dish won't taste the same.
Basil generally lacks the earthy and grassy taste that parsley is known for. It also has a more vivid flavor that will stand out in some recipes. Likewise, parsley is too mild in taste and aroma to replace basil completely. Plus, you can't really use it to make sweet dishes.
My advice for you is while you can use them interchangeably, there are much better options that you should try before going that route.
Some basil alternatives that you should try are mint, tarragon, oregano, and thyme. All of them are members of the Mint family, so you can rest assured that they'll taste somewhat similar to your beloved basil.
There is also a heap of must-try parsley replacements that you need to know. For starters, give celery, chervil, arugula, and cilantro a go!
Tempting to try out some yummy basil dishes? Dive right into this section for three irresistible cooking ideas!
Basil chicken is a well-loved street food in Thailand and is a great starting point for your basil journey. Pair your chicken with some hot steamed rice and a fried egg. The dish is so delectable that you won't be able to stop eating.
Enhance your meal with a dash of fresh tomato and basil salad delight. The dish is perfect for a quick and simple lunch and will pair well with any savory recipe. For extra crunchiness, don't hesitate to add some cucumber.
Re-energize yourself with this tasty tomato basil recipe.
How about some slices of grilled fish showered in tangy lemon-basil vinaigrette for dinner? This protein-rich, meaty white fish recipe will ensure you a filling and healthy meal. Remember to garnish your plate with 1 teaspoon of basil to maximize its tastiness.
Crazy Delicious Parsley Dishes To Try
Don't worry, I haven't forgotten about parsley yet! Besides parsley herbs, I'll also throw in a parsley roots recipe just in case.
Let's start the list with something light and easy to make. In addition to being an outstanding garnish, parsley also serves well as a vegetable in a refreshing summer salad. For more colors and flavor, toss in some red onions.
Although people usually associate pesto with basil (and for good reasons), parsley can also be used in making this old-but-gold sauce. Make use of pesto's versatility by pairing it with pasta, bread, or pizza.
Cook up the best-tasting pesto with basil and parsley.
Parsley root soup is a simple yet delicious clean eating recipe. Despite the total absence of meat, the soup still has a charming and delightful flavor. If you want to add a touch of sweetness to your dish, some lady apples will do wonders.
FAQs
These commonly asked questions will give you a deeper understanding of basil and parsley, so make sure to give them a thorough read.
Make Your Pick Between Basil And Parsley
How do you feel about basil and parsley after reading all the information above? If anything, learning more about these herbs makes it even harder to pick one between them. The good news is you don't have to! I mean, there's no reason not to incorporate both into your meals.
Please write what you think about the article in the comment section. I'd be even happier if you could like and share this post with the people around you!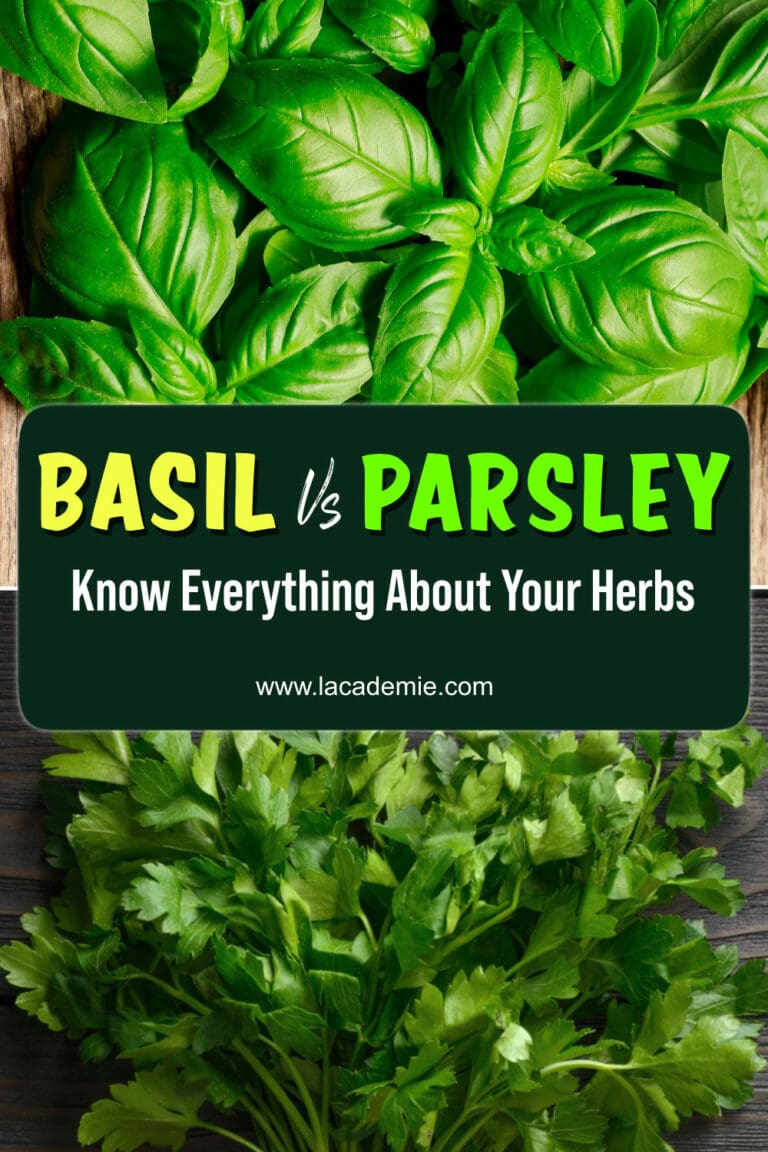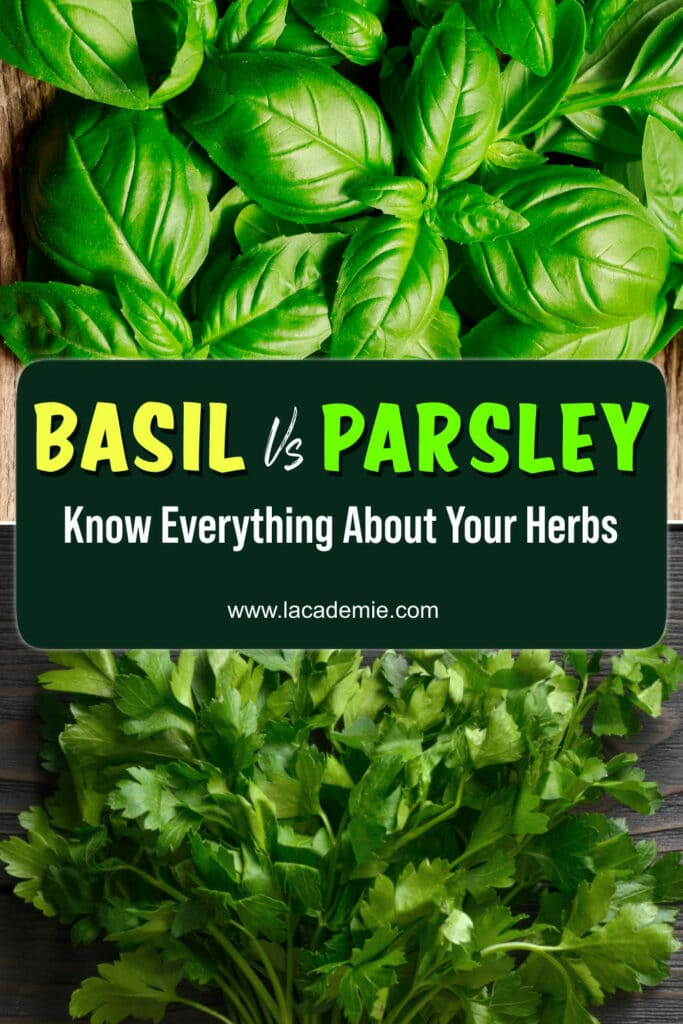 References
Contributors to Wikimedia projects, (2003). Basil – Wikipedia
Contributors to Wikimedia projects, (2001b). Parsley – Wikipedia
FoodData Central
FoodData Central