Basil vs mint, can you tell the difference? Whether your answer is yes or no, I promise that you'll find benefits in reading this post. I mean, it's never hurt to know more, right?
Let's step into the world of aromatic herbs to find out everything about basil and mint. In addition to essential information, you'll also learn some delicious recipes and the best kinds of herbs to buy (or grow)!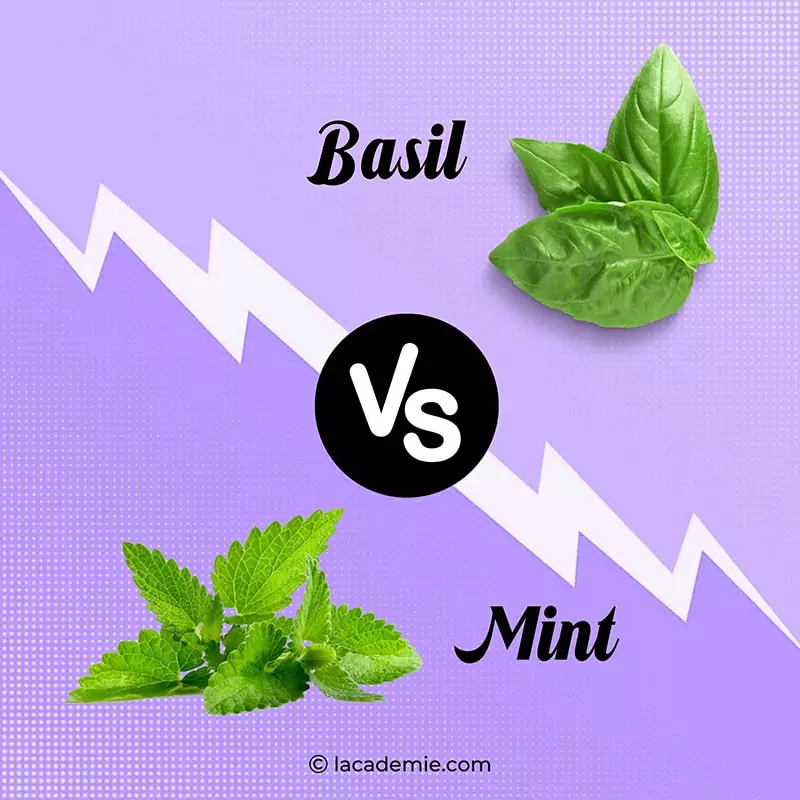 A Summarize Of All The Main Differences
A lot of people think that basil and mint are "cousins" to each other, and that's correct from a botanical perspective. With that being said, you shouldn't think that they are the same as these two herbs have more dissimilarities than similarities.
Main Aspects
Basil
Mint
Appearance

Ovate shape, pointy end

Glossy, smooth texture

Can be green, red, or purple

Oblong and shaped like a lance

Hairy and textured

Grayish-green, blue, purple, and light yellow.           

Harvested Leaves' Shelf Life

Fresh basil: 2 weeks in the fridge, and about 6 months in the freezer (at most)
Dry basil: 2-3 years in the pantry

Mostly have the same shelf life as basil
Main Usage

Used as a seasoning herb for various cooking recipes
Commonly appear in Italian, Thai, Vietnamese, Indonesian, and various other Asian countries' cooking

Used in both sweet and savory dishes
Used in many products that call for a refreshing sensation

Plant family
Lamiaceae
Lamiaceae
Origin
Southeast Asia to Central Africa
Asia, Africa, Australia, Europe, and North America
Cultivars
At least 50
Between 13 and 24
Flavor & Odor
Sweet and savory flavor profile with hints of pepper, clove, anise, and mint
Bitter, yet sweet flavor and a cool, refreshing aftertaste
Plant's Lifespan
Often less than a year except for some perennial varieties
5-10 years
Basil – From A To Z
First, let's find out what basil is and why many people can't seem to get enough of this fragrant herb.
General Information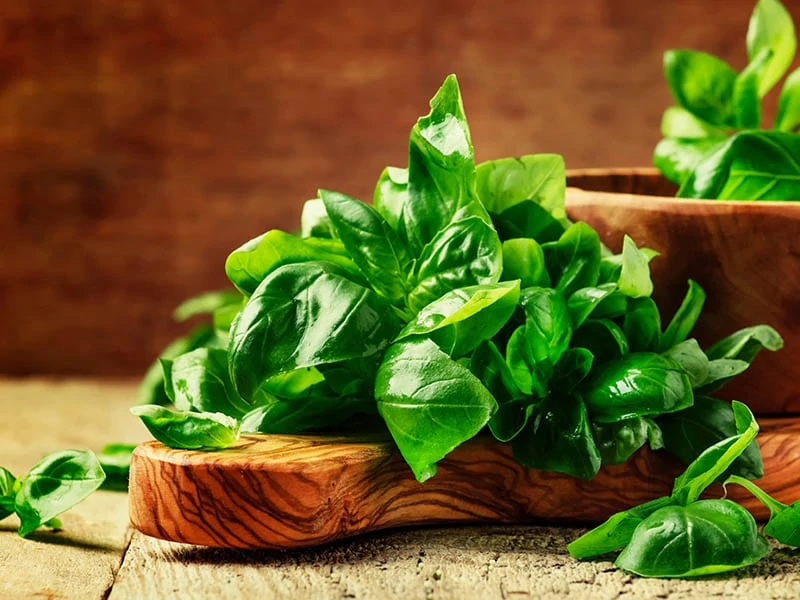 Basil (Ocimum basilicum) is a culinary herb belonging to the Lamiaceae plant family. If you're familiar with botanic terms, you'll probably notice that the Lamiaceae family is also called the "mint family". In other words, basil and mint are (in a way) related to one another.
The best thing about basil is that you can make use of every part of the plant. While the leaves are the most famous parts, you can also use basil flowers for many purposes. If you have the chance, definitely try some basil flower tea!
Like most herbs, you can find basil in either fresh or dried forms. There are plenty of things to consider when choosing between fresh and dried basil. For example, what kind of dish are you making? Do you prefer a milder or more intense flavor?
Origin And Cultivars
Natively, basil grows in the warm, tropical areas from Southeast Asia to Central Africa. However, it would be a mistake to think that there's only one basil variety throughout these regions. (1)
Currently, experts have found at least 50 cultivars of this herb. Some of the more well-known ones are sweet basil, holy basil, Thai basil, and cinnamon basil. Most of them are annual herbs, though some varieties (like African blue basil) are perennial.
I bet that you haven't heard of these basil varieties!
Lifespan
Being an annual plant means that basil will leaf out, flower, make seeds, and die off in less than a year. Its life cycle often starts in spring and ends in the cold of winter. The cool temperature of fall is the ideal condition for this herb to produce seeds.
Appearance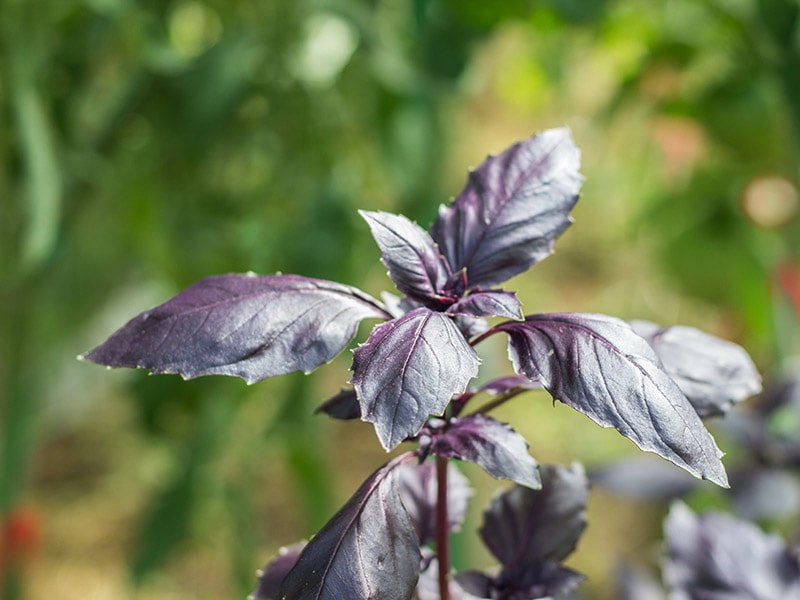 Basil leaves, and flowers will look different depending on the varieties. That said, an average consumer is most likely to come across sweet basil (Genovese basil) since it is one of the most commercially available types.
Typically, sweet basil leaves are ovate and rounded in the middle with a smooth texture. They have pointy ends and are green and glossy. When dried, the leaves will turn into a darker green color.
In addition, you might also find basil in various shades of green, red, and even purple. The leaves also vary in size and can be as small as 3 cm in width and 1 cm in length. Some varieties, however, produce leaves that grow up to 11 cm lengthwise and 6 cm widthwise.
Flavor & Odor
It's no exaggeration to say that taste and odor are what make or break a culinary herb. As for basil – a widely loved herb, you can expect a sweet and savory flavor profile with hints of pepper, clove, anise, and even mint.
That said, the flavor of basil isn't as simple as that. Different kinds of basil will boast slightly varied taste features. For example, Thai flavor will lean more on the anise, spicy, and licorice side, while sweet basil will be fresh, peppery, and a bit minty.
Find out the taste of 6 famous basil cultivars.
Usage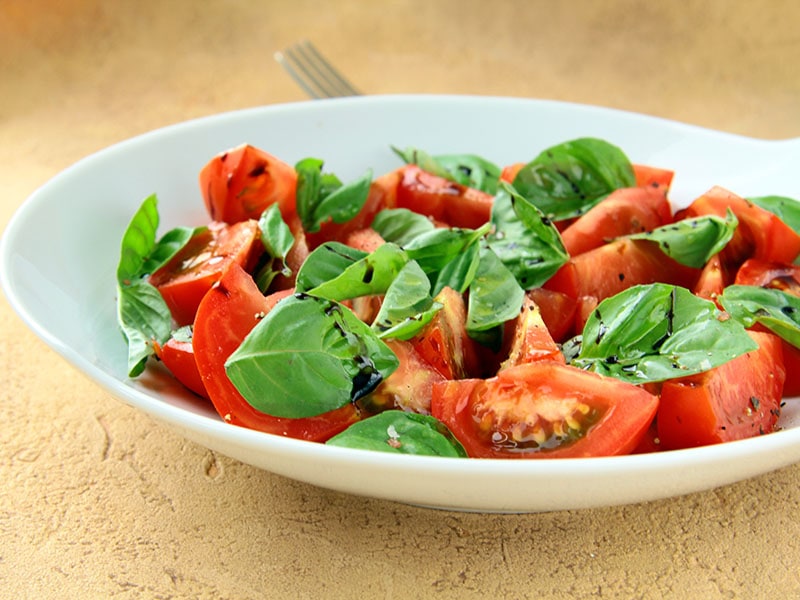 Basil is an incredibly versatile herb that appears in many countries' cuisine, including Italian, Thai, Vietnamese, Indonesian, and various other Asian nations. Its unique flavor pairs exceptionally well with tomatoes.
You can add basil to pretty much any tomato-based sauce, whether it is used for pasta or pizza. If you're making a summer salad, don't forget to throw in some fresh (or dried) basil for an extra kick in flavor.
Apart from tomatoes, basil, especially the dried type, also works well with other veggies like zucchini and eggplant. Plus, you can use any kind of basil to season your fish, poultry, and even brew tea with it!
What You Need To Know About Mint
Next on the list is mint, another culinary herb held in high regard by many. By now, you've known that mint and basil belong to the same botanical family, but what are the aspects that differ one from another? Check out this section to know all about mint!
General Information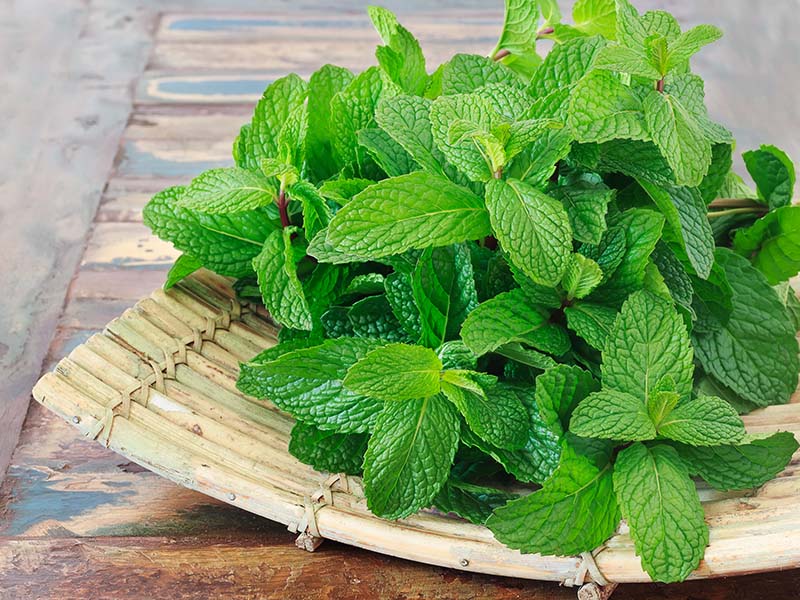 Mint (or mentha) is a perennial, fragrant herb that is commonly used in both cooking and traditional medication. Similar to basil, it's a member of the Lamiaceae plant family, alongside sage, rosemary, oregano, thyme, and many more. (2)
Both fresh and dry mints are available. However, most people consider fresh mint leaves superior to dried ones as they are more prominent in flavor and odor.
Origin And Cultivars
If you're a fan of mint, you're in luck since this herb is available worldwide. Asia, Africa, Australia, Europe, and North America, anywhere you go, you can easily find this aromatic herb.
Due to how widely distributed mint is, it comes as no surprise that there are an array of mentha varieties. Studies have shown that there are somewhere between 13 and 24 species of mint, with the most popular ones being peppermint, spearmint, and curly mint.
Go through more than 21 mint varieties in this detailed guide.
Lifespan
One advantage that mint has over basil is that the plant will grow back in spring, which is a feature of perennial species. You can start picking the leaves as soon as spring and continue harvesting throughout the year. Typically, a mint plant will live for 5 to 10 years.
Appearance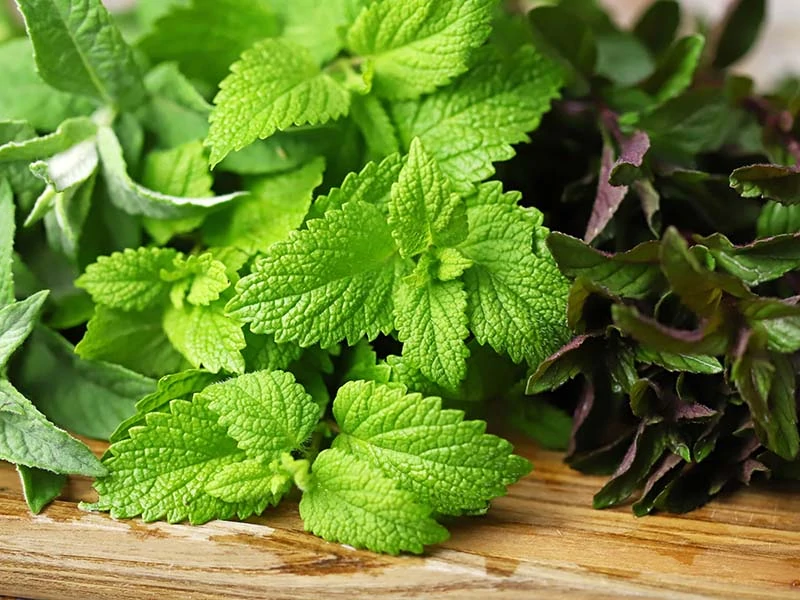 Thanks to their unique shape, it's quite easy to spot fresh mint leaves, regardless of the cultivars. Contrary to the rounded bodies of basil leaves, mint leaves are oblong and shaped like a lance. They also have serrated margins and jagged edges.
While basil leaves are quite smooth to touch, mint leaves are hairy (yet soft) and are more textured. Based on the varieties, you'll come across mentha leaves that are dark to grayish-green, blue, purple, and even light yellow.
In terms of size, most leaves are about 6 cm in length and 1.5 cm in width.
Flavor & Odor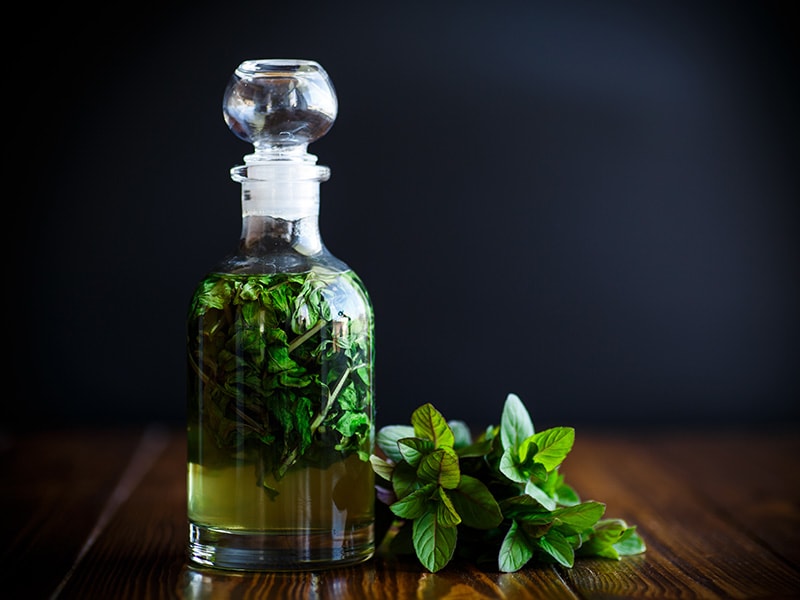 Let's be honest. Mint appears everywhere in the products that people use daily, from toothpaste, body soap, shampoo to chewing gum and cough medicine. As a result, most people are no stranger to the flavor and odor of this herb.
In general, mint is known to have a somewhat bitter yet sweet flavor and a cool, refreshing aftertaste. The leaves are also extremely aromatic and fresh-smelling. Try rubbing a fresh leaf with your fingers, and you'll know what I mean immediately.
Of course, the taste and aroma will alter slightly from species to species. Nevertheless, they all share the same cool and fresh flavor profile.
Usage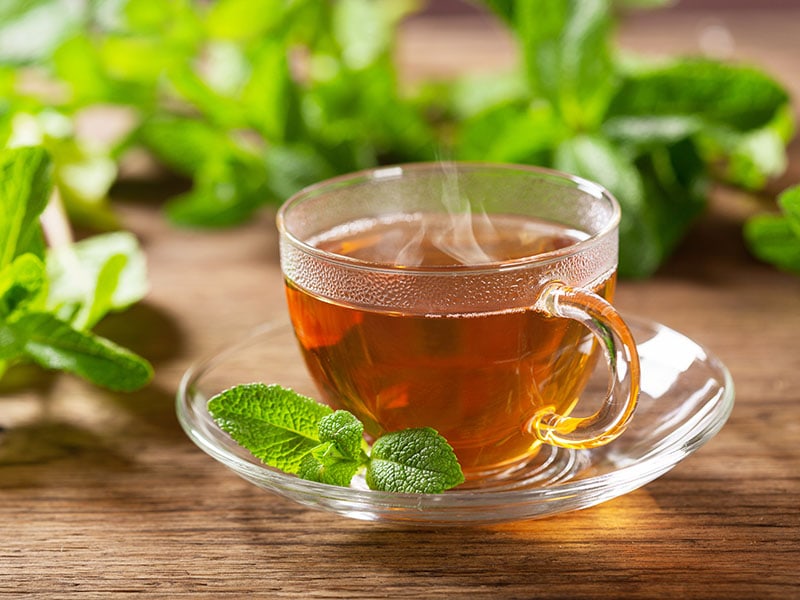 In comparison with basil, mint is no less if not even more versatile since you can use them in both savory and sweet dishes.
The aromatic nature of mint makes it an excellent seasoning for rice and grilled meats. You can also add them to vegetable dishes, especially ones that contain carrots, potatoes, and peas.
Everyone knows that mint is a godsend in sweet desserts. I mean, there's a reason why chocolate mint ice cream is one of the all-time best sellers. Like basil, mint tea is also a thing.
More impressively, the herb appears in various coughs and digestive medicine (which is why some people refer to the minty flavor profile as a "cough syrup taste").
In addition, products that want to evoke a fresh feeling, such as mouthwash, hair rinse, and toothpaste, are also commonly infused with mint.
Is The Fresher The Better?
One question that lots of home cooks have regarding basil and mint is whether to buy them fresh or dry. Overall, fresh herbs are considered better in terms of flavor and aroma. However, dry ones are not without their merits.
Due to the dehydration process, dry mint and basil are deprived of their moisture and oil content, which results in a less vibrant flavor profile. On the flip side, their shelf life is lengthened considerably.
Even if you've stored fresh basil the right way, it will only last for about 6 months in the freezer or 2 weeks (at best) in the fridge. Once dried, however, they can easily stay edible for at least 2 years.
Meanwhile, there are also various ways to preserve fresh mint leaves. And this herb will mostly have the same shelf life as fresh basil as well.
When used in cooking, remember that you'll need to add dry herbs at the beginning, while fresh herbs are more suitable as a "final touch" when the dish is nearly done.
4 simple ways to dry and preserve your herbs.
Should You Substitute Mint For Basil And Vice Versa?
As two members of the "Mint" family, basil and mint can be used in place of one another. That said, expect some changes in flavor since they don't taste exactly the same.
Mint is one of the best alternatives to basil if you're making pesto, though it can be a bit sweet for marinara. When replacing basil herbs with mint, opt for peppermint rather than spearmint. This is because the latter tend to be sweeter, which isn't very "basil-like".
You can swap mint for basil in most savory and vegetable-based recipes. The mild sweetness of basil also makes it a good choice for making sweet desserts. Although a basil chocolate cake might not sound as appealing as a minty one, it'll taste just as good.
The Best Basil And Mint Varieties
If you're unsure which types of basil and mint to purchase, this section is for you! In this part, I'll list some of the best choices for both herbs and their most fitting applications.
Sweet Basil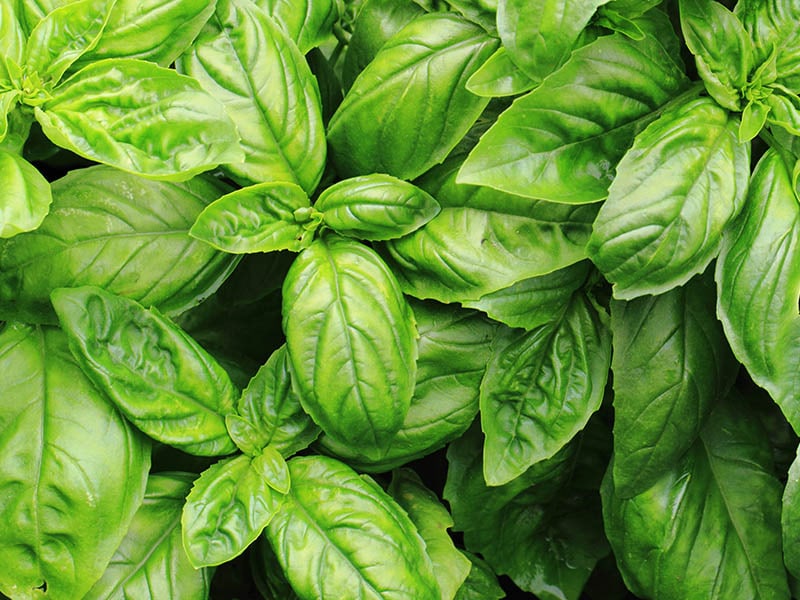 Sweet basil is among the most popular types of basil on the market. Its taste is a combination of anise, pepper, and mint. The fresh flavor of this cultivar will taste the best when used in cooking.
Thai Basil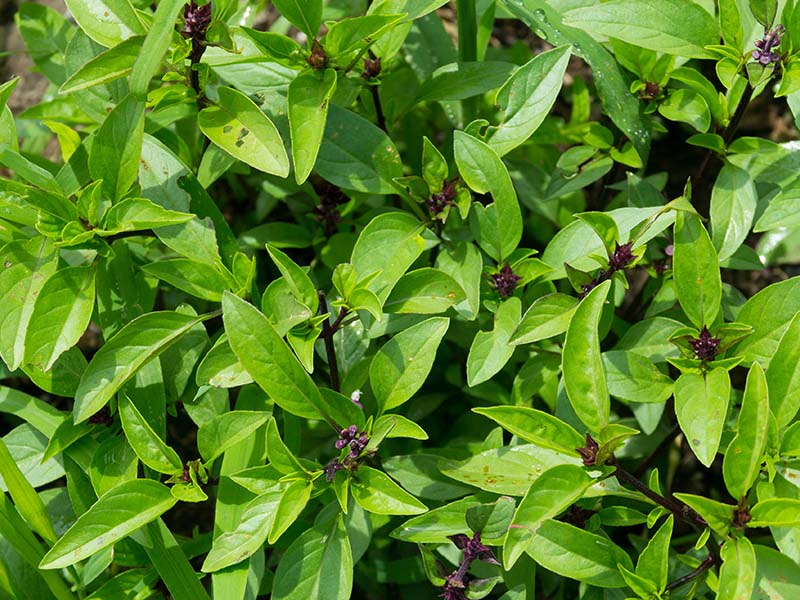 One of the main differences between Thai basil and other basil varieties is its intense, licorice-like flavor. If you're making Asian dishes, this is the number one choice to go for.
Lemon Basil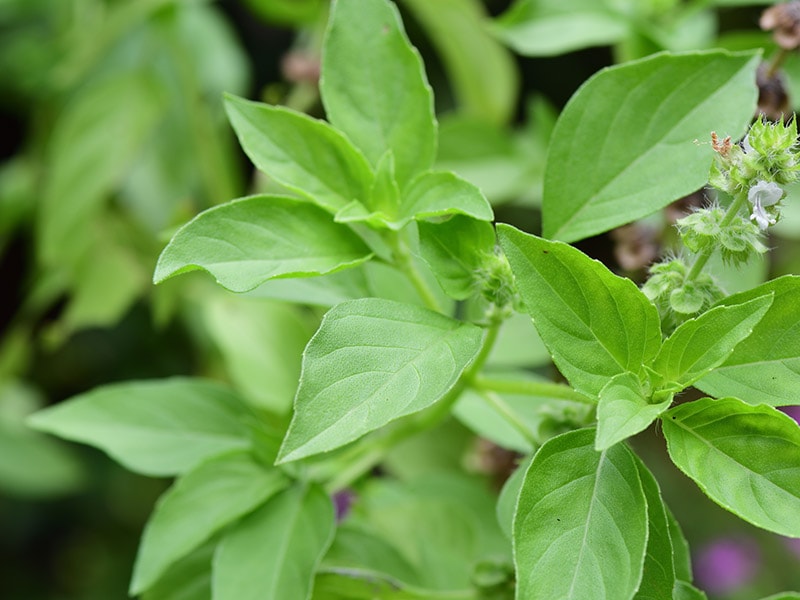 Craving some basil tea? Don't forget about lemon basil. As the name implies, lemon basil has prominent citrus and lemony notes, which create a clean and refreshing taste. In addition to brewing tea, you should also try making sauces with them.
Peppermint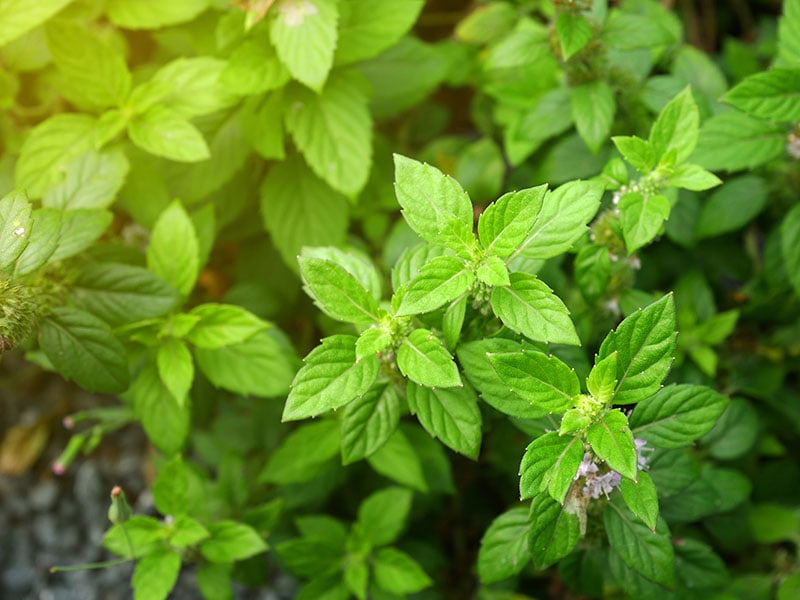 Peppermint is the sweet basil of the mint species. The herb's high menthol content gives it a cooling taste and aroma. To make the best out of peppermint, use it to make tea or put it in a potpourri.
Spearmint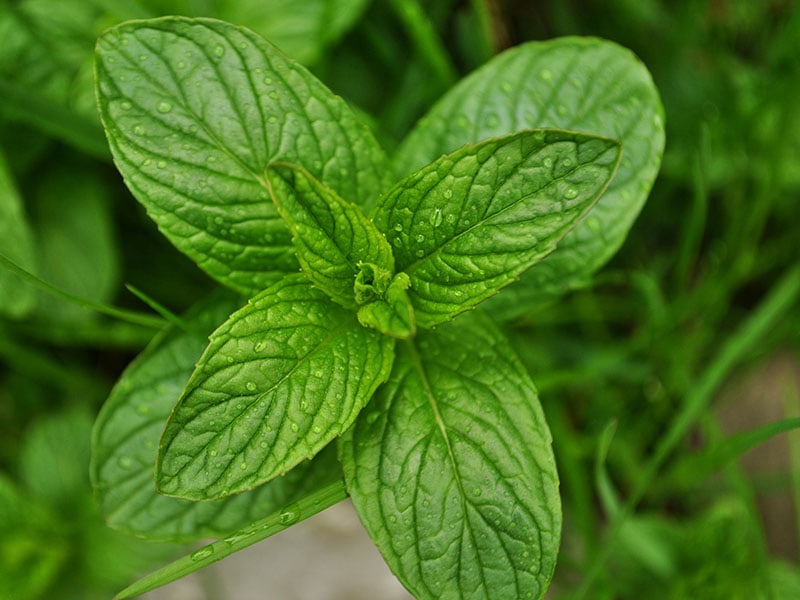 The "spear" part of this variety comes from the unique shape of its leaves. Compared to peppermint, spearmint is much sweeter, thus making it a great choice for flavoring sweet treats. You can also utilize it to brew tea or add it to salads.
Chocolate Mint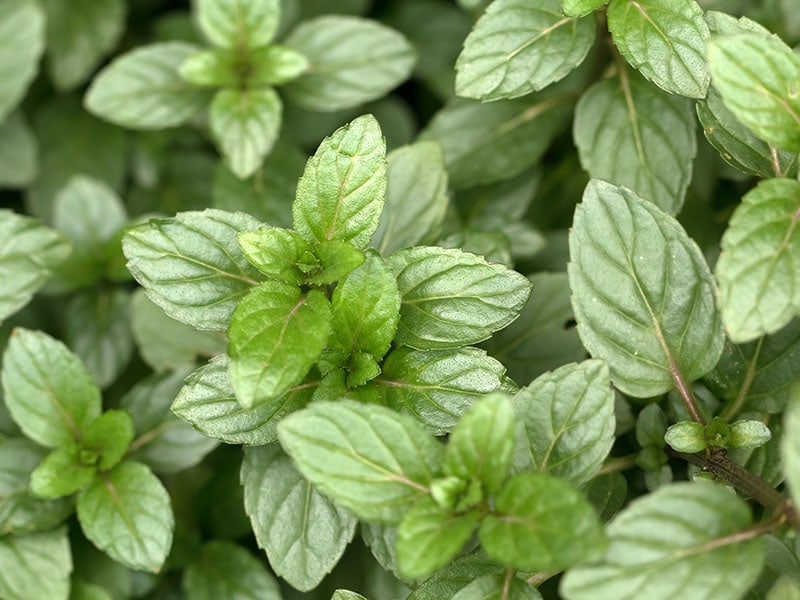 Is a mint species with chocolate notes too good to be true? Not at all! If you're a fan of chocolate, this special variety won't let you down with its subtle cocoa nuances. Chocolate mint tastes exceptional in sweet desserts and drinks.
Don't Skip These Basil And Mint Recipes
After picking the right types of mint or basil, time to put these fresh herbs to work. Here are some worth-making recipes for your fragrant herbs.
Basil Recipes
First on the menu is some tasty basil dishes. Since they are very prominent in Italian and Asian cuisine, I'll show how to make three of the most signature delicacies of these regions.
No list of yummy basil recipes will be completed without a classic pesto. Some people will go as far as saying pesto is the dish that makes basil famous. Whether it's true or not, no one can deny how delicious this recipe is.
Let me introduce you to another unique basil variety: holy basil. In addition to being a religious symbol in Hinduism, holy basil also makes for mouth-watering stir-fried dishes. The Thai know the best way to cook holy basil, so I recommend following their recipe.
If you haven't tried the godly tomato and basil combo, you are missing out! Try making a basil and tomato sauce and pair them with pasta (spaghetti or Fettuccine will do), and thank me later.
Mint Recipes
After enjoying the savory basil recipes above, nothing can beat a couple of luscious, sugary mint-based desserts! If you aren't big on sweet treats, don't worry, I'll also include a healthy salad recipe.
This is the perfect drink for hot summer days. The cooling sensation of mint combined with watermelon's extreme freshness will keep you energized for a whole long day. You can also add some lime or cucumber to elevate the flavor.
Nothing screams a classic sweet dessert more than some tasty chocolate mint cookies. When done right, your cookies will come out thick and chewy with just the right level of sweetness from cocoa and vanilla extracts.
What to make when you're short on time but still want a healthy and delicious salad? Well, simply mix some sliced cucumber with mint, then dress them with tangy yogurt. Voila, your side dish is served!
Learn a yummy cucumber, mint, and Greek yogurt salad recipe in under 3 minutes.
FAQs
For the foodies who need to learn as much as possible about these two culinary herbs, here are some frequently asked questions.
Make Your Culinary World More Flavorful
While being different in many aspects, basil and mints practically serve the same purpose that is to enhance your gastronomic experience. The next time you cook your meal, remember to incorporate one (or both) of them into your recipes!
Basil or mint – which one do you prefer. Hit me with your thoughts in the comment section, and remember to share and like this article if you find it helpful!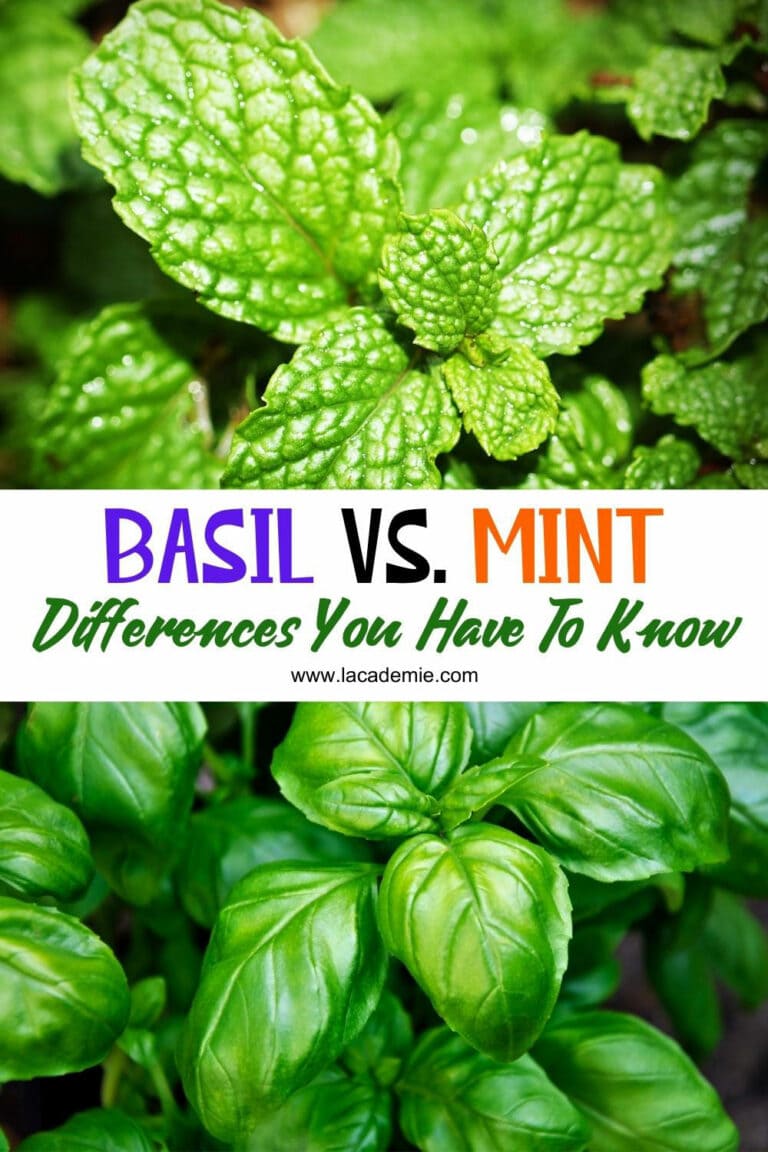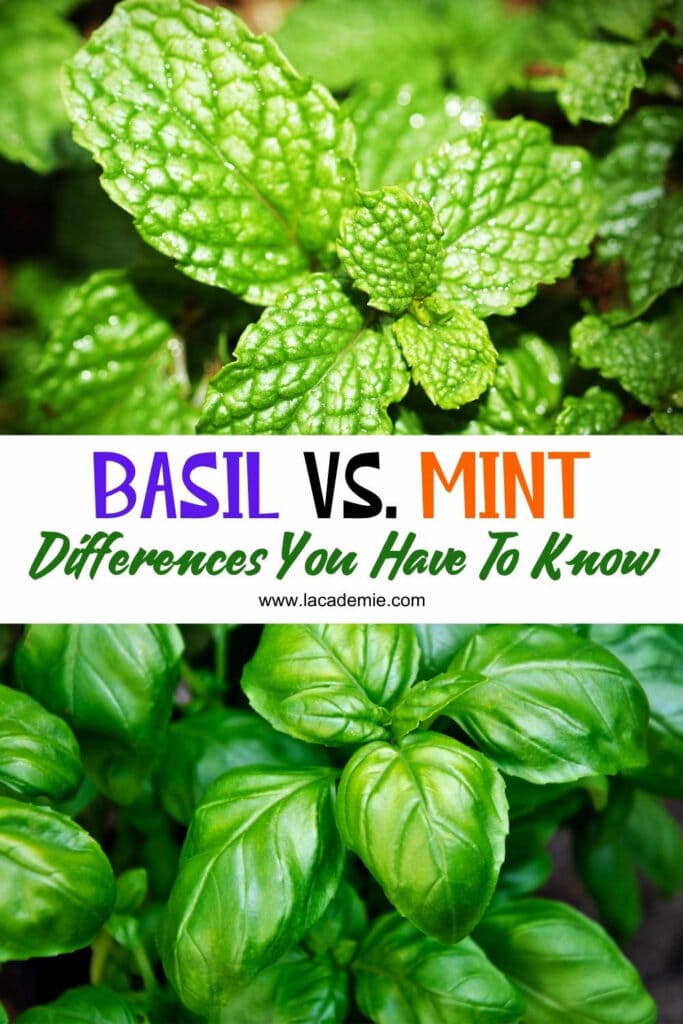 References
Contributors to Wikimedia projects, (2003). Basil – Wikipedia.
Contributors to Wikimedia projects, (2001). Lamiaceae – Wikipedia.