So, what does basil taste like? Is it similar to other herbs? How can you use basil in your home-cooked meals? All these questions will be answered in this article today!
Acknowledging the signature flavor of basil is rather essential, especially when you're a fan of Italian cuisine. Once you know how it tastes, you will be able to match its flavor and aroma with other cooking ingredients effectively.
So if you are ready to become a culinary expert, scroll down and have a read. It will only take a few minutes!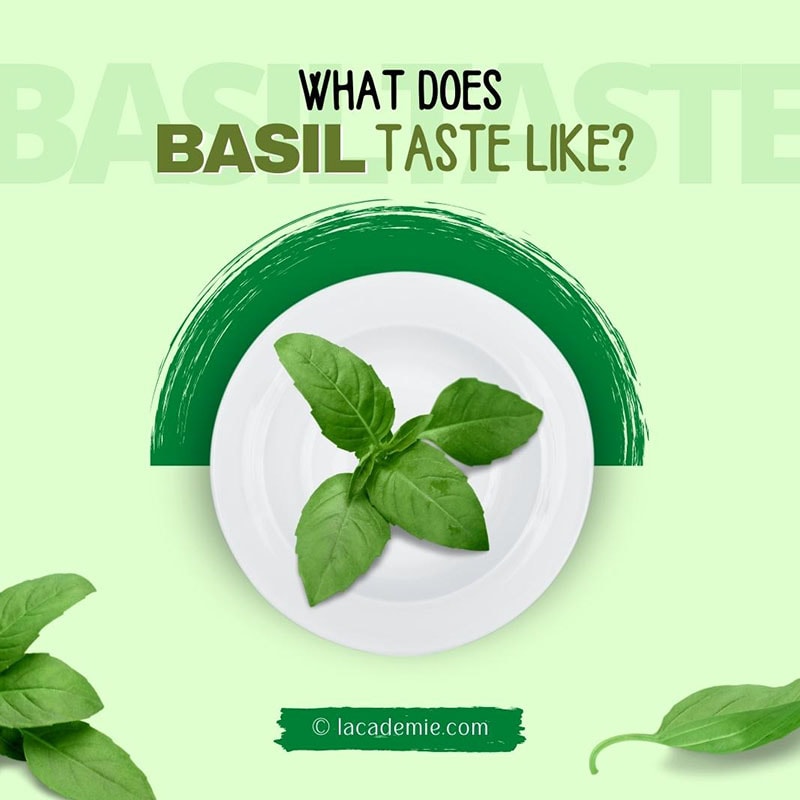 First, Let's Get To Know Basil!
There is more than 1 type of basil available on the market. However, in this section, I will be focusing on sweet basil – the type that you can easily find at your local supermarket.
Sweet basil, also known as common basil or Italian basil, belongs to the same mint family as oregano, rosemary, thyme, and rosemary (1).
For this reason, if you wander around culinary blogs, you'll see topics such as "How is basil different from mint?", "What differentiates basil from parsley?", or "What makes basil different from oregano?". After all, it's not un common to confuse these herbs for one another.
Basil is said to have been initially grown thousands of years ago in China, India, or Africa. However, its exact origin is unknown. The regular basil is now widely cultivated in Italy, France, Egypt, Morocco, California, and other warm climates worldwide (2).
The basil plant has an average height of 4-6" with glossy deep green leaves and tiny purple or white flowers. Flowers in sweet basil plants are not common since they only appear when they have not been pruned.
While it's true that basil flowers are hard to find, it doesn't mean that there's no application for basil flowers. In fact, they can be used in many cooking recipes as well as beverages.
A Summary Chart Of The Taste Of Basil
Now that you learned a thing or two about basil, let's answer the big question: What is the taste of basil? Check out the chart below for a summary of the most popular basil's taste profile:
| Types | Taste | Best for |
| --- | --- | --- |
| Sweet basil/ Regular basil | Pepper, mint, and anise flavor | Italian dishes |
| Thai Basil | Anise and licorice flavor | Southeast Asian dishes |
| Cinnamon Basil | Spicy cinnamon flavor | Asian dishes |
| Lemon Basil | Acidic citrus flavor | Fish dishes, sweets, and tea |
| Lime Basil | Sour citrus flavor | Fish dishes, sweets, and tea |
| Holy Basil | Bitter and spicy flavor | Indian dishes |
| Purple Basil | Clove flavor, less sweet than regular basil | Sauces and pesto |
| Greek Basil | Sweet, anise, and mint flavor | Italian dishes |
| Red Rubin Basil | Similar to green basil but more pungent | Salad and garnishes |
| Green Ruffles Basil | Mild flavor with cinnamon and licorice scent | Fish and chicken dishes |
| African Blue Basil | Pepper and mint flavor | Sauces and garnishes |
A Detailed Guide On The Taste Of Basil
Different basil varieties will offer different flavors and aromas. In this section, I shall give you helpful information about the 11 most familiar basil types so you can compare them and find out the most suitable flavor for your meals, take a look!
1. Sweet basil/ Regular basil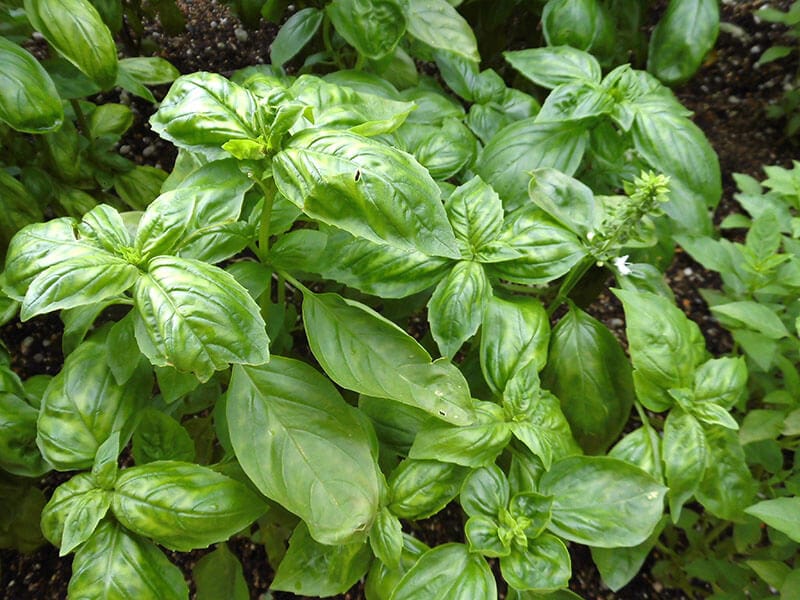 Regular basil has a sweet and savory taste profile with peppery and minty undertones. Some also say it has a hint of anise. Additionally, basil has a clove-like and slightly sweet aroma. You will instantly think of pesto the moment you smell its leaves.
As both regular basil and parsley share a somewhat similar peppery note, many people tend to compare basil with parsley. However, I'd say that these two are completely different herbs with different applications.
Fresh basil's flavor and robust aroma work amazingly well with salads, sauces, and Italian dishes like pizza, pasta, or pesto. Basil is sometimes used as a swap-in for coriander, especially in Asian and European dishes.
2. Thai Basil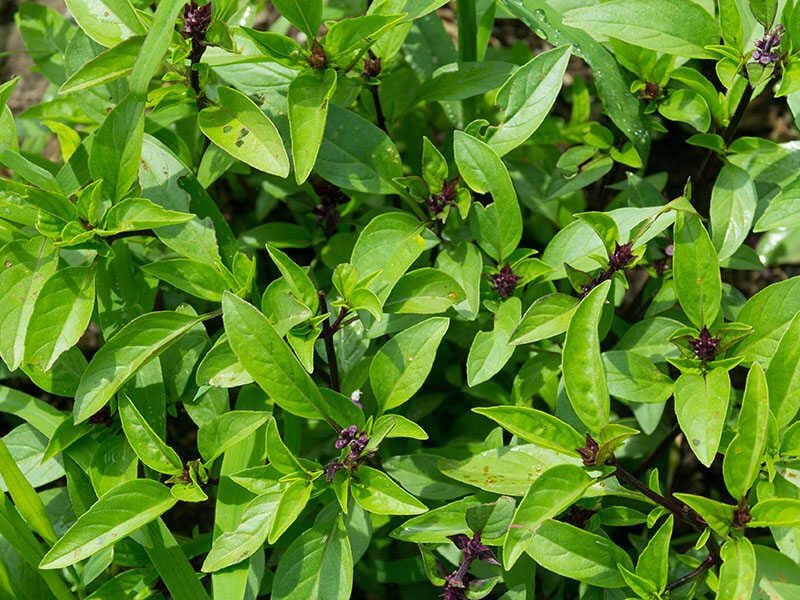 Let's compare Thai basil and regular basil! To describe its taste, Thai basil is much more aromatic and anise-heavy. The licorice taste of Thai basil is also distinct. This flavor doesn't work well on Italian dishes, but it is irreplaceable in Southeast Asian cuisine.
For more information about Thai basil, take a look at this!
3. Cinnamon Basil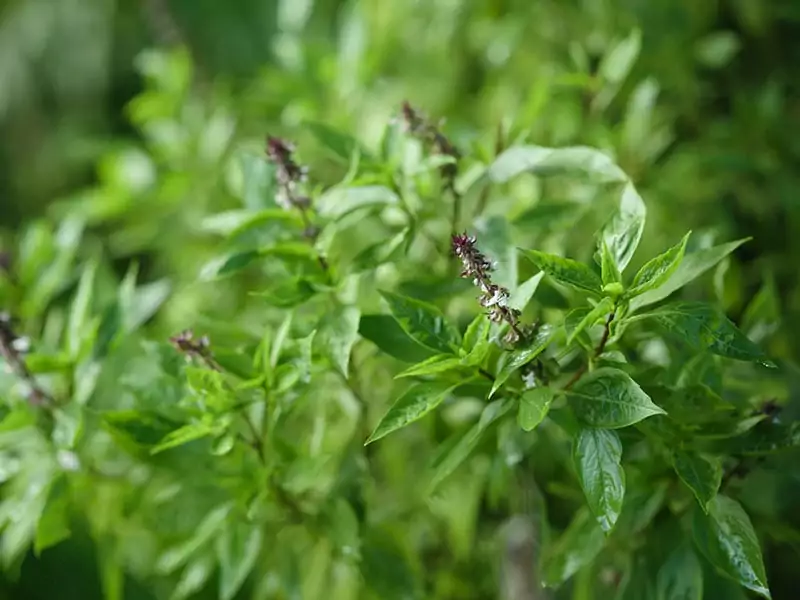 Cinnamon basil is a modest basil cultivar with a spicy cinnamon taste. Asian dishes like stirred-fried noodles and fried rice are among the most common uses in Cinnamon basil.
4. Lemon Basil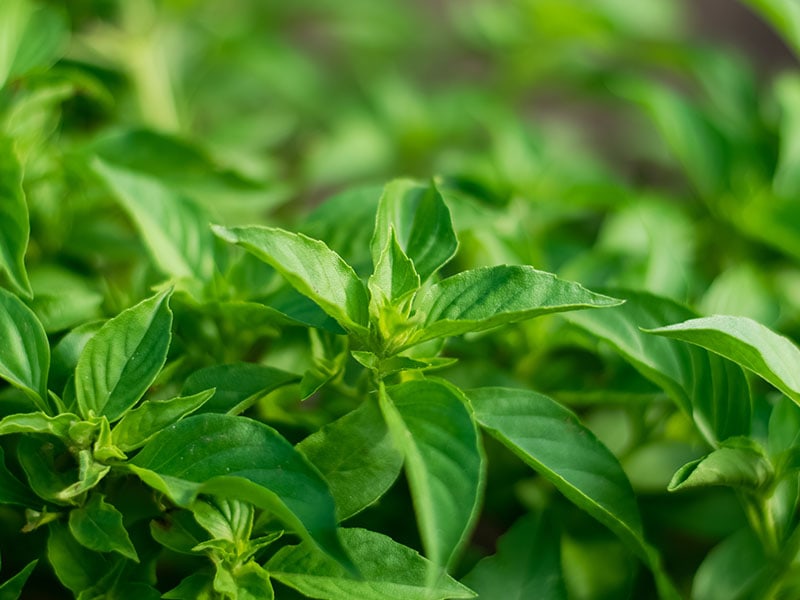 Lemon basil tastes, well, lemony! This acidic and citrus flavor pairs well with fish dishes, salads, or grilled vegetables. People sometimes put Lemon basil in their tea to make it extra refreshing.
5. Lime Basil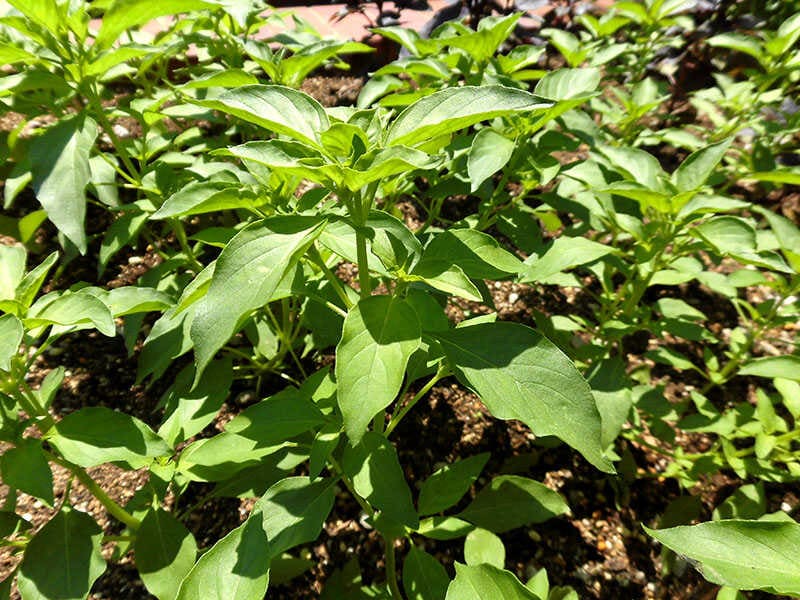 Like Lemon basil, Lime basil can add tons of flavor to your fish and chicken dishes. Its sour taste also helps balance out the sweetness of desserts and drinks.
6. Holy Basil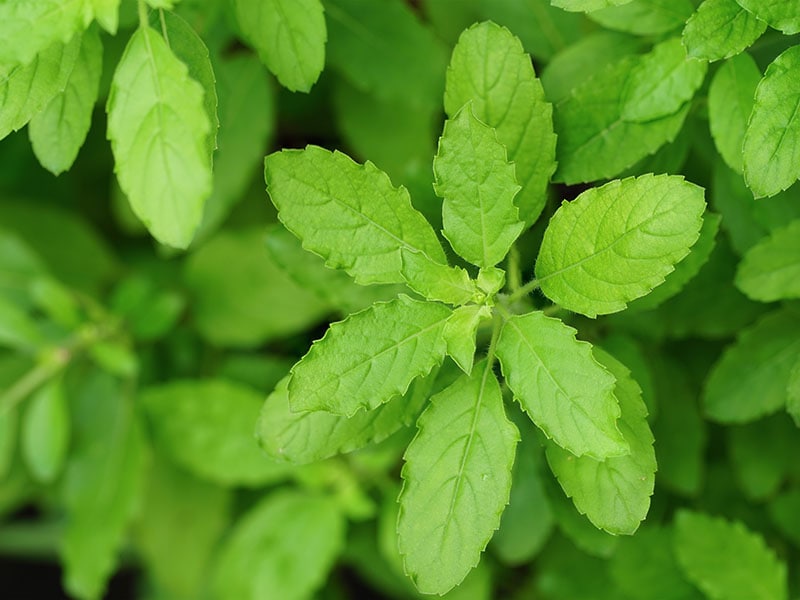 This type of basil has a bitter and spicy taste that works best in Indian cuisine, especially curries, teas, or other rich dishes. Not only that, but Holy basil also has lots of medicinal advantages.
Aside from holy basil, another herb that is often seen in Indian dishes is ashwagandha. However, there are many differences between holy basil and ashwagandha, meaning that these two cannot be used interchangeably.
7. Purple Basil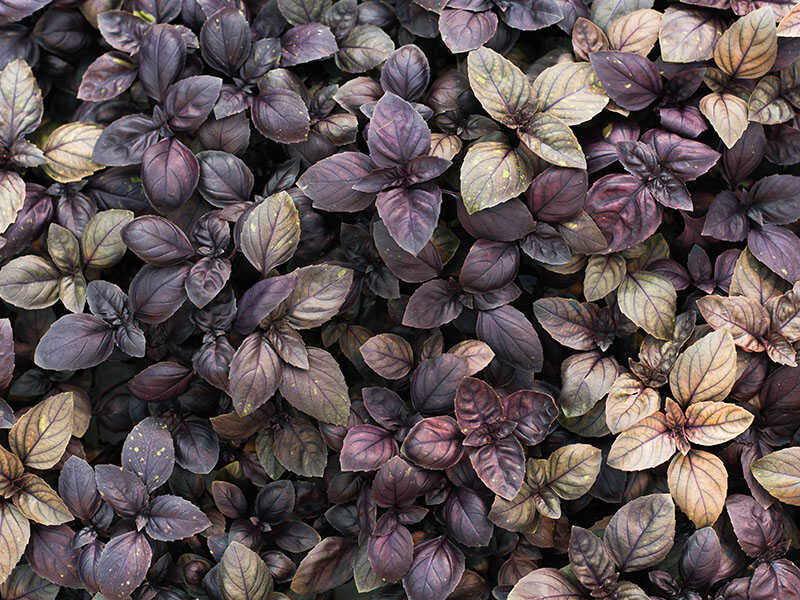 Compared to sweet basil, Purple basil has a similar clove-like scent, but it is less sweet. You can use Purple basil leaves as a garnish to offer a splash of color and aroma.
8. Greek Basil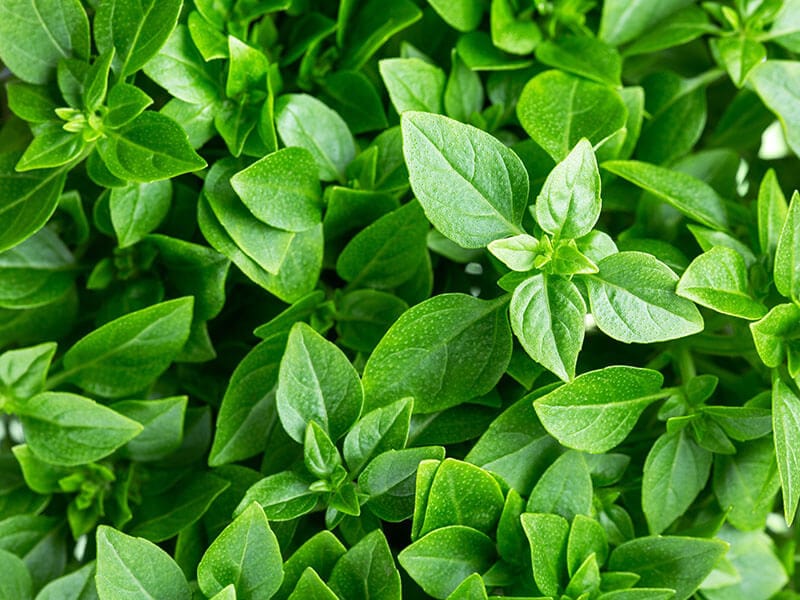 Greek basil plants provide tiny leaves that can also be used to garnish various dishes. You can substitute this for basil, especially sweet basil, whenever you run out, as its taste is almost identical to regular basil, sweet and aromatic with pepper anise and mint hints.
9. Red Rubin Basil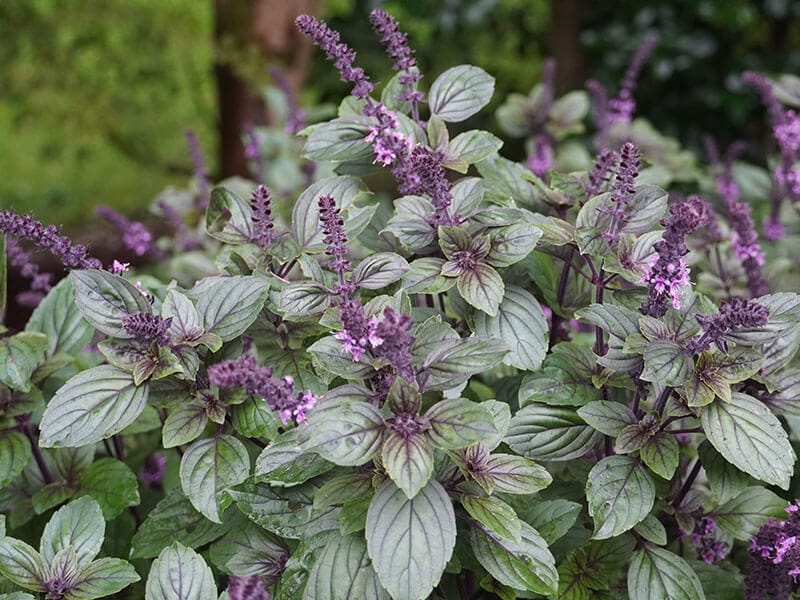 Red Rubin basil offers the same taste as other green basil, though it is slightly more pungent. You can add Red Rubin to your pesto to add color to this sauce, but adding too much will make it bitter.
10. Green Ruffles Basil
The mild, subtle flavor of Green Ruffles basil can elevate your home-cooked meals with ease. Additionally, it adds a touch of cinnamon and licorice scent to your salads and leafy dishes.
11. African Blue Basil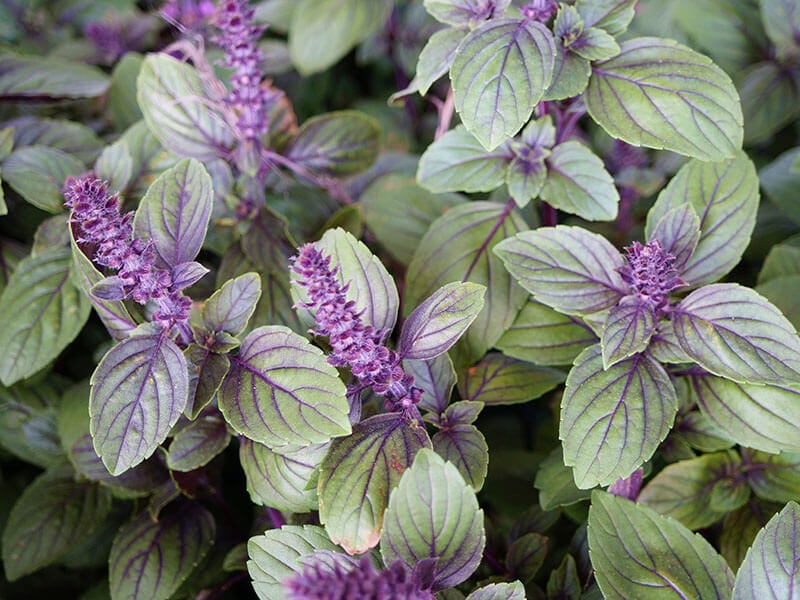 If you enjoy the peppery, minty aromas of basil, African Blue is the ideal basil for you. It can be used to season soups and salads, especially ones that include tomato, green beans, and chicken.
If you are ready to learn more about the taste of different basil types, this can help you out!
Pro Tips For Buying Fresh And Dried Basil
Now that you know the exact taste of basil, it is time to learn how to retain that wonderful flavor. Basil can quickly lose its flavor and smell once it wilts, so it is crucial to grab the freshest batch of basil you can find to guarantee the best quality.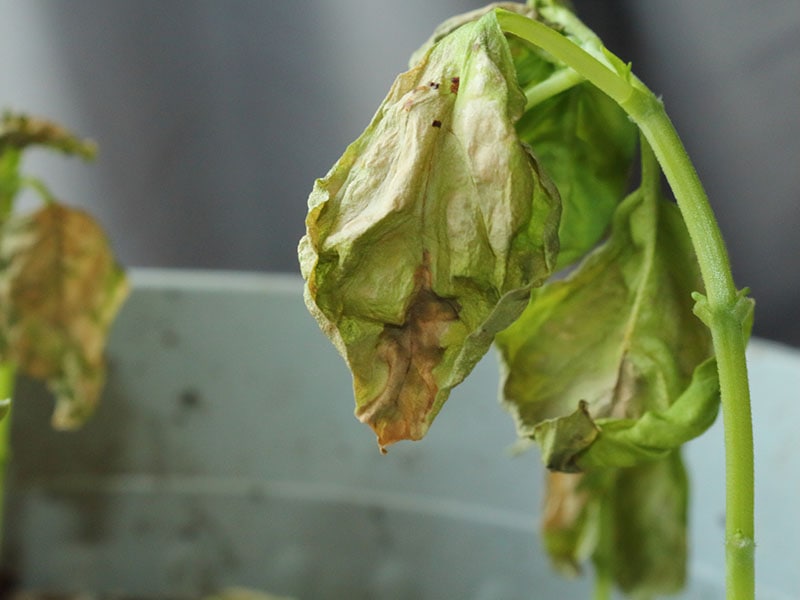 1. Fresh Basil
Here are the signs you should look for when you go shopping for a new batch of basil:
Sturdy green stems
Strong clove-like scent
Shiny bright green leaves, avoid the withered and yellowed ones
Note: To prevent it from wilting, you must learn the proper ways to store fresh basil. Your basil can stay fresh for 3 months with the suitable storage method.
2. Dried Basil
For dried basil, you should search for a high-quality, organically grown brand. This type of product will offer better taste and more nutrients.
If you grow your own, you can look up how to dry fresh basil using the oven and DIY a jar of dried basil! This is the perfect thing to do with large amounts of basil, allowing you to ensure that not an ounce of basil will go to waste.
Want to learn how to dry basil and preserve basil? Have a look!
The Best Ways To Enjoy Fresh Basil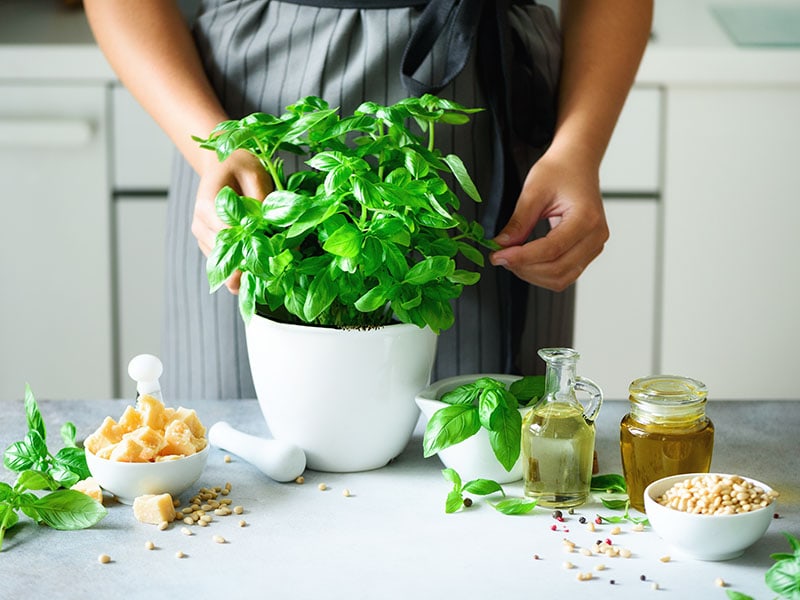 Important reminder: Heat can wilt your basil, damage its flavor and turn it bitter! You don't need to worry about this problem when you add them to salads or use them as garnish. But if you are making basil soup or pasta, you must put it near the end of the cooking process.
Alternatively, you may switch to dried basil, which can be used throughout the cooking process because the heat won't alter its flavor.
Basil tastes best when used on Italian dishes. To be more exact, it pairs well with ingredients associated with Italian cuisine. People also combine this herb with fruit, veggies, or other herbs such as mint, lemon, and eggplant.
Basil is frequently used in pasta and Caprese salads. Besides, it can also add tons of flavor to your curries, soups, and stir-fries. Basil also pairs nicely with steak and poultry, as well as tomatoes, eggs, olive oil, balsamic vinegar, and herbs from the mint family.
Additionally, you can add fresh basil to cocktails as a substitute for mint. Or for a healthy and non-alcoholic option, infuse it with water and make a smoothie out of it.
Overall, based on your preference, you can add basil to any dishes you want to make your diet extra healthy and balanced.
Recipe Ideas Using Fresh Basil
Need some ideas to incorporate basil into your daily diet? Then it's high time you learned some healthy basil recipes. Note down these 3 recipe ideas below and try them out for yourself!
The classic tomato spaghetti can easily be elevated by adding a few shredded basil leaves. This is a simple and delicious recipe that everyone can enjoy with their family members on weeknights or their besties during lunchtime.
Lemon and sweet basil is a match made in heaven! Lemon basil vinaigrette is a vegan, light, refreshing, and flavorful salad dressing. Toss it with your favorite mixed greens, and you will have the perfect side dish to go with steak dinner.
One of the most remarkable ways to savor the freshness and flavor of sweet basil leaves is to add them to a salad. Just by combining heirloom tomatoes, fresh mozzarella, and extra-virgin olive oil, you can give yourself an authentic Italian experience.
For a lively demonstration on how to make a beautiful plate of Caprese salad, check this out!
FAQs
Find out more information about this topic with these frequently asked questions. If you have further concerns, you can leave a comment at the end of this post.
Congrats, You Are Now A Basil Expert!
And that is the end of the article! Not only did you find out the answer to the question "What does basil taste like?" but you also learned many other things about this beloved herb.
Now that you fully acknowledge the flavor profile of basil, you can freely combine its taste with other ingredients according to your preference. Just be creative, the possibilities are endless!
If you enjoy this post, remember to leave a like and comment your thoughts down below. Also, you can spread this knowledge with your friends and loved ones by sharing it. Thank you so much for reading, and take care!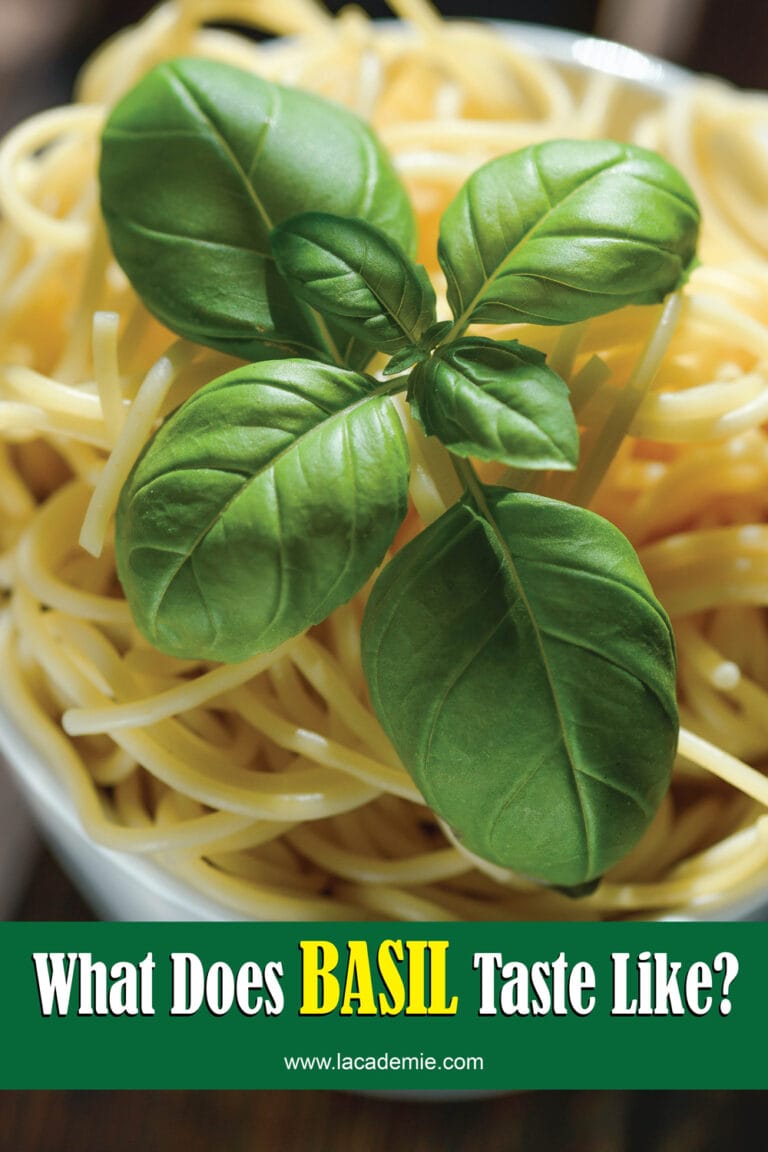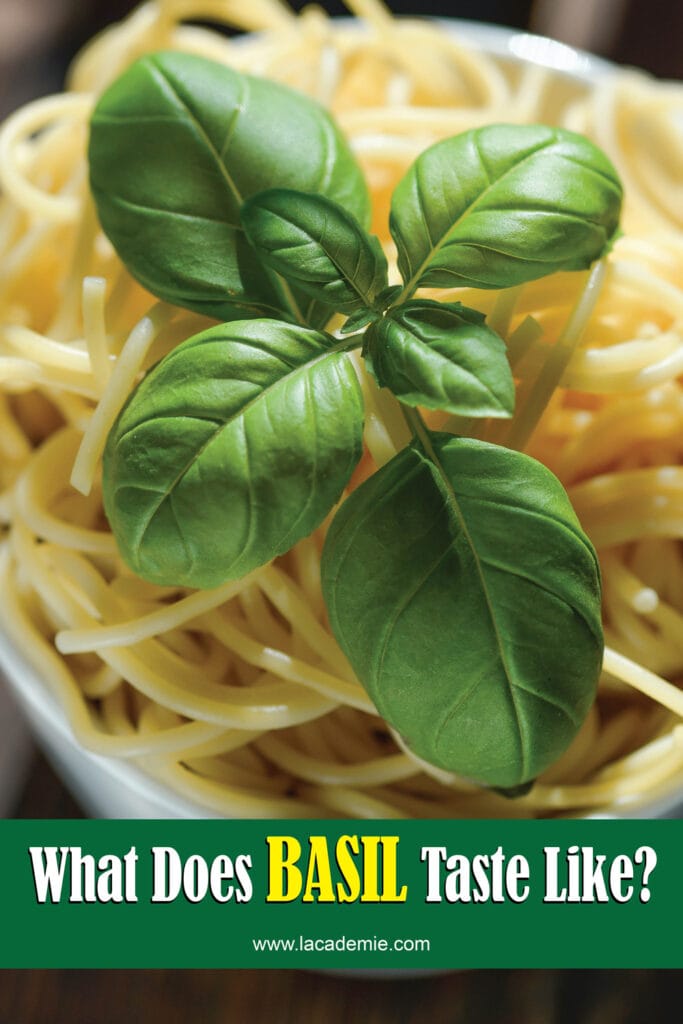 Reference
NC State Extension. Ocimum basilicum.
Wikipedia, 2021. Basil.