It's time for you to find out how to store fresh basil that lasts longer. Why? Because this herb has played an essential role in creating plenty of amazing basil foods around the world. In short, basil will bring a heaven-sent experience to many delicacies.
In the cuisine field, basil is a popular spice. It is added to salad, soup, hot dishes, served fresh, and used as a garnish. Basil leaves are used to produce sauces for meat and fish, added to the gravy, combined with vegetable oils.
Although basil brings a fresh flavor, it does not stays fresh for long. But do not worry about that! There are various ways to prolong basil's shelf life. Let's discover these methods right now, and remember to take note of helpful information!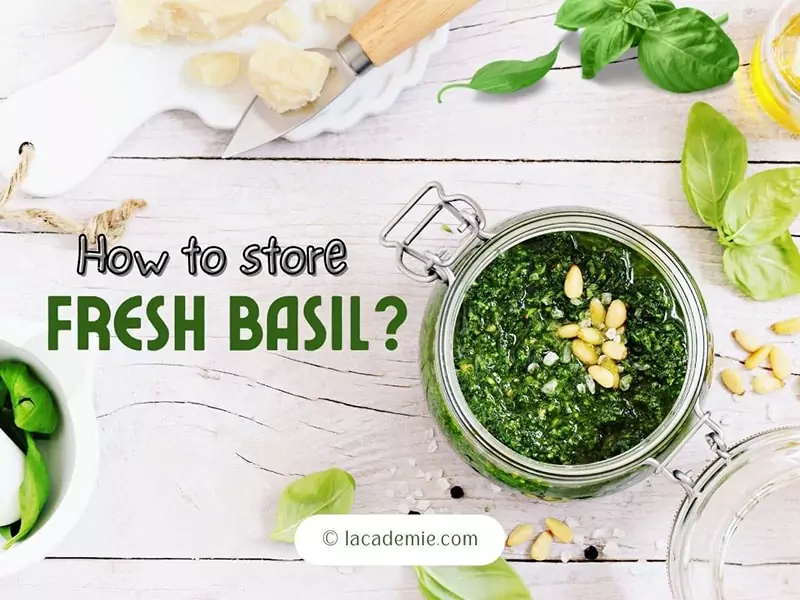 So, How To Store Fresh Basil?
What are methods that you can apply to keep the original basil flavor longer and keep them fresher too? I will show you the list of ways to store fresh basil effectively.
At room temperature
In the refrigerator
Freezing basil
Drying basil
Store basil with vinegar, olive oil
In each way, I will give you the simple methods, and the detailed instructions step by step for you to gain the perfect result. Keep reading!
How To Collect And Select Basil?
Regardless of what variety of basil, when collecting basil from your garden or buying from the supermarket, you need to follow these simple guidelines to keep it fresher and more extended.
What do you need to do when collecting basil?
Harvest when it is dry. This is essential because the basil will be dry and free from moisture or water on the leaves and stems. This helps basil reduce the possibility of waterlogging or rotting of branches and leaves.
Stem length is at least about 15 centimeters.
The stem on a flowering basil bush is not suitable for assembly and storage.
There are ways to use basil flowers so you can pick and store them as well.
The frequency of basil harvesting should be about once every 1.5 months because that is the compatible time for basil to recover and collect the nutrients for development and growth.
So now, what do you need to do when buying basil in the supermarket?
Basil is usually displayed in bundles or packages on the shelves. You should choose undamaged, clean, and fresh products; especially, you have to pay attention to the characteristic aroma of basil.
In supermarkets or stores, basil is sold in bundles, pots, and frozen. A basil pot will grow well in a dark place, away from sunlight. To increase the shelf life of a basil pot, you should store it in the refrigerator, periodically watered.
How To Store Fresh Basil?
There are many simple ways to store fresh basil efficiently. Today, I will show you amazing methods to preserve basil at room temperature, in the refrigerator, in the freezer, drying basil as well as providing some tips to store basil with vinegar, and olive oil.
1. At Room Temperature
For longer-term storage, you should apply these fantastic ways to store basil naturally and keep the entire nutritional composition of basil. There are 2 simple ways that you can apply now:
Method 1: Store Your Basil Like a "Flower Bouquet"
As with all fresh vegetables and herbs, even those that can replace basil, it is helpful to think of it as a neatly trimmed bouquet.
The flower branches with soft, green, fresh leaves and basil are the same. Think of basil as those bright green flowers. Store, and keep them fresh for longer as you do with flowers.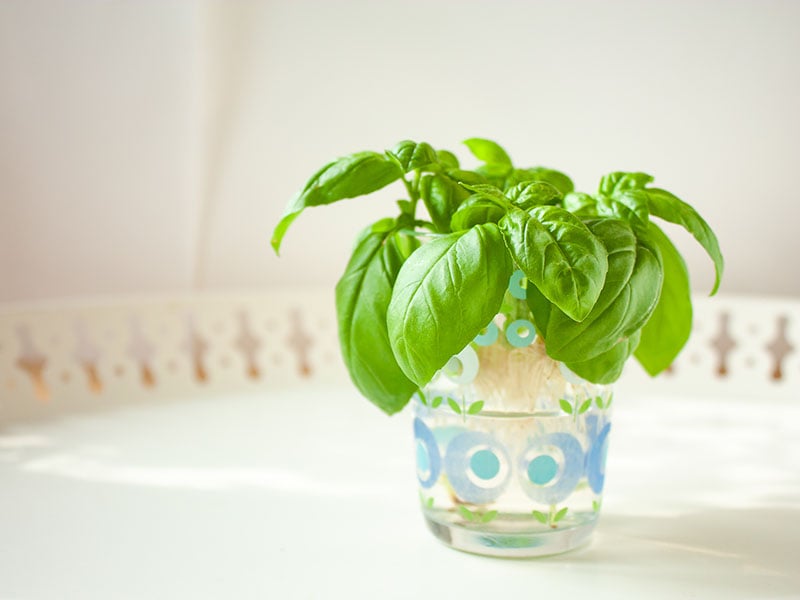 What you need:
A glass
Water
Plastic bag
Instructions:
Step 1: Fill a jar halfway with water
Step 2: Trim the stems
Step 3: Add to jar and store at 65 degrees Fahrenheit
Step 4: Place a bag loosely over basil
Step 5: Change water every 1-2 days
By this method, you can keep fresh basil naturally, but when you want to use basil leaves, you have to cut the green, fresh, and old leaves and do not cut the young leaves or buds because plants will die quickly. That is an excellent and simple way to do it.
Method 2: Keeping Potted Basil Indoor
Most people prefer fresh and clean foods, especially vegetables. They always want to eat freshly harvested vegetables because they contain all the nutrients, and basil is the same. So keeping a basil pot in your kitchen is a great idea.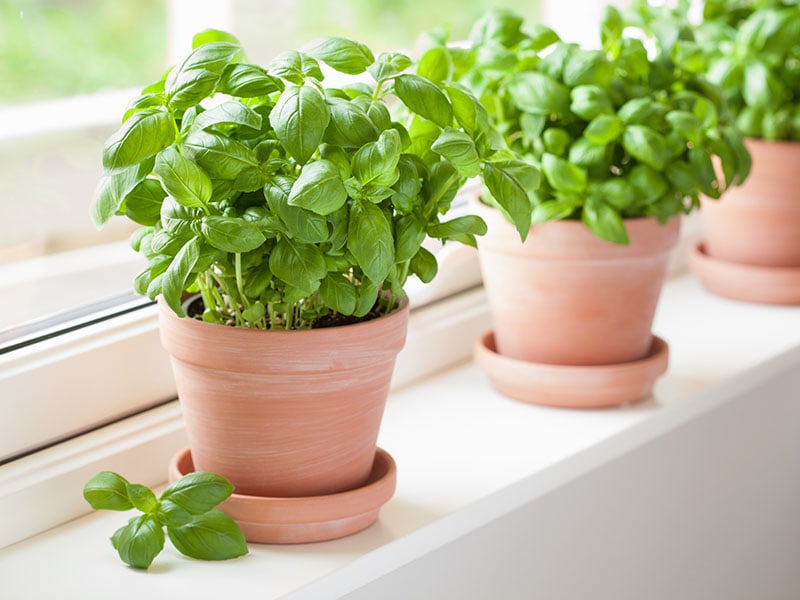 You do not know how to keep a basil pot indoors and take care of it to ensure that you will always have basil whenever you need it. I will show you how to do that now:
Step 1: Set ample sunlight – but not a hot location (a tricky balance). Some good ideas for you are putting a basil pot in your kitchen, balcony, house corridor, or your bedroom. I kept my basil in the window in my bedroom, which is air-conditioned at night.
Step 2: Keep moist and water regularly. You need to pay attention to it and spend time taking care of it, please!
Step 3: Pluck leaves as needed.
Step 4: Replace plant 1-2 months.
In my opinion, I highly recommend you apply the above two simple methods if you want to enjoy basil in the best situation. Moreover, it is convenient and cheap, because it is always in your house whenever you need it and you do not need to spend a lot of money buying it frequently.
2. In The Refrigerator
Refrigeration is only valid if pre-cut greens are used. In the case of herbs that have to wait a few days or weeks, you should buy basil and plant it in a pot. So the spice will retain its beneficial properties longer and will delight you with its appearance for a long time.
Method 1: Container, Plastic Bag
This is a quick and straightforward way for you. To store fresh leaves, you should select a clean, dry container with holes (for sufficient gas exchange).
If the container is tightly closed, the basil will quickly become unusable. The main task of the container for storage is to keep the plants fresh and ready to eat for as long as possible.
What you need:
After preparing all the supplies that you need. Wash basil with water to remove soil and dirt on the plants; after that, please, follow these instructions step by step to preserve it:
Step 1: Pluck leaves and rinse.
Step 2: Gently pat dry – in this step, you try to be careful to ensure the freshness and quality of leaves. It is essential because you can store basil fresher and more protracted.
Step 3: Wrap in dry paper towels.
Step 4: Refrigerate in containers (you should use a dry container with holes).
Step 5: Use within 12 – 24 hours.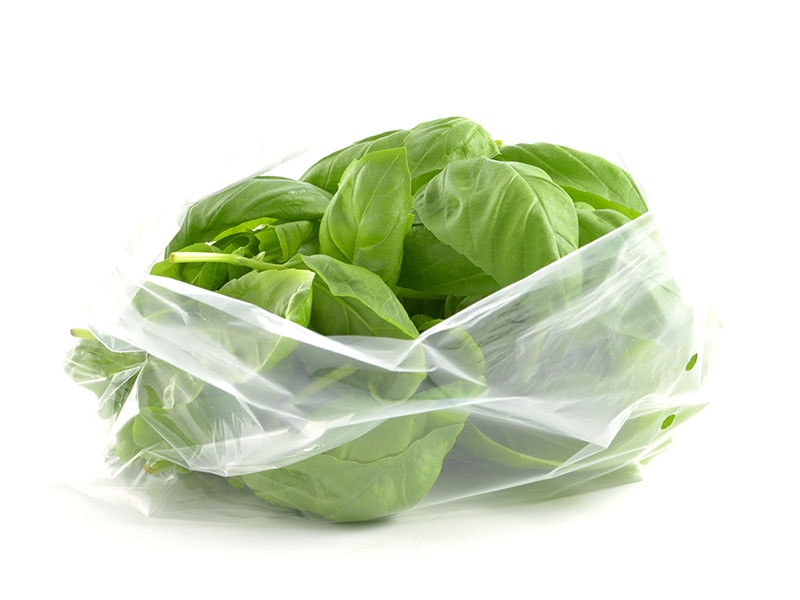 So, If you do not have a container in your house, what can you use to replace it? Yeah! Do not worry about that! I have another selection for you now. You can use a zip lock bag or plastic bag (with holes) to replace the container. Is this a fantastic idea, right?
Method 2: Puree
This is a convenient and effective way to preserve basil in the refrigerator. Raw materials are concentrated and can be stored in portions.
This is also convenient in that pureed basil usually leaves no waste, thus reducing the likelihood of clogging. So if you still can't decide between a continuous feed or a batch feed garbage disposal, this is a great way to process your food to minimize food waste that may clog your sink.
What you need:
Basil leaves and stems
Water
Blender
Ice cube tray
Follow the instructions step by step to get a good result:
Step 1: Put leaves and stems into a blender, add a little water.
Step 2: Blend the mixture thoroughly.
Step 3: Put all the blended mixture into an ice cube tray.
Step 4: Put it in the freezer for storage.
You can replace water with other liquids such as vegetable oil, vegetable broth, or even green tea.
Watch this video to know more:
3. Freezing Basil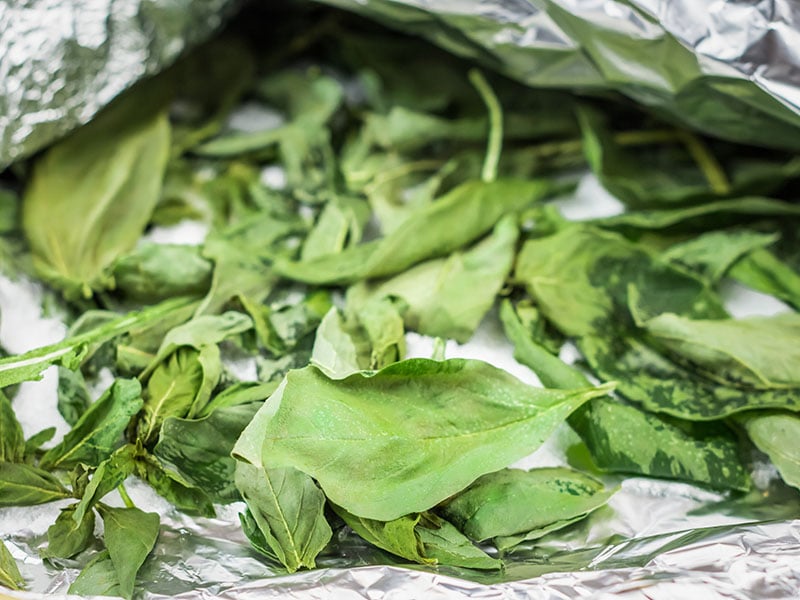 If you need another way to preserve basil in the refrigerator, you can try freezing fresh basil. This method can help you take advantage of your freezer to keep the nutrients, fresh, color, and aroma of basil last longer.
What you need:
After preparing all essential things, let's follow the instructions step by step:
Step 1: Boil water and prepare an ice bath
Step 2: Blanch for 10 to 15 seconds
Step 3: Move immediately to ice water
Step 4: Dry with a paper towel
Step 5: Arrange the leaves on a lined baking tray.
Step 6: Flash freeze the basil for about 12 hours.
Step 7: After 12 hours, transfer the leaves to a freezer container or freezer bag.
Step 8: Freeze for up to 6 months.
4. Drying Basil
Is there any big difference between fresh basil and dried basil in flavor? In fact, the drying method allows you to keep all benefits, nutrients, and flavors of basil. Although this method is the most complicated way for you to apply, it brings many good results.
Method 1: Air-Drying
Dry by the natural air will keep the unique aroma, vitamins, nutrients, and minerals of basil. To do this method, you need to prepare a baking sheet covered with parchment and choose a suitable time and place to dry basil.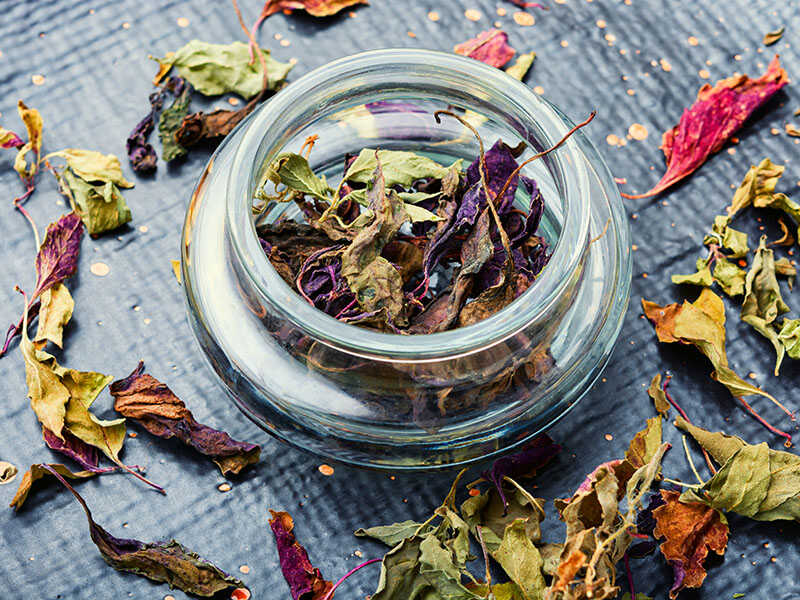 Following these instructions step by step to get the best result:
Step 1: Spread out the basil leaves on parchment paper on the baking sheet.
Step 2: You need to cover this place with a layer of gauze to avoid flies, dust, and other insects.
Step 3: Put it in a dry and warm place or take it to the street for 1-3 days.
Step 4: After 1-3 days, check the quality of your basil and put your dried basil leaves in a container.
Method 2: Use The Oven To Dry Basil
This method will help you not spend more time drying and waiting than method one. However, if you dry it too thoroughly, it is the risk that it will cause the leaves to dust and lose vitamins.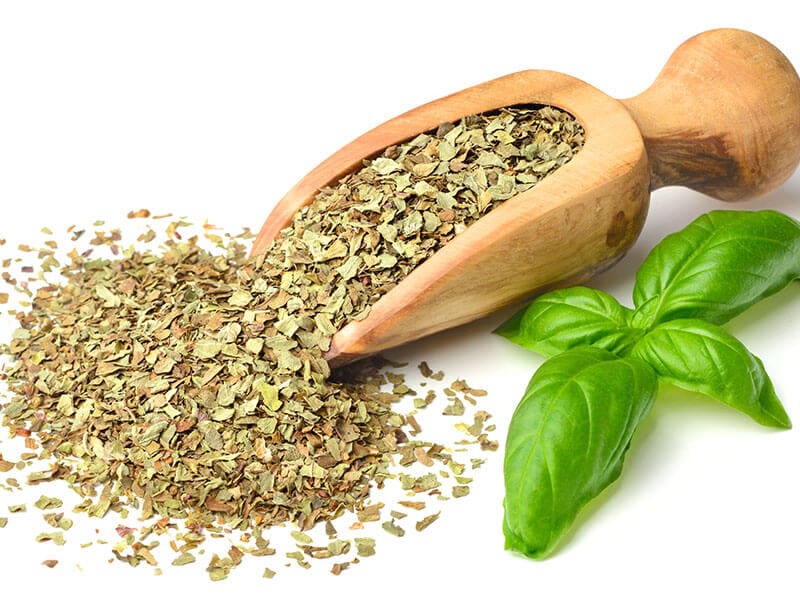 You will need to prepare an oven, a baking sheet, an airtight container, and some parchment paper.
Step 1: As with air-drying, the leaves or stems are laid in a single layer on a baking tray covered with parchment paper.
Step 2: Bake basil in the oven at the lowest temperature. The basil should be ready in 2-4 hours of baking. You should keep track of this process so as not to burn the leaves.
Step 3: Take the sheet out, let it cool, and put the basil into airtight containers.
Step 4: Preserve it in a dry and cool place at room temperature.
Watch this video to know more:
5. Store Basil With Olive Oil
Why don't you use the available things in your kitchens, such as olive oil, to store basil? Trust me. You will be surprised by the fantastic result.
Olive oil is not only used for cooking but also is an effective preservative to store basil. Its nutrient content includes many kinds of acid.(1). As a result, the combination of basil and olive oil is a great idea for storing basil.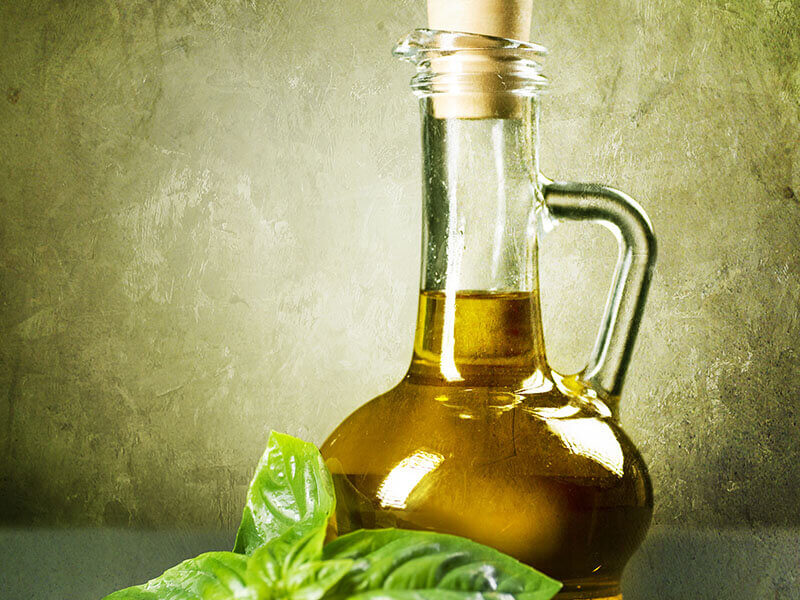 The amazing combination of basil and olive oil is a reasonable suggestion for you
Before applying this method, you need to prepare an ice cube tray, olive oil, and plastic wrap. After having all the required things, let's follow this instruction step by step:
Step 1: Pluck the basil leaves and wash them with water.
Step 2: Fill them into your ice cube tray.
Step 3: Pour olive oil over the top to cover the leaves.
Step 4: Cover the tray with a tight plastic wrap and put it in the freezer.
Step 5: When they are totally solid, pop them out of the tray and store them in a freezer-safe bag.
Watch this video to know more:
How Long Does Basil Last?
Are you considering how long it keeps fresh in each way? It depends on the way that you apply to store it. I will summarize the shelf life of basil to be more convenient for comparison.
First, preserving at room temperature, if you store it like a "flower bouquet" in a water jar, you keep it fresh in about 7 days. And keeping potted basil indoors will help you increase the shelf life of it because you can replace the new plant when the previous tree dies or spoils.
Second, storing in the refrigerator, the shelf life of basil is up to 2 days when you wrap in a paper towel and put it in a plastic bag or container and about 2 months if you puree and store it with a little water or oil in the refrigerator.
Third, 4-6 months is the freshness level of basil when you apply the freezing method to store it.
Fourth, drying basil is a fantastic method, because you can store basil for about 1-2 years and still keep nutrients, minerals, and aroma… So, I highly recommend that you should apply this way to store it right now.
Finally, storing in olive oil is also a perfect way to increase its shelf life because basil can be fresh longer for up to 2 months.
The below table and chart will provide detailed data and a general view of the shelf life of each method. Let's take a look; that will be easier to compare, understand, and memorize.
| Store Methods | Last For (days) |
| --- | --- |
| At room temperature | 7 days |
| In the Refrigerator: Store in container; Puree | Up to 2 days; 60 days |
| Freezing | 120 to 180 days |
| Drying | 365 to 730 days |
| In Olive oil | Up to 60 days |
FAQs
If you still cannot select the best choice, you are still worried and cannot find the best suitable method to store basil. I think the frequently asked questions are beneficial for you:
Which Method Do You Prefer?
In conclusion, there are many incredible ways to store fresh basil fresher and more extended. It is up to you!. You will have your different choices, as long as this method is suitable for you and helps you bring more delicious meals and happier life for your family and friends.
After reading all the guidelines of this post about how to store fresh basil. I believe that you have already had the best suitable solution for you.
You should consider and apply my recommended ways. Let's take advantage of all the things that I mentioned in this post to keep your basil fresher and longer. I think this post will bring a lot of value to your life. Let's make your life better, happier, and more convenient!
And feel free to share the results with me and others in the comment box below. It is my pleasure to see your feedback.
To spread this post to everyone. Remember to like and share this post to help others know about these practical tips. Thanks a lot!
Nutrition Facts
20 servings per container
---
Amount Per ServingCalories48
% Daily Value *
Total Fat 5.6g

8

%
Potassium 1mg

1

%
---
* The % Daily Value tells you how much a nutrient in a serving of food contributes to a daily diet. 2,000 calories a day is used for general nutrition advice.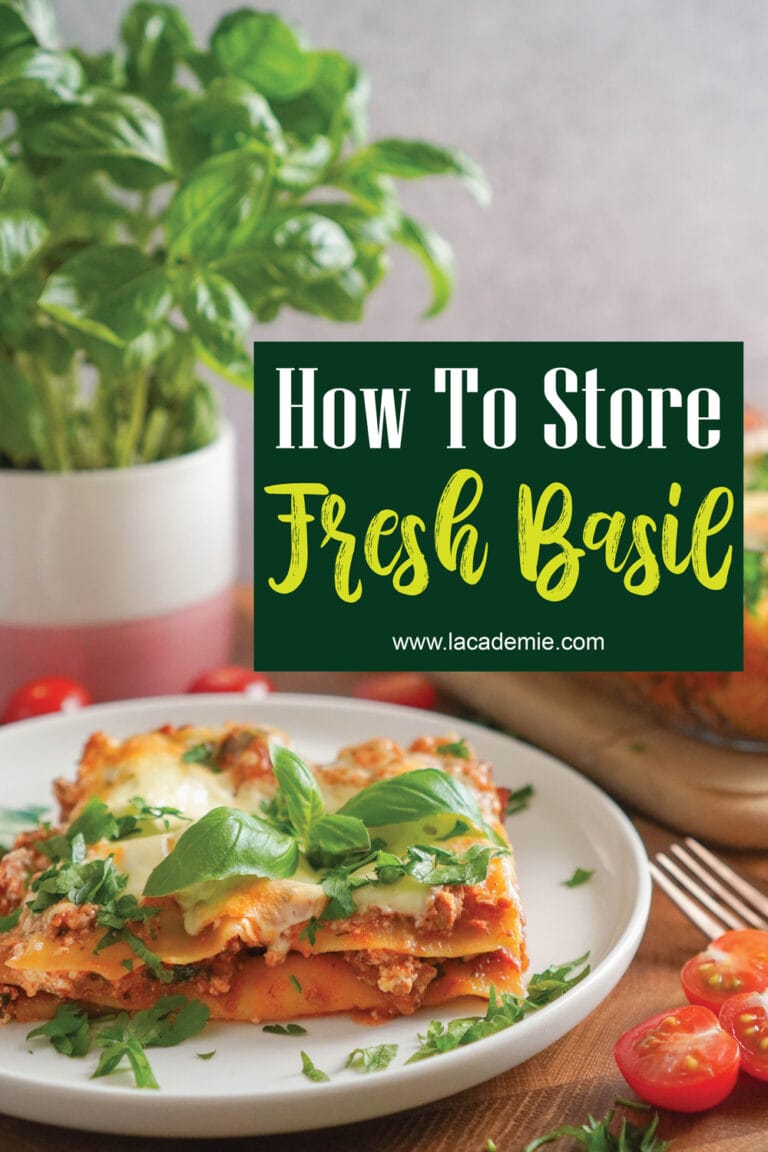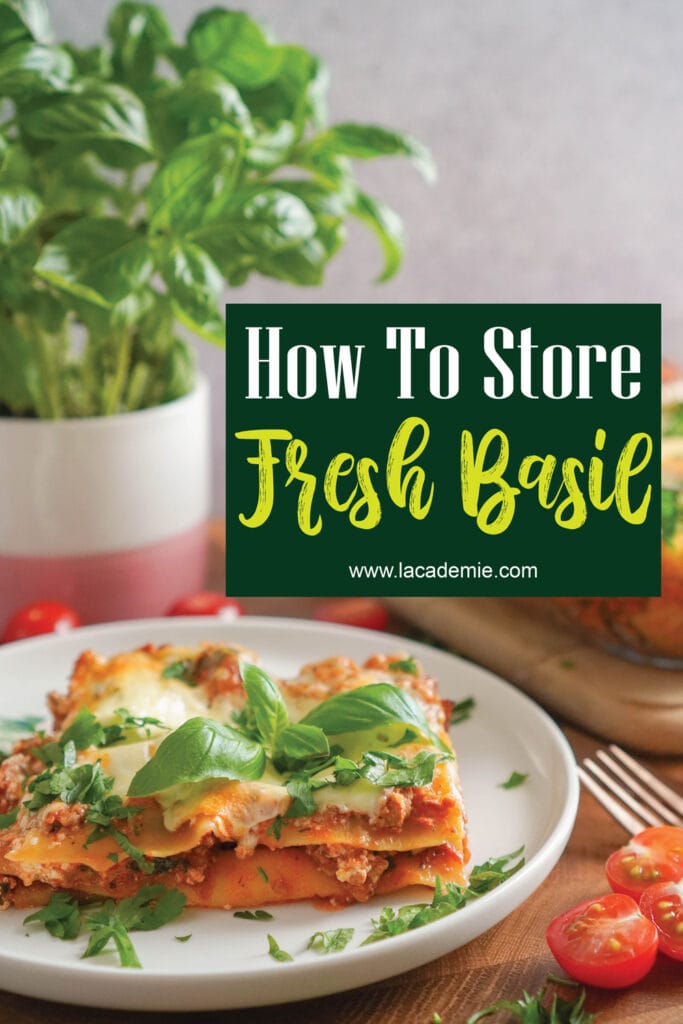 References
En.wikipedia.org. 2021. Olive oil – Wikipedia.
En.wikipedia.org. 2021. List of basil cultivars – Wikipedia.
EMedicineHealth. 2021. Basil: Uses, Side Effects, Dose, Health Benefits, Precautions & Warnings.