"Fresh basil vs dried basil, is there any difference between them?" is a question of great interest. Although it's common sense that fresh is usually better than dry, this rule does not always apply to cooking herbs.
If you want to know whether fresh basil or dried basil is better suited for your needs, you've come to the right place! Stick till the end to learn every detail about the two "versions" of basil and their best uses.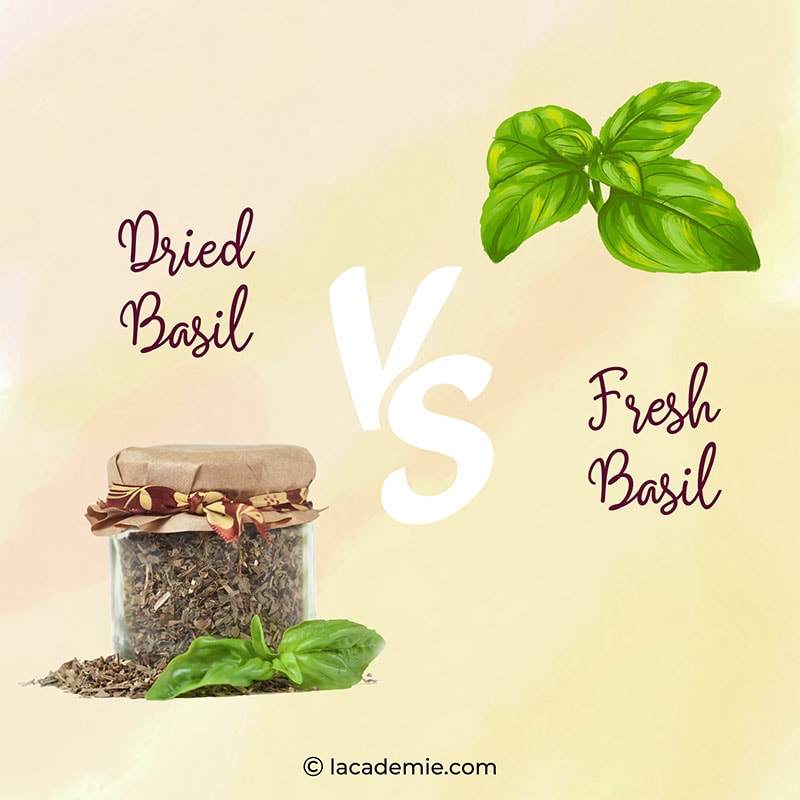 The ABC'S of Basil
First, let's get you acquainted with basil. The information in this section will give you a better understanding of this versatile herb, so don't miss out!
Basil is a popular culinary herb belonging to the Mints (also known scientifically as Lamiaceae) plant family. It grows natively in tropical areas from South East Asia to Central Africa. (1)
This aromatic herb is an essential ingredient in Italian cuisine. Many Southeast Asian nations such as Vietnam, Thailand, and Indonesia also feature basil in their recipes.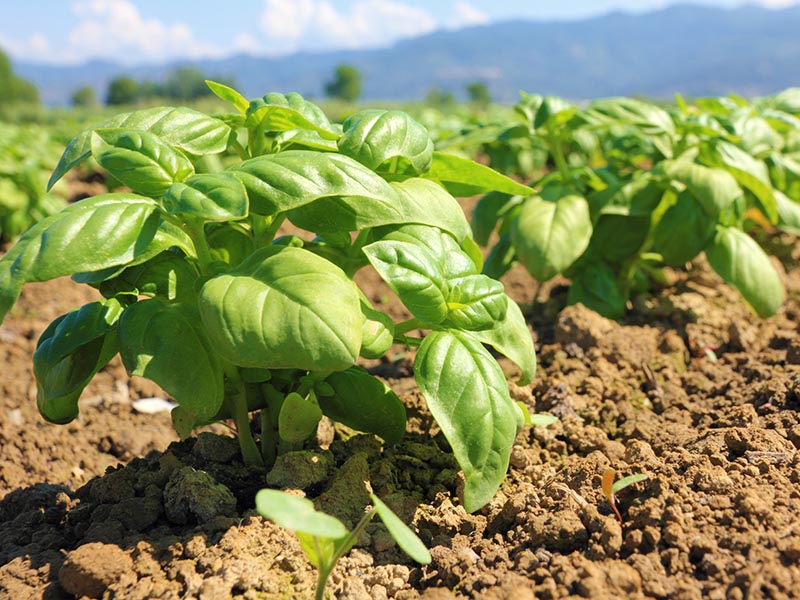 Basil is a species of many varieties, each of which possesses unique features and flavor profiles. Sweet basil is one of the most well-known cultivars and is often used in Italian cooking. You'll also come across Thai basil, lemon basil, and more.
Among all the varieties, holy basil is a rather special one as it holds invaluable importance in Hinduism and traditional medicine. Although people commonly compare holy basil with ashwagandha – another herb with great medical potency, they aren't the same.
As you've already known, there are two main choices for buying basil: fresh and dry. In addition to purchasing pre-packaged herbs, you can easily grow this herb right in your home garden! This way, you can enjoy every edible part of the basil plant.
In case no one has told you this, basil flowers also serve an array of purposes! When you have the chance, give basil flower-infused vinegar or olive oil a try!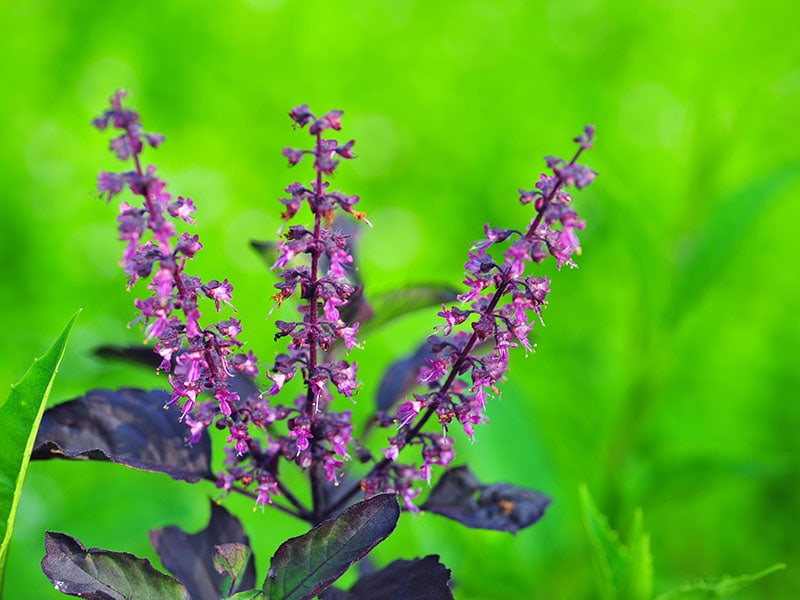 More on basil's fascinating history and some extra facts about it.
Fresh Basil Vs Dried Basil
With all the basics out of the way, it's time to learn about the differences between fresh and dried basil! I'm certain that you'll be able to decide the best choice for you after reading this part.
| Key Aspects | Fresh Basil | Dried Basil |
| --- | --- | --- |
| Appearance | Have an ovate shape, pointed ends, and vibrant, glossy colors | Much darker in color, shrink to smaller sizes |
| Texture | Soft and leafy | Crisp and brittle |
| Taste | A mixture of anise, mint, pepper, and clove | Have a deeper taste than fresh ones but with fewer anise notes and more mint notes |
| Shelf Life | 6 months at most (frozen) | At least 2 years |
| Health Benefits | Offer a variety of health benefits such as preventing depression, diabetes, and cancer | The same as fresh basil but with higher an antioxidants content |
| Best Used For | Dishes that don't require a long cooking time and prioritize freshness | Dishes that need to be cooked for a moderate to long time |
Appearance & Texture
The first thing you'll notice is that fresh basil and dried basil look nothing alike. This is due to the dehydration process that strips the herbs of their natural oil.
Fresh Basil
Basil leaves show their distinct features the clearest when they are fresh. They have an ovate shape, pointed end, and vibrant green color. The leaves also have a slight curve and look quite glossy.
Keep in mind that their color and shape will vary based on the variety. Some cultivars come with a purple, red, and even blue-ish hue.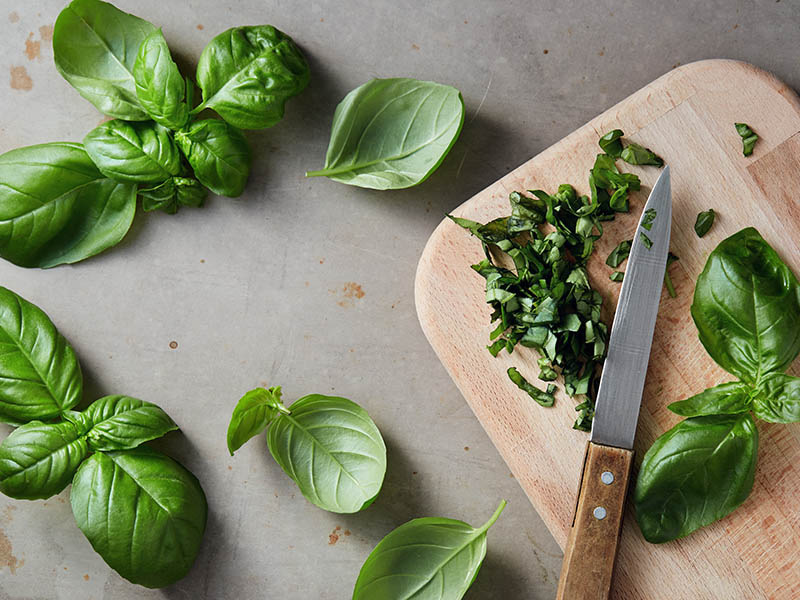 In terms of texture, fresh basil is soft, leafy, and very fresh herb-like. If that's still a bit vague, imagine that you're eating fresh arugula or spinach, just with basil's flavor.
Dried Basil
Once dried, basil will become much darker in color. They also shrink to a smaller size, thus losing most of their unique visual traits. Most importantly, there will be a drastic change in texture since dried herbs are crisp and brittle as opposed to the tenderness of fresh ones.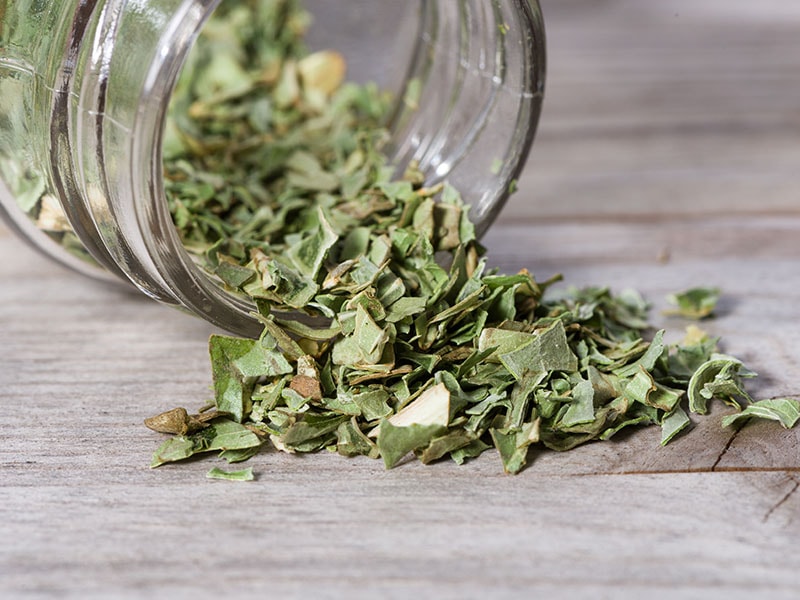 Due to these changes, it'll be harder to distinguish dehydrated basil from other dried herbs. For example, while telling oregano and basil apart is easy as pie when they're fresh, they will look almost identical once dried. So make sure that you label your dry herb properly!
Taste
Taste is the most vital aspect of any cooking herb. When turning from fresh to dry, basil's flavor profile also changes. For better or worse, here are all the dissimilarities in fresh and dried basil's taste.
Fresh Basil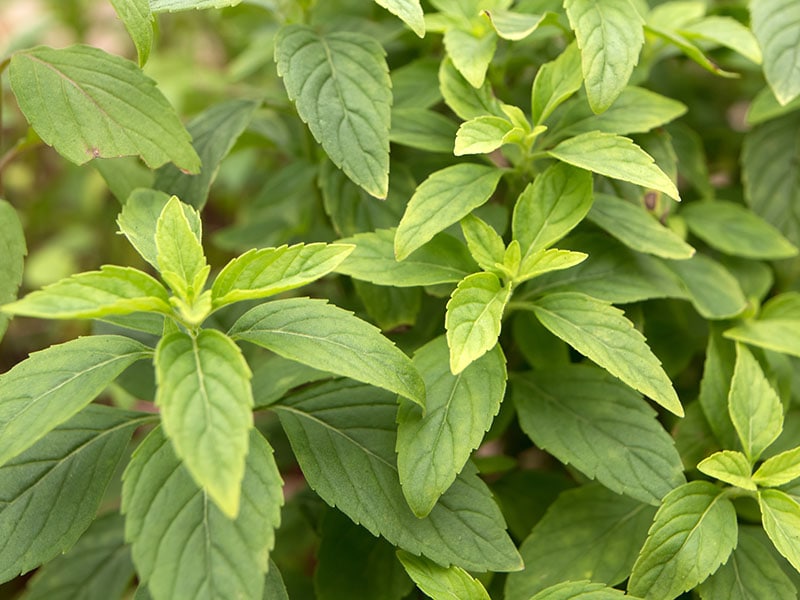 In general, basil tastes (and smells) like a mixture of anise, mint, pepper, and clove. The herb strikes a good balance between sweet and savory, making it an exceptional addition to numerous dishes.
Since there are a great many basil types, you can also expect some variants in their tastes. Want something bright and citrusy? Go for lime basil. When you crave a subtle kick of spiciness in your dish, cinnamon basil is the perfect option.
Dried Basil
Believe it or not, dried basil actually has a deeper taste than fresh ones. While drying can deprive the leaves of their oil and moisture content, this process also concentrates their flavor.
Not only does the taste deepen, but it also alters somewhat. In particular, the anise notes will be toned down considerably. At the same time, the minty traits will become more prominent.
Shelf Life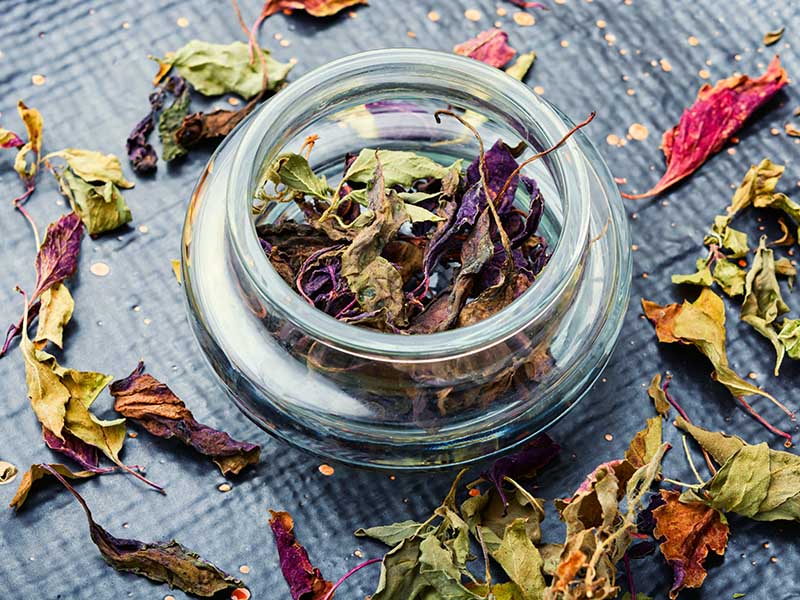 If you've planted basil before, you'll surely know how troublesome it could be to correctly store and care for fresh basil. The thing is, no matter how much you try, basil will only stay fresh for 6 months at most, and that is if you freeze them.
For other storing methods such as in the pantry or the fridge, don't expect a shelf life of longer than 2 weeks.
On the other hand, dried basil will retain its peak condition for at least 2 years. You also don't need to bother with freezing or refrigerating them since the herbs will do just fine in a kitchen cabinet.
Health Benefits
In addition to being a widely-loved culinary herb, basil is also famous for its tremendous health benefits. These fragrant herbs can aid you in digesting, possess anti-inflammatory potency, and even help prevent depression, diabetes, and cancer. (2)
If you don't have access to fresh basil, rest assured that dry basil can provide you with the same benefits. Although some nutrients might be lowered due to drying and extended storage, dried basil is actually richer in antioxidants than fresh ones.
You'll be amazed by the incredible health benefits of basil!
Uses
So, fresh basil is different from dried basil in several aspects, but which one is better for cooking? The answer is, it depends on the recipe you're making.
Fresh Basil
Among the two, fresh basil is the more well-rounded one. This is because you can use them in pretty much every recipe that calls for basil. They shine the best in dishes that don't require a long cooking time and prioritize freshness like pesto, stir-fry, or salad.
Of course, you can also add fresh leaves to slow-cooked recipes. Just remember to add them near the end of cooking for the brightest flavor. For example, you can throw in some fresh basil 5 minutes before cutting the heat.
Learn how to cook with fresh basil in under 2 minutes.
Dried Basil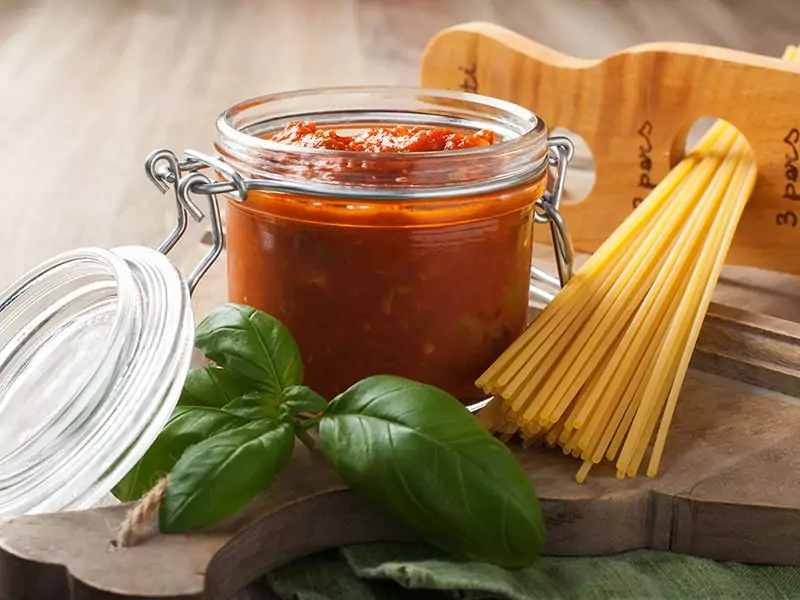 Contrary to its fresh counterpart, dried basil works best when you allow it to cook for an extended amount of time.
For this reason, people usually toss in dried leaves at the beginning of a moderate to lengthy cooking period. You can also mix them with dried oregano to make a great replacement for Italian seasoning.
If you have some dried basil at hand, don't hesitate to cook up some pasta sauce or any traditional dishes that require hours upon hours of simmering. However, avoid adding it to recipes where you'll directly taste the texture of the herbs, such as salads.
You can enhance the flavor of dried basil by rubbing them between your palms. Doing this will bring out some of the "hidden" oils that even drying can't remove.
Swapping Fresh For Dried Basil (And Vice Versa)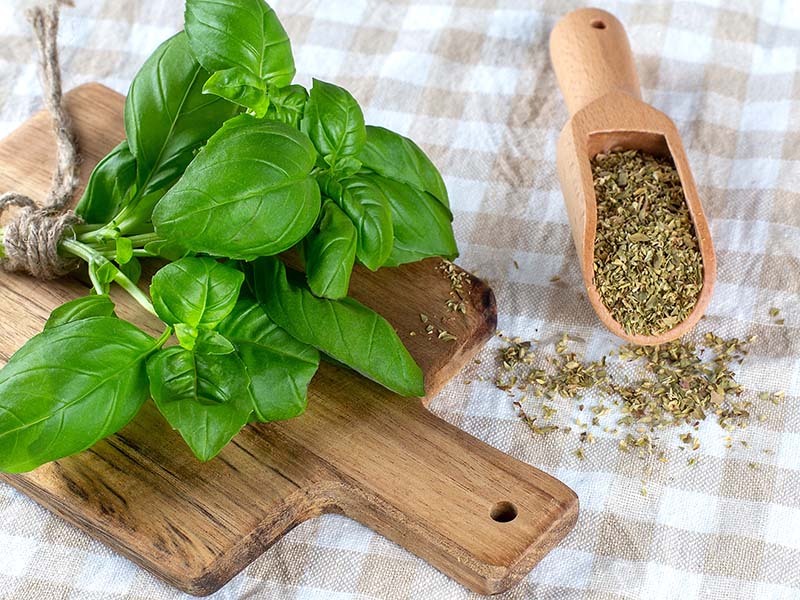 There'll come times when you run out of either fresh or dry basil. Here's good news for you: it's possible to swap dried basil for fresh ones! Well, at least that's the case for most types of recipes.
There are generally two substitute ratios that you can follow. The first one, which is more universally known, is the classic 1 to 3 ratio. In particular, 1 part dried herbs equals 3 parts of fresh herbs.
Another way to convert fresh basil to dried basil is by doubling the number of fresh herbs. For example, if your recipe asks for 1 teaspoon of dried basil, you can swap it with 2 teaspoons of fresh ones.
As easy as it sounds, you don't want to swap one type with the other in every recipe. As mentioned above, dried basil won't taste as good as fresh basil in salad, pesto, cocktails, or desserts.
A scientific explanation on swapping fresh herbs with dried herbs, including basil!
Basil Alternatives
Apart from switching fresh basil with dried basil, here are several great basil alternatives that you'll want to keep on your radar.
For fresh basil, opt for spinach, mint, oregano, or cilantro. They all have a certain tenderness and a sweet and minty flavor profile that resembles basil.
On the other hand, you can replace dried basil with dried oregano, tarragon, or a mix of generic Italian seasonings.
One thing to remember is that these substitutions generally yield better results in Italian or Mediterranean recipes rather than Asian ones.
Reputable Basil Brands To Go For
If you are new to buying dried basil, don't worry since there are various excellent products to try out. McCormick Basil Leaves are a good choice for starters. If you're all about the organic trend, Simply Organic Basil Certified Organic is a great bang for your bucks.
I'd recommend buying fresh basil right at a grocery store so you can directly check the condition of the leaves. Another option is to grow basil at home. Sow Right Seeds offers a 5 Herb Seed Collection that includes Genovese basil, chives, parsley, cilantro, and oregano!
Turn your home-grown fresh basil into dried basil with this simple tutorial.
Try These Tasty Basil Recipes!
After obtaining your basil leaves, I'm sure that you are very eager to cook with them. Whether your choice is fresh or dry, you should definitely give these delicious basil recipes a try!
What did I say about fresh basil? Ah yes, they taste exceptional when used in pesto! This green sauce is one of the most well-known icons of Italian cuisine and can instantly "level up" your pasta. In addition, you can also enjoy it with garlic bread and roasted potatoes.
Tomato and basil soup is an unmatched comforting dish after a tiring day. The slightly tangy and sweet taste of tomatoes combined with the deep flavor profile of dried basil will never fail you. If you want to add more creaminess, don't hesitate to toss in some heavy cream.
Chicken and coconut curry is a dish that you can use either fresh or dried basil. Thanks to the rich, sweet flavor of coconut and the generous use of aromatic herbs and spices, the recipe will literally create an explosion of flavor in your taste buds.
FAQs
Although I'm confident that my post has covered all the essential information you need to know about fresh and dried basil, it's never hurt to know more. Check out these FAQs to see what people usually ask about these herbs.
Fresh or Dry, Basil Will Level Up Your Meal!
So, did you make your choice? What will you pick the next time you cook your dinner, fresh or dried basil? For me, there's no clear winner between the two. As long as you utilize it the right way, basil, no matter fresh or dry, will taste phenomenal.
Show this post some love by liking and sharing it with more people! I'm sure that your loved ones will also appreciate the above information as much as you do!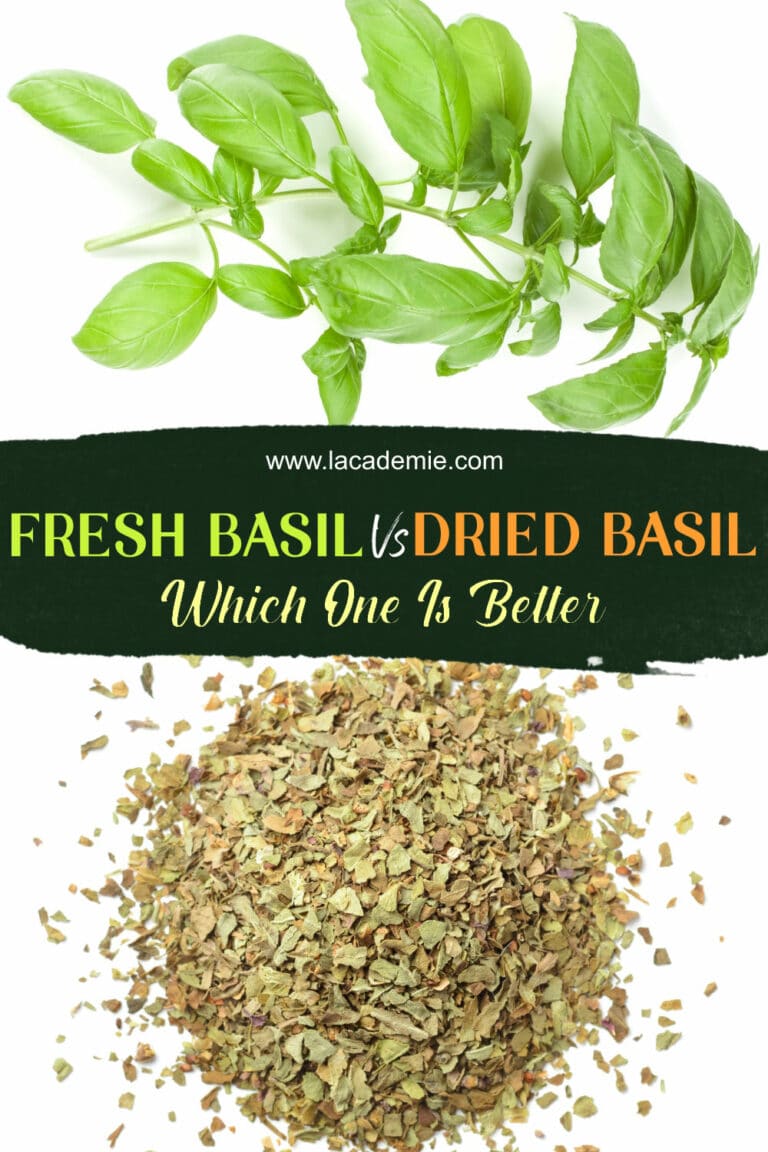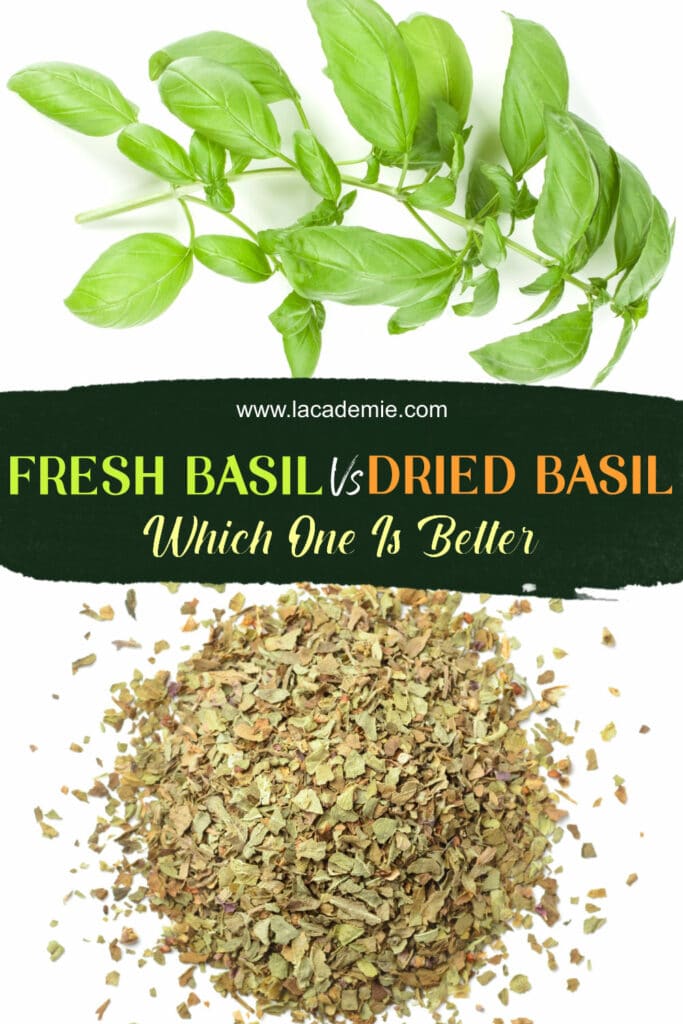 References
Contributors to Wikimedia projects, (2003). Basil – Wikipedia [online]. Wikipedia, the free encyclopedia.
Health Benefits of Basil [online]. WebMD.