Holy basil and ashwagandha are two names that will pop up frequently if you search for "comforting herbs". While they are both exceptional stress relievers, you might find one better suited for your needs than the other.
So which one is better for you, holy basil or ashwagandha? Well, this article will give you all the necessary information to answer that question. In addition, you'll also learn some of the finest herb combinations to turn your life into a stress-free one.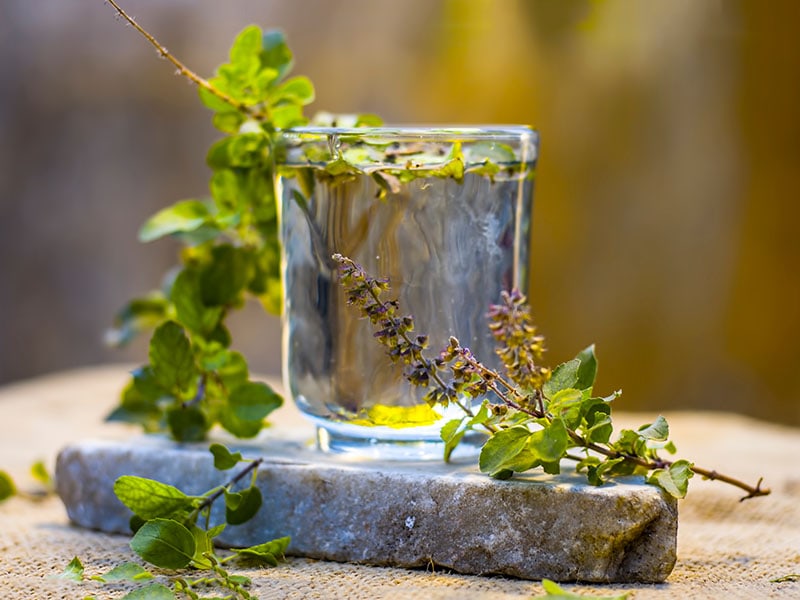 Ayurveda And Adaptogen 101
Before going into details about holy basil and ashwagandha, let's first get you acquainted with Ayurveda – an alternative medicine system in which these two herbs play an important role, and adaptogen – a common term to call herbs with stress-relieving potency.
Ayurveda
Ayurveda (roughly translates to "knowledge of life") is a traditional medical system revolving around the interconnection between the body, mind, spirit, and the environment. It has taken roots in India for more than 3,000 years and is now widely practiced in India and Nepal. (1)
According to Ayurveda's belief, illness is caused by an imbalance in one's consciousness, stress, or suppression of natural urges. For example, trying to stop a sneeze is said to be the potential cause of shoulder pain.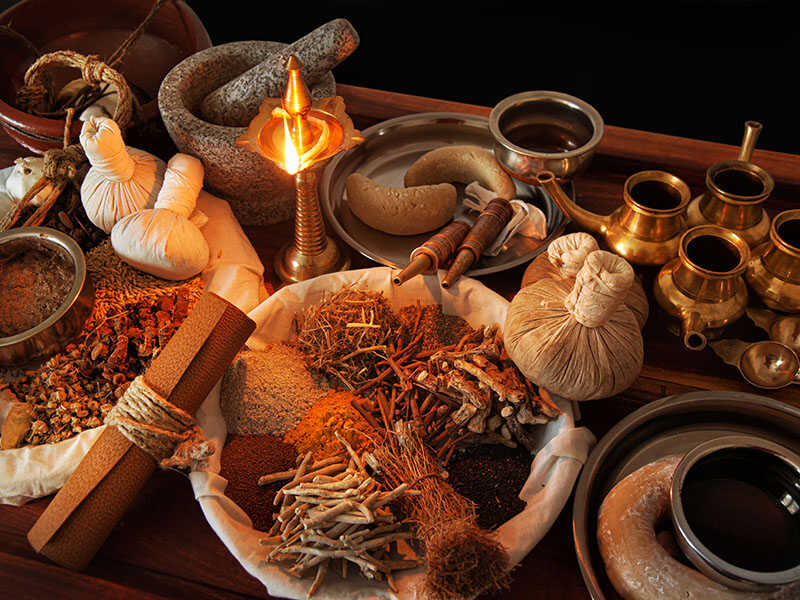 However, Ayurveda doesn't encourage giving free rein to your natural urges and letting them take complete control of your actions. Rather, the emphasis is placed on maintaining a balance and staying within limits while following what your body wants. (2)
The goals of Ayurveda therapy are to reduce stress and worries, boost resistance to illness and reduce symptoms, purify the body and increase life's harmony.
One can achieve these goals through a combination of internal purification, special diets, herbal medicines, yoga, meditation, and massage therapy. And this is where adaptogens, a group of herbs that include both holy basil and ashwagandha, come into the picture.
More in-depth information about Ayurveda's history and benefits.
Adaptogen
Adaptogen is the common term to call plants that have a stress-relieving effect (whether it is physical, biological, or chemical stress) and help normalize bodily functions. They are considered non-toxic when consumed in normal dosage.
For thousands of years, these healing herbs and roots have been an essential part of Chinese traditional medicine and Ayurveda practice. However, it wasn't until 1958 that the concept of "adaptogen" was introduced by Russian scientist and toxicologist Nicolai Lazarev. (3)
In addition to helping with stress and anxiety, adaptogens like holy basil and ashwagandha are believed to boost immune health. According to Dr. Brenda Powel of the Cleveland Clinic's Wellness Institute, taking adaptogens is a way to train your body to handle stress. (4)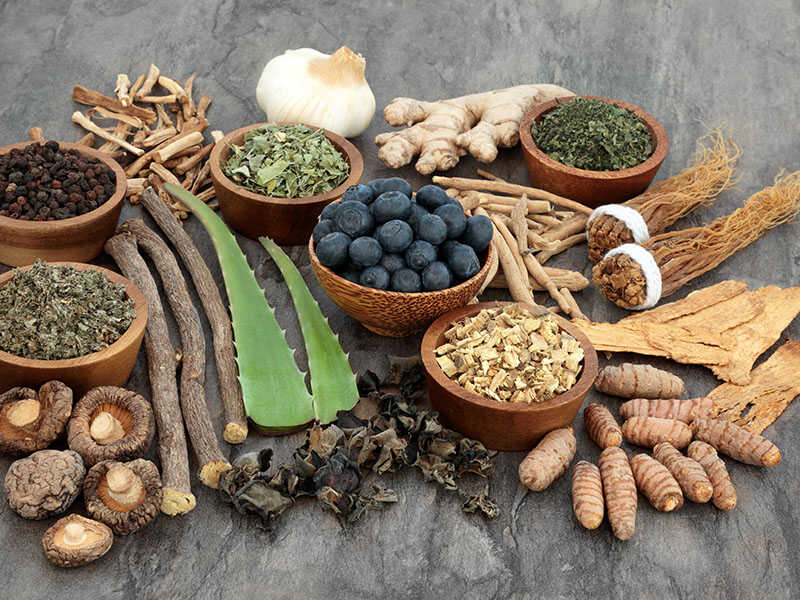 Other adaptogenic herbs such as ginseng, Schisandra, and Rhodiola are also known for their positive impacts on energy, memory, physical performance, and liver function. Keep in mind that much more human research is needed to solidify these claims.
While adaptogens are a frequent feature of Ayurveda treatment, you don't necessarily have to follow an Ayurvedic lifestyle to enjoy the wonderful benefits of these herbs.
For most people, a cup of tulsi tea in the afternoon or a little ashwagandha powder mixed into their smoothies, salad dressings, or soups are more than sufficient.
You can also take adaptogens in capsule form. That said, be cautious of what you're getting since not all supplements are worth the money, and some can even be dangerous.
Learn more about adaptogens from a doctor's perspective.
A Quick Comparison Of Holy Basil And Ashwagandha
Although holy basil and ashwagandha are both categorized as adaptogens, they are not entirely similar. To help you make the right decision on which one to go for, here's a brief comparison between holy basil and ashwagandha.
Main Features
Holy Basil
Ashwagandha
Origin
India
India and South Asia
Appearance

12-24 inches tall
Petioled, oval green, or purple leaves
Pink to purplish flowers

14-30 inches tall
Pale green, elliptic leaves are
Small green flowers that shaped like a bell.

Edible parts
Flower, leaves
Roots, leaves, fruits
Taste and smell
Pleasant fragrance and clove-like, spicy, and bittersweet flavor
The roots smell "like a horse" and taste bitter with mild vegetal and musky notes
Primary utilization

Used in various Thai recipes
Commonly used as an adaptogen

Frequently utilized as a potent adaptogen
Occasionally used in cooking

Health benefits

An excellent stress reliever
Bring tremendous health benefits like reducing blood sugar levels and inflammation

Great at reducing stress and boosting mood
Can balance hormones, decrease inflammation and cholesterol

Shelf life
Consume within 1 year for the best flavor
Last for 2-3 years
Everything You Need To Know About Holy Basil
With all that knowledge about Ayurveda and adaptogen, you must be quite curious to know more about holy basil's potency as a remedial herb and the reason for its popularity. Without further ado, here's everything you need to know about holy basil.
Overview
Holy basil, tulsi, or Ocimum tenuiflorum is an aromatic subshrub belonging to the Lamiaceae plant family. It is one of more than 50 basil cultivars around the world. Tulsi originated in the Indian subcontinent and is widely grown throughout the South East Asian region.
A holy basil plant has many branches and is about 12-24 inches tall. Its hairy stems bear petioled, oval green or purple leaves, depending on the variety. Holy basil's flowers are often pink to purplish and, like the leaves, are edible, albeit a little bitter. (5)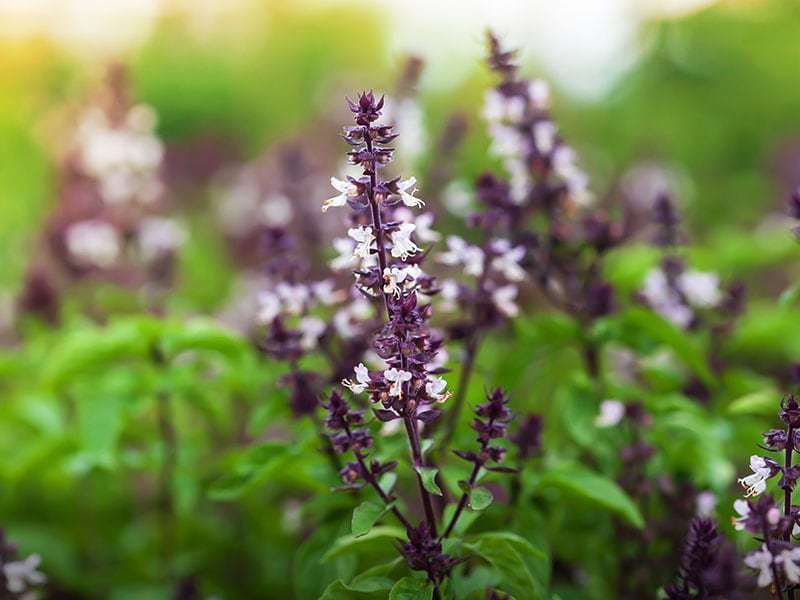 As you might have guessed from the way it is called, holy basil is a highly respected plant in Indian culture, thanks to its vital role in long-rooted traditions like Ayurveda. In Hinduism, holy basil represents the manifestation of the goddess Tulsi on earth.
Other titles of this adaptogenic herb include "the queen of herbs", "mother medicine of nature", and "the incomparable one". You'll frequently find holy basil grown in the courtyard of Hindu households across India.
Ways To Use Holy Basil
When it comes to the pronounced flavor of basil, most Asian cultivars are generally more intense than their Western cousins, and holy basil is no exception. This herb has a spicy and bittersweet taste that is reminiscent of clove.
Thanks to its aromatic nature and exquisite flavor, holy basil makes for an excellent culinary herb. However, since the plant is an important religious symbol in Hinduism, it isn't typically used in Indian cuisine.
Instead, you'll commonly see it listed as an ingredient in Thai cooking. For example, pad krapow gai (chicken with holy basil) is a classic street food dish in Thailand. Apart from chicken, Thai people also make use of its leaves and stems in fish and meat stir-fries.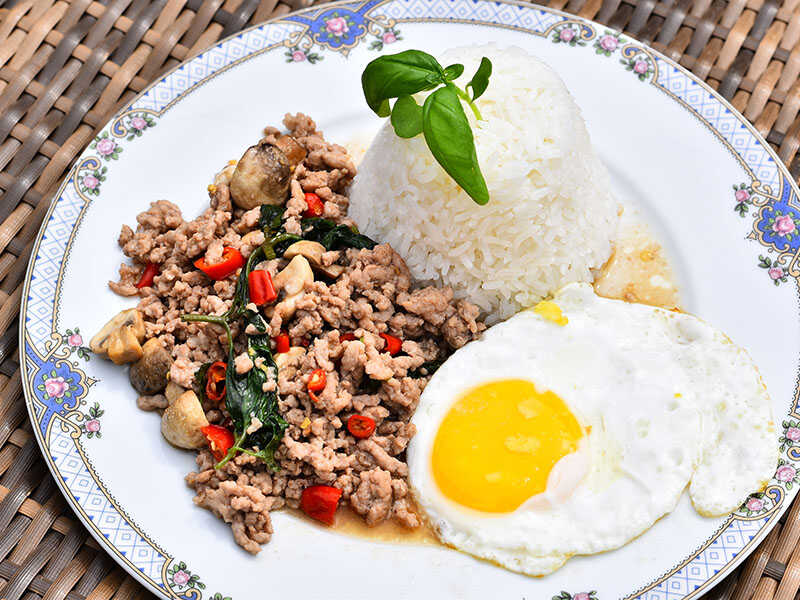 Brewing tea from holy basil's flowers, leaves, or dried leaf powder is another common way to enjoy this herb. Some people also chew raw tulsi leaves, and you can do so too if you want. Just keep in mind that it'll be bitter and spicy.
Health Benefits Of Holy Basil
Holy basil is a plant of tremendous health benefits. It's most well-known for being an outstanding all-in-one solution for your stress, anxiety, and stress-related problems. These might include insomnia, forgetfulness, exhaustion, and male impotence.
Further studies also showed that holy basil could help lower blood sugar and cholesterol, thus preventing the risk of diabetes. In addition, it can counteract the effect of ulcers caused by stress and, in turn, protect your stomach.
Moreover, the plant's strong antimicrobial and antioxidant properties make it an effective cure for inflammation and joint pain. It may even stop cancer by hindering the growth of cancerous cells.
This potent herb is also used in skincare products to clear acne, reduce skin irritation, and brighten skin complexion.
Watch this video to know more:
How To Store Holy Basil
If the tulsi is already dried when you buy them, place the leaves or flowers in a closed lid container and store them in a cool, dry, and dark place such as your pantry. Consume the basil within 1 year for the best flavor and aroma.
Storing fresh tulsi is not that simple, though. That said, if you're familiar with the safe-keeping process of the basil cultivars family, you should have no problem keeping your holy basil. In general, it's recommended that you dry your holy basil before storing it.
To dry fresh basil, start with cutting the stems from the tree. After that, hold them upside down and shake them to remove bugs. Next, check the leaves for damage, discoloration, or disease, and pinch off any leaf with those signs.
Tie the stems in a bunch and hang them upside down in a cool and dark place for about 2 weeks. After drying, cut off the stems and store the leaves as written above.
Holy Basil Recipes You Wouldn't Want To Miss
If you want to experience firsthand the charming flavor of holy basil, here are a couple of delicious recipes to try. Have a look at these mesmerizing recipes with basil, and maybe you'll fall in love with this herb, just like I have.
In English, this dish goes under various names such as Pad Krapow, Pad Kra Pao, or Pad Ka Pow. No matter how you spell it, Thai chicken stir fry is undeniably tasty and is a prime example of holy basil's excellent use in cooking.
You should see the video below:
Although it is called drunken noodles, alcohol is not listed as an ingredient. So what's the deal with its name? Well, this sweet and spicy dish is often enjoyed after a fun night of drinking, thus the "drunken" part.
Is there anything can do with large amounts of basil? How about this yummy stir-fry with pork?
The best part about pork and holy basil stir-fry is, it only takes about 10 minutes to make! To enjoy this flavor-packed dish to the fullest, try serving it with hot jasmine rice and fried egg.
Much like holy basil, ashwagandha is a famous adaptogen used in Ayurveda practices. That being said, there are many aspects that separate one from another.
Overview
Ashwagandha, also known as Indian ginseng, winter cherry, poison gooseberry, or Withania somnifera, is an annual evergreen shrub native to drier parts of India and South Asia.
Despite its name, ashwagandha is not one bit poisonous and can be safely enjoyed by most people. The plant is usually 14 to 30 inches tall and bears red to orange edible fruit. Its elliptic leaves are pale green, and the flowers are small, green, and shaped like a bell. (6)
The name ashwagandha comes from the smell of its roots, which is similar to that of a horse (ashwa). In addition, it also indicates that the plant will give you the "power of a horse" when consumed.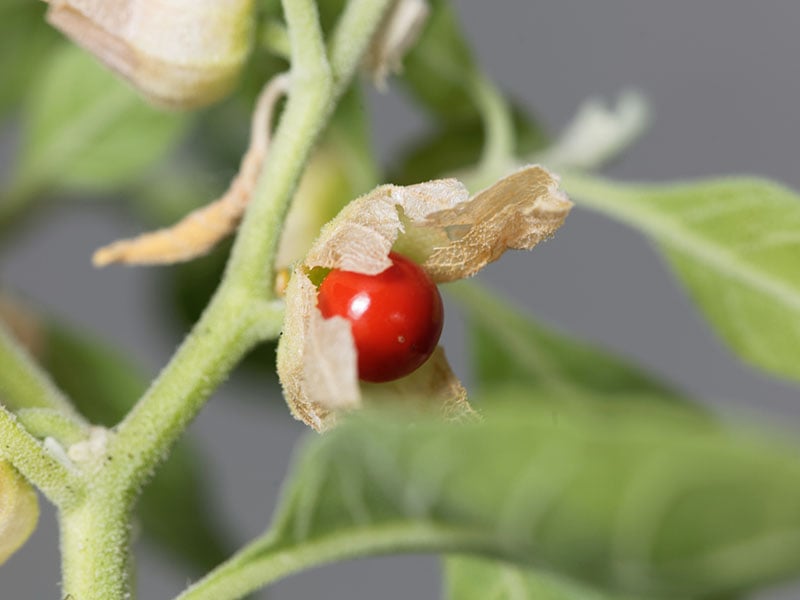 Ashwagandha is sometimes confused with Physalis alkekengi – a flowering plant also called winter cherry and other ginseng plants such as American ginseng and Korean ginseng.
While ashwagandha isn't held in high regard in terms of religious value like holy basil, it's still a plant of great importance in Ayurveda practice. Both the roots and leaves of ashwagandha are used, though the former is more valuable.
Dried ashwagandha roots can be either ground into a powder or chopped into smaller pieces and utilized for many purposes, while its leaves are often used for brewing tea.
Ways To Use Holy Ashwagandha
Unlike holy basil, which has a pleasant aroma and somewhat clove-like flavor, ashwagandha tastes quite bitter with mild vegetal and musky notes. As its name implies, these roots have a distinct "horse-like" smell which doesn't always translate well to food.
As a result, ashwagandha isn't as common as holy basil in cooking (though a few recipes do call for its powder). Instead, the plant is primarily used as a potent medicinal herb to help with sleep loss, stress, and rejuvenation.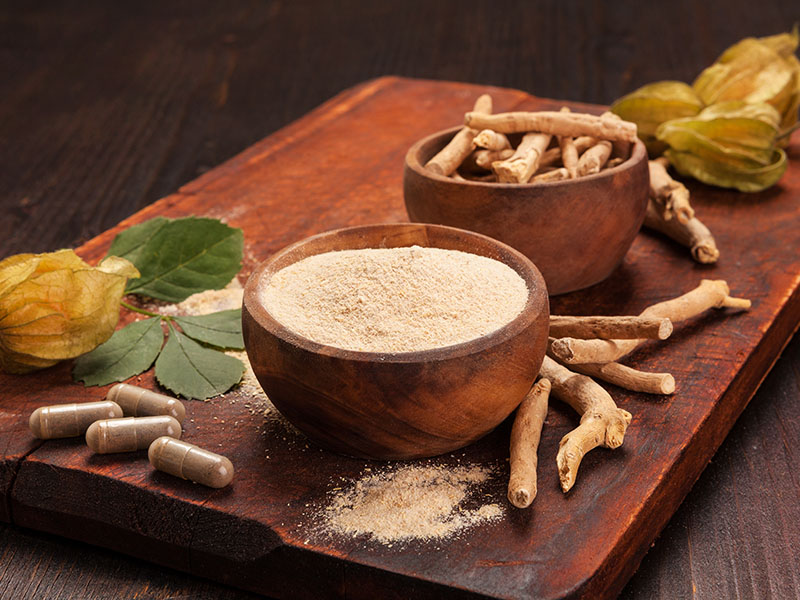 Making tea with ashwagandha's roots or leaves is one of the simplest ways to enjoy these herbs. You can also buy ashwagandha in pill, tinctures, infused ghee, or powder form. If you aren't big on tea, you can simmer it with warm whole milk or non-dairy milk.
Watch this video to know more:
Health Benefits Of Ashwagandha
While consuming ashwagandha won't really grant you "the power of a horse", these plants, especially the roots, consist of various compounds that can benefit your health greatly.
First of all, ashwagandha works exceptionally well as a stress and anxiety reliever. It also reduces insomnia and helps alleviate symptoms of depression. Moreover, these roots can lower blood sugar levels and regulate cortisol.
In case you are not familiar with medical terms, cortisol is a stress hormone that gets released when you're under stress. While these hormones are, in a way, the body's "alarm system", they can sometimes lead to high blood sugar levels and abdominal fat.
Researchers have found that ashwagandha might aid in killing and impeding the growth of cancerous cells, thanks to a compound called withaferin. Plus, these wonderful plants are great at decreasing inflammation and cholesterol.
You may also see an increase in brain function, body composition, stamina, testosterone, and fertility (in men) when consuming ashwagandha on a regular basis.
The best way to take ashwagandha and other information you should know.
How To Store Ashwagandha
Similar to holy basil, you can keep dried ashwagandha in an air-sealed container in a cool, dark, and dry place. Your "horse-smelling" herbs will last for 2-3 years this way.
For ashwagandha capsules, it's best that you follow the expiration date given by the manufacturers. In most cases, supplement pills will last for about 3 years.
Healthy Recipes To Make With Ashwagandha
While it's true that ashwagandha bitterness is not for everyone, you can still turn it into healthy and yummy treats with the right recipes. Not convinced yet? Give these following recipes a shot!
If you've been losing sleep lately, then here's a soothing tonic to put you to sleep. Despite being called a "tonic", this is actually a combination of almond (or coconut milk), cacao powder, ashwagandha, and various aromatic spices. Thus, the taste is absolutely amazing.
Putting ashwagandha in a smoothie along with sweet fruits like bananas or even strawberries is a great way to mask its bitter taste. When you're stressed out, slow down and take a sip of this delicious smoothie!
Most people crave something sweet in the afternoon due to a drop in blood sugar levels. Instead of eating an unhealthy, calorific snack, why don't you give these energizing ashwagandha snack balls a try?
In addition to tasting fantastic, these snack balls are much healthier than your regular sugary treats since they're made with various types of adaptogens.
Holy Basil Vs. Ashwagandha – Which One Is Right For You?
As you can see, holy basil and ashwagandha are powerful adaptogens and will work exceptionally well as mood boosters. If you're looking for a way to relieve stress and improve your health, either one will serve you well.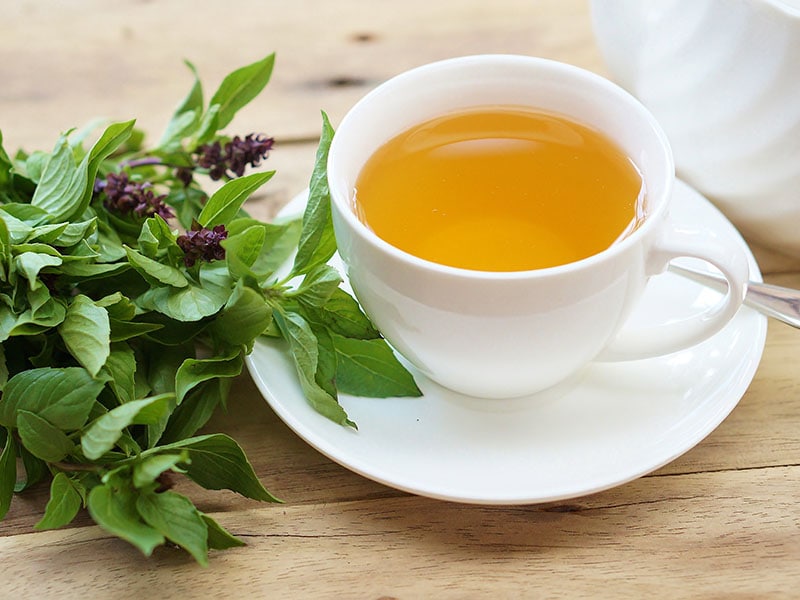 However, ashwagandha is not as versatile in cooking as holy basil. While there are some recipes that ask for these "smell-like-a-horse" roots, not everyone enjoys their pungent and earthy flavor. So ashwagandha is not the best-matched alternative for basil.
On the other hand, holy basil is more aromatic and has a more crowd-pleasing flavor profile. As a result, it makes a better choice for cooking. Plus, if you want to make the most authentic Thai cuisine, there's no real replacement for holy basil.
Best Adaptogen Combinations For Your Every Need
To enhance the effects of holy basil and ashwagandha, experts suggest using them in conjunction with other adaptogenic herbs. Here are some fantastic adaptogen combinations to make your life better.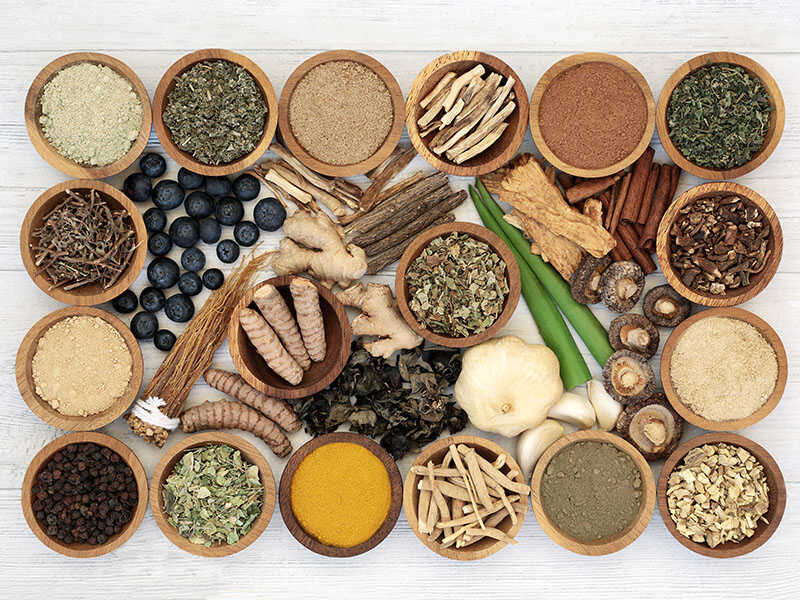 For Reducing Stress And Fatigue
A high cortisol level can cause stress, while you'll feel fatigued and burnout if your cortisol level is too low.
A combination of ashwagandha, holy basil, bacopa monnieri, and schisandra will help cut down your cortisol level, thus making you feel less stressed. If your problems come from a low level of cortisol, give licorice and rhodiola rosea a try.
For Better Sleep Quality
Getting enough sleep is one of the first steps to a healthy lifestyle. If you're struggling with insomnia, ashwagandha, moringa, and schisandra will prove beneficial. In addition, try to keep a consistent sleep schedule and stay away from blue light 2 hours prior to sleeping.
For Improving Mood And Mental Health
Lion's mane mushroom, American ginseng, maca, and bacopa monnieri are some adaptogens that you can use to improve your mental well-being. Remember, physical health alone is not enough to live a happy life!
For Productivity And Brain Fog
Many people suffer from brain fog and a lack of concentration that negatively affects their work performance. There are many causes for brain fog, including poor sleep, stress, a lack of exercise, chronic illness, hormone imbalance, and more.
Taking eleuthero, lion's mane mushrooms, and rhodiola rosea on a regular basis can aid you in reducing brain fog and increasing focus.
For Strengthening The Immune System
There are several adaptogens that can boost your immunity. If you find yourself catching a cold too often, astragalus, ashwagandha, moringa, and adaptogenic mushrooms like shiitake, turkey tail, reishi, and chaga, are some good options to try out.
For More Energy Throughout The Day
Feeling a lack of energy in the afternoon? Maca, ginseng, and rhodiola rosea are your best friends. These adaptogens will keep you up and running for the whole day!
For Balancing Hormones
Hypothyroidism is a condition in which your body doesn't produce enough crucial hormones and can lead to hair loss, fatigue, dry skin, and other unpleasant symptoms. Fortunately, you can keep hypothyroidism at bay with the help of ashwagandha, maca, and holy basil.
FAQs
If you want to know more about holy basil and ashwagandha, don't miss out on these commonly asked questions.
Holy Basil And Ashwagandha Means A Happier Life
While holy basil and ashwagandha might look, smell, and taste different from each other, they are both outstanding adaptogens that can make your life a happier one. If you're constantly under stress, definitely give these two herbs a try.
Have you taken holy basil and ashwagandha before? If so, how have these adaptogens affected your life? Comment your answers below, and don't forget to like and share this article to support the page.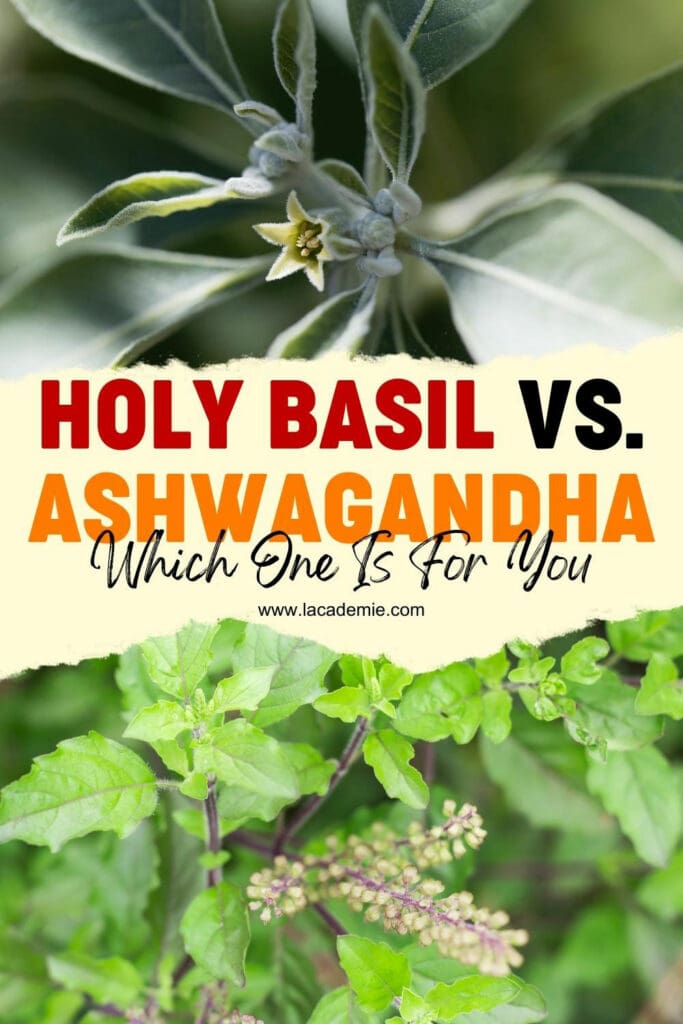 References
Ayurveda [online]. Johns Hopkins Medicine, based in Baltimore, Maryland.
Contributors to Wikimedia projects, (2003a). Ayurveda – Wikipedia.
Evolution of the adaptogenic concept from traditional use to medical systems.
Ducharme, J., (2018). What Are Adaptogens and Why Are People Taking Them?.
Contributors to Wikimedia projects, (2005). Ocimum tenuiflorum – Wikipedia.