For people who care about healthy eating, basil seeds vs. chia seeds is an extremely popular question. While it's common knowledge that both types of seeds can provide your body with a generous amount of nutrients, not everyone knows the real differences between them.
In this article, I'll give you a detailed comparison of chia seeds and basil seeds and help you decide which one is better for your needs. In addition, there will also be a couple of recipes that you can use to turn the seeds into appealing dishes!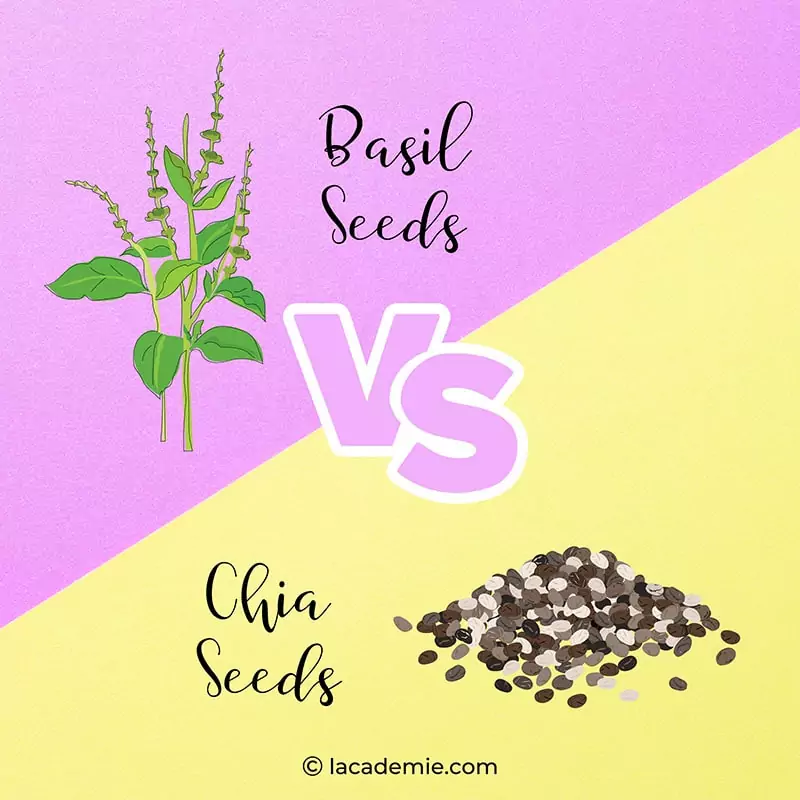 Key Comparison Between Basil Seeds And Chia Seeds
In recent years, more and more people have started to integrate basil and chia seeds into their diet. If you're new to the whole "healthy eating" concept, here's a quick table to summarize the main characteristics of these two seeds.
Key Aspects
Basil Seeds
Chia Seeds
Botanical origin
Sweet basil or Thai basil
Chia plant
Natural habitat
Central Africa to Southeast Asia
Guatemala and Central and Southern Mexico
Shape
Rounded
Oval
Color
Black
Black, white, gray, or brown
Flavor
Mild with a slight hint of basil
Bland
Consumption
Need to be soaked
Can be consumed raw or soaked
Nutritional value

Rich in fiber, protein, iron, calcium, magnesium, and omega-3 fatty acids
Low in calories

Relatively similar to basil seeds but are more prominent in omega-3 fat
Low in calories

Health benefits
Improve your gut health, balance blood sugar levels, and reduce blood cholesterol
Protect you from cancer and heart diseases, aid in weight loss
Price and availability
More expensive and harder to find
Can be easily purchased, cheaper than basil seeds
Basil Seeds And All There Is To Know
Basil seeds (also called sabja or tukmaria seeds) are small, edible seeds that come from the basil plant. Although there are more than a handful of cultivars in the basil family (studies estimate that there are at least 50! (1) ), not all of them are suitable for human consumption.
Typically, when people talk about basil seeds, they're referring to the seeds of sweet basil (Ocimum basilicum) and occasionally Thai basil (O. basilicum var. thyrsiflora). These plants are native to the tropical areas from Central Africa to Southeast Asia. (2)
Caption: Most of the basil seeds on the market are from the sweet basil variety.
Although Thai basil and basil are different in many aspects, their seeds look practically identical. At first sight, you might mistake basil seeds for sesame seeds as they both have rounded shapes and are quite tiny.
However, while the latter might come in white, red, brown, black, or tan, the former is always black.
Basil seeds are revered for their incredible health benefits and have long been a staple in Chinese traditional medicine and Ayurvedic – an age-old Indian medical practice. That said, there haven't been that many studies to back up these claims.
Apart from the seeds, you can also make excellent use of basil flowers and, of course, their leaves. Home cooks and chefs alike are no strangers to the amazing seasoning herbs that are basil leaves. At the same time, basil flowers make for tasty tea and flavorful vinegar.
Everything About Chia Seeds
Chia seeds are edible seeds derived from the mint (or Lamiaceae) family. More specifically, they are the original form of a flowering plant named Salvia hispanica, or, as the majority of people would call it, chia. They are native to Guatemala and central and southern Mexico.
Chia seeds have a longer history than you might think. According to the Codex Mendoza – a codex of the Aztec civilization presumably created in the mid-16th century, chia used to play an equally important role as maize in the Aztec diet.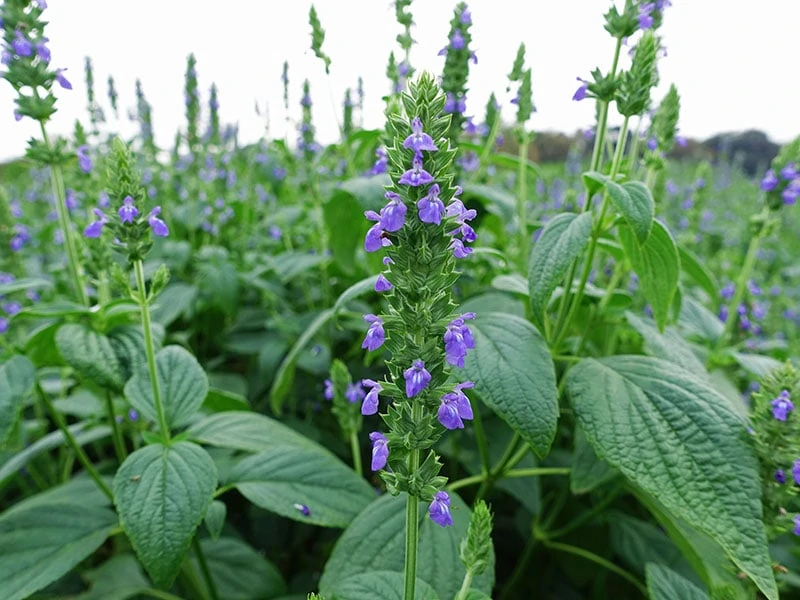 You may find chia seeds in various colors, ranging from black, gray to white or brown. They are relatively small, measuring at about 0.08 inches lengthwise, and have a flattened oval shape.
Much like their basil counterpart, chia seeds are also known for their contribution to human well-being. These petit seeds are packed with antioxidants and essential nutrients. I'll dig deeper into their amazing health benefits later, so make sure to keep reading!
More on chia seeds' fascinating history and their nutrition content.
Basil Seeds Vs. Chia Seeds – Differences And Whatnot
So you've known what chia and basil seeds are, but what about their differences – the things that make each of them unique. Well, let's find out in this part.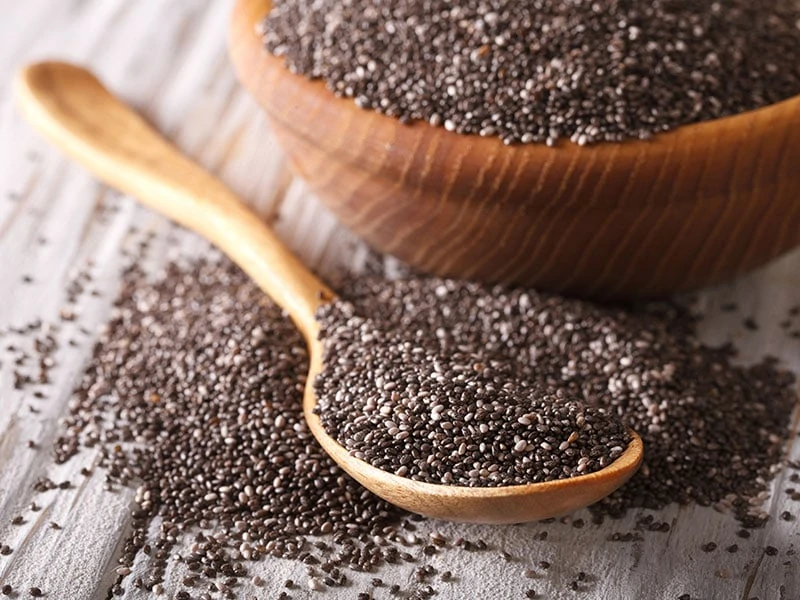 Origins
While you can purchase both chia seeds and basil seeds in America, they are different in origin.
Basil belongs to the botany kingdom of Central Africa and Southeast Asia (especially the tropical regions of these continents). On the other hand, chia seeds come from Guatemala – a central American country, and central, southern Mexico.
Appearances
Both basil and chia seeds are small, though the latter is a tad bit larger. They are shaped differently, with basil seeds being more rounded and elliptical while chia seeds fall more on the oval side.
You can also differentiate the two by looking at their colors (well, sort of) since basil seeds only come in black, while chia seeds might be black, white, gray, or brown.
Nutritional Values
There is no wrong choice between basil and chia seeds when it comes to nutritional content. The following table will tell you what to expect from 1 tablespoon (about 0.5 ounces) of them.
| Nutritional Content | Basil seeds | Chia seeds |
| --- | --- | --- |
| Calories | 60 | 60 |
| Total fat | 2.5 g | 3 g |
| Omega-3 fat | 1,240 mg | 2,880 mg |
| Saturated fat | 0 g | 0 g |
| Carbohydrates | 7 g | 5 g |
| Protein | 2 g | 3 g |
| Dietary fiber | 7 g | 5 g |
| Calcium | 15% of the RDI | 8% of the RDI |
| Magnesium | 10% of the RDI | 8% of the RDI |
| Iron | 10% of the RDI | 9% of the RDI (3) |
As you can see, these tiny seeds boast an impressive amount of vital minerals and nutrients. While chia seeds contain double the amount of good fat and a little more protein, basil seeds excel in fiber, calcium, magnesium, and iron.
Though not shown on the table, the seeds of the chia plant are also more abundant in antioxidants, which is why some people consider them superior to basil seeds.
Potential Health Benefits
Thanks to their fantastic nutritional value, chia and basil seeds have the potential to bring plenty of benefits to your body.
Basil Seeds
Fiber, more specifically soluble fiber, is one of the most notable components in this popular black food. In fact, 1 tablespoon of these seeds is enough to fill 25% of the required daily fiber intake.
As for the importance of fiber, well, it can improve your gut health, balance blood sugar levels, reduce blood cholesterol, and make you feel full at the same time. What an incredible nutrient!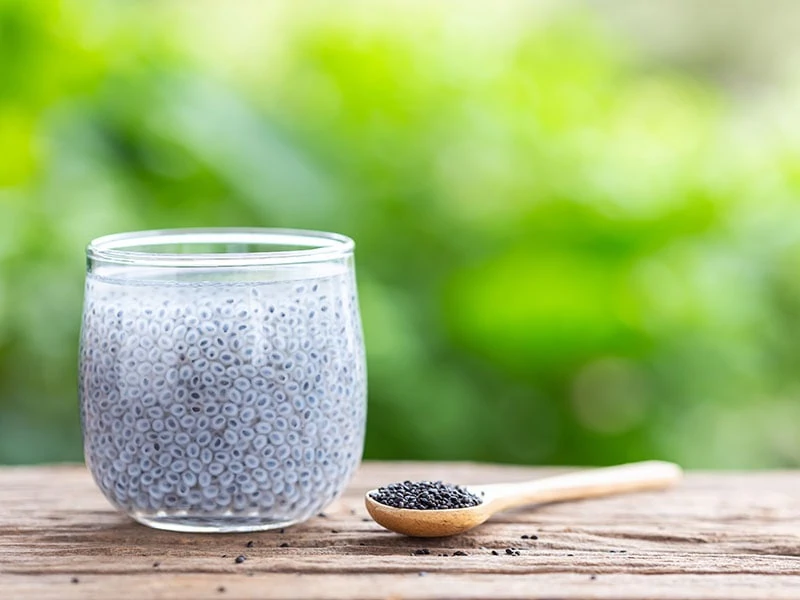 Other than that, basil seeds also come with flavonoids and polyphenols, two plant compounds categorized as antioxidants. This means consuming these seeds regularly can potentially help you reduce the risk of heart disease and cancer.
Note that there hasn't been enough research to solidify these beneficial claims. However, it's still good to know what basil seeds might bring to your well-being.
Learn 6 incredible health benefits of basil seeds.
Chia Seeds
Since chia seeds are somewhat similar to their basil friends on the nutrient scale, they share pretty much the same health benefits.
However, they contain remarkably more omega-3 fatty acids than basil seeds, making them an excellent choice for lowering heart disease risks.
Moreover, chia seeds are also loaded with antioxidants, such as chlorogenic acid, myricetin, quercetin, and caffeic acid. These compounds will keep you from getting cancer as well as protect your heart and liver.
If you're trying to shed some weight, you'll want to incorporate these nutritious seeds into your diet.
Some studies on obesity suggest that fibrous foods (like chia seeds) might be a great contribution to controlling weight. Plus, their protein content will fill your stomach, resulting in a reduced food intake.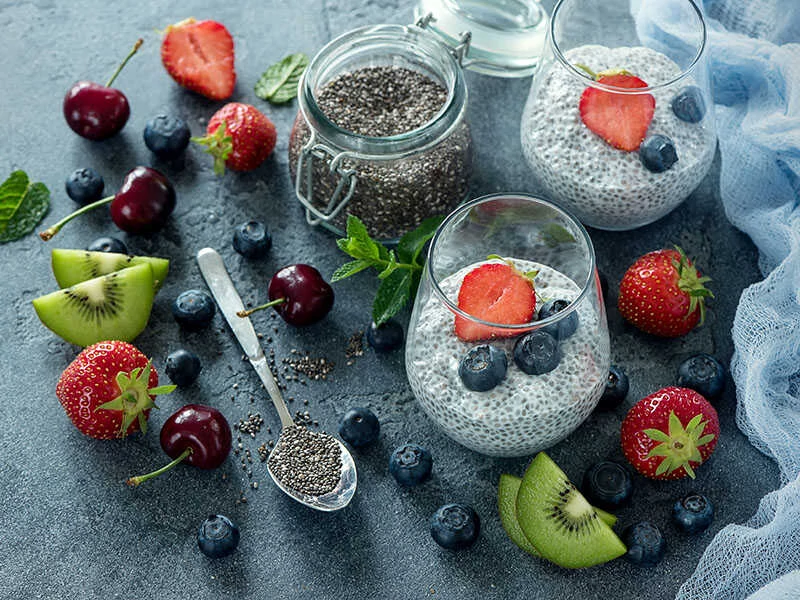 Keep in mind that chia seeds alone won't be enough to get you fit; a balanced diet and regular exercises do. What these seeds can do, however, is make your weight loss journey easier.
Flavor And Consumption
If you ask any chef about the flavor of basil, they'll tell you that this herb is nothing short of an explosion of taste. Does that mean basil seeds are also blessed with a fantastic taste? Well, not really.
Unlike their herbs, basil seeds are pretty mild in flavor with just a slight hint of basil, which isn't necessarily bad. You can enjoy them in many recipes without worrying about alternating the overall taste. The same thing goes for chia seeds since they taste even blander.
It's safe to eat chia seeds raw, though you can always soak them in water to create a gelatinous texture that is perfect to use as a binding agent. But you should know the right way to soak chia seeds. Although they might look petite, these seeds are exceptional at soaking up liquid.
You might be surprised to hear that they can absorb up to 10 times their weight worth of water. This process happens quite gradually, though. Some people also replace eggs with soaked chia seeds when baking (they call this mixture flax eggs, by the way).
On the other hand, basil seeds always need to be soaked before consumption. Otherwise, they'll be too hard to eat. After a short time in the water (usually about 15 minutes), the seeds will swell up, and the absorbed liquid forms a see-through coat around their bodies.
Price And Availability
When it comes to price and availability, chia seeds are the clear winner.
A quick search on Amazon will give you more than a handful of credible organic chia seeds brands, though I can't say the same for basil seeds. Not to mention, chia seeds are generally less expensive than their basil counterparts.
Recipes For Your Nutritious Basil Seeds
Since basil seeds are almost tasteless, eating them on their own might not be very enjoyable. But there's no need to worry; I've got you covered with these delectable basil seeds recipes.
Here's a fun fact about pudding, everyone loves them! While the so-called healthy eaters might frown upon sugary treats (like puddings), even they can't deny that this basil seeds pudding recipe is both delicious and nutritious.
Making coconut and basil seeds pudding has never been easier!
Mango Falooda is an irresistible Indian dessert drink that combines the sweetness of mangoes and the healthful nature of basil seeds. Trust me; nothing comes close to a refreshing mango beverage to round off your summer meal.
If you're a fan of lemonade (seriously, who isn't?), then this lemonade-basil seeds fusion is a definite must-try. With a touch of gelatinous basil seeds, tangy lemonade combined with some sugar or honey makes for the best energizing drink on a hot day.
Amazing Ways To Use Chia Seeds In Your Diet
Now that you've made some delicious dishes with basil seeds, it's time to give chia seeds some love. Follow these recipes to turn these bland but nutrient-packed bad boys into extraordinary meals.
A chia seeds and fruit smoothie is exactly what you need for breakfast. The best thing is, you can throw pretty much any fruit you like into the mix! In case you don't know where to start, bananas, strawberries, and coconuts will never fail you.
This recipe is the perfect way to use up the excessive basil in your kitchen. It's incredible how some basil leaves, a squeeze of lemon juice, and a tablespoon of chia seeds can transform coconut milk into a flawless salad dressing.
Bread is such a versatile food that some people eat it for breakfast, lunch, and dinner. To make the absolute healthiest and gluten-free bread, swap the flour for soaked quinoa grains. Two "superfoods" in one recipe, need I say more?
FAQs
It never hurts to know more. Check out these commonly asked questions about chia and basil seeds to widen your knowledge.
Step In The World Of Healthy Seeds
Despite their small sizes, chia and basil seeds are truly two nutrient powerhouses. If you're ready to change up your diet to a healthier, more balanced one, definitely give these bad boys a go!
Do you have any information you want to add about basil seeds and chia seeds? Comment what you think about them down below, and don't forget to drop a like if you find this post enjoyable. I'd also appreciate it if you could share the post with the people around you!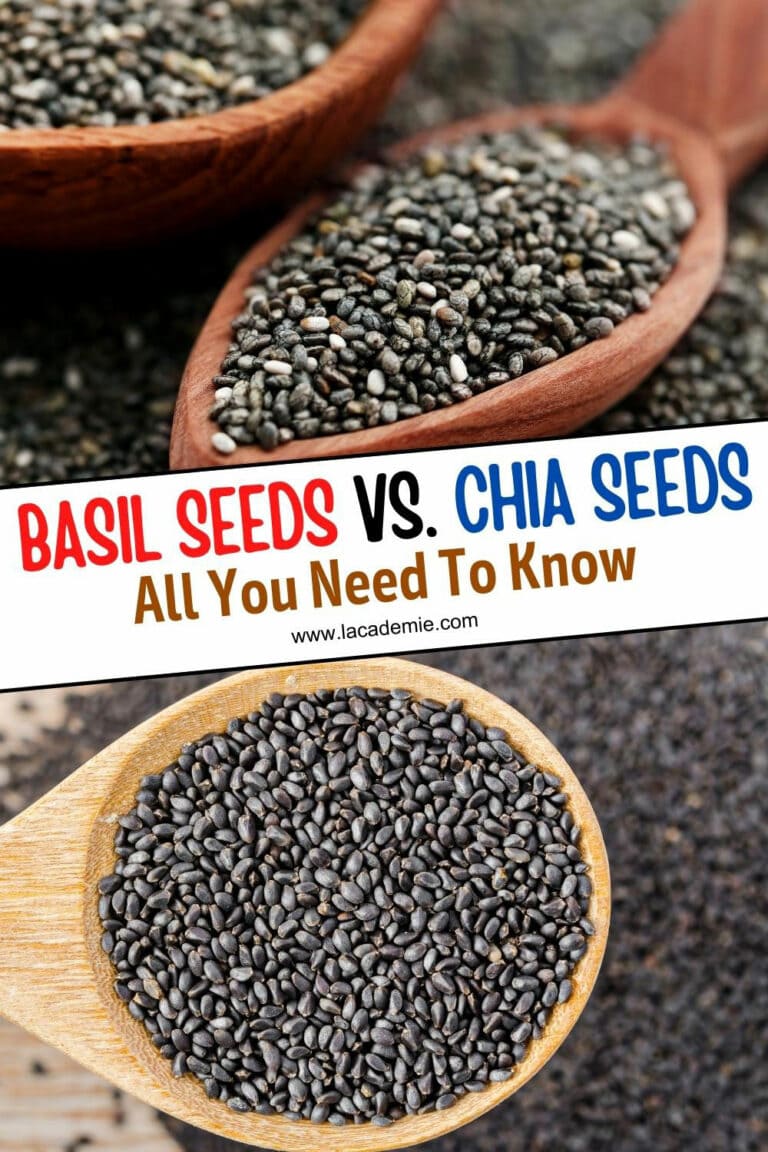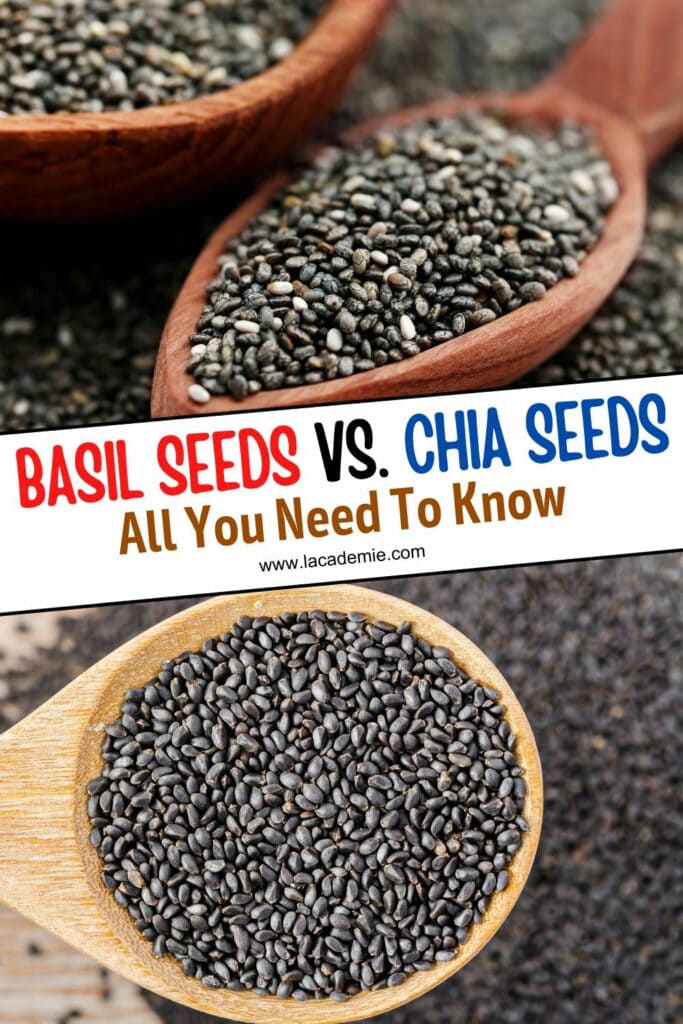 References
Basil An Herb Society of America Guide [online]. Herb Society of America: Home.
Contributors to Wikimedia projects, (2003). Basil – Wikipedia.
RD, M. M. M., (2019). 12 Benefits and Uses of Basil Seeds (Sabja Seeds, Tukmaria) [online]. Healthline.