Do you want to learn how to soak chia seeds? Then you've come to the right place. I've got all the know-how, tips, ratios, step-by-step guideline, recipes, and more that I can provide you with. I'm sure you can soak chia seeds after reading this comprehensive article.
There's a variety of methods to prepare the seeds: whole, soak, grind. Each one of these offers a distinct flavor and experience. It's up to your personal preferences. But soaking them is the most popular way right now.
Due to one of their unique properties (more on that later), chia seeds when soaked can bring many benefits as well as enjoyments that can hardly be found in other methods of preparing. Don't hesitate to scroll down to find out why soaking them is the preferred way.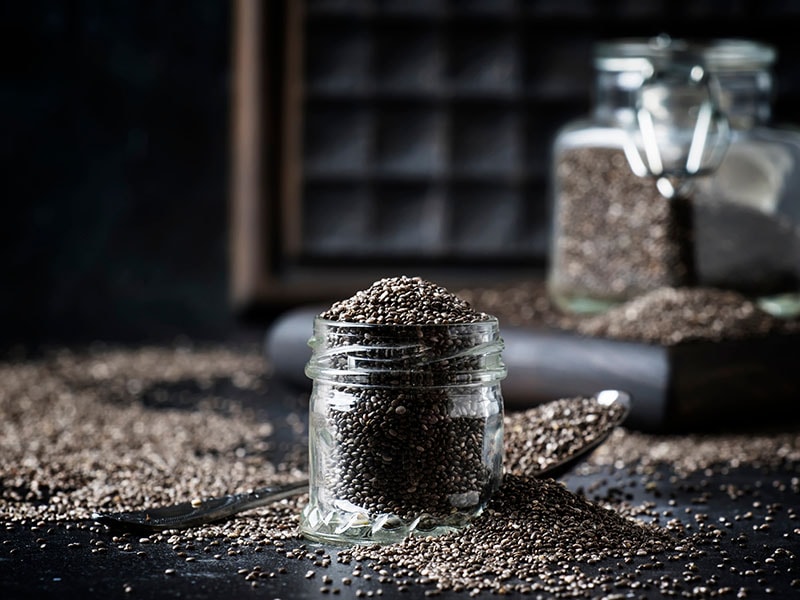 Chia Seeds, What's The Deal With Them?
Chia seeds are the edible seeds of a desert plant called Salvia hispanica L. This plant, which belongs to the mint family, was cultivated for centuries by the Aztecs and Mayas. It is believed to have originated from Central America.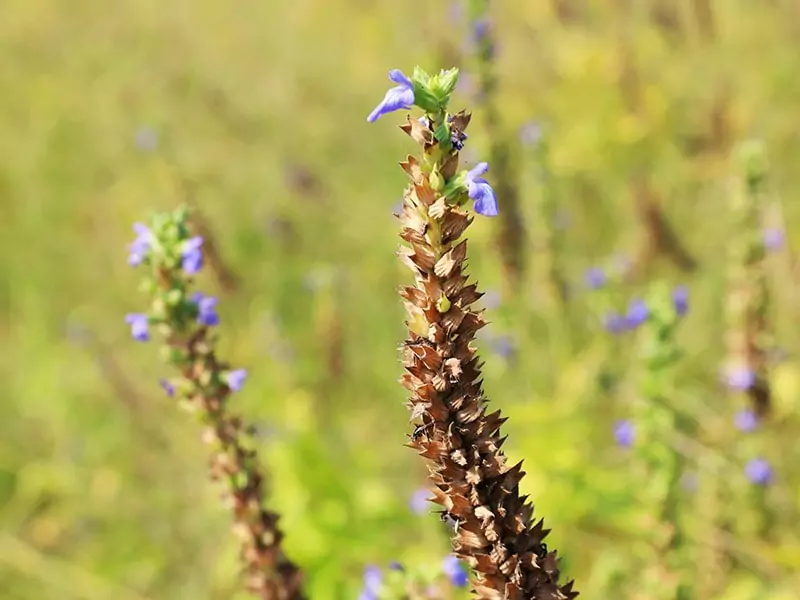 They come in at least 2 varieties: black and white. Besides their outer appearance, they only differ in terms of nutritional values, which are too marginal to be made a huge deal. So either of the two can be used for making a delicious chia gel/pudding.
Some people might mistake chia seeds for basil seeds and vice versa. However, besides their somewhat similar appearance, these two kinds of seeds are different in many aspects.
Fun fact: There're also brown chia seeds. However, should you find them, avoid these seeds like a plague. Because true chia seeds should be in either black or white, when in brown, they don't offer much nutritional value.
Consuming Chia seeds is a great (and tasty) way to get your supplement dose of fiber, Omega-3 and protein. They offer all nine essential amino acids that cannot be made by the body. (1) No wonder they are dubbed "super food".
Why Soak Chia Seeds?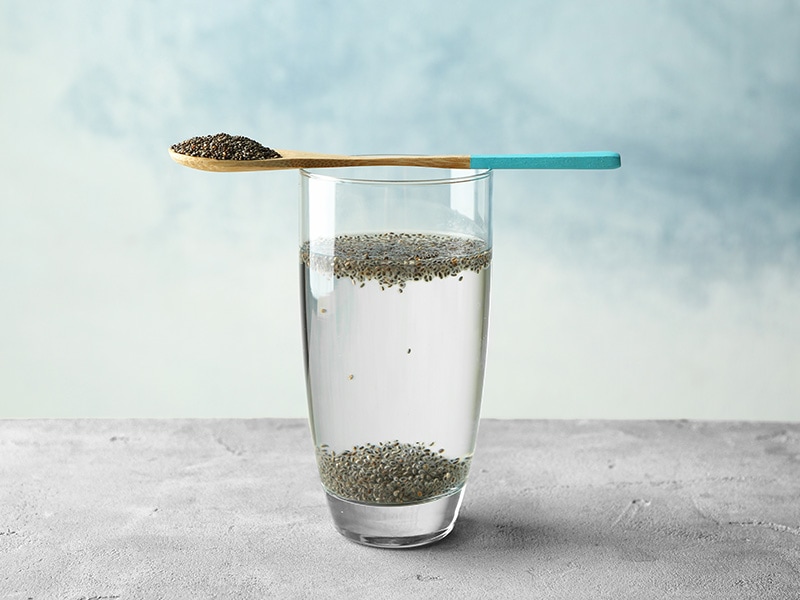 While it's true that you can eat chia seeds raw, consuming them this way can be annoying. These tiny seeds can get between your teeth. Quite a hassle, isn't it?
This is due to their fragile surface, which is prone to breaking upon exposure to moisture. So getting them in contact with liquid beforehand is a good idea.
One remarkable property of chia seeds is that when added to water and allowed to sit for 30 minutes, they swell as a result of absorbing a large amount of water. After that, a thick gel is formed. Since then, they are referred to as chia gel.
In this new form, they become easier to consume and better for our digestion system. Besides, it doesn't take much time and effort to make a chia seeds drink.
Still not convicted? Another reason to eat them soaked is that consuming them raw can dehydrate you as chia seeds are hydrophilic (water-loving). They can absorb up to 12 times the amount of water of their weight.
For their size, they can pack quite a punch. What this means is that when eaten dry, they will absorb the water from your body (hence the dehydrate problem).
On the other hand, ingesting soaked chia seeds helps you stay hydrated and feel fuller for a longer period. After soaking, these nutritious seeds also become a viable substitute for meringue powder. If you still insist on eating raw chia seeds, I recommend you drink extra water.
This guide helps you learn more about the reasons why chia seeds should be soaked before consumption.
How To Soak Chia Seeds In Water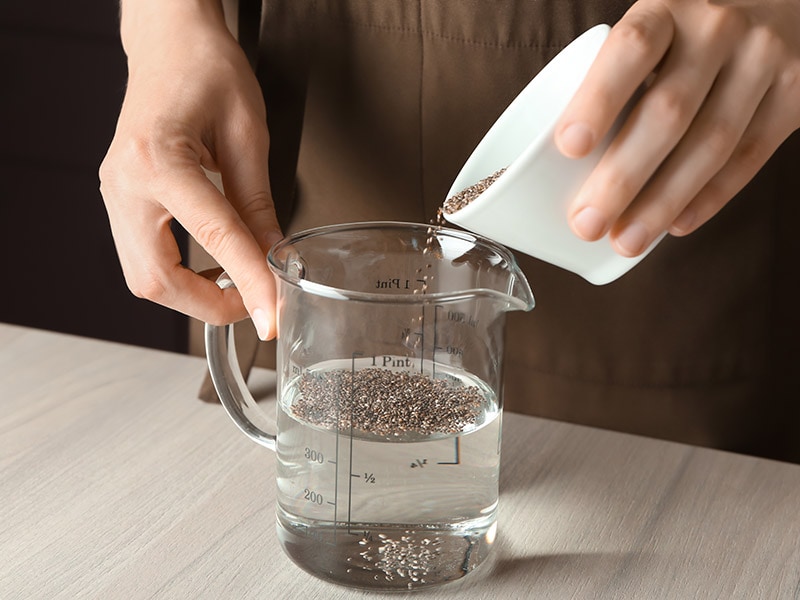 This is the conventional method that is also the most convenient and popular. Anyone can do it, all you need is just some preparation, as little time as 10 minutes, and a nice relaxing place to drink it afterward. Below is a detailed step-by-step guide on how to soak chia seeds.
Here's a timelapse of how chia seed expands when soaked in the water.
Preparation: Gather All The Required Tools And Ingredients.
Here's a shortlist of what you need (it may vary depending on different recipes, but these things are generally can be found in almost every one of them):
A sealable jar or container
A whisk or a spoon (optional)
Chia seeds
Water
Step 1: Create Chia Seeds And Water Mixture
First and foremost, check for signs of spoilage on your chia seeds (yes, they can go bad). Then, pour in the water and put the chia seeds in the container, ideally a glass jar, with a ratio of 6:1 (for looser gel lovers, you can switch to the 9:1 ratio, or for those who are on the other end of the spectrum, try a 3:1 ratio).
Step 2: Shake, Shake, Shake (Or Stir, Stir, Stir)
Next, you can either shake the whole sealed container or stir the bowel with a whisk/spoon for 2-5 minutes.
Step 3: Allow It To Sit Still For A Moment And Shake/Stir Again
Stop and leave the chia seeds alone for about 1 minute. Then repeat the shaking or stirring for another 10-15 seconds.
Step 4: Let It Soak For A Period Of Time
Lastly, let them sit around for at least 10 minutes if you want to eat them right away. For a thicker consistency, you may want to seal the jar and store it in a refrigerator or pantry for 2 hours to overnight.
Extra Step: Add Some Citrus Fruits (Optional)
For the final touch, you can squeeze in some lemon, lime, or orange for a more flavourful experience.
Note: It is important to keep the chia seeds and water mixture in an airtight container, or else the bacteria may make your fresh chia gel/pudding their home and ruin everything! You also don't want the odor of other foods in the fridge to get onto the final product.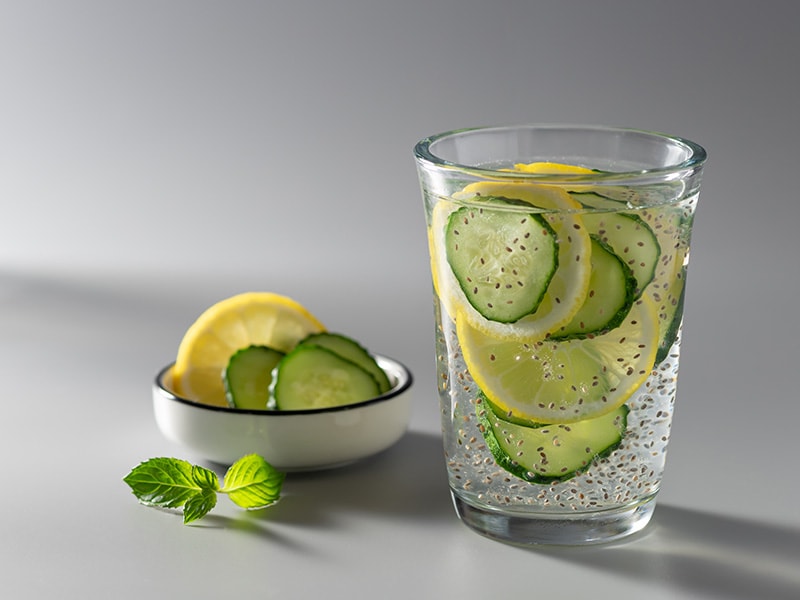 How To Soak Chia Seeds In Milk
Plain water is the most convenient, but not the only option. Milk is one of the alternatives that can be used for soaking chia seeds.
Variety is the spice of life. It's fun to mix chia seeds with other liquids other than water, don't shy away from trying new things. With the combination of two or more simple ingredients, a new treat is born: chia pudding.
Types of milk used vary depending on your preferences. It can be oak milk, almond milk, or coconut milk. The process is similar to soaking in water, you just need to change the ratio in step 1 to 4:1 (4 tablespoons of milk, 1 tablespoon of chia seeds).
If you're a low-carb diet enthusiast, you can't go wrong with unsweetened almond milk. As for those who are lactose intolerant or vegetarians, coconut milk is a suitable choice.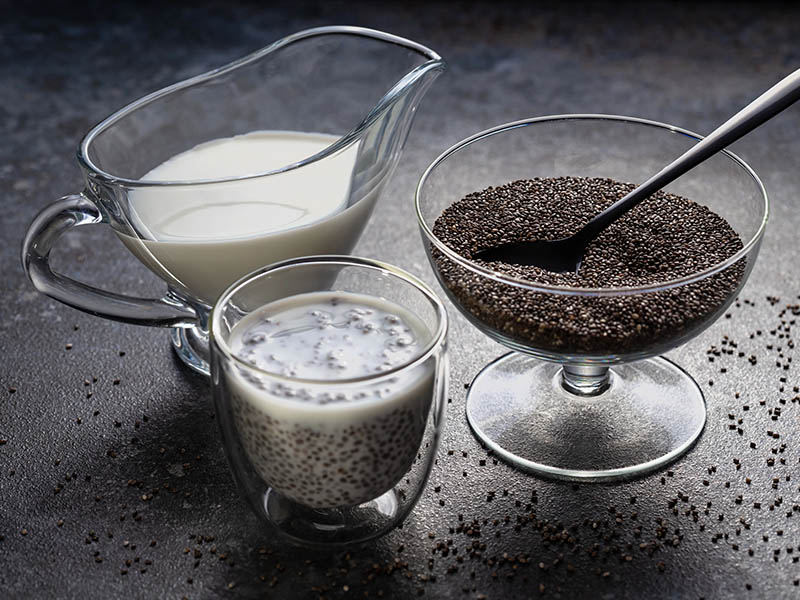 How To Soak Chia Seeds In Yogurt
Another recipe that is ideal for breakfast is chia seeds Yogurt pudding. For those who prefer the creamy nature of a pudding, this is the recipe for you!
A ratio of 8:1 (8 tablespoons of Yogurt to 1 tablespoon of chia seeds) is ideal since the Yogurt itself (especially Greek Yogurt) is very thick. You don't want to have an overly thick pudding at hand, do you?
In case you've already ended up with such one thick mixture, add more water to dilute it. Another great recipe is to make a combination of milk and Yogurt (with a 1:1 ratio), then throw it in the jar with the chia seeds.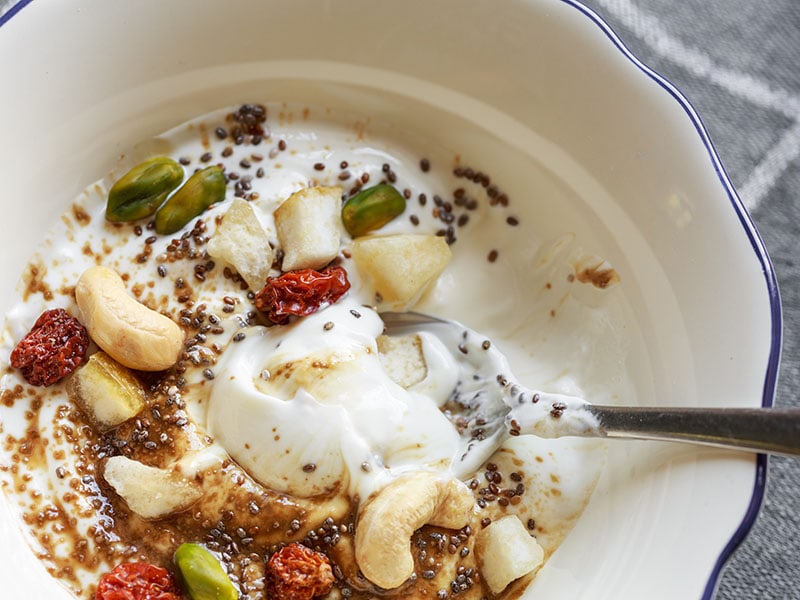 How To Soak Chia Seeds In Fruit Juices
Want something richer in vitamins and offers a refreshing taste? Look no more, for the Juice-based chia seeds drinks are here. You can use any kind of fruit, from lemon, orange to kiwi.
Keep following the mentioned procedure, put every ingredient into a jar (the ratio should be about 16 tablespoons of juice per 1 tablespoon of chia seeds), shake or stir it a little, stop for 15 seconds, then repeat the shaking/stirring.
If you want to use it on the spot, give the newly-made compound at least 20-30 minutes for it to "set". Then pour it into a glass, drop in some ice cubes, and enjoy your summer vibe drink!
Tips: when using liquids other than water, it is recommended to let the mixture sit overnight so that the chia seeds can soak up all the liquids.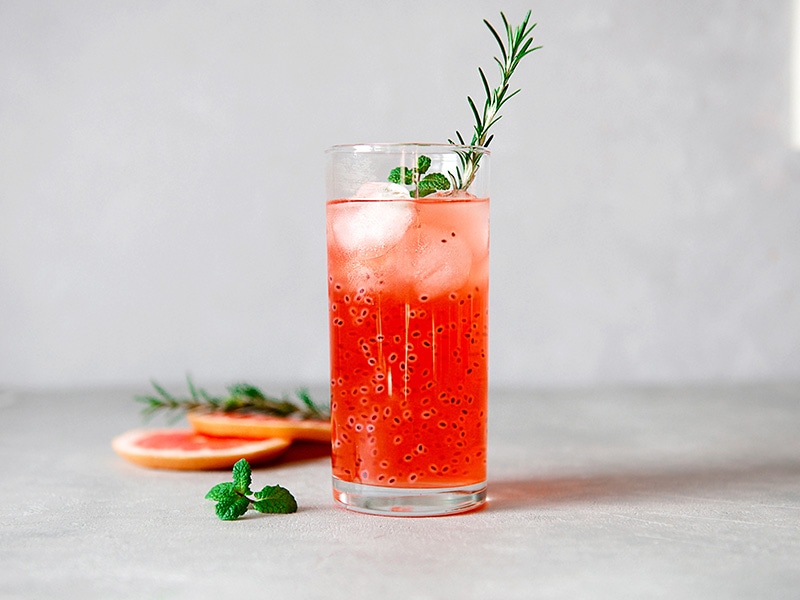 Soaking Chia Seeds – Comparison Chart 2023
You got all of that? If yes, good. If not, there's no need to panic. I have comprised a nice table for you to make a reference to whenever you want to fix a nice chia gel/pudding for your family or friend circle:
Note: You can adjust the ratio to however you like to achieve your desired chia gel/pudding's consistency or texture.
| Soaking chia seeds | Recommended Ratio (liquid per chia seeds - in tablespoons) | Appearance | Best usage | Recommended soaking time |
| --- | --- | --- | --- | --- |
| With Water | 6:1 | Jelly-like | Eaten with an empty stomach | Minimum 10 mins |
| With Milk | 4:1 | Similar to above | Could make for a satisfying breakfast | Minimum 30 mins |
| With Yogurt | 8:1 | Thick & Creamy | Consumed as a dessert with added fruits | Minimum 15 mins |
| With Fruits Juice | 16:1 | Watery | Making a vitamin drink (especially when you catch a cold) | Minimum 20 mins |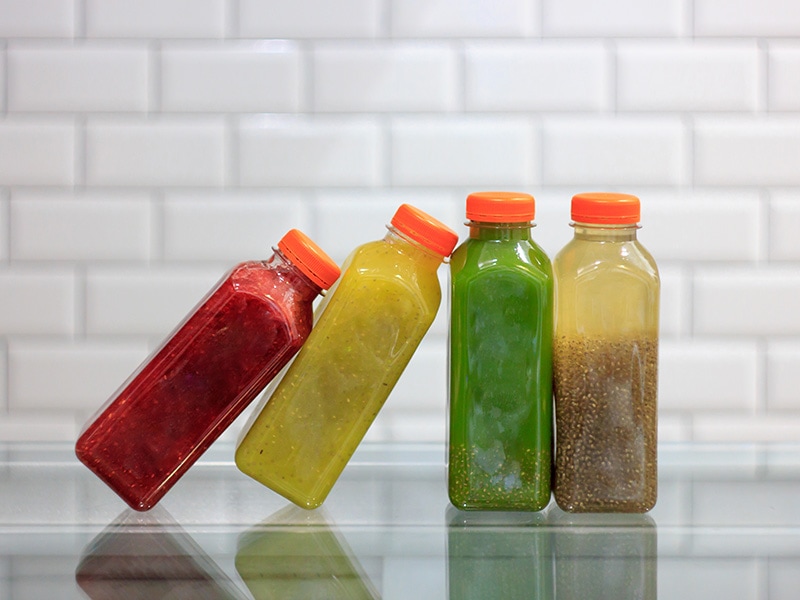 So, Everything's Done, Do I Just Eat It Then?
Of course, now it's the time to dig into your delicious and eye-catching serving(s). But, you can even elevate the already amazing chia gel/pudding to a new level by adding in some extra toppings or eating them together with oatmeal and smoothies. Besides, soaked chia seeds also make an excellent alternative to eggs in meatloaves.
Here're some possible options that you can toss in for extra flavor:
Chopped banana
Mango
Kiwi
Vanilla extract
Honey
Maple syrup
Granola
Shredded apples
Berries
Pinch of salt
Turmeric
Etc,
And many more! The sky's the limit, even in cooking. For instance, why just limit it to chia seeds and one form of liquid? You can try a multiple ingredients chia gel or pudding recipe (toss in water, juice, berries, and liquid sweetener and see what the result is like).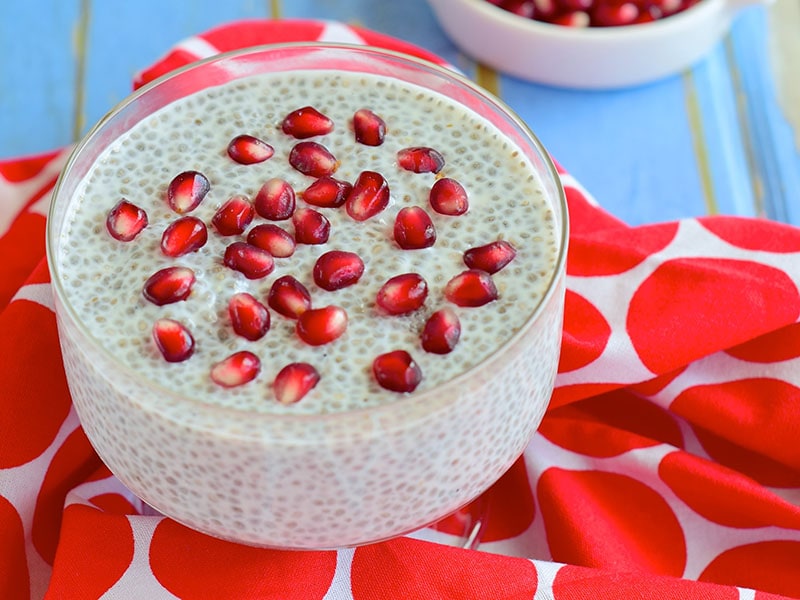 Experimenting is the key. In time, you will discover new blends that are so good that it's hard to believe it's a healthy food/drink. Don't be shy, you can look up others' recipes or share your own in the comment section below.
Did you know? Chia gel can be used as an egg replacement. Add 3 tablespoons of water, and 1 tablespoon of chia seeds, then wait for 5 minutes until the gel is formed. And you can use it as an egg substitute in various dishes, like baked bread, cookies, waffles, etc.
Another quick and easy 3 ingredients chia pudding recipe that you can learn in minutes.
I Made Too Much, How Can I Store Them To Eat Later?
You've got all the ingredients and made a few batches of soaked chia seeds, but you don't want to consume them all right away. It's alright, you can just put the final product into an airtight jar or container and store it in a refrigerator.
Just like with any other food or drink, soaked chia seeds can go bad. How long they last depends on what you mix them with.
Typically, in case of using water, they can last up to one week in a tightly sealed jar in a refrigerator. When milk or Yogurt is introduced, you can expect them to last a few days.
Note: DON'T garnish the chia gel/pudding with fruits, berries, nuts, and the like before putting it in the refrigerator. Adding these before storing increases the chances of it going bad sooner than normal.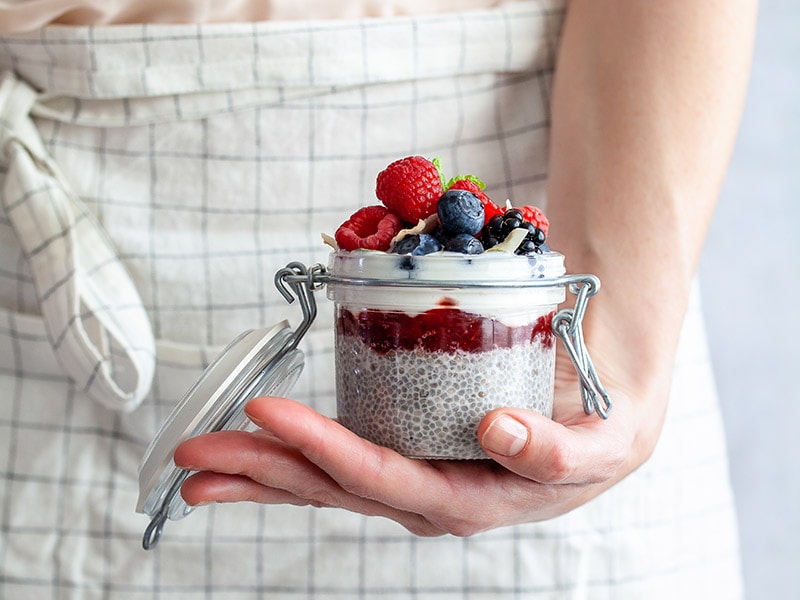 Help! I Did As Instructed, But It Didn't Turn Out As Expected
If you're struggling with making chia gel or chia pudding, maybe something went wrong. Here's a little checklist for the possible problems and solutions:
My Chia Seeds Don't Swell
Maybe it's the quality of the chia seeds themselves. Remember, true chia seeds are either in black or white, don't bother with the brown ones.
If you've already gone with the black or white ones, but the result is still not as desired, check if they're old or have gone bad.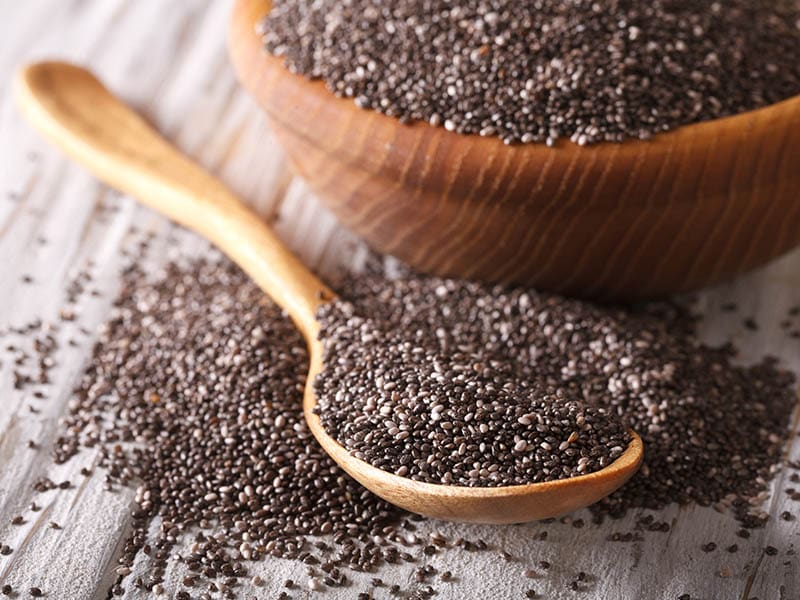 Some people reported that certain brands of chia seeds products do not soak as much water as expected. If so, you may want to consider switching to other brands.
The Mixture Is Either Too Thick Or Too Watery
This happens when you add too much or too little chia gel into the mix. To counter this, simply put in more chia seeds or more water/milk until the right balance is achieved.
This part is all about personal preferences, but you can refer to the recommended ratio chart written above.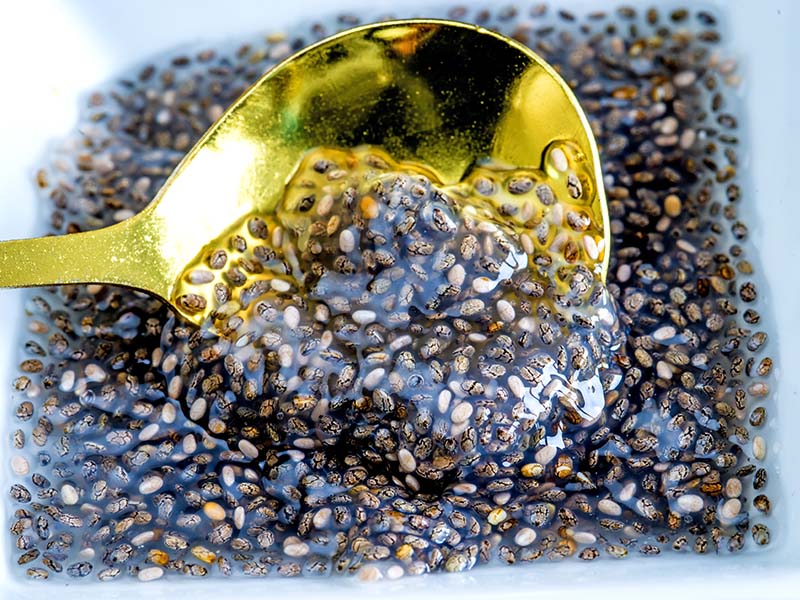 Tips: For the best result, it is recommended to shake/stir the chia gel/pudding after you mix the ingredients together. This is to ensure that these little grains won't stick together and form clumps.
The Texture Is Not To My Liking
Is it too thin? Too seedy? If so, you could try throwing the mixture into the blender and allow it to get the job done. A smooth, creamy consistency can be easily achieved through the help of these machines.
A quick tip: If you want to eat soaked chia seeds with smoothies or other drinks, don't put them directly in yet. Let the blender break down everything first, then add the soaked chia seeds at the end of the blending process.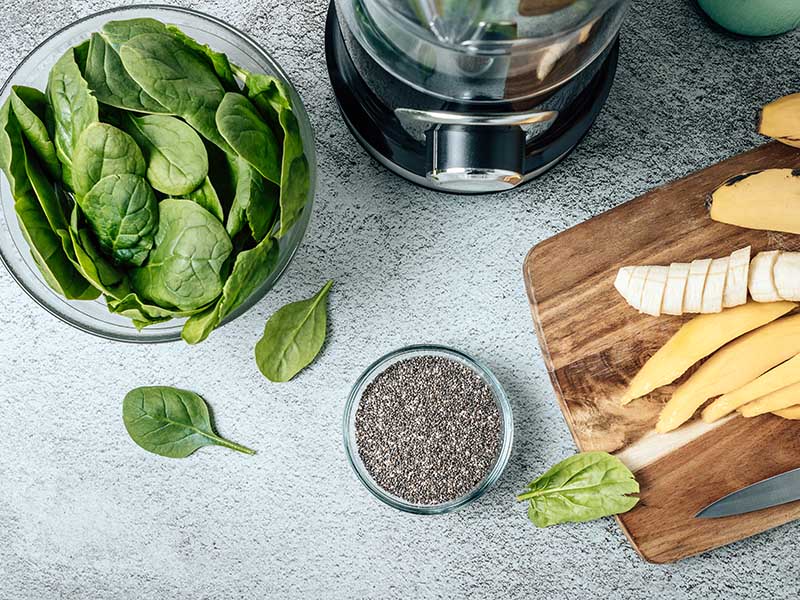 How Much Chia Seeds Should I Consume Daily?
Too much of a good thing can be a bad thing. It is not advisable to consume anything excessive. Soaked chia seeds are no exception to this rule. They certainly are great for your overall health, but to make sure that you get all the benefits without any problems, remember:
15g (Or One To Two Tablespoons) Per Day Is The Gold Standard
At the moment, the average fiber RDA (Recommended Dietary Allowance) for the adults in the US is about 15g a day (2). Since chia seeds have a high concentration of fiber and protein, try to limit your intake of them within this threshold.
1 tablespoon is the recommended amount of intake. But fear not, you can also use 2 tablespoons of chia seeds every day. Just don't try to consume much more than that.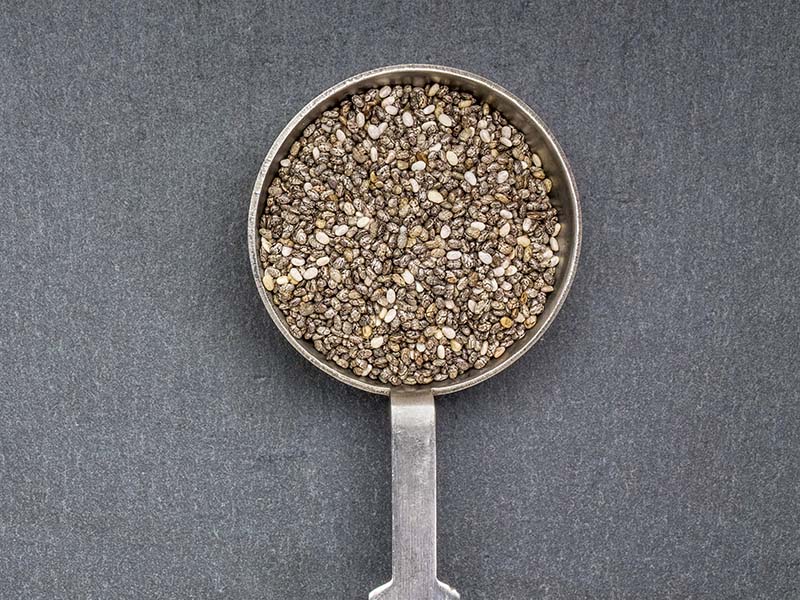 What Are The Pros And Cons Of Consuming Chia Seeds?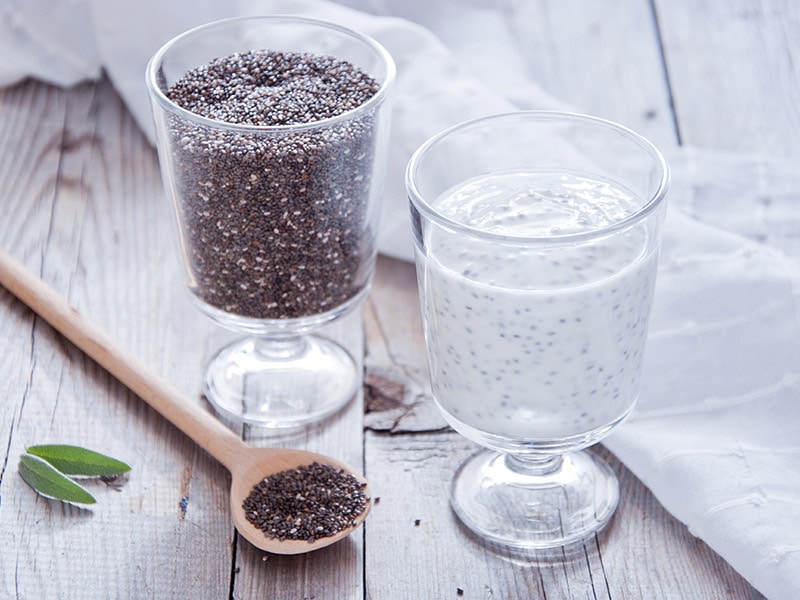 Chia seeds are often praised as "superfood", but not without good reasons. However, they also have their own sets of drawbacks. Here, I'll outline some goods and bads of these particular seeds:
Pros
Cons
● Good for your heart, bone health, and teeth
● May help with conditions such as diabetes
● Aids hydration
● Provides a good amount of fiber, protein, fatty acids, and minerals
● Rich in antioxidants
● Allergy issues
● May cause lower blood pressure
● Blood-thinning effects
● Possible digestive and gastrointestinal upsets
● May cause interactions with blood sugar or blood pressure medications
Note: If you're uncertain, it's always a good idea to consult with your doctor before consuming any new kinds of food or drink.
Consuming soaked chia seeds brings you all kinds of health benefits. Start soaking them today!
Must-Known Chia Seed Brands
Just like any other products, chia seeds are available in various brands by different manufacturers. There's no shortage of chia seeds brands. It's important to try out different ones to find out which brands you will become a regular of.
Each brand is suitable for different people with different needs and preferences. I've comprised a list of the 5 most popular and reputable brands that you may want to check out: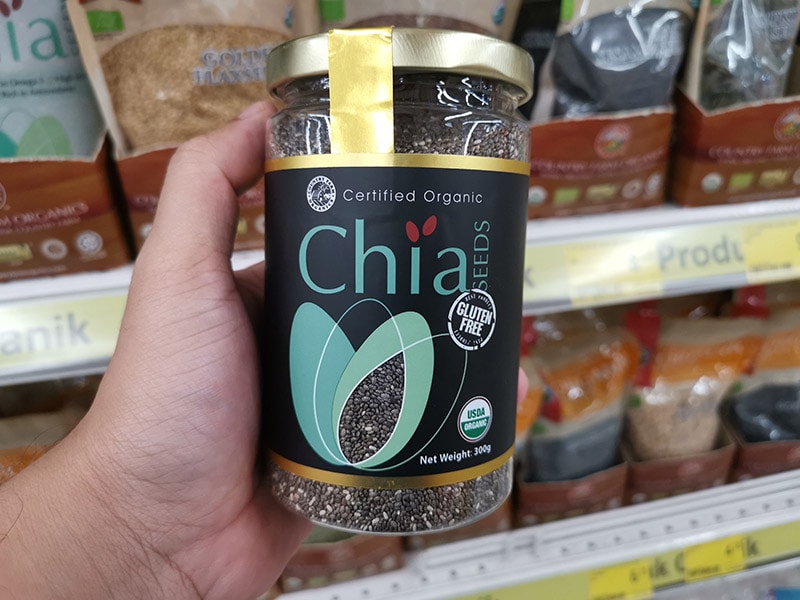 A noteworthy choice from a company that puts the wellness of the people and sustainability as their top priorities. Their products are sourced from Argentina, Paraguay, and Mexico.
They offer high-quality 32-ounce packaging at an affordable price. Their products are a good fit for making smoothies and salad, thanks to the neutral flavor.
This brand is highly praised for its cost-per-ounce in comparison to other competitors on the market. Plus, this brand offers packages of chia seeds in 8 or 16 oz.
Thus, it's ideal for making small servings and those with smaller storage space. You can't go wrong with this brand if you don't want to commit to bulk-sized serving.
BetterBody has delivered delicious products to millions of customers from over 20 countries throughout the past decade. It is also gluten-free, organic, and comes with a jar to boost!
This is a good choice if you prefer having chia pudding, smoothies, etc., for breakfast or dessert. The product originated from "the sun-kissed soil" of Argentina, Bolivia, Mexico, Nicaragua, Paraguay, and Peru.
They are certified organic chia seeds imported from Paraguay. You can buy these in 8 oz, 16 oz, and 32 oz resealable foil-lined natural kraft bags. FGO Organic Chia Seeds are certified USDA Organic.
They also have a nice refund policy, if you don't like what you get, you can email them to get refunded in full, simple as that.
This brand has been focused on providing raw and nutrient-dense superfoods for over 15 years. Their line-up includes the Organic and the No Pesticide varieties.
There's also a 48 oz option that's ideal for bulk-sized servings lovers. One nice thing is that there're recipes and FAQs available on their websites, so if you want to learn, you can read that.
Want to know even more about chia seeds brands? The following video is all you need.
Amazing Soaked Chia Seed Recipes
After everything basic information about soaking chia seeds has been said and learned, now it's time to get into the kitchen, roll up your sleeves and fix some delicious servings. Here are some recipes that you can rely on.
This one requires a fair share of ingredients: hazelnuts or pecans, kosher salt, oats, etc., but the end result is just so worth it. But trust me, when all's done and good, it may become your favorite breakfast that you can't help but incorporate into every day of your life.
Have you ever thought of mixing rose water together with chia seeds? Well, here you are, a recipe for such a refreshing treat.
The main ingredients include: chia seeds (duh!), rose water, plain whole milk kefir, and Beetroot powder. You can add in Maple syrup or vanilla extract for other forms of preparation.
Want to up your snacking games? Then take a quick look at this potential candidate for your list of healthy foods that will make you feel better (and healthier) after eating. A guilt-free snacking or breakfast session, if you will.
Back to the basics with just water and honey and some lemon juices, which is not essentially a bad thing after all. This recipe is a time-saving and easy one for when you want to keep things simple. Sometimes you want it that way, and it's fine too!
Want to explore more alternative recipes? You may want to check out these 6 delicious ways of making chia pudding.
FAQs
In the process of soaking these tiny seeds, of course, you would have one or two inquiries. Fear not, there's always a first time for everything. Below are my answers to the most popular questions regarding this topic:
Soaked Chia Seeds, The Simple Recipe For A Healthier Lifestyle
With little planning and preparation, soaked chia seeds can become the ideal snack or breakfast with high nutrition values that get you throughout the day. This is truly the tropical recipe for starting your day with energy or enjoying a nice breeze in the downtime.
They are amazing, offering a great deal of health and nutritional benefits, all the while being a great treat for the young and old alike. What's not to love about them?
When your family and friends are surprised by the delicious chia seed drink you made, make sure to tell them all about the information you've obtained from reading this article! Sharing is caring, whether it's a glass of good chia gel/pudding or how to make one, isn't that right?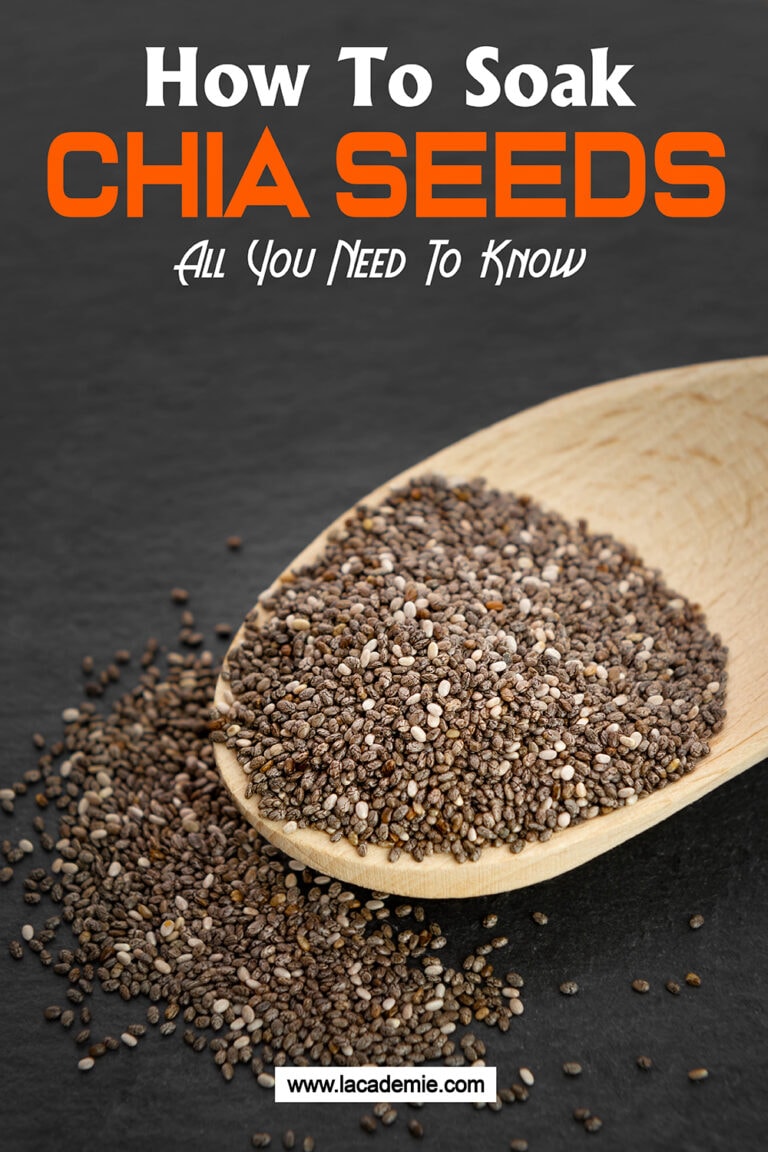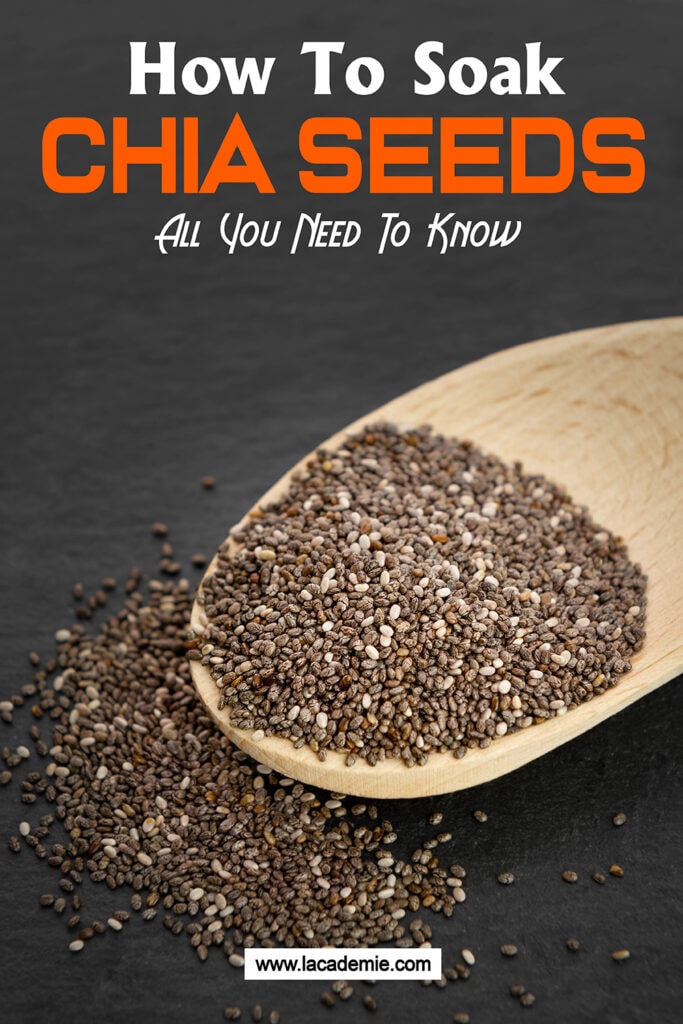 References:
2019. [ebook]
ucsfhealth.org. n.d. Increasing Fiber Intake.