Popular for its outstanding nutrition package, but do chia seeds go bad? And how can you keep them properly for longer usage?
Everyone nowadays is crazy about chia seeds, from yoga instructors to housewives. Some use it as a replacement for meringue powder or other baking ingredients. Others add it to smoothies, drinks, or foods. All serve one ultimate purpose – a healthy diet.
In this post, I will show you why they are so famous and how you can store them correctly because you don't want these expensive seeds to go bad for just a few days, right?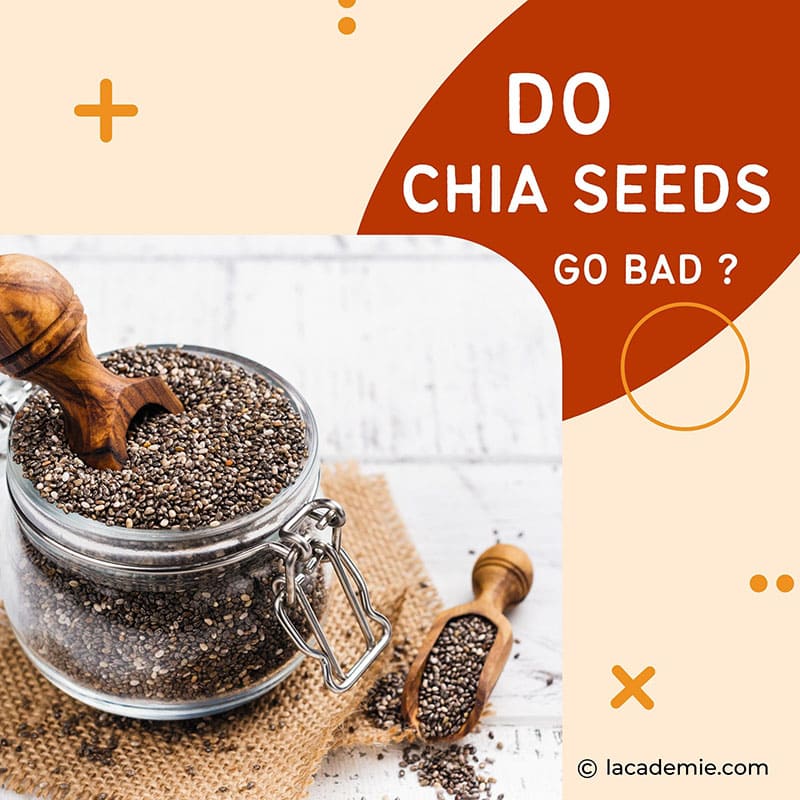 So, Do Chia Seeds Go Bad?
Well, the answer is yes! Of course, chia seeds only last for a certain amount of time. Usually, the package of chia seeds will have an expiration date of around two years.
If you store them correctly, they can last up to three to four years. Interesting right? Let's find out more about these seeds.
Let's Learn About Chia Seed!
Chia seeds might be tiny but they sure store significant nutrition. The seeds are eminent for their benefits to human health. They are widely used to improve digestion and also enhance the weight loss process.
Nutrition: Chia seeds are packed with omega-3, Fiber, Protein, and Calcium. These are essential nutrients for your daily meals. Also, omega-3 is good for lowering cholesterol and decreasing inflammation.
Due to their great amount of nutrients, chia seeds are often called 'functional food' or 'functional ingredient'.
Usage: Chia seeds can be eaten raw or served as toppings for different dishes.
These nutritious seeds are very absorbent, they create a gelatinous cover around the seed when soaked in water. That's why many choose it as a solution to stand in for egg white when they run out of it. Not to mention, chia seeds are healthier than the original ingredient.
This well-known black-colored food is often used in cereal, yogurt, protein shakes, or salad dressing. The taste of chia seeds is mild and a bit nutty. Their flavor doesn't compete with other ingredients, as a result, they are perfect with drinks and baked goods.
As long as there is enough moisture to hold the seeds, any dish can be added with chia seeds to enhance the amount of nutritions intake2.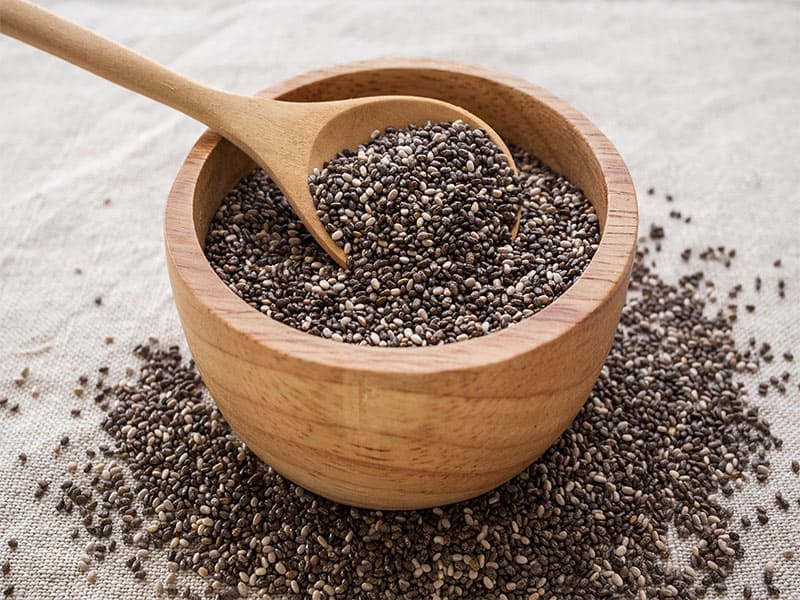 If you want to learn more about chia seeds, this video is made just for you:
How Long Do Chia Seeds Last?
People often compare chia seeds with basil seeds or other seeds, especially about their shelf life. Chia seeds are considered to have better endurance to normal temperatures than others. This is because they have a huge amount of antioxidants stored inside the seeds.
When you buy a package of chia seeds from the market, the package will always be labeled 'Best before' instead of 'Expiration date'. Usually, the duration is two years for most manufacturers.
So if you leave your package of chia seeds in your kitchen at ordinary temperature, they should be fined for at least two years.
Best-To-Use Duration For Chia Seeds
| Chia Seeds | Room temperature | The Fridge |
| --- | --- | --- |
| Dried | One to two years | Five to eight years |
| Soaked | Not safe | Three to five days |
| Flour | 6 months | Not safe |
When chia seeds are soaked with water, the covers will crack and form gelatinous shells. Now the shells taste great, however, there is no longer protection for the seeds anymore. Also, there are some notes about soaking chia seeds, like ratio, accompanied liquid, etc.
Soaked chia seeds can be only stored in the fridge for five days. You better divide suitable proportions before soaking your seeds.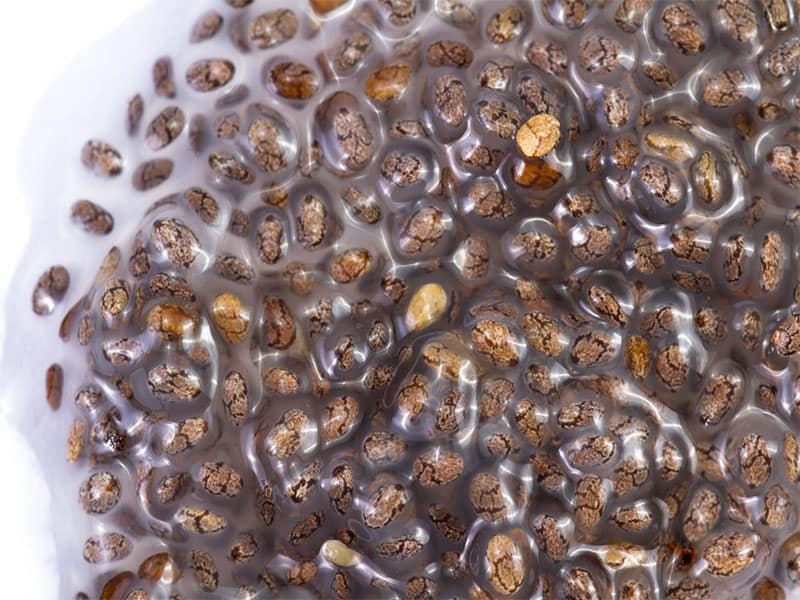 Flour made with chia seeds is good to leave in your pantry for up to six months. Make sure you keep the flour in an airtight container. Most chia seeds are stored in resealable packages, so it is just fine to optimize the package.
How To Sort Out Bad, Rotten, Or Spoiled Chia Seeds?
Now you know that chia seeds are surprisingly endurable to ordinary temperature, what if they got bad? What can you do then? Well, take it easy, let me show you how.
There are plenty of ways that lead to the deterioration of chia seeds, one of them is water. Whenever water reaches your seeds, there will be mold in just a couple of days.
And you know what you should do when there is mold? You should get rid of your chia seeds instead of trying to scoop them out. Just withdraw them altogether!
Normally, chia seeds have a nut-like aromatic scent. If they start giving strange smells, that means you should discard those seeds.
When the seeds are rancid, they will give a bitter taste. you should get rid of them. Using them at this time can cause difficulty in your digestion.
Chia seeds are always dry. If you find any sliminess while touching them, they are no longer safe to use. You should throw them away.
Bugs are bad for all kinds of seeds. They appear to eat your seeds, but the seeds are not ruined. If just a couple of bugs, you can pick them out and use the seeds letter on.
One last note, when you open the jar of seeds and notice that they are stuck together, stuck in the jar, or stuck in the bottom, you should discard them. This is when they start lumping and the seeds are not edible anymore.
Best Way To Store Chia Seeds
Storing chia seeds might sound simple at first but there are some useful notes that you should have a look at.
Most chia seeds are stored by freezing and this method should preserve your seeds for 8-10 years. Just make sure there is no air or moisture that can get inside the jar of containers.
Most chia seeds you have seen on the market are dried and well packed. If you want to put them in the freezer, it should be no problem. If you are not sure about the quality of chia seeds, here are some steps you should do:
Prepare a large surface (you can take out a flat baking pan). Then, place tissue on top.
Sprinkle the chia seeds into the tissue.
Let the tissue absorb the moisture for five to ten minutes.
Prepare a dry, clean airtight container.
Pour all the dried seeds into the container.
Tied the container (make sure there is no moisture invasion when you seal the container)
Put the container in the freezer.
Important note: You should divide your chia seeds into different proportions. When thawing the frozen seeds, water and moisture will appear around the container. If you can't use all the seeds, they will have a high chance of being ruined.
If you store soaked chia seeds in the freezer, they will become chia pudding when you defrost them. This pudding is really tasty but you have to use it fast because the storage time for chia pudding is only just a few days.
3 Useful Tips To Store Chia Seeds
There are plenty of elements that can affect the storing process of chia seeds. Here are some TIPs for keeping these seeds
Use Mason Jar
You and I all know mason jars are often associated with desserts. But they are also suitable for storing chia seeds. I know that most chia seeds come with plastic packages and they are able to reseal.
A glass jar provides a stable condition for your seeds and also prevents spoilage due to the airtight caps. Also, the glass materials provide a transparent visual, you can notice when the chia seeds are getting bad.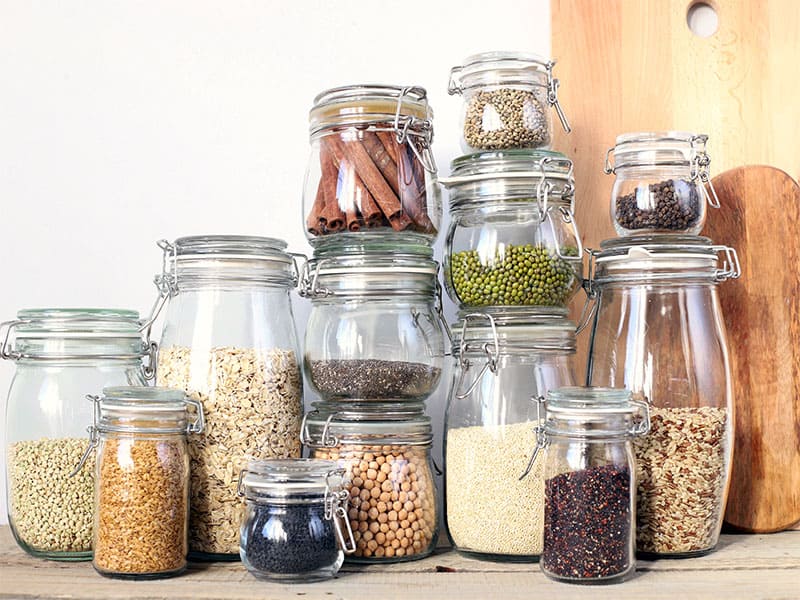 Seal The Container
Remember that if you let air or moisture access inside the containers, your seeds will be spoiled in just a few days.
Also, you can prevent mold and insect invasion. Transfer your seeds into resealable bags or containers right after you open the package from the supermarket.
Don't Scoop Your Seeds
Usually, you should pour the seeds into a bowl or cooking pot and use it. Avoid using a spoon to scoop the seeds. The spoon can carry dust or moisture and bring them to your seeds.
If you still want to use a spoon to scoop the seeds out of the container, you should only have one spoon and that spoon should be in the container with the seeds. This way, we can avoid moisture and dust from outside.
Can You Freeze Chia Seeds?
Freezing is usually a common way to store organic food as well as chia seeds. All you have to do is to make sure that there is no excess air or moisture in the freezer or bag. Just like that, you can preserve a large volume of chia seeds for up to ten years.
You should notice that crystallized water molecules react with the seeds during thawing and cause them to swell and release mucus-like fluid. If you freeze wet, soaked, or washed seeds, you can expect to get chia gel after thawing instead of the crispy dry seeds.
Once you want to take the chia seeds out of the freezer, leave the container overnight at room temperature. In the morning, sprinkle them on a paper towel and leave them to dry out for an hour and two before use.
Some Yummy Foods Use Chia Seeds
There are plenty of ways to make your healthy meal with chia seeds become more diverse.
Chia Water
One of the simple ways to add chia seeds into your diet. To make chia water, soak ¼ cup (40 grams) of chia seeds in 4 cups (1 liter) of water for 20-30 minutes, tastier with cold water.
Moreover, to give your drink some flavor, you can squeeze in a lemon, lime, or orange.
You can also make detox water with some chopped fruits such as watermelon, apple, lemongrass, and a branch of smoked rosemary.
Chia Pudding
When chia seeds absorb water for enough time, they can form a nice gelatinous liquid. Any drink can add chia seeds to create a beautiful pudding. Water, juice, and yogurt, just flavor them with cocoa or vanilla they are ready to serve.
I'm sure these recipes of chia pudding will make you overwhelmed, watch this video to know more:
Chia In Smoothies
Chia seeds can be added to any smoothies to form a gel texture in the drink. Make this drink, especially for kids, they will enjoy colorful smoothies with tons of nutritional value inside.
Chia Cereal
Want to make your breakfast different? You could change your daily cereal to chia cereal. Milk, nuts, and granola with soaked chia seeds are an amazing start for your morning.
You can add fruits like strawberries, blueberries or bananas to make the cereal more
Do Not Overuse Chia Seeds
Besides the above-mentioned benefits of chia seeds, they also bring bad influences on your health if you overuse them.
Consuming A Large Amount of Chia Seeds Can Cause Problems With Your Digestion.
The fiber in chia seeds can cause many health problems relating to your metabolism. Gas, diarrhea or some pains in your abdominal will occur when you consume too much fiber.
You can prevent these harmful signs by drinking a lot of water to support fiber intake to pass through the body.
A Risk Of Being Choked
Drinking chia seeds with water or other drinks might sound simple, but this action can lead to the choking risk. Make sure you drink them carefully, especially sip by sip.
The size of a single chia seed can increase by 10 to 12 times its normal size when exposed to water. This might cause congestion while consuming a significant amount of chia seeds in a short time.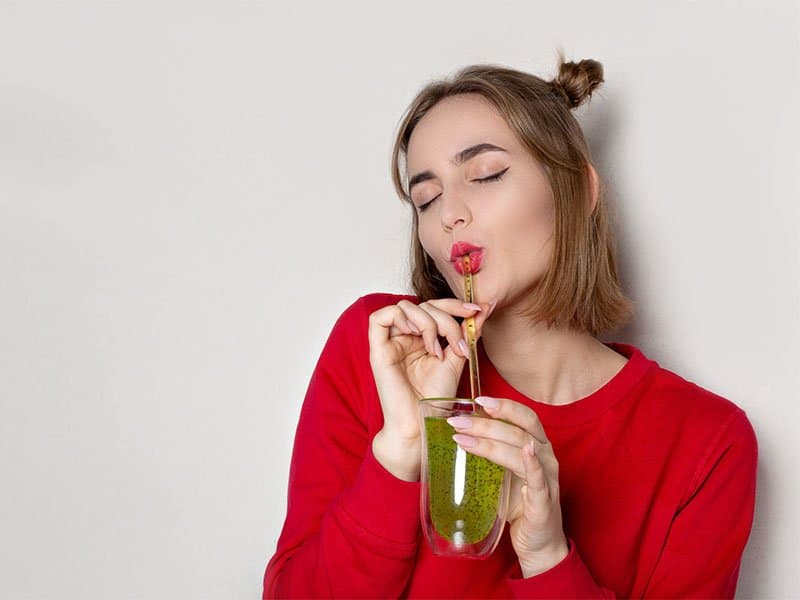 Remember to pay attention when eating those chia seeds. Choking can happen at any time while you are consuming food.
Allergy To Chia Seeds
It is uncommon but there is a minority of people that can have allergy to chia seeds. The symptoms often include vomiting, diarrhea or the feelings of itchiness around the lips or tongue.
Set an appointment with your doctor immediately if you have some of these symptoms at the first time using chia seeds.
FAQs
Try A Class Of Chia Seeds Smoothie Now!
Storing chia seeds is not that difficult right? I hope the information above is helpful for you. Chia seeds can be ruined but with just some simple steps, you can keep your seeds for years.
A package of chia seeds are not that cheap so make sure you keep them properly. Bring joy to your family with a party of healthy chia seeds smoothies, I'm sure you will impress all of them.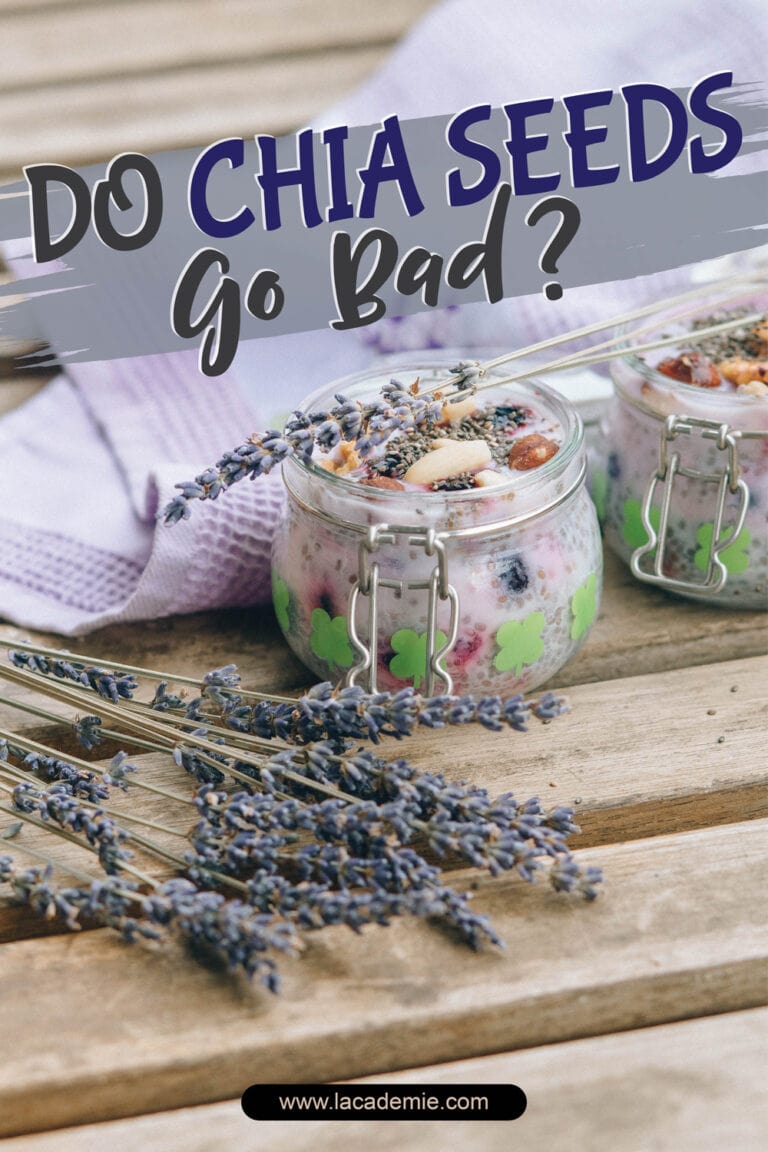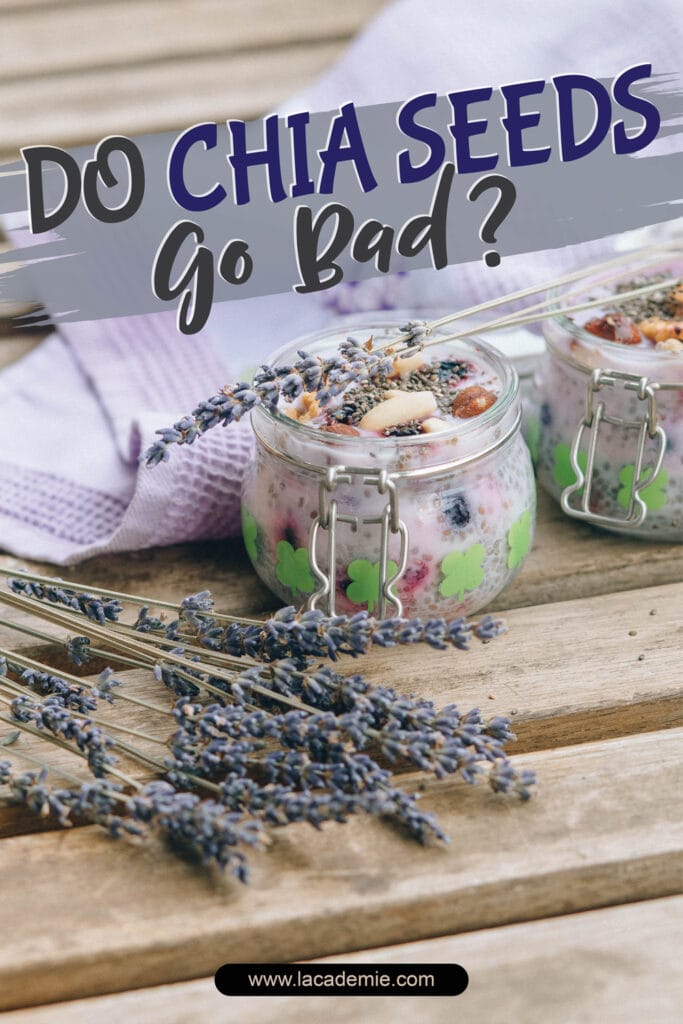 Reference:
The Nutrition Source. 2021. Chia Seeds. [online] Available at: <https://www.hsph.harvard.edu/nutritionsource/food-features/chia-seeds/>
Eatright.org. 2021. What Are Chia Seeds? [online] Available at: <https://www.eatright.org/food/vitamins-and-supplements/nutrient-rich-foods/what-are-chia-seeds