I get many questions about delicious foods that are black. So I need to publish this post to give you a list of mouth-watering food and related information about them. Let's prepare a pen to take note of all vital things.
I guarantee you will not be able to take your eyes off this article because of its engaging content and helpful information. All you need to do is to read this article from start to finish. Let's blow your mind right now.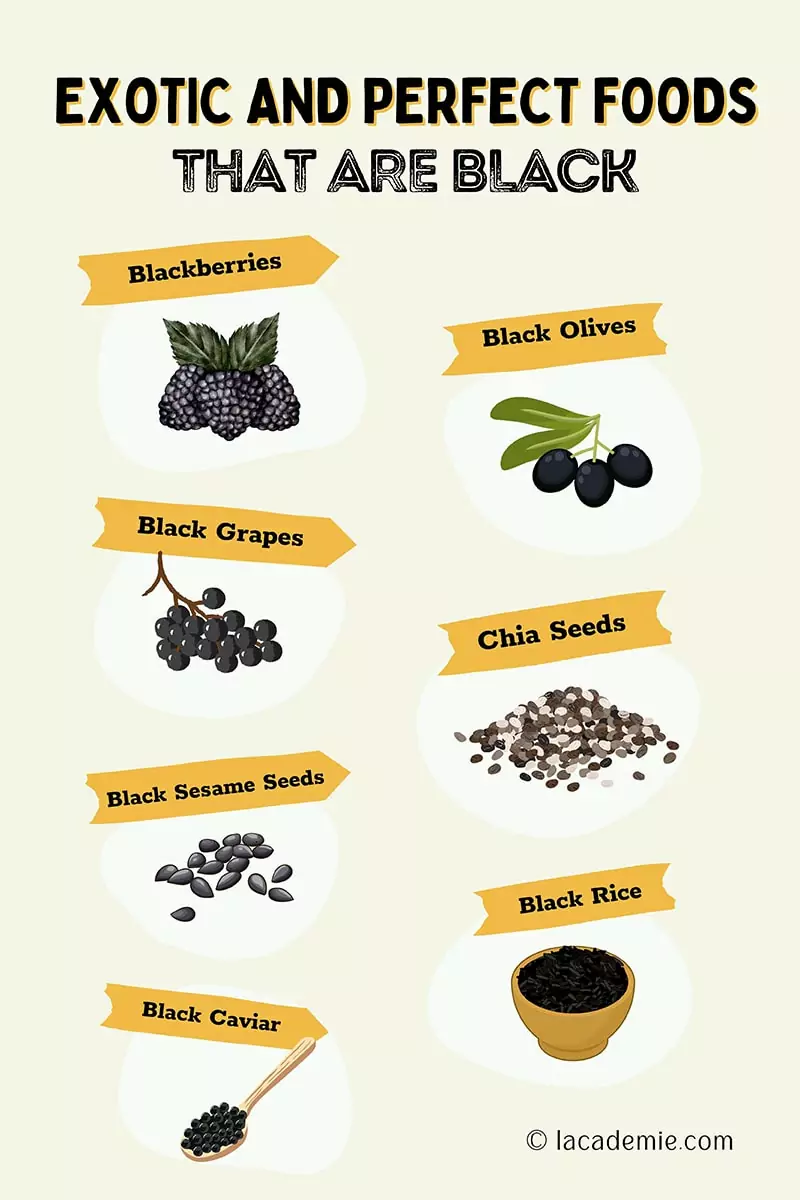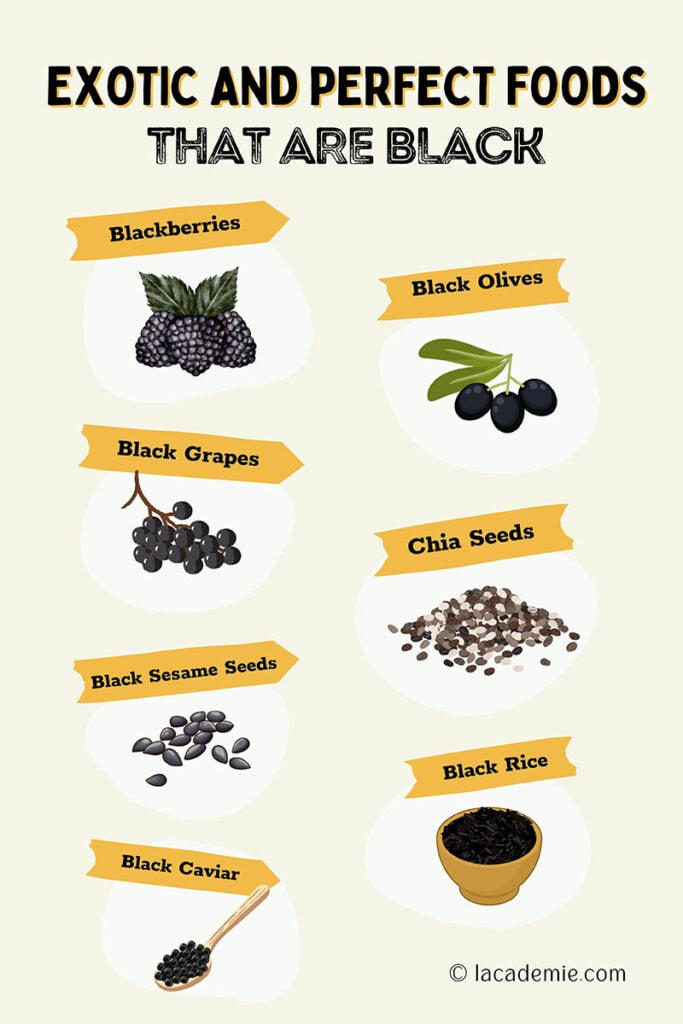 Refresh Your Taste Buds With These Fresh Black Foods
In case you are searching for a fresh breeze for your parties, you should try using these wonderful fresh foods with black shade right now. I am sure you will be satisfied with the results.
Incredible Black Fruits For Ending Your Meal
With these amazing fruits in this section, you can have more options for the dessert menu. They will be the best way to end your meal and leave a profound impression on your guest's minds.
1. Black Mission Fig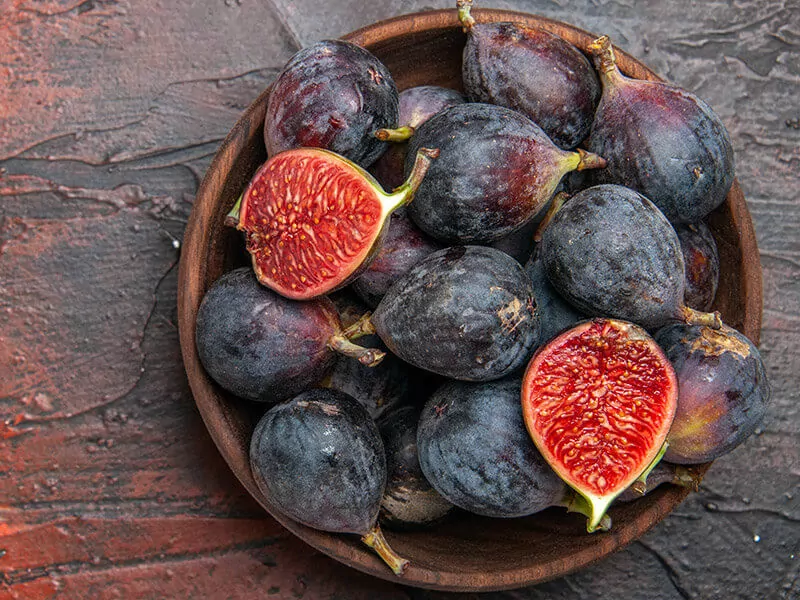 Black mission fig or mission fig is a high-quality fruit you should try. It is native to Balearic Island and is naturalized in the United States and the western Mediterranean. In the US, it is most common in Southern California and is one of the leading commercial fruits of the region.
It appeared in the United States for the first time in 1768. Franciscan missionaries cultivated this fantastic fruit in San Diego (a large city in California).
The fig with dark skin will bring a new feeling to your meal no matter what role. You can eat it as fresh fruit for dessert or processed into jams or jellies. Also, it provides a large amount of calcium, potassium, iron, and vitamin A to your body.
What will you taste when consuming this fantastic fruit? The delicate sweetness is its highlight. This flavor can remind you of a mixture of melon, strawberry, and bananas.
Take a closer look at the black mission fig and taste it to know more about this fruit.
2. Blackberries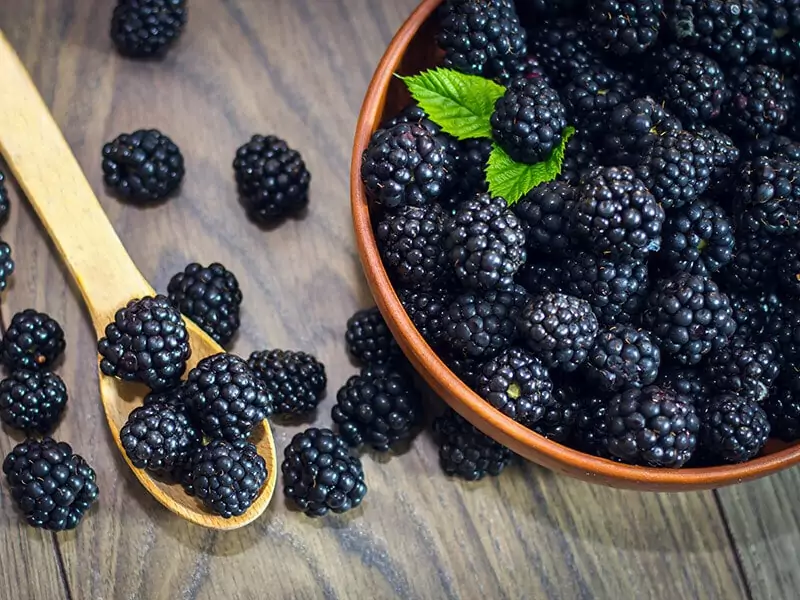 Blackberries are a long-standing fruit and have been associated with humans over many periods. People have planted and eaten them since old times. This excellent fruit originates in Asia and Europe. It is not difficult to find various types of blackberries in these regions.
Most blackberries have a unique tart flavor and succulent texture. You can feel the sweetness and tangy flavor if you enjoy the ripest blackberries. Meanwhile, the unripe fruit brings a bitter and sour taste.
These berries are a source of vitamin K and C. They are also suitable for people who are losing weight, thanks to their high fiber content. This excellent fruit will help boost oral and brain health.
3. Black Olives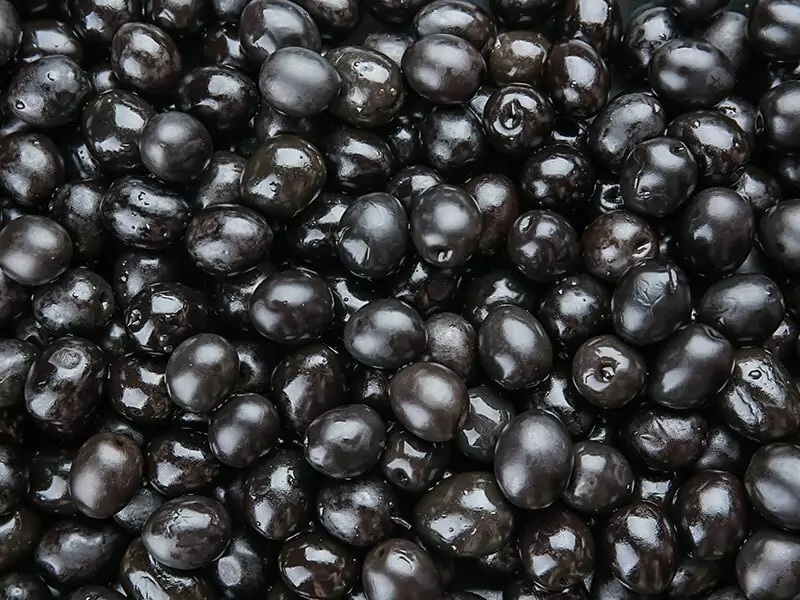 Mexico, the Caribbean, South, and Central America are the birthplaces of this delectable food. After being picked from olive trees, the fruit will be cured and fermented to eliminate bitterness. Typically, people use brine, water, or dry salt treatments to perform the curing processes.
You must try black olives if you want a delicious black fruit with a slightly salty taste. Nevertheless, you will not enjoy the flavor of unripe olives since they are bitter and have an intense taste.
This fruit is beneficial in preventing oxidative damage for cells thanks to the high antioxidants, polyphenols, beta carotene, and vitamin E. Also, you can avoid cancer when eating a lot of black olives.
4. Black Sapote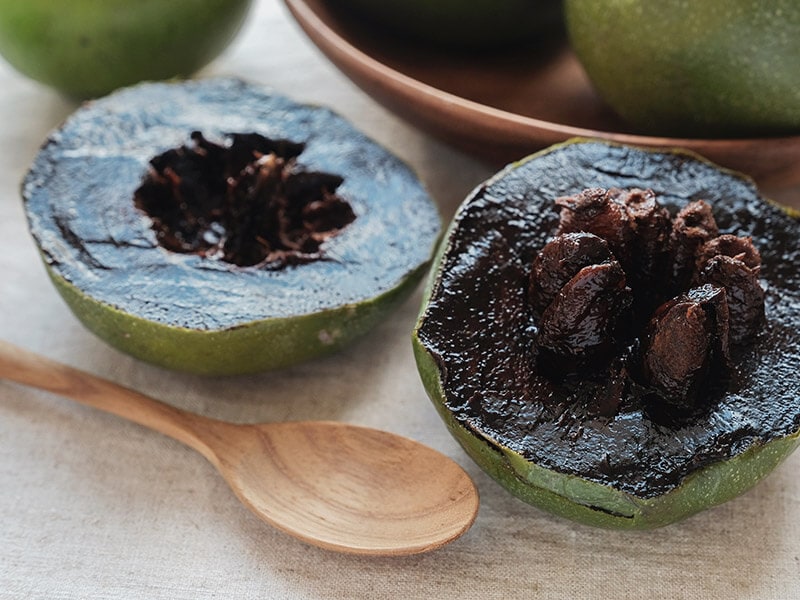 Apart from black sapote, you can call this fruit "chocolate pudding fruit" or "black soapapple". It is a variety of persimmon. This tropical fruit has its origin in Mexico, Colombia, and Central America. However, it does not have any relation with white or mamey sapote.
The size and shape of this fruit resembles tomatoes. When enjoying black sapote, you can immerse yourself in this tasty fruit's tender and silky consistency. Plus, the distinctive dark color makes it pretty similar to chocolate pudding.
Nevertheless, the bitterness and astringent taste of the unripe type can make you dislike it. On the flip side, you can find the hint of sweet caramel, persimmon, cocoa and papaya-like texture from ripe one. If you see the seeds inside this fruit, you should eliminate them while consuming it.
Consuming fresh black sapote is a widespread choice. It is also better to utilize its soft texture to make appealing desserts. Even better, let's use it instead of bananas in some baked goods.
Explore all essential knowledge about the black sapote right now.
5. Black Grapes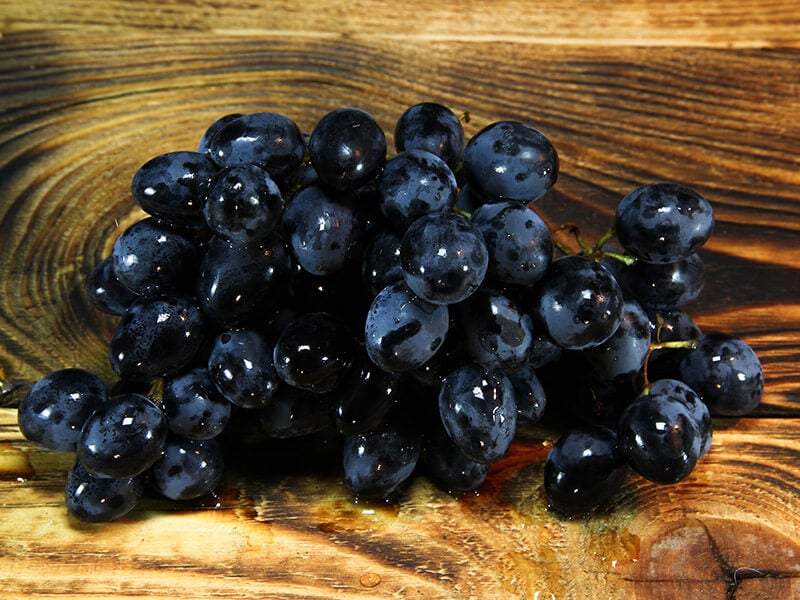 Do you love black grapes? This is the type I like the most among the different grape species. It is an age-old fruit because it has existed for over 6000 years. People in Asia and Europe were the first to plant this fantastic and fresh fruit.
Thanks to the dark purple or striking black peel, you can recognize this fruit quickly. Its smooth and soft consistency will give you a pleasant mouthfeel. Moreover, you may be addicted to the sweet-tangy flavor.
Nowadays, the black grape has 2 common types cultivated in 2 different areas. One type appears near the Black Sea, and the other thrives in the Americas. Most black grapes are used to make wine or enjoy fresh as delectable snacks.
Discover the reasons that make black grapes the healthiest grape species.
6. Densuke Watermelon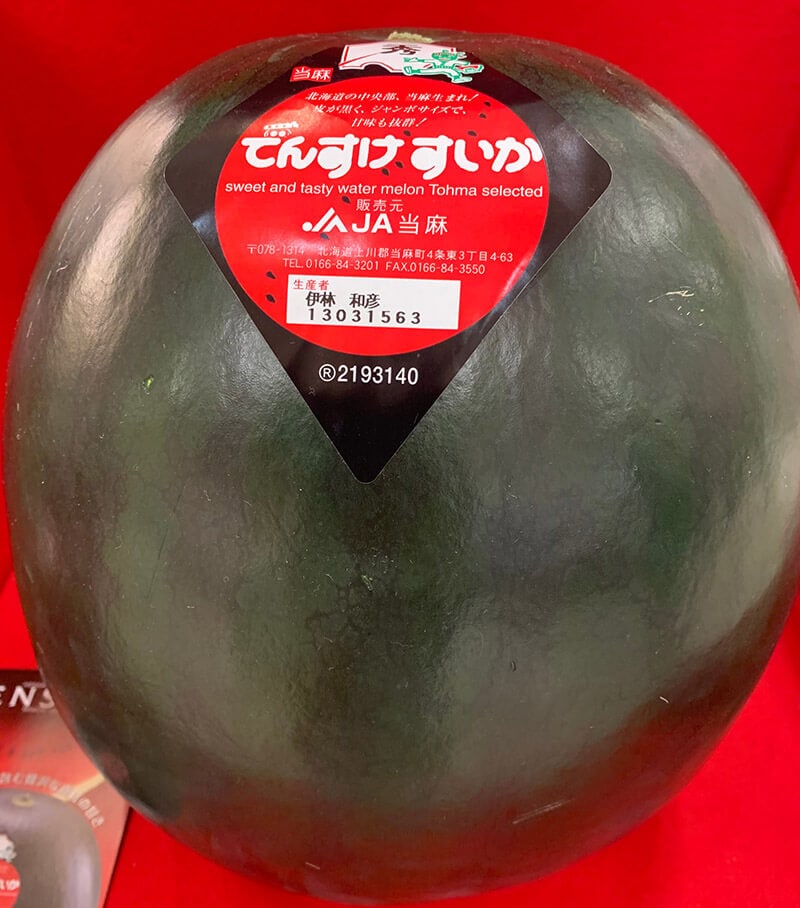 Japanese black Densuke watermelon is the most expensive species in the list of different watermelon varieties since it is pretty rare. Annually, only 100 fruits are produced. This exotic fruit originated in the northern area of Hokkaido in Japan.
The fruit makes a strong impression visually with stripeless, glossy black skin. Nevertheless, its flesh is still red like other types of watermelon. Of course, its succulent and mesmerizing sweetness will make Densuke watermelon irresistible.
Densuke watermelon is a high-class fruit in Japanese cuisine. The most expensive watermelon is sold for 6000 dollars in an auction in Japan. Japanese people often use it as a noble gift for loved ones on special occasions.
Make A Healthy Meal With These Excellent Black Vegetables
Preparing vegetarian dishes will become more accessible with these black vegetables in this part. Trust me, please! They will be valuable to enhance the quality of your vegan meals.
7. Black Corn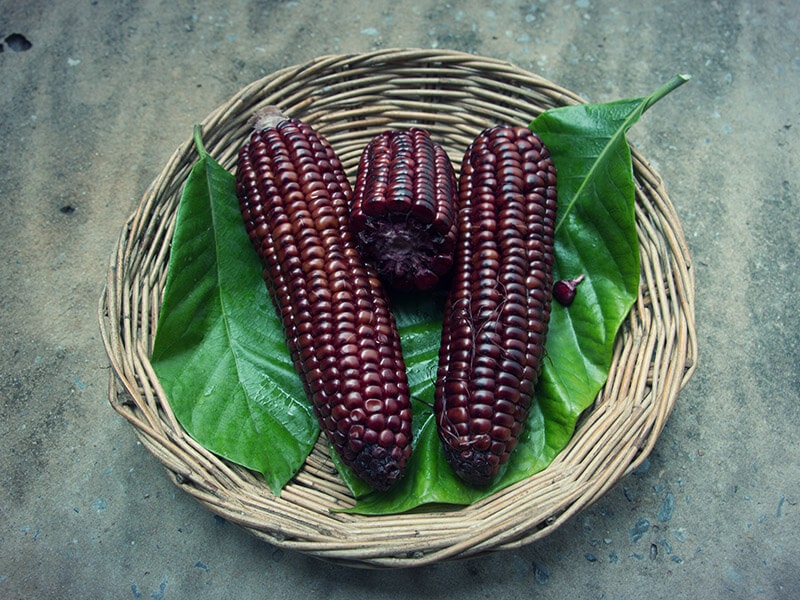 Corn is a common component in many alluring recipes. If you want to accentuate the food with dark color, try replacing regular corn with black corn. This type consists of black kernels with a bit of light purple.
The chewy and starchy texture will make you fall in love instantly. This food brings a gentle sweetness when enjoyed. This version has a more sophisticated and delicate flavor than yellow corn.
The summer months are the peak season for this food. And it is not easy to find black corn at supermarkets outside South America. Besides black corn, it is also called Maiz Morado in Peru or Black Aztec Corn in the United Kingdom and the United States.
The specific and exact origin of this food has not been determined. Nevertheless, many people think it has existed since ancient times, over 2000 years ago in Peru and South America. The Aztecs were the first to plant this corn.
Let's give black corn a shot to feel the authentic flavor of this veggie.
8. Chaga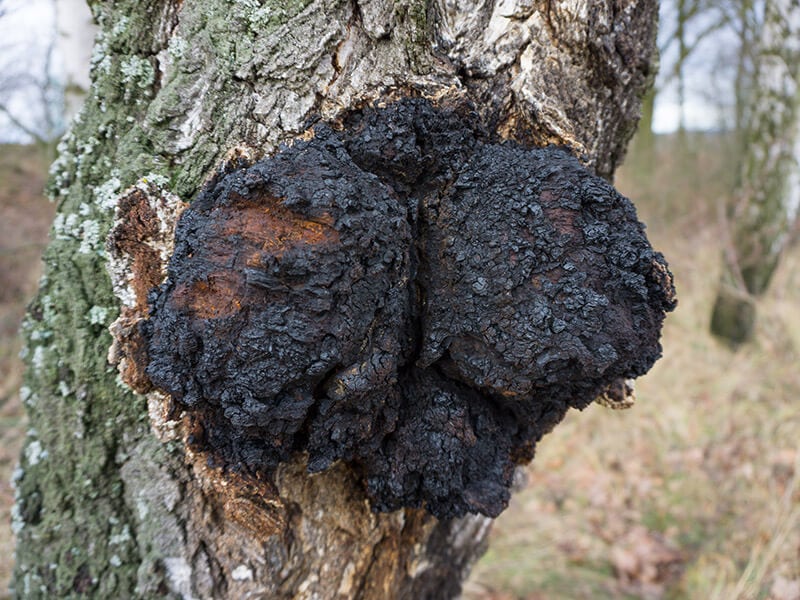 Chaga is a famous mushroom that grows mainly on the birch trunks. It appears commonly in cold climates, such as Siberia, Northern Europe, Korea, Russia, and Northern Canada. There are stories that Otzi the Iceman utilized chaga for medical purposes 5300 years ago.
This mushroom is typically black. It comes from high melanin content. Its surface is pretty lumpy, and you can think of a piece of wood when you see Chaga. Nevertheless, the dominant earthy taste and slight bitterness will tickle your taste buds.
In fact, Finlanders used to use Chaga to replace coffee 60 years ago. Like wide varieties of mushrooms, Chaga plays an essential role in cuisine when it appears in sauces, soups, or veggies.
Consuming Chaga helps boost the immune system and prevent inflammation. In addition, it also prevents cancer and reduces cholesterol. An exciting fact is that Chaga's DNA is 30 percent more similar to human DNA than any other plant.
9. Black Carrots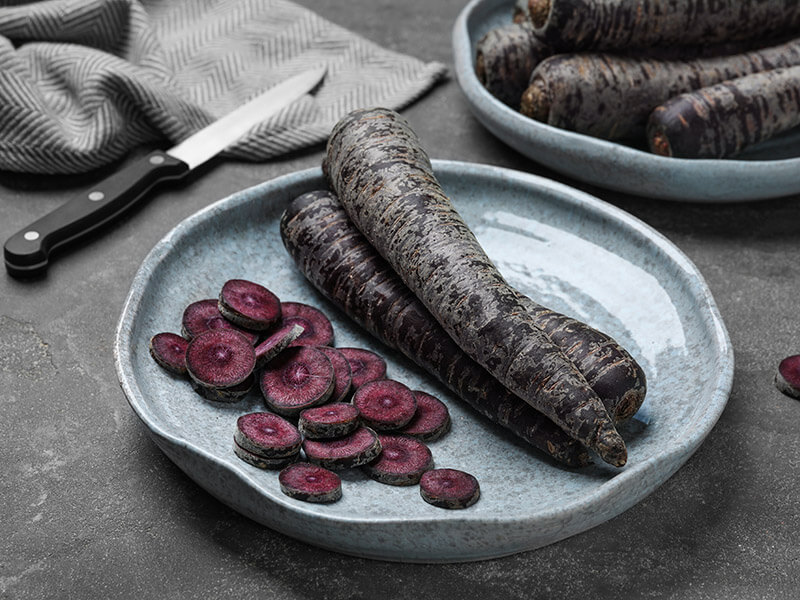 I believe many people still do not know about black carrots. Besides orange or red carrots, there is still a kind of carrot with a rustic and unique black shade. An abundant amount of anthocyanin has created this distinctive black color for this veggie.
This great veggie first appeared in Turkey, the Far East, and the Middle East. According to the Journey of Agriculture and Food Chemistry, there are 4 main black carrot varieties: deep purple, Antonina, purple haze, and beta sweet.
Its light flavor is compatible with many delicious recipes. And you will feel a spicy aftertaste when consuming this veggie. In addition, its sweetness makes dips, stews, soups, and curries better.
Expand Your Range Of Choices With The Seeds And Grains
Seeds and grains are a vital part of many delicacies. Let's find out the excellent choices to accentuate your recipes as well as make their flavor better.
10. Chia Seeds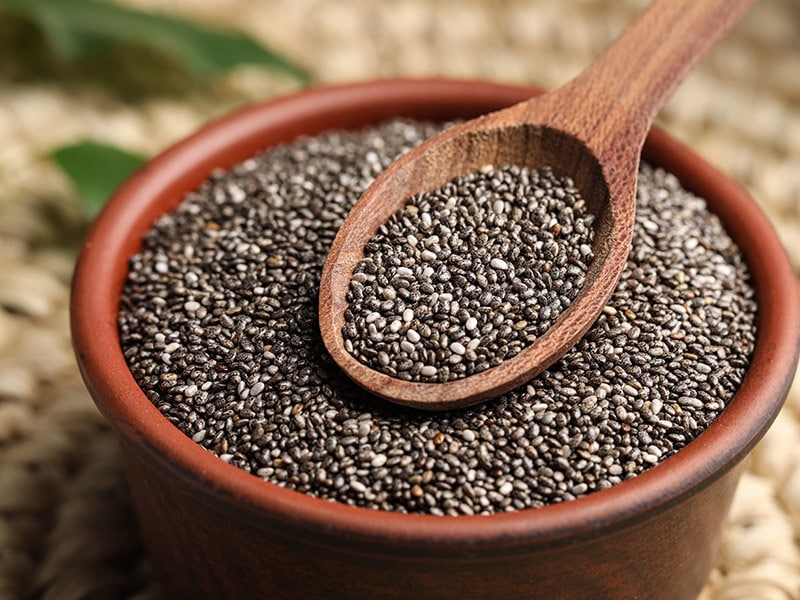 You can easily see black seeds in many culinary recipes, such as smoothies, salad dressings, pudding, or baked goods. Chia seeds are a part of the Lamiaceae family. Southern and central Mexico are the homelands of these seeds.
Some evidence shows that the cultivation of chia seeds has appeared since pre-Columbian times and was associated with Mesoamerican culture. Later, everyone planted these black seeds widely in Guatemala, Central, and South America.
Chia seeds usually have an oval and black shade. White spots will create a prominent highlight for these seeds. The dishes that contain seeds have a gentle and sophisticated nutty taste. This flavor is the perfect addition to both savory and sweet dishes.
Please save the amazing health benefits of chia seeds in your notebook right away.
11. Black Sesame Seeds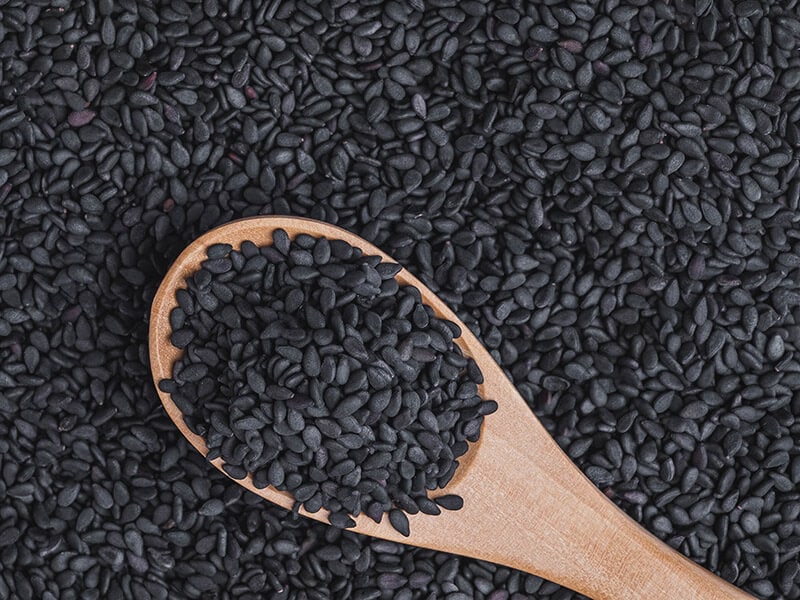 If you want good heart health, you should not refuse to eat black sesame seeds. These characteristic seeds originated mainly in Southeast Asia and China. And they are a familiar ingredient in Asian and Middle Eastern recipes.
People love to use toasted sesame seeds in making yummy Japanese foods like Gomashio or sushi. In Korea, they are standard components for marinating veggies and meat. Meanwhile, you'll easily see ground sesame with lobster or smoked fish in African cuisine.
The oily, earthy, and nutty flavor will enhance the taste of the recipes effectively. Even better, they bring light crispness and striking black color to the dishes. Nutritionwise, they are suitable for anti-aging and preventing osteoporosis and cancer.
12. Black Beans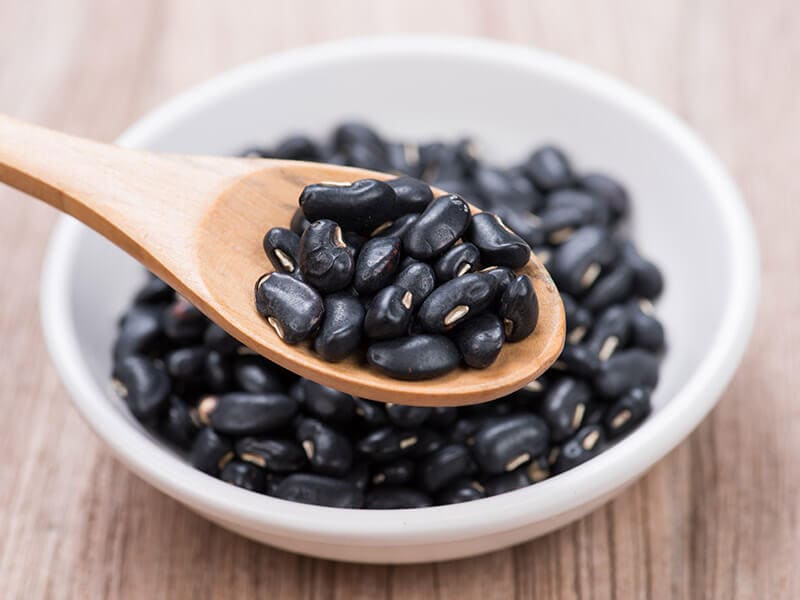 Black beans are a native food in the Americas. They are a long-standing food that have existed for more than 7000 years. So far, black beans have been considered a staple food in people's meals in Central and South America.
If you come to Michigan, you can easily buy Zenith and Zoro species because they are grown widely here. These two types of black beans were inventions of Michigan State University.
Although there are various bean species, I still prefer to use black beans in the recipes due to their soft, creamy texture and subtle flavor. In terms of structure, the white center is surrounded by glossy and smooth black skin.
Fun facts, Michigan is the top producer of black beans across the United States since this place accounts for about 58% of total output. Plus, most of Michigan's black beans are exported to Mexico.
Learn the ways to make nutritious soup with black beans.
13. Black Lentils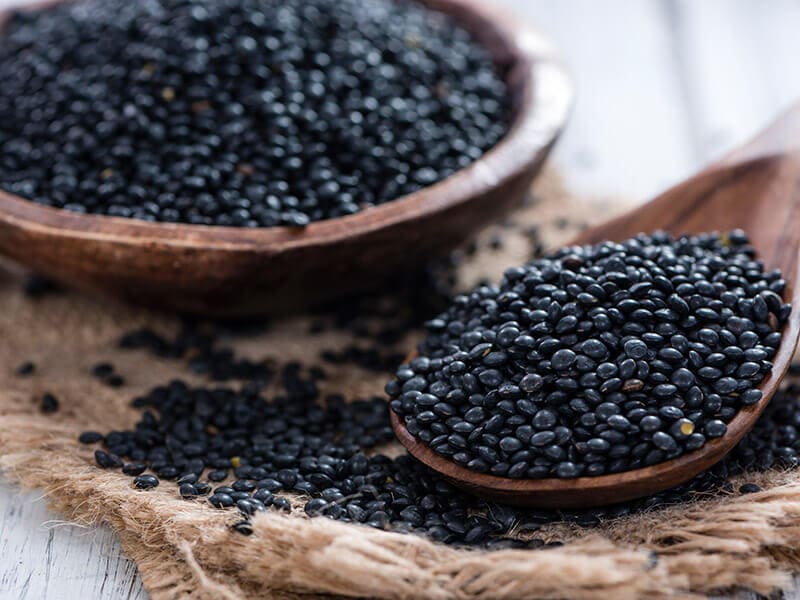 Black lentils or black gram, Urad Dal, is a typical food in many world places. This food comes from South Asia and is essential in Indian dishes like Dosa, Dal Makhani, or Papadum. Overall, Canada and India are the 2 most lentils producing countries.
You will go crazy with the earthy and nutty taste of black lentils. In addition, the tender texture of cooked lentils will not disappoint you. Black lentils are small and have typical black skin. You can imagine caviar when looking at them.
There are numerous different kinds of lentils in the world with various colors like brown, tan, or deep purple. Chefs often use this element instead of whole grains in the legume-based bowl for dinners. Also, you can puree or roast them.
14. Black Soybean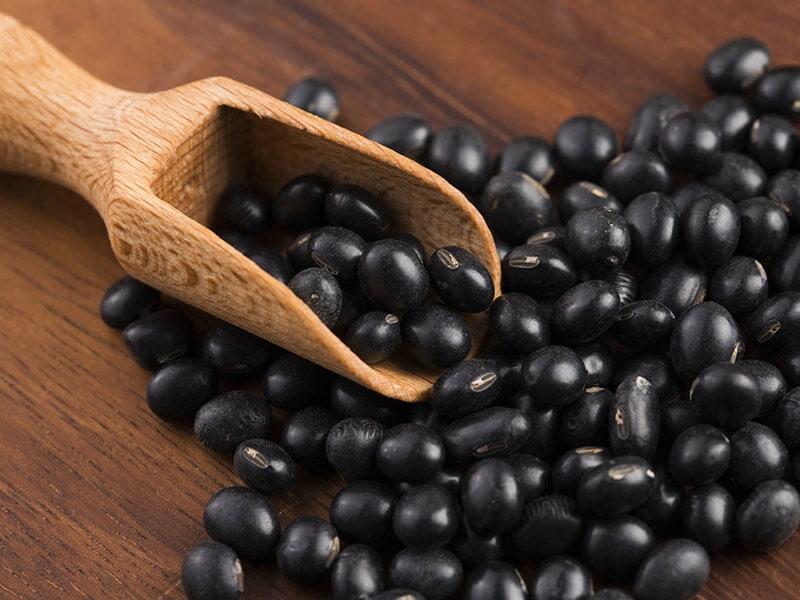 Black Soybean is a type of legume originating in Asia. The cultivation of this component took place in China from 1700 to 1100 BC during the Shang Dynasty. Nevertheless, evidence shows that it existed from about 6000 to 9000 years ago.
These beans are surrounded by green, brown, or yellow pods. And you cannot eat its pod since it's fibrous. Typically, black soybeans have a buttery texture and nutty taste. Compared to yellow soybeans, black ones will be sweeter.
You often see this black food in refried beans, bean soup, bean salads, or baked beans. Also, it is good to soak them in water overnight before cooking to get the best effect. Please try to puree them to add to sauces, stews, or hummus.
15. Black Rice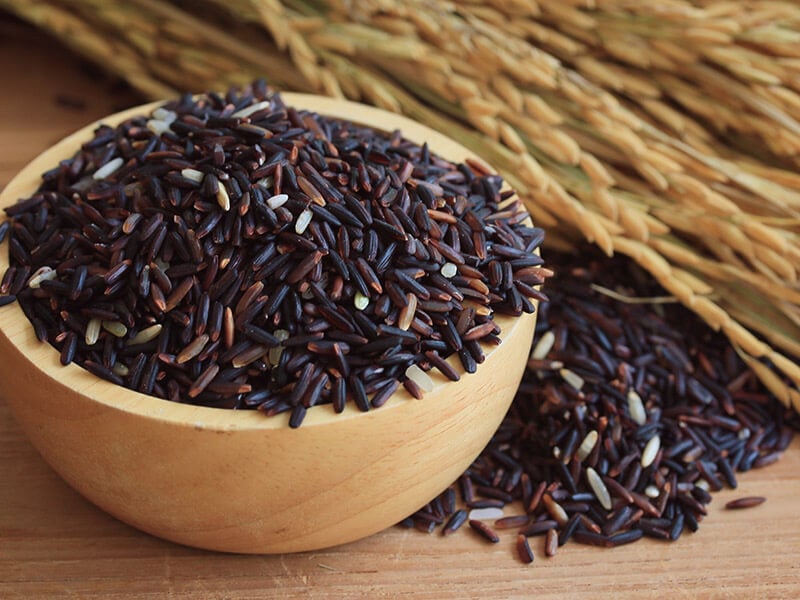 Black rice is a famous and familiar dish for many people. It is also known as purple rice. You can find many varieties of black rice, such as Indonesian, Philippine heirloom balatinaw black rice, or Thai jasmine black rice.
In India and Bangladesh, people usually call it "chak hao" and "Kalo dhaner chaal". This food is a source of anthocyanins and fiber. In particular, the rice will turn from black to dark purple after being cooked.
When you enjoy this food, you will be impressed by its outstanding roasted and nutty flavor. You may not find many differences between its taste and brown rice flavor. And, of course, the soft and sticky texture will make your mouth pop.
You can find its flavor in mouth-watering Chinese foods like black rice cake, bread, or noodles. Plus, its consistency is compatible with making desserts, pudding, or porridge.
Do Not Miss Other Outstanding Black Options
You can refer to other amazing suggestions in this section to bring new experiences to diners. These seasonings and seafood will make you addicted.
16. Black Garlic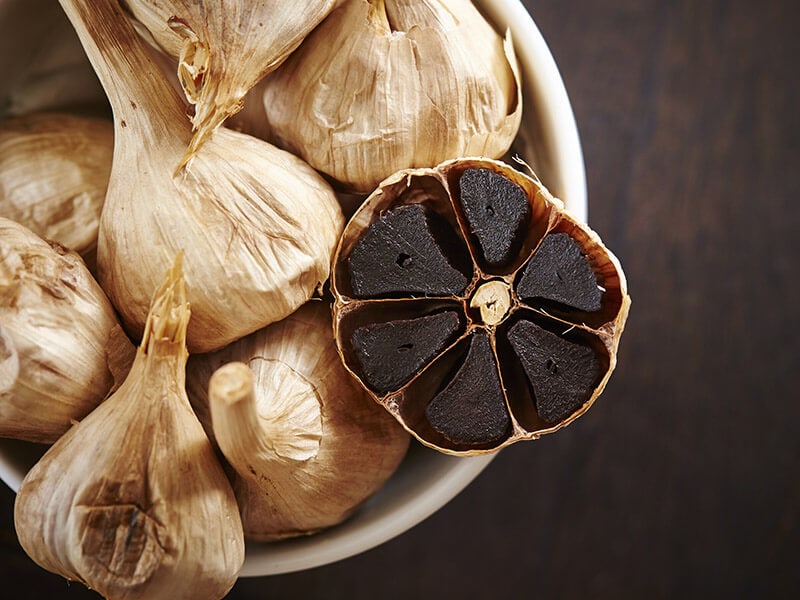 If you were previously familiar with the regular white garlic, it's time to expand your knowledge with unique black garlic. It is one of the excellent Asian foods you have to try. Many people think it originated in Korea and was first used as a health product.
People create black garlic by heating the bulb of garlic, and you will get garlic with a distinctive black shade after a few weeks. Intermediate compounds of the Maillard reaction are created in the heating process to bring black color to it.
You can bring sweet and tangy flavor to dishes and drinks after adding black garlic. Moreover, the hint of balsamic and garlic will wake your taste buds in no time. This material works well in roasted chicken, casseroles, and stews.
Follow these instructions to give garlic a unique black hue.
17. Black Caviar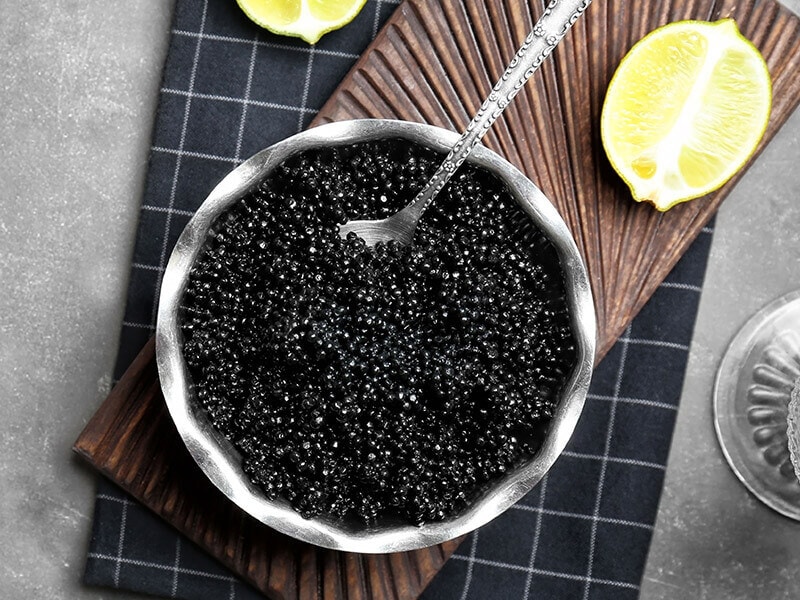 A highly nutritious dish you must try once in your life is black caviar. This excellent food is also known as caviare. Caviar is roe or eggs taken from the sturgeon fish family. This food is pretty well-known in the Black Sea and the Caspian Sea.
Besides sturgeon, many use the term caviar to describe salmon, trout, steelhead, or whitefish's rose. People love to enjoy this food as a spread or garnish. You can find it in fresh or pasteurized versions. Experiencing pasteurization reduces its nutritional and economic value.
You can recognize this food immediately thanks to its mild fishy flavor. A little saltiness makes it similar to the taste of ocean water. The right way to take advantage of this food's flavor is to serve it with small toasts, crackers, or hard-boiled eggs.
18. Vanilla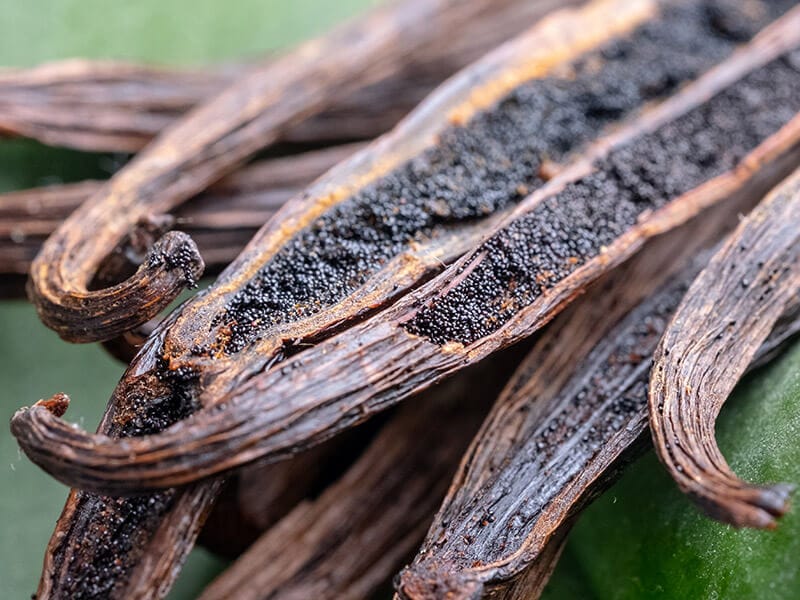 Vanilla is a vital spice in many culinary recipes. South and Central America and the Caribbean are vanilla's homelands. The Totonacs in the Eastern Mexican coastal region have grown the first vanilla. In the 15th century, the Aztecs got vanilla after they invaded the Totonacs.
Vanilla is considered the second most expensive spice. Although it has a high price, people use it commonly for perfume production and domestic or commercial baking. There are 3 primary vanilla types, including V.planifolia, V. tahitiensis, and V, pompona.
There are 4 primary forms of vanilla, including whole pod, vanilla extract, powder, and sugar. Vanilla is a versatile ingredient since you can use it for many different dishes. It helps enhance the taste of soft drink, ice cream, eggnogs, pudding, and other desserts.
19. Black Cod Fish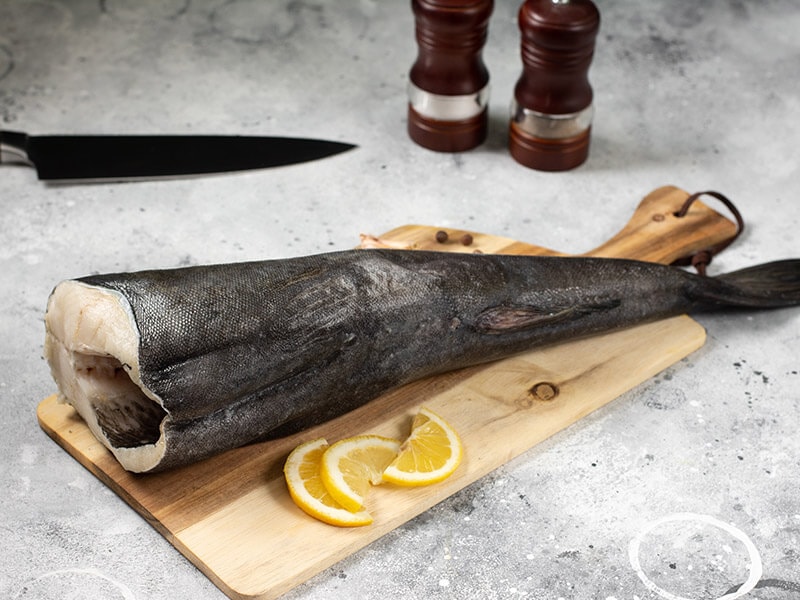 Black cod fish is a highly nutritional food. And, this fantastic food is suitable for your kids' diet. You can smoke, grill, steam, or roast this fish to create wonderful and delectable dishes.
This fish will bring out its full value and perfect flavor when combined with Asian seasonings like ginger, soy, or miso marinades. This is a trick you can refer to, and you can mix it with many other ingredients.
Its black color will captivate you at first sight. The dark, grayish scales give the highlight to this food. In addition, the white belly will help you recognize this fish more easily.
I recommend choosing fresh black cod fish for the best flavor and texture. It's hard to resist this incredible fish's buttery and sweet taste. Even better, the fish meat with silky consistency will melt in your mouth in no time.
Take a trip to Southeast Alaska to catch black cod fish with electric reels
Fill Your Hungry Stomach With These Processed Foods
If you are hungry and want to solve your hunger quickly, you can choose yummy black processed food to enjoy immediately. I hope you'll love them.
20. Soy Sauce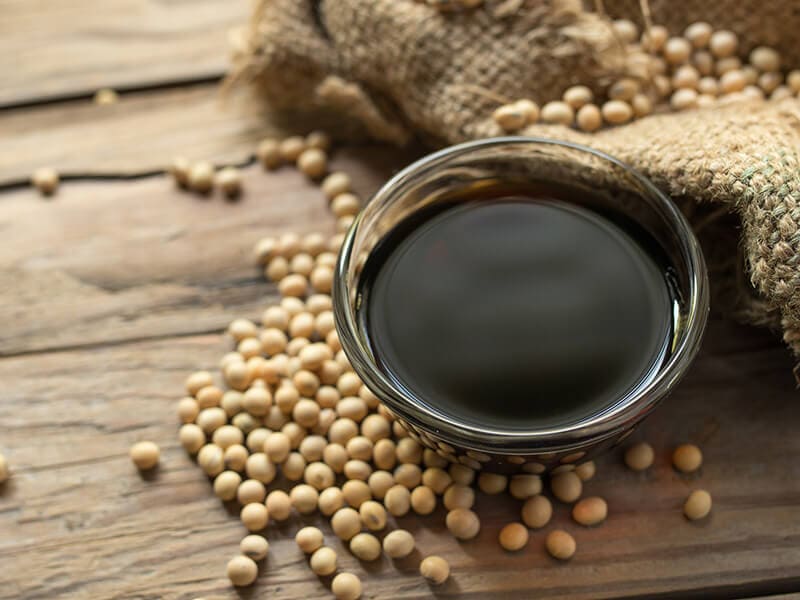 There are numerous different types of excellent sauces created by man, but soy sauce is one of the most commonly used black sauces, especially in Asian cuisine. This sauce originated from the Han dynasty of China.
The Chinese fermented soybeans paste, brine, roasted grain, and koji mold together to make the yummy sauce. The result is a unique sauce with a distinctive umami flavor and a stunning black color.
Soy sauce has many variations, such as Shoyu (Japanese sauce), toyo, ganjang (Korean soy sauce), or ponzu. Antioxidants, fiber, protein, and isoflavones are nutrients you'll find in abundance in this sauce.
Blow your mind with information about the ways to make soy sauce.
21. Black Bread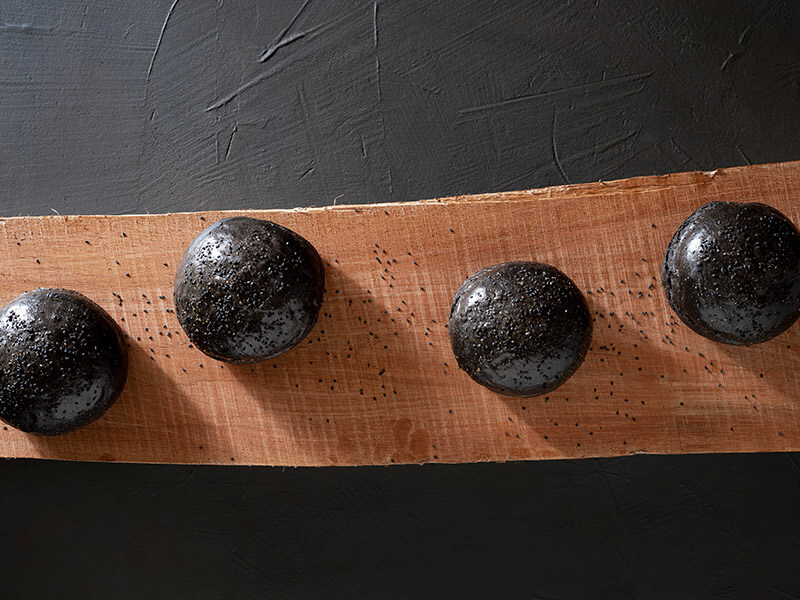 The coverage of black bread has spread worldwide. It becomes a global trend when people make black burger buns or black pizza. It is a unique choice to impress your guests. I believe they'll be surprised when they see the bread with a mysterious black hue.
To have bread with this special appearance, you need squid or cuttlefish ink. In particular, ink in this bread is not toxic because the ink and venom are separated. Nevertheless, if you are allergic to seafood, you should not try it.
22. Black Pasta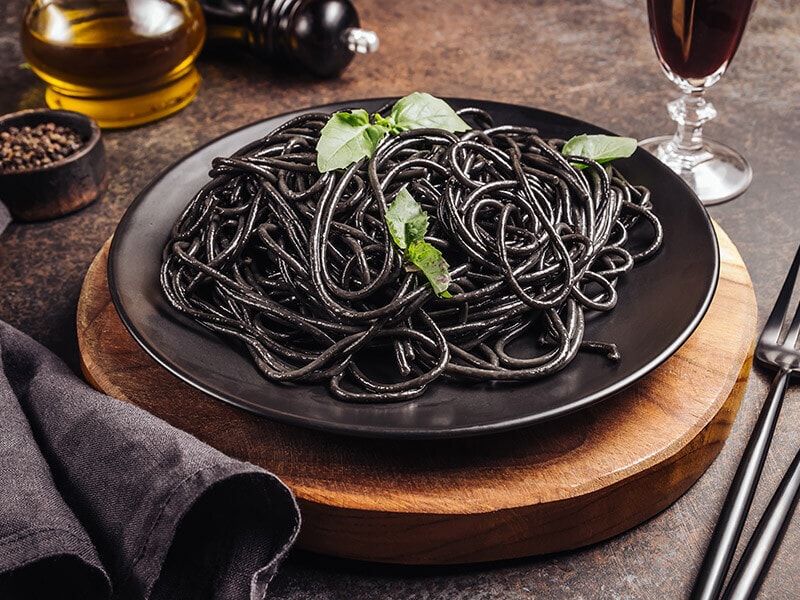 Pasta is one of the countless famous dishes of Italian cuisine. Black Squid Ink Pasta is a type of pasta with a unique thick texture and black hue. This eye-catching and memorable color is the product of using black squid ink.
This delicacy is a pride of the people in Sicily. Nowadays, it is not difficult to find various versions of this food across Italy. Aside from the characteristic black color, its fantastic flavor steals your heart instantly.
You will want to consume this food many times to enjoy its briny and rich flavor. In addition, a touch of sea saltiness brings a new breeze to the meals. This taste makes it suitable to serve with seafood.
23. Chocolate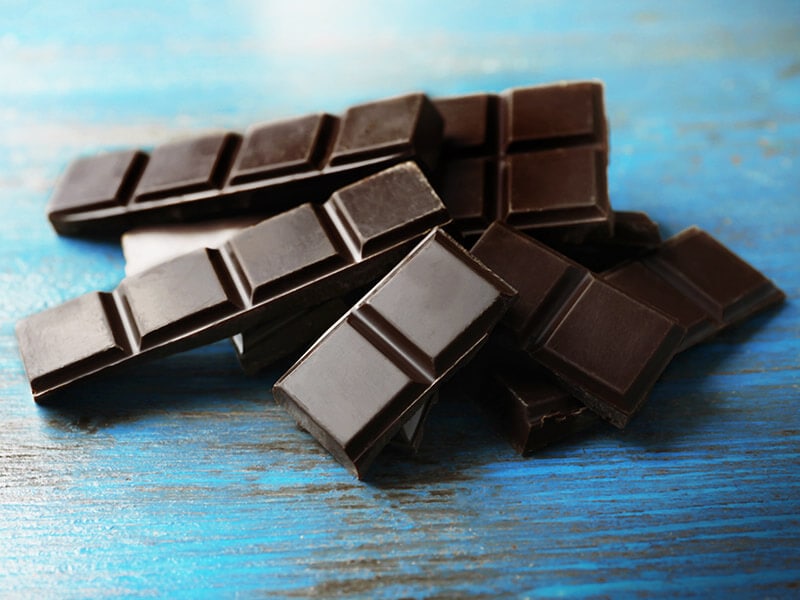 Perhaps, most of us get used to chocolate since it is a global food. It has a history of about 4000 years since it first appeared in ancient Mesoamerica. Cocoa seeds are the critical component of chocolate, and the Olmec devised this idea first.
People often make chocolate with liquid, paste, or solid forms. Besides dark chocolate, you can enjoy raw chocolate (unroasted cocoa beans), milk chocolate (contained milk powder), or white chocolate.
Fun facts: To have one pound of chocolate, you must use 400 cocoa beans. Chocolate is one of the healthiest snacks to enjoy. It'll improve your heart and brain health effectively. Also, if you want to lose weight, you cannot miss it.
24. Coffee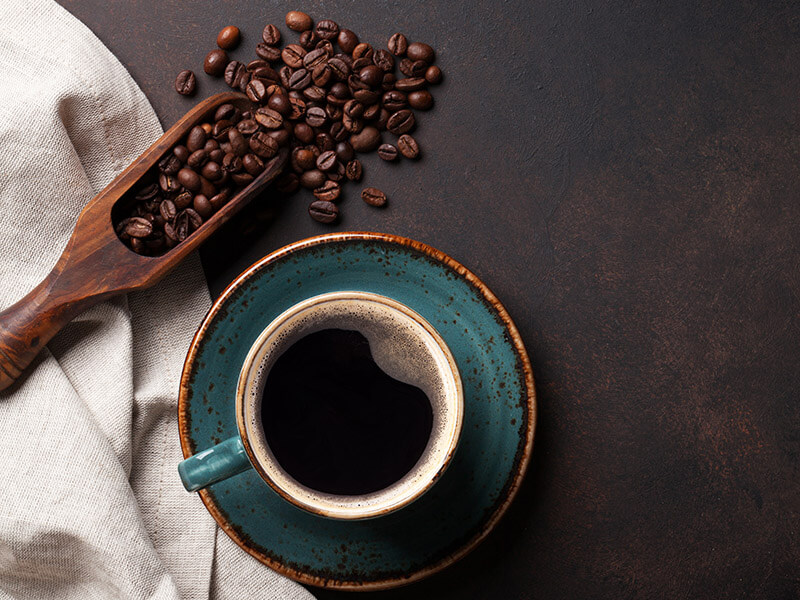 It is incredible to kick off a new day with a cup of coffee and a sweet breakfast dish. It has been associated with humanity for a long time and has become a staple food worldwide. This food is derived from ancient coffee forests in Ethiopia.
The English name "coffee" was born in 1582 and originated from the Dutch koffie. This word is a borrowed word of "kahve" in Ottoman Turkish. In terms of taste, it is pretty prominent with chocolate, fruity, and nutty flavor.
And, of course, bitterness is an indispensable element of coffee. There are 2 main types of coffee, including Arabica and Robusta. And Brazil is the country that produces the most coffee globally. In the US, you can only find coffee farms in Hawaii and California.
Listen to an exciting story about the history of Ethiopian coffee.
25. Black Eggs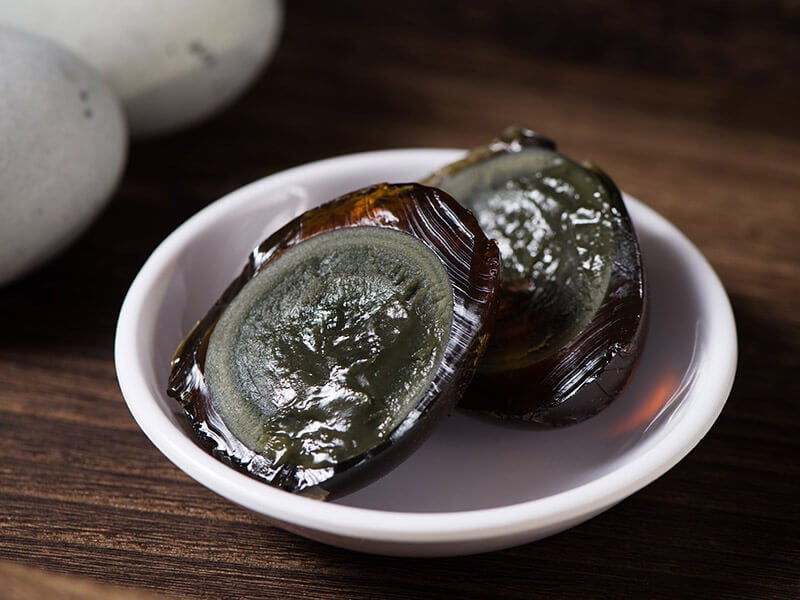 The black egg is an attractive Chinese dish you should save in your cookbook. People also call it a century egg, an old egg, or a hundred-year egg. This particular delicacy is created by preserving chicken, duck, or quail eggs in a blend of ash, salt, clay, and rice hulls.
You must wait a few weeks or even months before enjoying this food. After the preservation process, the egg will switch to dark green or black. Moreover, the passionate taste and its typical creamy texture will knock you down.
Today, manufacturers often soak eggs in calcium hydroxide, sodium carbonate, and table salt blend instead of using clay and traditional components. Using these chemicals shortens the time since you only need to wait 10 days.
Nutritionwise, this excellent and tasty food contains a lot of iron, vitamin D, selenium, and protein. This dish will help boost liver function and is suitable for blood pressure.
What Are Your Best-Loved Black Foods?
Have you heard of the excellent black food in this article? I believe there are many options that you may not be aware of. So you no longer have to worry when you receive a request to list your delectable foods in black color.
After learning all the valuable knowledge from this post, do not forget to show this helpful article to many relatives and friends. Do not hesitate to tell me about your other suggestions in the comment. Thanks for sharing and reading it!