Foods that are grey are diverse with various sorts like vegetables, fruits, or cooked dishes. By following this article, you can have many great food items for your gray-themed party. I'll classify them into specific groups for a more accessible selection.
I am sure the quality of the foods on this list will not disappoint you. So read on and broaden your horizon!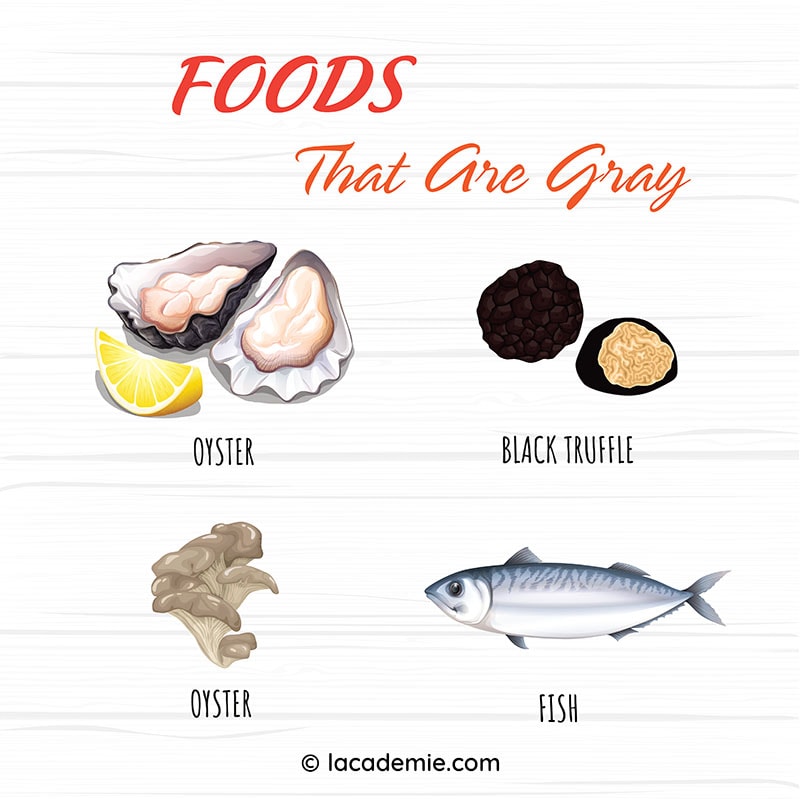 Many excellent fruits that are gray are waiting for you to give them a shot. What and how special are they? The 6 suggestions below will give you the answer.
1. Baobab Fruit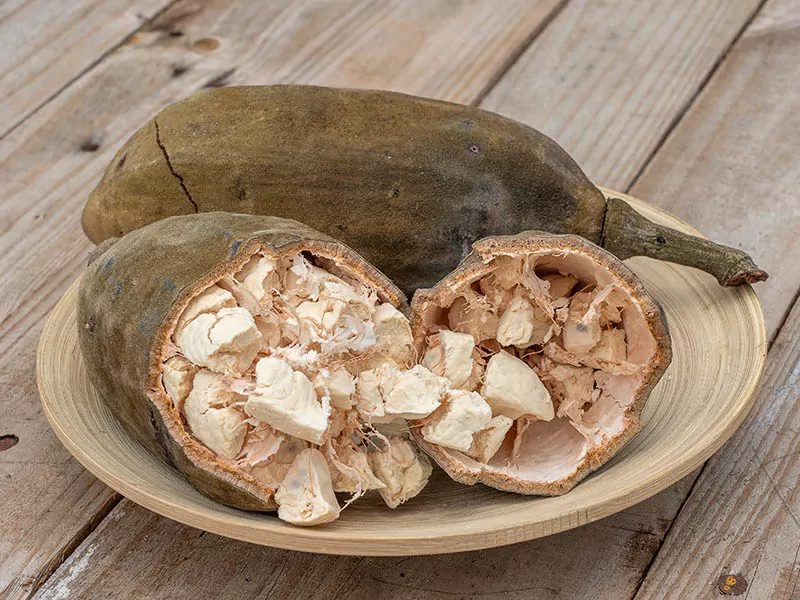 Baobab fruit, or monkey bread fruit, is pretty well-known in many areas. This fruit is native to Africa, Madagascar, and southwest Asia. In addition, people often call it an "upside-down tree" or "boaboa" in some regions.
There are 8 types of baobab in the world. Madagascar has 6 kinds, and the remaining 2 species are in Australia and Africa. Drought, lighting, elephants and black fungus, and waterlogging can cause bad effects to the growth of baobab fruit.
The fruit looks outstanding in oval to round shapes. The gray and har skin is a highlight of this fruit. You will see many seeds inside covered by dry pulp. You can consume the pulp to enjoy the sweetness and citrus taste of this fruit.
People often use this fruit to make drinks or enhance the flavor of dishes. The United States Food and Drugs Administration and the European Commission have recognized dried baobab as fantastic food.
Take a trip to Madagascar to explore new things about baobab fruit.
2. Charleston Gray Watermelon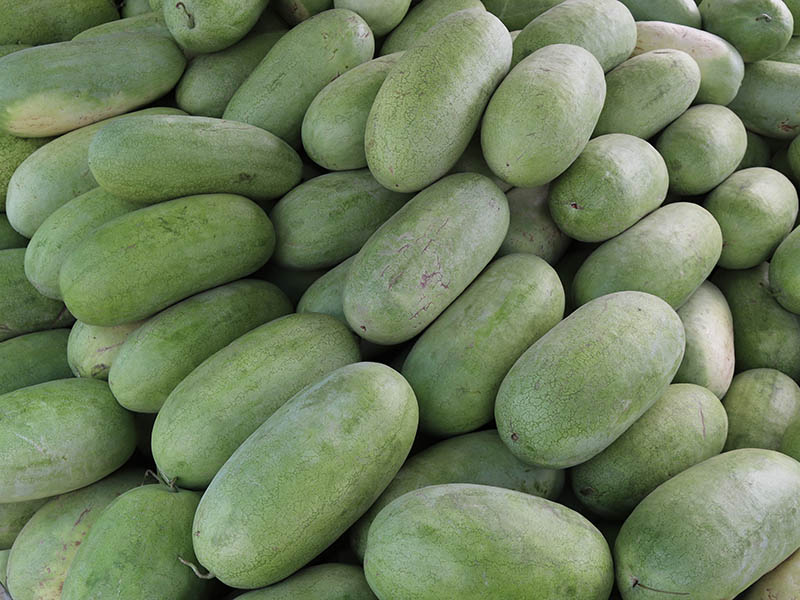 Among the many different kinds of watermelon, Charleston Gray watermelon often appears in my kitchen as a best-loved food because of the fruit's enchanting sweetness and juiciness.
This fantastic fruit was born in a lab in Charleston, South Carolina, in 1954. In terms of looks, the greenish-gray skin will grab your attention at first sight. Under the thick skin is the red flesh like regular type.
You can use this red-flesh watermelon for many different culinary purposes, like making delectable and fresh juice from it. The delicate flavor also goes well with smoothies, ice cream, or salads.
What's more, Charleston Gray watermelon is nutrition wise and rich in lycopene, vitamin A, C, and antioxidants, making them a healthy and tasty treat to enjoy in the summer.
3. Muskmelon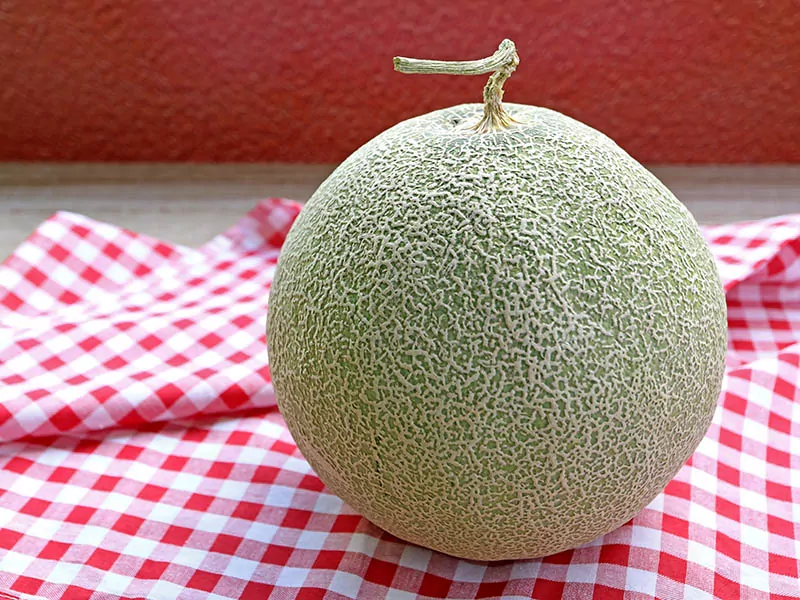 Muskmelon is a sweet and fresh choice to fill your hungry stomach. This species derives from adjacent regions on the west and east and Persia. Another idea shows that it was initially found in northwestern provinces in India and Afghanistan.
Overall, its subtle sweetness will give you a good mouthfeel. You can feel a musky taste when enjoying this tasty food. Regarding its appearance, muskmelon has a rustic look with a thick gray shell, but its flesh is smooth and has an orange color.
You need to wait about 3 to 4 months to enjoy a mature muskmelon. Thanks to the high level of minerals and vitamins, your immune system will be more robust if you consume them properly.
4. Elephant Apple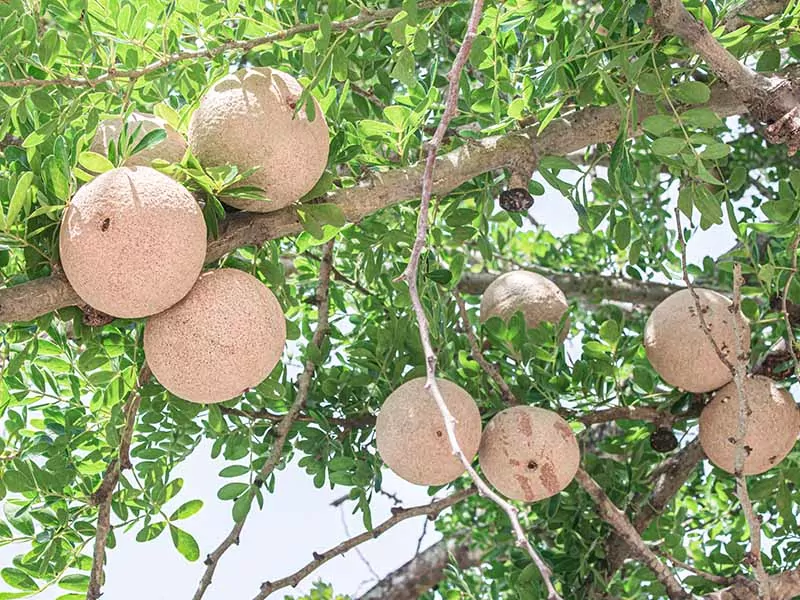 Elephant apple (aka wood apple) is an indigenous fruit of Indonesia. Furthermore, it also has origins in Sri Lanka, India, China, Malaysia, and Vietnam. Therefore, finding this fruit across Asia and Australia is not complicated.
Its rustic gray shell looks pretty similar to wood's color. The brown flesh is the best part of this fruit, with a unique apple-like flavor and a distinctive aroma. People often eat raw wood apples to feel their authentic taste.
Also, you can make jams or chutneys with this excellent fruit. Wood apple and honey will create a masterpiece in cuisine. This healthy fruit contains a lot of fiber, vitamin C, and minerals that are valuable for metabolism, blood purification, and digestion.
It is time to refresh your taste buds by eating elephant apples.
5. Yellow Dragon Fruit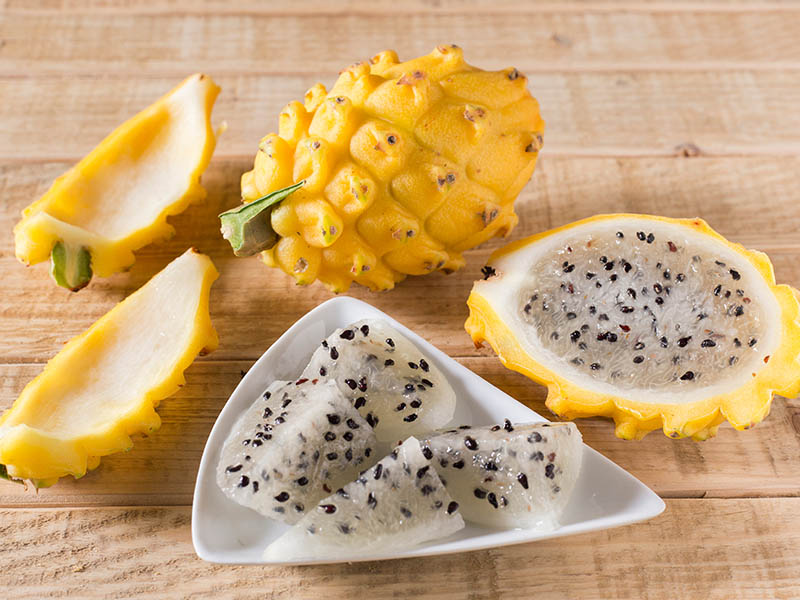 There are countless different cultivars of dragon fruit, and the yellow species is a name that leaves a profound impression. Although it has a bright yellow shell, its flesh has a unique light gray. Its skin is not smooth and covered by soft thorns.
The sweetness of yellow dragon fruit will mesmerize you at the first bite. This beneficial choice provides large amounts of potassium, magnesium, vitamins, and antioxidants for the body. Furthermore, its low-calorie content will benefit your weight-loss process.
The fastest way to enjoy this delectable fruit is to consume it raw. If you have a lot of time, try making smoothies, salads, or desserts with this fruit.
Quick fact: Northern regions of South America are the birthplace of this fruit.
6. Yubari King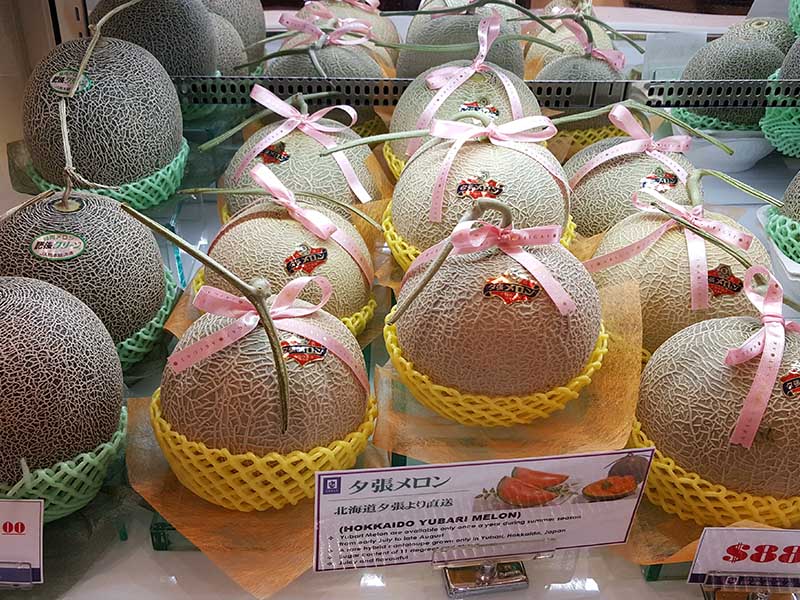 The hybridization between Earl's Favorite cantaloupe and Burpee's Spicy cantaloupe has created a yummy Yubari King. It has been one of the well-known Japanese fruits, which is mostly cultivated in the greenhouse in Yubari, Hokkaido.
The skin of this fruit looks pretty like a gray net. You can enjoy them fresh, or take advantage of them to prepare many different mouth-watering recipes such as smoothies, fruit bowls, ice cream, or salads. The delicate sweetness will make you satisfied.
It is a high-end fruit in Japan with high prices. The highest cost recorded for Yubari was 5 million yen. It is considered the most expensive melon in the world currently.
Find out the reason why the Yubari King price is so expensive.
Have You Tried These Prepared/Baked Gray Foods?
It is time to step into the world of incredible sweet dishes or baked goods with gray colors. Some of them are famous and delectable desserts to give your guests relaxation at the meal. Please check them out now.
If you are looking for a sweet treat to enjoy with a cup of tea, you should not miss Earl Gray Macarons. This recipe is a combination of French macaron shell with honey-flavored buttercream and earl gray tea.
You will be blown away by this treat's smooth and creamy texture. Also, it is hard to resist the charm of this dessert's sweetness and fruity flavor. Furthermore, the gray custard gives it a silky consistency and deep flavor.
You'll want to enjoy these macarons immediately upon looking at their beautiful and characteristic light gray color. If you want to make this delicious dish, you can make it beforehand and keep it in the fridge until you use it.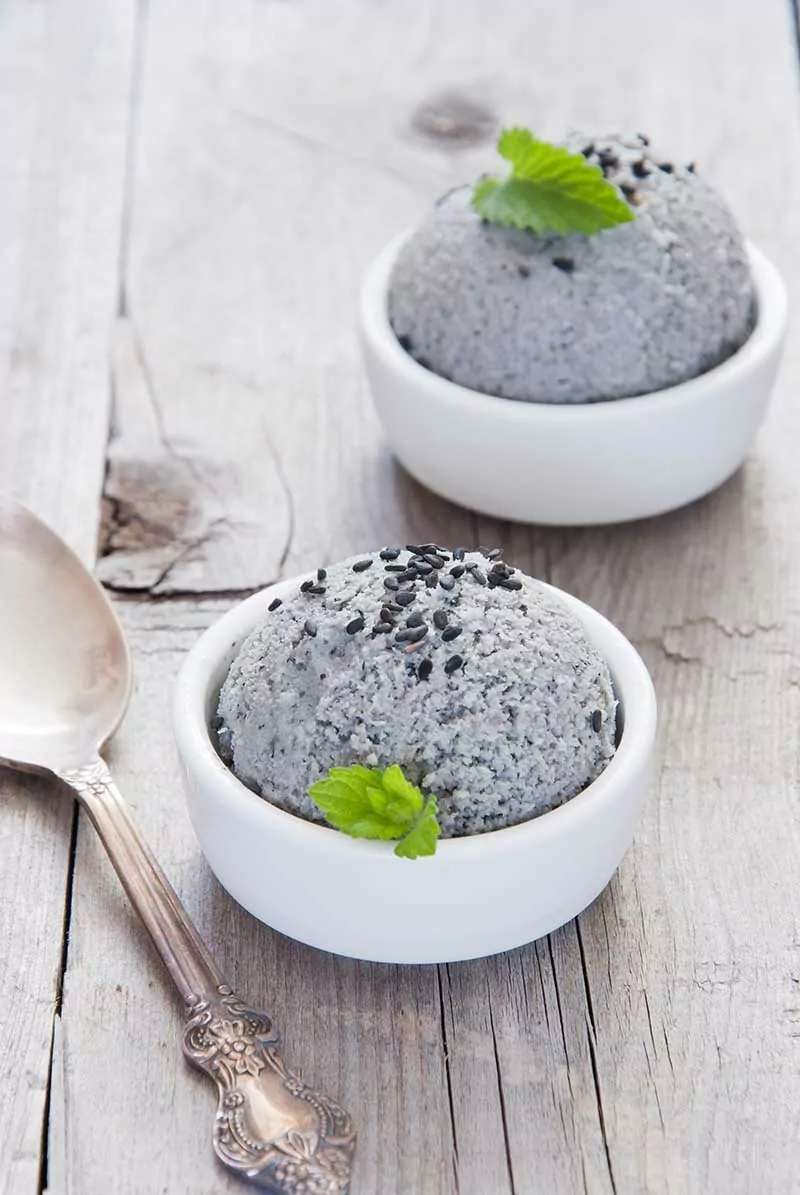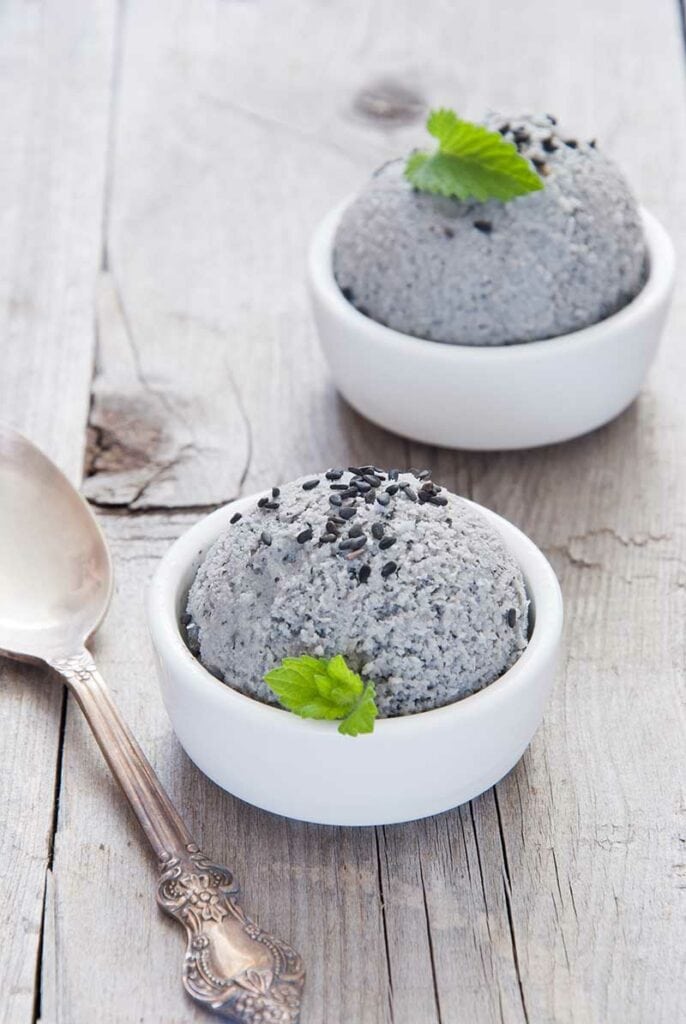 Among many different kinds of dessert, gray ice cream still has been many people's favorite cold treat with a unique color and distinctive flavor. There are many different versions of gray ice cream that you can experience.
For example, you can try Japanese sesame gray ice cream with toasted sesame seeds as the main components. In addition, though Jeni's gray ice cream has a light gray color, its fruity and citrus flavor will surely surprise you.
This summer ice cream is a well-combined fruit (or veggie) juice. In short, nothing is better than enjoying cool and unique gray ice cream in the hot summer.
Learn how to make delicious sesame ice cream right away.
Have you ever enjoyed cake pop? This is a type of cake that resembles the look of a lollipop. The chef needs to combine cake crumbs with chocolate or icing to create a great dessert. Besides the round shape, you might see them in cubes or spheres.
Typically, cake pop has many different colors depending on the ingredients used, such as black, brown, white, or gray. Do not forget to adorn it with decorative sugars or sprinkles. Sweet balls look eye-catching and appealing when fixed on the sticks.
This excellent gray food was born in the United States, and it began to become widely popular in the period from 2009 to 2011.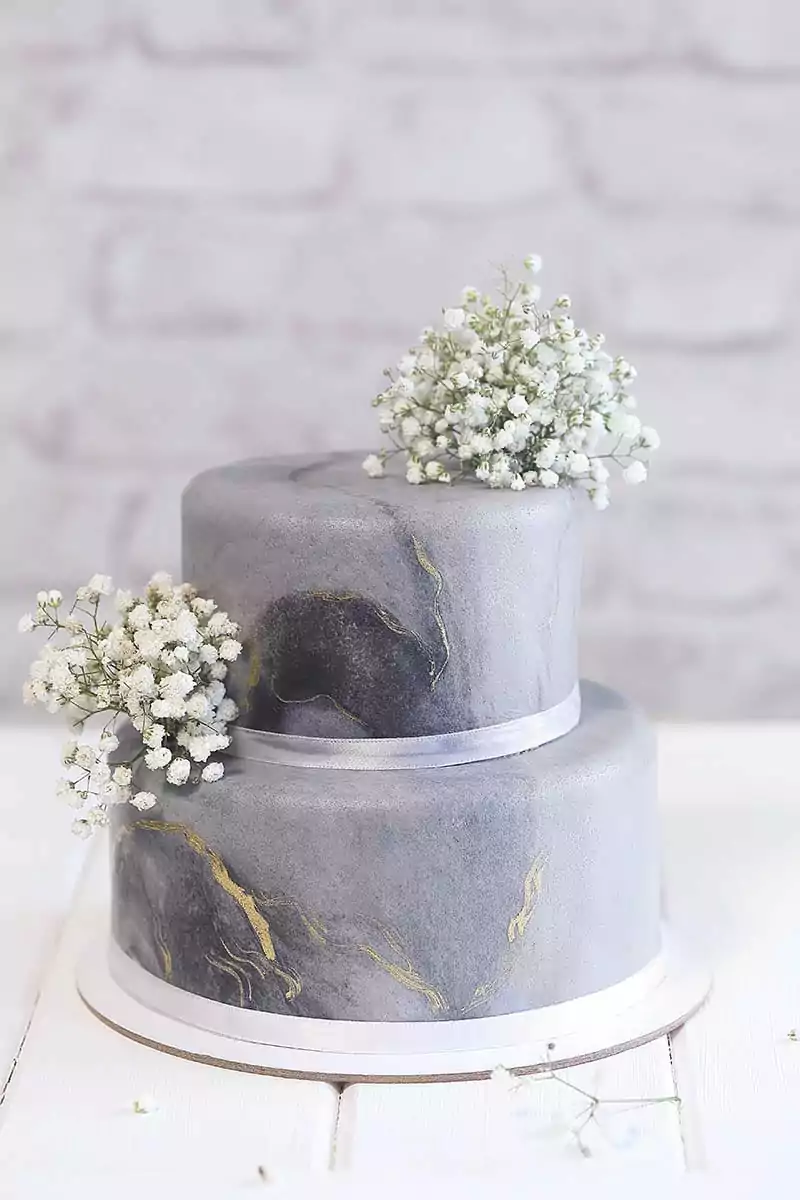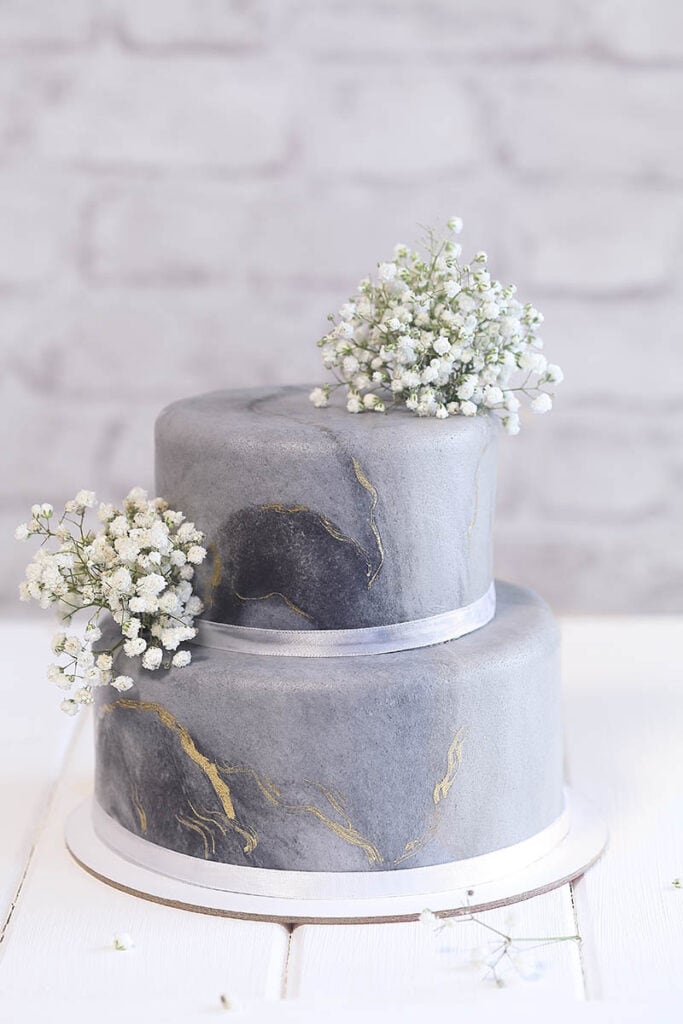 Gray wedding cake is a fantastic suggestion for your happy day. This sweet cake is pretty familiar to many people worldwide. The first wedding cake was processed in ancient Greece. And it is associated with marriage ceremonies.
Wedding cakes have many different sizes depending on the size of the party. Moreover, according to each person's preferences, it looks perfect in various shades like gray, white, or pink.
Most wedding cakes taste creamy, nutty, and fruity. For extra information, in Western countries, wedding cakes are considered a symbol of pop culture. Koreans often use rice to make the wedding cake and top it with red bean powder.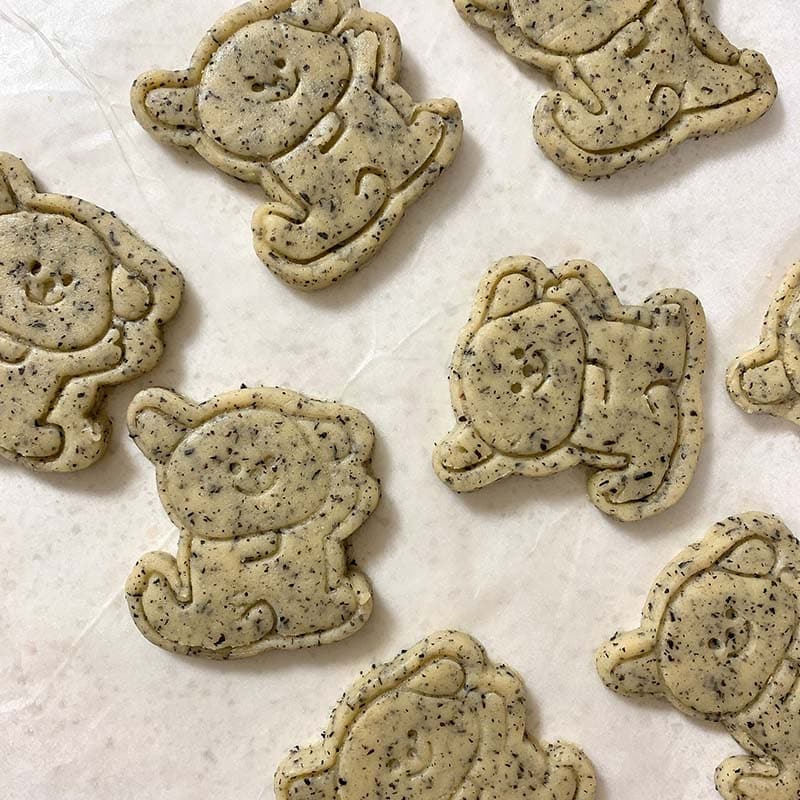 Among the different kinds of delicious cookies, Earl Gray cookies are my favorite choice after each meal. The sweet taste and tenderness, as well as the light chewy texture of cookies, will make you fall in love in no time. Also, their aroma will wake your sense of smell.
This fantastic delicacy is the harmonious mix of ground Earl Gray tea leaves, baking powder, eggs, and flour. Moreover, you'll feel a bit of citrus taste from the orange zest in this dish. Also, it only takes a little time to make this sweet treat.
Follow these instructions to make Earl Gray cookies properly.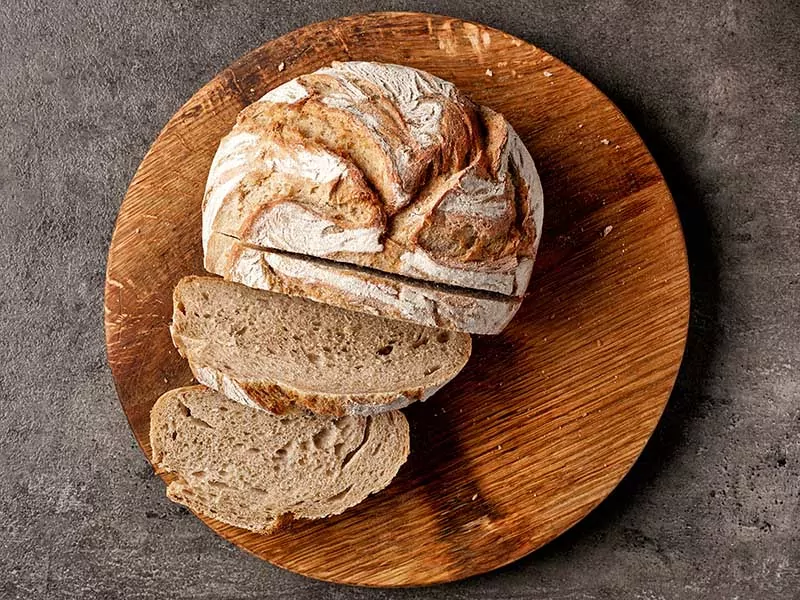 Gray bread is a delicious dish made with rye-wheat grain and flour. Typically, it appears with a light or dark gray interior with a crunchy golden exterior. This bread will have a deeper flavor and contain more fiber than white bread.
Bread plays an important role in many regions over the world, and it was a staple dish in the Middle Ages. You can find this bread in many types, such as rye hole-bread, multigrain, flatbread, quick bread, or Jewish rye bread.
This food is a rich source of fiber and bioactive compounds. The fat content is also low, making them even better for your diet. For more information, eating gray bread helps reduce blood sugar.
Bring A Ocean Breeze With These Wonderful Gray Seafoods
Seafood plays an essential role in many cuisines. Therefore, if you are a big fan of these ocean-style food items, you should not skip this particular section.
13. Mackerels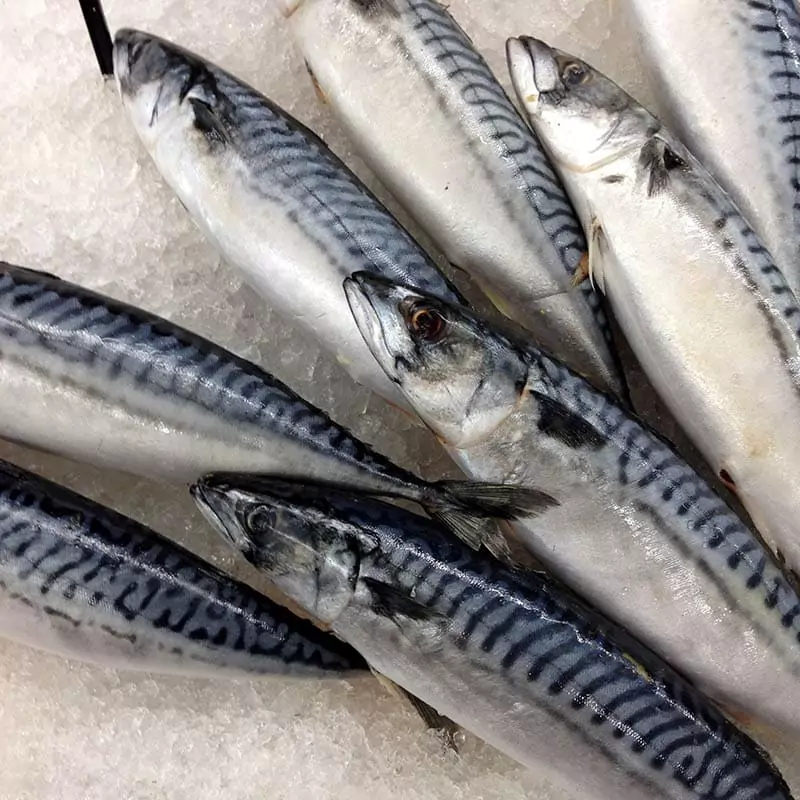 There are various types of fish for consumption, and mackerel is a popular one with an iconic gray color. You can find them easily in tropical and temperate seas. They often live along the coast or offshore of the oceans.
A highlight to realize mackerels is the vertical stripes on their backs. Typically, a mature mackerel can be about 12 to 22 inches long and weighs 4 to 10 pounds. There are more than 30 different types of mackerel found on sea globally.
You can utilize this versatile fish in many different culinary recipes. The most common ways are to roast, smoke, grill, and bake them. Plus, I prefer the fusion of mackerels and potatoes in baked goods like fish cakes.
Mackerel has a high content of omega-3 oil. Furthermore, they are suitable for your skin health with abundant fatty acids. I recommend eating them fresh since they are easy to rot when you store them for a long time.
14. Oysters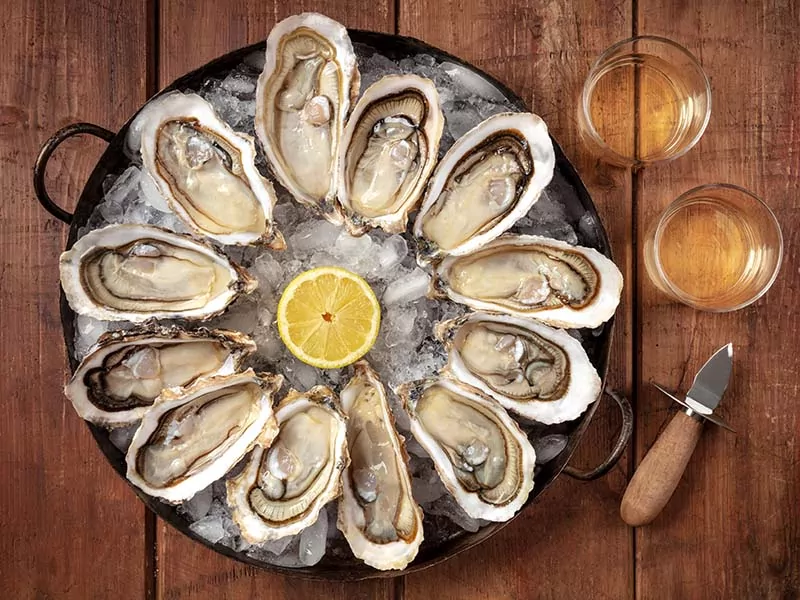 Scientists believe that oysters have been present on Earth for more than 200 million years. It is a high source of manganese, copper, vitamin D, and zinc for the body. Eating plenty of oysters helps improve bone health for the elderly.
They come in various oyster species, including pearl oysters, thorny oysters, saddle oysters, etc. A breeze of the ocean appears at the party with fish and an ocean-like taste of the oyster.
For consumption, it is possible to eat raw oysters with a bit of lemon juice, hot sauce, or mignonette. Moreover, if you are allergic to raw seafood, you can bake, steam, fry, or poach oysters.
15. Gray Anchovies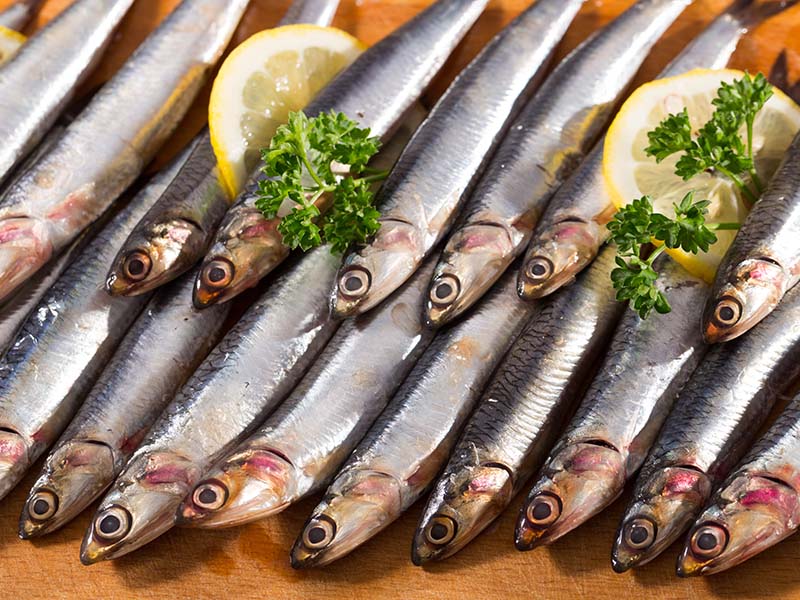 Gray anchovies are the next food I would like to introduce in this article. This small fish lives mainly in marine or brackish water. This famous fish originates in the Black Sea and the Mediterranean Sea.
There are more than 140 types of anchovies found in 17 genera. Adult anchovies are about 1 to 15.5 inches in length. Overall, this fantastic food will add a savory and umami taste to various dishes, especially Pissaladiere (a classic French tart with caramelized onions).
What are the best ways to consume anchovies? Click here to find out!
16. Dried Fish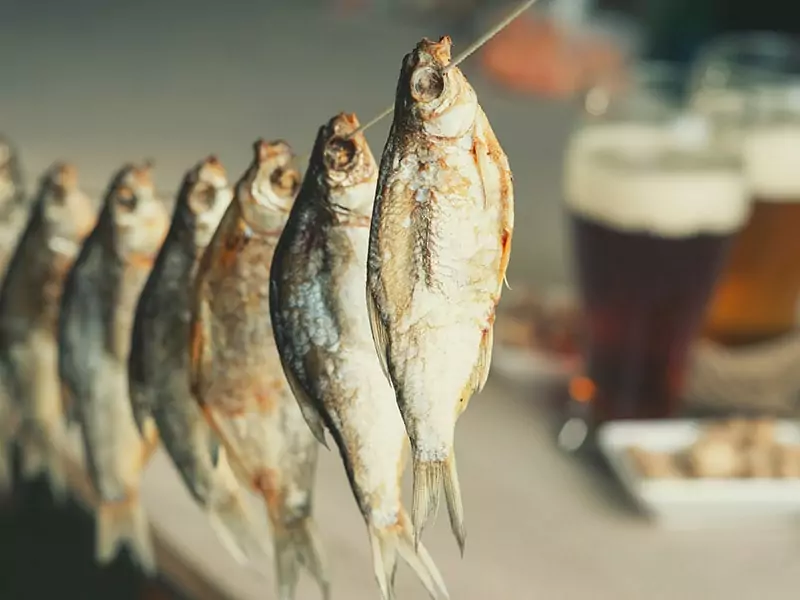 Instead of enjoying fresh fish, you can dry them to bring new experiences to your meals. Drying is an age-old method of removing liquid from the fish. This has also been a way to preserve food since ancient times.
Dried fish usually has a characteristic and unique gray color. There are many ways to dry fish, such as sun drying, wind drying, smoking, or air drying. This method helps prevent the growth of bacteria and mold in fish.
Most dried fish are pretty inexpensive. After drying, you do not need to worry about the loss of nutrients of dried fish because the fish still retains antioxidants and omega-3.
Fantastic Vegetables With Gray Color You Have To Try
The ideas in this section will bring a vegetarian gray-themed meal with wonderful gray vegetables. Do not forget to save them in your cookbook for later uses.
17. Truffles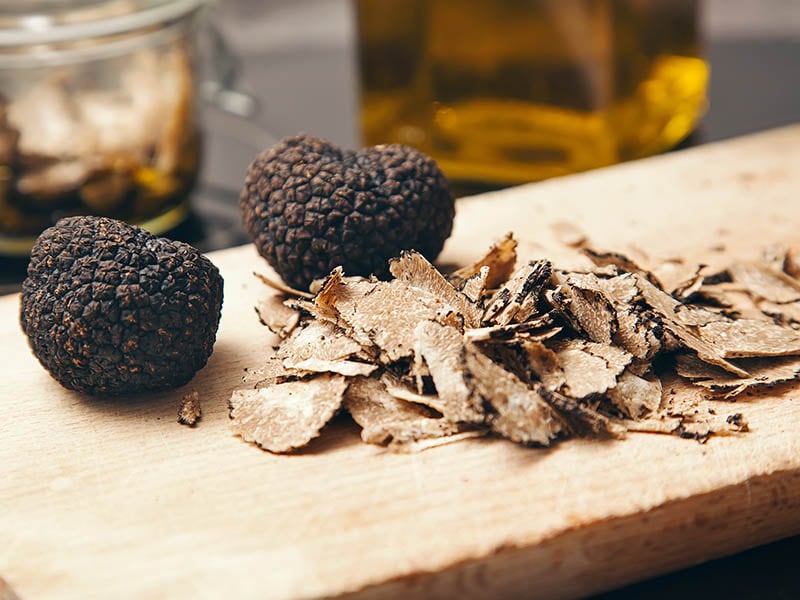 Truffle is one of many edible mushroom species with a characteristic gray color and live mainly on tree roots. You can see truffles with a variety of flavors. Their taste may be like game, garlic, or earth. Not only that, you can feel the musky aroma and savory flavor when eating this food.
It is a favorite component in many alluring recipes in Italy and France. Truffle cultivation began in the US widely in 2007, and the most prosperous period of truffles was the 2008-2009 season. This food appeared in the southern hemisphere for the first time in 1993 in New Zealand.
However, their price tag is relatively high due to the scarcity of the produce. Like other edible mushrooms, eating truffles is an effective way to reload protein, phosphorus, iron, antioxidants, and calcium to your body.
Discover why the truffle is so expensive with this instruction.
18. Oyster Mushrooms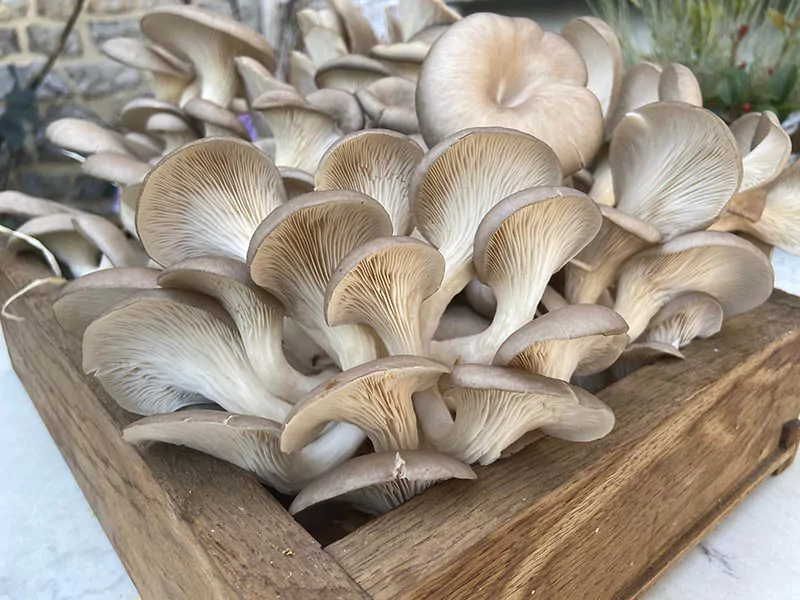 Oyster mushrooms are a common and healthy ingredient in many popular vegetarian recipes. People first started cultivating this mushroom in Germany during WW I. Nowadays, it's become a worldwide commercial food.
This incredible mushroom has a rather distinctive gray color, and its appearance looks like an oyster. The meaty and soft texture is suitable for adding to many recipes like soups, salads, and stir-fried dishes.
The signature seafood flavor with the earthy and faint hint will awaken your taste buds in no time. This fantastic food is a rich source of vitamins, antioxidants, and minerals. Furthermore, it is the ideal choice for a low-calorie diet.
19. Gray Hubbard Squash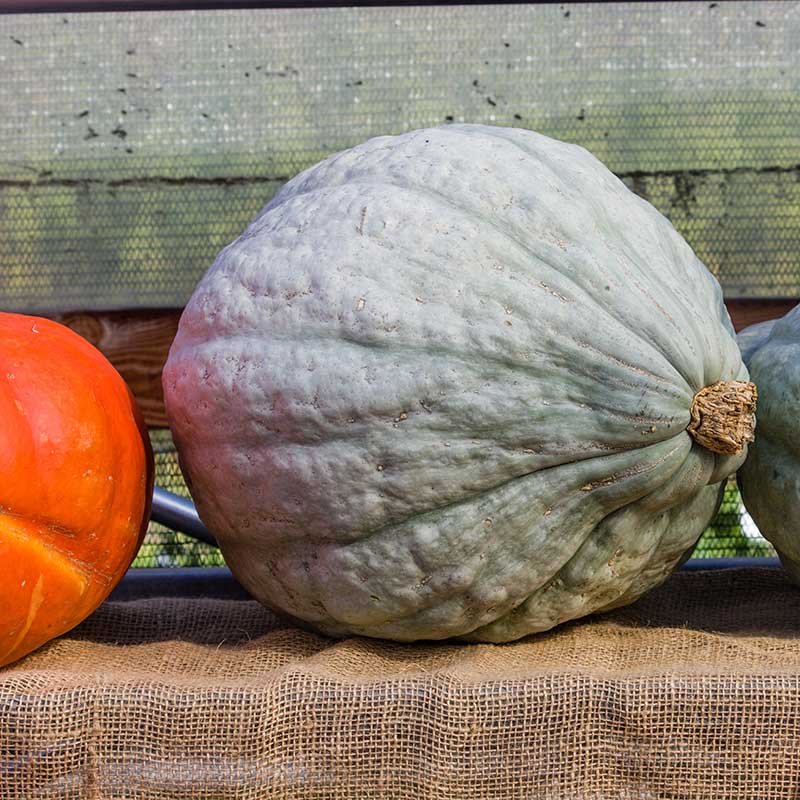 Hubbard squash is a widespread variety of winter squash. This species was derived in South America about 4000 years ago. It comes in different cultivars with various shades, and a gray version is an option I want to recommend in this article.
This excellent vegetable is surrounded by a thick, hard, and gray shell. After removing the skin, the orange flesh will appear in front of your eyes. Its sweetness will remind me of the flavor of pumpkin.
There are many ways to take advantage of this food. You can mash, roast, or bake it to create incredible recipes. It often appears in numerous mouth-watering dishes like soups or desserts. Also, you can toast its seeds to make a healthy and crispy snack.
Other Gray Foods You Should Not Miss
Suppose you look for cheese, spice, or herbs to adorn your dishes, this part will solve this problem with other appropriate suggestions. Keep reading!
20. Gray Salt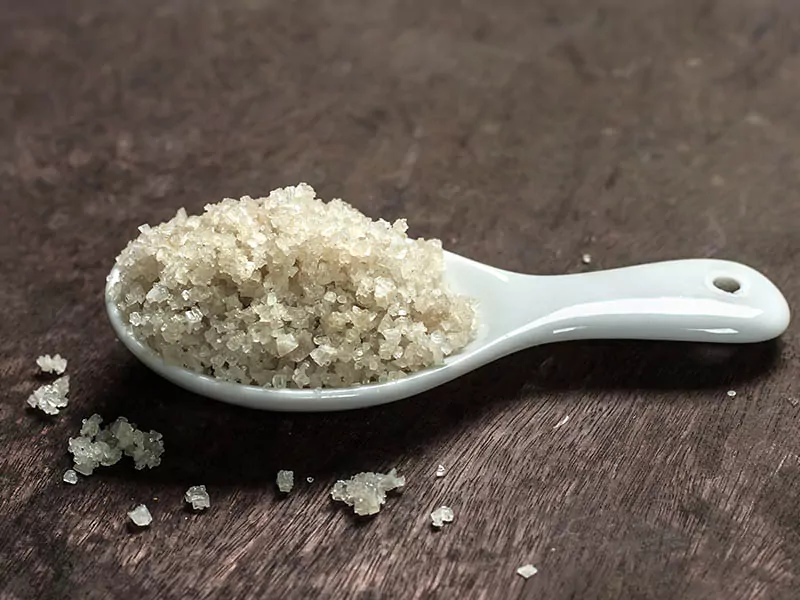 When referring to the famous French foods, I have to mention gray salt or sel gris. This unique salt originates on France's Atlantic coast. If you are familiar with white salt, it is time to expand your knowledge with the light gray hue salt.
Compared to regular salt, this type looks more extensive and more advanced. This spice contains many sea minerals and other essential ones, such as magnesium, calcium, and potassium. Also, this element is good for preventing hypertension, thanks to the low sodium content.
Like other salts, gray salt has a characteristic savory flavor and a chunky consistency. A tip you have to remember is to dry this type of salt before using it due to its moisture level.
Here is some valuable information about the gray salt.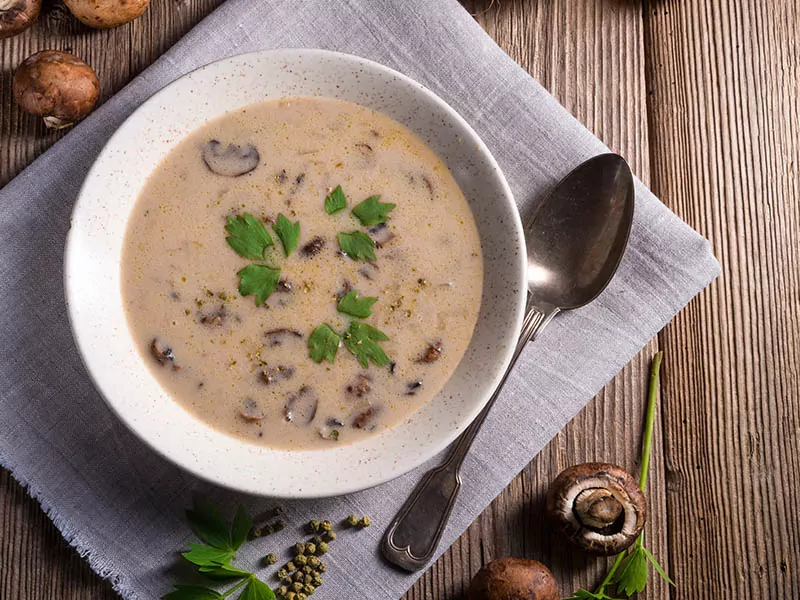 If you want gray-colored food with a gentle flavor and smooth texture, you must try healthy mushroom soup immediately. You only need to spend a little time in the kitchen to have mouthwatering for your family.
The dish's deliciousness derives from mushrooms, cream, flour, and herbs. The distinctive meaty taste and softness of mushrooms work well with the onions, garlic, and herbs to bring an immortal dish. If you do not like cream, you can use milk to replace it.
22. Sage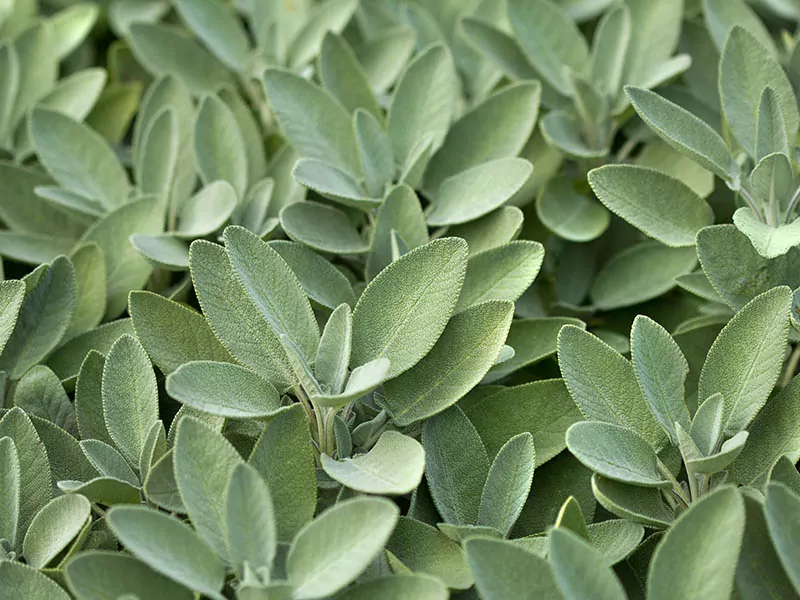 The dishes often need a little sage to bring an earthy and peppery taste. Moreover, this herb gives the dish a hint of lemon, eucalyptus, and mint. In terms of origin, sage originates in the Mediterranean region.
Today, you can spot natural sage everywhere. It has played an essential role in food and medicine for a long time. Beside sage, people also call it golden sage, true sage, or kitchen sage. It appears in the delicacies of Italian, American, and England cuisine.
People often mix it with chicken or turkey at Thanksgiving or Christmas in the US. In terms of health, it works effectively in anti-cancer and inflammatory. You can recognize it thanks to the gray-green and soft hair beneath. Plus, it also has cream, purple, or rose shades.
23. Appenzeller Cheese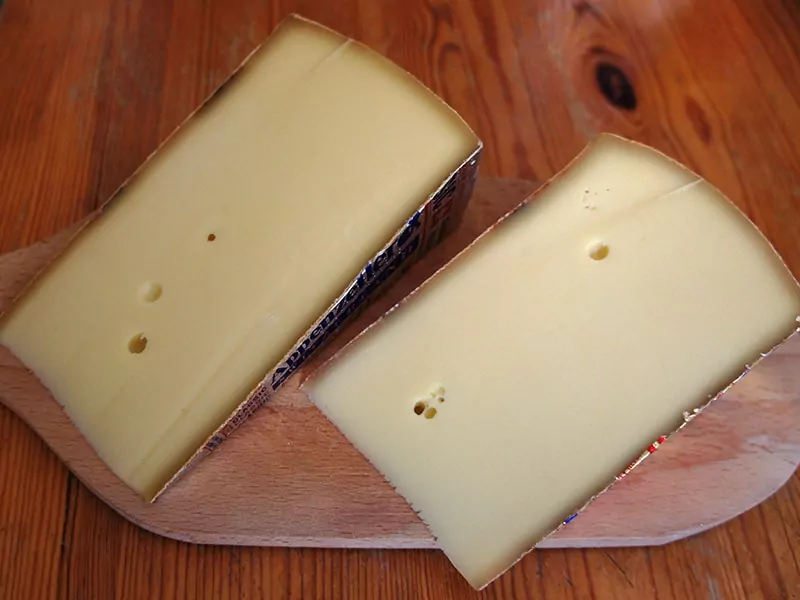 The reason why Appenzeller cheese appears on this list is its light gray line under the rind, which is the result of multiple washings. This cheese (aka Swiss or Alpine cheese) derives from the Appenzellerland area in Switzerland – the homeland of many famous cheeses.
It first appeared in the document in 1282 when people in the Appenzell area used it to give to the monks of the Abbey of St. Gallen. Nowadays, there are many manufacturers of this cheese with different recipes.
Overall, hard cow's milk is the main element that makes this fantastic cheese. This hard cheese tastes similar to many nuts and fruits. If it has a short aging time, the flavor will be milder. Meanwhile, the long aging time will bring a tangier one.
It has 3 main versions, including classic (from 3 to 4 months), surchoix (from 4 to 6 months), and extra (up to 6 months). You can identify them by the color of the label with silver, gold, and black, respectively.
This short video will show you how people make Appenzeller cheese in a factory.
24. Gray Owl Cheese
Gray owl cheese is another cheese with a characteristic gray color. It looks distinctive with the wrinkled surface. Pasteurized goat's milk is the primary ingredient in making this wonderful cheese.
This food first appeared in Notre-Dame-Du-Lac, Quebec. Its name is derived from the nickname "Gray Owl" of the revolutionary conservationist (Archibald Belaney) who has a huge love on Native American culture.
In culinary, Gray Owl cheese will add a sharp tangy and salty flavor to your dishes. In my opinion, it is best to enjoy this cheese with dry Sauvignon Blanc or dry Riesling.
Treat Your Loved Ones With These Gray Foods
Gray foods will accentuate your meal with their distinctive shade. Plus, they are friendly to your health since they contain many valuable nutrients. Let's choose the best-loved option and make it to treat your family members.
If you know any better food with this color, please let me know in the comment section. Moreover, please introduce and share this post with others so they can diversify their ingredient list for cooking. Thanks for your time!