Fruits are diverse in colors. But how many yummy gray fruits have you tried? In fact, among many appealing types of fruit, it is not easy to find a gray one for your menu.
In order not to miss any gray fruit, you should check these suggestions to fill them in your cookbooks or notebooks. Besides these ideas, it is better to learn some important information related to them for proper application.
Wonderful Melons That Have Rustic Gray Hue
If you are a fan of melons, this part is suitable for you. Because it contains many wonderful and yummy melons with incredible and alluring taste. Let's find them out.
1. Charleston Gray Watermelon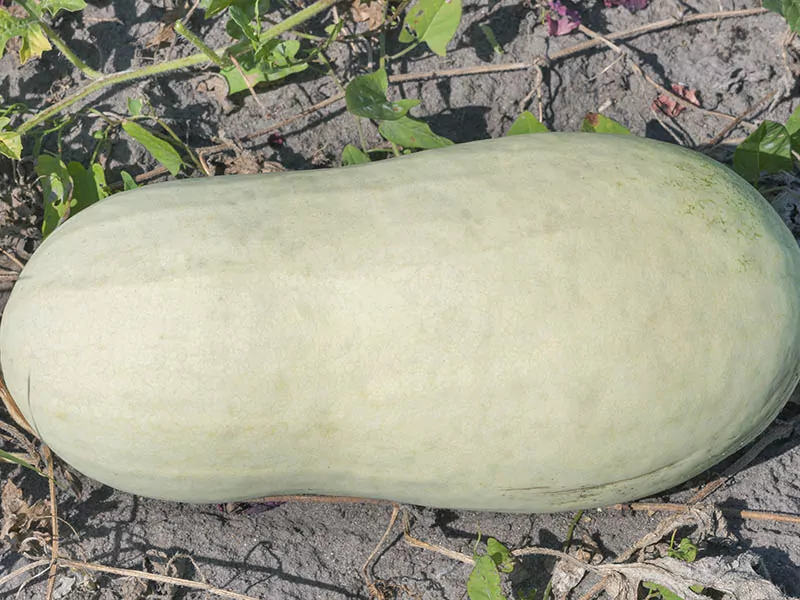 Charleston gray watermelon is my best-loved fruit among several different watermelon species. The oblong shape is one of the highlights of its appearance. Moreover, the gray shell leaves a profound impression on my mind when I see it for the first time.
This fruit's most valuable and attractive part is the red and soft flesh. You will surely fall in love with the flesh's charming sweetness and juiciness. It is especially a great refreshment option for summer desserts because of its high water content.
In terms of origin, many people think that this beautiful fruit originated in a laboratory in Charleston, South Carolina, in 1954. Gradually, its popularity spread to many other places globally, so you can purchase it easily.
Beside consuming fresh, it is a wonderful idea to turn this fruit into sweet and cool juices or smoothies. Also, making ice cream or salads with it is a great option.
Season: It is common in the spring.
Nutrients: High in vitamin A, C, and antioxidants.
How to eat: Slice the fruit into 2 halves and get the flesh with a small spoon to consume. Or you can cut them into smaller and even pieces to consume easier.
Take a closer look at Charleston gray watermelon here.
2. Muskmelon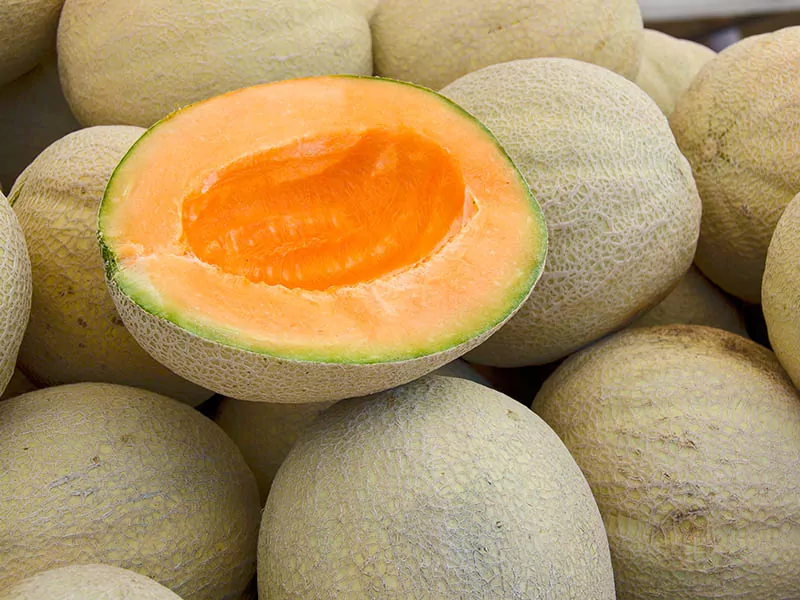 It will be a mistake if I do not mention muskmelon on this list. Persia and adjacent regions on the east and west are the homelands of this fruit. In addition, it is also cultivated extensively in India, Afghanistan, and Kashmir.
Among many different species of melon, the delicate and seductive sweetness of this melon is a big plus. Not only that, it becomes more stimulating with a little musky flavor. Even better, I cannot resist the allure of smooth and juicy flesh.
Thanks to its high potassium content, this fruit will positively affect your blood pressure. The nutritional elements of this melon are suitable for your digestive system and skin health.
Season: Its season lasts from late November to late February.
Nutrients: High in vitamin C, A, potassium, and folate.
How to eat: It is simple to cut the fruit into small slices and eat the flesh from the skin. Alternatively, you can dice it in half and use a spoon to take the flesh to eat.
3. Yubari King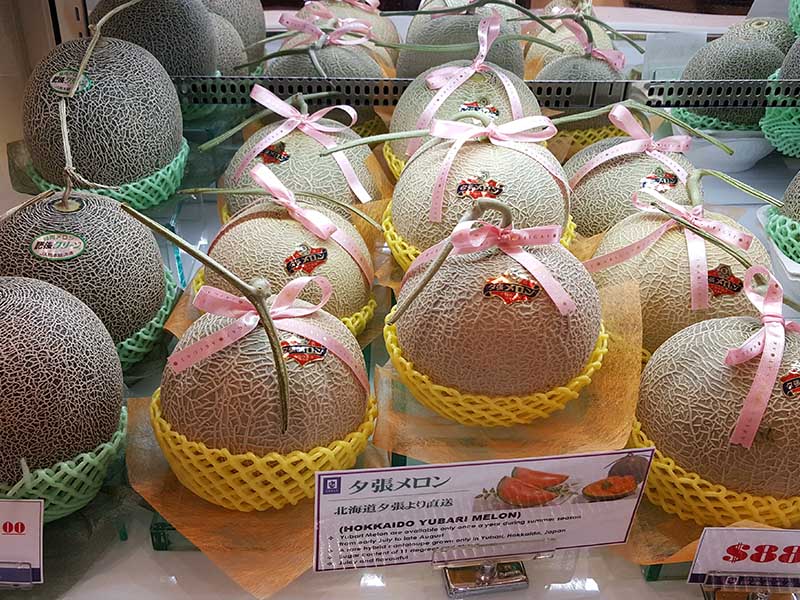 Yubari King is a cantaloupe that was first grown in greenhouses in Hokkaido. It is the combination of 2 different breeds, which are Earl's Favorite with Burpee's Spicy. It serves as a present during Chugen (also referred to as a summer gift) in Japan.
Yubari King has the highest price among other cantaloupe varieties. In 2019, Yubari King sold for 5 million yen in an auction. Nowadays, it sells for over 20,000 dollars. Nonetheless, this is worth it for its quality and nutritional value.
Its enchanting sweetness will not let you down at the first bite. The tender and silky consistency of the orange flesh will make you unable to refuse to enjoy it. What's more, it is a nutritionwise fruit that is rich in vitamin A and antioxidants.
Season: Its season often begins in May.
Nutrients: Rich in folic acid, vitamin A, C and fiber.
How to eat: You can make smoothies, ice cream, or sorbets with this fantastic fruit, and consuming it raw is also a good idea.
Explore the reason why the price of Yubari King is so high.
Other Delicious Gray Fruit You Should Not Miss
Your list of excellent gray fruits will be varied after reading this section. The fresh choices are perfect for ending the parties and leaving an indelible impression on your diners' minds.
4. Yellow Dragon Fruit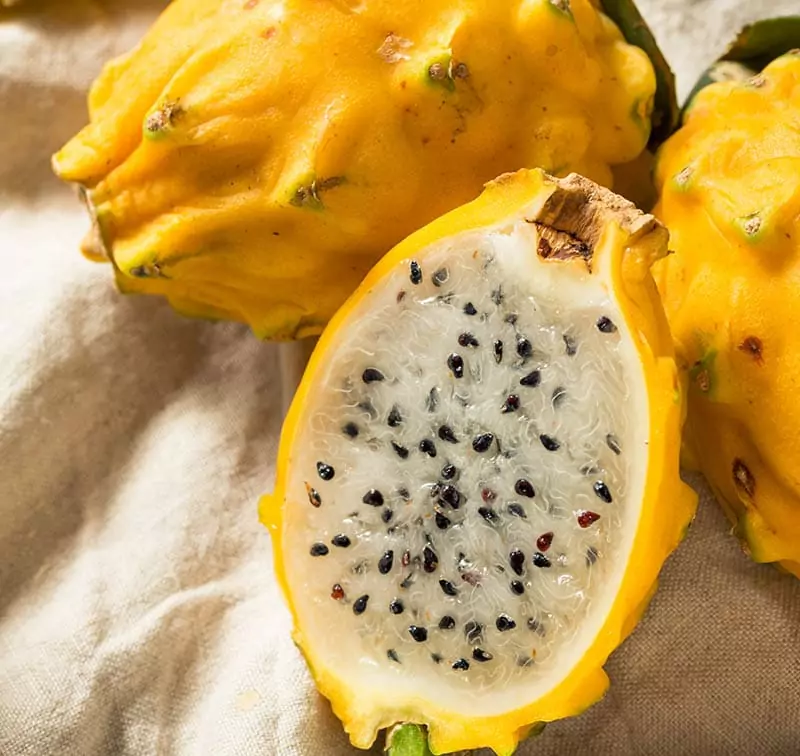 Amid various varieties of dragon fruit, I have a special affection for yellow dragon fruit. This version is particular and stands out with its soft yellow skin and delicious lightly gray flesh.
One thing I like about this fruit is that I can consume its tiny seeds without any worries. Flavorwise, it is considered the sweetest dragon fruit. Also, its taste can remind you of cactus pear or kiwi.
Besides, if you're wondering whether you can eat dragon fruit's skin, the short answer is yes, you can. However, you'll need to know the proper preparation technique.
Ecuador and Israel are said to be the homelands of the yellow dragon fruit. You can lower the risk of serious diseases if you consume this fruit appropriately since it contains many antioxidants. In addition, it has a good effect on reducing blood sugar.
Season: It is available all year round, but the peak season runs from early summer to autumn.
Nutrients: Rich in iron, vitamin A, C, and niacin.
How to eat: If you do not want to eat fresh dragon fruit, you can add it to a salad or make a smoothie, fruit bowl, or ice cream with this fruit.
5. Salted Plums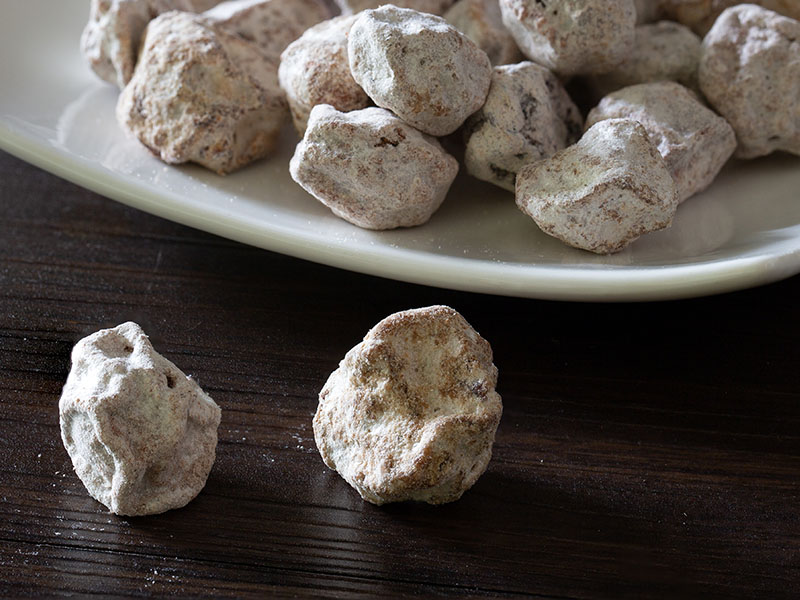 Salted plums are a fantastic suggestion for your delicious snacks menu. This excellent fruit is famous in Mexico and China. Regularly enjoying salted plums will help control the blood sugar and reduce the risk of heart disease thanks to the high antioxidants.
This gray fruit is the perfect combination of sour and salty flavor, so it is hard to resist. Many people also describe its flavor like dried fish soaked in vinegar. In Japan, there is a similar version called umeboshi.
Season: It is available all year round.
Nutrients: HIgh in sodium, fiber, vitamin C, and potassium.
How to eat: You just need to simply eat the flesh around the seed.
6. Wood Apple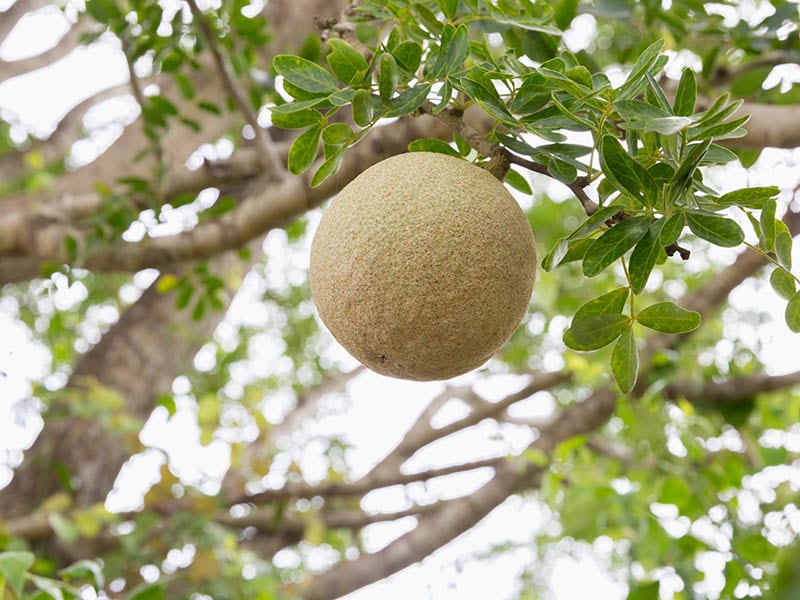 You can call it an elephant apple, wood apple, or Indian catmon. Among plenty apple varieties, this unique fruit was born in Indonesia and some other regions like India, Sri Lanka, and Southeast Asian countries. Nowadays, it is common in Asia and some places in Australia.
This special W-something fruit has a rustic appearance with a rough brown shell. Nonetheless, the brown or orange flesh is so soft and smooth. When enjoying it, you can feel its banana-pudding core with many hairy seeds inside.
These white seeds lie in the tender flesh. Its acidic and sweet taste will be suitable for appearing in jams or chutneys. Also, you can try adding it to curries, jellies, drinks, or ice cream.
Nevertheless, please do not try to eat an unripe apple because the astringent taste will dry your mouth.
Season: Its season extends from October to March.
Nutrients: High in calcium, iron, copper, vitamin C, and more.
How to eat: People often remove the skin, slice it into 2 sections, and eat the flesh with a spoon. Do not eat unripe wood apples.
Let's taste a wood apple to find out the real flavor of this unique fruit.
7. Gray Hubbard Squash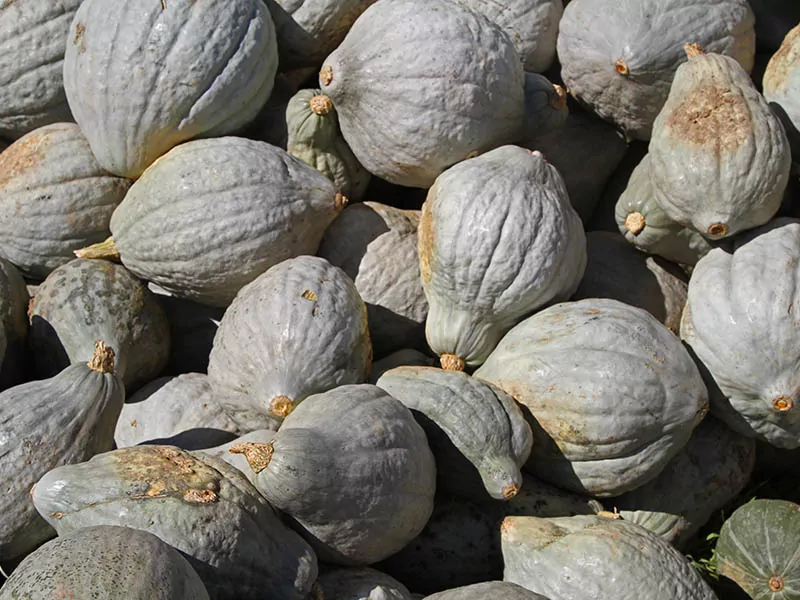 Gray hubbard squash is the following name I would like to introduce to you in this article. It is a unique New England squash with a gray-blue skin and teardrop shape. You'll love the fine-grained flesh at the first bite.
Many people think that this winter squash species is a type of vegetable, but it is actually a wonderful fruit. Nevertheless, people still use it as a veggie in many culinary recipes like pies or savory dishes.
This gray-colored food's amazing flavor is the perfect blend of sweet potato and pumpkin. Thanks to the gentle sweetness and the delicate aroma of its orange flesh, it is easy to understand why it has become many families' favorite food item.
Season: Through early autumn to winter (peak season).
Nutrients: High in vitamin A, B6, C, potassium, and magnesium.
How to eat: Use it in various savory dishes. Also, you can roast it with herbs and warm spices and mash the flesh to eat.
8. Baobab Fruit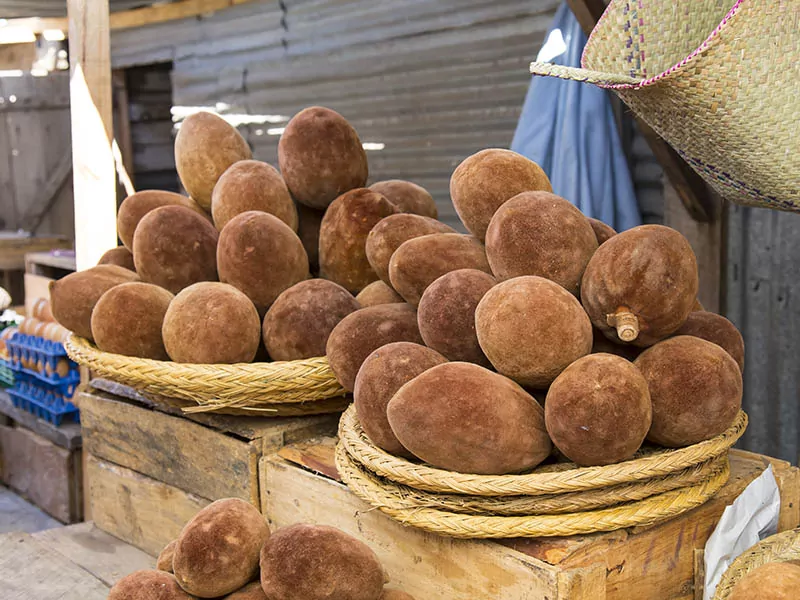 Baobab fruit is one of the iconic fruits of Madagascar, Africa, and Australia. It is also known as an upside-down tree. The baobab tree is large and can live for about 300 years. Nevertheless, baobabs in southern Africa have pretty much died out in the 21st century.
Scientists think pests, diseases, and dehydration caused this dire situation. About 8 different types of baobab fruit are found worldwide, with 2 types in Africa, Australia, and 6 in Madagascar.
A hard and thick shell protects the fruit. In particular, the characteristic gray color will catch your eyes in no time. Furthermore, you can come across dry pulp and kidney-shaped seeds inside this fruit.
When tasting baobab fruit, you can feel like you are enjoying a tangy sherbet with a sweetness and a citrus touch. For use, people often eat it as a snack or make juices, lemonade, smoothies, or tea.
Season: Its peak season is in February.
Nutrients: Rich in vitamin C, thiamine, calcium, and vitamin B6.
How to eat: The typical way to eat this fruit is to combine the powder with tea, juice, or smoothies.
Learn how to consume amazing baobab fruit properly right now.
Gray fruits not only bring fresh and attractive flavor but also have many positive effects on health. From now on, you have new options to serve at parties. And I am delighted if you get a lot of good value after reading my article.
Your comments and feedback are valuable and significant to me, so do not forget to share them in the comment box. Plus, please convey the helpful information to many others by sharing the article. Thanks a lot!