Foods that are brown have become a trendy choice for many people. Besides their distinctive and beautiful color, many of them are healthy options with high levels of antioxidants and nutrients. Let's check this post to get suitable suggestions right now!
I am sure that you will be satisfied with the choices that I bring in this article. The ideas are pretty diverse with dishes, spices, or nuts for you to select for many different purposes. Please read this article meticulously!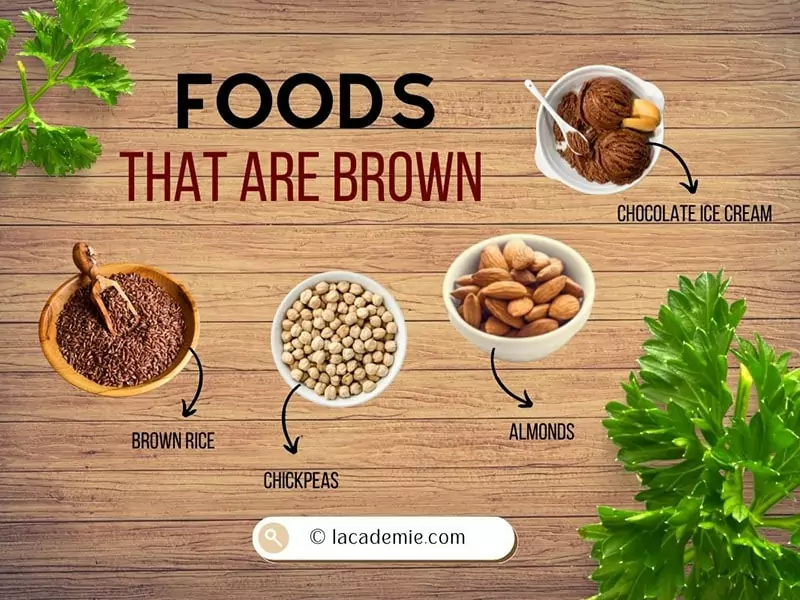 12 Significant and Tasty Raw Brown Foods Over The World
Let's diversify your meal plan with these incredible raw brown foods now! They leave an indelible impression on people's minds after enjoying them.
Diversify The Cooking Ingredients With Brown Nuts And Grains
There are many nuts and grains that are brown, so it is simple to choose the suitable one for your recipes. This part gives you some remarkable and ideal suggestions for accentuating your dishes.
1. Brown Rice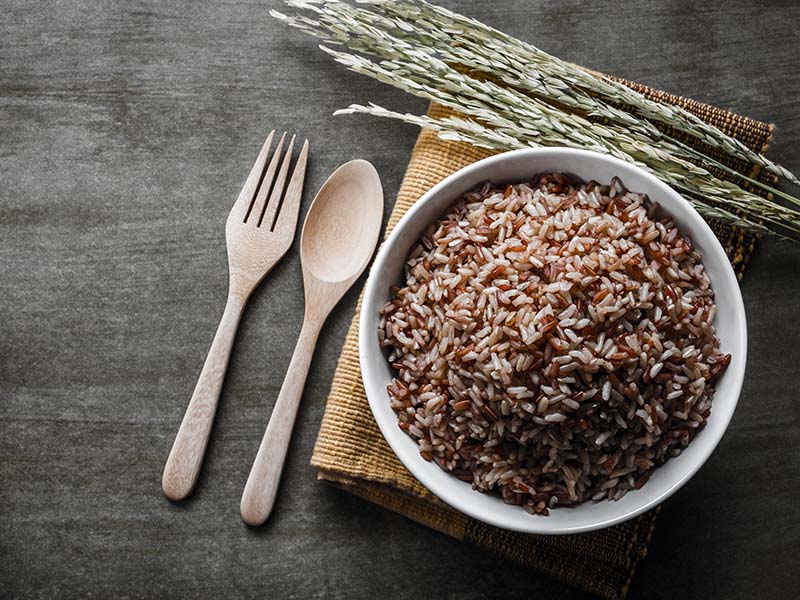 If you want to take things a step further by switching from food with white shade to brown, try giving up white rice and serving brown rice at meals instead. Nonetheless, you need to spend more time cooking this brown food (about 35 to 50 minutes).
To get shiny brown rice grains, you need to remove the inedible outer hull. Japan, Thai, Korea, and China are the regions that use the most brown rice worldwide. You'll have warm rice with an earthy and nutty taste. Plus, brown rice is a healthier alternative of white rice.
There are many ways to use brown rice that you can try. You can stir-fry them with meat or vegetables for side dishes or snacks. Also, the risotto and biryani are outstanding main dishes containing brown rice you must make.
Typically, this brown food can last about 6 months. To prolong the shelf life of brown rice, it is possible to completely store them in the refrigerator, storage, or freezer.
Explore the right ways to cook brown rice to serve at your parties.
2. Chestnuts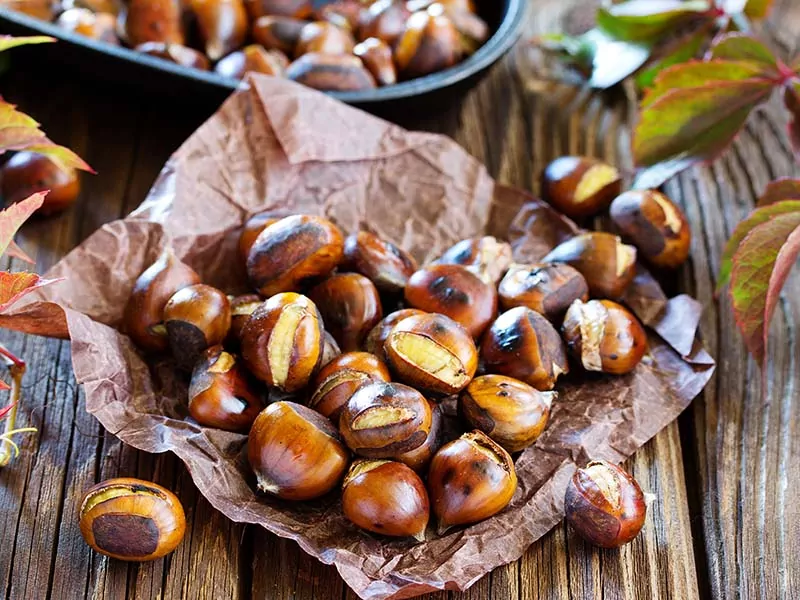 When referring to brown foods, it is necessary to mention chestnuts in this list. They originate in the temperate areas of the Northern Hemisphere. It is widely believed that the ancient Greeks helped popularize chestnuts in the Mediterranean about 3000 years ago.
The name "chestnut" is derived from "chesten nut" in earlier English. They played an essential role in the diet of ancient people. Today, they have been a staple food in North America.
In addition, you'll find their striking brown color in many yummy American dishes and other cuisines. For cooking, it suits your soups, stews, and other meals.
In case you would like to feel the authentic bitterness and crunch, I recommend eating fresh chestnuts. Nonetheless, people often roast them to give them a tender texture and sweet and buttery taste, and they will be served as a snack.
3. Chickpeas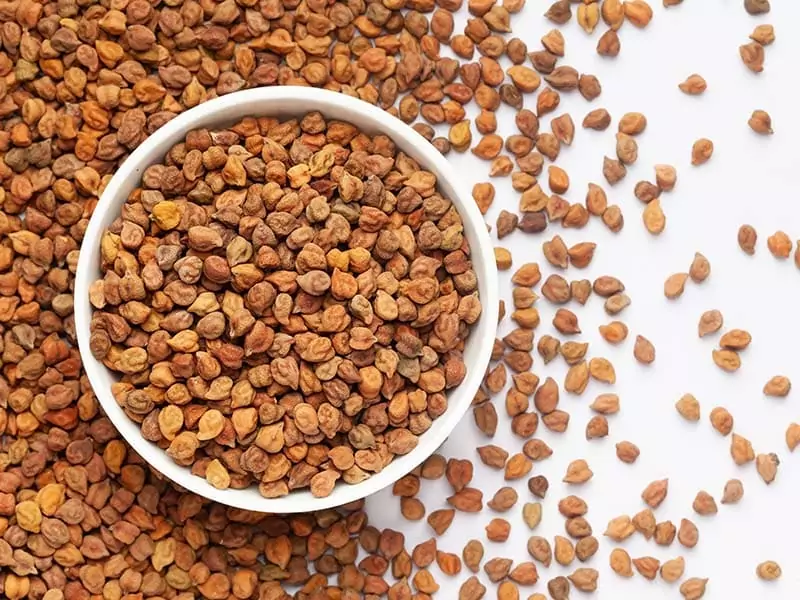 Chickpeas are a popular legume known as "garbanzo" or "bengal gram". Most chickpeas are found in southeastern Turkey and Syria. Hence, they appear commonly in many attractive Turkish specialties.
So, of course, they are the star component in many delicious foods of Middle Eastern cuisine. In India, you will fall in love with the taste of soups, stews, curry, and salads containing chickpeas.
Also, people often use ground chickpeas as an alternative to coffee. This idea has been around since the 18th century. Besides the characteristic earthy and nutty taste, chickpeas are healthy foods.
This brown food is packed with antioxidants, vitamins, calcium, and protein. Furthermore, their high fiber content is suitable for your digestive system. Not only that, chickpeas help reduce cholesterol absorption and control blood sugar.
Discover how chickpeas can benefit human bodies.
4. Almonds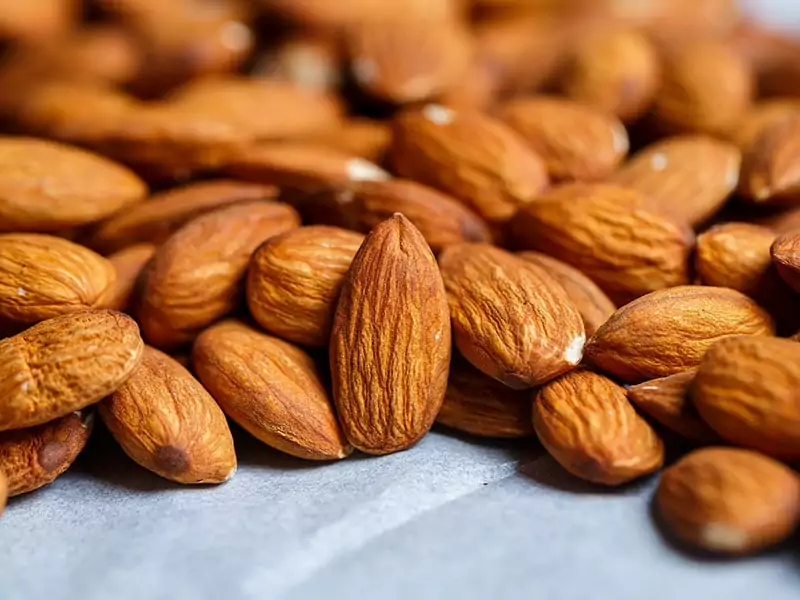 Almonds have been a familiar food for people for a long time. You can use many different species of almonds to give your dishes fresh breezes. If you want to brown your dishes or desserts, you should not skip this fruit. Also, you can enjoy roasted ones as a delicious snack.
Almonds have their origin in Iran, so you can easily find their sweetness and mild bitterness in typical Iranian dishes. Structurally, almonds consist of an outer hull and a rigid shell with a single seed inside.
Nutritionwise, this brown food contains a lot of vitamin E, calcium, phosphorus, and magnesium. In addition, almonds are beneficial in reducing the risk of obesity. Some research shows that almonds help prevent heart disease effectively.
Besides Iran, the ancient people also discovered almonds in the Levants. Gradually, they appeared in the Mediterranean, Africa, southern Europe, and many other parts of the world. Nowadays, you can find this brown food anywhere global.
5. Pecans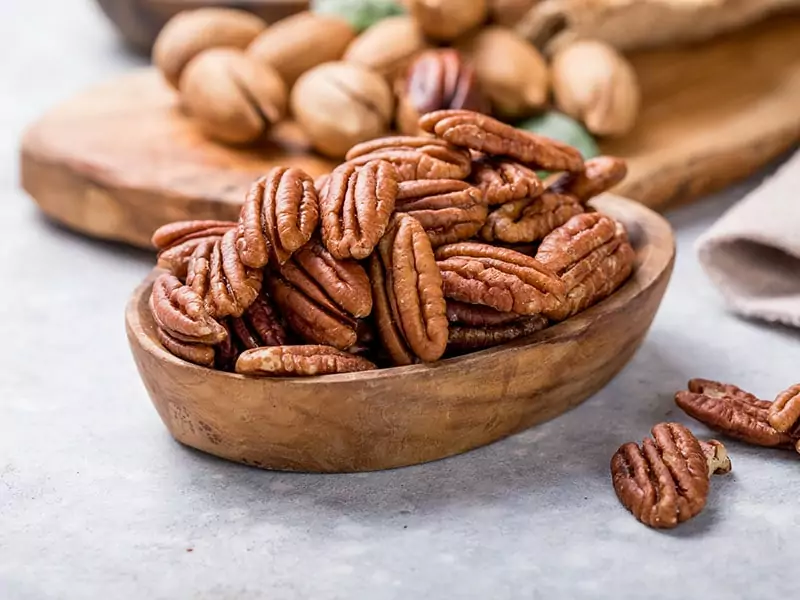 Pecan is the next name I would like to mention on this list. These edible nuts often appear as yummy snacks or are added to tempting dishes like pecan pie or praline candy. It adds enchanting sweetness and a buttery taste to the dishes.
Usually, when you eat pecans, you'll find a slight bitterness from their outer layer. Nonetheless, your tongue can feel the sweetness when it penetrates inside the pecans. You can try raw pecans to feel the authentic flavor.
If you want to see more pecans, you can go to the southern United States and northern Mexico since these places are the birthplaces of pecans. Furthermore, the south of the United States accounts for almost half of the world's pecans.
6. Walnuts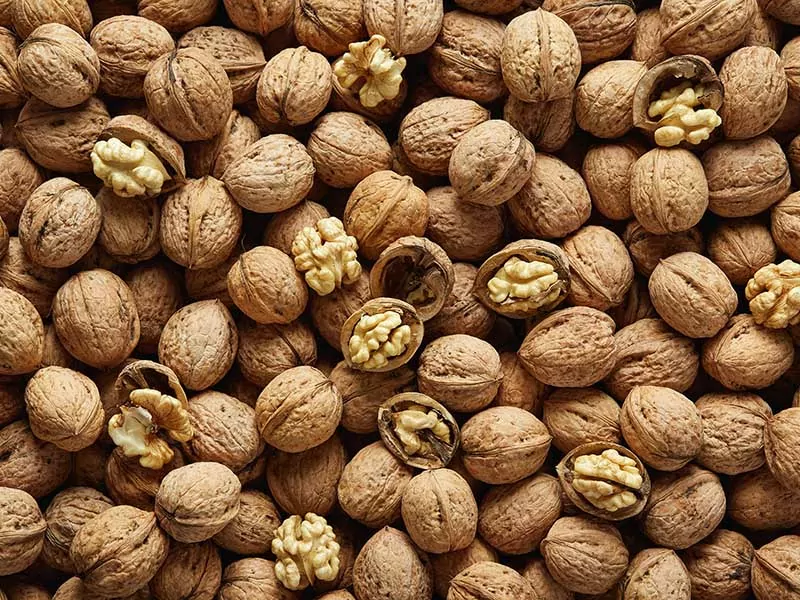 Walnuts are tasty and beneficial nuts with high levels of antioxidants and nutrients. This material is pretty good for preventing cancer or diseases. In culinary, these brown nuts appear in candies, baked goods, or salads.
There are 2 common types of walnuts, including black walnuts and English walnuts. Black walnuts are widely available in northeastern America, and English ones come from Iran. Compared to another version, black walnuts have an intense flavor.
People called walnuts "royal nuts" during the Byzantine period. Their flavors are pretty varied, with a mixture of tangy and sharp touches. You'll be impressed with the crispness and creamy texture when biting them.
7. Hazelnuts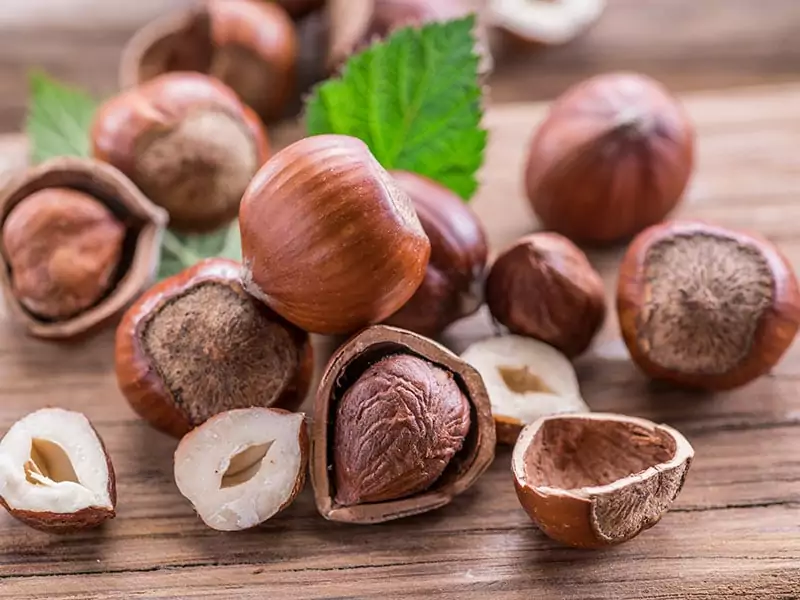 If you seek a kind of nut to add to your dishes, I recommend you consider hazelnuts. They are the product of hazel trees. Their succulent, sweet, and tender flesh are suitable for culinary practices, so try eating them raw or roasting and cooking them.
I have an intense passion for their flavor in tasty snacks or desserts like chocolate bars or chocolate truffles. Depending on different regions, you can see them in different colors such as brown, black, and red-brown.
They are also called filberts or cobnuts in some areas. Hazelnuts are a rich source of protein, manganese, vitamin E, and many other essential minerals. Italy and Turkey are the 2 countries with the largest hazelnut reserves globally.
Initially, hazelnuts originated in Asia and have existed since the 19th century. They became Oregon's State Nut in 1989. Typically, the harvesting of hazelnuts takes place in mid-autumn.
Other Raw Foods That Are Brown You Should Consider
There are many other options that you can consider to create brown dishes to impress your diners. Let's explore what foods they are by following this part carefully.
8. Dates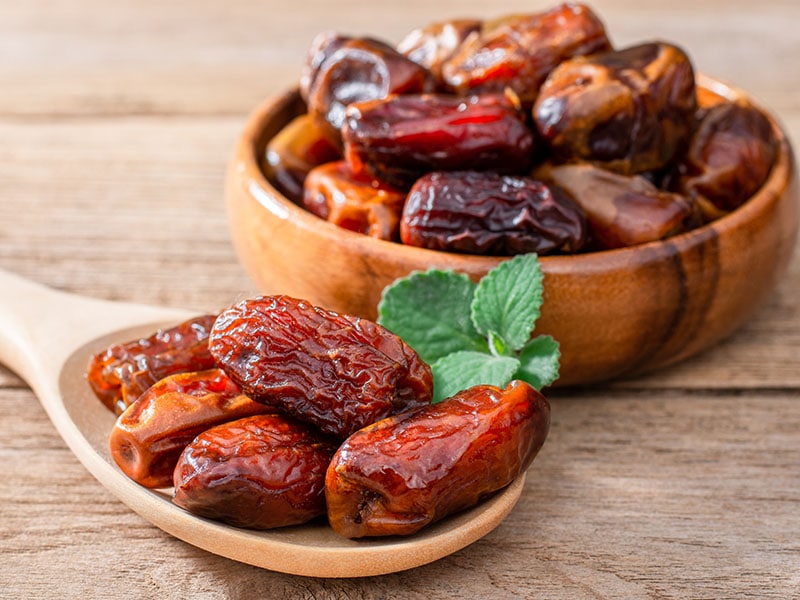 The dates' eye-catching brown color makes them worthy of a spot on this list. They are edible fruit commonly grown in the Middle East, Asia, and Africa. But until now, there is no official evidence of their exact origin.
However, it is believed that dates have their origins in Egypt and Mesopotamia. Some other views suggest that they are native to the Persian Gulf and western India. And the fossils found show that they appeared about 50 million years ago.
And the cultivation of dates has been going on for several thousand years in the Middle East. Dates are usually oval with a single pit in the middle. Plus, you can see 3 different varieties of dates, including soft, dry, and semi-dry cultivars.
Most dates are mildly sweet and enticing. This flavor is perfect for making syrup or adding to desserts. In the United States, date nut bread has become a popular traditional food for many holidays.
9. Flaxseeds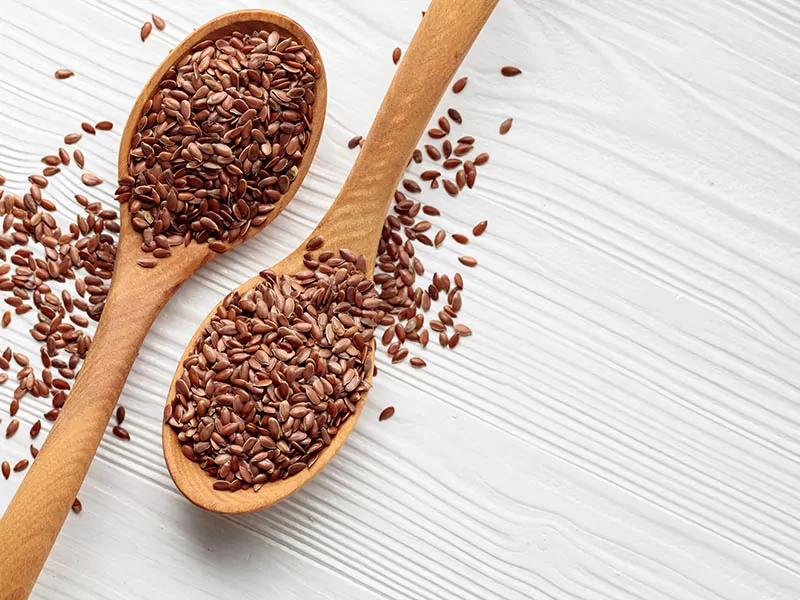 Flaxseeds or linseeds are pretty standard in temperate climates. They are pretty small in size and have a nutty taste. Their shapes can make you think of the apple pip. People love to utilize these brown seeds for both sweet and savory dishes.
Many people think that flaxseeds originated in the Mediterranean region of Europe. In addition, signs of human use of flax for textile were found in the present-day Republic of Georgia.
Flaxseed oil is a well-known product made from this ingredient. It is time to supplement vitamins, protein, minerals, and fiber with these seeds. Even better, they contain a lot of omega-3 and omega-6.
Find out the health benefits of flaxseeds with this introduction.
10. Brown Mushrooms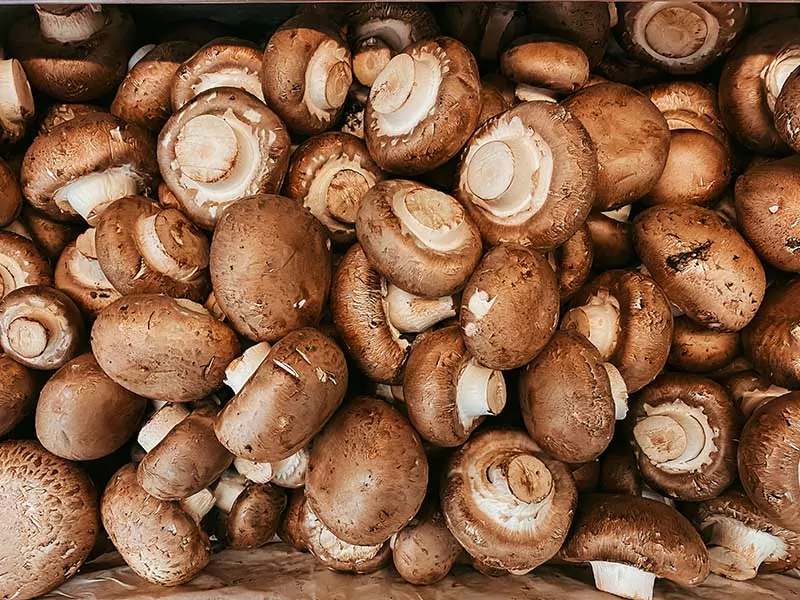 It is not complicated to see fresh mushrooms with a rustic brown color that thrive on dead pine, cedar, or oak. They look prominent with brown caps and lighter shade stems. And they play an essential role in the cuisine.
You'll be blown away by this fantastic food's slight seafood flavor and a mild bitterness in Bolognese sauce, risotto, or marinara sauce. Furthermore, they will accentuate and enhance the flavor of many sauteed dishes and vegetables.
Also, I love their presence in the delicious pizzas, soup, and sandwiches. A unique feature of this mushroom is that it still keeps excellent taste and nutritional value even though you cook them for a long time and at a high temperature.
Brown foods are high in antioxidants, so brown mushrooms are perfect in this aspect. It is good to consume a lot of these mushrooms to improve the immune system and protect the body from the effects of free radicals.
11. Brown Sugar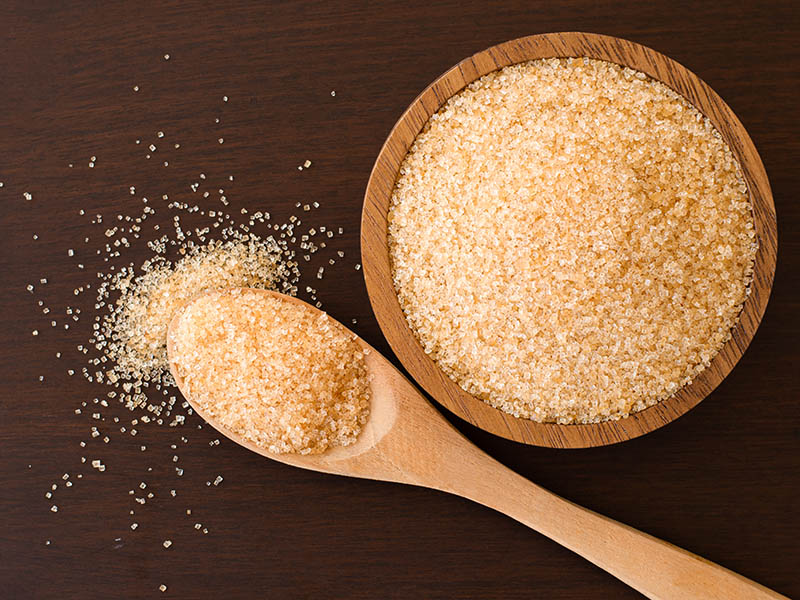 Brown sugar is a common condiment in cooking. It brings enchanting sweetness and eye-catching color to many dishes. You can find brown sugar as unrefined or partially refined versions. It is a combination of pure cane sugar and molasses.
Alternatively, you can purchase commercial brown sugar with a fusion of refined white sugar and molasses. You can come across 4 main types of brown sugar, including golden and light, dark, Muscovado and Turbinado, and Demerara.
Usually, brown sugar exists as a wet sand-like shape. The nutrients in brown sugar are slightly higher than white sugar, making them a healthier choice. So if you love to bake goods and desserts, you can consider using it. Its caramel touch is suitable for making glaze and gravies.
12. Cinnamon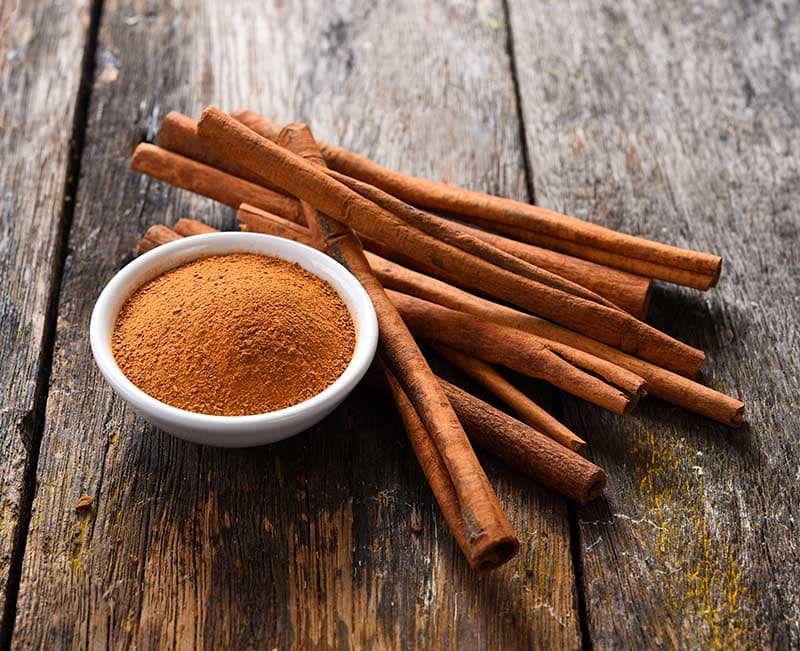 It will be a pity to skip cinnamon when talking about brown foods. It is a well-known and influential brown spice in many cuisines. It can work perfectly in savory and sweet foods, snacks, teas, or breakfast cereals.
The name "cinnamon" comes from the Greek word "kinnamomon" and its English name has been in use since the 15th century. The Egyptians imported this famous and fantastic spice in 2000 BC.
If you want your dishes' flavor richer, cinnamon will help you with its aromatic touch. Various amazing cultivars of cinnamon will bring many different experiences to you. Its hot and bitter taste will elevate the dish's value and stimulate your taste buds in no time.
Fill Your Stomach With These Processed/Prepared Brown Foods
Apart from the raw brown foods, here are other processed/prepared food items that you can try making them to enjoy with your family. Most of them are easy to make with simple tutorials.
13. Whole Wheat Pasta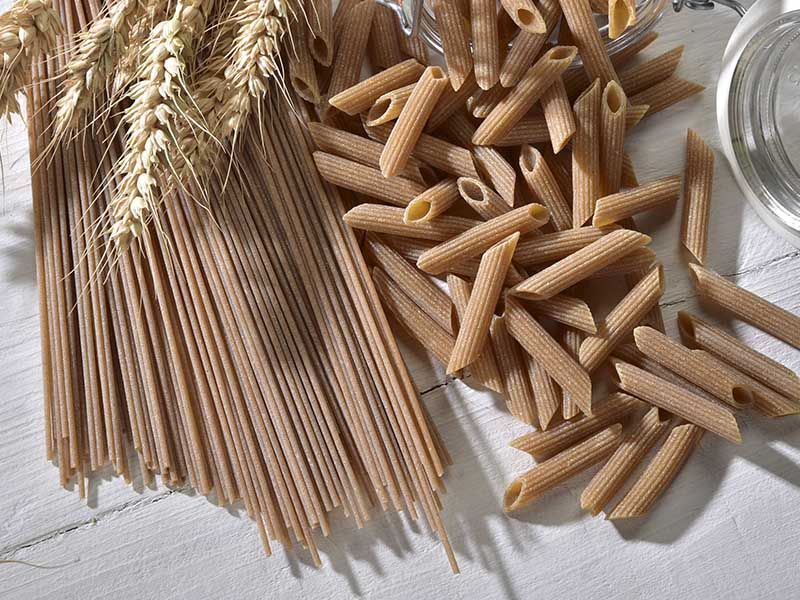 If you are a fan of delectable Italian food, pasta is an incredible food you cannot refuse.
Besides regular pasta, you can consume whole wheat pasta for a healthier meal since its carb content has been reduced. In fact, whole wheat pasta is also higher in nutrients and fiber than the conventional version.
This excellent pasta is made with whole-grain flour and water. Thanks to its prominent and distinctive brown shade, it is not complicated to distinguish it from regular pasta. In addition, this pasta offers a chewy texture and nutty flavor.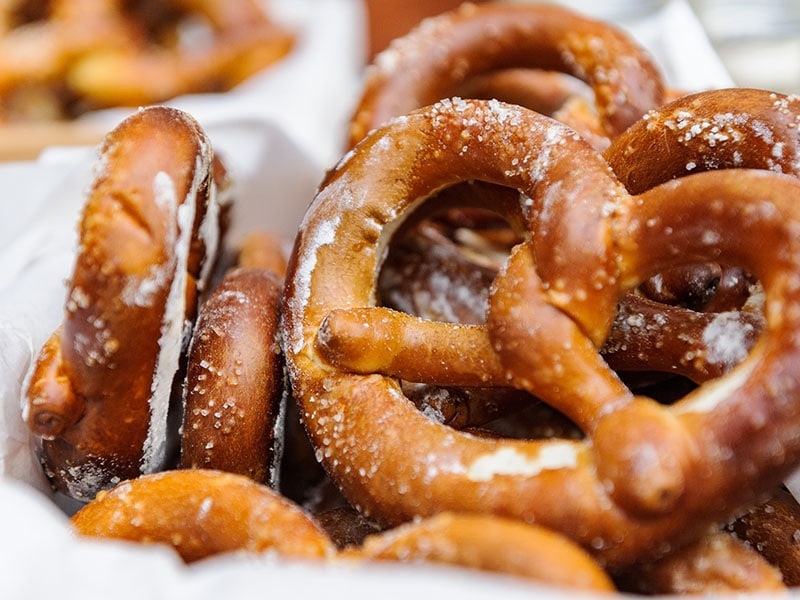 Pretzels is a famous snack recipe of German cuisine. This amazing baked bread is created with dough. Usually, you'll come across them in the form of knots and eye-catching brown colors. Nowadays, you can find this bread in other shapes.
To make these flavorful pretzels, you need to prepare salt, lye treatment, washing soda, and other seasonings. Depending on your preference, you can choose hard-baked pretzels or soft pretzels to enjoy.
There are many views on the origin of pretzels. Some argue that European monks created this yummy bread first. Some other examples show that pretzels were born in a monastery in the South of Italy.
Expand your knowledge with the information about the origin of pretzels.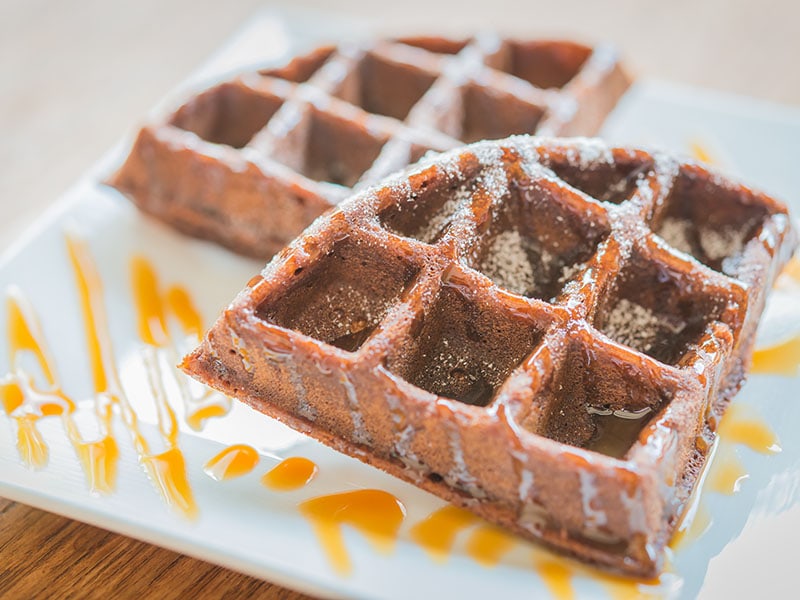 Waffle is a popular food all over the world. In particular, it is the most famous dish in Belgium. Additionally, in Middle Eastern countries, this food appeared in the 9th century.
This fantastic food is made of dough or batter. For fragrant and delicious waffles, the chef cooks them between the 2 hot plates to give it distinctive shapes and patterns on the surface of the waffle. Initially, the ancient Greeks made cakes (obelis) using 2 metal plates.
The chefs have added chocolate to the traditional waffles to create unique colors and bring out a unique and fresh taste. This makes their taste pretty similar to brownies. Occasionally, restaurants serve them with whipped cream or chocolate syrup on top.
There are different variations of waffles that you can enjoy, like Brussels waffles, Liege waffles, and American or pandan waffles.
16. Chocolate Ice Cream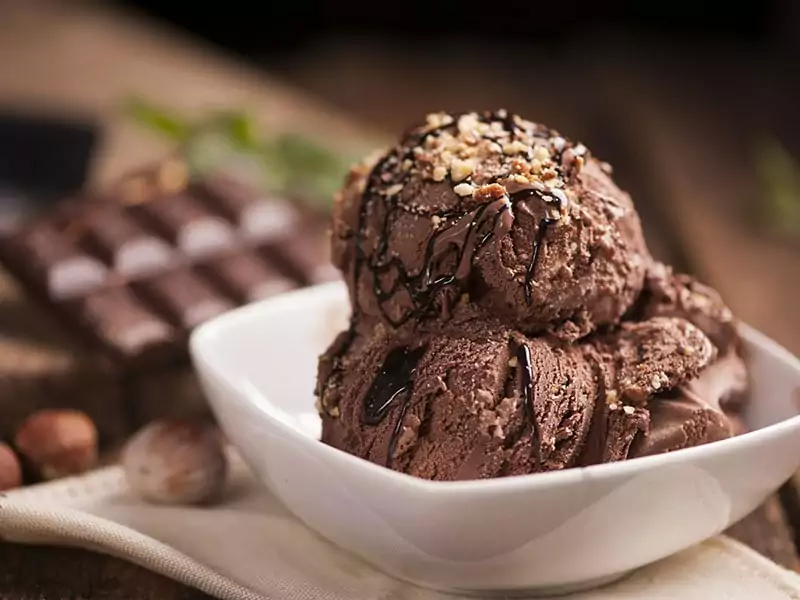 One of my best-loved summer desserts options is the excellent and delicious chocolate ice cream. Depending on your preference, you can choose ice cream with natural or artificial chocolate flavoring.
This delicious treat is made with cocoa powder, eggs, vanilla, and ice cream. In some cases, the chef will add chocolate liquor to enrich the overall flavors. And obviously, the characteristic brown color of this ice cream derives from cocoa powder.
It is incredible to enjoy sweet and milky ice cream in summer. It will melt immediately and affect every nook and cranny in your mouth, making your taste bud sing. Also, your body will become comfortable and light with this delectable ice cream.
Check the tutorials to make chocolate ice cream for your summer.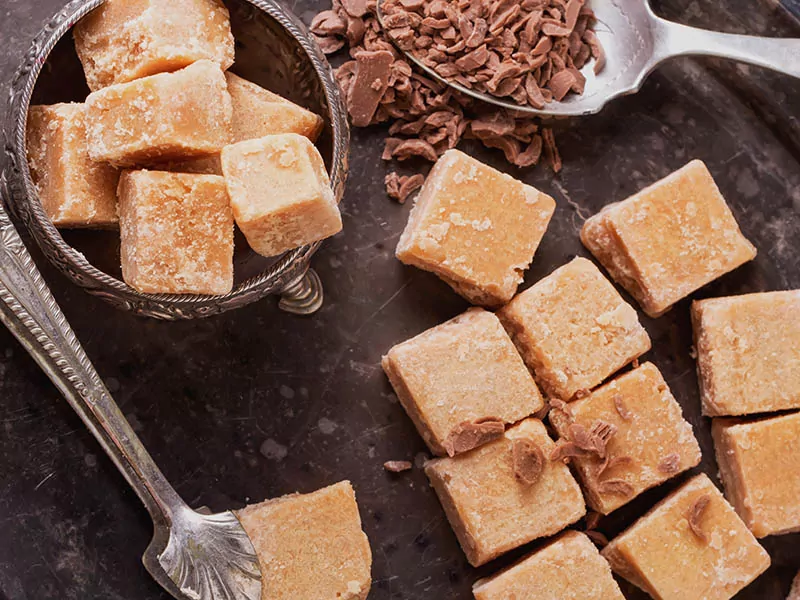 Fudge is a widespread dessert in America, and it also comes in brown color. This excellent food was born in the US at the end of the 19th century and appeared in advertising in the 1880s. Its popularity is due to the decline in the price of white sugar.
Manufacturers need to blend sugar, milk, and butter for sweet and mouth-watering fudges. The result is sweet and buttery candies for dear customers. That's why fudge appears a lot at gift shops in attractive tourist destinations.
In 1886, the Baltimore grocery sold its first fudge for 40 cents a pound. Moreover, Northwest Fudge Factory in Canada created the world's most giant fudge version on October 23, 2010. The National Fudge Day is on June 16th annually.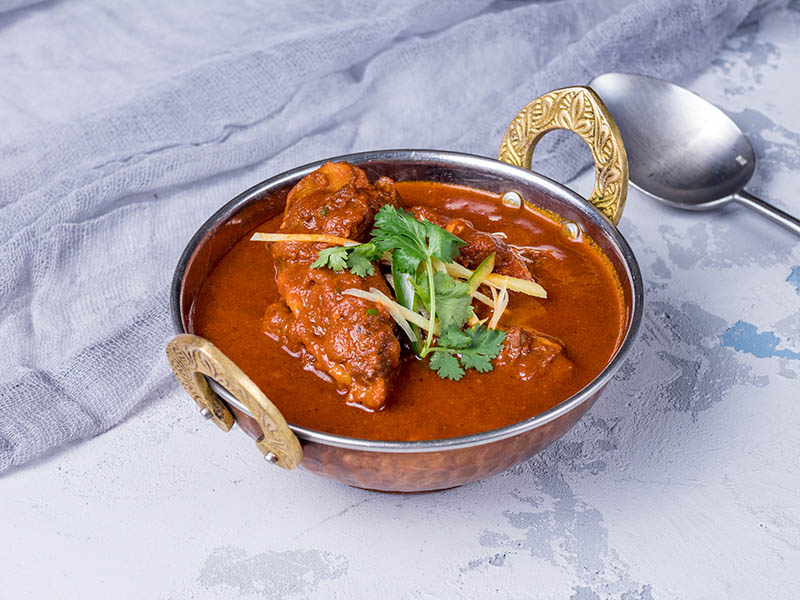 Rogan Josh is a fantastic dish of Indian cuisine, and Indians often make it with goat instead of mutton since this ingredient is common in this country.
If you have lamb or mutton on hand, please mix them with fragrant spices, ginger, and garlic to create a Rogan Josh recipe with beautiful reddish-brown color and rich flavor. This recipe is a curry with a seductive aroma.
The soul of this food also lies in the Kashmiri chilies and alkanet flowers. The word "Rogan" in its name means "clarified butter" in Persian. And the word "Josh" means "stew", so "Rogan Josh" can refer to "stewed in clarified butter".
This delicious recipe is a traditional and iconic dish of Kashmiri cuisine. The Mughals introduced this delectable dish to Kashmiri. In many other cuisines, people can add tomatoes to the dish.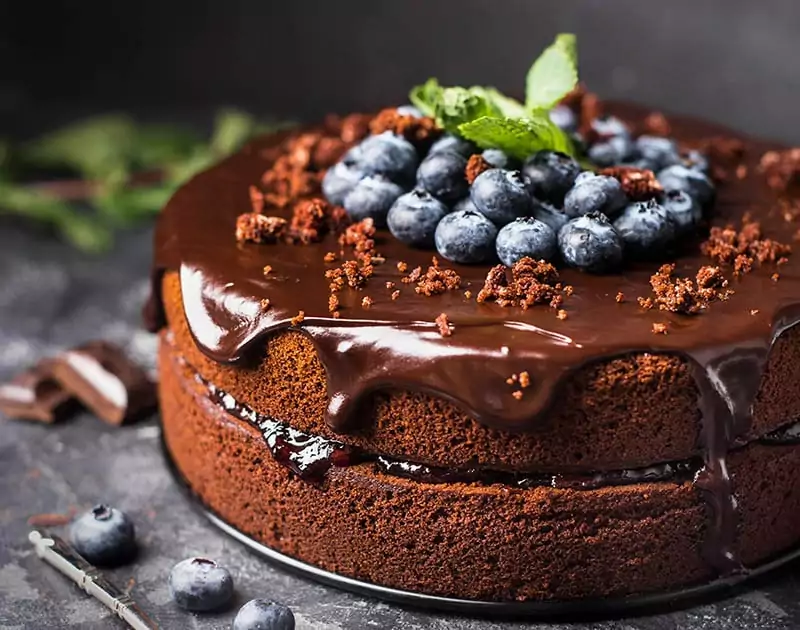 I love to enjoy a chocolate cake after each meal to refresh my mind. The fantastic taste of this treat is created by cocoa powder or melted chocolate. Also, it has the flavor of vanilla creme, fudge, and sweeteners.
The chocolatey touch is the signature highlight of this delicacy. Besides, its rich and creamy flavor will make you fall in love on the first try. The brown hue makes it look outstanding and eye-catching.
This delicacy had existed since the 17th century, when Americans enhanced the flavor of cakes by adding cocoa powder. In the mid-1930s, the Duff Company of Pittsburgh widely showed chocolate cake mixes, but this practice was halted during WW II.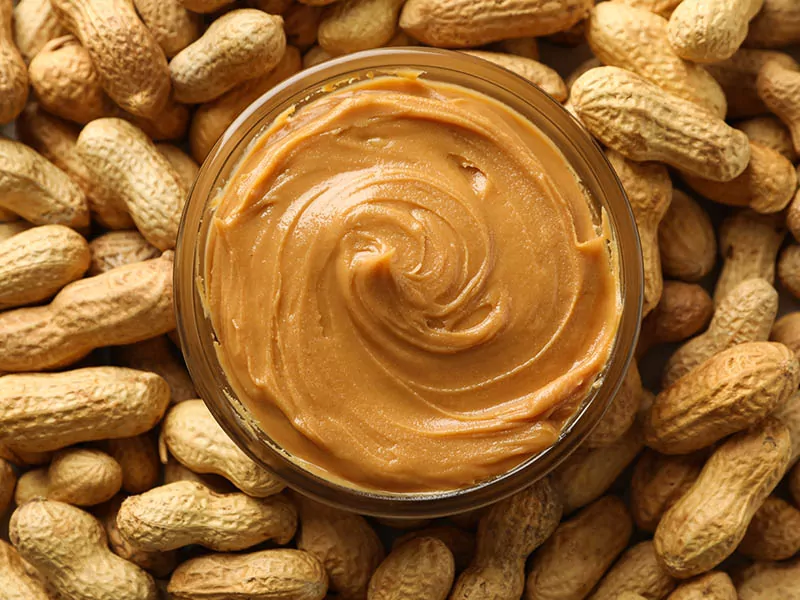 To make brown and delicious peanut butter, you have to grind roasted peanuts and flavor it with sugar, salt, and cooking oil. You will have a smooth and soft blend, and its texture depends on how much oil you put in.
There are 2 different kinds of peanut butter on the market, including chunky (crunchy) and creamy (or smooth). In the US, peanut butter manufacturers must create products that contain 90 percent peanuts and 10 percent additive components.
Regarding its origin, John Harvey Kellog invented this incredible food in 1895 for the elderly with high nutritional needs. In 1904, it appeared to the public at the St. Louis World Fair. In terms of taste, it gets a nutty flavor with mild sweetness and a savory taste.
For culinary use, people often consume it as a sandwich filling, and it is commonly known as "PB&J" (peanut butter & jelly). In addition, you can come across this excellent food in many kinds of sandwiches, baked goods, and toast.
Let's find out all information about the historical story of peanuts and peanut butter.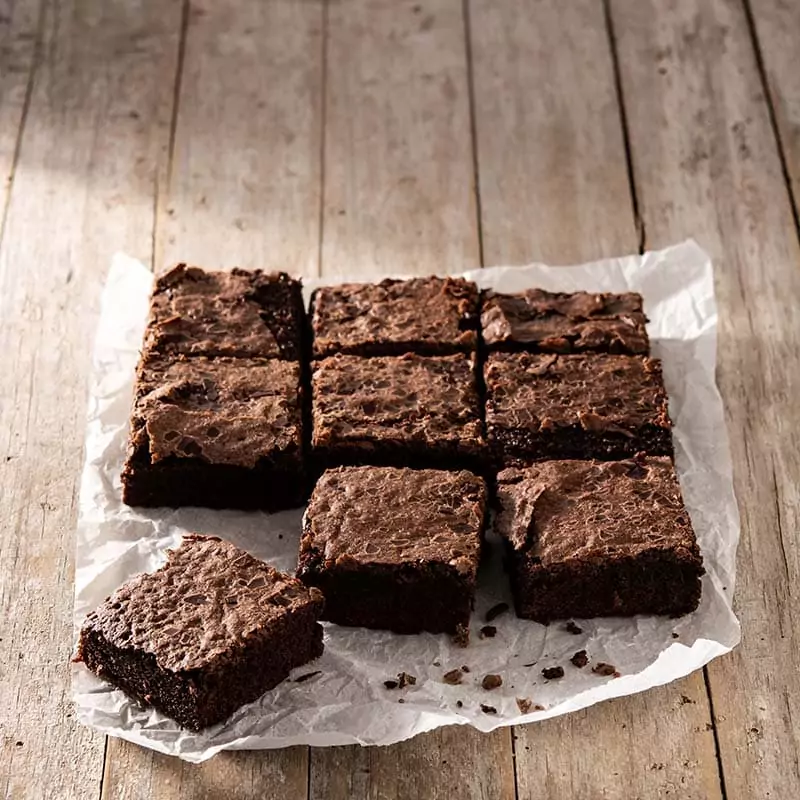 A brownie or chocolate brownie is a fabulous present for those who love brown food. It is a chocolate-baked confection with a rectangular or square shape. You should not miss this treat if you have an intense passion for food with glossy skin.
This is flavored with cream cheese, frosting, nuts, chocolate chips, and other ingredients. Some of its variations also contain vanilla and brown sugar. The sweet taste leaves a good mouthfeel, but it becomes more distinctive with mild bitterness and an earthy flavor.
Usually, I see people using their hands to eat this food with milk. Restaurants often serve it with ice cream, whipped cream, or sugar on top to add flavor and highlight it. Plus, December 8th is chosen as National Brownie Day.
Bertha Palmer was considered the inventor of the first brownie. This wonderful brown recipe appeared and developed in the late 19th century in the US. Gradually, its popularity spreads across the country in the early 20th century.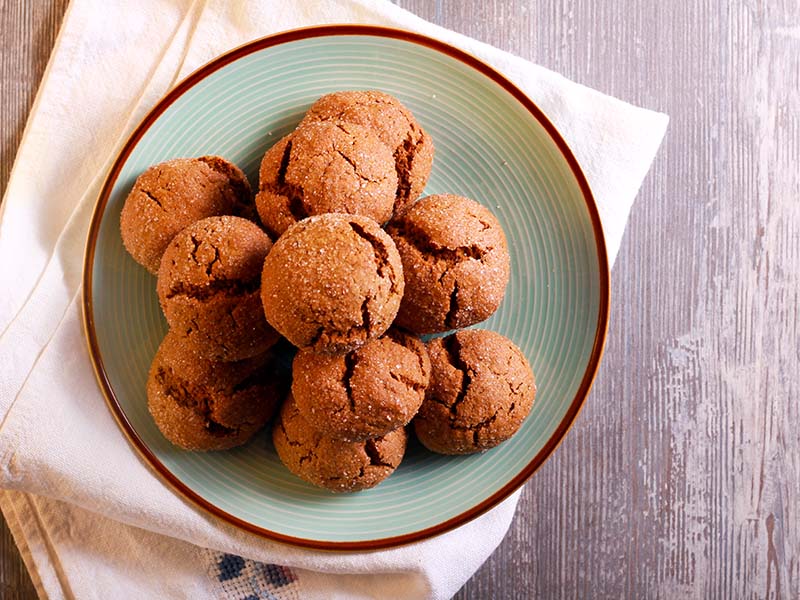 This is the best-loved cookie recipe for the summer for many people. You will forever remember these cookies' perfect tenderness and chewiness as you enjoy them. In addition, they have a rich taste and the beautiful brown color of molasses.
Furthermore, your taste buds will explode with the warmth and spice flavor of spices like cinnamon and ginger. A little sweetness and buttery flavor are indispensable in these excellent brown cookies.
In different regions, this food has various variations. Many people prefer to use coarse sugar instead of fine sugar for this recipe. Plus, you can try adding allspice, anise, or cardamom to change the taste.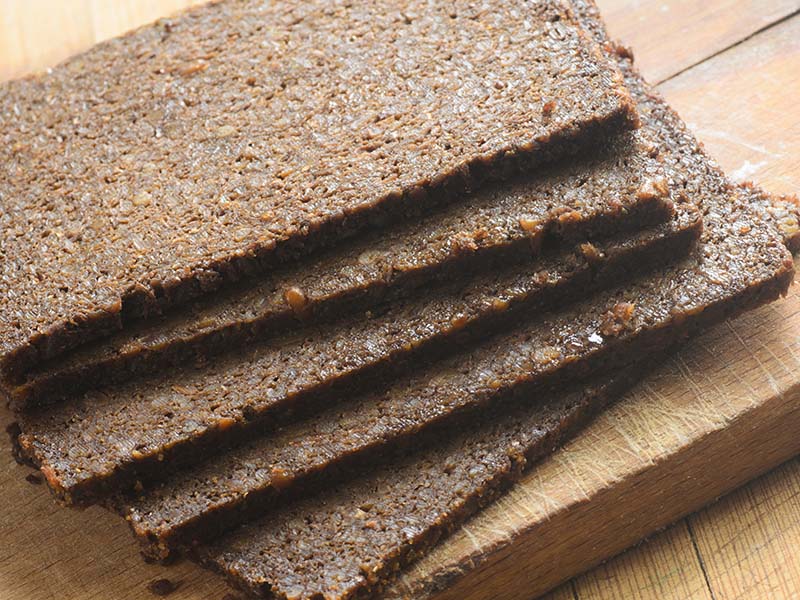 If you search for excellent German food, you must try pumpernickel. The chef combines sourdough starter with ground rye to create this mildly sweet bread. Occasionally, people will use rye flour and whole rye grains to make this fantastic Pumpernickel bread.
This incredible food originated in Westphalia, Germany. Today, you can find the world's oldest pumpernickel bakery in the city of Soest. This place has been around since 1570. The popularity of this bread became widespread in the 20th century.
The North American version of the pumpernickel differs from the European one as it has the addition of coloring and flavoring agents. Moreover, Americans use a higher baking temperature and add wheat flour to this recipe.
You will regret it if you do not enjoy this fantastic brown bread. You will be immersed in the soft and moist consistency of this bread. Not only that, the sweet taste, along with the earthy touch, will knock you out in no time.
Follow these instructions to make German pumpernickel immediately.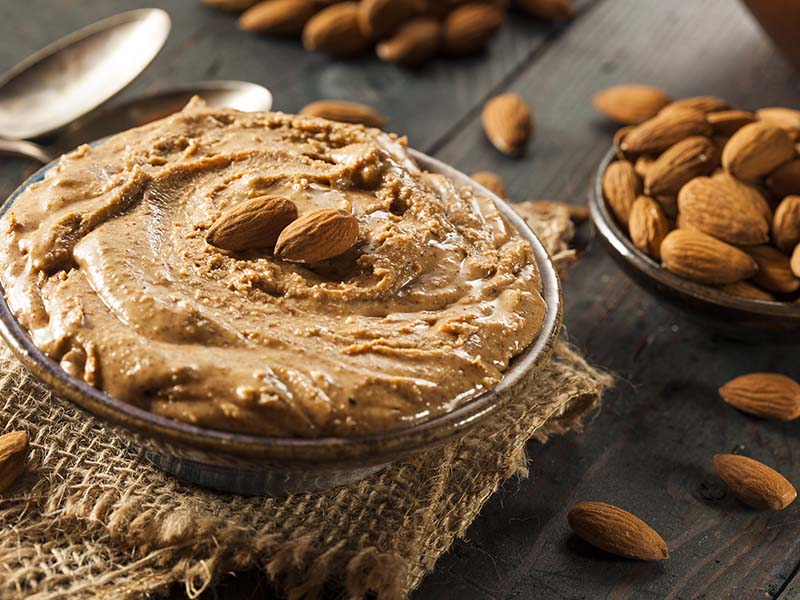 An effective way to add flavor and aroma to dishes is to fill them with almond butter. This food is the product of a combination of ground almonds and nut butter. You can find it smooth or crunchy.
In the culinary world, almond butter is an adequate substitute for peanut butter. Compared to peanut butter, this ingredient contains more calcium, fiber, iron, and potassium. Plus, you should not miss this element if you want the dishes richer, nuttier, and creamier.
What value will almond butter bring with these nutrients? It helps you have a robust bone system and better control blood pressure. Even better, it is good to reduce the risk of cardiovascular diseases.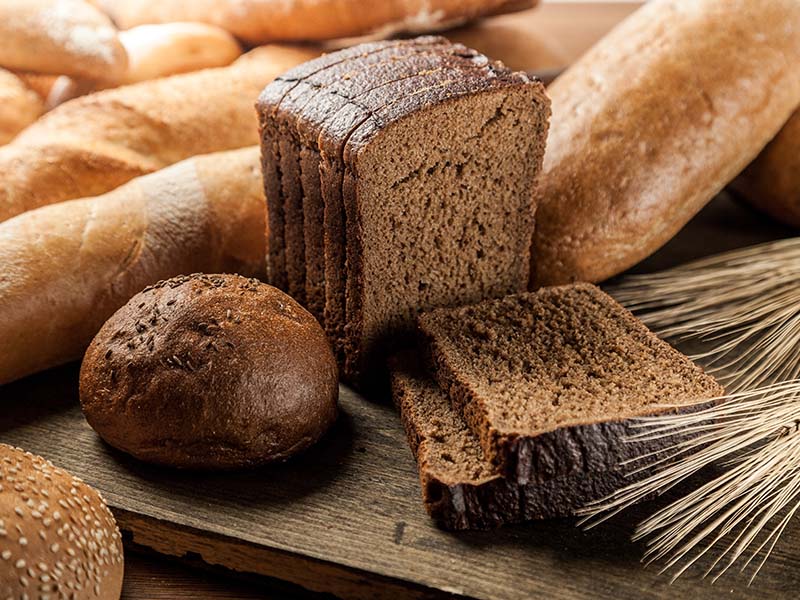 If you're looking for a brown dish for a brown-themed party, this bread is a fantastic addition. It includes whole-grain flour, wheat, and molasses. Also, the brown bread is known as "whole wheat bread" in Africa and Canada.
The ingredients of brown bread vary based on region. In reality, many argue that cerealine (malt flakes) is the crucial element that gives this bread the distinctive brown hue.
You will be mesmerized by its mild sweetness and tenderness when enjoying this bread. Its flavor reminds you of banana bread. This food helps reduce inflammation and boost the function of the digestive system effectively.
Quick fact: This baked good was popular in Ireland as a vital gift to the poor during the famine.
Learn some different features between brown and white bread to distinguish them easily.
Do you love these brown foods? I will be happy if I provide valuable and helpful information to you. Therefore, after reading this article in the comment sections, let me know your thoughts and suggestions.
Trust me! The suggestions that I have introduced will not let you down. It's time to throw a brown-themed party to impress your guests. Let them bring goodness to your meals right now. And do not forget to share this post. Thank you for your support!