The excellent Japanese fruits are popular options for tourists to experience when they step into this gorgeous country. Apparently, Japan's abundance of fruit cultivars not only offers a wealth of delicious options but also serves as a draw for tourists seeking a taste of the country's excellent produce.
Japan is famous for its long-standing culture and cuisine. The fantastic fruits are indispensable in many mouthwatering Japanese foods. So, let's immerse yourself in the world of wonderful Japanese fruits.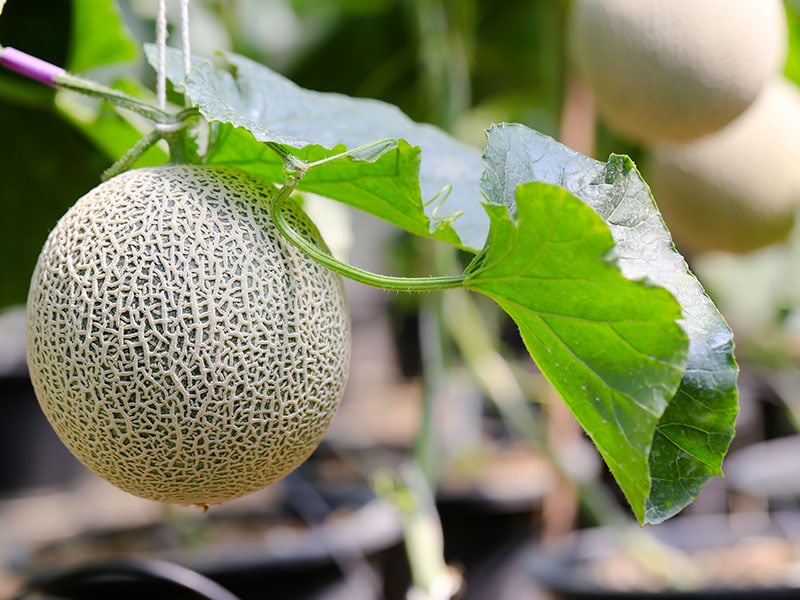 Amazing Japanese Citrus Fruits
There are many unique fruits in Japan, so do not ignore the distinctive flavor of excellent citrus fruits.
1. Yuzu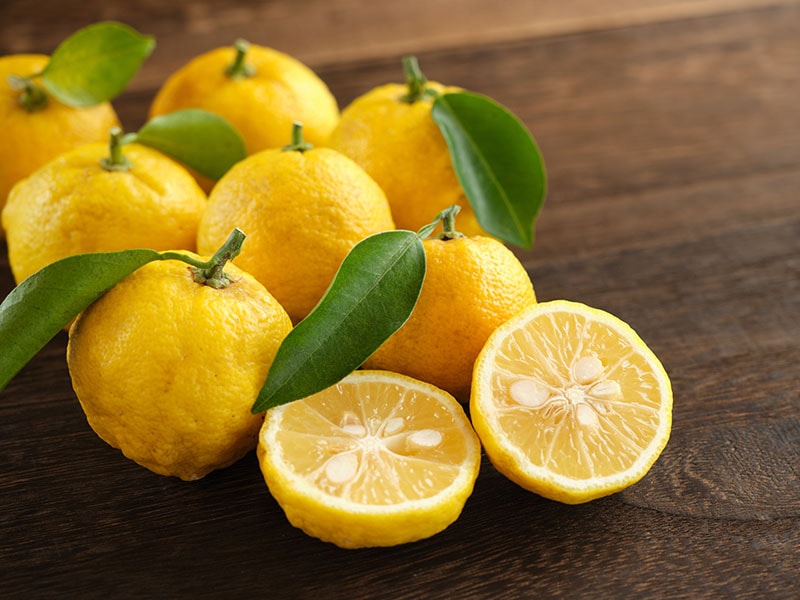 Yuzu is a citrus fruit and an iconic member of the Rutaceae family. It originated in East Asia, particularly central China and Tibet .(1)
Yuzu was introduced to Japan during the Asuka Period (538 to 710). Nowadays, this fruit is well-known in East Asia, Spain, Australia, and France. In Japan, you can find yuzu easily on Shikoku Island – a key producer of yuzu in the country.
Regarding its appearance, this citrus fruit is similar to a small grapefruit with 2-3 inches in diameter. It has uneven skin in yellow or green color based on the ripeness.
Yuzu's taste is sour and tart. Many assume its flavor is a combination of lemon and mandarin orange. However, its smell is delightful with a citrusy aroma, including notes of sweetness and bitterness.
The succulent and aromatic pulp of yuzu will be a good choice for making juices, jams, and seasoning many delectable Japanese recipes. Meanwhile, the locals also use its rind to decorate dishes. Moreover, the natives will put yuzu into a hot bath to take advantage of its health benefits.
There are many types of yuzu in Japan. Hana yuzu is an ornamental type. If you want to taste sweet yuzu, you can choose the Yuko variety. Shishi yuzu is a famous Japanese yuzu with a distinctive knobby rind.
Nutrients: A rich source of fiber, vitamin C, calcium, and potassium.
Season: It is available all year round in Japan.
How to eat: As yuzu is a citrus fruit like lemon, you can consume it the same way as you use lemon.
Let's try Japanese yuzu to feel the authentic flavor of this fruit.
2. Mandarin Orange – Mikan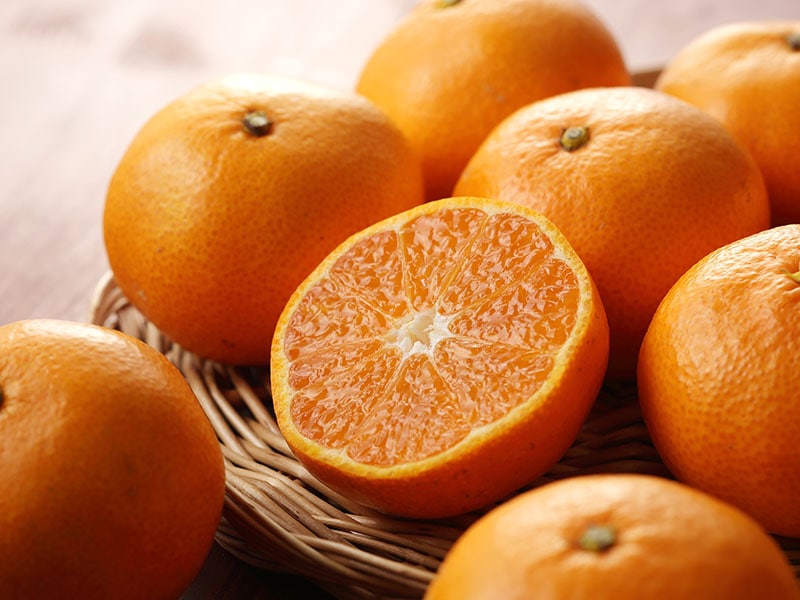 Mandarin orange or Mikan is one of the excellent fruit varieties with citrus taste you have to try in Japan. Many people say that this fruit originates in both China and Japan. However, some opinions say that China is actually the homeland of this fruit, and it is brought to Japan from China.
Its cultivation began in Japan 400 years ago. In 1878, this excellent fruit appeared in the West. Generally, Japan accounts for a high amount of mandarin oranges worldwide. It is planted widely in Ehime and Wakayama in Japan.
Mikan is a cousin of tangerines. It is around 1.8 inches in diameter. Its flavor is sweet with a light note of tanginess.
Like tangerines or other oranges, it is covered by a leathery rind, and you can peel it easily. Beneath the skin, you will catch about 10 to 12 small and juicy segments.
The shade of this fruit will be different depending on the various climate conditions. It has green skin in humid regions. The rind will be reddish-orange when this fruit grows in cool night temperature areas.
Plus, the Mikan grown in cold regions are sweeter. For more information, Unshu mikan is the most popular mikan variety, while Hassaku mikan is one of the juiciest types (2).
Unlike other various orange varieties, mandarin oranges do not contain any seed. This fruit is a suitable option to end your parties. Moreover, you will love the fantastic taste of jams, juices, and other desserts made from mandarin oranges.
Nutrients: Rich in fiber, vitamin C, calcium, potassium, calories, and magnesium.
Season: Japanese often harvest this fruit from June to September in greenhouses and from November to January outdoors.
How to eat: Consume the flesh of orange after removing the rind. To serve it, you can cut it into small slices and eat the juicy flesh. In addition, you can get juice for drinks.
3. Japanese Lemon – Sudachi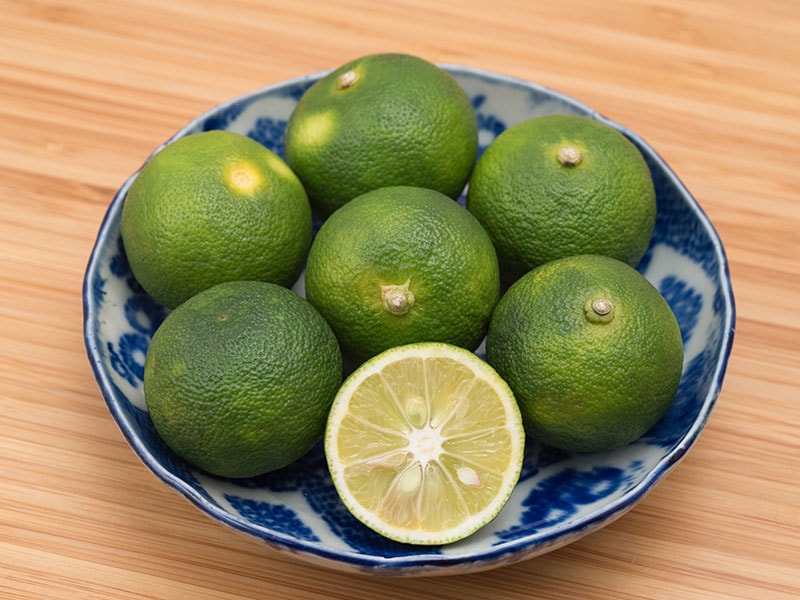 Japanese lemon or sudachi is an indigenous fruit of Japan. It is derived from the Tokushima Prefecture of Japan, which makes it a specialty of this place. Sudachi also has become an essential part of Japanese cuisine for a long time.
This fruit resembles yuzu, but it is smaller. Plus, it has a round shape with distinctive green skin.
Because of the intense sourness, people rarely eat Japanese lemon raw. The natives usually use this Japanese citrus fruit juice to season fish, meat, and other dishes. They are an excellent replacement for regular lime or lemon.
It is also an indispensable accompanion to consuming matsutake mushrooms in Japan. Furthermore, sudachi often appears in soba, udon, nabe, and alcoholic beverages as a garnish.
Nutrients: Vitamin A, C, E, potassium, fiber, and calcium
Season: Autumn is the perfect time for harvesting lemons in Japan.
How to eat: To use Japanese lemon, let's slash the fruit and squeeze to get the juice.
Take a trip to Japan to discover all things about Japanese lemon.
4. Kumquat – Kinkan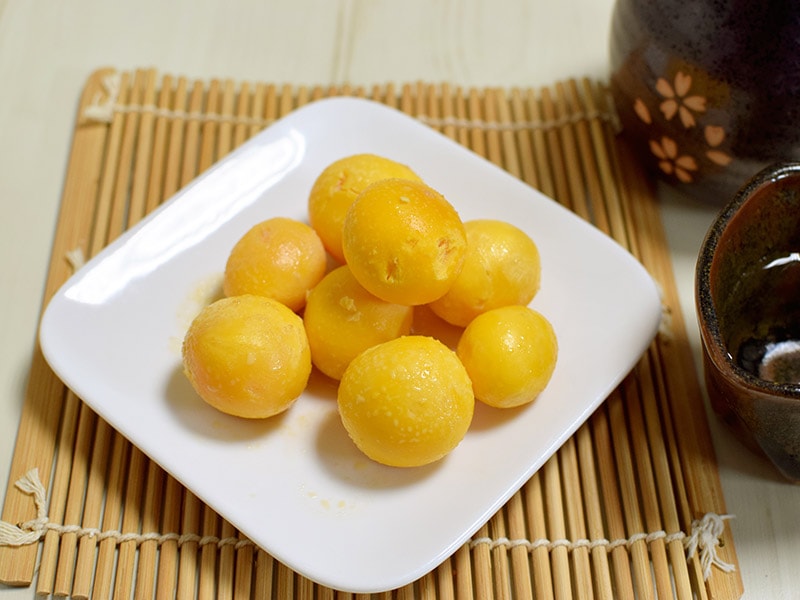 When talking about the famous citrus fruits in Japan, I have to mention Kumquat or Kinkan. Its scientific name is Citrus japonica, and it belongs to the Rutaceae family. Southern China is the homeland of this fruit. Today, you can find it in Japan, Taiwan, the Philippines, and India.
Its name comes from the word "kamkwat", which means "golden mandarin orange" in Cantonese. Regarding its size, you may confuse Kinkan with a small orange. In fact, its size is the same as a large olive.
Depending on the variety, kumquat will have different shapes. Round kumquat is also known as marumi kumquat. It has a typical oval shape, sour flesh, and an edible, mildly sweet rind.
Furthermore, you can try oval kumquat, Hongkong kumquat, Meiwa kumquat, and other types. Compared to sudachi and yuzu, their sourness is lower. However, it'd be better to be used for making marmalade, jellies, and other sweet liqueurs in Japan.
In Japan and other Asian countries, it is considered the symbol of luck, so it is an ordinary gift during the New Year.
Nutrients: Plenty of protein, vitamin C, calcium, magnesium, and potassium.
Season: This fruit is common in the winter in Japan.
How to eat: Normally, people will peel the rind of kumquat to eat the segments inside. However, you can keep its skin if you want. Moreover, you can squeeze the juice of kumquat after chopping it into 2 parts.
5. Japanese Pomelo – Buntan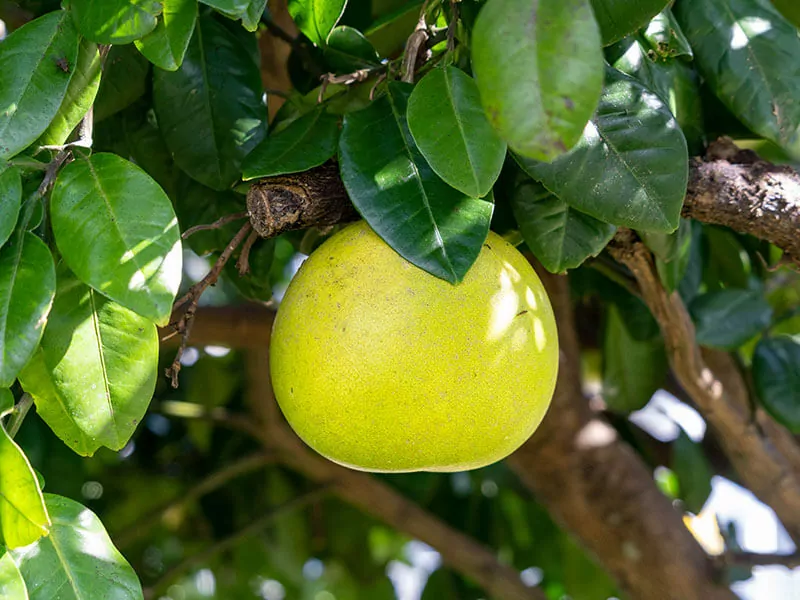 Japanese pomelo, also known as "buntan" or "bontan", is another popular citrus Japanese fruit. The fruit has been grown and enjoyed in Japan for centuries, and the largest producer is Kochi.
Pomelo is most likely originated in South East Asian and known as the largest citrus fruit. In Japan, there are about 40 varieties of Buntan that vary in flavor.
In terms of appearance, Japanese pomelo is generally similar in size to a grapefruit, with a thick, rough rind that is slightly bumpy. The rind color is green when young and bright yellow when mature.
Like regular grapefruit, the flesh of buntan is pale yellow and divided into segments separated by several thin white membranes, with each segment containing several juicy sacs.
Japanese pomelo is slightly sweeter and less tart than other citrus fruits, with a subtle bitterness that adds depth and complexity to its flavor.
The fruit is often enjoyed on its own as a refreshing snack, or used in various dishes ranging from salads to desserts. People also use the rind of the fruit to make candies or other sweet treats.
The season for this fruit typically runs from winter to spring in Japan. During this time, Japanese pomelo can be found in markets and supermarkets throughout the country. And if you store them in a cool, dry, and dark place, they can stay fresh for up to 1 week.
Nutrients: High in vitamins A, C, fiber, calcium, iron, potassium, etc.
Season: Depends on the cultivated location in Japan. Greenhouse fruits are in season from December to January. Outdoor ones are from February to April.
How to eat: Use a knife to peel the thick rind of the pomelo. Then use your thumb to remove the white membrane of each section to expose the flesh. Enjoy!
Ideal Pome Fruits In Japan
Japan is famous for many types of excellent pome fruit, such as apples, pears, and persimmon, which you can easily buy at local markets or supermarkets. They have unique and characteristic features compared to other classes in other countries. Let's discover right away.
6. Japanese Persimmon – Kaki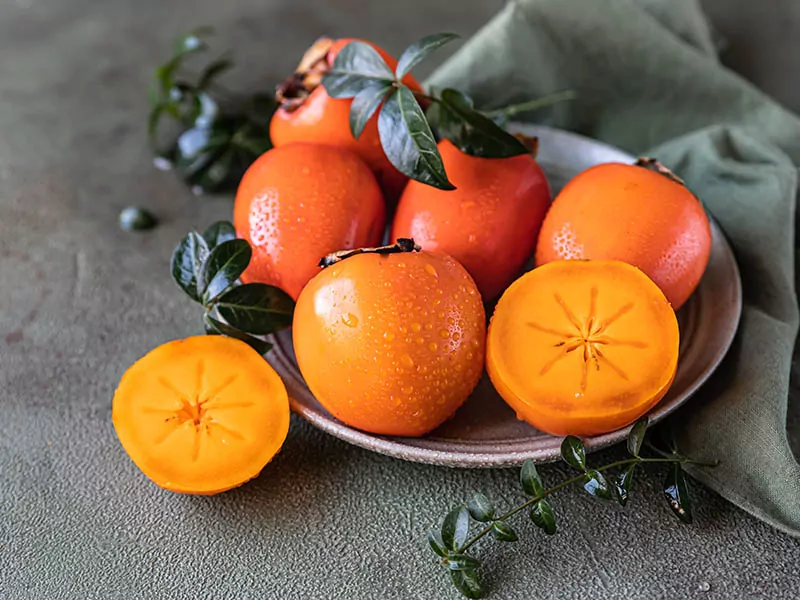 Kaki or persimmon is a local Chinese fruit as this fruit originated in China over 2000 years ago. This fantastic fruit appeared in Japan in the 7th century. Japan, China, and Korea are the leading persimmon producers globally.
The shape and size of persimmon resemble pear and apple. Ripe persimmon looks attractive on red-orange or yellow-orange skin. The color and size vary depending on the different persimmon species. People often eat them fresh after peeling.
The orange, yellow, or deep brown flesh of ripe persimmon will bring a sweet and mild taste. You can think of the flavor of honey while eating persimmon. On the other hand, unripe ones might taste a bit bitter or tart with a crispy texture.
If you want to change your taste buds, you can choose dried or cooked persimmon to eat. The dried persimmon is also known as Hoshigaki in Japan.
Nutrients: Rich in fiber, vitamins A, C, choline, potassium, manganese, and calcium.
Season: Kaki is a seasonal Japan's fruit. And late autumn or early winter is the peak season.
How to eat: The standard method to eat persimmon is to peel the skin and chop it into small parts to eat.
Follow these directions to make delicious dried persimmon (Hoshigaki).
7. Apple – Ringo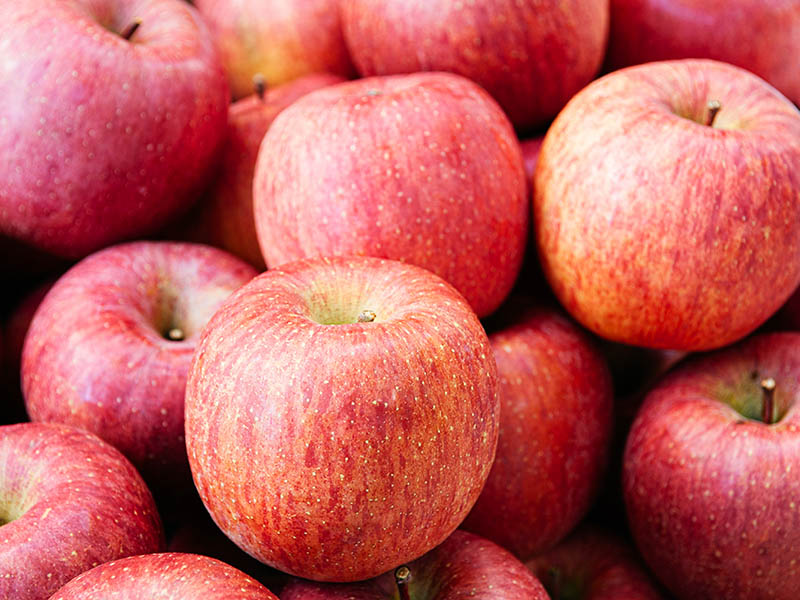 Apple is a worldwide fruit because it is grown everywhere globally. You can consume apples after eating delicious and heavy Japanese foods. Apple's cultivation has taken place for thousands of years in European and Asian countries.
You can enjoy about 7500 different cultivars of apples worldwide. In Japan, people started planting apples in the Meiji Period. Gradually, apples have become the main exported product of Japan. Commonly, folks will eat fresh apples to enjoy the authentic flavor.
Because of the diversity in type, you can see apples in many shapes, colors, and sizes. Most apples will appear in red, green, pink, yellow, or russeted skin. Its flesh ranges from yellowish-white to green, yellow, and pink.
Fuji apple is the favorite variety in Japan. This type is often more significant than other common apples. It looks eye-catching in the red peel. In particular, the crispy texture of the apple will make you flutter.
FYI, its name comes from the name of Mount Fuji in Japan. Actually, Aomori Prefecture town is the origin of its name since this apple was grown for the first time in the 1930s in this place. Nowadays, this town is the top producer of Fuji apples in Japan.
Nutrients: Rich in fiber, vitamins A, C, and calcium.
Season: Its season extends from October to December in Japan.
How to eat: You can eat the fruit after peeling the skin and cutting it into pieces for easier consumption. You can also eat the skin if desired.
8. Japanese Pear – Nashi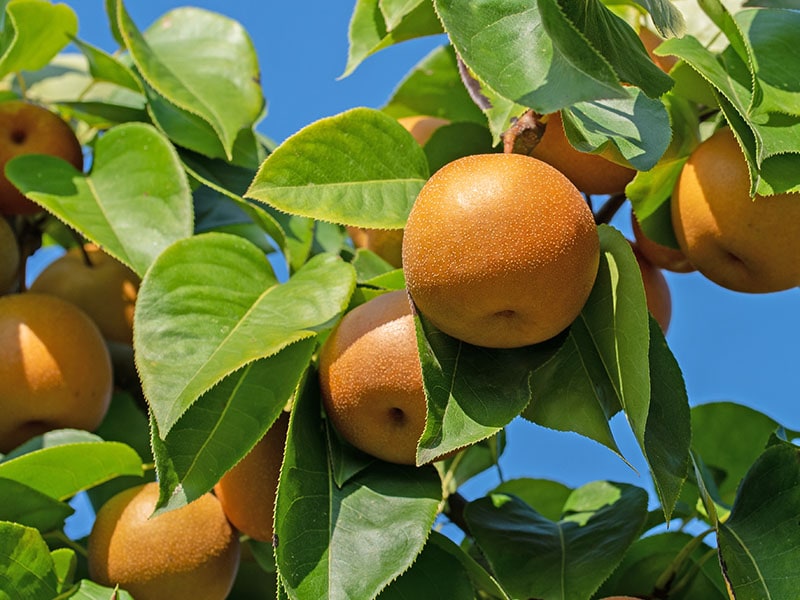 Nashi is a refreshing Japanese sweet treat and is loved by many natives and tourists. Besides nashi, you can call it Japanese pear, Asian pear, or sand pear. This fruit is common in East Asia and other regions, such as Nepal, India, Australia, and New Zealand.
In Japan and other East Asian countries, the flower of Nashi is a sign of spring, similar to Prunus mume flowers (Japanese apricot). It has green skin with numerous tiny spots on the surface. It looks like famous Western pears. However, you can find some differences between them.
Japanese pear will be more oversized and have a milder flavor. In terms of texture, if you love crispy pears, you should choose Nashi as it is more crunchy than Western pears. Moreover, you can realize this variety quickly, thanks to the spherical shape of this fruit.
Regarding its history, it is a long-standing fruit since it has existed in Japan since pre-historical times. Due to the high water content, it is rare to be used to make pies or jams. Typically, people in Japan love to consume raw pear or add it to sauces and savory dishes.
Nutrients: Rich in vitamin C, K, potassium, phosphorus, and magnesium.
Season: This fruit is often ripe from the late summer to autumn in Japan.
How to eat: Japanese will remove the entire peel of the pear and dice it into small sections to eat quickly.
Learn the ways to consume Japanese pear right away.
Japan's Fruits In Drupe Group
The drupe category includes fruits with a single seed or stone in the middle of the fruit. This section will introduce a group of delicious drupe fruits you can see in Japan.
9. Japanese Plum – Ume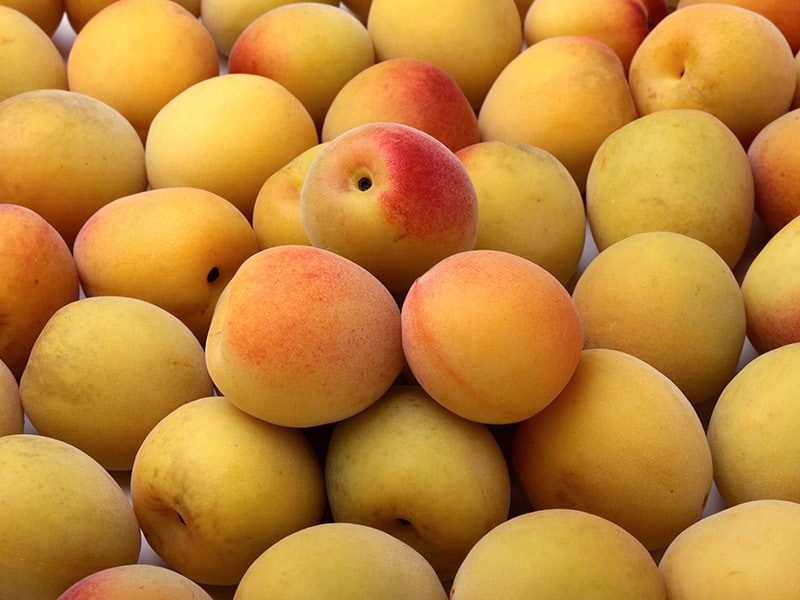 Besides Ume or Japanese plum, you can call it Chinese plum or Japanese apricot. The popularity of this fruit in East Asian countries is powerful. The Yangtze River in China is the homeland of this delicious fruit.
In addition, its flowers are the inspiration for poetry and painting in Vietnam and East Asian countries. This fruit has appeared in Japan for a long time and was consumed in the Nara Period (710-784).
You will fall in love with the eye-catching appearance of this fruit with the yellow or red skin. The distinctive taste of its yellow flesh will be a perfect choice for cuisine. You can taste many varieties of plum in Japan, including hibai (red), yabai (wild plum), and bungo.
Bungo is a specialty of the Bungo province. It is a hybrid fruit between apricot and Prunus mume. Nankoume is another famous type in this East Asian country. This fruit is common in the rainy season, so the locals call it "tsuyu", which means "plum rain" in Japanese.
You can join in the plum blossom celebration in Japan in the spring. It often takes place around 3 months before the fruit starts being ripe. Typically, many people use this fruit in pickled food like Umeboshi. Or you can consume plum wine (Umeshu) in Japan.
Nutrients: High in fiber, vitamin A, B6, folate, and magnesium.
Season: Its season begins in late May and ends in June in Japan.
How to eat: To bring a fantastic flavor when eating this fruit, you should remove its skin. Break the fruit and get rid of its seed before enjoying it.
10. Nectarine – Nekutarin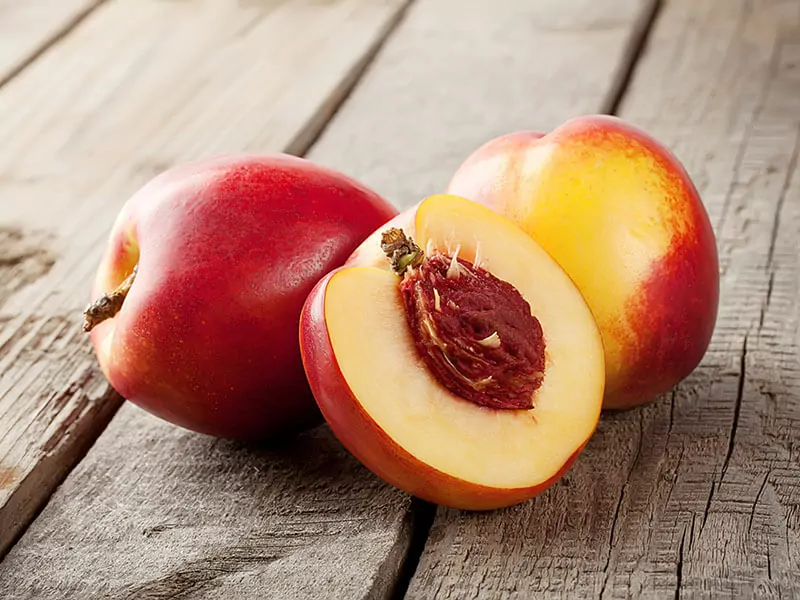 Nectarine is referred to as a peach's cousin due to their similarities. However, while peaches have fuzzy skin, nectarines have smooth skin that is often red or yellow in color.
Nectarines have a flavor similar to peaches but with a slightly more tart and tangy taste. The flesh is juicy and sweet in yellow color. And its texture is also slightly firmer than a peach's, which gives it a satisfying crunch when bitten into.
Furthermore, both nectarines and peaches can be found with freestone, clingstone, or semi-freestone pits, depending on the variety.
Besides eating fresh, you can slice it up and add it to salads, or use it as a topping for desserts such as cakes and pies. They can also be grilled or roasted to bring out their natural sweetness.
The season for nectarines in Japan typically runs from July to August, so you can buy them in your local supermarkets. However, it is quite expensive.
Nutrients: Include fiber, niacin, potassium, and vitamins A, C, and E
Season: From July to August in Japan
How to eat: Similar to eating peaches, but you can skip the peeling step. Slice them into smaller pieces, or you can eat the whole one if desired.
11. Cherries – Sakuranbo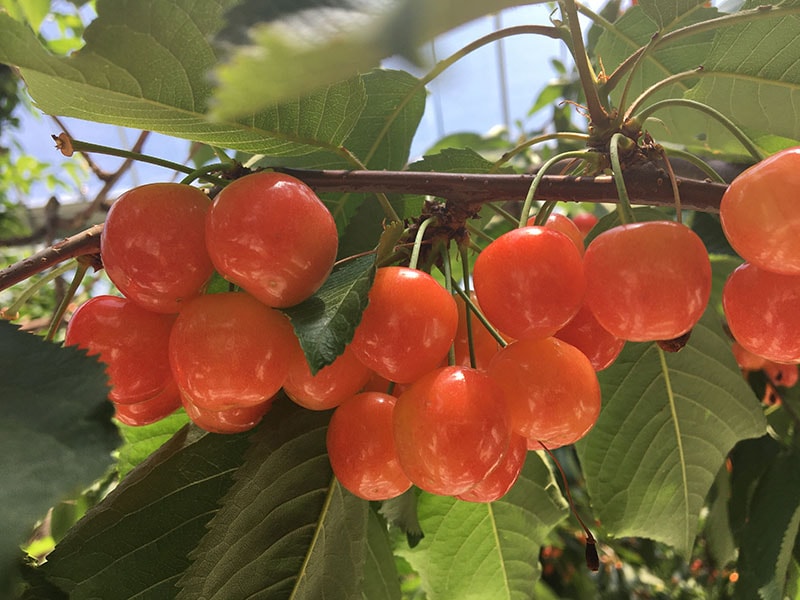 It is not difficult to enjoy Japanese cherries in Japan, Korea, China, and Russia. And the Satonishiki variety is one of the most common kinds which was brought to Japan from the West in the Meiji period. Sato Esuke was the first person who planted Japanese cherries in the 1900s.
Basically, Satonishiki has the same shape and size as common cherries. You will be impressed by the beautiful bright red color of these cherries. You have to remove the seed while consuming Satonishiki.
Yamagata Prefecture is the primary producer of Japanese cherries in this country. In addition, it is a specialty and symbol of this region. The typical way to use this fruit in Japan is to eat raw cherries. Also, you can see it with ice cream, cakes, and other desserts.
FYI, compared to American cherries, Japanese varieties have more juicy flesh with a smaller stone. Plus, the ornamental cherry tree can produce fruits, but these fruits are small and sour. So they are not in the same standard as cherries that you usually consume.
Nutrients: Plenty of protein, carbs, vitamin C, fiber, potassium, copper, and manganese.
Season: The peak season of cherries is in June in Japan.
How to eat: People usually consume them raw and remove the pit.
Listen to some essential information about the differences between American and Japanese cherries.
12. Peach – Momo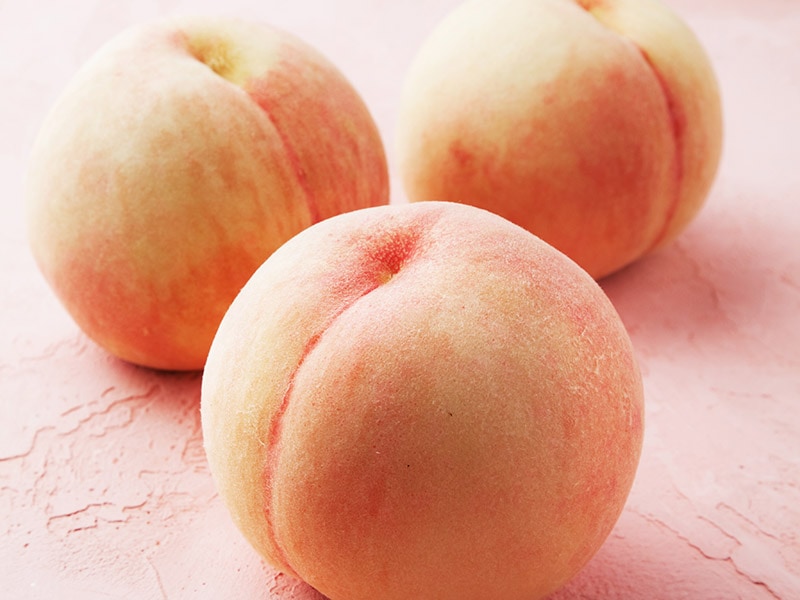 There are a lot of kinds of peaches from West to East. Japanese peach or Momo is one of the iconic fruits of this East Asian country. Originally, peaches came from the Zhejiang province of China in the Neolithic period.
Peach cultivation existed in Japan from 4700 to 4400 BC during the Jomon period (3). Peach contains a single pit in the center. It is surrounded by whitish or yellow flesh with a delicate flavor. The white flesh version will be sweeter than the yellow one.
To classify peach, people will rely on its stone and flesh structure. If the stone attaches to the flesh, the peach will belong to the clingstone category. In contrast, it is a freestone peach if the stone separates from the flesh.
Unlike Western peaches, Japanese peaches will be larger and have a more tender texture. You can eat raw peaches to enjoy the charming sweet and slightly sour taste. Regarding its cultivation in Japan, people in Yamanashi and Fukushima have grown this fruit abundantly.
In fact, the peach in Kanechika of Japan is the sweetest type worldwide because it contains about 22.2 percent of sugar content. It received recognition for the sweetest peach by Guinness.
Nutrients: High in calories, carbs, vitamin C, K, potassium, and phosphorus.
Season: Its season is typically in summer, which runs from mid-July to mid-August in this country.
How to eat: To prepare peach, you need a knife to peel its rind. Consuming the juicy flesh around the seed is preferable. Furthermore, you can dice the fruit and remove the seed before eating.
Other Incredible Japanese Fruits To Try
After trying all fruits in the above sections, you can change the palate with these other Japanese fruits in this part. I hope you will love their flavor.
13. Kiwifruit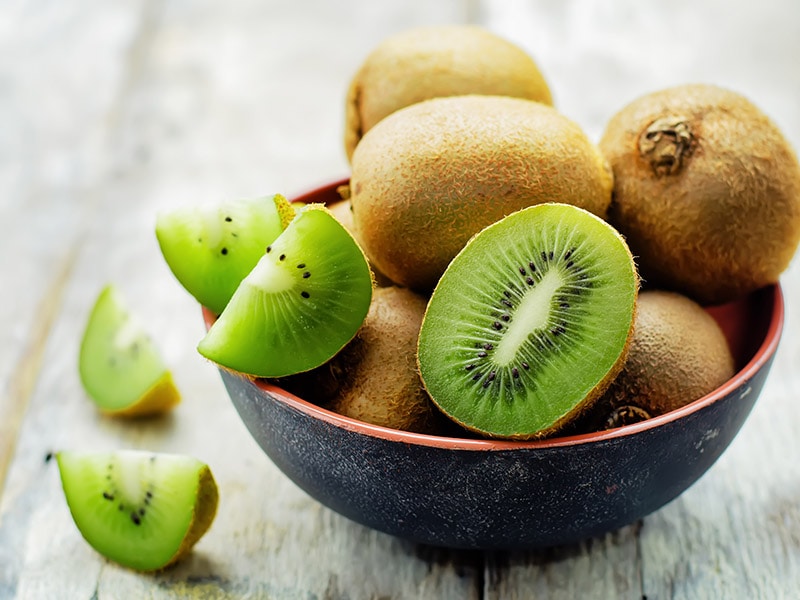 Kiwifruit is very healthy and famous in Japan and many other countries. This fruit is native to China. It appeared in New Zealand in the 20th century and became famous worldwide later. The Japanese grew and consumed kiwifruit in the 1960s.
Generally, Japanese kiwifruit is similar to many other kinds of kiwi globally. This fruit seems beautiful in the hairy and brown rind, which should be peeled before enjoying it. Beneath the skin is a green and succulent flesh that will make you want to try this fruit instantly.
The tartness is the dominant flavor of Japanese kiwifruit. It is acceptable to consume fresh ones. Furthermore, juices or baked goods made from this fruit also bring a fantastic taste. Kiwi is a loved food of women to recover after giving birth.
Nutrients: A source of vitamin C, calcium, and potassium.
Season: This fruit is popular in Japan from late winter to early spring.
How to eat: You need to peel the thin skin of kiwi before eating. Let's slice it into small slices to consume.
Go to the farm in Japan to try excellent kiwi directly.
14. Strawberries – Ichigo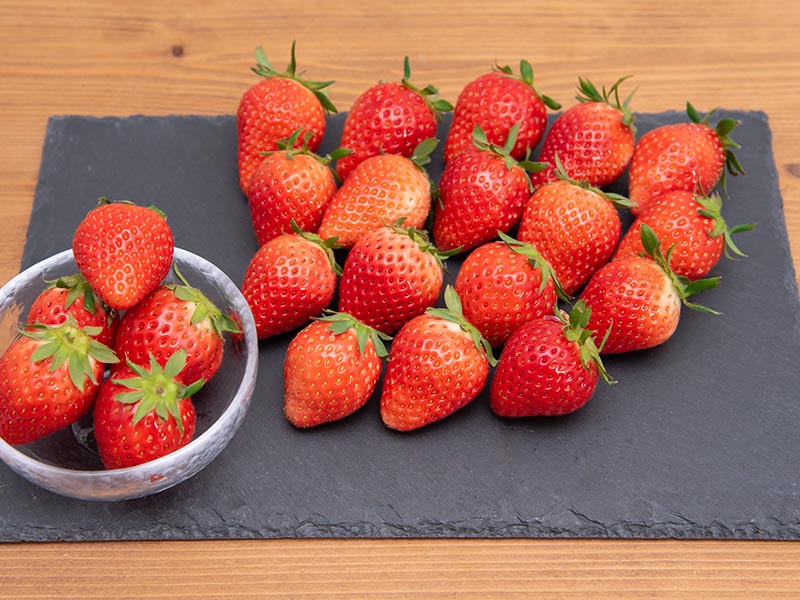 It would be a mistake not to mention strawberries or Ichigo in this excellent list. This amazing fruit appears widely in many parts of the world.
It originates in the West, and the first strawberry garden was established in the 1750s in Brittany, France. Ichigo existed in Japan in the mid-1800s, and the Japanese began cultivating this fruit in 1900.
The bright red hue of strawberries will captivate you right away. In particular, It is hard to refuse to consume sweet, aromatic, and succulent strawberries.
The variety of strawberries in Japan is similar to the Western type. However, people will love sweet, appealing, and big strawberries more than other common types. When you come to Japan during the spring, you can pick strawberries directly at farms.
People commonly combine strawberries with pastries, cakes, jams, ice cream, and milkshakes. And you can consume fresh strawberries. Also, it is a common element in lip gloss, perfume, and soap.
Nutrients: Plenty of calories, vitamin C, calcium, potassium, and phosphorus.
Season: It is available between December to early May in Japan.
How to eat: Enjoy the whole fruit after rinsing it with water.
15. Japanese Melon – Meron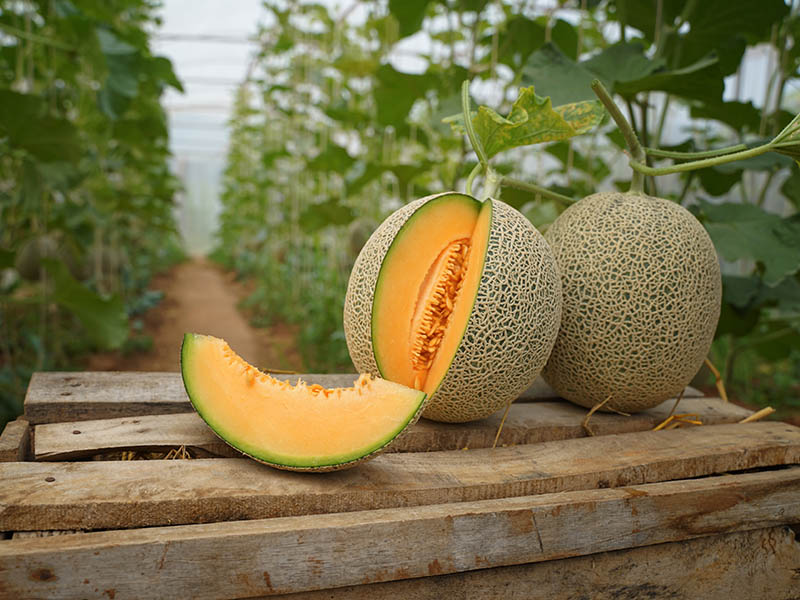 Melon is a luxury fruit in Japan. For example, it might cost about 20000 dollars to buy one Yubari King melon (cantaloupe), making it the most expensive melon in Japan. People often use this delicious fruit with a gray color as a present during the Buddhist festival (Chugen).
Its cultivation arose in greenhouses in the Taisho Period. Hokkaido is one of the top melon producers in Japan. It is easy to consume abundant species of melon in Japan. They are diverse in shapes, colors, and flavors.
Typically, you will see Japanese melons in round shape and smooth peel. Its flesh color is diverse depending on the different types of melon. The muskmelons will have green meat, while the orange will show up in the flesh of the cantaloupes variety.
Moreover, yellow and white-fleshed melons are other common types of this fruit. Usually, the Japanese will consume raw melon after each meal. It also appears in smoothies and other desserts. They are normally available in slices or whole fruit in supermarkets.
Nutrients: Rich in protein, carbs, fiber, vitamin C, and potassium.
Season: People often harvest this fruit from early July to late September in Japan.
How to eat: The natives usually slice this fruit and remove the seed before eating. You can eat the flesh from the skin.
Discover the reasons why Japanese melons are expensive.
16. Grape – Budo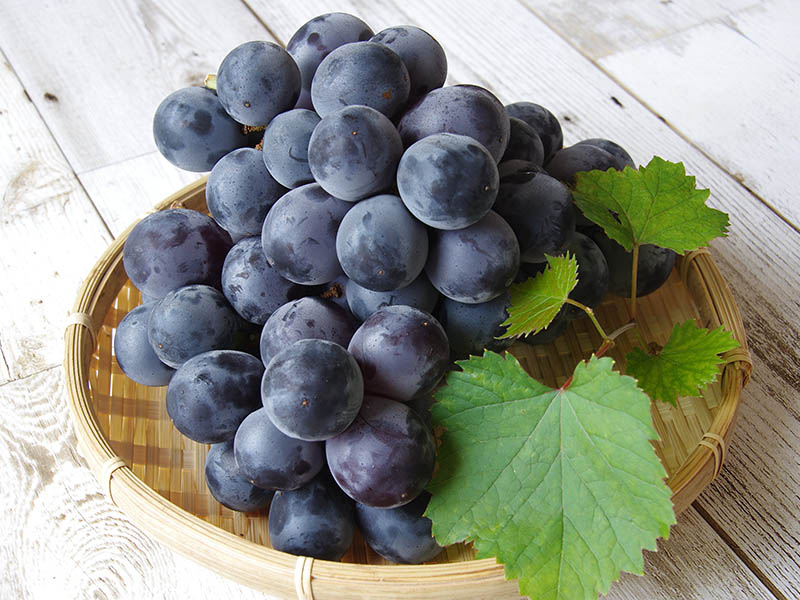 Grape is the following fruit I want to introduce to you in this post. And you have to try this fruit on your trip to Japan. This fantastic fruit was born in the Middle East 6000 to 8000 years ago. It was brought to Japan during the Nara Period from China.
Its shade ranges from black to deep blue, green, orange, yellow, and crimson. The jelly-like and juicy texture of the grape will passionate you. It has some tiny bitter seeds inside. Japanese grapes have thicker skin than other common types of West.
So, people often peel the skin before consuming it. The enchanting sweetness of the grape will make you want to eat more and more. In addition, the appearance of slight tartness will highlight its flavor.
This fruit is grown widely in the Yamanashi Prefecture. Plus, there are numerous delicious grape varieties in Japan, but the deep purple Kyoho grape is the most loved type of Japanese.
You can eat fresh or dried grapes. Grapes are the main ingredient in making wine in Japan.
Nutrients: High in vitamin C, K, potassium, and phosphorus.
Season: Its season lasts from July to December in Japan.
How to eat: To eat Japanese grapes, you have to peel the skin. Consume the flesh and remove its seeds.
17. Watermelon – Suika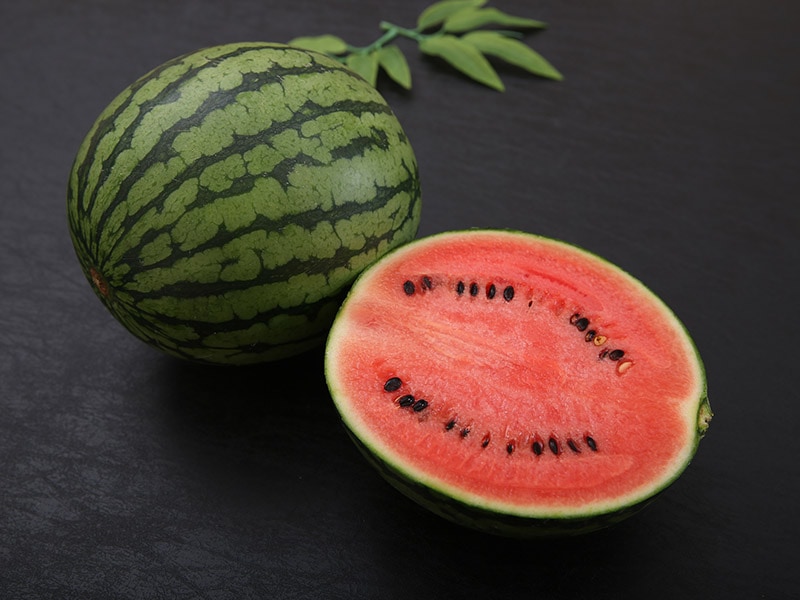 When referring to the yummy and refreshing Japanese drinks, you must taste the fantastic juices made from watermelon. Watermelons grow well in tropical and subtropical regions worldwide.
In Japan, this delicious fruit has popped up in the country since the Edo Period from the 17th to 19th century. Gradually, it has become a staple fruit in this country. Japanese cultivated the seedless version for the first time in the 1930s.
Nowadays, you can see watermelons in a square shape in Japan easily. And this type will have a high cost. One thousand different types of watermelon have been discovered worldwide. Japanese watermelon is also large and has a thick rind like other varieties.
The flesh of watermelon has many colors. Red and yellow are the popular shades of its flesh. The sweet taste and juicy texture of watermelon will relieve your thirst immediately.
Suika-wari is a traditional game related to watermelon in Japan (4). This activity often happens on the beach. People will stand around a watermelon and use a stick to split the fruit with a stick while blindfolded.
Nutrients: It contains vitamin C, potassium, copper, vitamin A, and B5.
Season: Its season runs from May to August in Japan.
How to eat: The fastest way to enjoy watermelon is to dice it and eat the flesh with a spoon. Furthermore, you can cut it into small pieces to eat from the rind. Please remove its seeds while eating, if any.
Expand your knowledge with fantastic information about square watermelon in Japan.
18. Pineapple – Painappuru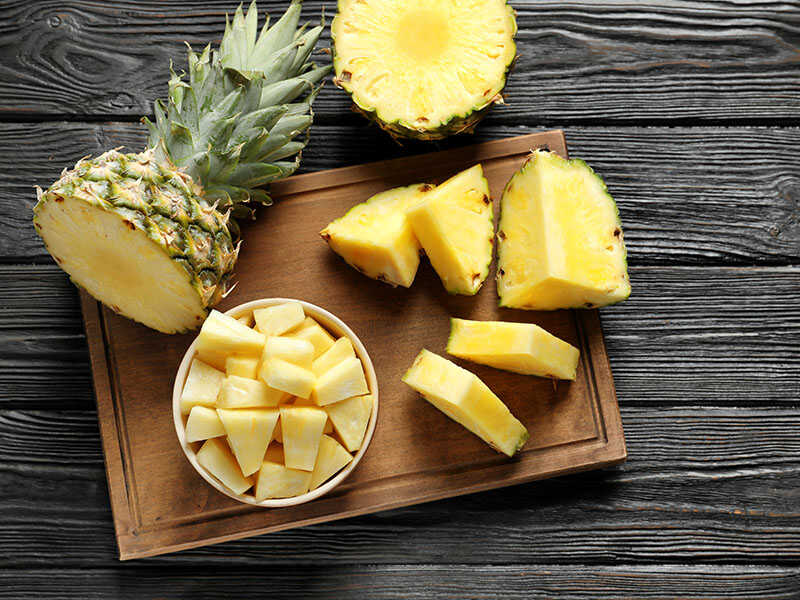 Pineapple is a tropical fruit that originated in South America and was later introduced to Japan. Similar to regular ones, this fruit is cylindrical in shape with a small crown of leaves at the top.
Japanese pineapple is primarily grown in the southern region of Okinawa, where the climate and soil are ideal for cultivation. These fruits are often smaller in size compared to other varieties. However, the smaller size doesn't compromise the quality and taste of the fruit.
Pineapples are known for their sweet and sour balance with juicy and slightly firm flesh. They are also low in acidity, which makes them easier on the stomach compared to other acidic fruits.
You can eat them directly as a snack or use them in recipes such as smoothies, salads, or as a topping for pizza. The juice from Japanese pineapple is also popular in Japan and is often added to cocktails.
Nutrients: High in bromelain (anti-inflammatory enzyme) (5), vitamin B6, C, vitamin B-6, and more.
Season: Peak season is in August
How to eat: You need to remove the tough, spiky outer skin first, then cut it into slices or chunks before serving.
19. Fig – Ichijiku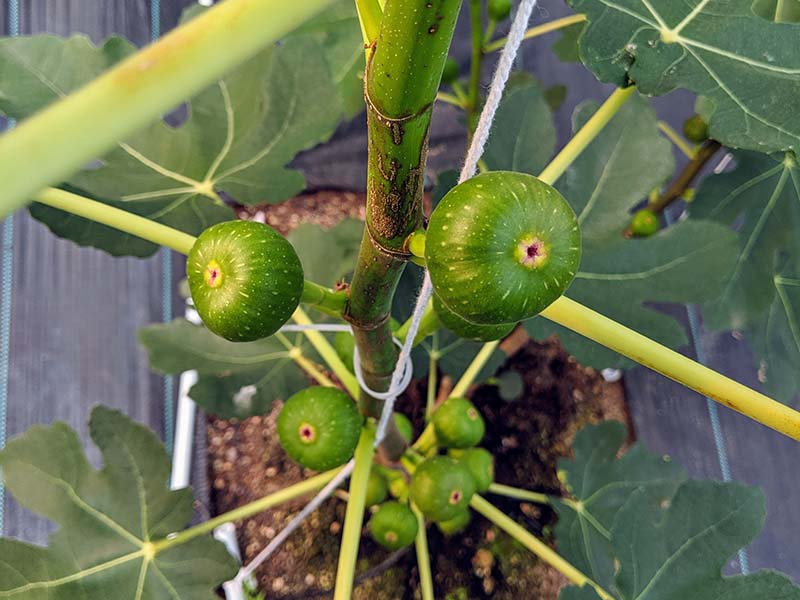 Fig has been grown in the Mediterranean and western Asia since ancient times. This fruit was shown to Japan from the Mediterranean in the 1600s. People often called it "foreigner's kaki" at this time.
Typically, the shape of a fig resembles a tear, and it is protected by a green peel when unripe. The shade will turn brown and purple when mature. You will find countless crunchy seeds inside the sweet and reddish flesh.
There are several types of fid in Japan, including Horaishi (native to China), Masui Dauphine, and Fukuoka's Toyomitsuhime.
Masui Dauphine is the most well-known type of fig in Japan. This variety has a characteristic large size. Masui was the first person who cultivated this famous type in the 1900s. So, its name is taken from his name.
You will be addicted to the crunchiness of fig when consuming it raw. Moreover, people will dry this fruit to eat as a snack. And do not forget to try the fantastic taste of fig jams in Japan.
Nutrients: Plenty of fiber, calcium, potassium, and magnesium.
Season: Its season extends from the late summer to early autumn.
How to eat: Before eating a fig, you have to wash it with water. You can consume the whole fruit.
20. Chocolate Vine – Akebia/Akebi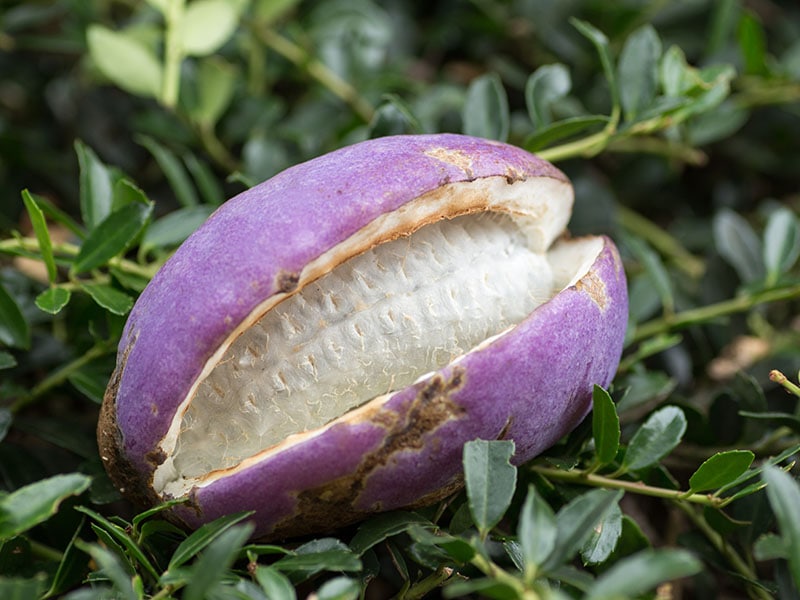 Akebi is a member of the Lardizabalaceae family that native to North Japan. This is a seasonal fruit that is only available when they are in season. You can find akebi in Japanese literature (6). And it is considered the strangest fruit in Japan.
You can consume the white flesh of akebi. The semi-translucent gelatinous flesh has a distinctive sweetness. Its taste is similar to the flavor of passionfruit, lychee, and banana. The appearance of its pulp resembles white dragon fruit, which is filled with many black seeds.
Akebi is an essential part of many excellent Japanese drinks and foods. In rural Tohoku, locals used to combine salt and this fruit to make pickle cucumbers and enhance the overall sweetness.
On the other hand, the Japanese often add it to tea or consume it as a fruit dessert. Moreover, people in Yamagata Prefecture use this fruit as a vegetable in many meat dishes. They use the pod to make stuffed or deep-fried delicacies.
As an exotic fruit with a short season, it is not easy to find them everywhere. However, if you are lucky, you can see them in local supermarkets or groceries in Japan.
Nutrients: A source of vitamin C, protein, folic acid, and potassium.
Season: Its season is often in early fall in Japan.
How to eat: To eat its pulp, you need to break the fruit into 2 halves and use a spoon to get the pulp.
21. Blueberry – Buruberi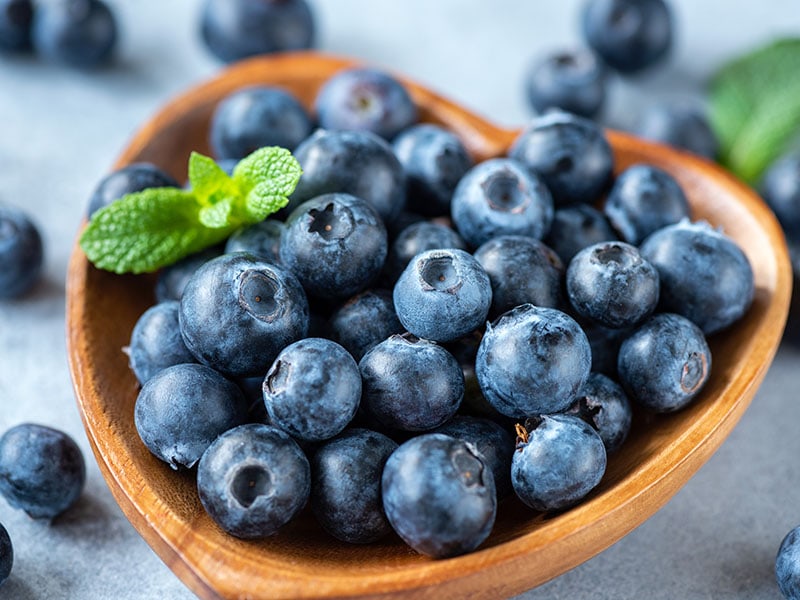 Blueberries are a small, round fruit that is native to North America. They are now cultivated in many parts of the world, including Japan. They are a member of the Ericaceae family, which are also related to other fruits such as cranberries and bilberries.
Blueberries are typically small in size, ranging from 0.2 to 0.6 inch in diameter. They have a smooth, dark blue skin and a soft, juicy flesh that is light green in color. Blueberries are commonly sold fresh but can also be found frozen or dried.
The taste of blueberries is sweet and slightly tart, with a delicate flavor that is often described as "earthy." They have a soft, chewy texture that makes them a popular ingredient in many dishes, from salads and smoothies.
They are also commonly used in baking, such as in muffins, cakes, and pies. They can also be added to oatmeal or yogurt for a nutritious and delicious breakfast or snack. Additionally, people also use blueberries to make jams, sauces, and syrups.
In Japan, the blueberry season runs from late June to September. During this time, blueberries can be found in supermarkets and fruit stands across the country.
Nutrients: High in fiber, antioxidants, vitamin C, K, calcium, potassium, and magnesium.
Season: From late June to early September in this country
How to eat: Eat fresh or add to your desired dishes/drinks, ideally smoothies, baked goods, etc.
22. Japanese Wineberry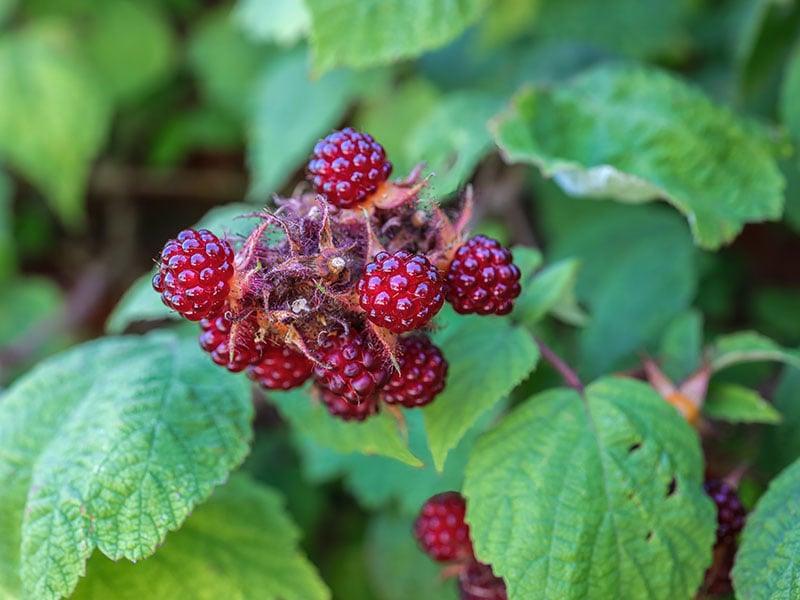 Japanese wineberry, also known as Rubus phoenicolasius, is a fruit that is native to Asia. Some sources state it is the cross of a blackberry and a raspberry.
Japanese wineberry has a bright red color, hairy stems and leaves, which can be considered raspberry-type fruit. The fruit is small and round with a bright red color and a slightly fuzzy texture. However, they are smaller than a raspberry.
They have a sweet and tart flavor with a hint of citrus. The texture is similar to a raspberry as well.
The small fruit is edible, so you can eat it fresh or utilize it to make baked goods, jams, and sauces. You can mix Japanese wineberry with other berries, like strawberries or blackberries, and add to your dessert/breakfast for a wholesome meal.
Nutrients: Perfect source of vitamin C, antioxidants, minerals, and fiber
Season: From late June to August in Japan
How to eat: Eat fresh or add to desserts. Or you can use them to make jams, pies, cakes, etc.
It Is Time To Check These Fruits Out!
Japan is one of the favorite destinations of many people worldwide. So, if you are about to travel to Japan, do not forget to try these excellent fruits I have suggested in this article. It is the chance to verify everything I have talked about in this post.
This post will be helpful for many people, so let's share it to spread supportive information to other people right now. I am looking forward to seeing your opinions in the comment section. Thanks a lot!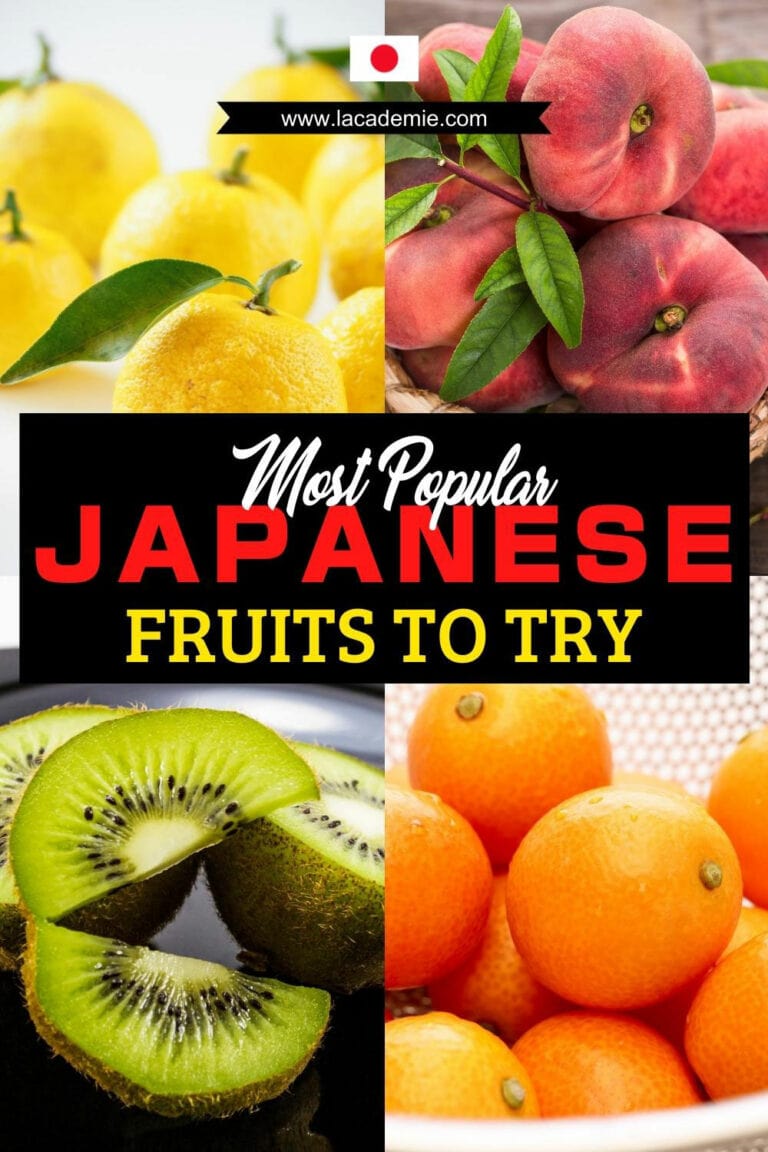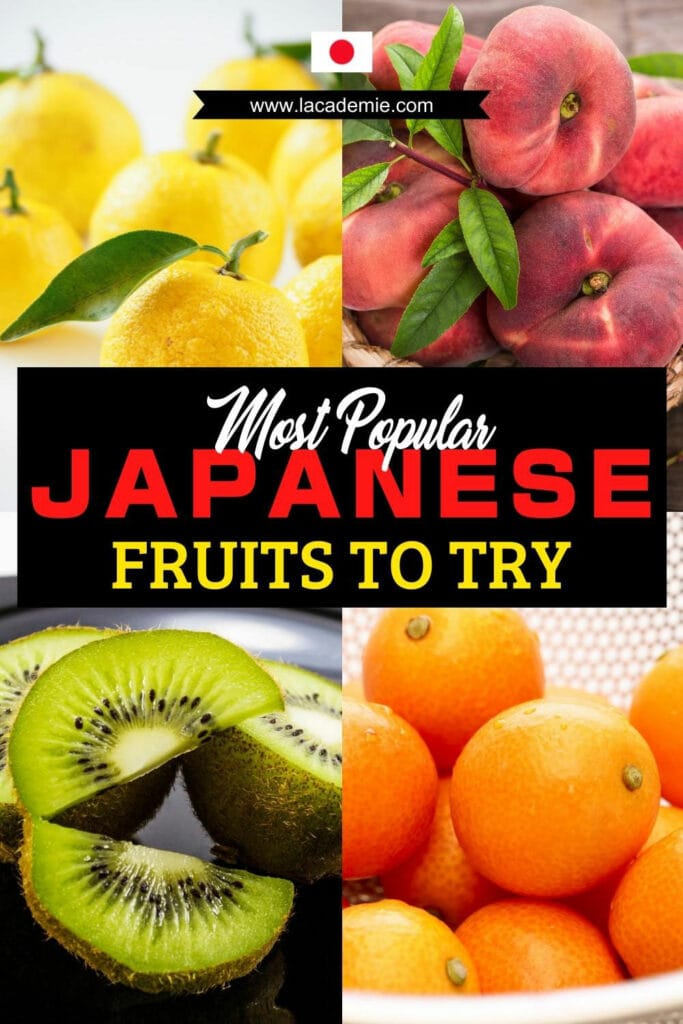 References
Wikipedia 2023. Yuzu.
Fun-Japan.jp 2021. Enjoying Wakayama's Delicious Mandarin.
Wikipedia 2023. Jōmon period.
Wikipedia 2023. Suikawari.
Mountsinai.org 2023. Bromelain.