Iced dessert drink with herbal ingredients, also known as Chè Sâm Bổ Lượng or Ching Bo Leung, is one of the most well-loved sweet treats in Vietnam when summer comes. If you're struggling to deal with the heat and need a dessert to cool you off, it fits the bill perfectly.
Filled with nutritious ingredients, like lotus seeds, goji berries, red dates, and more, this dessert is not only refreshing but also extremely flavorful. Stick with me through today's post to learn a fail-proof recipe to whip up Che Sam Bo Luong at home.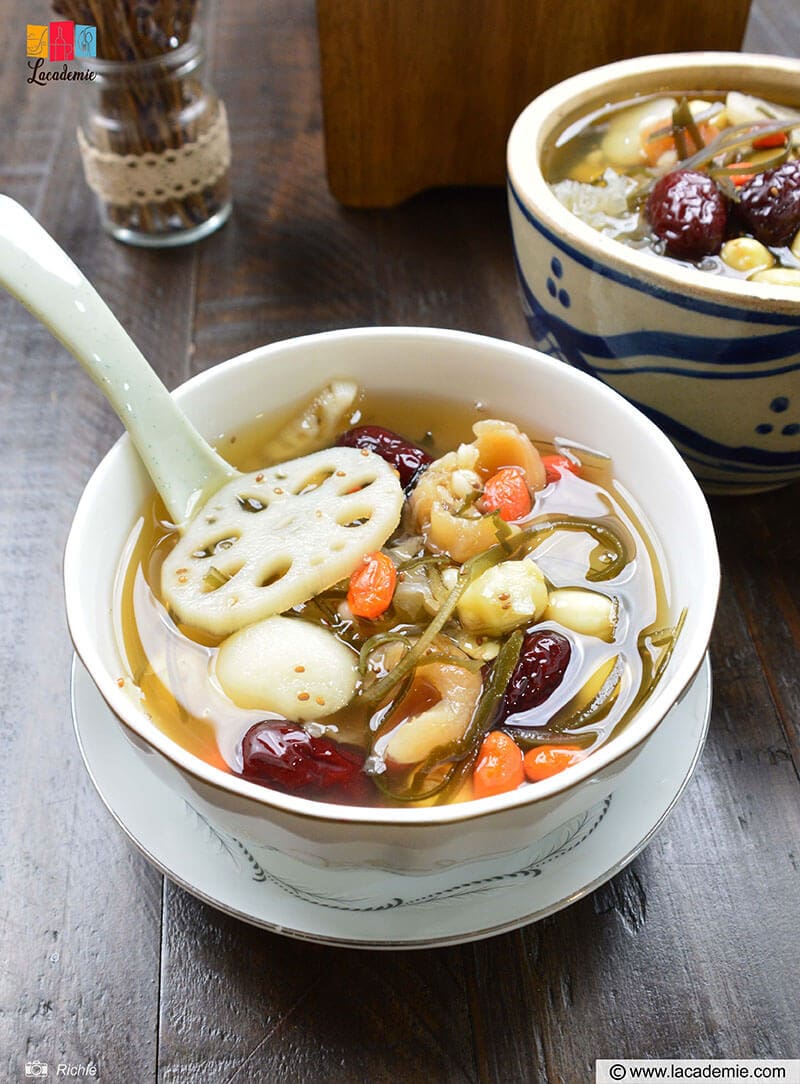 What Is Che Sam Bo Luong, Anyway?
While Che Sam Bo Luong is a popular dessert and snack in Southern Vietnam, it actually came from Chinese cuisine. In addition to Vietnam, it's also a common sweet treat in Guangdong, Hainan, and Guangxi provinces in China, Malaysia, and Singapore.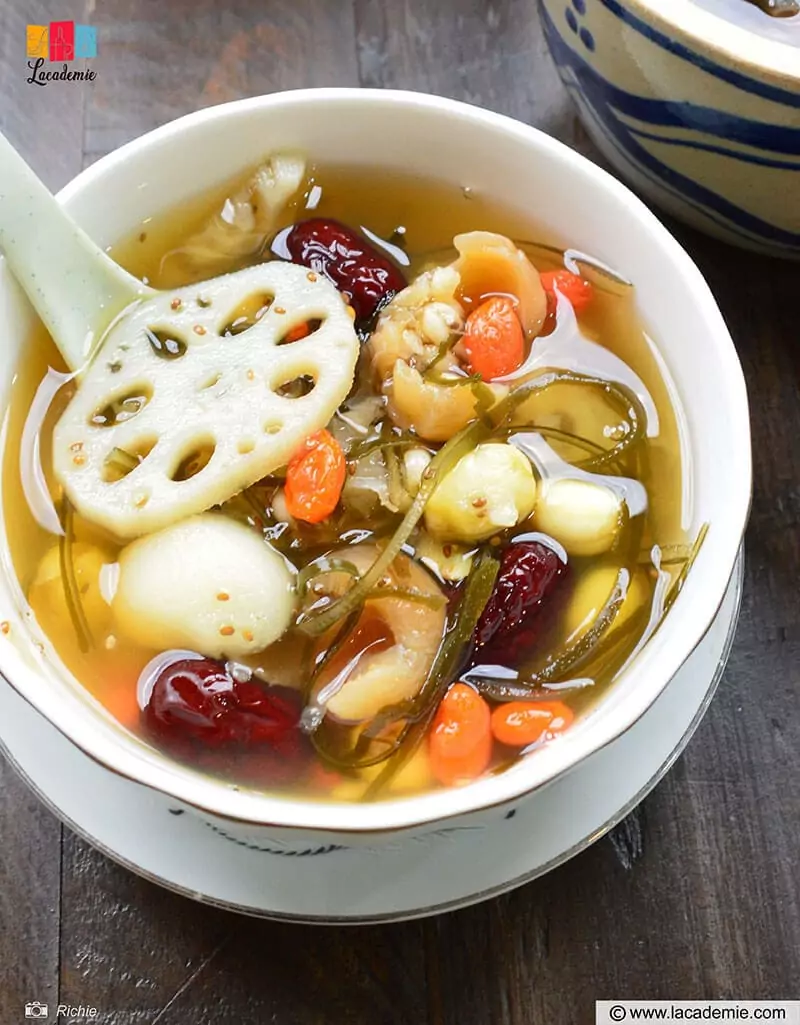 Interestingly, although people in Southern Vietnam, especially those living in Cho Lon, enjoy Che Sam Bo Luong regularly, many Northerners have never heard of it. Since Cho Lon is often considered the Chinatown of Saigon, it's likely the Chinese-Vietnamese here were the ones that brought this dessert to the country.
In a serving of Che Sam Bo Luong, you can find plenty of herbal ingredients, such as lotus roots and seeds, Chinese water chestnut, Chinese pearl barley, red dates, and goji berries. According to folk medicine, they all boast great health-giving properties.
In other words, not only are you treating yourself and your loved ones to a delectable dessert, but an incredibly nourishing one, as well!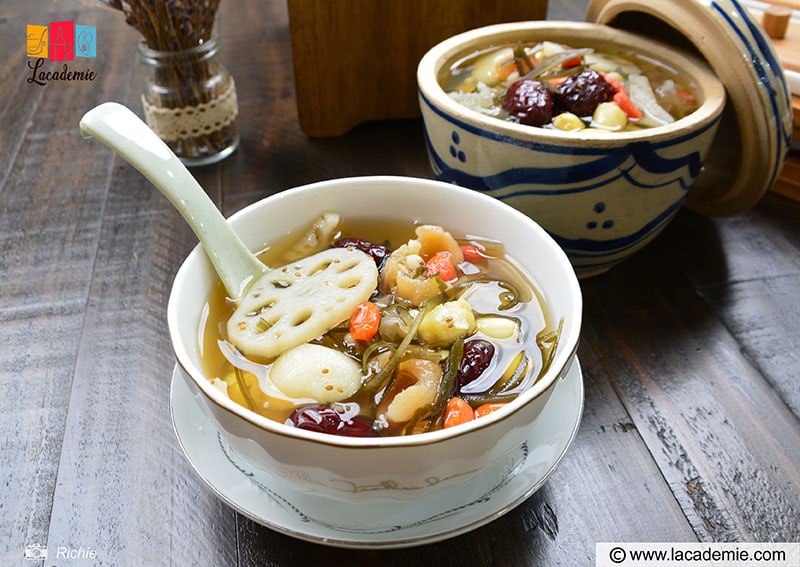 Tools
This might come as a surprise, but the tools required for this recipe are super simple. Prepare the following, and you're good to go.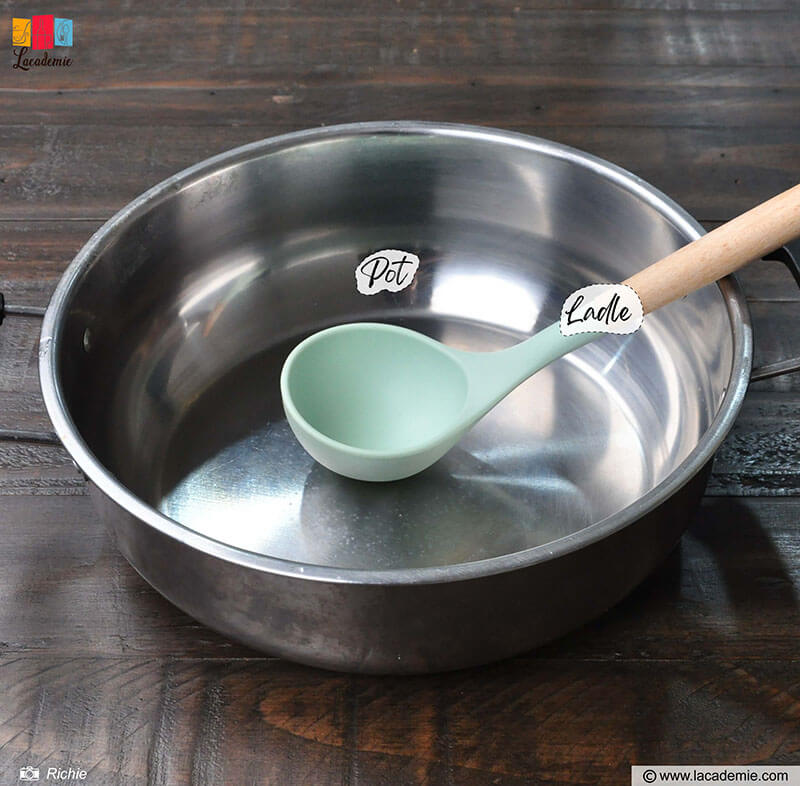 Pot: For cooking the sweet soup.
Ladle: For spooning the soup.
Ingredients
I highly recommend taking a trip to the nearest Asian store, as you'll need to purchase quite a lot of herbal ingredients.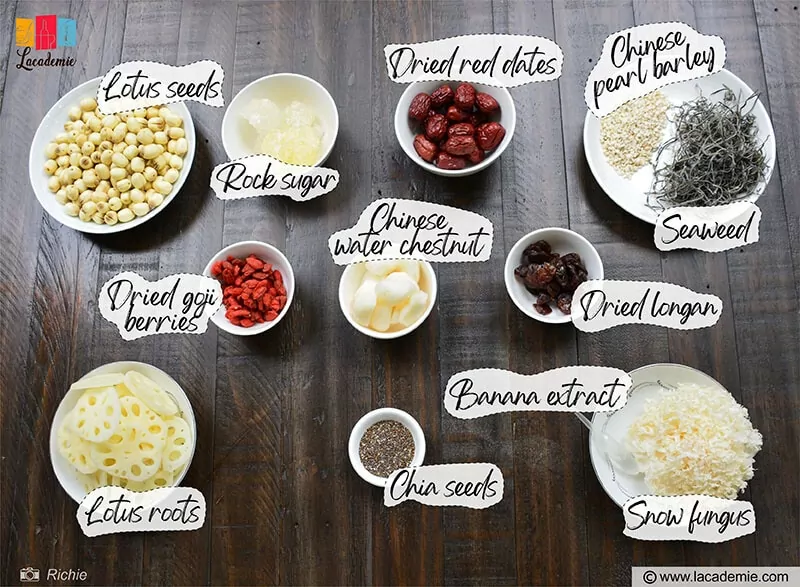 Lotus seeds: Fresh lotus seeds are the best options, but you can also use dried seeds. Note that dried ones will take longer to cook.
Rock sugar: Other types of sugar (brown, granulated) are viable alternatives. That said, I like the mild sweetness that rock sugar provides the most.
Lotus roots: Starchy, slightly crunchy roots that aid digestion, reduce inflammation, and boost your immunity.
Chinese water chestnut: Known as Cu Nang in Vietnamese. They contain plenty of vitamins and minerals.
Dried red dates: Or jujubes. You can think of them as sweet, tiny apples with amazing health benefits, like strengthening the immune system and improving sleep quality.
Dried longan: This fruit belongs to the same plant family as the rambutan and lychee. Longan is rich in vitamin C and has a delightfully sweet flavor.
Dried goji berries: Contain a good number of antioxidants, minerals, and vitamins. They taste a bit like cranberries.
Chinese pearl barley: Also called Job's Tears. This is a superfood native to Southeast Asia.
Seaweed: Opt for the type that is thick, which the Vietnamese call Pho Tai.
Chia seeds: Health-aware food lovers are certainly no strangers to these highly nutritious seeds.
Snow fungus: One of the most common fungi used in Chinese cuisine and medicine. It adds a crunchy, fairly gelatinous bite to the soup.
Banana extract: A few drops of banana extract help boost the flavor and aroma of your sweet soup remarkably.
Directions
I know that was quite a long list of ingredients. Good job gathering them all! Now it's time to start cooking.
Step 1: Prepare The Ingredients
Soak the pearl barley in boiling water for 30 minutes. Change the water when it has cooled. Drain the pearl barley afterward.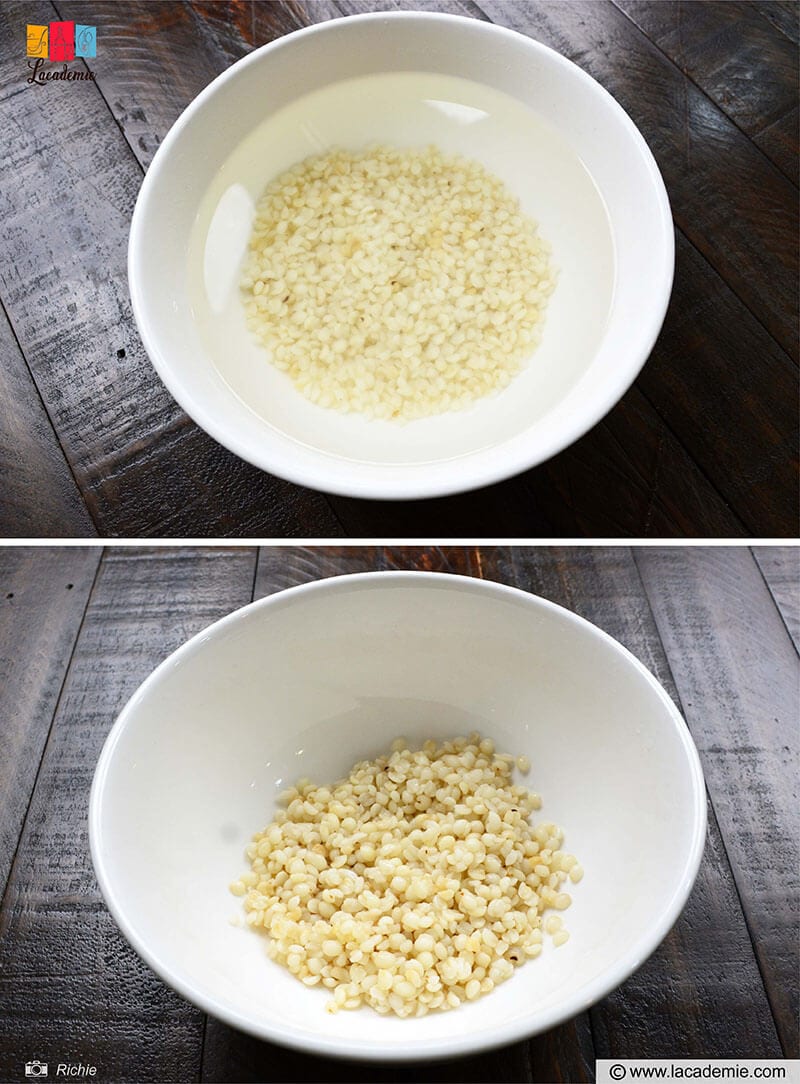 Soak the lotus roots and water chestnuts in an ice bath for 20 minutes to soften them and help them maintain their color.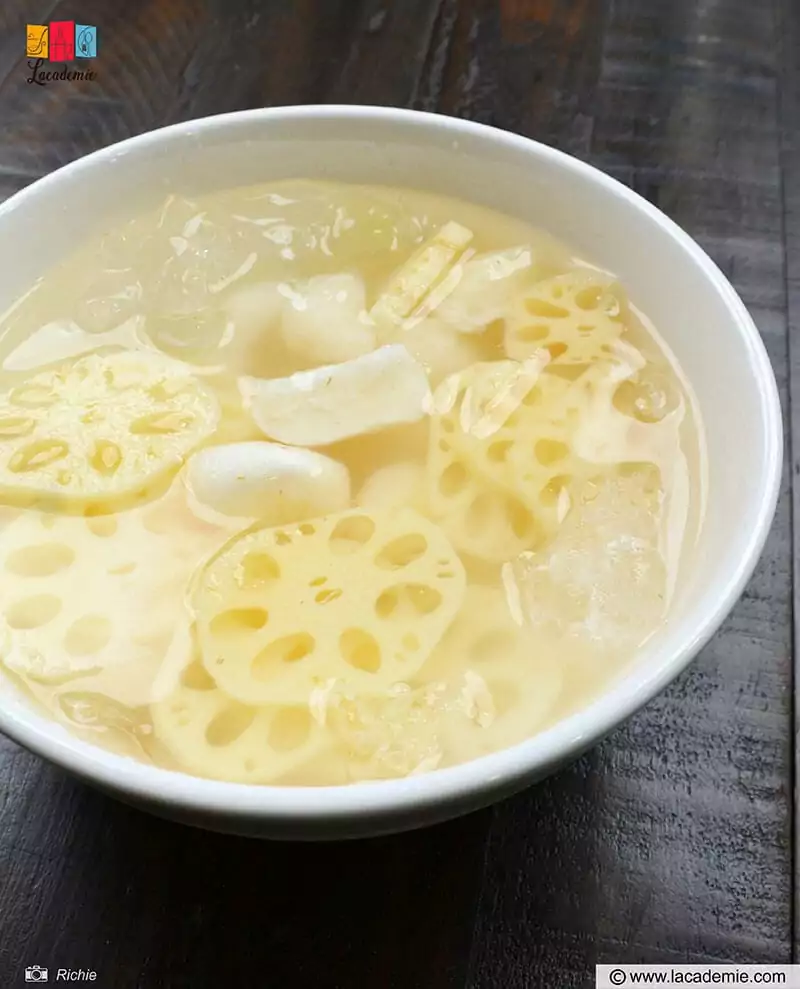 Rinse the rest of the ingredients (seaweed, goji berries, red dates, etc.), then soak them in water for 20 minutes.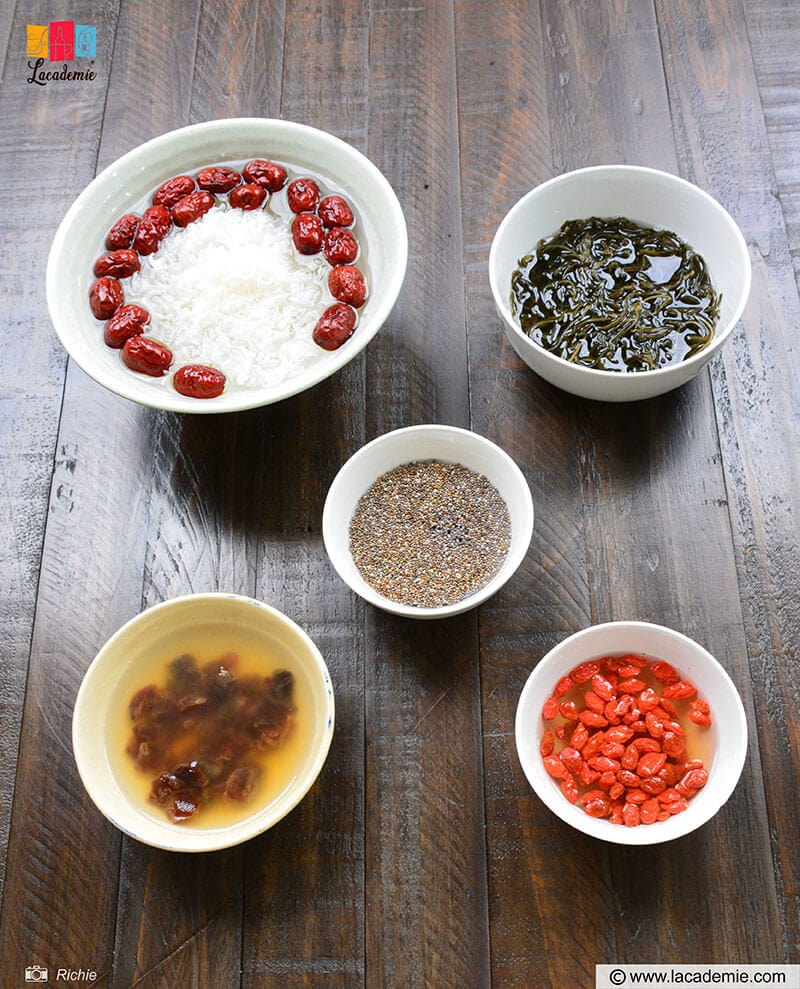 Once the snow fungus has softened, cut it into bite-sized slices.
Step 2: Cook The Sweet Soup
Pour about 10.5 – 12.5 cups of water into the pot. Then, add the lotus seeds and pearl barley and cook them for 30 minutes over medium heat. Cover the pot to help the seeds soften quicker and prevent too much water from evaporating during boiling.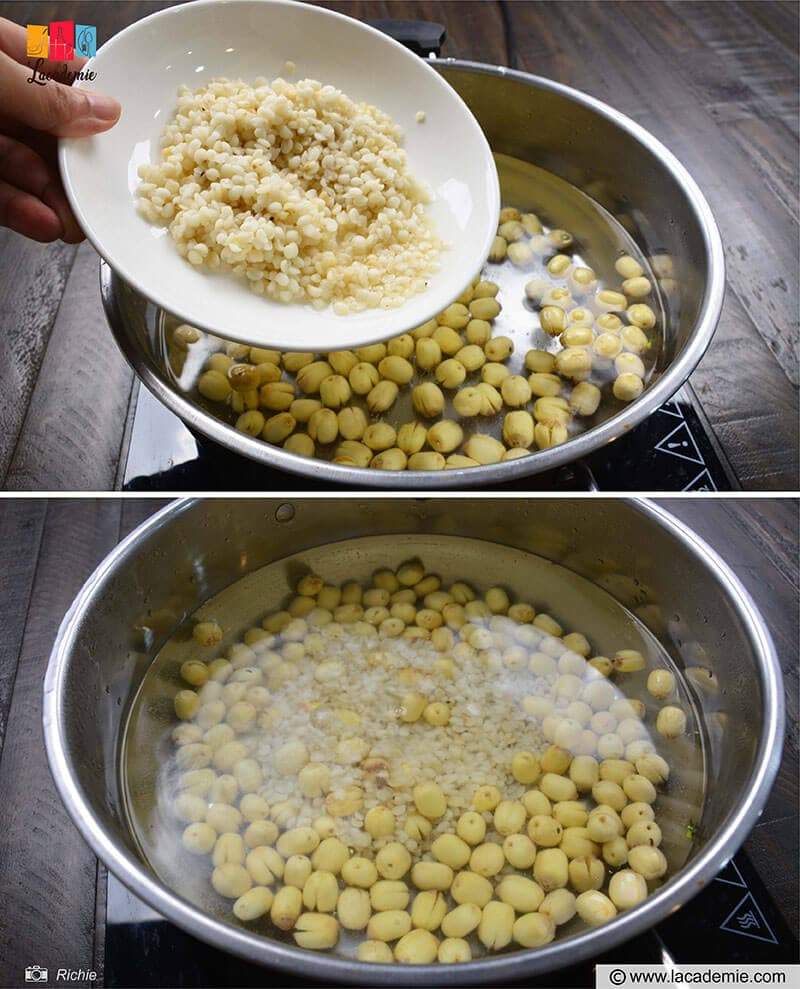 After 30 minutes or when the lotus seeds and barley have tenderized, add the lotus roots, water chestnuts, and red dates into the pot. Cover and continue to cook for 20 minutes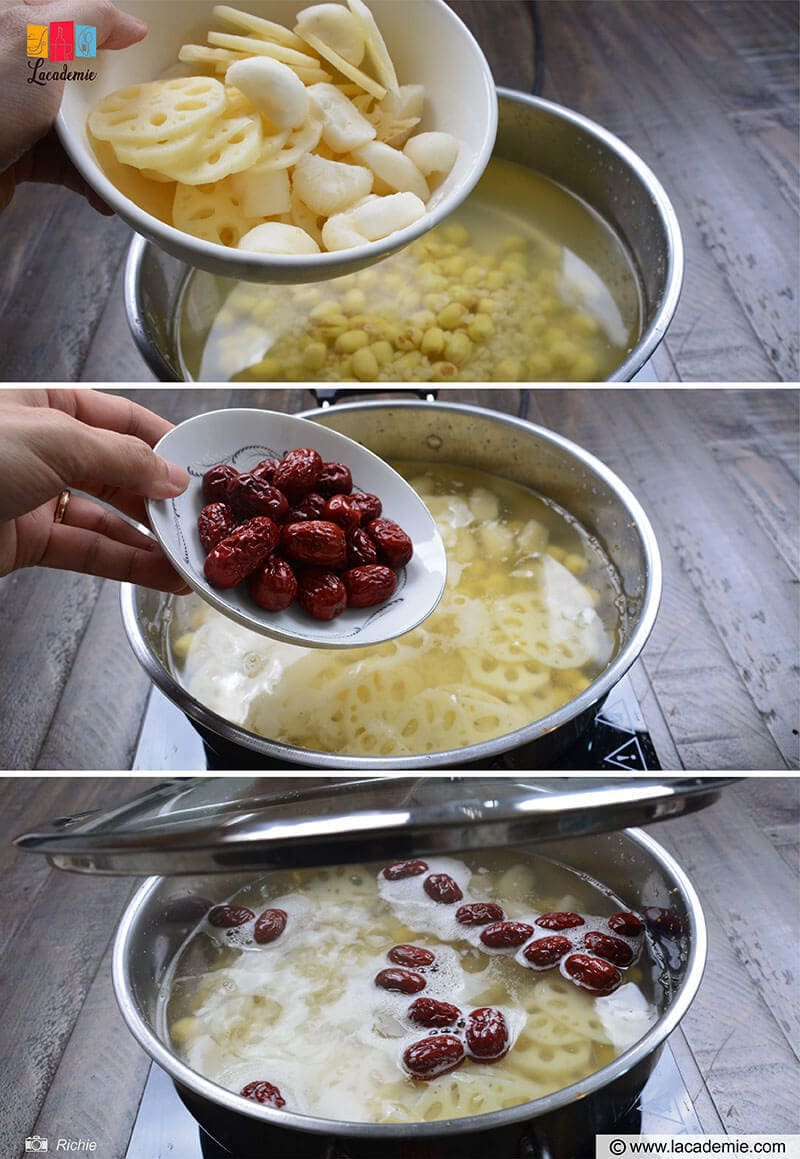 Next, add the longan, snow fungus, and rock sugar. Cook for another 5 minutes over medium-low heat.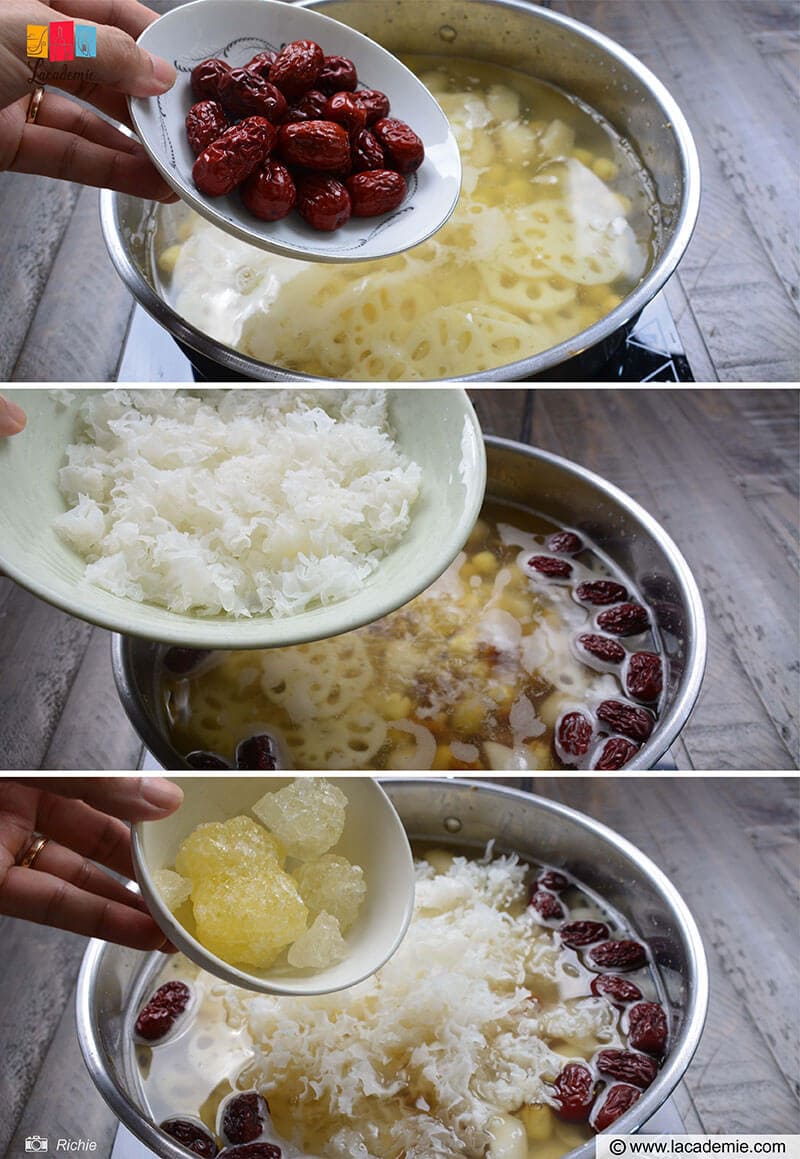 Lastly, add seaweed, goji berries, and chia seeds. Cook them for about 2 to 3 minutes, then cut the heat.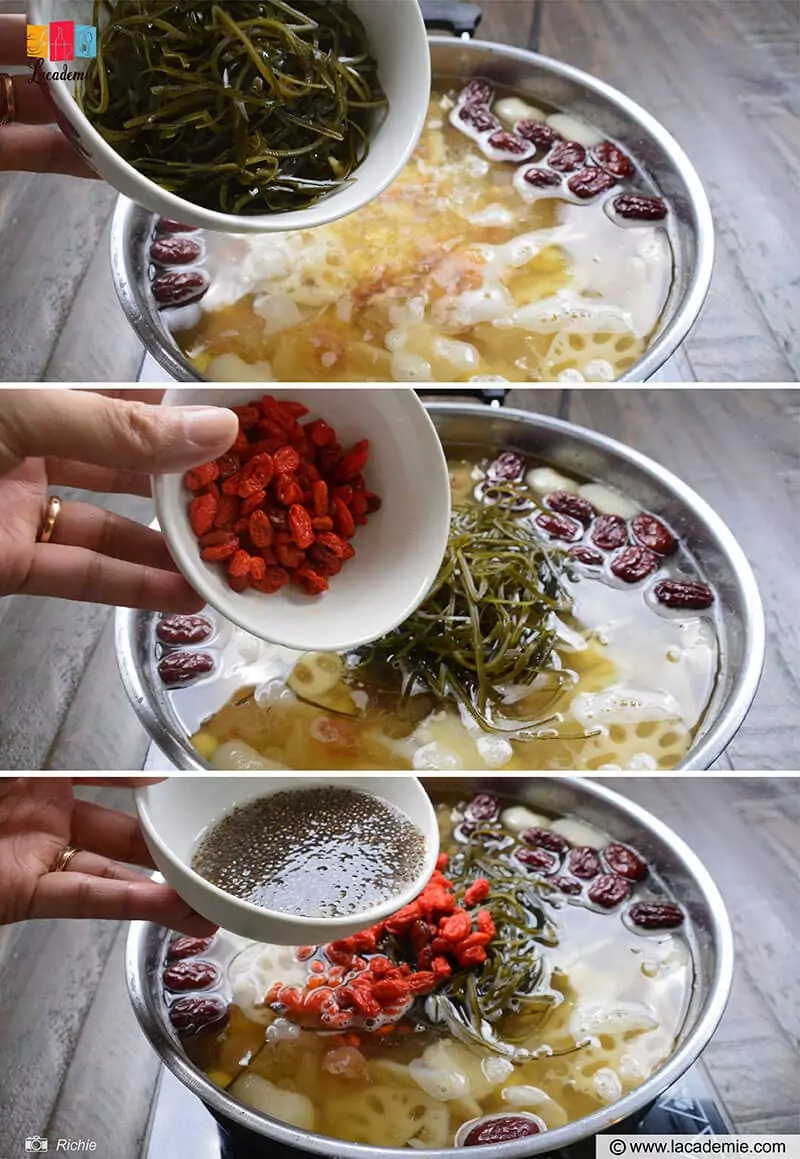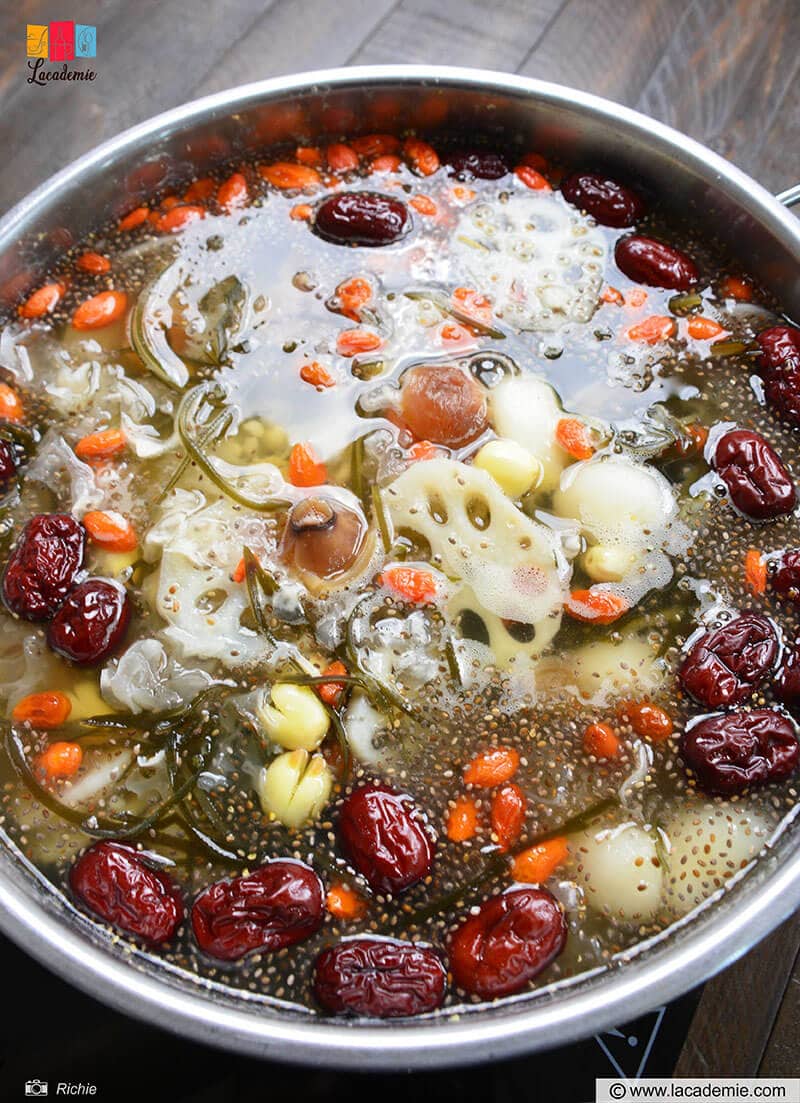 Step 3: Present The Dish
Allow the sweet soup to cool, then ladle it into a bowl or cup. Add a few drops of banana flavoring oil to boost the taste and aroma.
Serve the Che Sam Bo Luong chilled, or add some ice cubes. The cooling sensation of this dessert will wow you!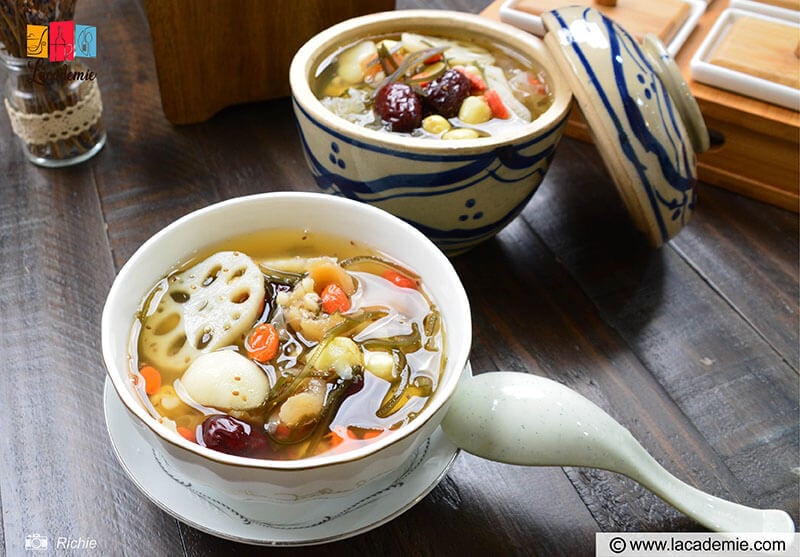 How To Store And Make Ahead Of Time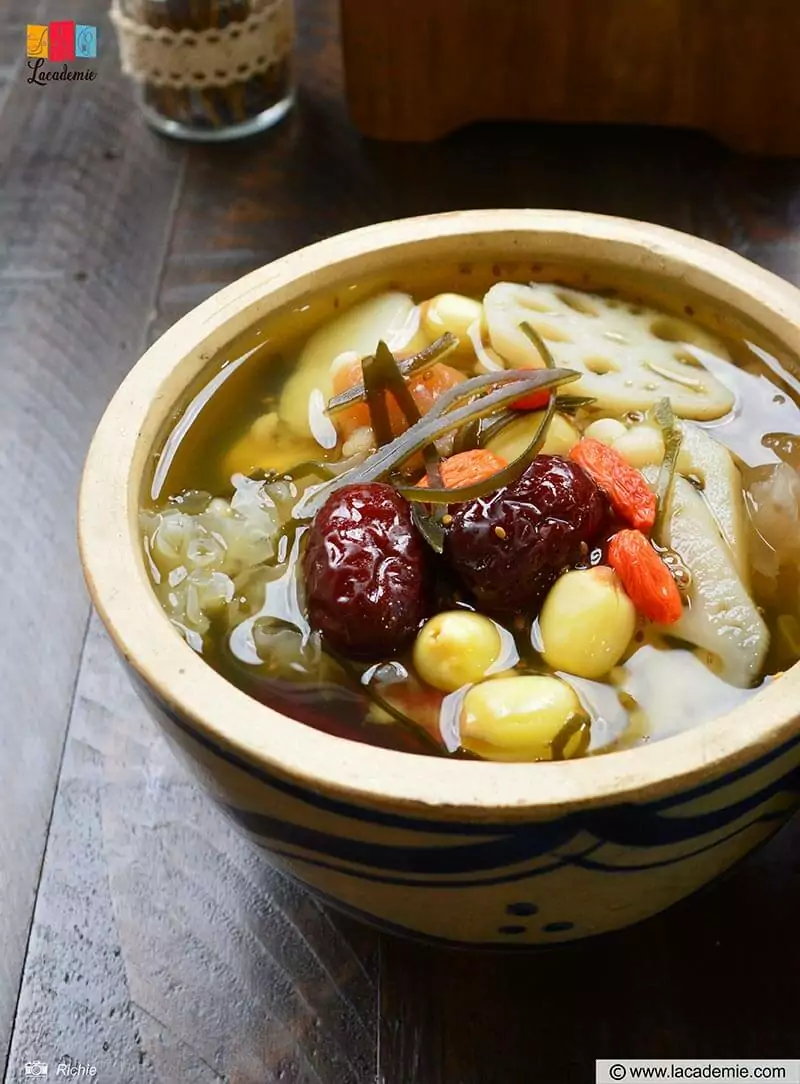 You can easily make a large batch of Che Sam Bo Luong ahead of time and store it in the refrigerator. Provided that you keep it in airtight containers, preferably glass jars, your sweet soup will last for 3 to 5 days.
I wouldn't recommend freezing this dish, though. While the soup won't go bad when stored in a freezer, it won't taste nearly as good. For example, the longans will lose their slight chewiness.
Tips And Tricks
Here are a few tips and tricks I believe will prove useful when making Che Sam Bo Luong. Don't miss out on them!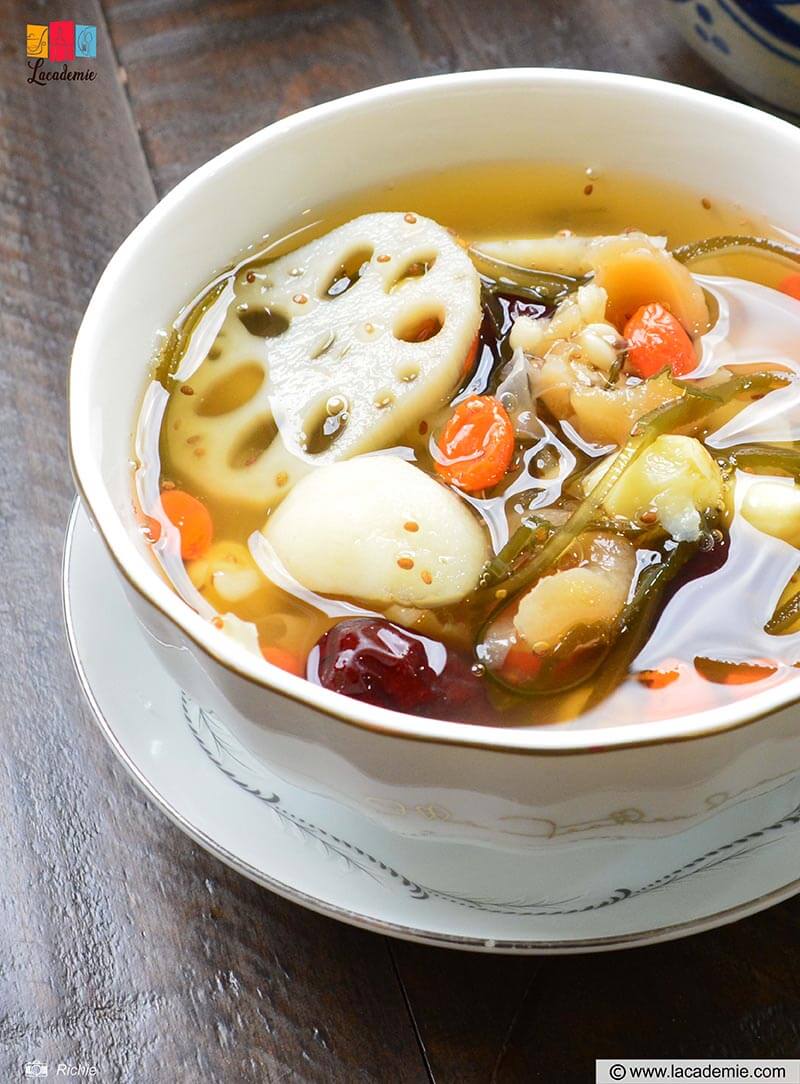 You can replace chia seeds with basil seeds. Note that chia seeds are generally smaller than basil seeds after swelling, so you might need to change the amount used accordingly. The soaking time for basil seeds is about 3 to 5 minutes.
Speaking of basil seeds, you can use them to make another healthy and cooling Vietnamese sweet soup called Suong Sao Hot E (grass jelly with basil seeds).
Be careful with the amount of sugar that you add to the soup. Too much sugar can cause your Che Sam Bo Luong to be overwhelmingly sweet.
If you find it hard to purchase all the necessary ingredients, you can look for the Ching Bo Leung soup mix at a Chinese store.
Other Great Ingredients To Consider
In addition to the ones listed above, there are more ingredients with great medical properties you can add to your Che Sam Bo Luong. Don't be afraid to try them out.
Fox nut barley: Somewhat similar to lotus seeds but paler in color. This type of barley is a great source of protein and fiber.
Yu Zhu: I believe there's no official name for this ingredient in English, but it's translated to "jaded bamboo." Folk medicine states that it can balance the yin (cooling) and yang (heat) in the human body.
Dried Chinese yam: When it comes to texture, this white root is like a combination of yucca and okra. It has been known to help with digestion and is a great stomach pain reliever.
Dried seafood: You can turn Che Sam Bo Luong into a savory soup rather than a dessert drink by adding some dried squid, scallops, or abalone.
Pork bones: Like dried seafood, pork bones are ideal for a savory version of this dish.
FAQS
For people who want to learn more about this fascinating dessert, I've gathered some frequently asked questions here.
Enjoy A Healthy And Cooling Dessert!
Che Sam Bo Luong is the ideal recipe when you want to take a break from the typical sugary desserts. Not only does it taste like a dream, but it also brings many health benefits, thanks to a variety of medicinal ingredients.
Try making this dish for your loved ones on a hot summer day; I bet that they'll "devour" it faster than the speed of light! If you've had success with making Che Sam Bo Luong, please let me know in the comment. And yes, liking and sharing today's post is greatly appreciated!
Nutrition Facts
4 servings per container
---
Amount Per ServingCalories537
% Daily Value *
Total Fat 5.4g

8

%
Sodium 59mg

3

%
Potassium 1454mg

42

%
Total Carbohydrate 112.9g

38

%

Dietary Fiber 9.3g

36

%
Sugars 37g

Protein 15.6g

30

%
---
* The % Daily Value tells you how much a nutrient in a serving of food contributes to a daily diet. 2,000 calories a day is used for general nutrition advice.