Vietnam is an S-shaped country in Southeast Asia. If you have chances to go to this country, you will soon fall in love with all the foods in Vietnam. Their cuisine culture is a blend of traditional, Chinese, Thai, Cambodian, and even minority features.
The appetizers, main courses, desserts, drinks, and side dishes are no exception.
When you want to experience some Vietnamese foods but still in your comfort zone, a sweet dessert is the best choice for you.
Don't ignore it quickly. Once you taste it, I beg that you will crave more.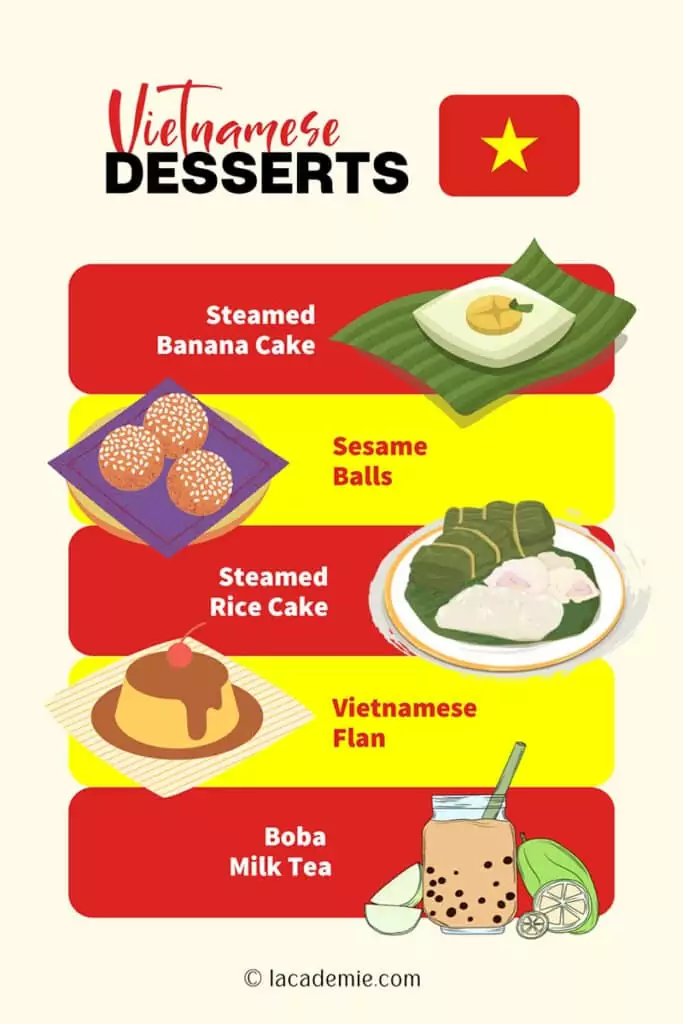 Those Are The Best Desserts On My Vietnamese Foods List
The best dessert will be the perfect end-note for your whole meal. If you're an avid fan of desserts and foods from Vietnamese cuisine, check out the list below.
Vietnamese Steamed Banana Cake
Vietnamese Silken Tofu In Ginger Syrup
Sesame Balls
Vietnamese Three Color Beans
Steamed Rice Cakes
Husband And Wife Cakes
Pandan Rice Cakes
Vietnamese Sweet Corn Pudding
Vietnamese Glutinous Rice Balls
Vietnamese Refreshing Ice Dessert Drink
Vietnamese Avocado Mousse Ice Cream
Vietnamese Flan
Vietnamese Fruit Cocktail With Coconut Milk
Vietnamese Honeycomb Cake
Steamed Layer Cake
Vietnamese Pandan Worm-like Jelly Dessert
Vietnamese Banana Tapioca Pudding
Vietnamese Banana And Coconut Ice Cream
Vietnamese Coffee Ice Cream
Vietnamese Coffee And Condensed Milk Panna Cotta
Vietnamese Coffee
Boba Milk Tea
List Of Savory Vietnamese Desserts
If you are quite familiar with the desserts from Cuba, you would see some similarities between Vietnamese sweets and them. Those are the heaven pastries for your sweet tooth.
Don't be so surprised the first time you see this cake. Each slice of banana is sandwiched and stuck together. It is one of the specialty desserts in the South of Vietnam.
The mild taste of the steamed banana cake is only exploded when you use it with the sweet coconut milk.
You can make this sweet sauce by boiling the coconut milk with a pinch of salt and a spoon of sugar until the texture is thick.
The jelly-like texture of the silken tofu will give you the image of milk pudding but softer.
Soy milk, after thickening by sugar grape, will form silken tofu. This sweet dessert is the best to taste with ginger syrup, cooked with brown sugar and sliced ginger.
For a rainy, cold day, there is no better than silken tofu in ginger syrup. It will warm you up.
You can find a cousin version of this silken tofu in China. It is used as a breakfast side and blended with peanut sauce.
Can you guess what the filling is inside a sesame ball? It is not a meaty filling. It is ground mung beans.
After steaming and grinding, Mung beans will be added sugar for the sweet taste to make the filling.
The sesame balls, then, are fried in deep oil for a crispy rind.
Are you asking where the sesame is in this Vietnamese dessert? It coats on the final step before the sweet balls are fried.
Sesame after frying will be crunchy, and it will release an aromatic scent on your mouth when you bite it.
One kind of bean is tasty, but three types of beans will triple the flavor.
You can have this sweet dessert by combining any handful of beans you have. But beans with different colors will be more satisfying than just one color.
You can choose mung beans, black beans, red beans, black-eye-pea beans.
Only beans are not enough. There is the addition of coconut milk, worm-like jelly, and sugar liquid for a funny taste.
Fluffy as a cloud, but the taste of coconut is what exactly words to describe these steamed rice cakes.
Even though it is a steam cake dessert, the liquid dough also needs to batter before steaming. This process makes the fluffy texture of the cakes and cakes' fluffy texture reduces the over-fattiness of condensed coconut milk.
After that, you can prepare a bamboo steamer with a decent size to start steaming. While this tool is not compulsory, it would provide your cake with a pleasant fragrance.
You will taste it with a very slight sour taste of yeast.
The ordinary cake has the white color of four but to vary its color. Pandan is used to make the green color.
There are different ways to try this Vietnamese dessert. You can have it with fried sesame seeds or use it with the steamed banana cake.
The special name of this cake is usually served as a dessert at many wedding parties.
This is a traditional dessert of North Vietnam. The cake can be covered individually in a box made of leaves or not.
The transparent flour rind of the Husband and Wife cakes is made with flour ground from the sticky rice. This jade-like rind allows you to observe the mung bean filling inside.
The filling does not have mung beans only but also shredded coconut.
When the husband and wife cakes are placed in the leaves boxes, it feels like opening a pandora for the treasure inside.
When you mention the flour cakes of Vietnam, you cannot miss this pandan rice cake.
This is one of the nostalgic desserts of many Vietnamese. The recipe is simple with familiar ingredients such as rice flour, pandan extract, coconut milk, sugar.
The cake has a mild taste of flour and the aromatic profile of pandan. However, the soul of this cake lies in the coconut ginger sauce.
A bit of fatty coconut milk blended with the warm tangy of fresh ginger will let you feel the taste of Asian cuisine profoundly.
You can add this sweety into your notebook about sweet corn.
Corn after harvesting and cleaning will be skived. The corn code is useless in this dessert, of course.
Then the skived corn is cooked with water until tender.
If you wonder about the thicken texture it has, it is the tapioca starch. Tapioca starch makes the liquid viscous.
For a serving of sweet corn pudding, coconut milk and tapioca pearls are the unmissed parts.
Glutinous rice balls or you can find a Chinese version of them in the name of Tangyuan. It is a sweet dessert of Vietnam derived from Chinese culture.
The rice balls are glutinous rice flour mixed with water to make dough. This special dough after boiling will have a semi-translucent color.
The filling inside is made with mung beans, red beans, or sometimes is sweet sesame.
Ginger sugar soup is a dispensable part of this sweet dessert.
Your first impression of this dessert would be the image of a bunch of seaweed by the green and brown it has.
One little fact: This drink is actually derived from a traditional sweet in China, the Guangdong region to be exact. It includes lotus seeds, dried longans, jujubes, seaweeds cooked separately then mixed together with sugar syrup.
This creamy dessert is a promotion for Vietnamese avocado before it becomes well-known.
The ingredients of this dessert include ice cream and avocado smoothies. Ice cream can be in the flavor of milk, vanilla, coconut.
When serving, a layer of avocado smoothies is on the bottom, then one or two balls of ice cream. You can top it with a sprinkle of roasted almonds or peanuts.
This sweet treat is a famous street delight in Saigon (Ho Chi Minh city) and other regions of Vietnam. Vietnamese flan is quite similar to a Cuban flan cake in the making process.
To point out the uniqueness, it could be coconut milk or black coffee to go with it.
Vietnamese prefer to balance the sweet taste of flan cake with the bitter taste of coffee or fatty coconut milk.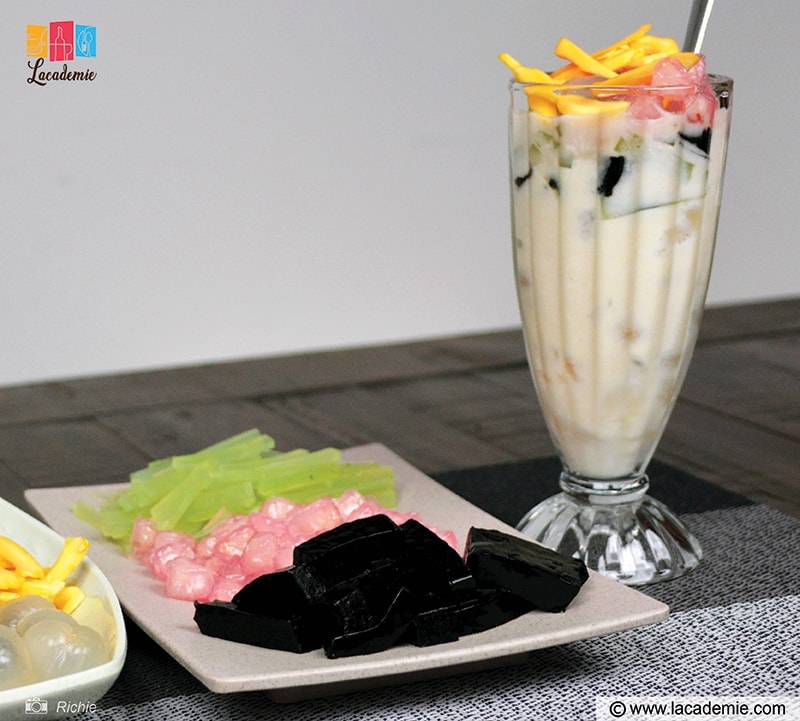 In the way a Vietnamese calls this dessert, it is Thai sweet soup.
For those who are durian-holic, this is the soul dessert for you, as the main star of this dessert is undoubtedly this fruit with "D" as the first letter. If anything, I'd say that durian is the very heart and soul of this fragrant fruit cocktail recipe.
This dessert can be varied by the tropical fruits such as durian, jackfruit, longan, lychee with coconut milk, and worm-like jellies.
It is a baked form of the steamed rice cakes when the rind after baking turns golden and a bit crispy.
For the Vietnamese honeycomb cake recipe, the green color is taken for pandan leaves extract and the fatty taste, which is from a familiar ingredient, coconut milk.
This sweet dessert is the secret weapon that will keep your family melted just in one bite.
Another Vietnamese dessert with the attendance of Mr.Pandan leaves.
The pandan leaves extract is mixed with rice flour for the green color. And the other part is the mixture of rice flour and ground mung beans.
Then the green layer will be sandwiched with the white layer of flour color up to 4 to 5 times while steaming to make a multi-layer cake.
You will learn how to make a steamed layer cake through this video:
It looks like a worm but it is not a worm. It is made of boiling rice flour.
The mild taste of worm-like jelly is enhanced by the superpower combo; sugar syrup and coconut milk.
The green color of this Vietnamese dessert is brought by the sponsor of Mr. Pandan leaves.
Oh dear, the banana boat is floating among the tapioca pearls. If you have tried this sweet Vietnamese dessert, you will find a brand new harbor for your banana boat.
Most of the time, unripened bananas are chosen for this sweet soup. During the cooking time, they will go tender and a bit tangy.
For a more funny bite, tapioca pearls are added to the coconut sugar sauce.
This fruit ice cream will rock your definition of ice cream.
It is a Vietnamese-made dessert with a combination of rolled bananas, coconut shredded, peanuts, and coconut milk. And that's it. Place the mixture into a freezer for a night,and you will have refreshing tropical ice cream.
I'm not gonna tell you that Mr.Pandan leaves have appeared in this sweet dessert.
To the world of ice cream, you cannot miss the favorable taste of Vietnamese coffee.
There is no wonder about the flavor of coffee ice cream. When the sweet and fatty come from coconut and condensed milk blend with the mesmerizing scent of coffee.
What a lovely panna cotta by the sandwiching of brown and white layers.
The brown one is taken from diluted black coffee while the white is a mixture of condensed milk and agar-agar.
For its taste, it is a mix of a Vietnamese milk coffee on the note of chocolate and a pudding texture.
There is no need for any combination. Vietnamese coffee only is an excellent dessert to end your meal.
Vietnam is the second largest coffee bean exporter in the world. This country will illustrate to you how they taste their coffee beans.
From classical black coffee to urban milk coffee, from egg coffee to coconut coffee, there are many coffee varieties for you to choose.
I beg you to say "Wao!!" for how Vietnamese coffee is made. Let's see this video:
Chewy-chewy, this is what you may think of a boba milk tea. But the thing is more than that.
Milk tea is a beautiful combination ever made between an elegant cup of tea with a "good night" milk.
While boba milk tea was invented in Taiwan, it is warmly embraced as a tasty dessert among Vietnamese young people.
Do you think it is a weird drink? Try it, and you will quickly fall in love with it.
You will find out why people line up for 4 hours just for this drink. You can see this video:
Does Your Sweet Tooth Crave Those Desserts?
Vietnamese desserts have an exceptional taste as well as a particular way to make them. Tasting those desserts is not only pleasing to your gustation but also helps you learn more about that country.
I hope that you will have an exciting experience when you enjoy your favorite.
If you have tried it, please share with me how you feel about it through the comment section. When you see that my food list is interesting, don't hesitate to share it with your friends.
Nutrition Facts
5 servings per container
---
Amount Per ServingCalories357
% Daily Value *
Total Fat 14.8g

23

%
Sodium 131mg

6

%
Potassium 595mg

17

%
Total Carbohydrate 57.5g

20

%

Dietary Fiber 4.9g

20

%
Sugars 23.3g

Protein 3.2g

7

%
---
* The % Daily Value tells you how much a nutrient in a serving of food contributes to a daily diet. 2,000 calories a day is used for general nutrition advice.