The best Vietnamese desserts have always attracted the attention of gourmets with a sweet tooth. Compared to Western sweets, Asian and Vietnamese, to be particular, have a more profound natural flavor.
Moreover, since these dishes often use fruits and other organic ingredients, you can enjoy them without worrying about your health. And with easy instructions, even a novice baker can successfully make these recipes below.
So, let's see what I have in store for you now!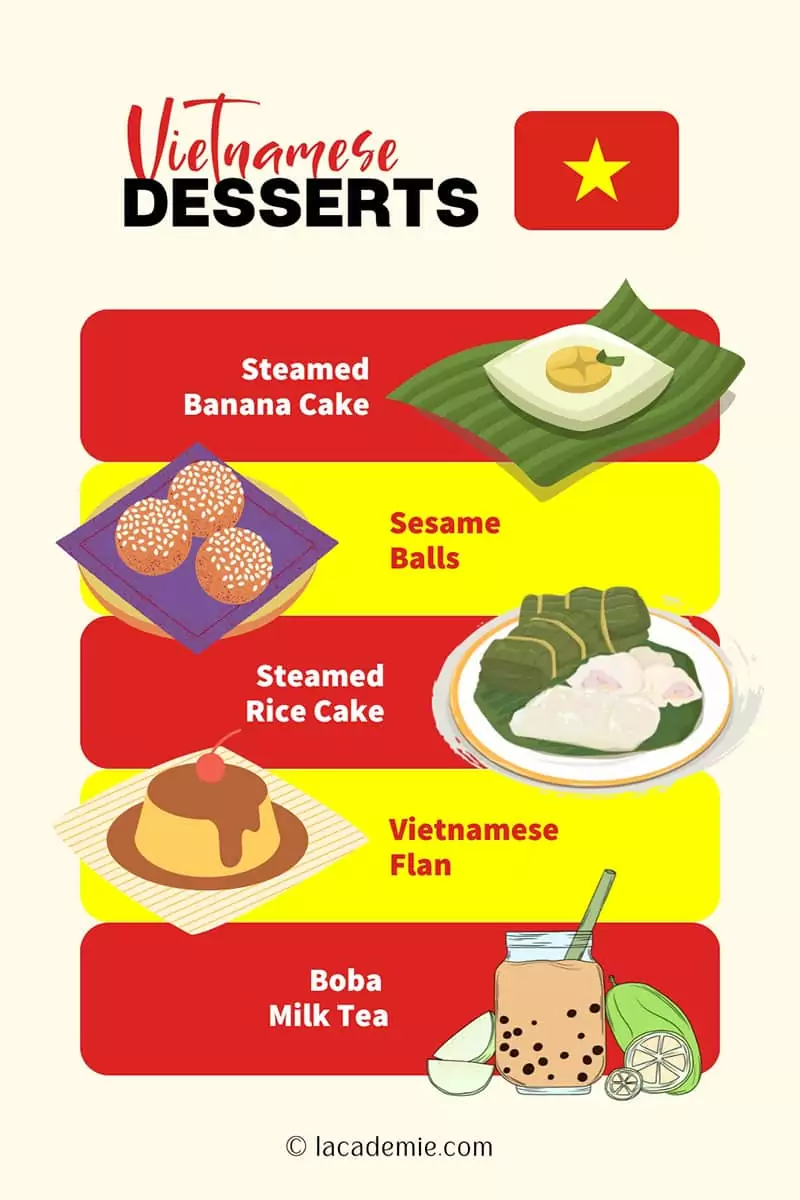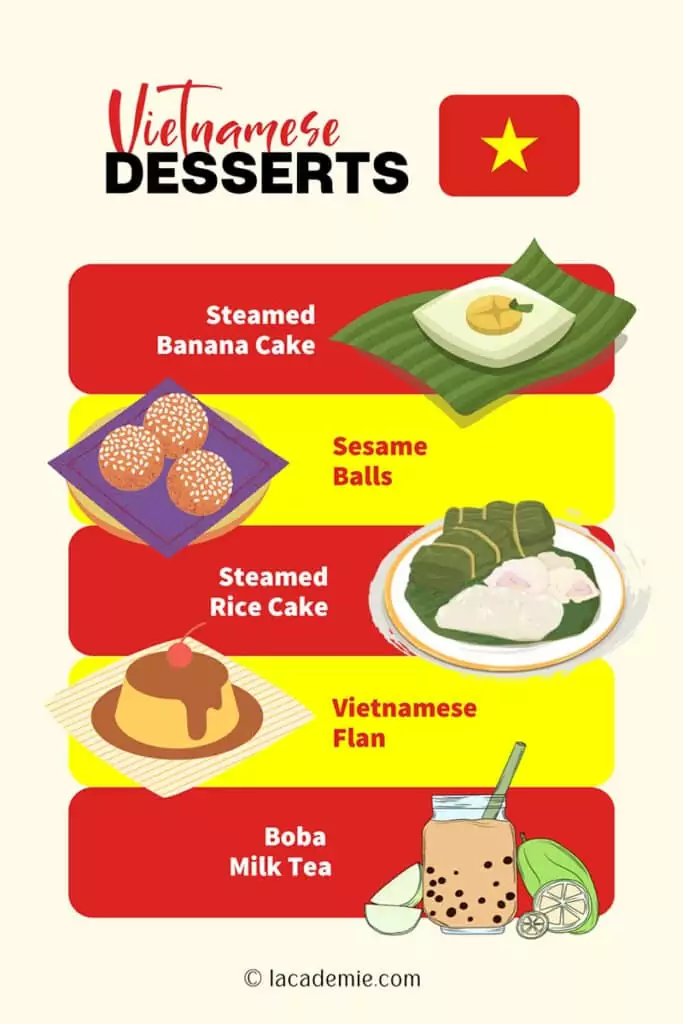 17 Best Desserts Enjoyed Throughout All Vietnamese Regions
In this part, I'll introduce all the desserts you can find in almost any Vietnamese region, from North to South. Follow me to find out why many people love them!
Total time: 8 hours 30 minutes (excluding refrigerating time)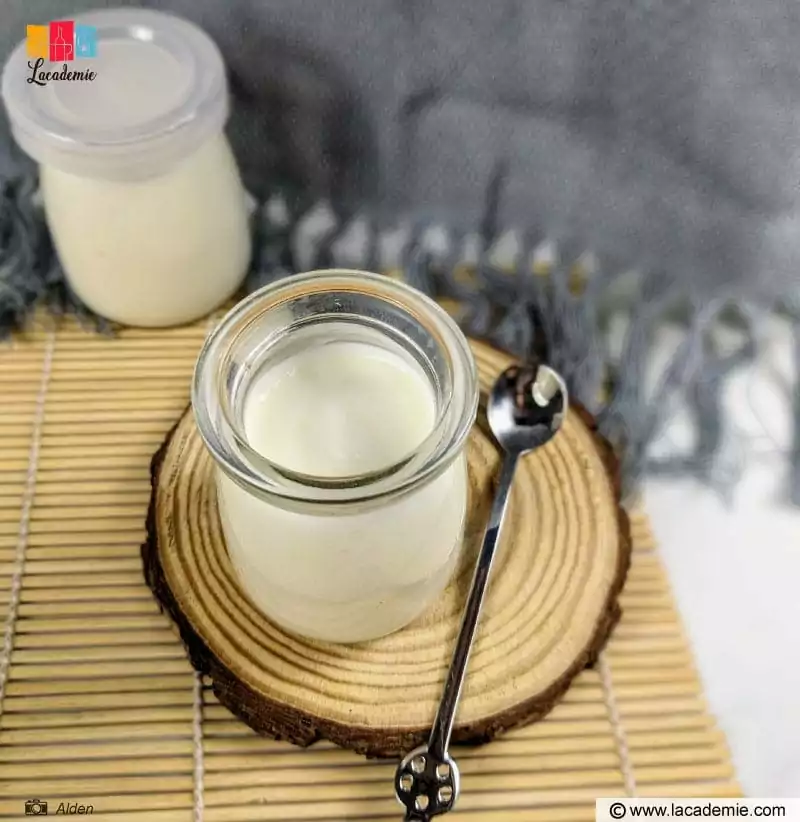 You may wonder what's special about this yogurt since America has thousands of yogurt varieties. The answer is that Vietnamese types don't use thickening agents like agar-agar, so they are smoother and more liquid.
As a result, Vietnamese people often eat yogurt with various fruits, nuts, or cereals. Besides a Vietnamese healthy treat, yogurt in Vietnam is a nice after-meal treat to clean your palate.
Making Vietnamese yogurt is not hard. You only need plain yogurt, fresh milk, and sweetened condensed milk. However, remember to sterilize all the necessary tools to ensure the best outcome.
Total time: 40 minutes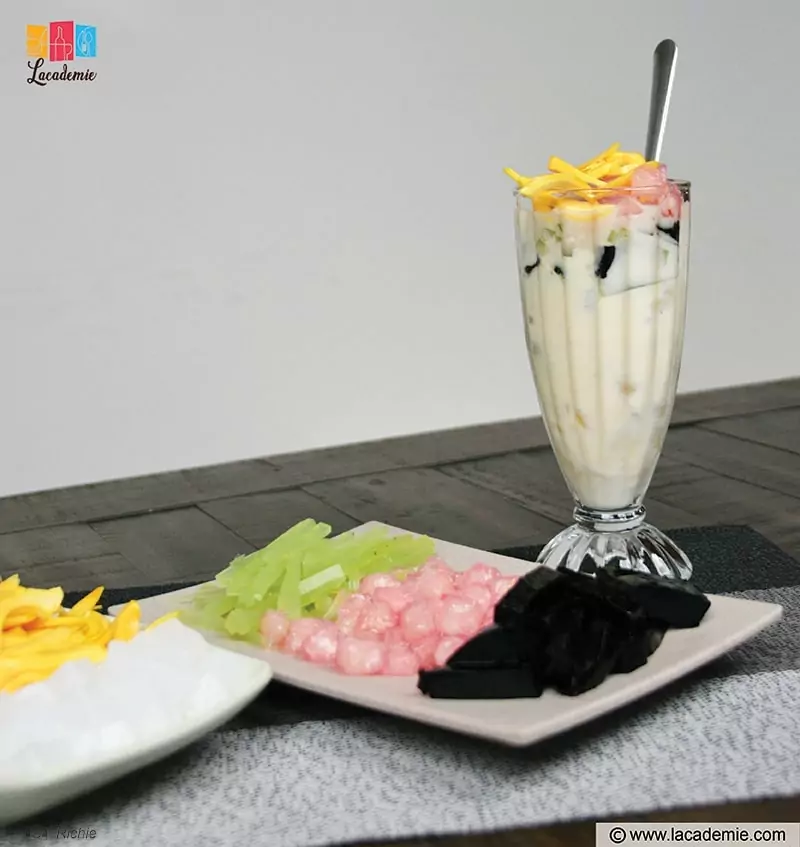 The term "fruit cocktail" in its name may be a bit misleading. But I assure you this treat doesn't contain any alcohol. In fact, "chè" refers to a unique soup in Vietnam. It's often thick and sweet, with different types of beans and coconut milk.
However, this chè Thái won't be too thick like its relatives and contains local fruits in Vietnam instead of beans, making it a perfect mid-day snack for children and adults.
Another bonus fact: You may have guessed it; this dessert is inspired by a Thai dessert named Tub Tim Krob. Unlike the Vietnamese version with various fruits, this Thai recipe contains only chestnuts.
Total time: 2 hours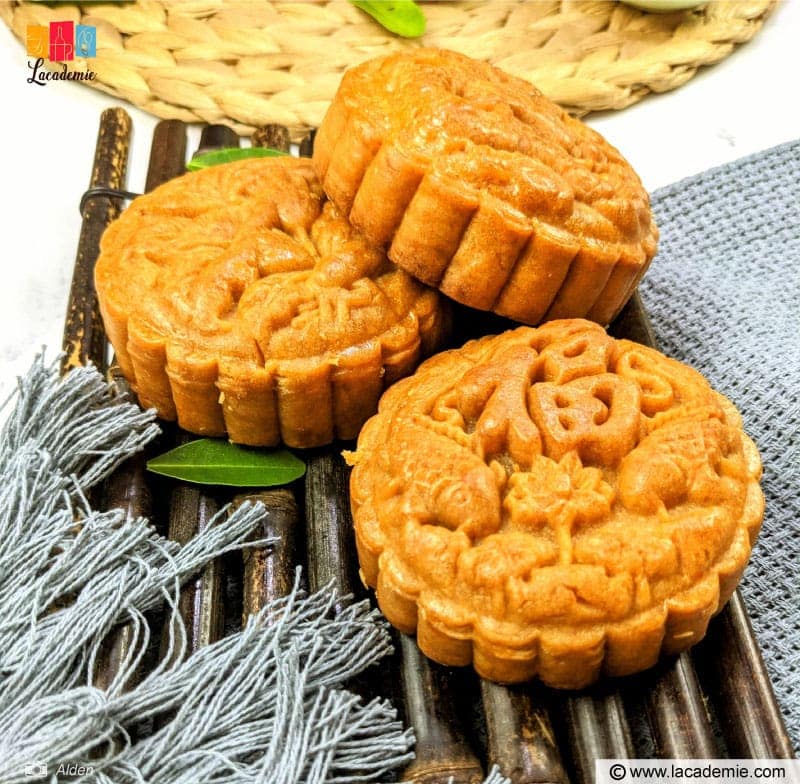 If you visit Vietnam in August or September, you can see numerous street vendors selling these mooncakes. They often present different fillings, from traditional ones like mung beans or lotus seed paste to unconventional ones such as matcha, watermelon seeds, etc.
The recipe I introduce focuses on a savory type containing salted egg yolks, Chinese sausage, chicken floss, and so on. Although this cake is savory, Vietnamese locals still enjoy it as a dessert with hot tea.
These mooncakes are a part of a significant Vietnamese festival, the Tết Trung Thu (mid-autumn festival). Besides eating them, children will take part in an activity called "rước đèn Trung Thu" (the lantern parade), involving lighting up lanterns and singing songs.
Total time: 15 minutes (excluding refrigerating time)
Vietnamese people love coffee so much that drinking alone is not enough. That's why they make this jelly to freely enjoy coffee anytime they want.
But this recipe also contains another coconut milk layer besides coffee so that the sweetness will balance the bitterness. You can even add other layers with pandan, strawberry, or ube (purple jam) flavor.
Since this jelly looks quite similar to the steamed layer cakes above, the making process is not so different. But instead of steaming each layer, you'll let it sit in the fridge for about 3-4 minutes.
Total time: 1 hour 15 minutes (excluding refrigerating time)
Yes, Vietnam has its own version of creme caramel! The cooking method is a bit different from the original dessert in France.
The caramel layer will be made first. Just boil your sugar with lemon juice and water until it melts and turns golden brown. Then, pour the melted sugar into a ramekin bowl.
Pour the egg custard on top and steam it in the water bath for 1 hour. And you get yourself a lovely dessert. Before steaming, remember to pop all bubbles on the pudding surface for the smoothest result.
How easy it is to make this Vietnamese creme caramel!
Total time: 40 minutes
This dessert may look plain, but you can't stop eating it once you've tried it. It is inspired by a Chinese sweet treat called "douhua", consisting of tofu curd/soybean curd and sweet ginger syrup.
This recipe is the basic way of making tofu pudding. From there, you can serve it in Northern and Southern Vietnamese ways. For example, in the Northern region, people eat this pudding chilled with various toppings, like jelly, aloe vera, etc.
Meanwhile, Southern people prefer eating it warm with fewer toppings. Either way, it still tastes delicious.
Total time: 1 hour 5 minutes
Regarding amazing rice dishes in Vietnamese cuisine, you can't miss "xôi" (sticky rice). While savory sticky rice is worth trying, don't forget this sweet variant.
To make sweet sticky rice, you need to cook rice with coconut milk. The amount of coconut milk will affect the rice's texture. If you want it soft, add a bit more milk. And add less for a harder consistency.
Also, you can include other natural ingredients to make this sticky rice more colorful. Yellow comes with saffron powder, while green is due to pandan paste. And the purple color is thanks to magenta leaves.
Total time: 15 minutes (excluding soaking time)
Many Vietnamese breakfast meals come with a glass of soy milk, hot or cold. You can also use it alongside other street foods like bánh tráng trộn (Vietnamese rice paper salad). Some even buy it to drink at home.
Regular soy milk is the standard version; you can add some sugar to increase the sweetness. Other well-liked types use pandan or peanut butter. And there are also commercial products for you to choose from.
Total time: 25 minutes
These fried bananas are much simpler than banana fritters in other countries. You just need to flatten ripe bananas and coat them with a basic batter made of rice flour, all-purpose flour, sugar, and salt.
Since they are that easy, you should spend some effort choosing appropriate bananas. My recommendation is the Siamese variety. But any baby bananas will work fine. Just make sure they are ripe and soft enough for this recipe.
Total time: 3 hours 15 minutes (excluding refrigerating time)
Every Asian country has its own version of grass jelly. And in Vietnam, it often appears in the familiar sweet soup "chè" alongside other jellies.
Some people may mistake it for white grass jelly since they both have the same texture. But the latter is made from tiliacora triandra, not Chinese mesona.
Aside from chè, you can try this grass jelly with sugar, soy milk, or coconut milk. It can lower body heat, thus a perfect sweet treat for summer.
These Vietnamese black grass jellies can go with any drink you have.
Total time: 1 hour 5 minutes
This cake's name means "pork skin" in Vietnamese, but it doesn't contain this ingredient. The reason is that its chewy texture and thin layers make people think of pork skin while eating.
This dessert mainly consists of 2 parts: mung bean and pandan layers. Both have coconut milk, tapioca starch, rice flour, and sugar as primary ingredients. The result is not so sweet, but rather plain, so it's suitable for people not into sweet cakes.
Making this treat requires some patience since you have to steam one layer before pouring another on top. Each layer will take about 5-7 minutes, so set your time before getting to the process.
Total time: 1 hour
These glutinous rice balls are a must-have treat in Vietnam when winter comes since the sweet ginger syrup can immediately warm you up. They have both sweet and savory types, and the recipe here is the former with a mung bean filling.
Follow the instructions correctly, and you'll have a bowl of piping-hot rice balls. Right from the first bite, you'll feel the chewy texture of the rice cover. Then, the sweet and smooth mung bean paste inside will satisfy your taste buds.
This delicious dish is indispensable in any Tết (Vietnamese Lunar New Year) meal. Make some thịt kho tàu (Vietnamese caramelized pork belly) and chả giò (Vietnamese egg rolls) for a complete feast.
Total time: 1 hour 15 minutes
Since mung beans appear in almost every dish on this list, why not make a sweet soup with them? This delicacy was once a China-originated recipe, but Vietnamese people have turned it into their own specialty.
While the Chinese variant is a bit complicated with mandarin skin, coconut meat, lotus seeds, etc., the Vietnamese version is much simpler. In some places, people make it with mung beans and sugar only.
The amount of sugar depends on how sweet you want your dish. So, you can still enjoy this soup if you don't favor sweet desserts.
Total time: 35 minutes
This recipe is another cake from Vietnam. From the outlook, you may mistake it for the previous option. But it's completely different, with a lighter and fluffier texture. The flavor is also sweeter.
While there are numerous choices to go with this cake, for me, nothing is better than strawberry sauce. Its sweet-and-sour taste perfectly balances the sweet cake.
Instead of baking a whole big cake, you can use the muffin tray for several smaller portions. This way, anyone can grab one and eat as they like.
Total time: 45 minutes (excluding the dough rising time)
When you want some changes from the usual donuts, let's make this unique hollow type! Despite not having filling or glaze, these donuts can easily charm people with their nutty flavor and crispy texture.
However, making this dish is a bit time-consuming since you have to let the dough rise. Otherwise, the donuts won't puff up when frying.
Ensure you eat them immediately because the fresh batch will taste the best. When they cool down, these donuts will turn a bit oily. Also, prepare some coffee to enjoy with these treats for an authentic Vietnamese experience.
Make this bánh tiêu for your next snack time!
Total time: 5 minutes
Do you know that avocado wasn't a native Vietnamese fruit? The French brought it to Vietnam during their colonization. Since then, it has become a well-loved drink among commoners.
Making sinh tố bơ is super easy. Just ripe avocado, sweetened condensed milk, regular milk, and ice are enough. From there, you can add more components if desired. The result is so thick that you can scoop it with a spoon and eat it like a sweet food.
17. Nước Mía (Vietnamese Sugarcane Juice)
Total time: 20 minutes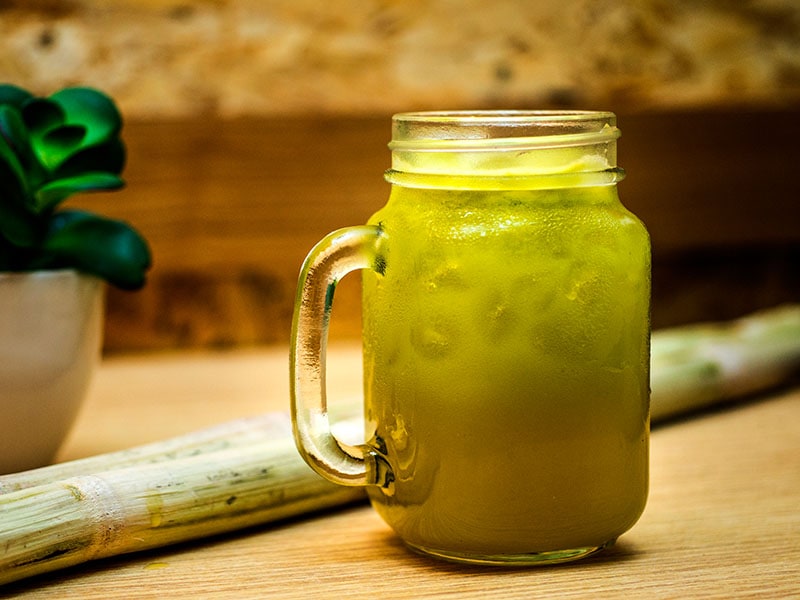 Nước mía has appeared in Vietnam for decades and has become a favorite treat for both children and adults. Since it doesn't cost much, its appearance is quite simple. The sellers usually just pour the juice into a disposable plastic bag or cup filled with ice.
You can drink sugarcane juice as it is, but the taste of sugarcane juice can be slightly oversweet with some people. So, street vendors often squeeze kumquats or add salted lime to balance the flavor. A new version with durian also became a hot hit recently.
Total time: 20 minutes
Although it shares the same green color as sugarcane juice, this drink is totally different. First, it doesn't taste sweet. Pennywort juice is more on the grassy side with a hint of bitterness.
But the most significant reason to drink this beverage is its health benefits. It can cool your body, reduce stress, and enhance skin quality. If it's too bitter to drink, feel free to add some sweeteners like sugar syrup.
12 Signature Desserts From North Vietnam
Starting from the North, you'll see different sweet treats that reflect the culture of the local people here. Since this area has both hot and cold periods, the desserts are pretty diverse.
Total time: 15 minutes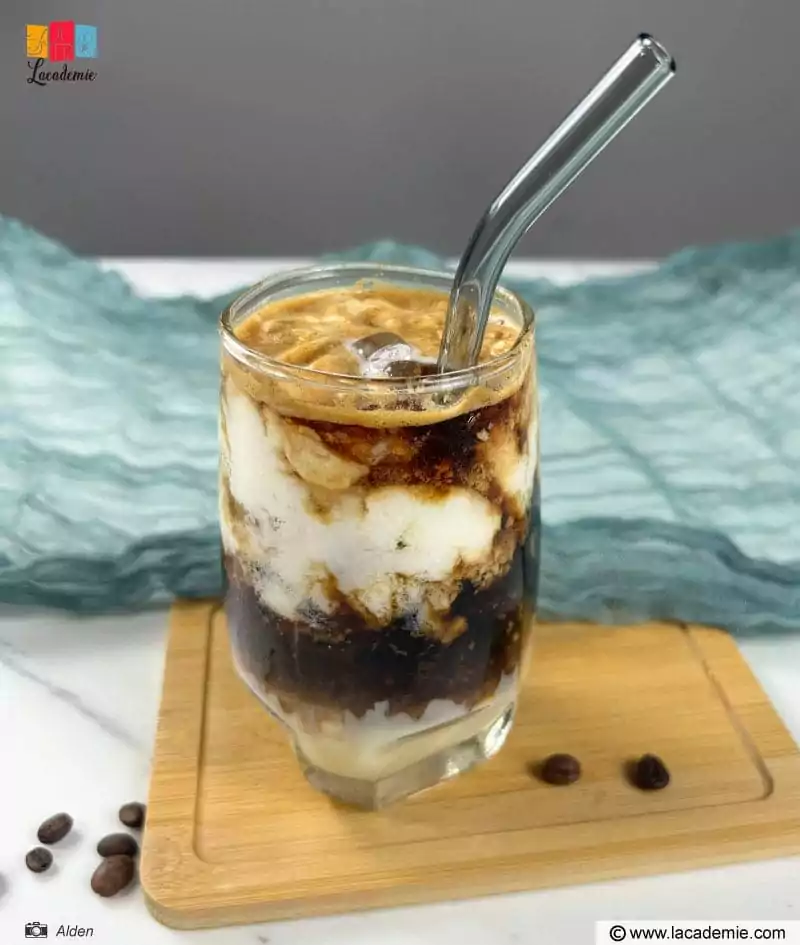 This is an updated version of the previous yogurt recipe. When you have completed your yogurt, you can switch to making this treat. Aside from yogurt, it needs robusta coffee and condensed milk. Too simple, right?
You'll need to brew the coffee first. Then, layer it with the other two ingredients and shaved ice. When eating, use a spoon to mix these layers together. The creamy yogurt, sweetened condensed milk, and bitter coffee go really well with each other.
If you want a smoothie-like recipe, pulse yogurt with condensed milk and shaved ice in a blender until smooth. Next, pour coffee over the mixture, and you have a cold drink perfect for summer.
Total time: 20 minutes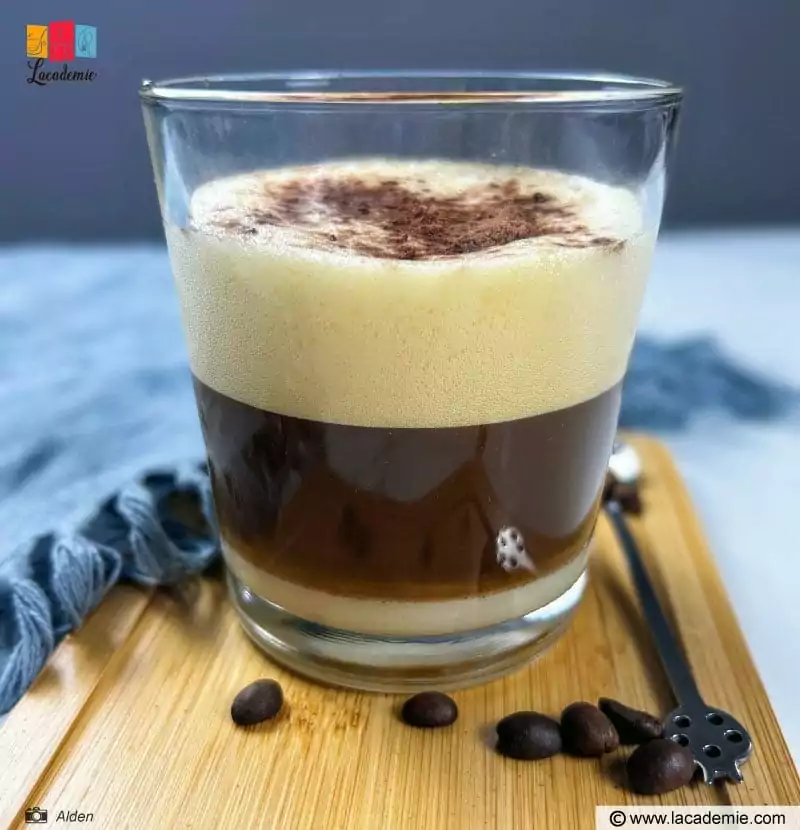 Making coffee with eggs sounds bizarre, but this recipe is a must-try street specialty in Vietnam. Unlike other coffee with all ingredients mixed before serving, this beverage has two separate layers.
The first one is egg yolks whipped with honey and sugar, and the other is espresso. Some places will add another condensed milk layer for customers who want a sweeter drink.
As for the coffee, I recommend using robusta coffee since it's more robust and has more caffeine than the arabica type. When drinking it, you can mix it a bit, so the sweet egg layer will balance the bitter coffee.
Total time: 50 minutes
Vietnam has many "chè" dishes, and here comes another well-loved dish in the Northern region, especially when winter comes.
While different stores will have their own recipe, the main ingredient remains corn. Some places will add thickened coconut milk glaze to increase the sweetness.
Besides corn kernels and coconut milk, you can add pandan leaves to the corn stock for more Asian flavors. If your area doesn't have this ingredient, switch it with pandan extract. However, it can turn your pudding green, so consider this fact before using it.
Total time: 15 minutes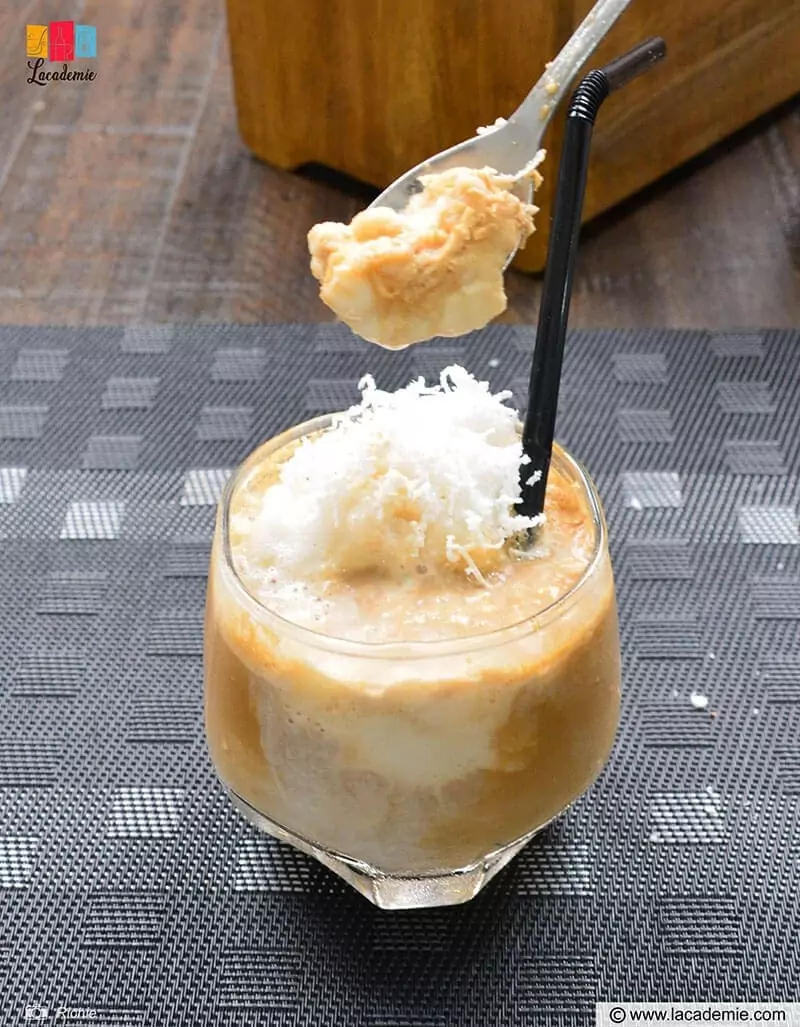 If egg coffee is a specialty that has appeared for a long time, this coconut coffee is the iconic Vietnamese drink in modern times. It has two layers like egg coffee, but the coffee will go in last. And instead of mixing egg yolk with condensed milk, you'll use coconut cream.
The coconut layer is lighter than the egg, but it still blends perfectly with bitter coffee. A plus point for this drink is you can enjoy it both hot and cold, unlike egg coffee which is only possible when served hot.
Total time: 2 hours 30 minutes
Even some Vietnamese people don't understand this cake's name. The reason is that it looks like a fiddler's egg, hence the name. Bánh cáy usually goes with green tea on important events since this drink can balance the cake's sweet and slightly spicy flavor.
The preparation can take quite some time, but it is still pretty simple. You just need to prepare the necessary ingredients (sticky rice, sugar, mandarin peel, lard, etc.), mix and ground them into a well-combined mixture. Then, press it into a square mold.
Total time: 2 hours (excluding soaking time)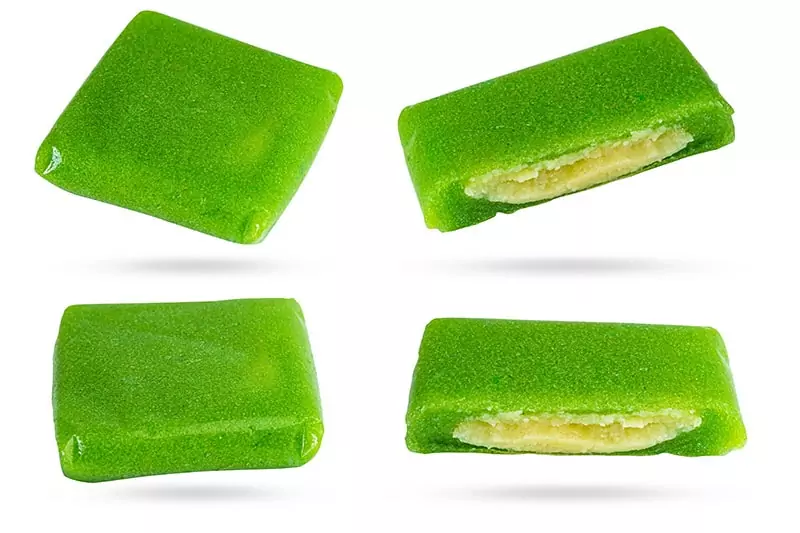 Cốm is a specialty in Northern Vietnam whenever autumn comes. During that time, you'll see numerous street vendors selling cốm and its products, including this cake. Besides being a lovely snack, this cake is also an indispensable part of the Northern wedding ceremony.
Bánh cốm was originally a seasonal treat. However, nowadays, with modern drying technology, you can easily find it all year round. Take one bite and feel the unique chewy texture of cốm and the sweetness of mung bean filling.
Total time: 1 hour 30 minutes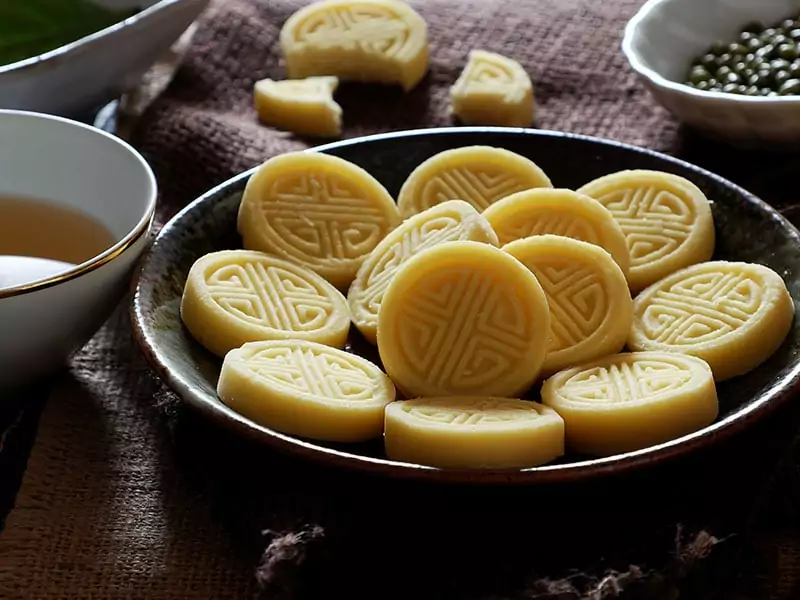 If you want to experience mung beans' flavor to the fullest, opt for this cake. Made with nothing but mung beans, sugar, oil, and a bit of fat, bánh đậu xanh delivers a beautiful sweetness and smoothness while gently melting in your mouth.
The best way to enjoy this cake is by eating it with a cup of bitter tea to counterpart its overwhelming sweetness. This is also how Vietnamese people offer their hospitality to their guests.
Total time: 1 hour 35 minutes
Bánh phu thê is a traditional layer cake made with mung bean paste and coconut milk, creating a sweet and creamy flavor with a smooth texture. It's a perfect treat for those following gluten-free and vegan-friendly diets.
The delicate and elegant appearance of bánh phu thê makes it a popular choice for weddings and special occasions. In Vietnam, It is often served as a dessert during wedding receptions as a symbol of happiness and sweet life for the couple.
These colorful Vietnamese husband and wife cakes are not difficult to master!
Total time: 1 hour 50 minutes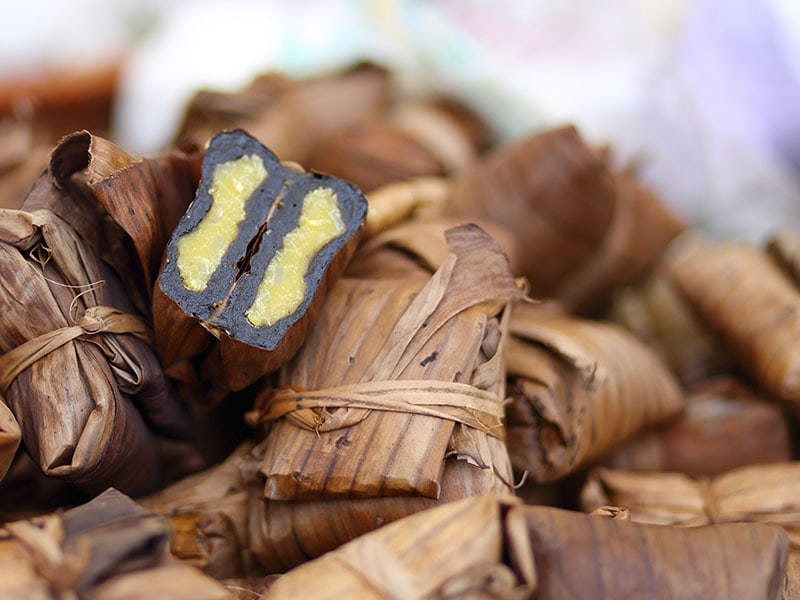 Bánh gai holds some similarities with the previous bánh cốm, as both are some kinds of dumplings with mung bean filling. But instead of cốm, this treat uses ramie leaves mixed with sticky rice flour.
That explains its dark-colored cover, which strikingly opposes the bright yellow shade of the filling. This dumpling often appears on festivals and holidays since it represents permanence, faithfulness, and solidarity.
Total time: 3 hours 15 minutes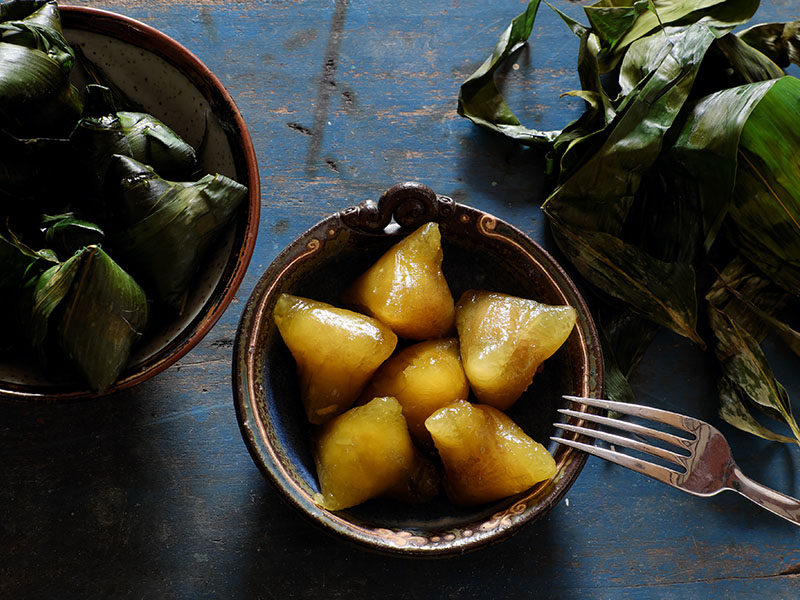 Among all the sweet treats on this list, I think bánh tro has the strangest preparation process. You need to soak the sticky rice in ash water before using it. The ash should be fresh from the burnt coal and remain fine and soft.
If you are worried about food safety, you can switch to water mixed with baking soda or lime powder. However, that will result in the color changing a bit. You should also pay close attention to the soaking time, as soaking for too long will ruin the rice's flavor.
29. Bánh Nhãn (Vietnamese Longan Wafer)
Total time: 30 minutes (excluding dough resting time)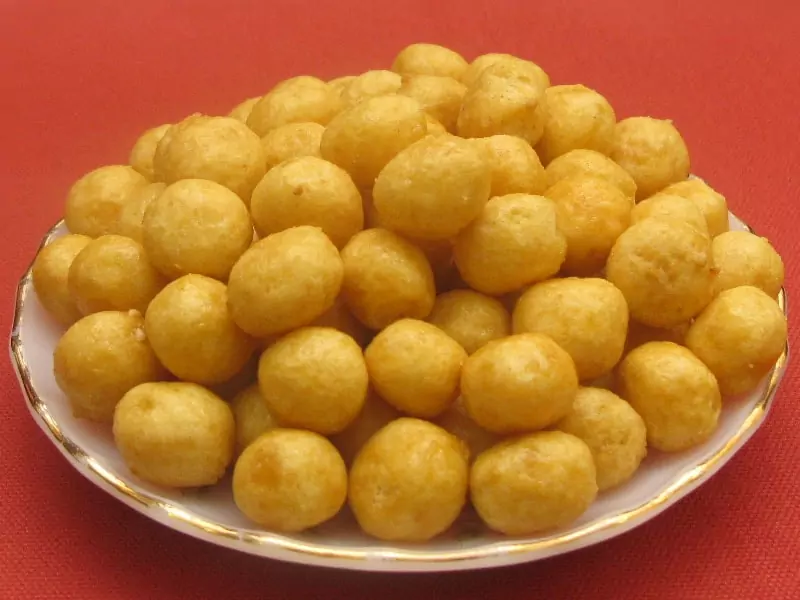 This sweet snack gains its name due to its longan-like appearance in both size and color. In its birthplace (Nam Định, a Northern city), people make it with ground sticky rice. But in some places, the locals use ordinary rice for these wafers.
But both versions will be mixed with caramelized sugar after deep frying for a sweet cover. Some will sprinkle a few sesame seeds over them. To preserve these wafers, you should store them somewhere away from wind and direct sunlight.
Total time: 30 minutes (excluding soaking time)
Cơm rượu is a traditional dessert from Vietnam believed to have originated in the Northern regions. The dish is made by cooking glutinous rice with rice wine, which gives it a unique sweet and savory flavor.
The rice wine adds a rich and complex taste to the dish, making it a popular choice for special occasions and celebrations. The dessert is typically served as a sweet treat after a meal, with fruit or other desserts.
15 South Vietnamese Desserts For Your Next Sweet Party
If you love desserts using tropical fruits, this section will be the right choice for you! It includes various sweet treats with different textures and flavors that will never bore you.
Total time: 45 minutes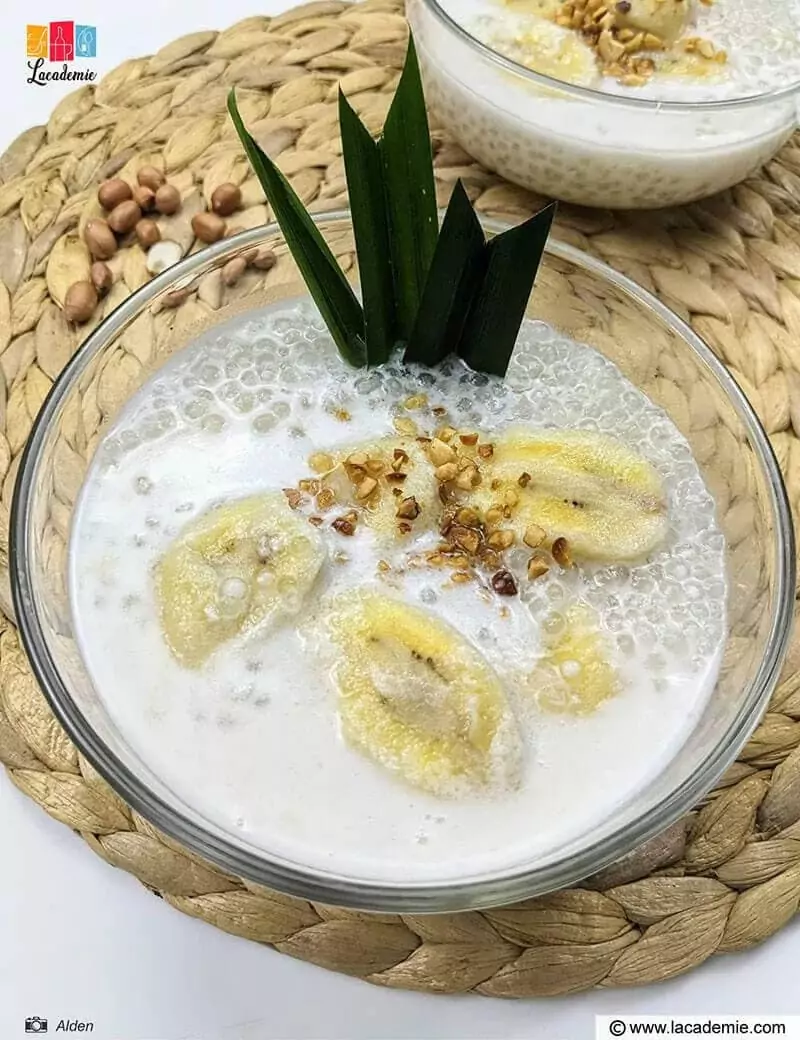 As a tropical country, Vietnam doesn't lack sweet treats made with bananas, and this dessert is one of the most well-loved dishes. Since it tastes good when hot or chilled, it makes a lovely dish in both winter and summer.
Aside from ripe bananas, you'll find other ingredients in this treat: tapioca pearls, mango slices, sesame seeds, coconut milk, etc. Of course, you can add or switch them with other components to satisfy your preferences.
Total time: 1 hour 15 minutes
Make this dessert at your next party, and all your guests will love its colorful appearance! These colors come from the pandan extract and red food coloring, not to mention different fruits (jackfruit, longan, etc.).
After coating the diced water chestnuts with two colors, your dish will look like it has various pomegranate seeds inside. Combined with aloe vera jelly, mung bean paste, and coconut sauce, this dish is perfect for summer.
One more thing, since this recipe uses sugar syrup, add some shaved ice when serving to dilute the intense sweetness.
Total time: 15 minutes
Are you tired of the same old waffles for breakfast? Let's make this pandan version! If possible, make pandan extract from fresh leaves. This way, the flavor will be fresher and more robust.
To make the fresh extract, blend the leaves with water until no large chunks are available. Then, strain the mixture through a sieve mesh to get a smooth result. However, you can use artificial ones to reduce the preparation time.
When you get the pandan extract, the rest resembles regular waffles. The result will be slightly thicker but still retains the same chewy and crispy texture.
Total time: 55 minutes (excluding the soaking time)
You may have guessed how this dessert looks from its name. That's right! This recipe has three main layers with three different colors: red from red beans, yellow from mung beans, and green from pandan jelly.
Apart from them, you'll get some coconut sauce and shaved ice on top for more flavors and textures. And don't worry if this dessert is too sweet. You can easily adjust the sugar and coconut sauce amount to suit your preferences.
This dessert can last for 1 week in the fridge. But I suggest preparing components beforehand and only combining them before serving to retain the best outcome.
Total time: 1 hour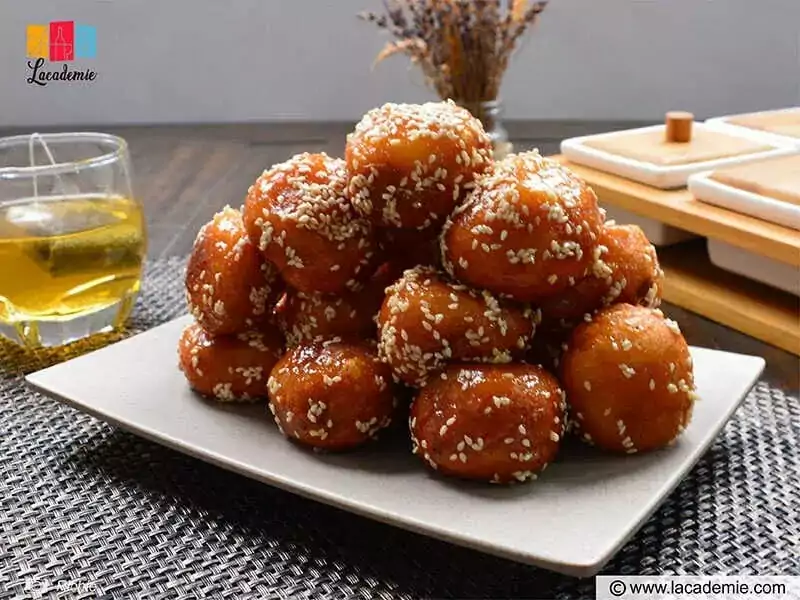 Here comes one of the most popular treats in Vietnam! You can easily see Vietnamese people eating it while walking. These sesame balls are so filling that many consider them a convenient way to regain energy.
Like bánh da lợn (steamed layer cake), this recipe's native name refers to its appearance. Since it looks like a small orange, people call it "bánh cam" (orange balls).
This recipe calls for mung beans for filling, but you can make the paste with red beans or lotus seeds for a nice change. Even if it's a Vietnamese treat, you can serve it with other dim sum dishes as an after-meal dish.
Total time: 1 hour
While it's called "honeycomb cake", this dessert doesn't contain honey. The reason is that it looks like a honeycomb when you slice this cake open.
This dish's prominent flavor and color source lie in the pandan extract from fresh leaves. Or you can use a mixture of coconut and pandan flavoring to get both flavors at the same time.
Since Vietnamese honeycomb cake doesn't use much sugar, it's not oversweet, thus suitable for everyone. And its spongy texture makes it impossible to stop eating this cake.
Total time: 1 hour 40 minutes
This cake resembles the honeycomb cake above in many aspects, except it's steamed, not baked. Also, instead of just green, it has more colors. You may ask why, but more colors mean more fun, right?
To make it easier, I use all food colorings in this recipe, including pink, green, and yellow. You can use either the drop or gel type. It doesn't make much difference in the end.
Along with the pretty appearance, this cake's flavor is also top-notch, with the airy texture and light sweetness from the coconut milk. And make sure to choose a full-fat product, so the flavor is more profound.
Total time: 30 minutes (excluding freezing time)
A dessert list can't be complete without some ice cream, right? And this banana ice cream isn't similar to anything you have seen before. You need to flatten the ripe bananas, then layer them with the coconut cream mixture and toasted peanuts before freezing.
The result is super creamy and fruity, with a bit of crunchiness from the nuts. And since it mainly uses fruits and nuts, this treat is super nutritious for your health.
For the best result, I recommend using pisang awak, a short Siamese banana variety. This variant makes your ice cream firmer and smoother. However, you can still opt for other types. But stay away from unripe bananas to avoid sourness.
This Vietnamese banana and coconut ice cream is unlike anything you've seen before.
Total time: 1 hour 30 minutes (excluding soaking time)
There are many theories about chè bà ba's name. Some say that's because it's a creation of a woman named Third. Meanwhile, some acclaim this name is due to it being the third snack made by an old lady.
Also, since "bà ba" in Vietnam also refers to a type of clothes, others think that name means "a dessert soup sold by people wearing bà ba". No matter how you interpret its name, this recipe is still a charming sweet with various toppings in a coconut milk-based soup.
Total time: 1 hour 30 minutes
This layered pastry is everywhere in Southern Vietnam, especially in Hồ Chí Minh City. It's considered the Southern version of mooncakes. How about making it at home so you can eat it anytime you want?
Like other Vietnamese desserts, its main ingredient is mung beans. Other ingredients can be pork fat, salted egg, and durian like the original one. But if you aren't used to Vietnamese and Asian cuisine, you can skip any component.
The making process is fairly easy. Just make the dough and use it to cover the mung bean paste. Then, bake it for several minutes. Finally, refrigerate the cakes for a couple of days before using them.
Total time: 45 minutes (excluding soaking time)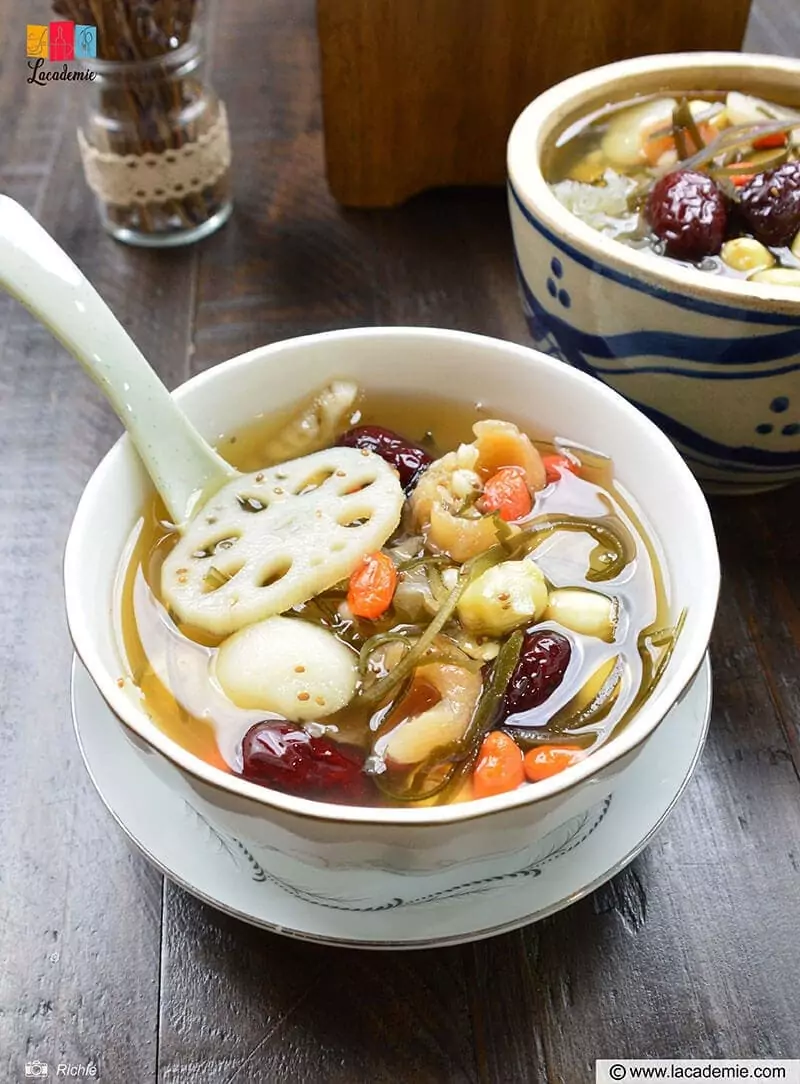 Here is another bizarre drink using seaweed. But the result is a refreshing sweet treat suitable for all summer days. Moreover, it also brings tremendous health benefits through its herbal ingredients: red jujubes, longans, lotus seeds, etc.
The original version in China is a cold soup. But when it arrived in Vietnam, people changed it into a drink by adding shaved ice, making it easier to digest. You can cook this drink in advance and refrigerate it until use.
Total time: 1 hour 30 minutes (excluding soaking time)
You may wonder how to make a sweet treat from cassava. Here is an answer from Vietnam for you, with the addition of sugar, coconut milk, and a little salt. You can make it by baking or steaming. The results' crispiness may differ slightly, but they're all tasty.
To earn a perfect chewy texture, make sure to mix the mashed cassava thoroughly. Add some tapioca starch to increase the chewiness. Moreover, adjust the amount of sugar and coconut milk based on your palate.
Total time: 2 hours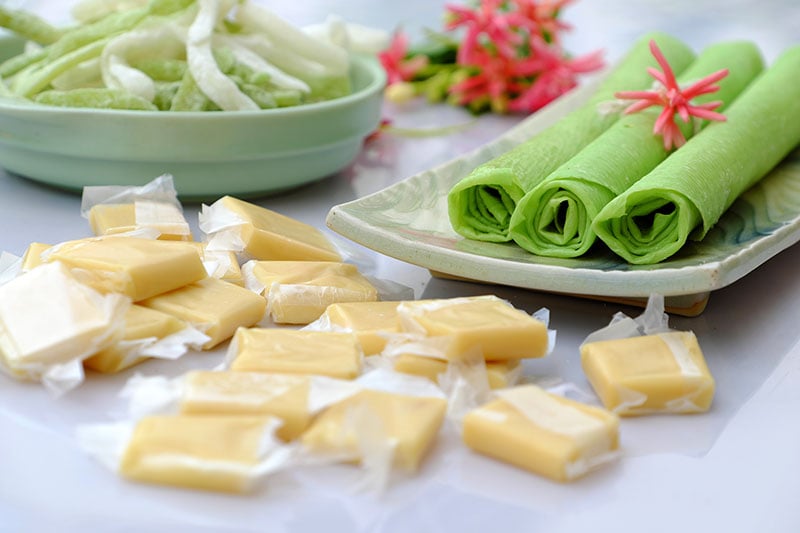 When discussing Vietnamese coconut candies, you must try them in Bến Tre (a Southern province) since this region is named the " land of coconut". Due to the high-quality coconut being grown, the candies there have the tastiest flavor.
Nowadays, besides grated coconut flesh and coconut milk, local people also add other ingredients to diversify the flavor, such as toasted peanuts, durian, or pandan leaves. One interesting fact about these candies is that the inner rice paper wrapping is edible.
Total time: 10 minutes
Adding eggs to drink seems like a strange concept, but it works amazingly in this case. As its name indicates, this recipe requires egg yolk and club soda. Other components can include sweetened condensed milk and other spices to your liking.
Thanks to whipping egg yolk with condensed milk, this drink has a custard-like texture, making it look more like a dessert than a simple sweet beverage. If you're afraid of food safety, you can choose pasteurized eggs for this treat.
Total time: 1 hour 20 minutes
This cake's sweet flavor and aroma will immediately lure your family to the table! And the making process can't be any easier. Just mix ripe bananas with rice flour, coconut milk, shredded young coconut, and other ingredients for the batter.
Then, you can choose two different ways to make bánh chuối. First, bake it in the oven until golden brown and crispy. Or steam it for a healthier result.
Total time: 40 minutes
Don't get scared of its name; this dessert has no worm! It has this name because the pandan jellies look like small worms. To make these jellies, you'll need a large slotted spoon or a colander. Depending on your tools, the jellies' size will vary slightly.
These jellies are a part of the chè ba màu (three-color dessert) above. But on their own, they still make a delicious dish.
Since pandan jellies have little to no flavor, it's best to serve them with sugar syrup and coconut milk. You can eat it at room temperature or add some shaved ice on top.
Its name can be scary, but this pandan worm-like jelly dessert has an adorable look!
Total time: 45 minutes (excluding refrigerating time)
Bánh đúc is an all-time favorite snack of Vietnamese people, with 2 different styles in North and South regions. The savory Northern version is somewhat more popular, but the other is also a must-try.
The Southern bánh đúc looks a bit similar to jelly in both texture and appearance since it contains gelatin. It often goes with sweetened coconut milk and some sesame seeds sprinkled on top.
2 Must-Try Desserts In Central Vietnam
Although the number of sweet recipes in this part is slightly inferior to the previous categories, there is no doubt about their quality.
Total time: 50 minutes
Chè hạt sen long nhãn represent the delicate aspect of Central Vietnamese cuisine. When pouring this soup into a bowl, it looks like an art masterpiece with white jasmine flowers floating. That's how local people infuse the flowers' sweet fragrance into this recipe.
However, if you can't find fresh flowers, you can use vanilla extract to replace the aroma and faint sweetness. Traditionally, making this sweet soup takes quite long because you have to remove the green germs from the lotus seeds, one by one.
Total time: 30 minutes (excluding soaking time)
Vietnamese cuisine never lacks distinctive sweet treats, and bánh in is one of them. To explain its strange name, it goes all the way back to the 1800s, when the local people in Huế (the ex-capital) used a specially designed mold to make this cake for the king.
Nowadays, they still keep the traditional method but use various molds with different shapes to meet public demands. Then, the cake is wrapped in colorful nylon paper to enhance its charm.
Total time: 35 minutes (excluding cooling time)
If Southern Vietnam has coconut candy, this sesame one represents the Central area. Although this candy looks hard to bite, it's actually chewy, with a bit of crunchiness that can make you eat it nonstop all day.
However, for the locals, eating this candy in one bite is a big no-no. You should enjoy it elegantly by taking a small bite at a time and sipping hot tea in between. An excellent snack to share with your friends!
Vietnamese Desserts – Perfect For Tired Days
Since they're tasty and easy to make, you can easily perfect these desserts even during busy times. And their flavor will immediately ease your mind and eliminate your stress. You know what people say, nothing's better than a bite of sweets when you're down.
And if you have any trouble making these sweets, share them with me in the comment box, and I'll reply as soon as possible. Feel free to spread this article to your family and friends so they can try this unique cuisine.
Nutrition Facts
20 servings per container
---
Amount Per ServingCalories113
% Daily Value *
Total Fat 3.8g

5

%
Cholesterol 16mg

6

%
Sodium 63mg

3

%
Potassium 113mg

4

%
Total Carbohydrate 15.7g

5

%
Protein 4.2g

8

%
---
Calcium

149

%
Vitamin D

20

%
* The % Daily Value tells you how much a nutrient in a serving of food contributes to a daily diet. 2,000 calories a day is used for general nutrition advice.