Vietnamese pork and prawn clear noodle soup, or "Hủ Tiếu Nam Vang," as the locals call it, is a fusion dish of Cambodian, Chinese, and Vietnamese cuisines. It is light yet flavorful and filling, thanks to the addition of meat and seafood.
It is one of the most well-loved street foods in Saigon, with countless vendors selling it everywhere. If you've tried Pho, an iconic Northern Vietnam dish, and were mesmerized by the rich and aromatic broth, I'm sure this wonderful treat from the South of Vietnam will captivate you as well.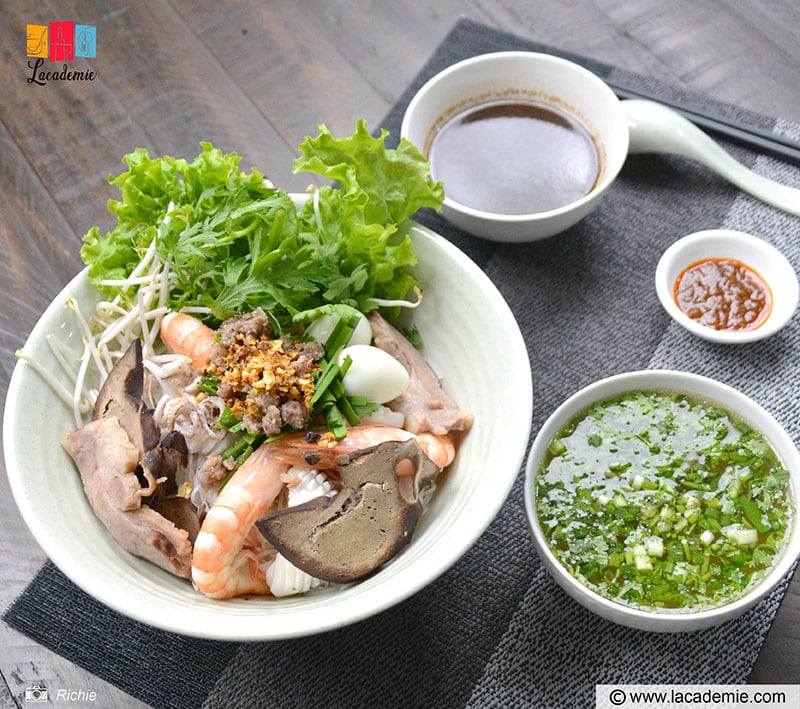 First, Let's Learn More About Hu Tieu Nam Vang
While Hu Tieu Nam Vang is famous in Vietnam, it originated in Phnom Penh, the capital of Cambodia. More interestingly, the Chinese living in Cambodia were actually the ones who created it. In the Khmer language, the dish is called Kuay Tiew.
Traditionally, the Cambodian cook the broth using pig intestine and ground meat, then serve it with a type of semi-transparent noodles made from tapioca starch. When Kuay Tiev came to Vietnam, the locals adapted the original recipe to their taste and started replacing the pork entrails with pork bones, seafood, etc.
In general, you can find pork slices, seafood, such as prawn and squid, boiled quail eggs, pork liver, pork heart, and ground pork in a serving of Vietnamese Hu Tieu Nam Vang. There is also a regional version of this dish called Hu Tieu My Tho, which includes more seafood.
Tools
You might be surprised by the simplicity of the required tools for this recipe. All of them are basic kitchenware that everyone has.
Pots: For cooking the seafood and making the broth.
Pan: For frying the dry shrimp and stir-frying the ground pork.
Tongs: Help you transfer the ingredients in and out of the pot.
Wooden spoon/Ladle/Slotted spoon: For spooning the broth and handling the ingredients in general.
Knives: You should use 2 knives, one for cutting raw ingredients and the other for cutting cooked ones, to ensure food safety.
Chopping boards: Likewise, it's more hygienic to have 2 chopping boards.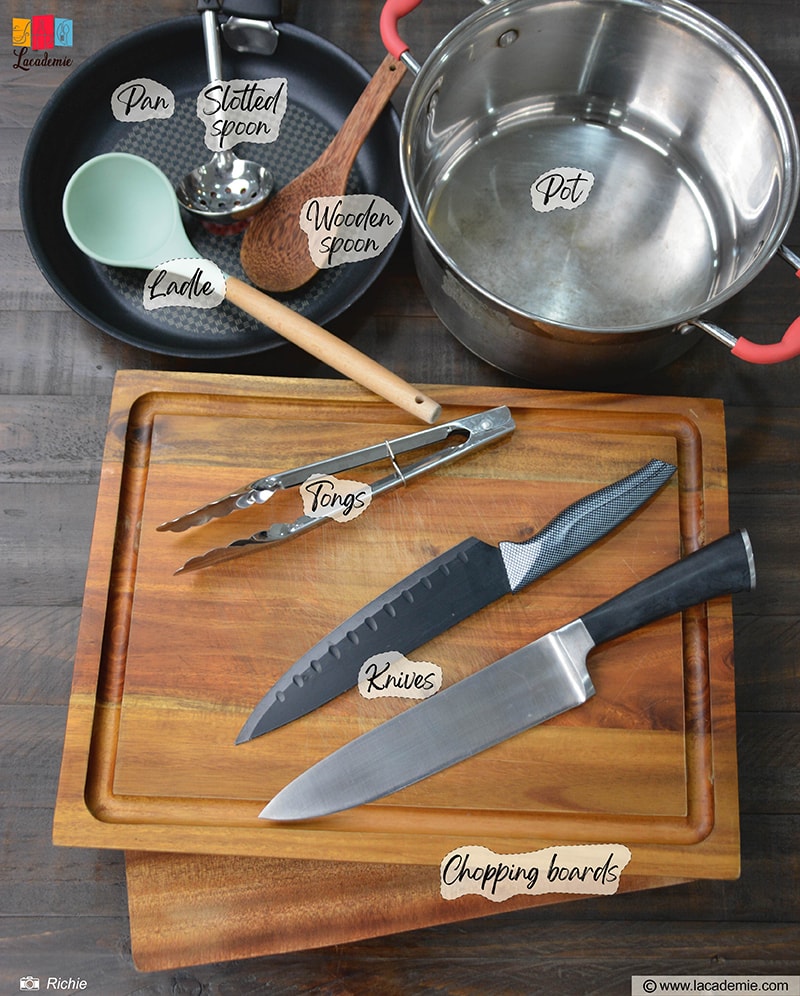 Ingredients
There are 3 main groups of ingredients in this recipe. The first group contains the main protein and root vegetables. The second one is for the vegetables, and the last one is for the necessary spices and condiments.
Main Ingredients
Pork bones: You can also use pork hams, which results in a richer and fattier broth. However, pork bones are quicker to cook.
Pork shoulder blade: Meaty, tender, and full of flavor, this cut is the perfect choice for Hu Tieu.
Pork liver and heart: Great alternatives for the pig intestine in the original Cambodian recipe.
Ground pork: An irreplaceable part of pretty much any Hu Tieu noodles recipe.
Seafood: Fresh squid and prawns
Dried shrimp: Add more flavor to the broth.
Boiled quail eggs: These little eggs are a must-have in a bowl of Hu Tieu Nam Vang.
Onion, jicama, carrot, ginger: Root vegetables that make the broth more flavorful.
Shallot and garlic: Improve the dish's overall aroma.
White radish (daikon) and pickled radish: They taste great and have a nice texture when cooked.
Hu Tieu noodles: You can find them at Vietnamese or Asian grocery stores/markets.
Vegetables:
Crown daisy, lettuce, bean sprouts: For serving fresh with the noodles.
Scallions, cilantro, chives, leek: For cooking the broth and meat.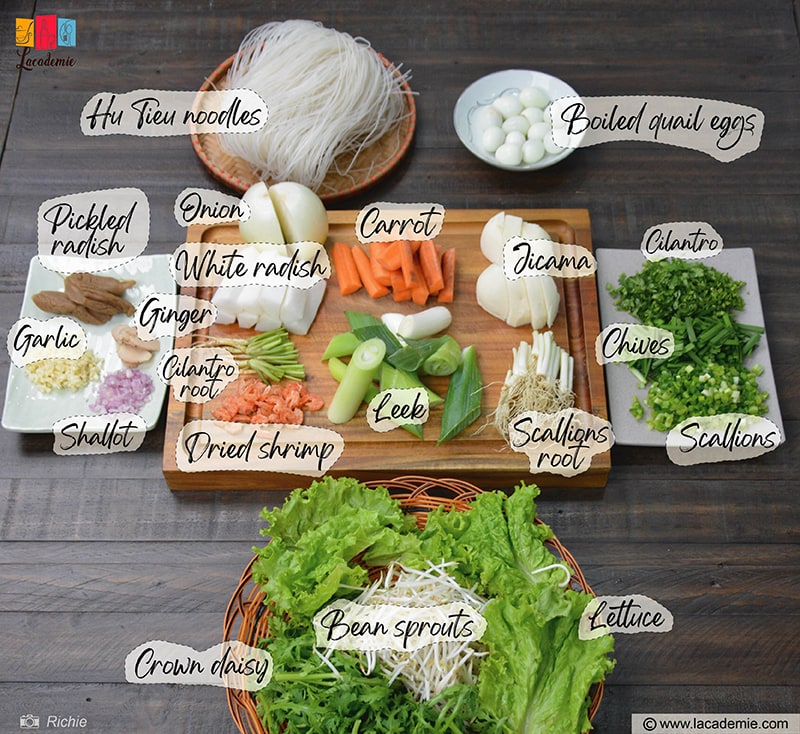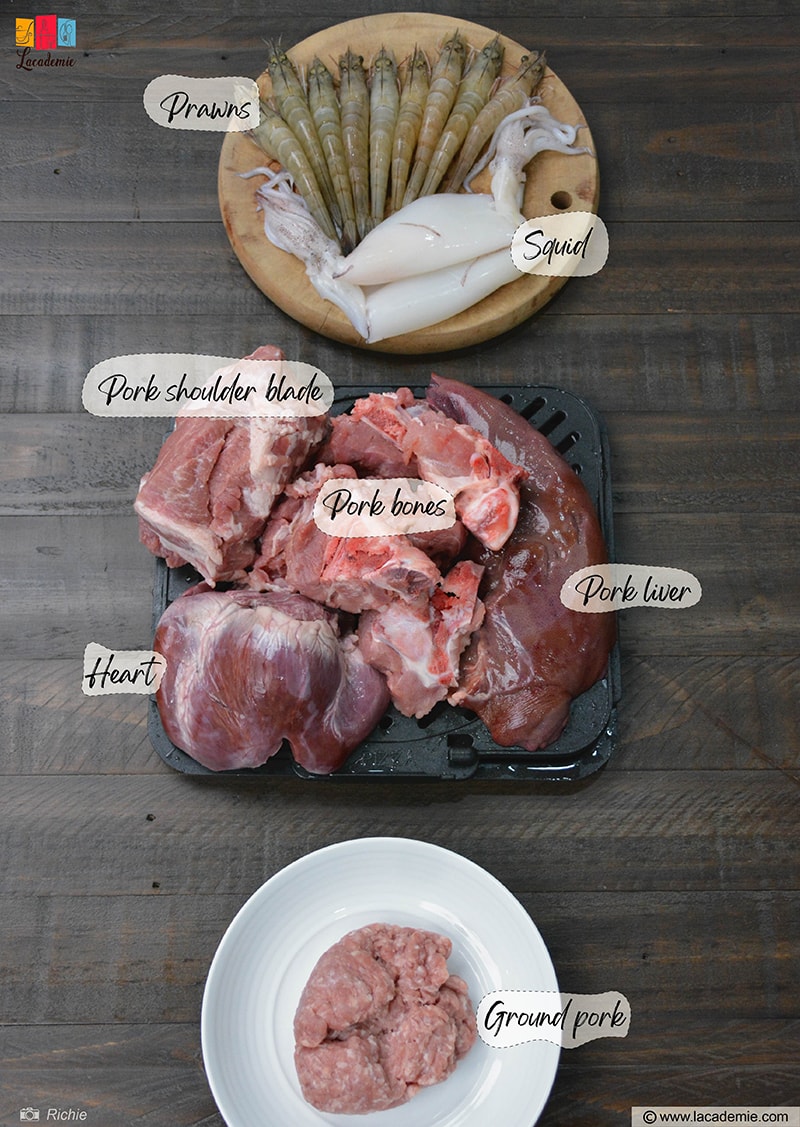 Spices:
Rock sugar, brown sugar, dark soy sauce, soy sauce, soup powder, salt, oyster sauce, and pepper: Must-have condiments for many Asian recipes.
Mei Kuei Lu cooking wine: Rose-scented wine from Chinese cuisine with a unique flowery aroma and sweet taste.
Cooking oil: For stir-frying the meat and blanching the noodles.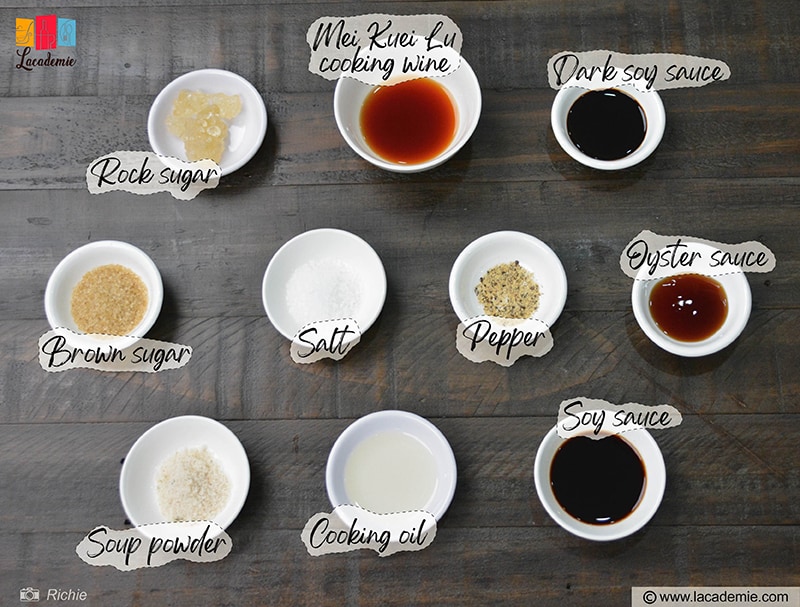 Directions
Here are the detailed instructions for making Vietnamese pork and prawn clear noodle soup at home. Follow these steps to create a delightful meal for your loved ones!
Step 1: Clean The Ingredients
Clean the prawns' heads and devein them. This step is essential if you want to add the prawns' boiling water to the broth. Otherwise, feel free to skip it.
Rinse the squid, pork bones, shoulder blade, liver, heart, and vegetables thoroughly.
Rise the noodles quickly and leave them to dry.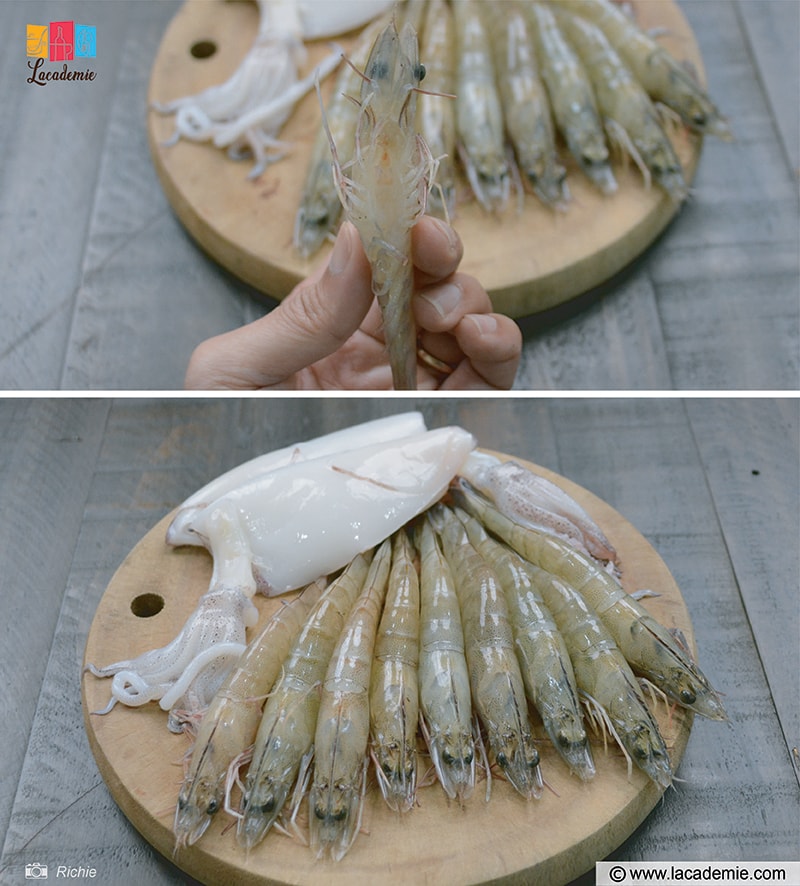 Step 2: Prepare The Ingredients
Mince the shallots and garlic, keeping them separated. Divide the minced shallots into 2 even portions.
Finely chop the scallions and cilantro, keeping the roots.
Cut the pickled radish, white radish, carrot, leek, chives, and jicama into pieces. Then, rinse the jicama pieces to prevent them from clouding the broth.
Slice the ginger and cut the onion in half.
Marinate the ground pork with 1 teaspoon of soup powder and 1 teaspoon of pepper.
Finally, score the squid by making criss-cross patterns on the sides. Then, slice it to create a more appealing shape.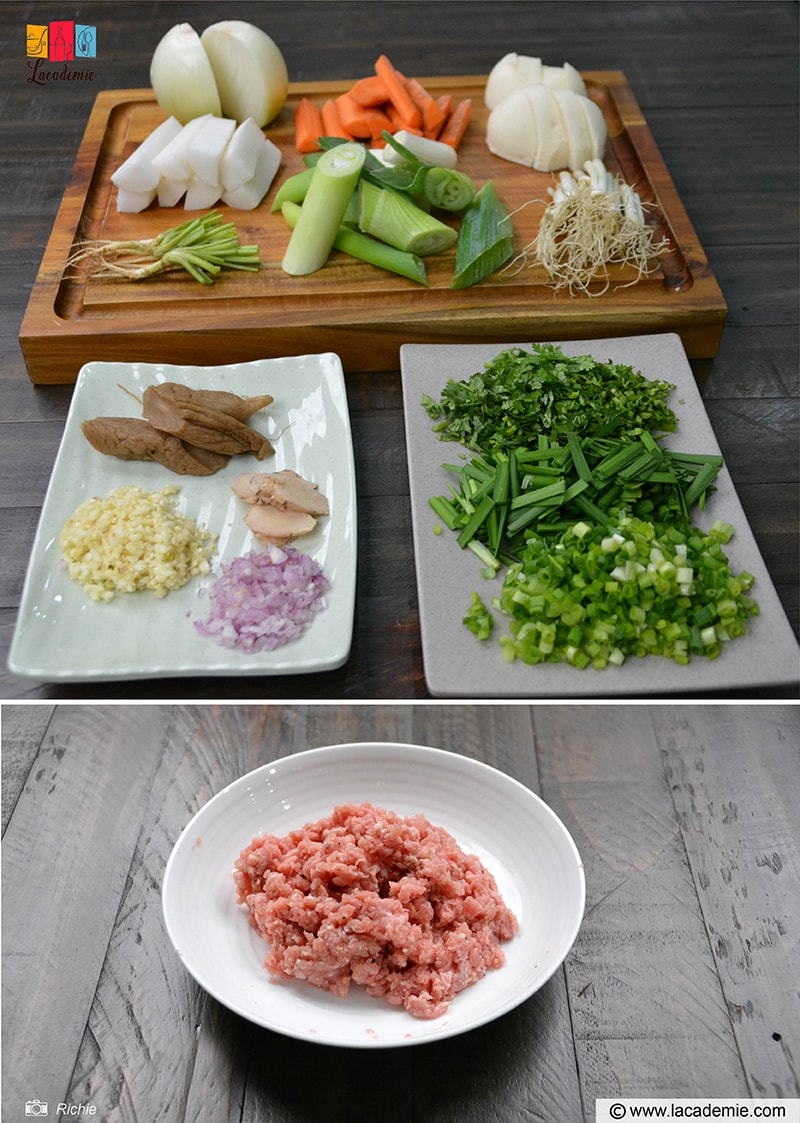 Step 3: Make The Broth
Add water to a pot along with some scallion roots, scallions, and ginger slices. Bring the water to a boil and use it to blanch the pork liver, heart, shoulder blade, and bones for 2 to 3 minutes.
Transfer the blanched ingredients into cold water and clean them to remove any debris and odor. Don't skip this step. as it ensures that your broth is clear and fragrant.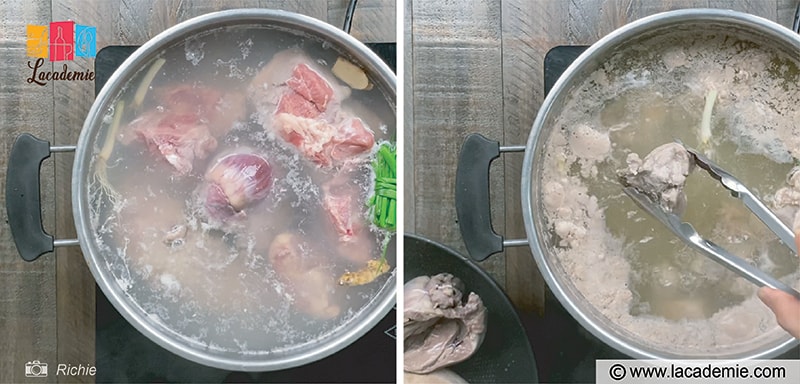 Pour about 1 quart of water into another pot together with a couple of scallion roots, ginger slices, and half an onion to cook the prawns and squid. Cook them for 5 minutes over medium heat, skimming the water. Once done, transfer them into a cold water bath to improve their crispiness.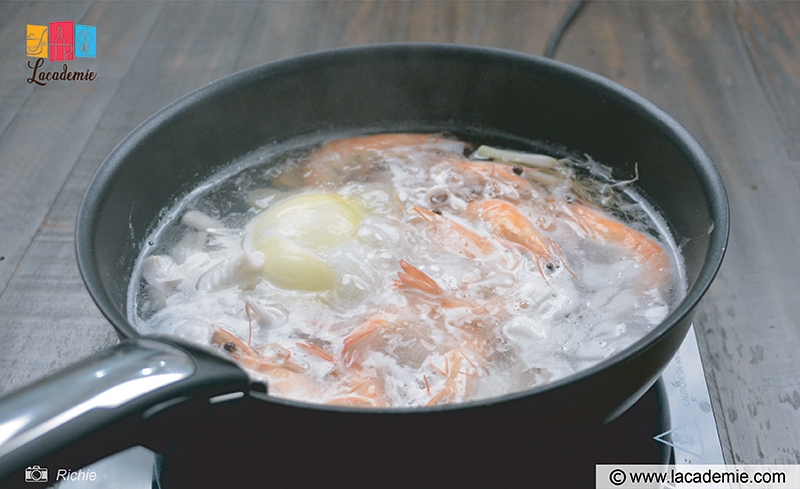 Add the dry shrimp into a pan and fry them for 3 to 5 minutes or until fragrant.
Pour about 3.5 quarts of water into a large pot. Add the pork bones, shoulder blade, liver, and heart, along with half an onion, white radish, pickled radish, jicama, carrot, scallion roots, cilantro roots, leek, and fried dry shrimp to the pot.
Stew for 1 hour to 1 hour 30 minutes over low heat. After 30 minutes, transfer the pork liver and heart to cold water. Remember to skim the broth frequently.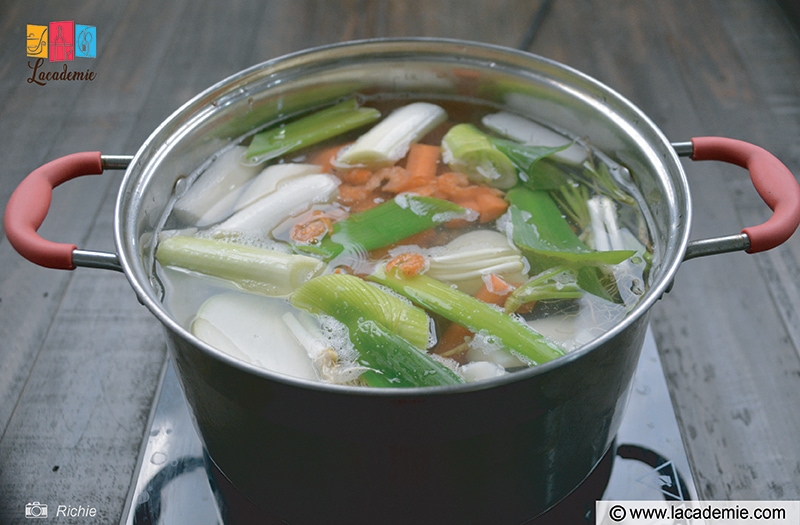 Step 4: Stir Fry The Ground Pork
Add the minced garlic to a heated pan and fry until fragrant or turning golden brown. Set aside.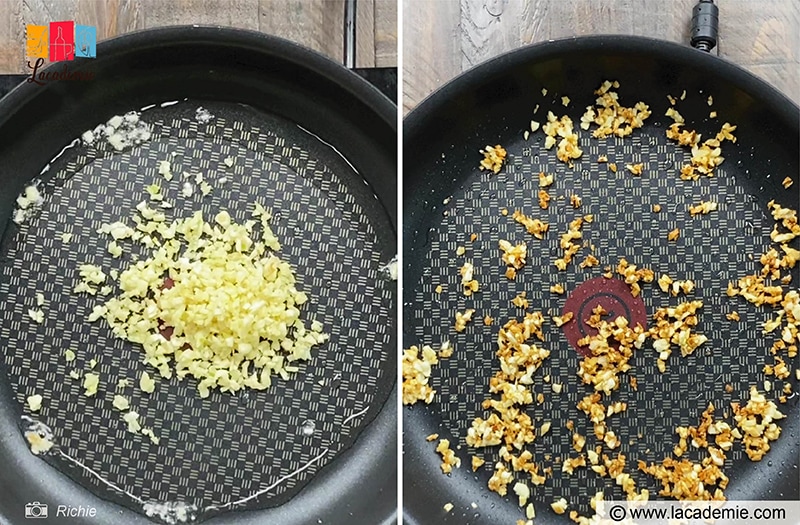 Add cooking oil and half of the minced shallots to the same pan and stir until fragrant. Add the ground pork and stir-fry it for about 5 minutes, then pour in 1 small bowl of pork broth or water.
As the meat is already well-marinated, you don't need to season it any further. Simply add the chopped scallions and continue cooking until well done.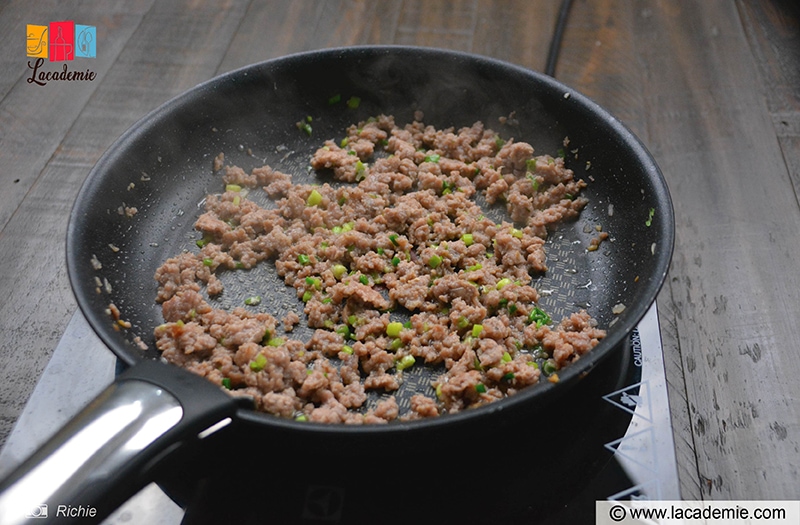 Step 5: Make The Sauce
Add cooking oil to a heated pan. Stir in the remaining minced shallots and cook until fragrant. Then, pour in 1 bowl of water (or pork broth), 1 teaspoon soup powder, 2 teaspoons oyster sauce, 5 teaspoons dark soy sauce, 5 teaspoons soy sauce, 1 teaspoon brown sugar, and 5 teaspoons Mei Kuei Lu cooking wine.
Stir to combine for about 2 to 3 minutes, and the sauce is ready!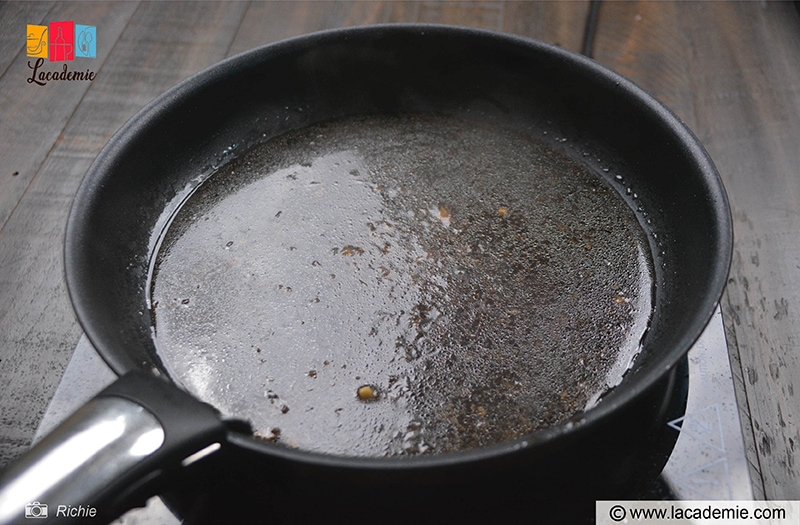 Step 6: Finish The Dish
After 1 hour and 30 minutes of stewing, pour in the prawns' boiling water and remove all ingredients from the stock pot.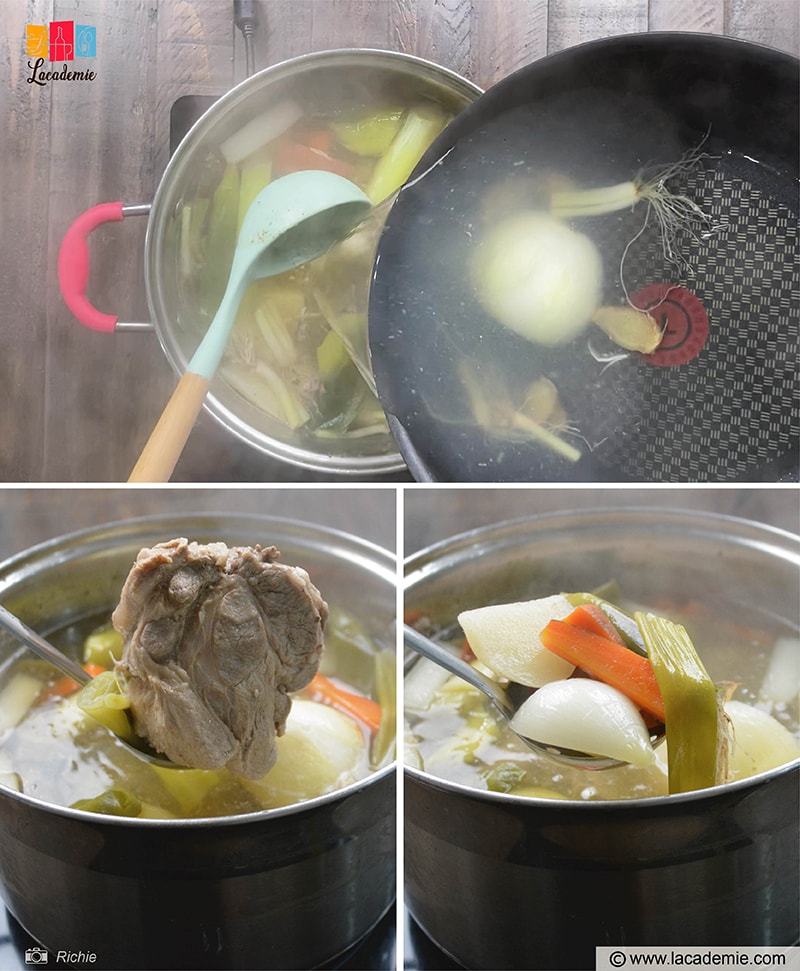 Season the broth with 4 tablespoons of rock sugar, 3 teaspoons of soup powder, 3 teaspoons of brown sugar, and 5 teaspoons of salt.
Peel the prawns, keeping their heads. Slice the pork shoulder, liver, and heart into bite-sized pieces.
Blanch the Hu Tieu noodles with boiled water and a little cooking oil for 30 to 40 seconds to prevent them from clumping.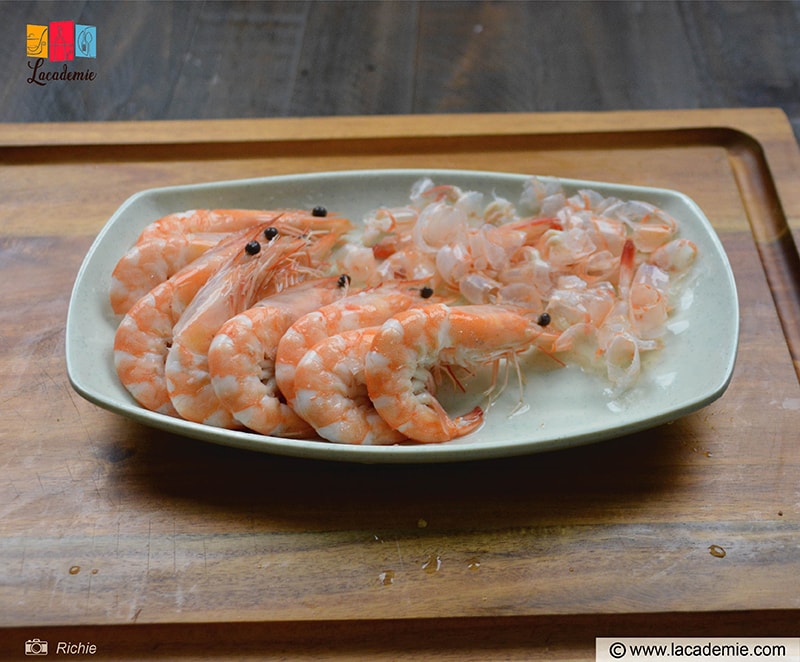 Step 7: Arrange The Dish
Place the crown daisy, bean sprout, and lettuce in a corner next to the noodles. Arrange the prawns, squid, pork shoulder, heart, and liver on top of the noodles. Finish with a sprinkle of chives, ground pork, and fried garlic.
You can drizzle the sauce over the noodles and serve it dry with a bowl of broth on the side or pour the broth onto the noodles. The dish will taste great either way!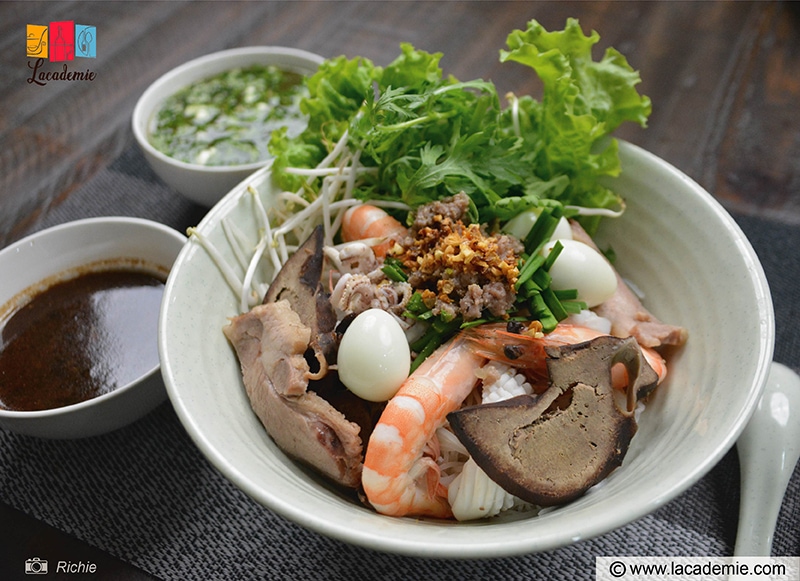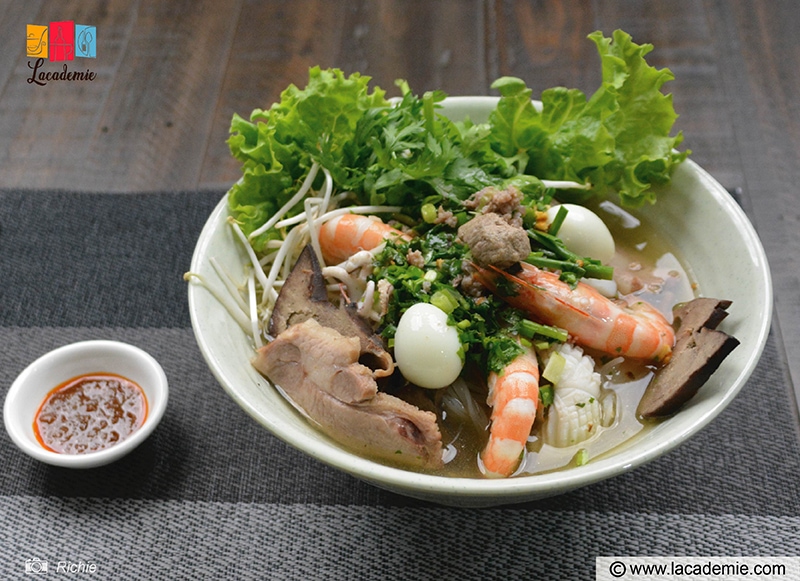 Extra Tips For A More Delicious Dish
The tips in this section will help elevate your Hu Tieu Nam Vang and provide you with some viable alternative ingredients.
For a spicier dish, try adding chili sauce or Shacha sauce to the noodles.
You can adjust the seasonings as you like and taste-test the broth along the cooking process.
If you can't find Hu Tieu noodles, Pho noodles and egg noodles are acceptable choices.
I prefer hard-boiled quail eggs, but you can also enjoy soft-boiled ones.
Store the broth and noodles separately in a fridge. They will stay good for about 3 days. Remember to let the broth cool to room temperature first.
Hu Tieu Nam Vang – A Must-Try Vietnamese Dish
Unlike some other Vietnamese delicacies that might have a rather overwhelming taste, Hu Tieu Nam Vang is very crowd-pleasing. Better yet, you can enjoy this dish for breakfast, lunch, and even dinner. There's literally no wrong time for a bowl of hot Hu Tieu noodles soup!
How do you feel about this Southern Vietnam treat? Have you tried it before? Drop some comments below to share your thoughts with me. Besides, don't forget to share this post with other people. Thank you for reading, and I'll see you next time with more delicious dishes!
Nutrition Facts
10 servings per container
---
Amount Per ServingCalories751
% Daily Value *
Total Fat 20.6g

31

%
Cholesterol 1260mg

420

%
Sodium 4660mg

195

%
Potassium 560mg

16

%
Total Carbohydrate 47.7g

16

%

Dietary Fiber 5.7g

20

%
Sugars 15.3g

Protein 96.6g

192

%
---
* The % Daily Value tells you how much a nutrient in a serving of food contributes to a daily diet. 2,000 calories a day is used for general nutrition advice.