Is "how to clean fresh crab?" a question that you've been struggling to find an answer to? Indeed, preparing a whole live crab can be an intimidating task for a lot of people. More importantly, you can hurt yourself if you handle crab incorrectly.
But worry not! Today's post will solve all your troubles regarding cleaning crab. I'll keep the instructions as simple and detailed as possible so that everyone can follow them with ease. After reading, I'm sure you'll be able to prepare and cook crab like a true professional.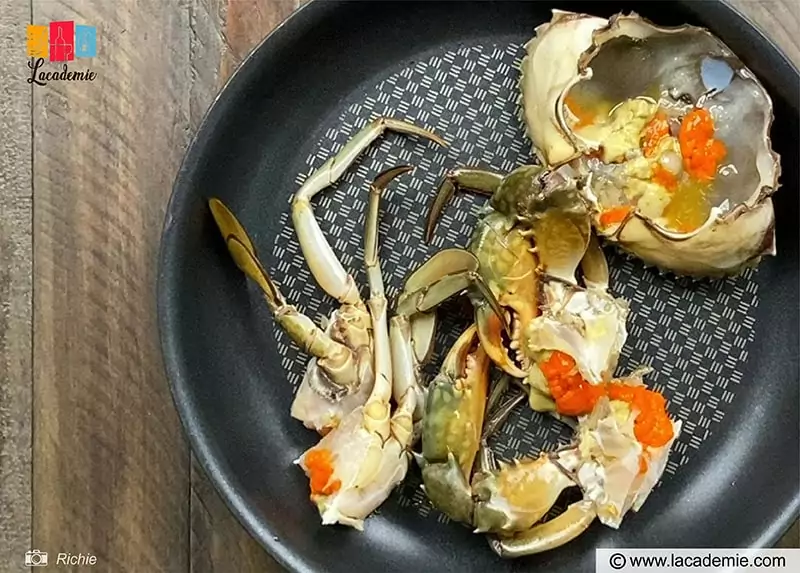 Why Cleaning Your Crabs Is Important
Cleaning is one of (if not the most) essential steps in cooking crabs. The most important reason is that the crab's guts (or viscera) will produce domoic acid when cooked. This acid might leak into the cooking water and cause food poisoning.
Secondly, by doing the cleaning part yourself, you can make sure that the crabs you're about to consume are still alive and moving prior to cooking.
I believe you're aware of this already, but eating dead crabs, especially those that have been dead for a while, is a big no. Not only do they taste bad, but they can also make you sick.
Moreover, by cleaning and cutting up the crabs, you can cook more crabs in one go and save time. If you have a large pot, sometimes you only need to cook one batch!
Tools And Ingredients
Surprisingly, you don't need any kind of fancy cookware to fully clean a crab. Here's a list of the required ingredients and tools.
Fresh crab: This method is applicable to most common types of crab. Just make sure that you purchase the freshest ones possible.
Knife: For cutting up the crab and chopping off unnecessary parts.
Scissors: A pair of high-quality scissors is not only a must-have tool for cutting but can also help you open the crab carapace. I'll show you how to make full use of this tool later.
Chopping board: A flat and sturdy work surface for cutting the crab on.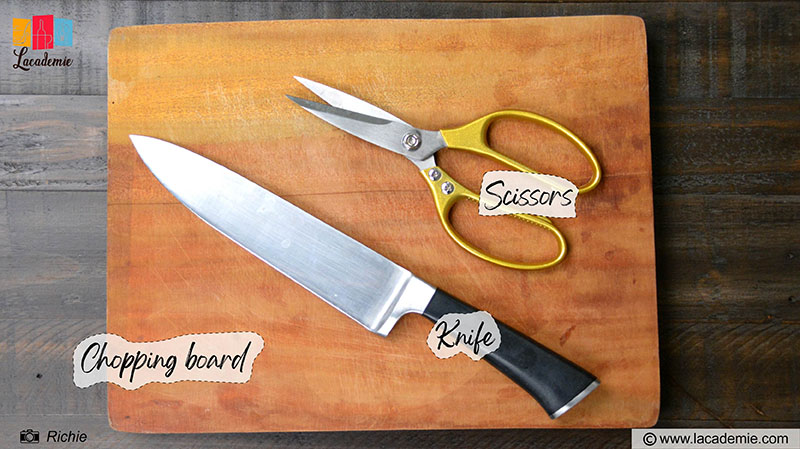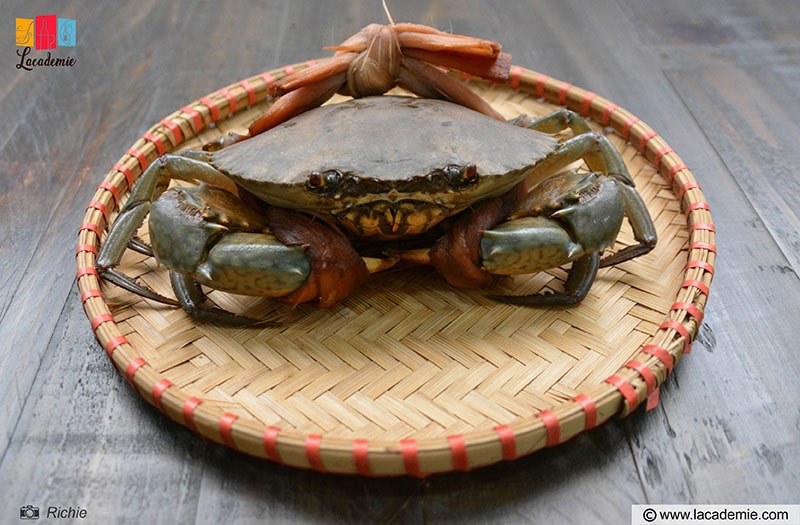 Directions
Let's get to the fun part! Follow the steps in this section to master the art of cleaning fresh crabs.
Step 1: Put The Crab In The Freezer
It's possible to clean the crab while it's still alive, but you'll need to be quick so the crab can't hurt you.
However, my preferred method is to put the crab in the freezer or an ice bath for about 30 to 45 minutes. This way, the crab will hibernate and won't move around while you're preparing it. If your crab is tied up, you should keep it that way for safety reasons.
Step 2: Pierce The Crab's Apron
Flip the crab and place it on a chopping board. Use the sharp end of a pair of scissors or a sharp knife to pierce through the apron – a triangle-shaped flap found in the center of the crab's underside.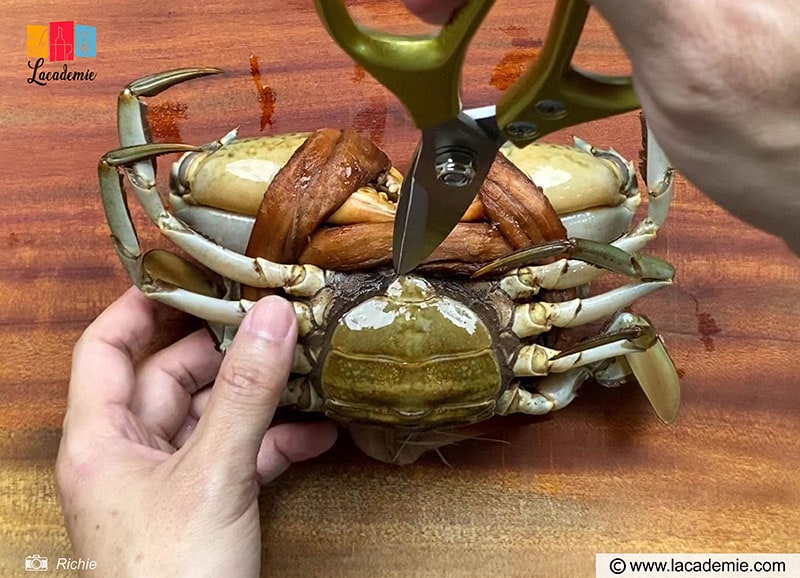 The crab should stop moving by now, so feel free to untie it. If you intend to cook the crab whole, then wash the crab around its shell. Next, remove the apron and clean off the waste from the guts.
However, if the recipe asks you to cut the crab into pieces, proceed with the next steps.
Step 3: Clean The Inside Of The Crab
Stick the scissors into the crab's mouth. Then, open the scissors, and the carapace will come apart.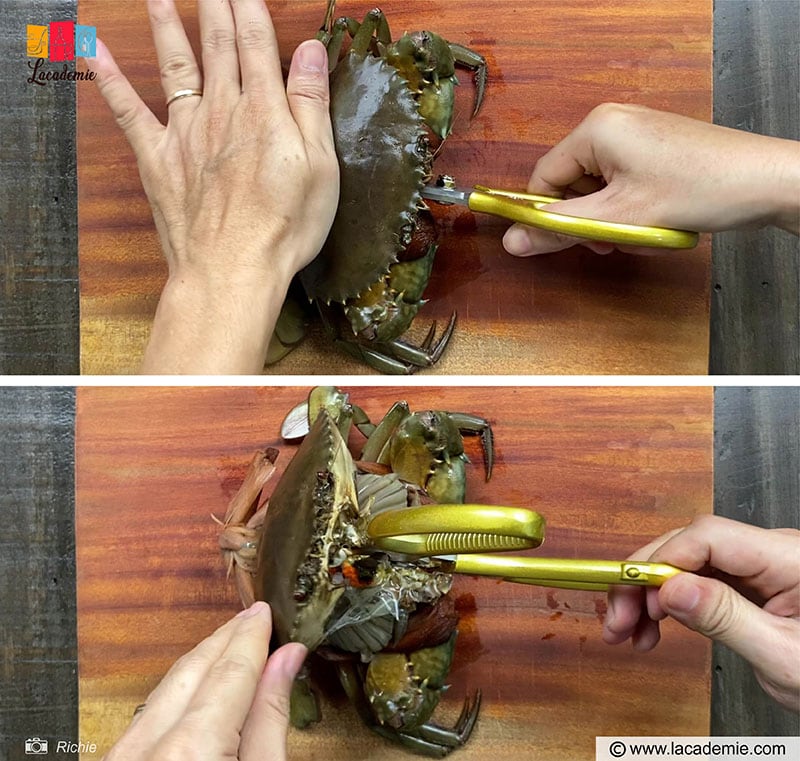 Cut off the gills (or crab lungs), viscera, waste, and teeth on the body and carapace. Remove the apron if you haven't done it already. Keep the "crab mustard" (tomalley) and save the carapace for decorating purposes.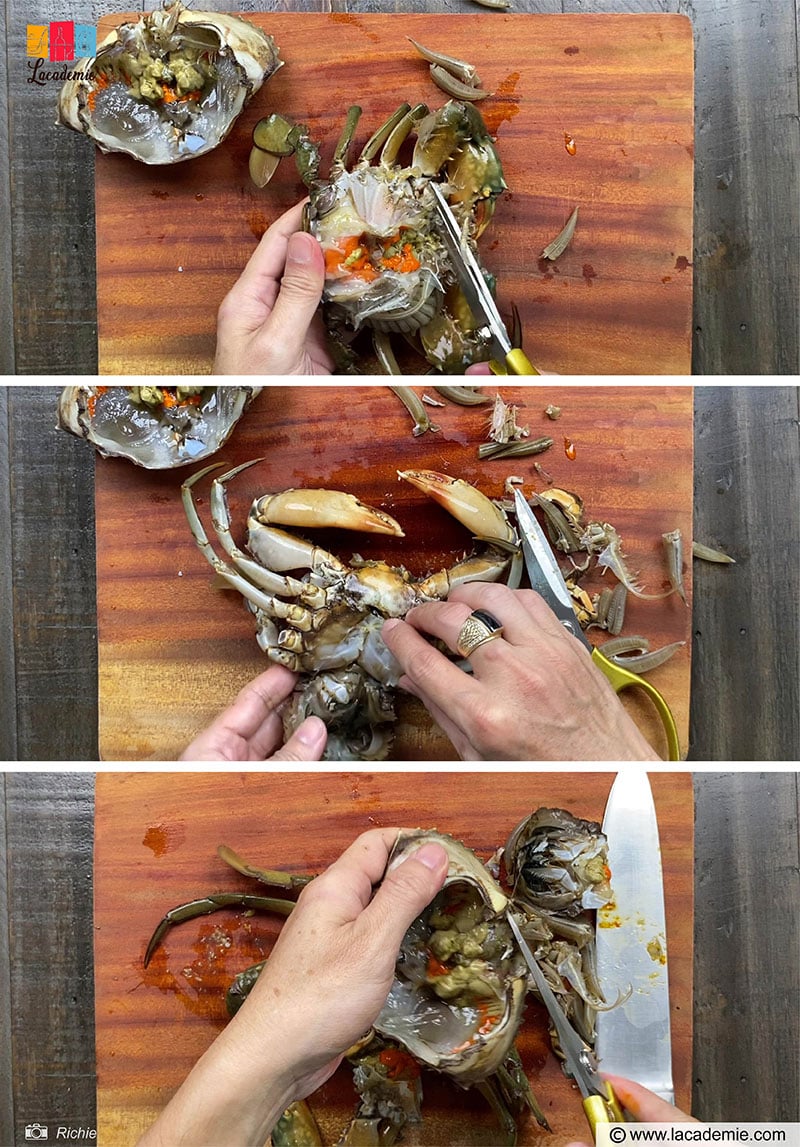 Step 4: Cut The Crab Into Pieces
After cleaning, chop the crab body into halves or quarters, depending on its size and your cooking purpose.
Hit the claws using the back of the knife to crack them slightly, but don't hit them too hard to prevent the shell from shattering and sticking to the crab meat. You can also leave the claws uncracked.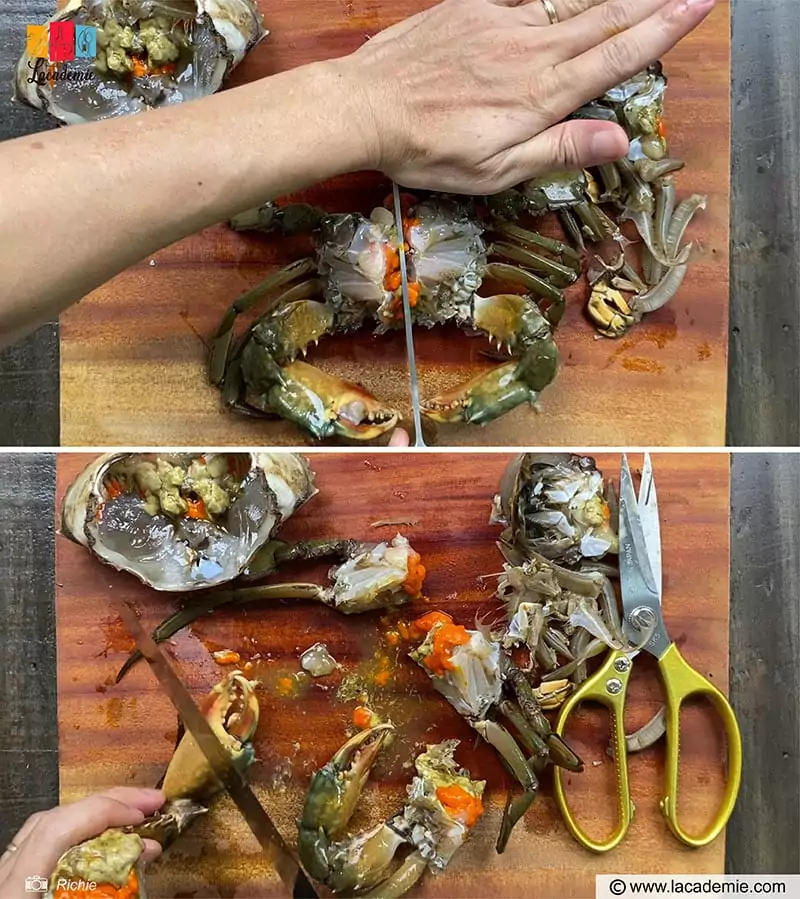 Rinse the crab pieces one last time to ensure that everything is clean and ready for cooking.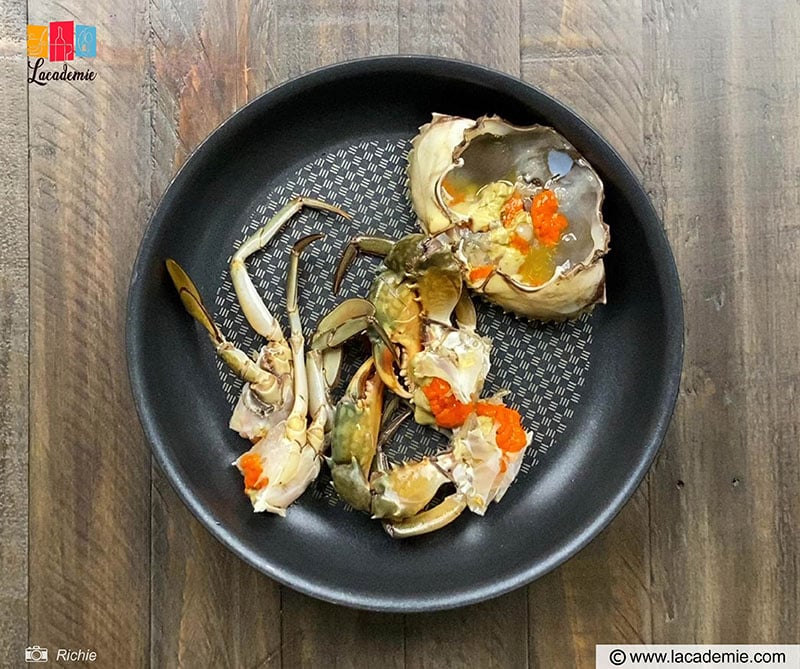 Cleaning Fresh Crabs Is No Longer A Problem
With the help of today's post, I believe that you're now able to confidently clean a whole crab. It is not that difficult, is it? As long as you remember to put the crab to sleep by placing it in the freezer, there's virtually no risk of it attacking you.
Not only does knowing how to clean a crab improves your skill as a home cook, but it also opens you up to many delicious recipes. If the post has helped you in any way, please drop a comment, like, and share it with the people you know. Thank you, and see you again soon!
Nutrition Facts
1 servings per container
---
Amount Per ServingCalories140
% Daily Value *
Total Fat 1.6g

2

%
Cholesterol 96mg

32

%
Sodium 481mg

21

%
Potassium 577mg

17

%
Total Carbohydrate 1.2g

1

%

Dietary Fiber 0g

0

%
Sugars 0g

Protein 28.4g

57

%
---
* The % Daily Value tells you how much a nutrient in a serving of food contributes to a daily diet. 2,000 calories a day is used for general nutrition advice.