If you're a fan of yogurt and love coffee, Vietnamese yogurt coffee is a recipe you shouldn't miss. This unique treat combines the bold flavor of Vietnamese coffee with condensed milk and Sua Chua to create a creamy, bittersweet, and rich-in-caffeine beverage.
It's the ideal choice for a morning drink or a snack during the day when you need a little caffeine fix to boost your productivity. Better yet, you'll also benefit from the health-giving nature of yogurt. Energizing and healthy, Sua Chua Ca Phe offers the best of both worlds!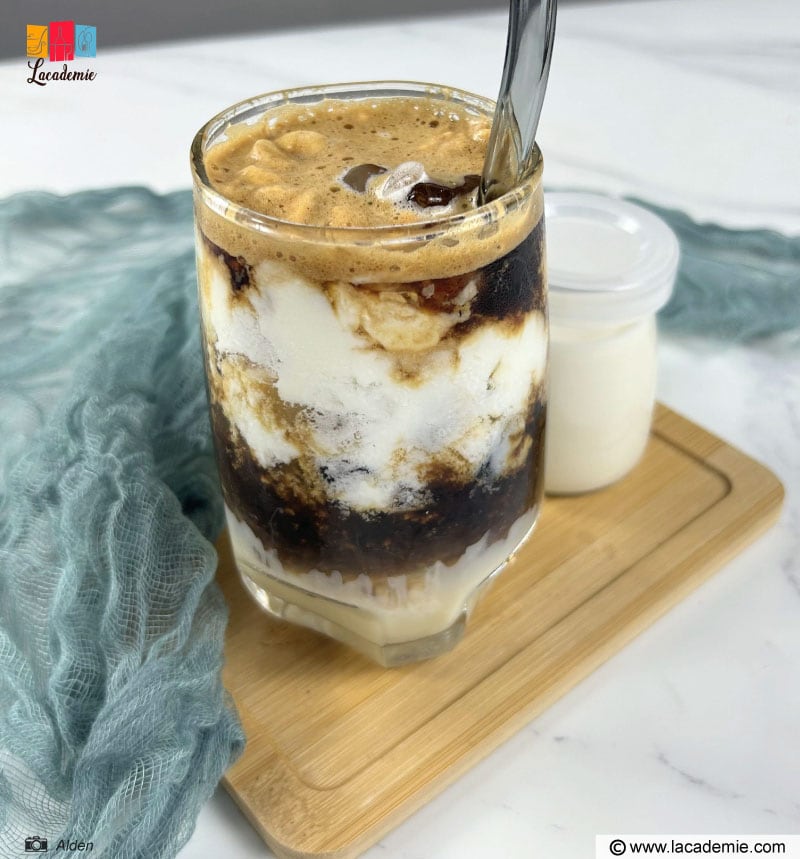 Sua Chua Ca Phe – A Perfect Daily Drink
First appeared in Vietnam during the French colonization, yogurt, especially "Sữa Chua", or Vietnamese-style yogurt, has become a well-loved treat in the country. The Vietnamese love having a jar of yogurt any time of the day and even enjoy it as a tasteful dessert.
Coffee ("Cà Phê") is another thing that the Vietnamese can't live without. While traveling there, you'll see countless coffee vendors on the streets, plus an array of coffee shops. Since Vietnamese coffee is brewed from Robusta beans, which have double the caffeine in Arabica beans, it's much more robust than your typical espresso.
"Sữa Chua Cà Phê" is a wonderful combination of the above delicacies. What you have is a strong coffee drink with extra creaminess and sweetness from yogurt and condensed milk. Let me warn you, though, this drink is addictive, and you might end up drinking more than you intended to!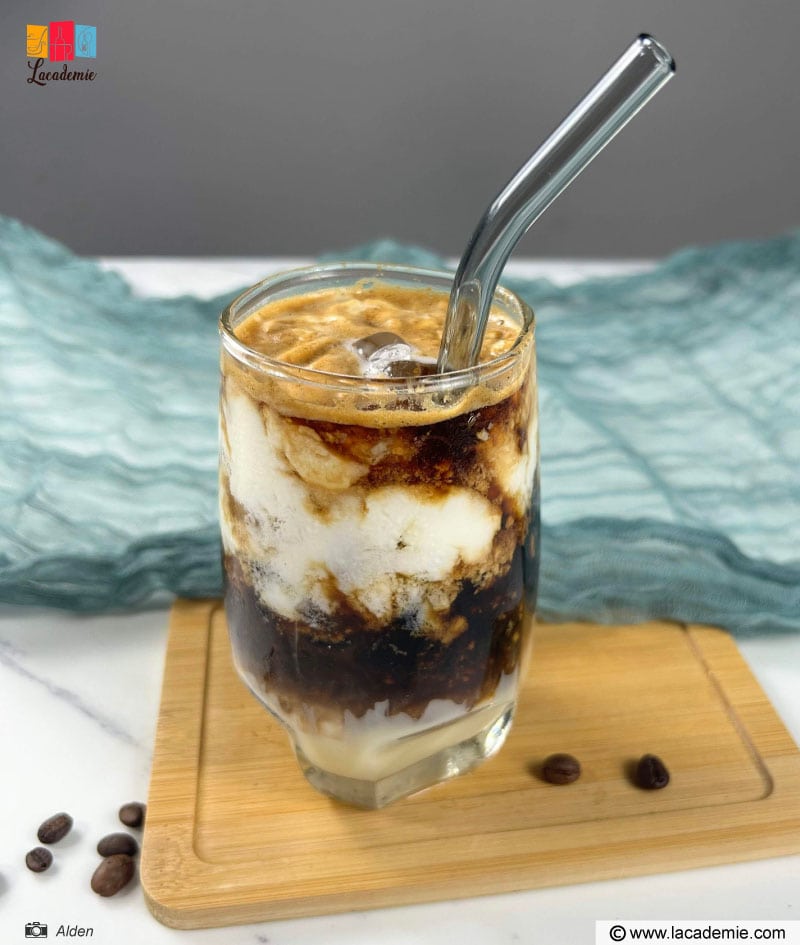 Tools
I strongly suggest brewing coffee the Vietnamese way, which includes using a special filter kit. You can easily find this kit on online shopping sites.
Vietnamese coffee filter set: Brewing coffee using a Vietnamese coffee filter set (also called Phin) results in a strong and aromatic drink.
Cocktail shaker: For mixing the coffee with crushed ice.
Kettle: For keeping the water hot so you can brew the perfect coffee.
Jigger: A handy tool to ensure that you're using the right amount of ingredients.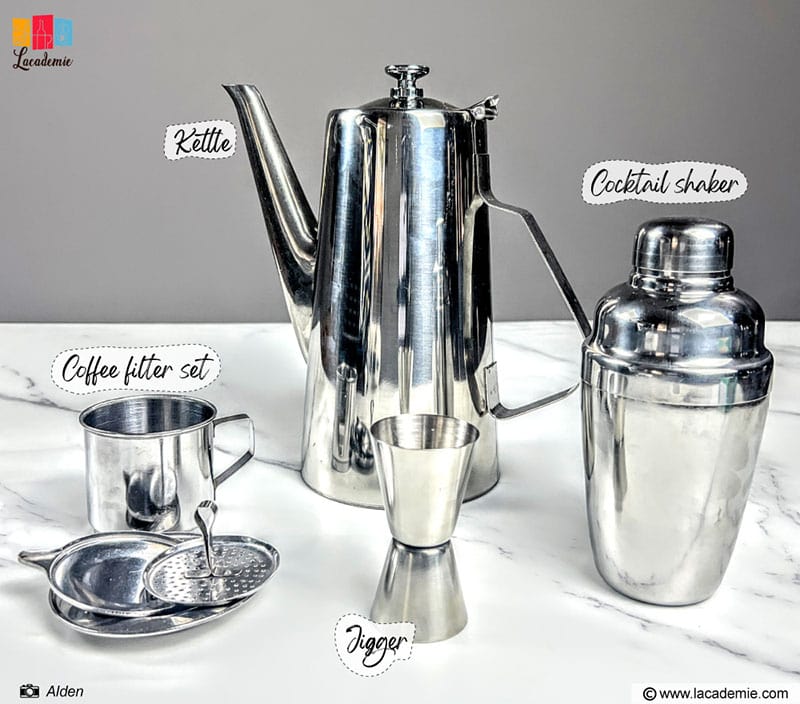 Ingredients
You should go full Vietnamese style with the ingredients, if possible, to ensure the most authentic flavor.
Vietnamese yogurt: You can find Sua Chua in a lot of Vietnamese shops. However, I recommend making your own Vietnamese yogurt as it's much cheaper to do so.
Vietnamese ground coffee: As mentioned above, the Vietnamese style coffee is more intense than Arabica coffee, resulting in a stronger drink.
Condensed milk: I usually go for the Longevity brand (Sua Dac Ong Tho), but Southern Star is also a great choice.
Hot water: For brewing the coffee.
Crushed ice: For mixing with the coffee to create foam.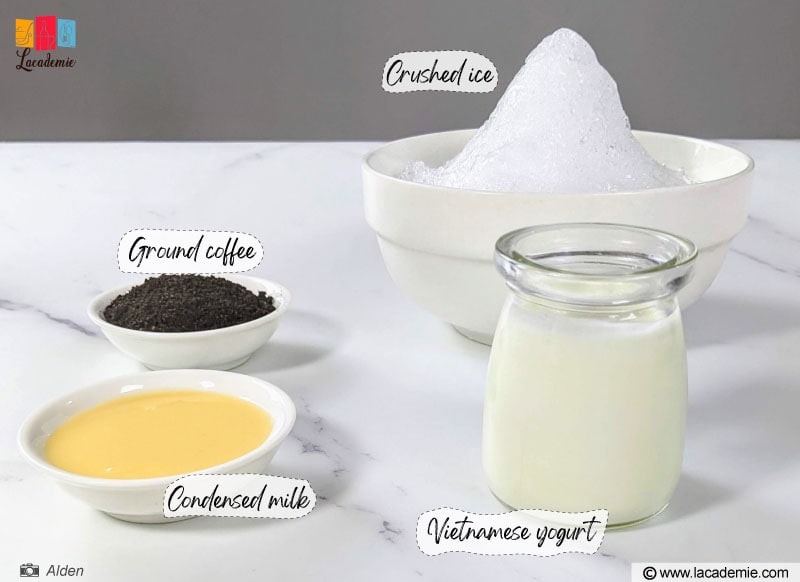 Directions
The first step in making Sua Chua Ca Phe is to brew the coffee and let it come to room temperature. While waiting for the coffee to cool, you can move on to other steps.
Step 1: Brew The Coffee
Rinse the Phin filter set with hot water. Set up the base as shown in the photo below.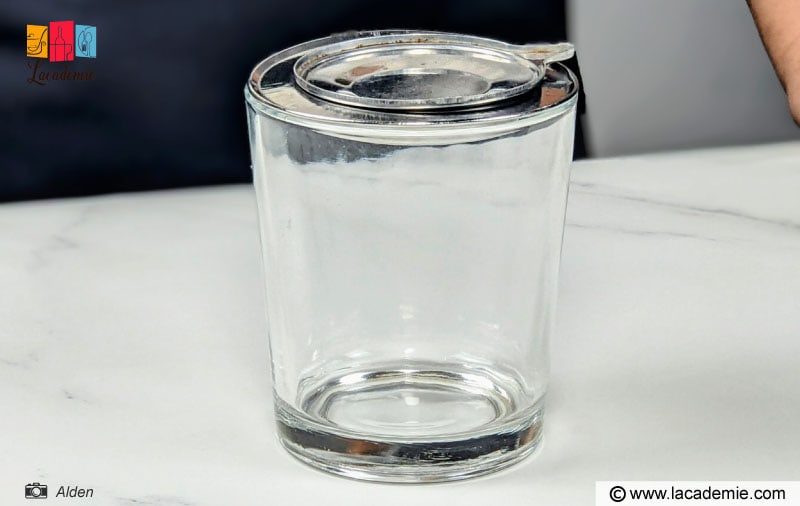 Place the chamber on top of the lid and add about 0.88 ounces (25 grams) of ground coffee. Gently shake the chamber and tamp the coffee with the screw-on damper.
Add about another 0.5 ounces (15 grams) of coffee over the damper. You can add a little salt to the coffee to bring out its sweet notes and reduce the bitterness.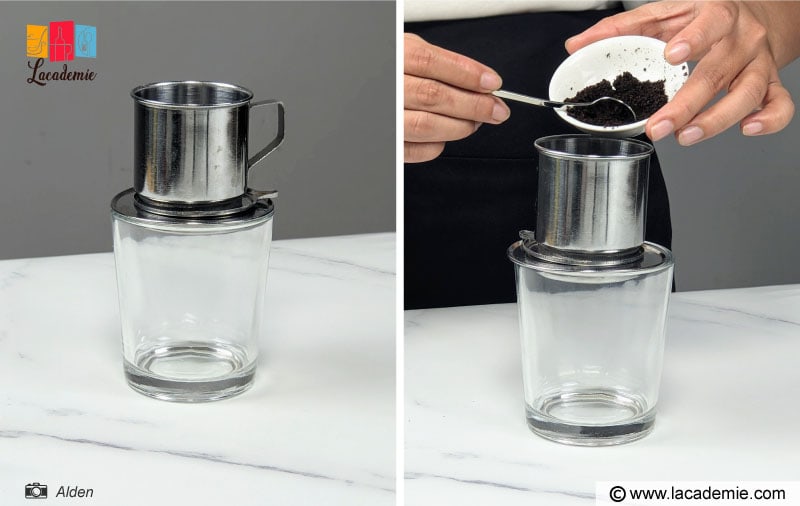 Pour about 1 teaspoon of water into the lid lying beneath the chamber.
Slowly pour about 5 teaspoons (25 milliliters) of hot water over the coffee bed in a circular motion so that the water spreads evenly across the surface. Wait for the coffee to absorb the water, then let it rest for 2 to 3 minutes. This step allows the coffee to hydrate and expand.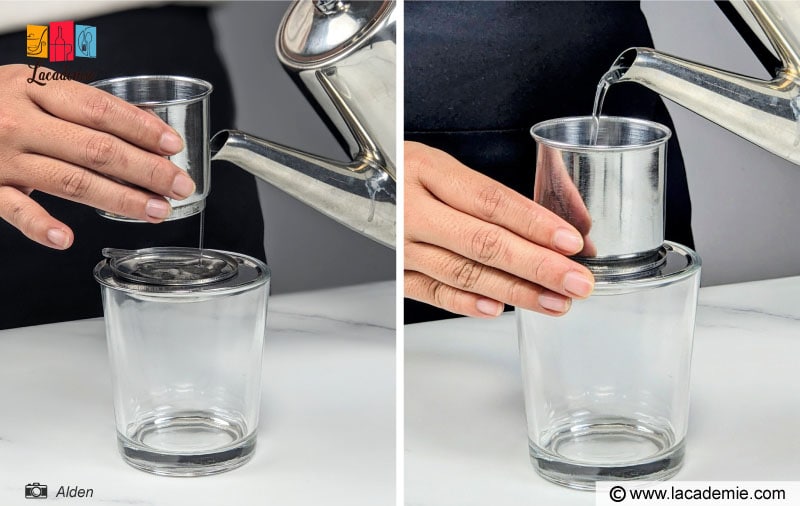 Next, remove the lid from under the chamber.
Add about 3 tablespoons (50 milliliters) of hot water to the chamber. The water should not fill up more than ⅔ of the chamber's capacity. Wait for the coffee to drip into the glass.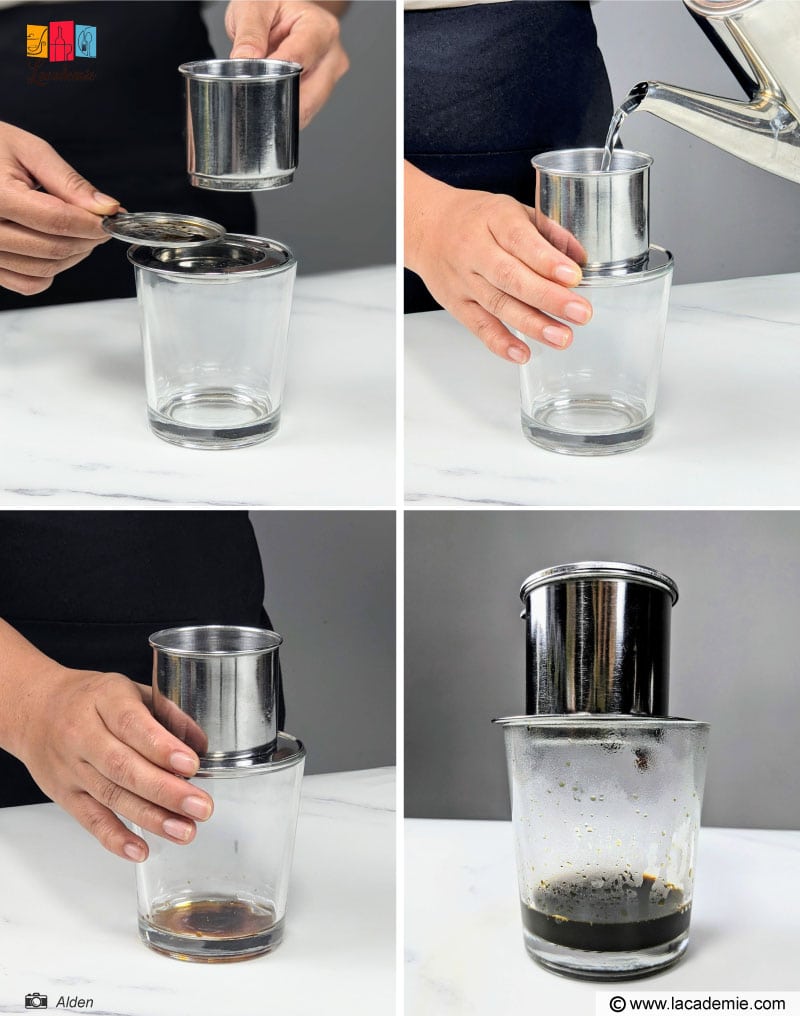 Once the coffee nearly stops dripping, press the damper firmly to extract all the remaining coffee.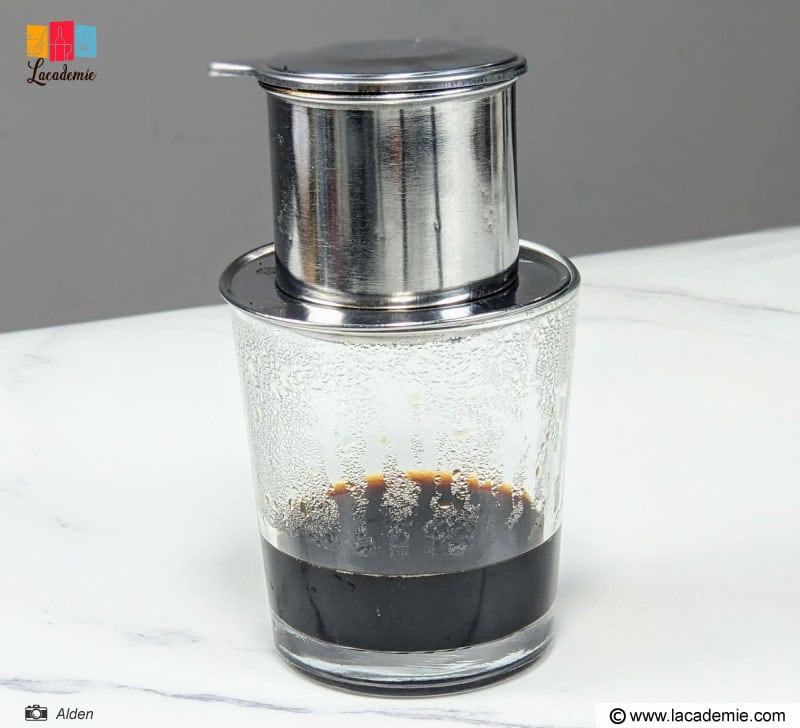 Step 2: Mix The Coffee With Yogurt
Pour 1.3 fluid ounces (40 milliliters) of condensed milk into a glass.
Fill half the glass with crushed ice and gently press the ice down.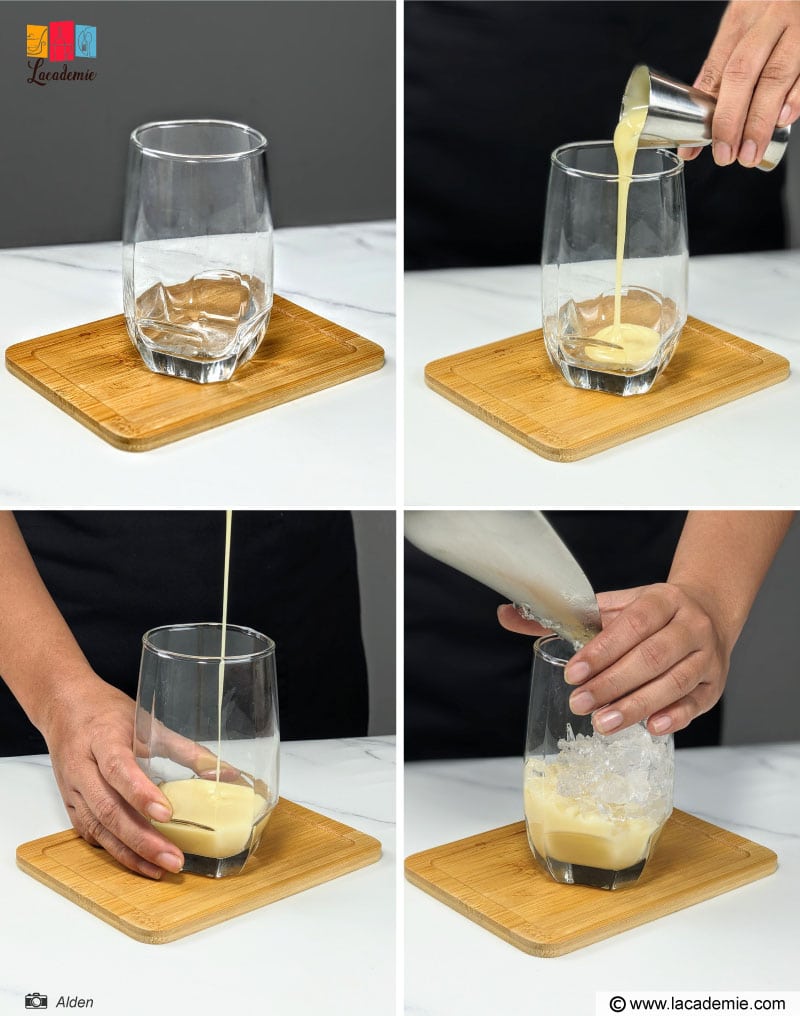 Pour the yogurt over the ice.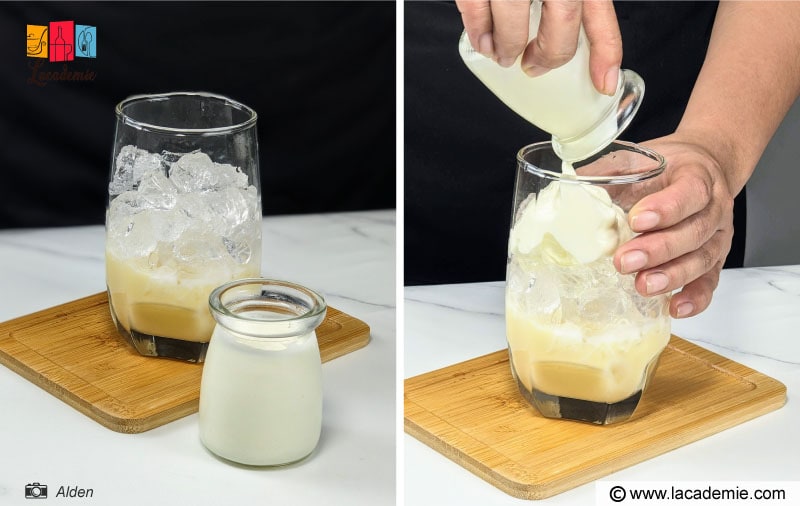 Pour the cooled coffee with a little crushed ice into a shaker and shake vigorously to create foam.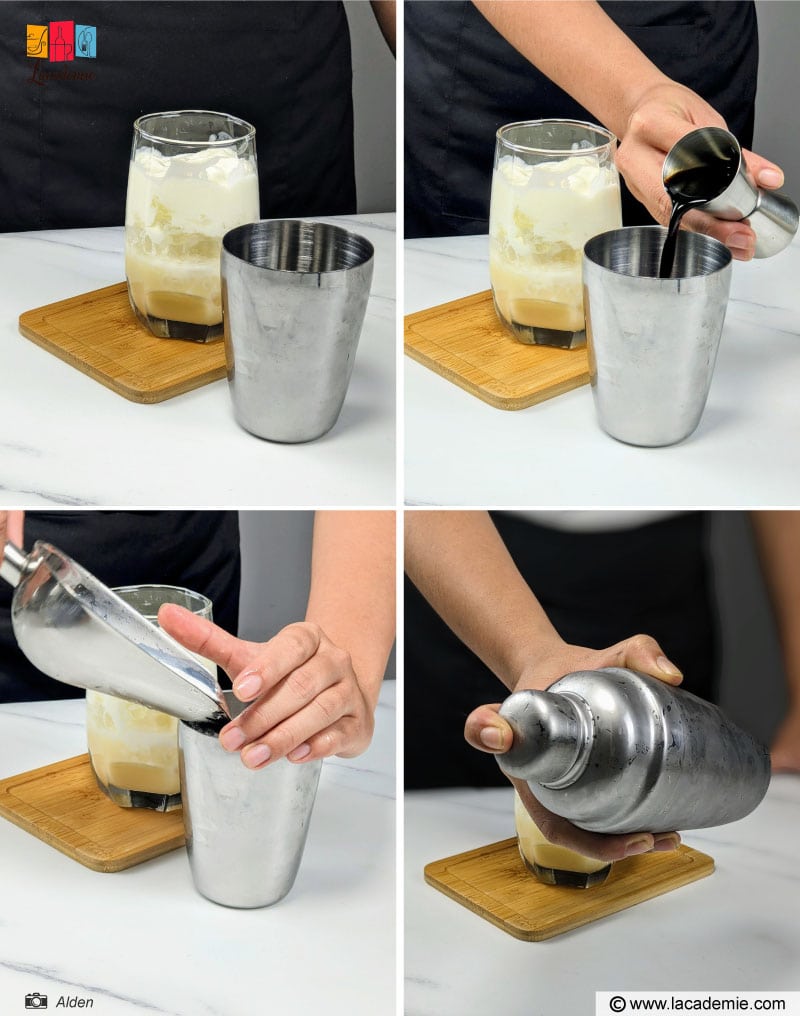 Open the shaker's lid and slowly pour the foamed-up coffee into the glass. And there you have it, an incredibly delicious glass of Vietnamese yogurt coffee!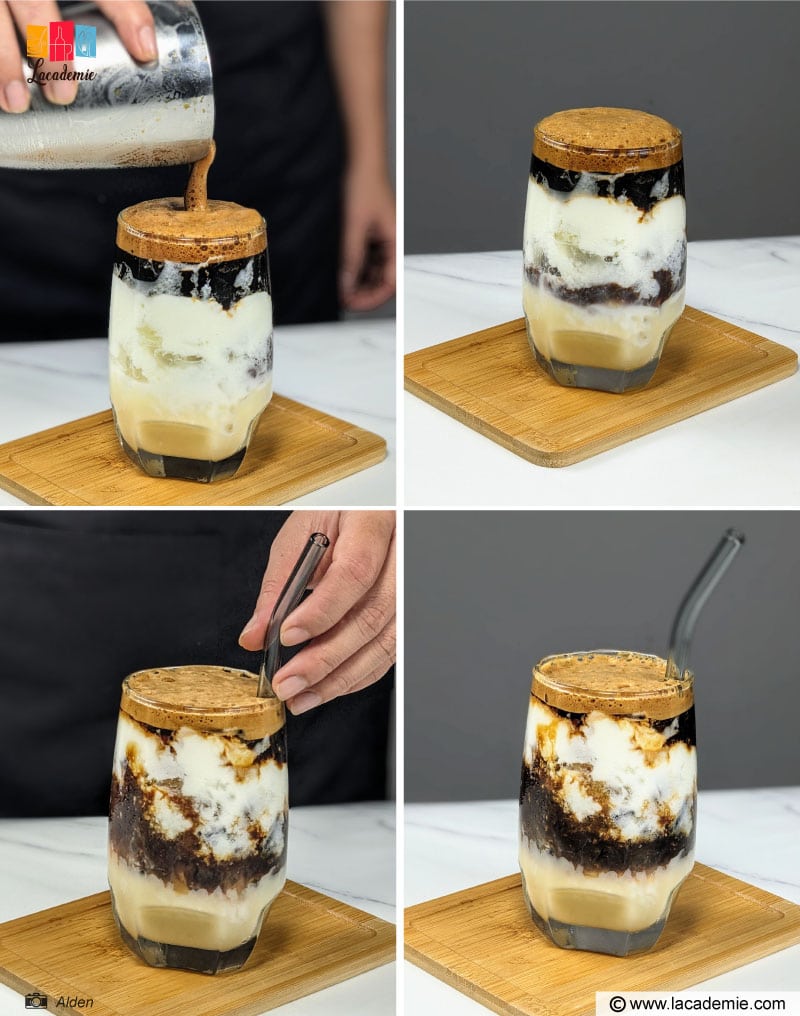 Tips And Alternatives
Although this recipe doesn't ask for many ingredients, some of them might be a bit tricky to find. For this reason, here's a list of viable alternatives and extra tips that I think you'll need.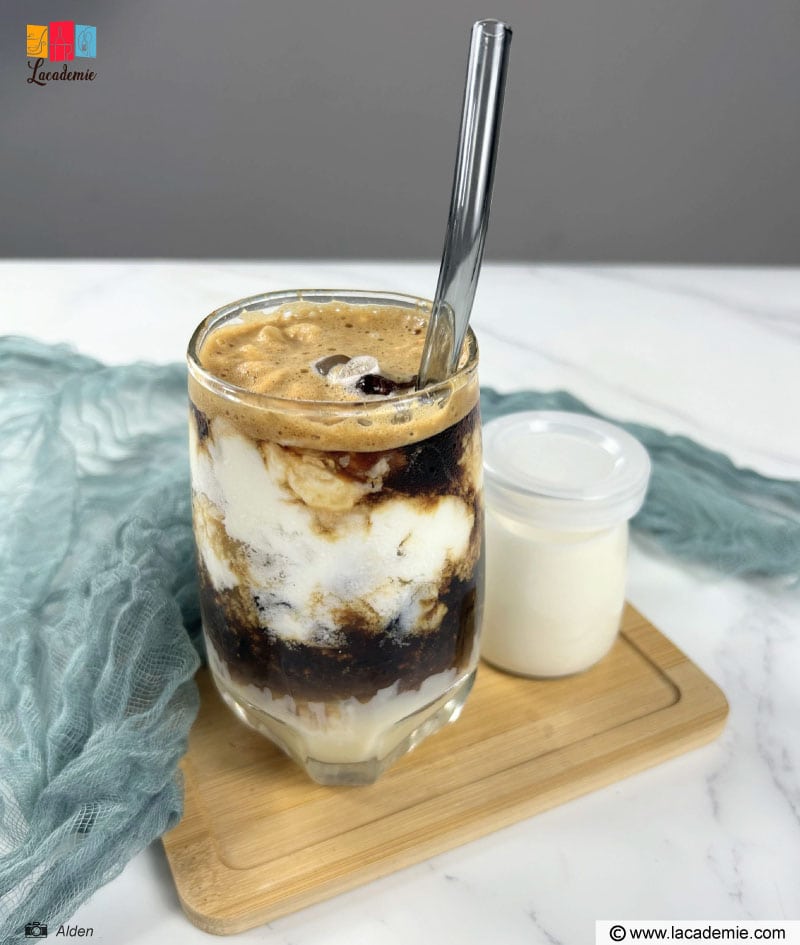 If you don't own a Phin coffee filter, you can also make this recipe using instant coffee. However, the yogurt won't taste nearly as good!
It's possible to make this recipe with a blender instead of a cocktail shaker. Simply put the yogurt, condensed milk, and ice into the blender and puree them until smooth. Then, pour the yogurt mixture into a glass and add coffee on top.
Another way is to add yogurt, condensed milk, and ice to the shaker. Then, shake well and pour the yogurt into a glass and top it with coffee.
Add a little lime juice if you want the drink to have more tart notes.
195 degrees F (about 90 degrees C) is the ideal water temperature for brewing Vietnamese coffee.
Remember to stir the drink before enjoying it to blend all the flavors together.
Start Your Day On The Right Foot With Sua Chua Ca Phe
Vietnamese yogurt coffee is the perfect choice to kick off your day full of energy. Even people who find coffee bitter might fall in love with this drink, thanks to its delightful sweetness. Plus, the health benefits from yogurt ensure that you'll always be healthy.
One small thing to remember is that Sua Chua Ca Phe is not the best after-dinner treat, as it's quite high in caffeine. Don't blame me if you lose sleep (literally) over this drink! All jokes aside, please drop a comment, like, and share this post with other people. Thanks a lot, and see you again soon!
Nutrition Facts
1 servings per container
---
Amount Per ServingCalories238
% Daily Value *
Total Fat 5.7g

8

%
Cholesterol 24mg

8

%
Sodium 139mg

6

%
Potassium 427mg

13

%
Total Carbohydrate 35.2g

12

%
Protein 9.8g

18

%
---
* The % Daily Value tells you how much a nutrient in a serving of food contributes to a daily diet. 2,000 calories a day is used for general nutrition advice.