Vietnamese rice and pork dumplings, known locally as "Bánh giò", are a must-try for any food lover. These dumplings are tender and flavorful, with mouth-watering fillings made from ground meat, mushrooms, quail, and salted eggs.
If you've had a chance to travel to Vietnam, you most certainly have encountered street vendors selling this delicious treat. But what if you want to make it in your kitchen? Don't worry. This recipe will provide you with the most detailed and easy-to-follow instructions!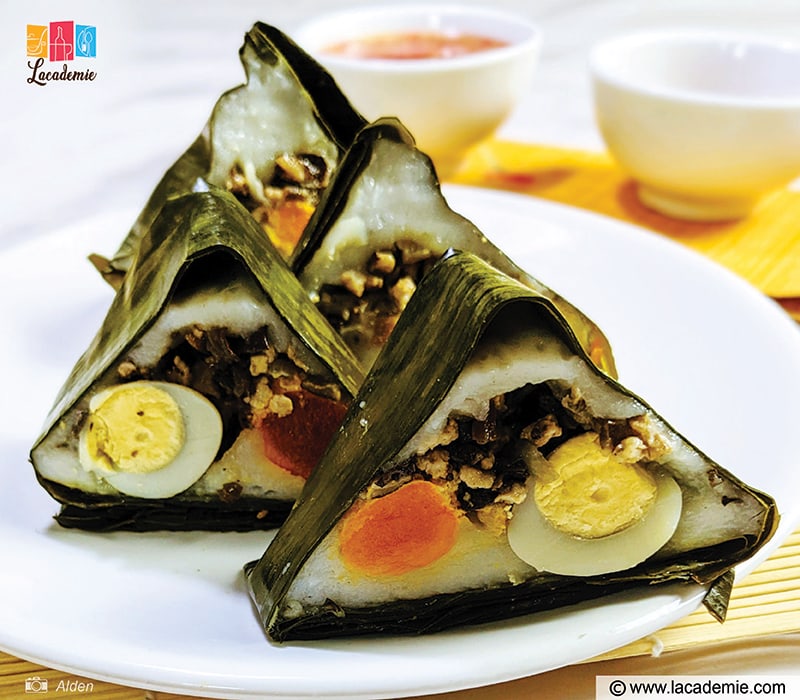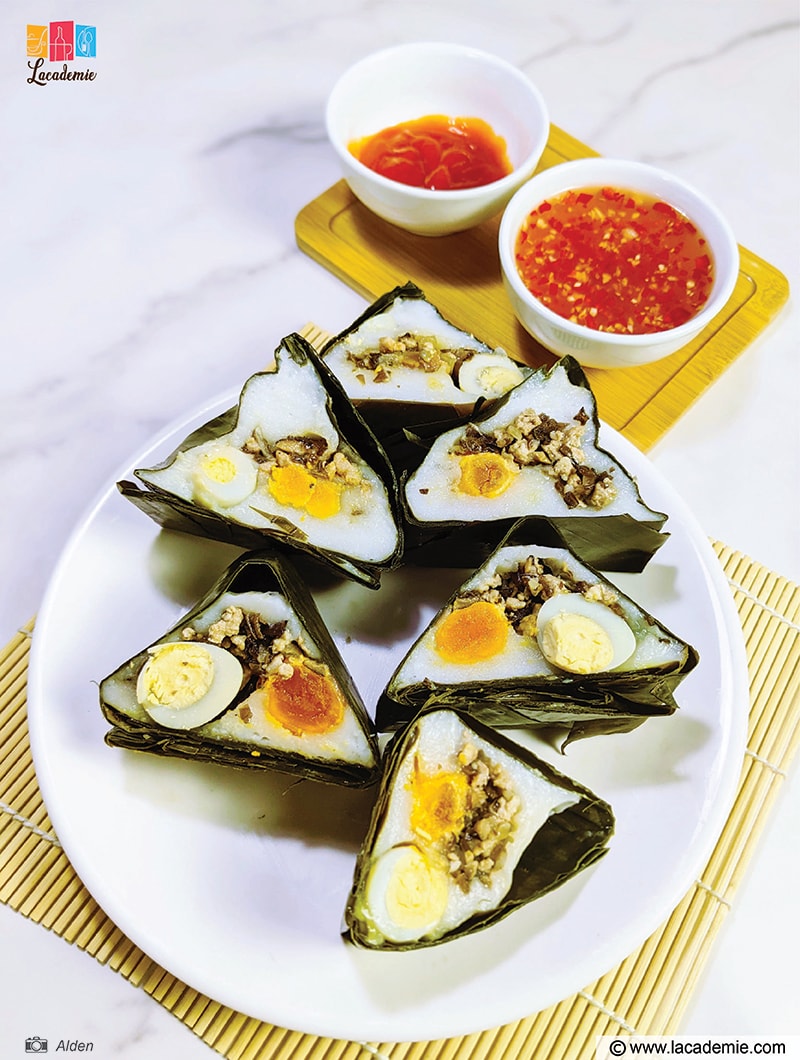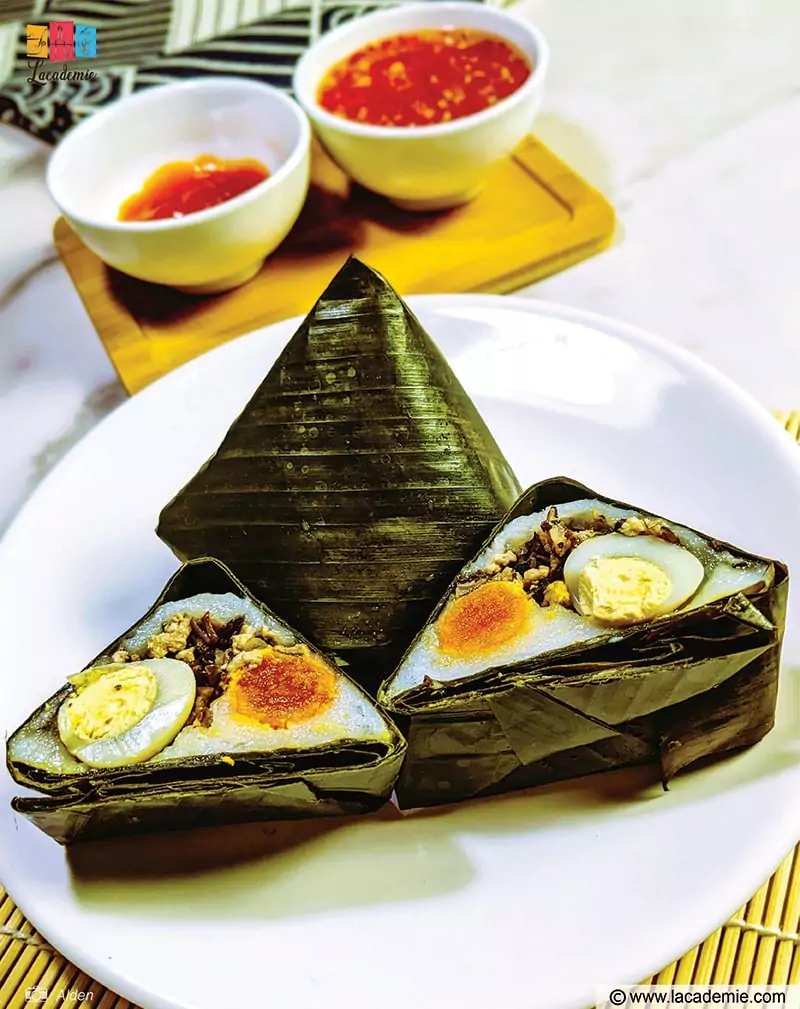 What Is Vietnamese Rice And Pork Dumplings
"Bánh giò" or "Banh gio" is a well-loved street food in Vietnam made from rice starch, tapioca starch, ground meat, mushrooms, and quail eggs. The locals wrap these delectable pyramid-shaped dumplings in aromatic banana leaves, then steam them to perfection.
People in Vietnam love to enjoy Banh gio with pork bologna, sausages, cucumber, chili sauce, and many more side dishes. There's no real rule as to what to serve with these dumplings, so feel free to pair them with whatever you like!
Tools
Here is a list of tools that you need to make this dish. As you can see, they are all basic kitchen appliances.
Steamer: A steamer is essential for making Banh gio, so make sure you get a high-quality one.
Large bowl: For mixing the dough.
Pot: For cooking the dough.
Pan: For stir-frying the fillings.
Tongs: You need this tool to remove the dumplings from the steamer.
Sieve: For sifting the starch. You want a smooth starch mixture for the dough.
Knife: Sharpen your knife regularly to ensure the smoothest cutting.
Chopping board: For chopping the ingredients.
Whisk: You'll use this tool while cooking the dough.
Pyramid mold for Vietnamese Banh gio (optional): If you happen to have Banh gio mold in your kitchen, wrapping and shaping the dumplings will be easier. However, you can also wrap them manually.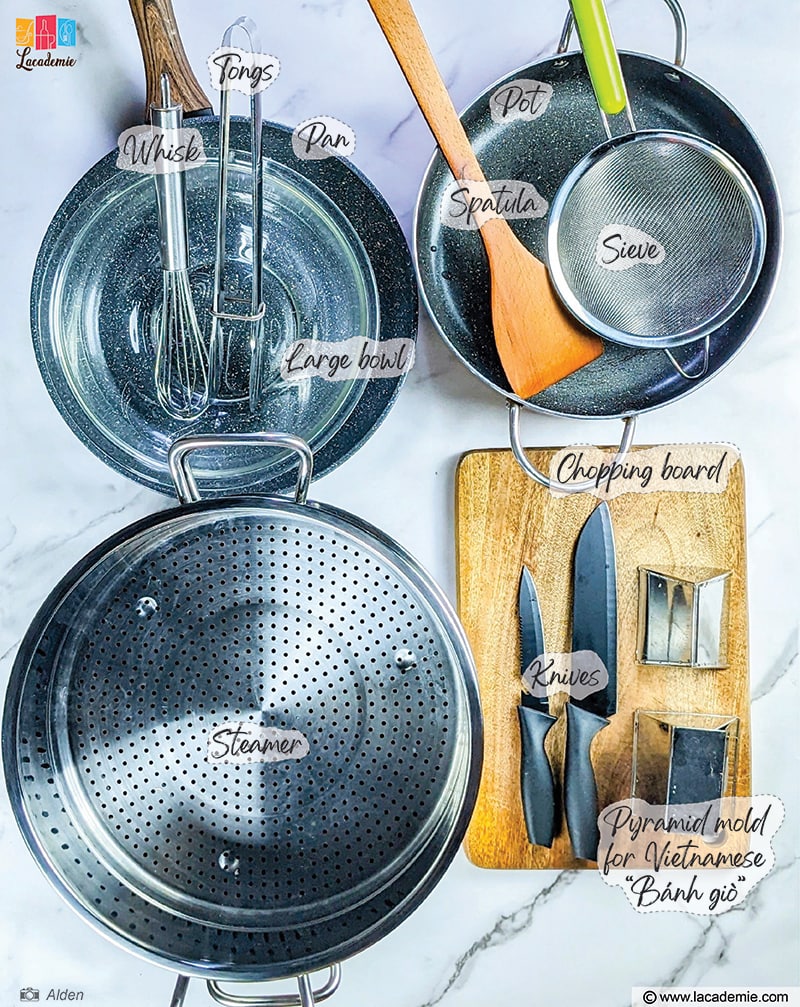 Ingredients
The ingredients of this recipe are divided into 2 main groups: the fillings and the dough.
For The Fillings:
Ground pork: The classic meat choice for this recipe.
Wood-ear mushrooms and Shiitake mushrooms: These two kinds of mushrooms add to the flavor and texture of the filling.
Onion: You should pick a large onion.
Quail eggs and salted eggs: Remember to boil the quail eggs beforehand. I'd recommend hard-boiled eggs, which take about 3 minutes and 30 seconds to cook.
Shallot: Most Vietnamese recipes will call for this ingredient. You'll need about 4 tablespoons of shallots.
Pepper: For seasoning the filling.
Sugar: About 1 ½ teaspoon of sugar to add a bit of sweetness to the filling.
Salt: About 1 teaspoon
Oyster sauce: Adds a touch of umaminess to the dumplings.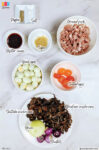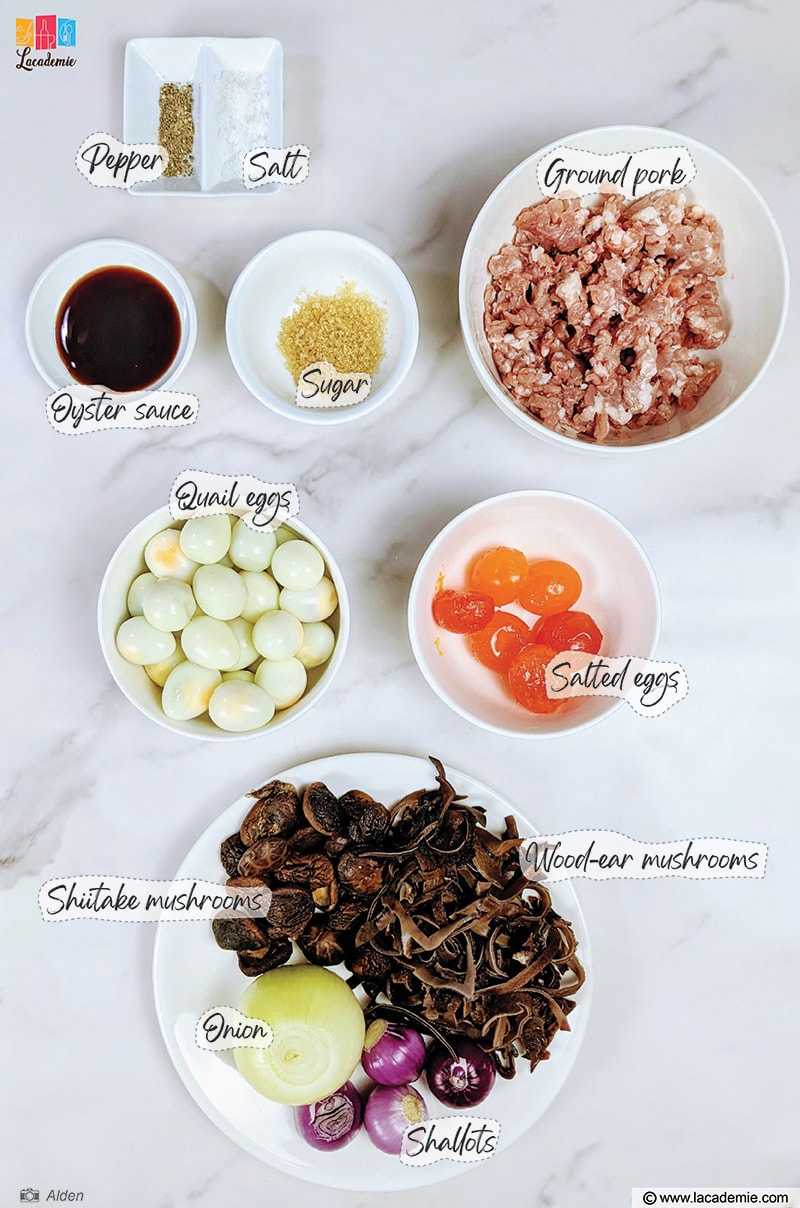 Dough and Wrapping:
Rice starch: Don't mistake it for rice flour. Rice starch will give your Banh gio a better texture.
Tapioca starch: Increases the firmness of your dumplings.
Chicken broth or bone broth: If you don't have them, you can try swapping the broth with water.
Cooking oil: Helps your dough become moist and soft
Salt: About 1 teaspoon
Banana leaves: Use fresh leaves if available. Otherwise, dried leaves are also acceptable.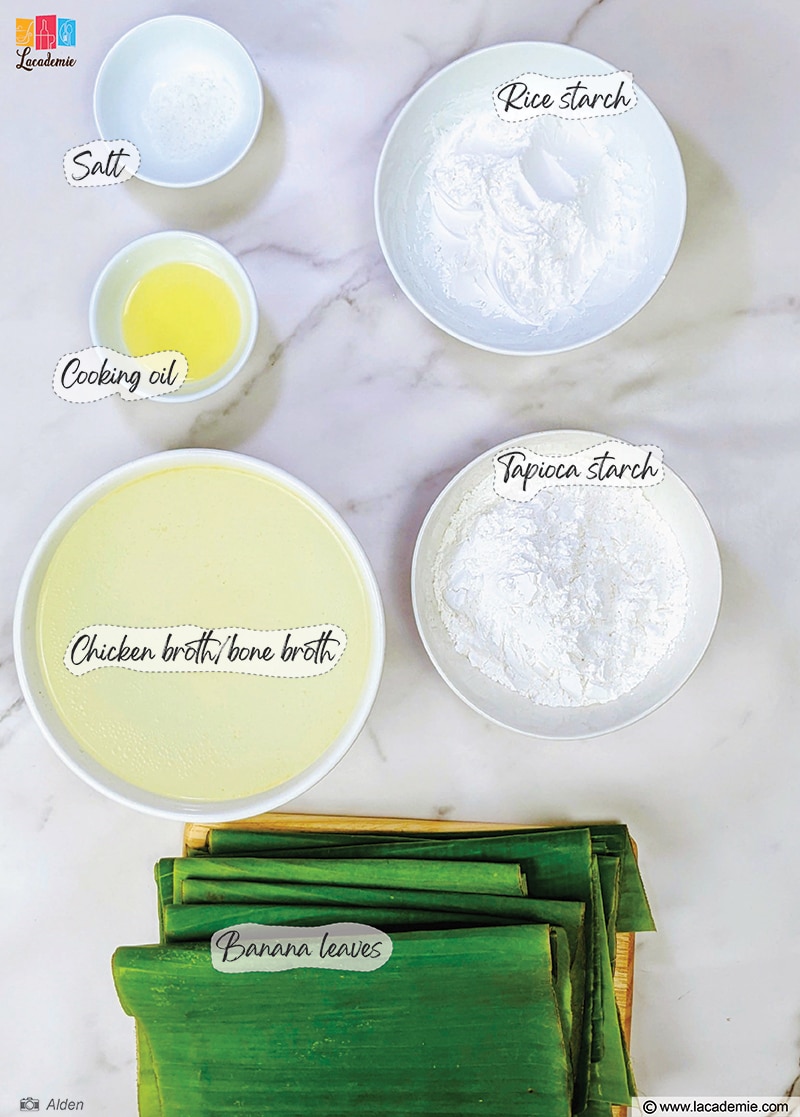 Directions
Have all the ingredients at hand? It's time to make some yummy Vietnamese rice and pork dumplings!
Step 1: Make The Dough
The ideal ratio of rice starch to tapioca starch is 4:1. In this recipe, I use 0.7 pound (320 grams) of rice starch and 2.8 ounces (80 grams) of tapioca starch.
First, sift the rice and tapioca starch into a large bowl until smooth. Pour lukewarm chicken broth (about 104 degrees F) into the bowl and stir well. Add 1 teaspoon of salt and 1 tablespoon of cooking oil and continue mixing until combined.
Allow the dough to rest for 40 minutes. If possible, you should allow the dough to rest for 3 hours until it becomes fragrant with a slightly sour taste.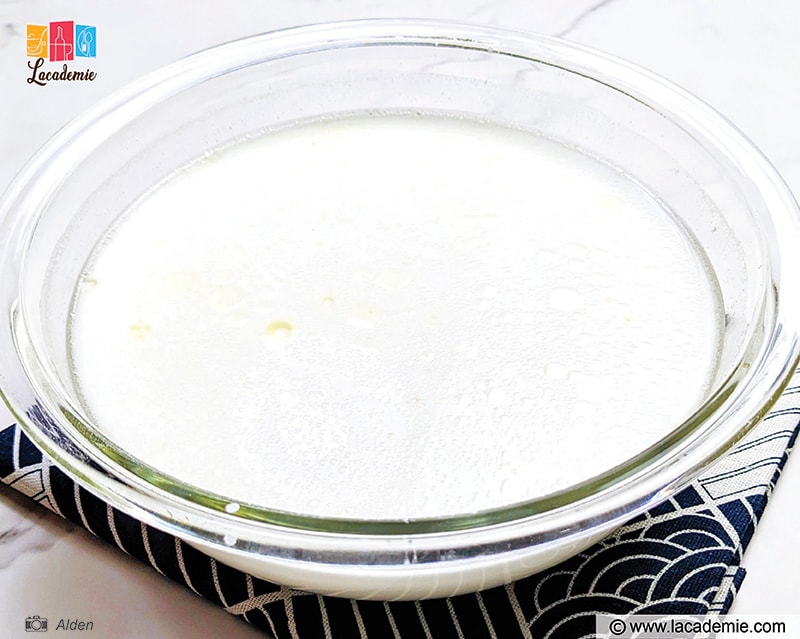 Step 2: Chop The Ingredients
Mince the wood-ear mushrooms, Shiitake mushrooms, onions, and shallots. Divide the minced shallots into 2 equal parts. You'll use the first half to fry with oil until fragrant and the second half to stir fry with the fillings.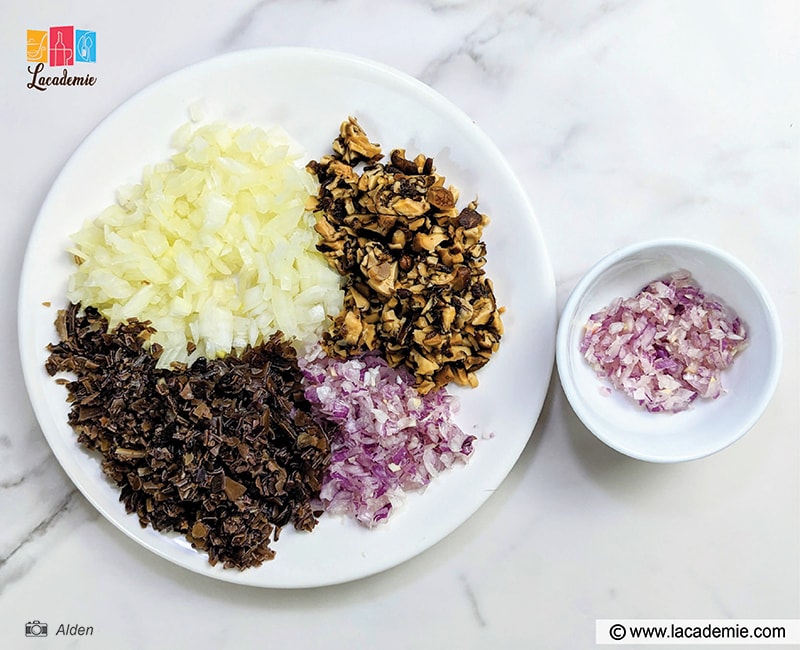 Step 3: Stir Fry The Fillings
Fry 2 tablespoons of shallots with oil until fragrant over medium heat, then stir in the ground pork. Stir fry for about 3 to 4 minutes. Next, pour in the wood-ear and shiitake mushrooms, and stir well for about 2 minutes.
Add in the onions and the rest of the shallots. Season with 1 teaspoon of salt, 1.5 teaspoons of sugar, 1 teaspoon of oyster sauce, and 1 teaspoon of pepper. Stir fry until fully cooked and remove from heat.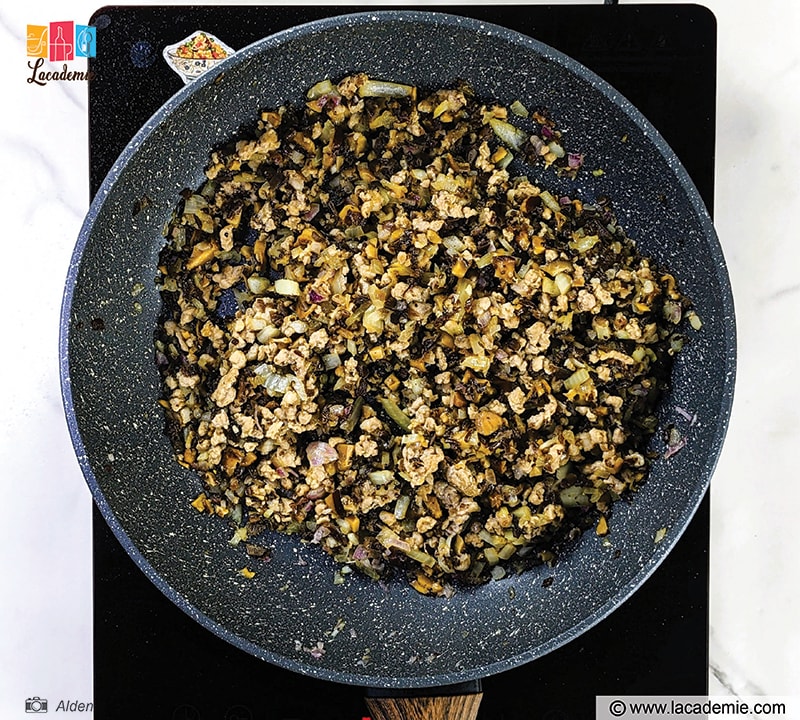 Step 4: Blanch The Banana Leaves
Wash the banana leaves. If you're using fresh banana leaves, you need to blanch them. Doing so will soften the leaves, make them harder to tear, and sterilize them.
If the leaves are slightly wilted, you can wipe them with hot towels.
Bring a pot of water to a rolling boil. Next, quickly blanch all sides of the banana leaves, then remove them from the water. Leave them to cool.

Step 5: Cook The Dough
Cook the dough over medium heat. Stir constantly until the dough thickens, then add 1 tablespoon of cooking oil. Next, whisk it continuously for about 10 minutes. Remove the dough from heat once it is slightly boiled, smooth, and doesn't stick to the pot.
Add a little water if your dough turns out too thick. Ideally, the dough should be milky white, smooth, not burnt, and have no lumps.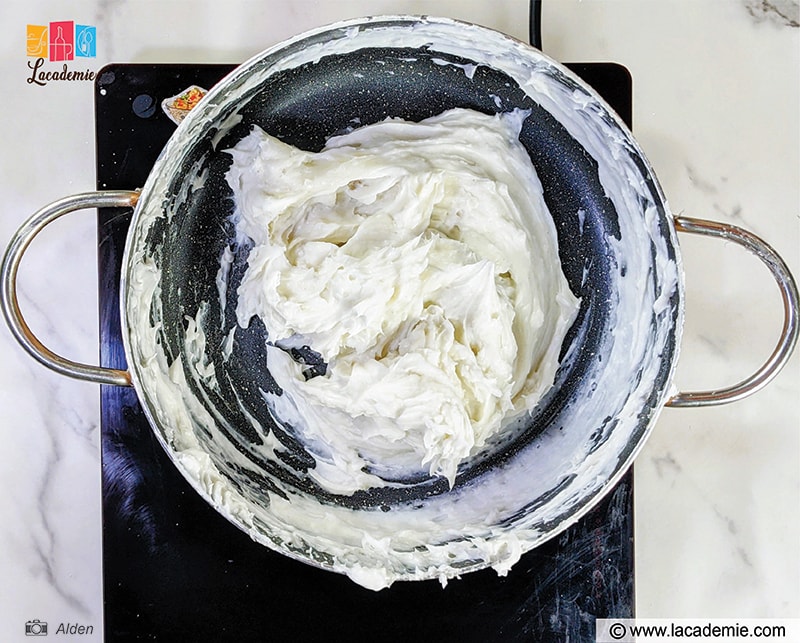 Step 6: Wrap The Dumplings
There are two ways to wrap the dumplings, with and without a dedicated mold.
Notes:
Dipping your spoon into a bowl of oil can help with spreading the dough.
You should brush the leaves with a thin layer of oil so unwrapping the dumplings after steaming is easier.
Without A Mold:
First, cut a banana leaf into a square shape, then place it on a flat surface. Fold the leaf diagonally into a triangle.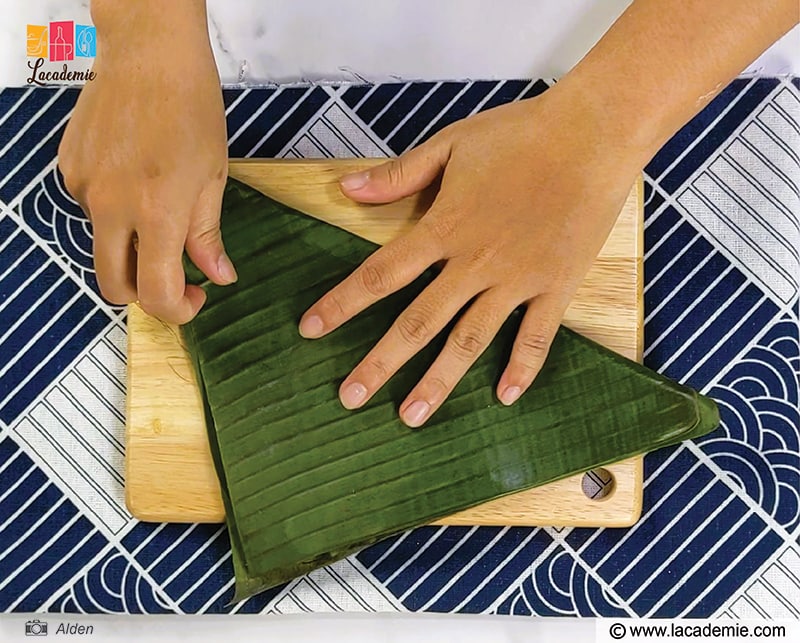 Next, continue folding diagonally to create a funnel shape.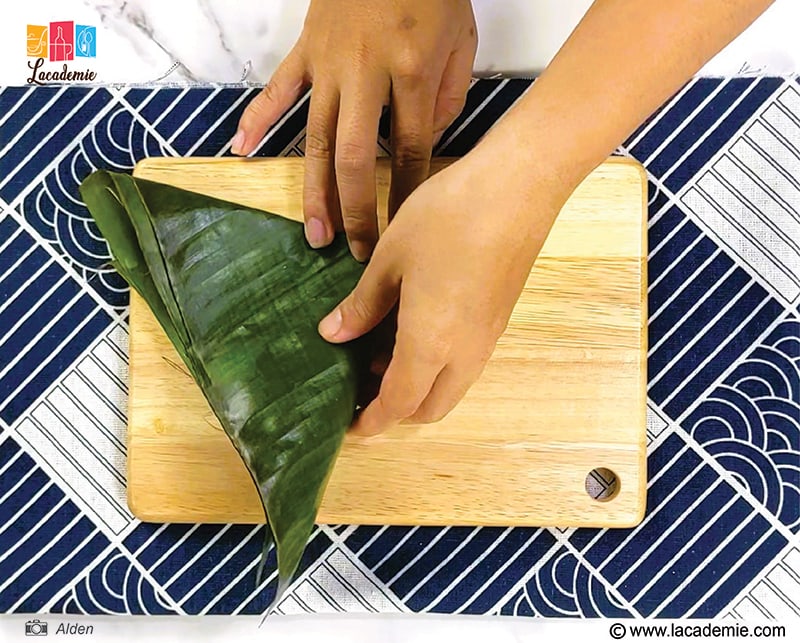 Scoop a tablespoon of dough into the funnel and carefully spread the dough evenly around the funnel.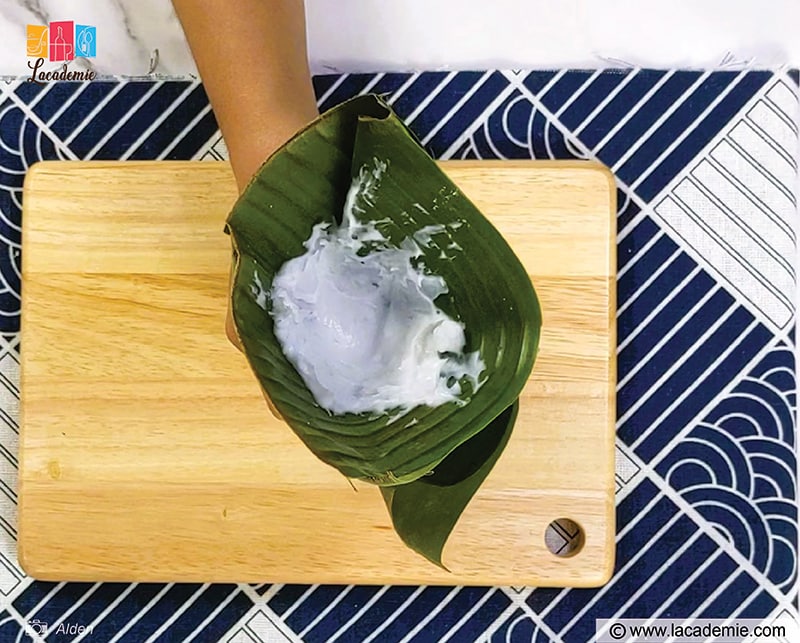 Add the meat filling along with quail eggs and salted eggs. Feel free to adjust the number of quail and salted eggs per dumpling to your preference. For example, you can add 2 quail eggs and 1 salted egg to one dumpling, or omit the salted egg for more quail eggs.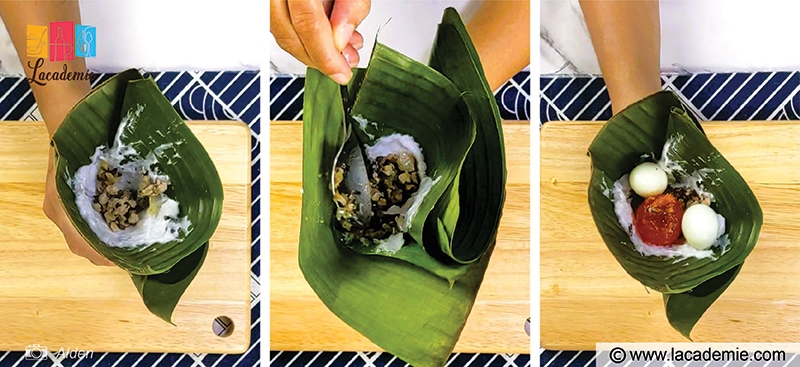 Then, add more dough and spread evenly to cover the fillings entirely.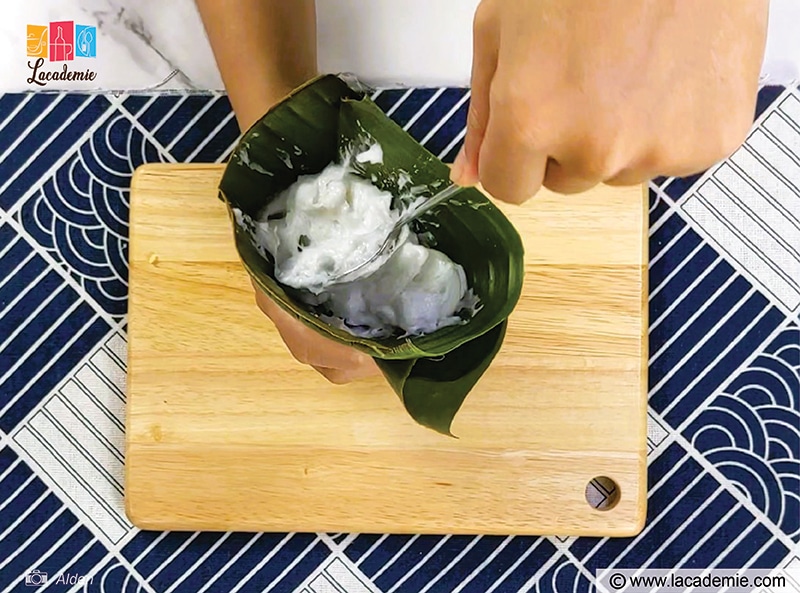 Finally, gently wrap the dumpling into a pyramid shape. Repeat until you run out of dough and filling.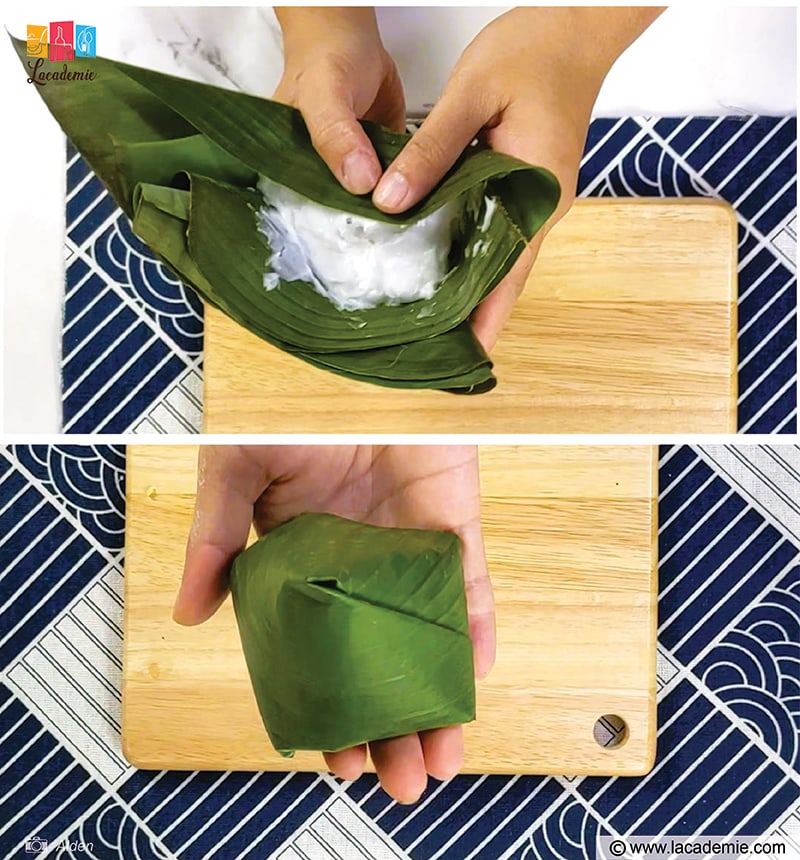 With A Mold:
Place the smaller mold onto the leaves and fold upward along the sides of the mold.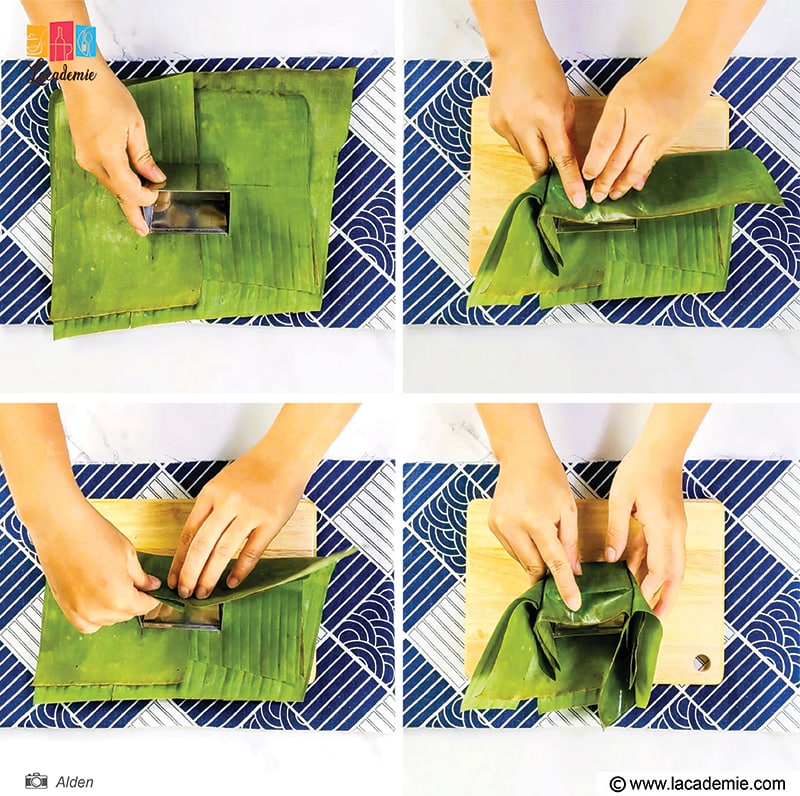 Place the folded leaves into the larger mold while keeping the smaller mold inside. Remove the small mold.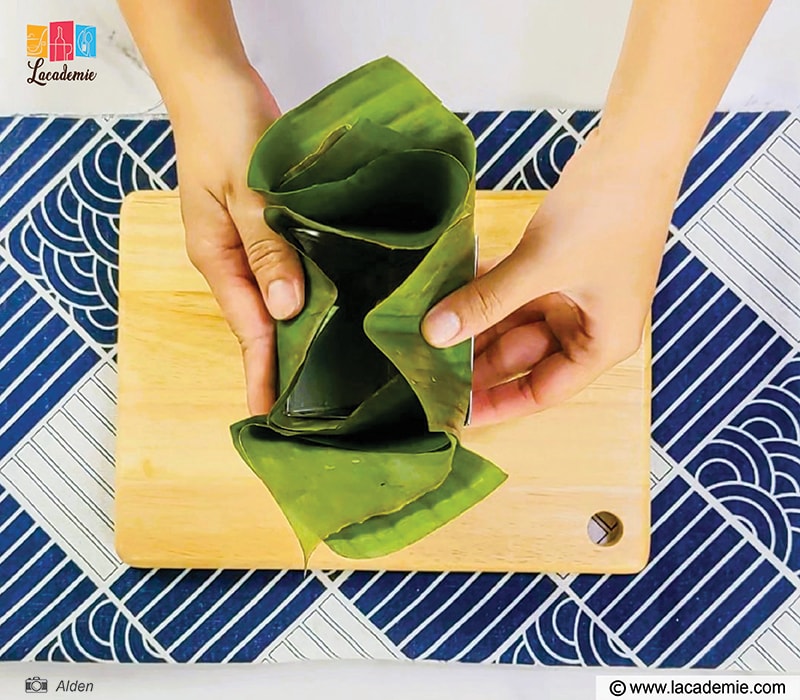 Add the dough and fillings as instructed above, then fold the leaves to seal the dumpling.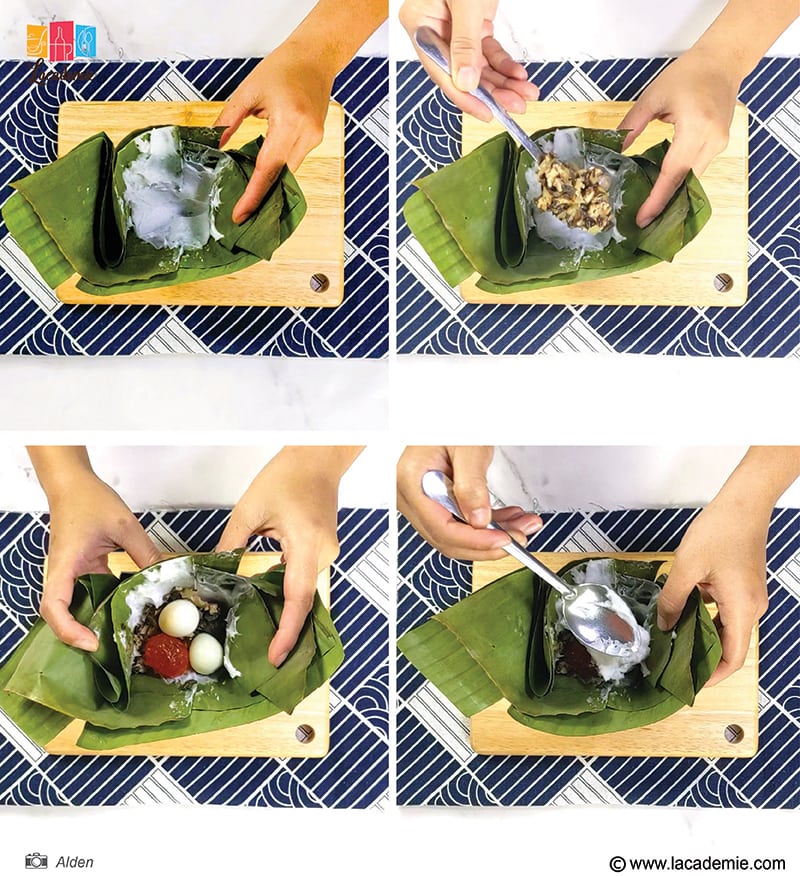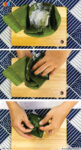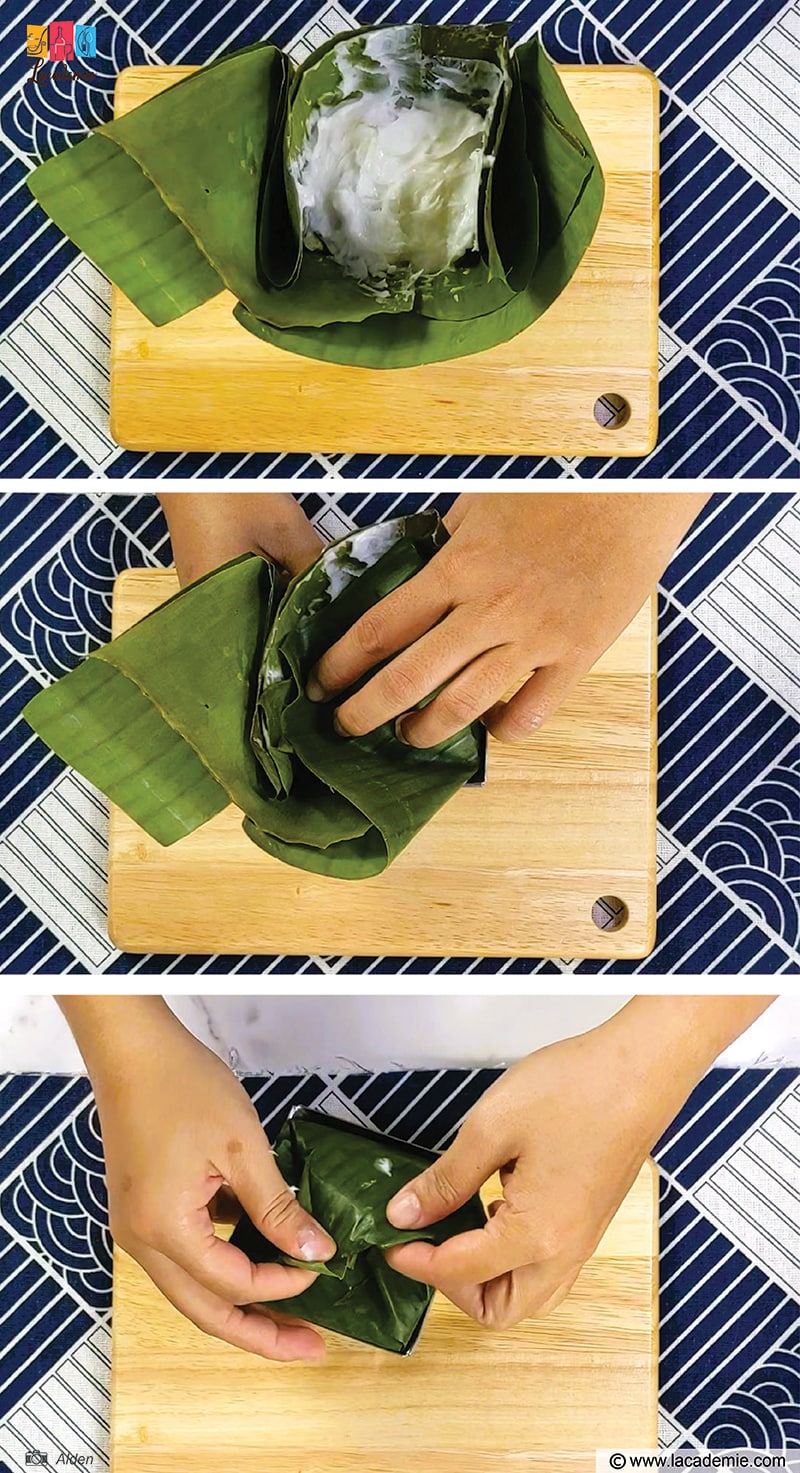 Turn the mold upside down and pull it out.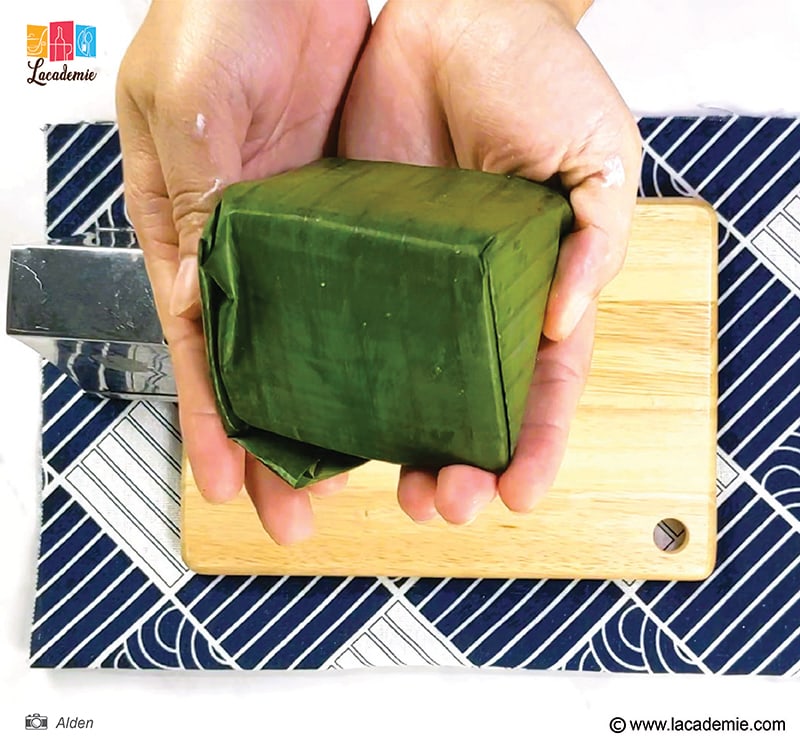 Step 7: Steam The Dumplings
Place your steamer on the stove. Once the water has come to a boil, add the dumplings and steam for about 20 minutes.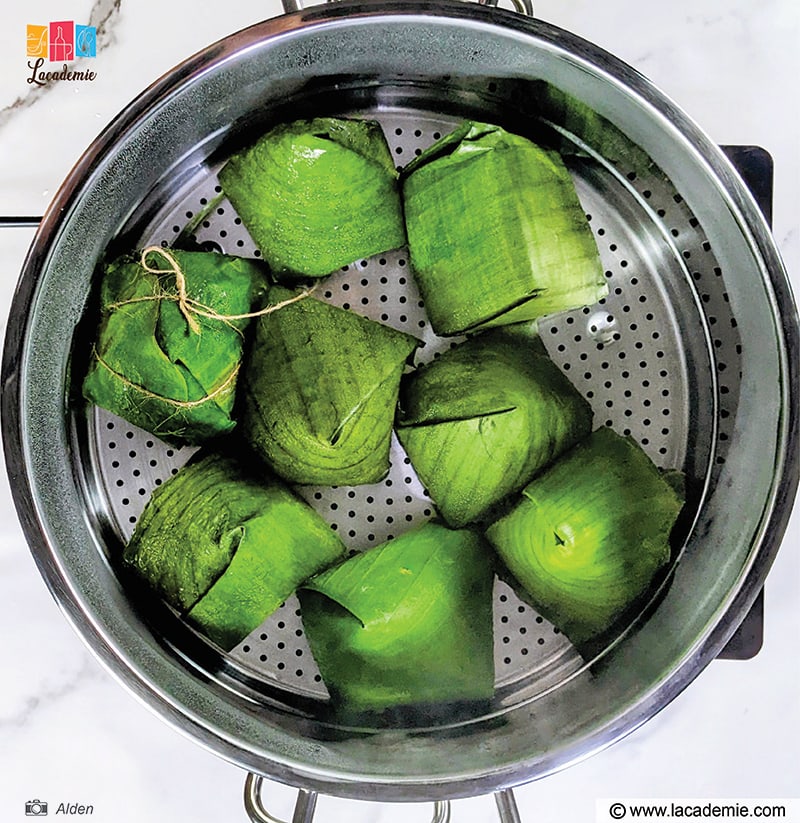 Step 8: Enjoy!
Remove the dumplings from the steamer, cut them in half, and enjoy! You can serve Vietnamese Banh gio with sweet and sour fish sauce or chili sauce.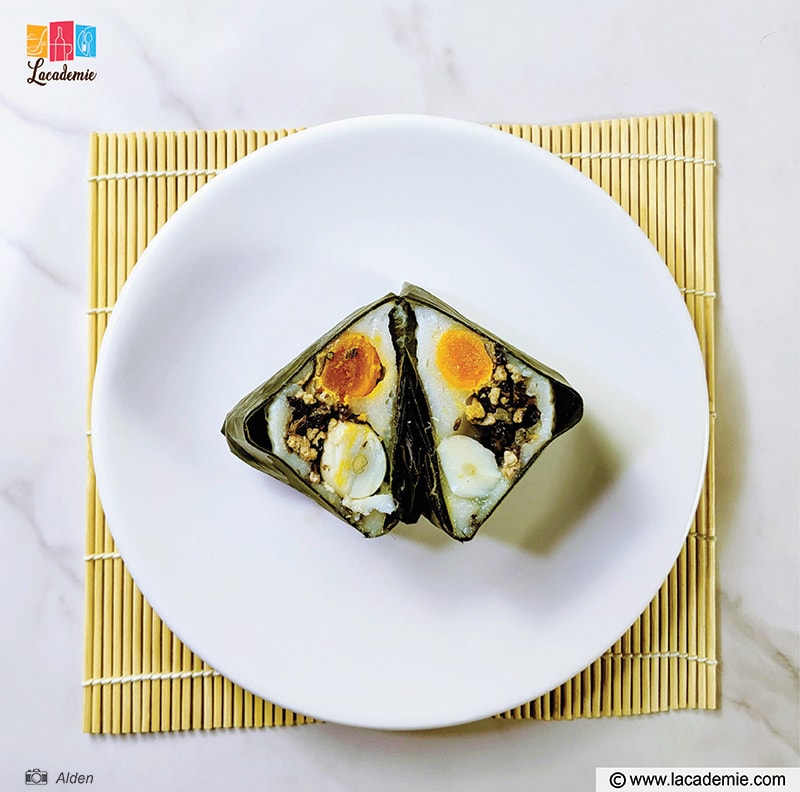 Notes And Tips
Don't miss out on these tips! They'll come in handy when you run into a problem while cooking this dish.
You can substitute chicken broth with water, but the final result won't taste as good.
Avoid stir-frying the filling for too long, as it can become watery.
You shouldn't add fish sauce to the filling as it can make the dumplings taste sour and more prone to spoilage.
When steaming, you can check the dumplings' doneness by poking a toothpick into them. If the toothpick comes out clean without any dough sticking to it, your dumplings are ready to serve.
Don't add too much dough and filling, as doing so makes it more difficult to wrap the dumplings. Besides, your treats won't be cooked evenly and might leak out of the leaves.
If ground pork is not your cup of tea, you can use shredded chicken breast instead.
You can enjoy the dumplings with the wrappers on or unwrap them completely and place them on a plate.
Consider getting a mold if you find wrapping manually too challenging.
You can tie the dumplings if you're not used to folding the base.
Banh gio tastes best when served warm.
Vietnamese pork bologna, sausages, cucumber, and pickles are great side dishes to pair with Banh gio.
The Best Way To Store Leftover Banh Gio
As mentioned above, you should enjoy your Banh gio while they're still warm. However, if you need to store the leftovers, store them in their leaf wrappings in the refrigerator. They will last 3 days this way.
Your Next Favorite Vietnamese Dish Is Here!
In Vietnam, the locals enjoy Banh gio any time of the day. Whether you're looking for a good breakfast, lunch, snack, or even dinner recipe, these tasty dumplings can do it all! Remember to pair them with sausages or veggies for a more fulfilling meal.
What do you think about today's recipe? Will you add it to your "to-cook" list? Share your cooking experience with other readers and me in the comment. Last but not least, make sure that you've liked and shared this recipe with other people.
Nutrition Facts
8 servings per container
---
Amount Per ServingCalories324
% Daily Value *
Total Fat 13.7g

20

%
Cholesterol 368mg

123

%
Sodium 1379mg

58

%
Potassium 260mg

8

%
Total Carbohydrate 30.9g

10

%

Dietary Fiber 1g

4

%
Sugars 2.7g

Protein 16g

32

%
---
Calcium

52

%
Iron

3

%
Vitamin D

14

%
* The % Daily Value tells you how much a nutrient in a serving of food contributes to a daily diet. 2,000 calories a day is used for general nutrition advice.