Vietnamese coconut coffee (Cà Phê Cốt Dừa) is a truly special drink that has taken the coffee connoisseurs in Vietnam by storm. This irresistible Vietnamese beverage is a delightful combination of strong coffee and a creamy, frothy coconut slush on top, creating an exciting twist.
Whether you're looking for a new way to enjoy your caffeine hit or simply want to try out a unique treat, Ca Phe Cot Dua is a top-notch choice. Stick with me until the end of today's post and learn how to brew this iconic drink, along with several useful tips and tricks.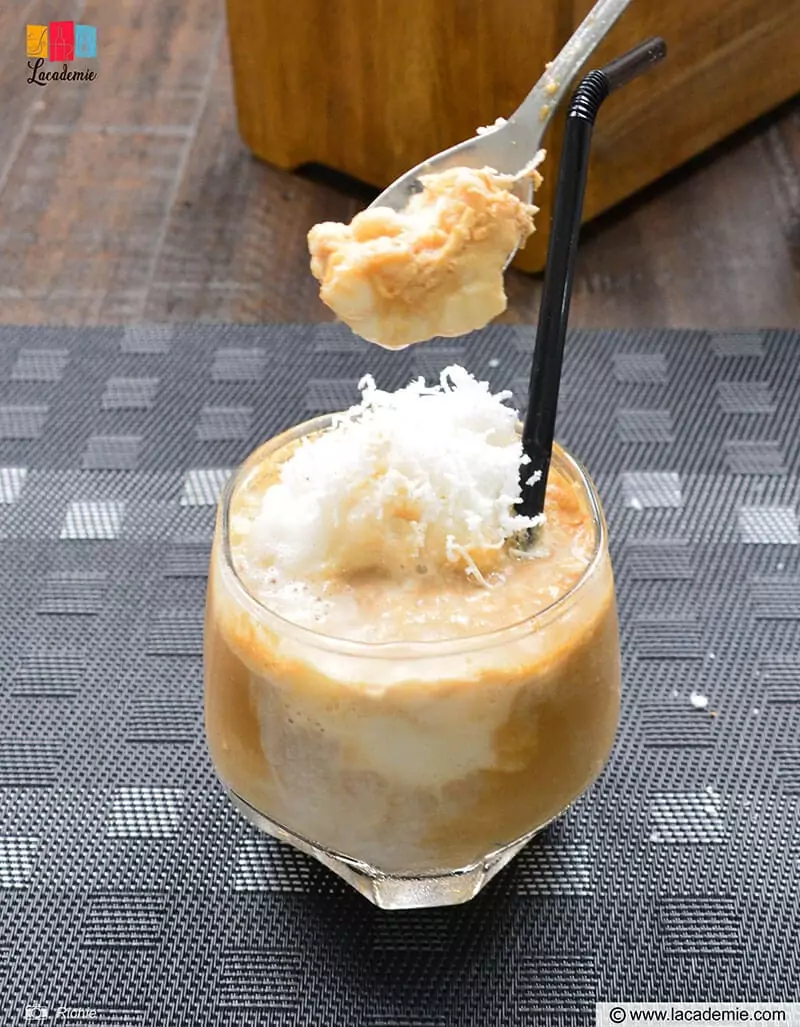 More About Vietnamese Coconut Coffee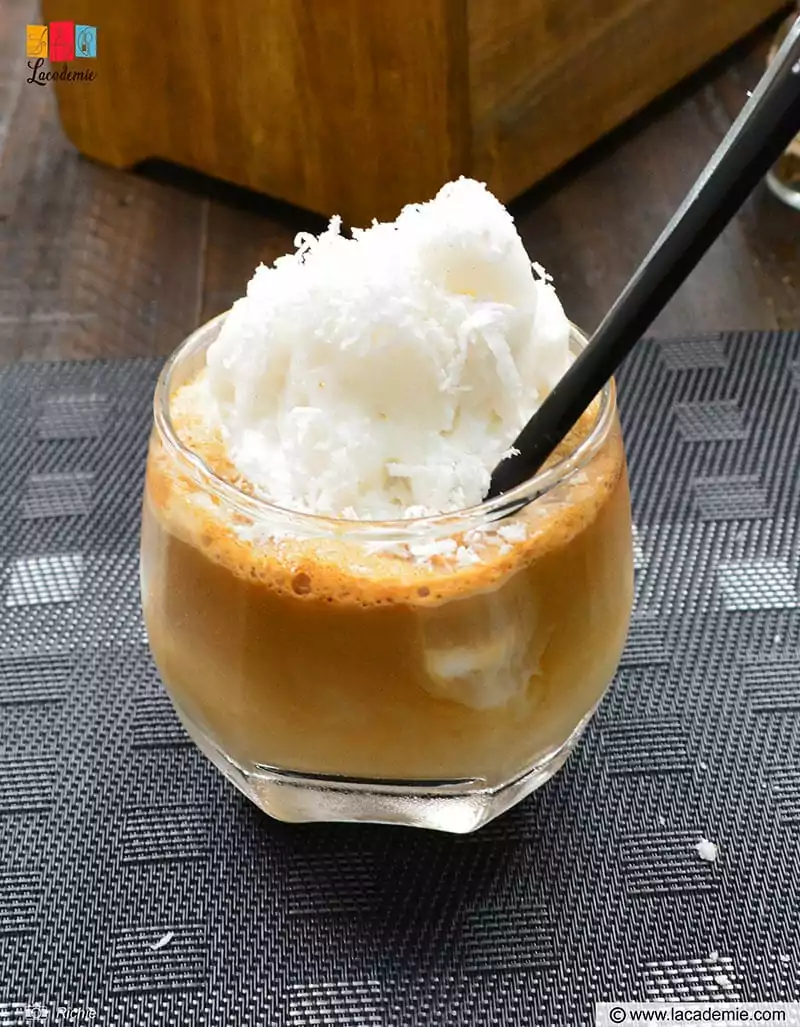 It's no secret that coffee plays a vital part in the food and drink culture of Vietnam, with various types of Vietnamese coffee available. Traveling in the country, you can find coffee literally everywhere, selling for as little as a dollar.
First appearing in Hai Phong, a coastal province located in Northern Vietnam, Ca Phe Cot Dua has since blown up and become a well-loved drink. Much like its "cousin", Ca Phe Trung (Vietnamese egg coffee), you can now find coconut coffee in numerous coffee shops across the country.
Ca Phe Cot Dua's success is not a big surprise, though. I mean, the Vietnamese have shown their love for anything coconut-related for years, adding coconut-based ingredients to all kinds of dishes. Naturally, they can't say no to a beverage that blends two of the most adored treats.
Tools
In order to brew Vietnamese coconut coffee, you'll first need to prepare a few tools. Here's the list of what you need.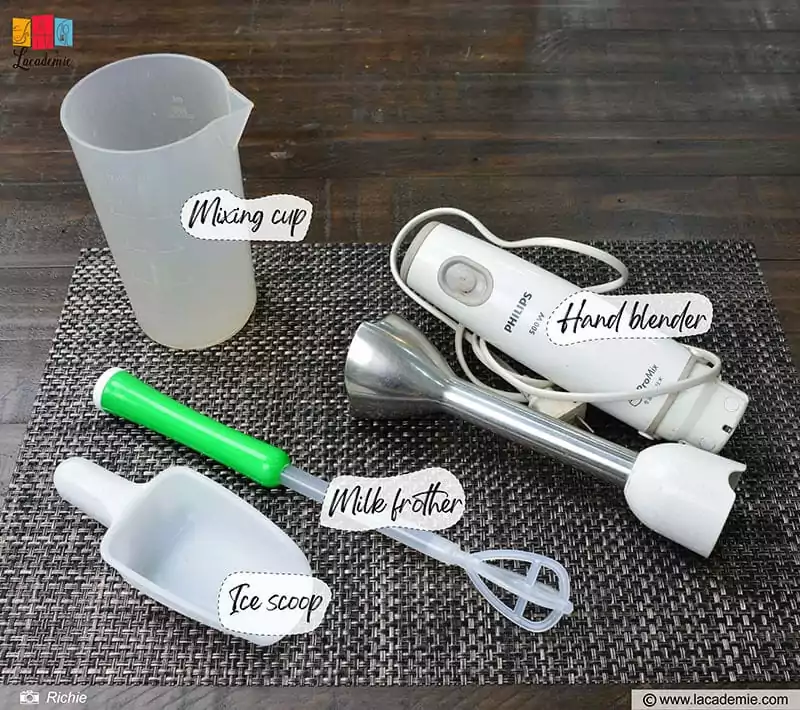 Hand blender: You should use a high-power blender that allows you to easily blend crushed ice with coconut milk.
Mixing cup: Most blenders come with one, but if yours doesn't, you can use a measuring cup.
Milk frother: For frothing the coffee.
Ice scoop: For scooping the ice.
Ingredients
When it comes to the ingredients, Vietnamese-style coffee and coconut milk are the essentials. In addition, some crushed ice and condensed milk are needed to make the slushy.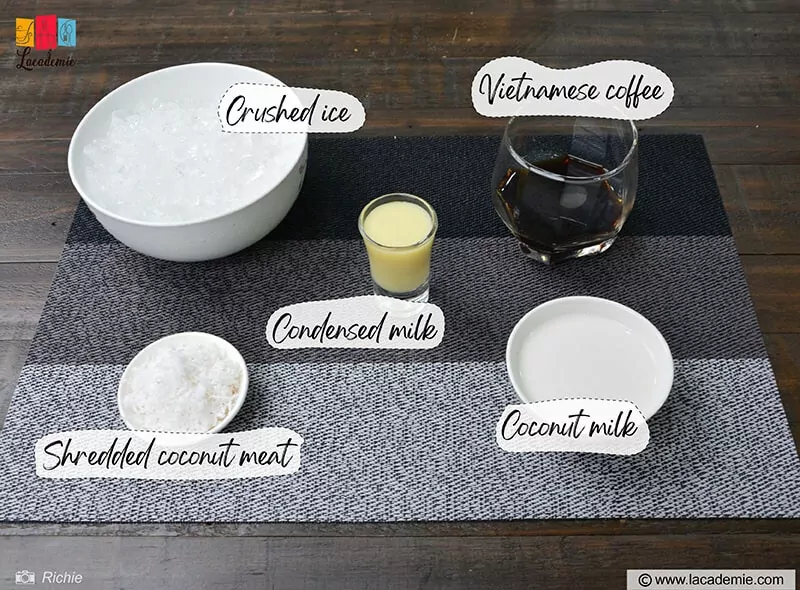 Vietnamese coffee: Coffee brewed with a Phin filter, like the one in Vietnamese iced coffee, is the best choice. For a larger batch, you can also brew the coffee using a French press or machine. Remember to use Robusta coffee beans. Another viable (but not recommended) option is to use instant coffee.
Coconut milk: Don't mistake this for coconut juice (water). You can also use coconut cream for a thicker consistency.
Crushed ice: For blending the slushy.
Condensed milk: The main sweetener for the slushy. I suggest using the Sua Dac Ong Tho (Longevity brand), which is also the most popular brand in Vietnam.
Shredded coconut meat: For garnishing.
Directions
Finally, it's time to start making your tasty cup of Vietnamese coconut coffee! Follow the 3 steps below closely for the best result.
Step 1: Make The Coconut Slushy
Blend the coconut milk with crushed ice and condensed milk until the mixture becomes frothy and cream-like.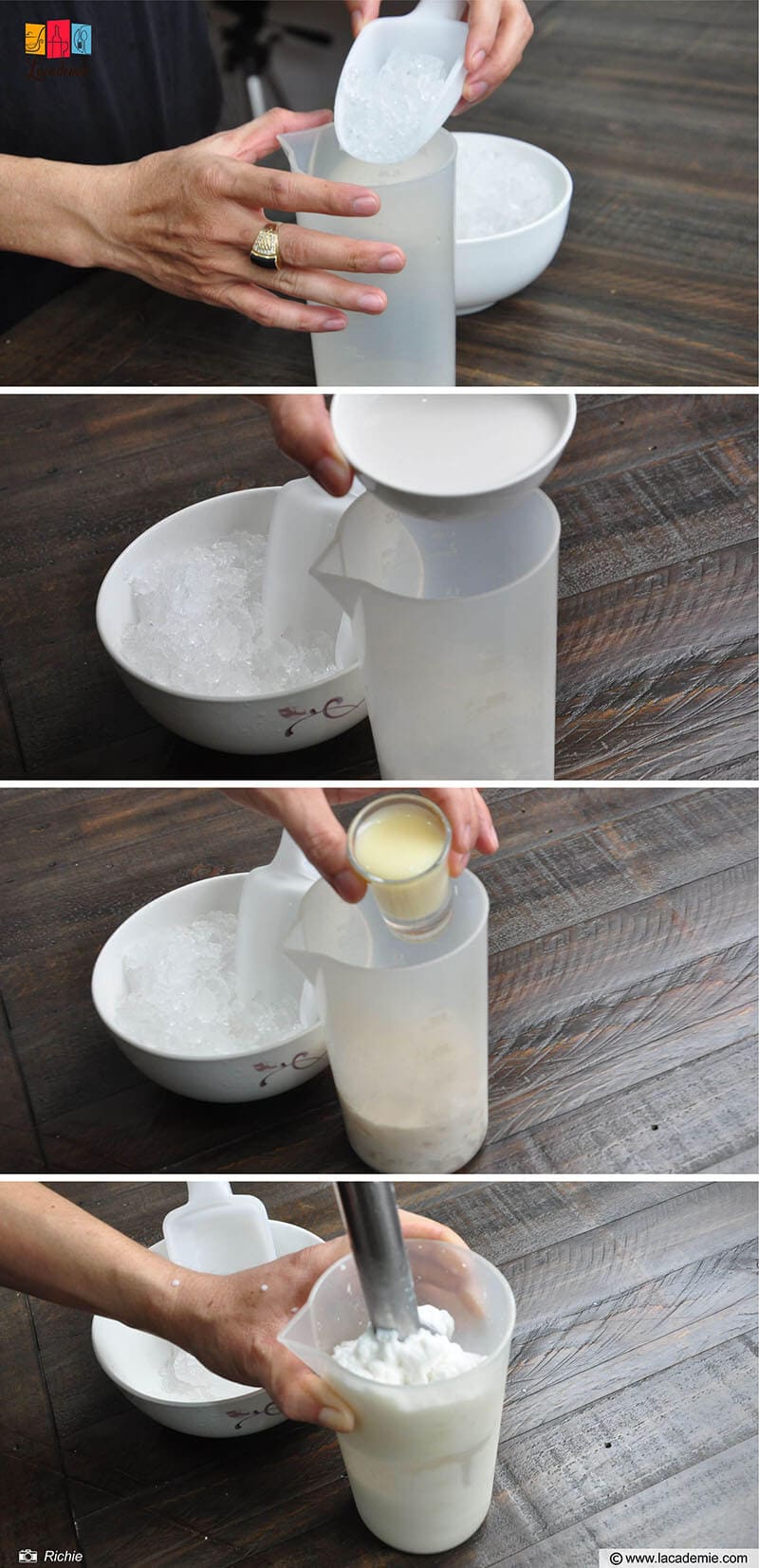 Step 2: Froth The Coffee
Brew your Vietnamese coffee. Once you have a perfect batch of coffee, quickly use a frother to foam it up for a few seconds.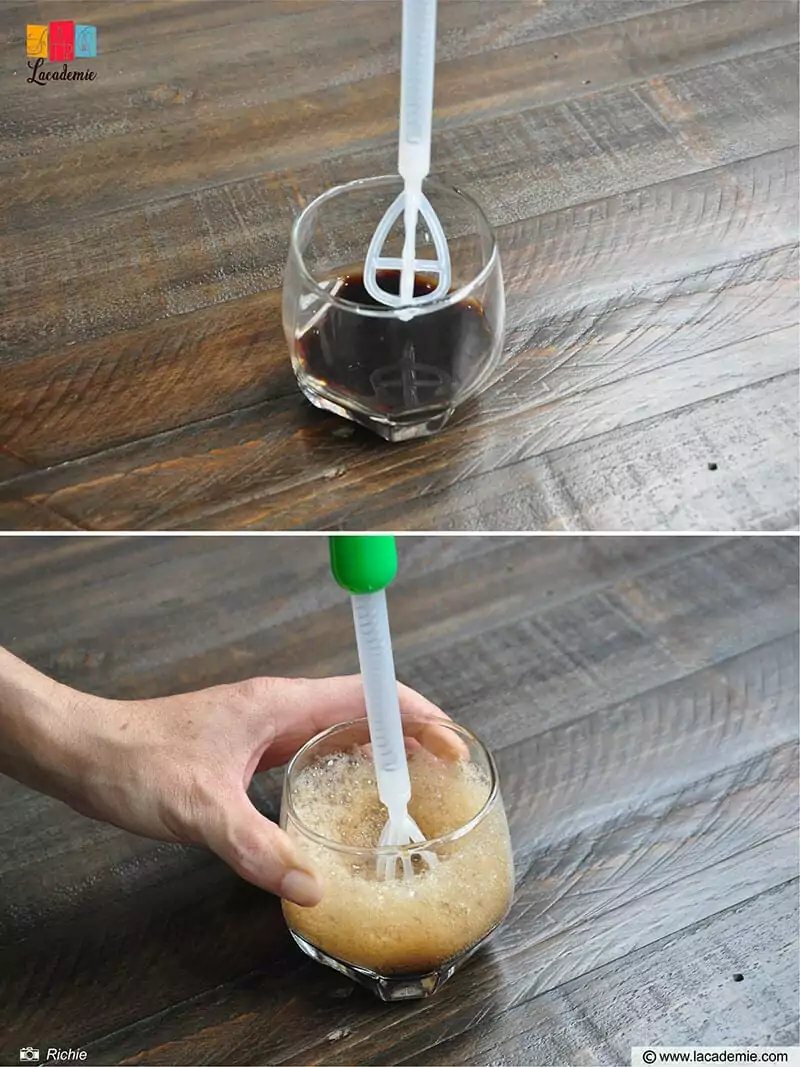 Step 3: Assemble The Drink
Pour/scoop the coconut slushy over the coffee. Create a high block of cream on the surface of the cup to make the drink more appealing.
Sprinkle some shredded coconut meat on top. You can also add dried coconut flakes to the coffee for extra flavor. Enjoy!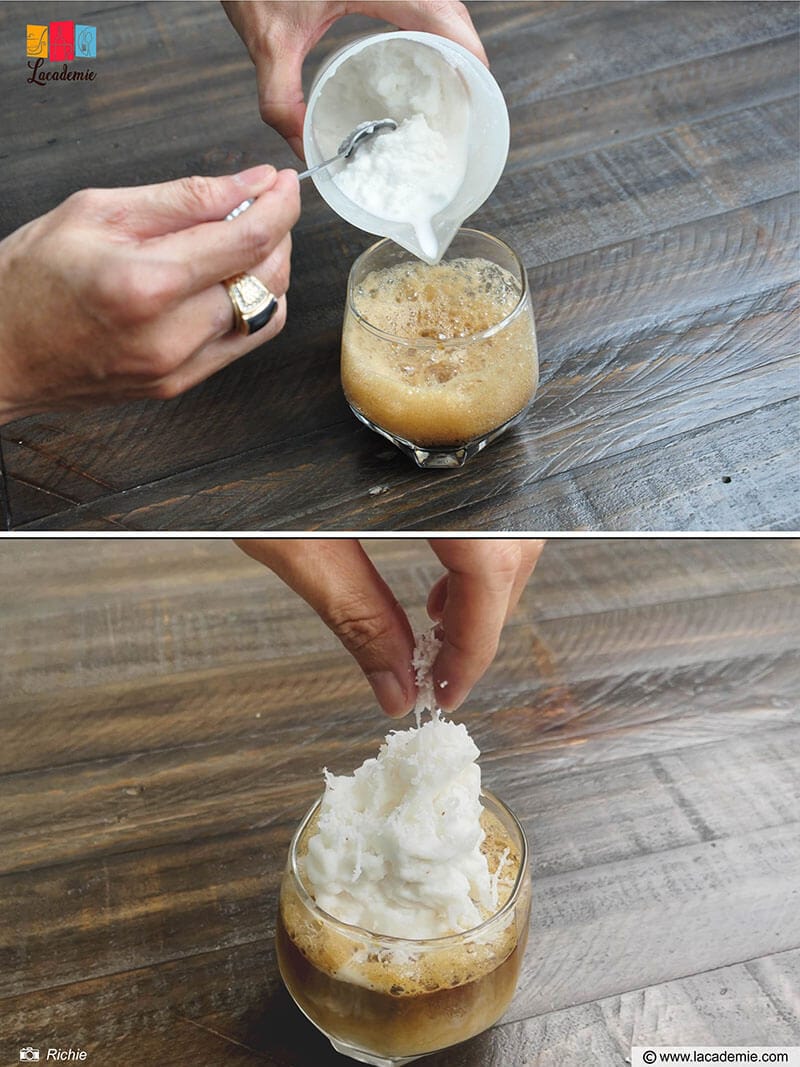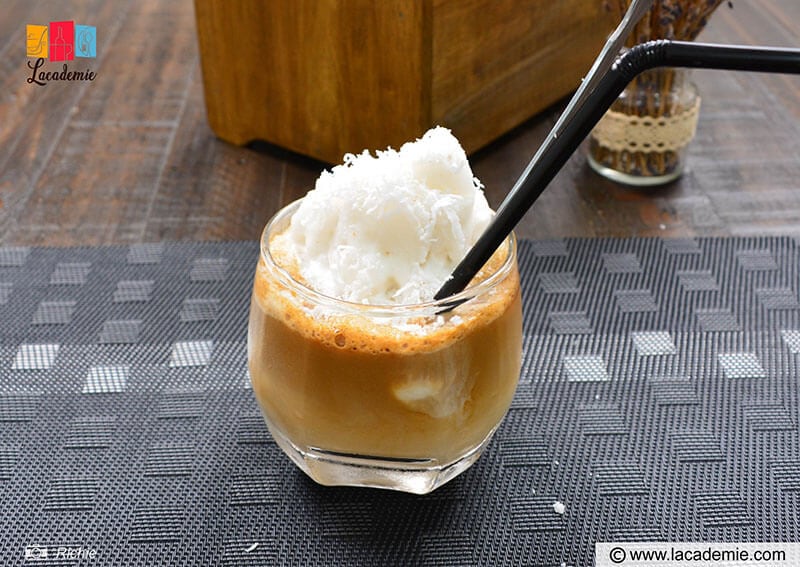 Storing And Making The Drink In Advance
You can make the slushy and coffee in advance, refrigerate them, and assemble the drink when you want. However, you should keep them in different containers and only make them about 2 days ahead for the best flavors.
The same thing applies to leftovers. If you've already poured the slushy over the coffee, I don't recommend storing it in the fridge or freezer.
Tips And Tricks
In this section, you'll find some tips and tricks that will help you make the ideal cup of Ca Phe Dua on the first try. Check them out!
If your blender is low-power, add the ice gradually during blending, which allows the device to function smoother and achieve the best texture.
The amount of coffee and coconut slushy in this post will give you a balanced drink. However, feel free to add more coffee if you prefer a stronger treat and vice versa.
Some Variations You Need To Try
In addition to the original recipe shown here, this drink also has some variations that are equally as delicious.
Try a hot version of this drink by blending the coconut milk with condensed milk without ice. You should also increase the amount of coconut milk used a little.
If you want a vegan drink, swap the condensed milk for coconut condensed milk.
For a more caffeinated drink, you can use coffee ice cubes to blend the slushy.
People following a keto diet can also enjoy Ca Phe Cot Dua by not adding condensed milk to the slushy. Note that coconut condensed milk is also not keto-friendly, so you'll need to avoid this ingredient as well.
FAQs
Eager to learn more about Vietnamese coconut coffee? Check out the following commonly asked questions!
Have A Great Day With Ca Phe Cot Dua
Brewing a cup of Ca Phe Cot Dua, either cold or hot, is an excellent option to start your day on the right foot. The robustness of Vietnamese coffee will energize you, while the coconut slushy adds a touch of sweetness to the drink, toning it down and making it more mass-appealing.
What's your favorite way to enjoy Vietnamese coffee? Are there any recommendations you want to make? Please write them in the comment section. And while you're at it, remember to like and share the post to help it reach more coffee lovers. Thank you so much, and see you again soon!
Nutrition Facts
1 servings per container
---
Amount Per ServingCalories397
% Daily Value *
Total Fat 25g

39

%
Cholesterol 22mg

8

%
Sodium 100mg

5

%
Potassium 594mg

17

%
Total Carbohydrate 39.6g

13

%

Dietary Fiber 1.8g

4

%
Sugars 37.8g

Protein 7.3g

15

%
---
* The % Daily Value tells you how much a nutrient in a serving of food contributes to a daily diet. 2,000 calories a day is used for general nutrition advice.