Aside from the fantastic foods, Spanish cocktails also receive their fair share of recognition. From northern to southern Spain, you will always find something new in these regions, thanks to Spain's diverse demographic.
Spain also has a very developed drinking culture. Bars and pubs are a major thing in the country, where people go to meet friends after work. This means that these places have to come up with new drinks to attract potential customers.
From traditional to new creations, Spain has it all. And to your luck, I have collected some of the most notable cocktail recipes to go with your Spain-themed delicacies. Through them, you can appreciate how creative Spaniards are when it comes to drinking.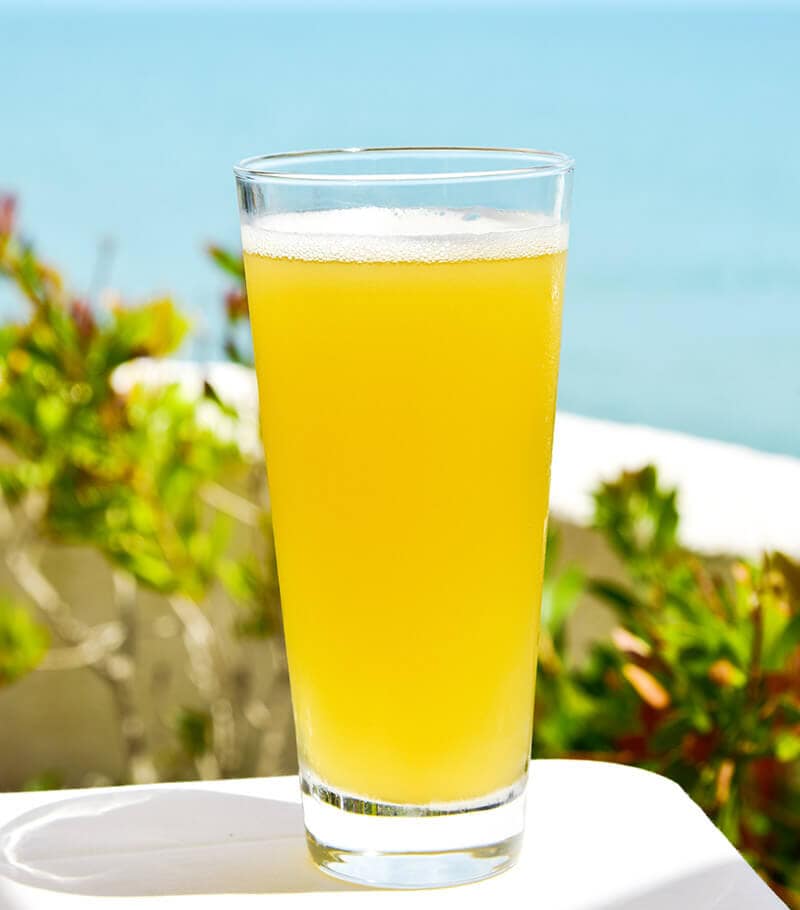 Total time: 10 minutes
When it comes to classic Spanish cocktails, Red Sangria always takes the top. The drink originates from the Iberian Peninsula, which consists of Spain and Portugal. No one knows exactly how the drink was created, but the term "sangria" started popping up in the 18th century.
To make this refreshing drink, you will need red wine, citrus juice (lime and orange), and chopped fresh fruits, preferable Spanish native fruits for an authentic flavor.
First, you mix citrus juice with sugar and orange liqueur. You can choose other types of liqueur, but I highly recommend Cointreau for a more authentic Spanish flair.
The final step is to mix in red wine, fresh fruits, and a can of club soda. The result is both sweet and tangy. This means Sangria can pair well with many Spanish starters. The dryness from the alcohol also adds more depth to the whole aroma.
Making a classic cold glass of Red Sangria for a hot summer.
Total time: 10 minutes
For the next entry, I will be talking about another variant of the classic Sangria. This version has a more transparent look, so people often call the drink "White Sangria". This newer look comes from a change in its core ingredient, which is wine.
To make the drink, you will need the following: chopped fresh fruits, white wine, and Champagne. The first step is to put the fruits into a glass pitcher, then pour in both white wine and Champagne. You can add another type of orange liqueur called Triple Sec.
What you have at the end is a very fruity cocktail. Although White Sangria shares a lot of similarities with Red Sangria, the combination of Champagne with the Triple Sec gives this particular drink a very memorable fragrance.
Total time: 10 minutes
Similar to Red Sangria, Tinto De Verano, or Summer Red Wine, is another genius take on the red wine cocktail. The history of this drink is rather recent. A bartender named Federico Vargas created the Tinto De Verano in Cordoba during the early half of the 20th century.
What makes this unique cocktail recipe different from Sangria is that Tinto De Verano doesn't require you to infuse fresh fruits. Instead, you only need soda and Vermouth (an enhanced type of wine) to add to the wine. The only fruits required for the recipe are orange and lime slices.
First, add the red wine to a glass. Then you pour both soda and Vermouth into the wine. Add a few slices of lime and lemon for that citrusy flavor.
On a hot day, a glass of Tinto De Verano and a plate of refreshing Spanish mixed vegetables will be nice. Since it's easy to make, locals tend to have this more than Sangria.
A tutorial on how to make Tinto De Verano for yourself.
Total time: 5 minutes
At its core, Kalimotxo, or Red Wine and Coke, is not too dissimilar to Tinto De Verano. Kalimotxo came out during the same time period of the early 20th century. However, it was only in 1972 that the drink got its name. Kalimotxo is very well-liked in the Basque Country region.
In order to recreate the drink, you will still need red wine, mint, and lemon wedges. Instead of using soda, the recipe for Kalimotxo will require you to use cola. The only step you will do is mix both red wine and cola together. Add the lemon wedges and mint on top as garnish.
The drink is very simple, and the ingredients are cheap. The alcoholic content of Kalimotxo is light, which means you won't have any trouble pairing it with breakfast dishes from Spain. You can make this any time you want, especially in the summer.
Total time: 5 minutes
Moving from red wine, I will introduce you to a local Valencian drink that has captured the hearts of many. Agua de Valencia, or Valencia Water, is a refreshing and citrusy cocktail that made its first appearance in 1959. In the 1970s, the drink became popular across the Valencia region.
For the preparation, you need to gather orange juice, sparkling wine, and a type of liqueur. In this specific recipe, I recommend Cava sparkling wine to get that Spanish flair. The first step is to mix the orange juice and liqueur. You can also add a bit of Gin to enhance the cocktail.
Then, you slowly pour the sparkling wine on top. Agua De Valencia has a tangy and slightly sweet after-taste. The liqueur helps to add a bit of a punch to your senses. This is a perfect drink if you want a quick boost of fun and vitamin C.
Agua De Valencia is the drink you want to make for a good party.
Total time: 5 minutes
Despite the name, Pink Panther's Milk has nothing to do with the popular cartoon character. Instead, the origin of this drink comes from the army, particularly the Spanish Foreign Legion, in the 1920s. General José Millán-Astray wanted a drink that had a longer shelf life for his soldier.
However, the drink was soon forgotten until the 1970s when a bar named La Barretina bought it back from obscurity. Since then, Pink Panther's Milk has become a Spanish staple in many bars.
To make it, you need condensed milk, liquor (Brandy or Rum), and a type of syrup called Grenadine. At the start, combine all of the ingredients into a shaker. After that, you add an ice cube as well. The final step is to shake and pour the cocktail through a strainer into a glass.
You will find that the drink is especially creamy and sweet from the milk and syrup. After the initial sweet, you can feel the aroma of the liquor coming. This makes for an interesting experience.
Total time: 5 minutes
If northern Spain has Kalimotxo, southern Spain has its own version called Rebujito. During Spain's hot season, between April and May, this drink helps locals of Seville and Jerez fight off the heat while still letting them enjoy a nice alcoholic beverage.
To prepare Rebujito, you will need sherry, lemon syrup, and seltzer (another name for a carbonated drink). First, you make the lemon syrup by mixing sugar, lemon zest, and water in a heated pan. Then, you mix the syrup with sherry before pouring the seltzer on top.
Since this drink tastes better cold, you can add a big ice cube. When you combine the zesty lemon with the tangy sherry, it gives the cocktail a delightful aroma. Other than that, the seltzer also gives Rebujito a fizzy after-taste.
Get ready for your summer party with this Rebujito recipe.
Total time: 3 minutes
Traditionally, the normal version of this old-school English beverage consists of just Gin (an alcoholic beverage made from juniper berries) and tonic water (a carbonated drink with quinine as one of the main ingredients). However, it is never this simple with the Spanish version.
Besides the usual ingredients like Gin and tonic water, you can also add aromatics (herbs and spices) and fresh fruits. First, you need to add ice cubes until they fill up the glass. After that, you add both the Gin and tonic water.
The final step is to garnish the drink with rosemary, lemon slices, or even vanilla pods. Spanish Gin Tonic is a great summertime drink with its refreshing taste. The aromatics add a lot of that depth to the drink that you wouldn't normally get in a normal Gin and Tonic.
Total time: 2 minutes
Lemon Beer, or Clara Beer, is one of the most creative ways that Spaniards have come up with to cool themselves off. This mix between a beer and a cocktail is a popular beverage during the summer.
The ingredients are extremely easy to find for this recipe. You will need Spanish beer and lemonade. For Spanish beer, there are popular brands like San Miguel or Cruzcampo.
As for the lemonade, you can use the traditional lemonade, or you can get any lemon-flavored carbonated drink. You make this cocktail by mixing equal parts beer and lemonade.
As a result, you get a very delicious and tangy cocktail that will satisfy your thirst. And the best part is that this cocktail will only give you a light buzz even when you drink too much.
Total time: 5 minutes
Without a doubt, Vermouth is one of Spain's most beloved alcoholic beverages, as Spaniards love to have it on a lot of occasions. Spanish Vermouth is typically sweeter compared to other versions of the drink. This is why Vermouth is a popular ingredient for many Spanish cocktails.
In this particular recipe, I will show you how to make a special cocktail from the northern side of Spain called Marianito. The ingredients you will need are Vermouth Lacuesta Rojo (a red Vermouth), Gin, and Angostura Bitters (a bitter beverage made from Venezuela).
The only step you have to take is stir all of the ingredients above with ice. Then, pour the liquid through a strainer into a glass. You can top it with olive. The sweet flavor of the red Vermouth blends well with the Angostura Bitters. Together, this drink is perfect for loosening yourself up.
Total time: 5 minutes
Carajillo is a special type of coffee that you can find in Spain and other Spanish-speaking countries. According to popular belief, the drink came from Cuba when it was still a part of Spain. Soldiers drank coffee infused with rum for a boost of energy and bravery.
If you want to recreate this interesting coffee by yourself, you will need rum, espresso coffee, and sugar. The only thing you have to do is pour the rum into a glass before adding the espresso coffee on top.
In most places, bartenders will serve this drink in a small shot glass with sugar on the rim. This drink tastes a bit like coffee but with an added flavor of the liquor. Most Spaniards drink this after a meal.
You can now create your own version of Carajillo with this tutorial.
Total time: 12 minutes
Galicia Fire Drink, or Queimada as the locals like to call it, is a type of punch (fruit-based beverage) from the region of Galicia. What makes Queimada stand above other cocktails is the way Galicians light it up after mixing all the ingredients together.
Before lighting the drink up, locals usually chant a spell. Nobody knows exactly how this tradition came about. Some say Queimada was from old Celtic culture, but others speculate it only started in the 1950s.
For the preparation, you will need Orujo (a spirit from northern Spain), sugar, and coffee beans. First, you pour the Orujo and sugar into a clay pot. Transfer the clay pot onto a stove. Keep stirring the mixture before adding the sugar.
You have the option of lighting the pot on fire, but if you live indoors, I highly suggest against it. Since it's an alcoholic punch, you can taste both the fruitiness and the kick from the alcohol. The coffee beans add a bit of bitterness as well.
Total time: 2 minutes
And to the final entry of this list, I will introduce a drink that might not come from Spain but is still beloved within the country. Cuba Libre literally translates to "Free Cuba" in English. The current version of the drink was created after the Spanish – American War in the late 19th century.
In order to make Cuba Libre, you will need rum and Coca-Cola. The process is really simple: Fill a glass with enough ice before pouring in both rum and Coca-Cola. Add a slice of lime or lemon as garnish.
The combination of both rum and Coca-Cola is a classic. On the one hand, you have the dryness from the rum. On the other hand, Coca-Cola has a sweetness that offsets the spike from the rum. There's also a bit of tanginess from the lime.
Nutrition Facts
8 servings per container
---
Amount Per ServingCalories182
% Daily Value *
Total Fat 0.2g

0

%
Sodium 14mg

1

%
Potassium 295mg

9

%
Total Carbohydrate 22.9g

8

%

Dietary Fiber 2.1g

8

%
Sugars 18.1g

Protein 0.9g

0

%
---
* The % Daily Value tells you how much a nutrient in a serving of food contributes to a daily diet. 2,000 calories a day is used for general nutrition advice.