If you once thought British recipes are dull and boring, prepare to take back your words because what I'm going to show you now can blow your mind away immediately.
All these dishes in this article are all the best of the best among millions of crecipes created throughout Britain, no matter whether they come from England, Ireland, or Scotland. No matter how many new ones were born, no one can disregard their place in the cuisine field.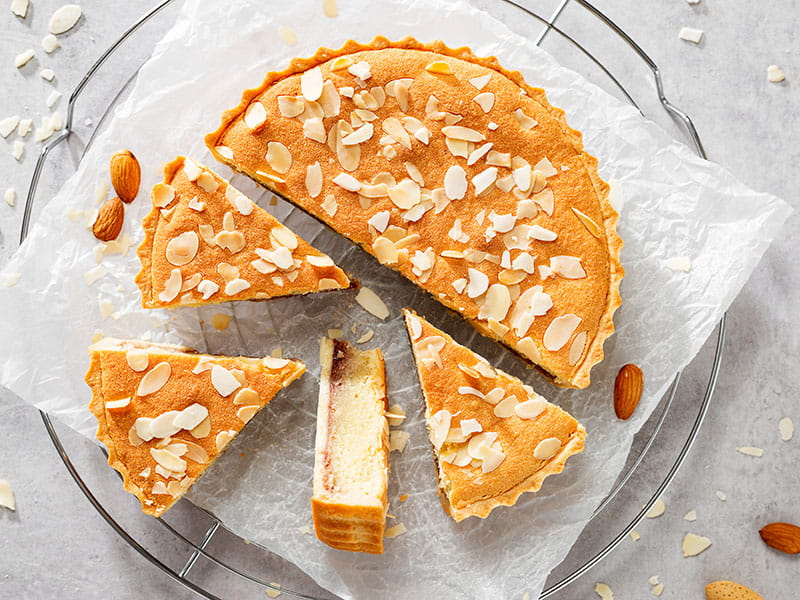 These Recipes Are The Gifts From Britain
Just these British recipes alone are enough to make a whole party that can satisfy all of your guests. Or you can make them into a homey dinner meal or a convenient snack.
Side Dishes
Piccalilli (British Pickled Vegetables)
Yorkshire Pudding
Welsh Rarebit
Scotch Eggs
Fish And Chips
Main Dishes
Cornish Pasty
Kedgeree
Toad in the Hole
Cottage Pie
Lancashire Hotpot
Beef Wellington
Bangers And Mash
Desserts And Snacks
Cakes
Victoria Sandwich
Yorkshire Parkin
Eccles Cakes
Jam Roly Poly
Pies And Tarts
Mince Pies
Banoffee Pie
Treacle Tart
Bakewell Tart
Pastries
British Scones
Scottish Shortbread
Other Desserts
Strawberry Fool
Eton Mess
Scottish Tablet
British Flapjacks
Spotted Dick
So, let's see what recipes are waiting for you right below!
Let's Find Out What British People Eat For Their Side Dishes!
Of course I need to talk about side dishes. While they don't hold much spotlight like main courses, they still play a vital role in creating an appealing party. Also, British side dishes are not those regular salads that you might think of.
Piccalilli is like the result of letting a British man make South Asian pickles. What you have today is a yellow relish consisting of different vegetables and spices. Its color might come from mustard and turmeric.
While there's no requirement for what veggies you should use in piccalilli, the most regular choices are cauliflower and onions with seasonal vegetables. You often find it as a side dish rather than a spread.
While it's named Yorkshire "pudding," think not of your regular creamy, smooth pudding. This delicious food with "Y" as the starting letter is more of a popover with all crispy, brown edges and a fluffy interior.
There's no limit on how you can enjoy Yorkshire puddings. The fastest way would be popping them right in your mouth with some jam and butter. Or you can eat this dish alongside beef bourguignon for a hearty main course. Feel free to let your mind wander!
Have you ever wondered how a professional chef makes Yorkshire pudding?
Also known as Welsh rabbit, surprisingly, this delicious Welsh dish is 100% vegetarian. You can consider Welsh rarebit a British equivalent of the standard cheese on toast as some recipes are indeed just some toast with melted cheese on top.
However, authentic Welsh rarebit is a bit more complicated as you need to make a cheese sauce. And in this part, don't hesitate to create as many versions as you want since there are no fixed sauce recipes. Beer, mustard, any kind of cheese,…, what to choose is all in your hand.
If you are a picnic person, you must have tried Scotch eggs once or twice. They are a perfect Scottish dish for a picnic party as they are easy to transport and taste delicious no matter served hot or cold.
Aside from that, you can also enjoy Scotch eggs for a quick brunch or lunch. Just one egg can fill you up in no time. And if you feel chicken eggs are too heavy, just swap them with quail eggs to make mini versions.
Make some of these Scotch eggs for your next picnic! Watch this video to know more:
Though no one knows who got the idea of combining these two deep-fried dishes into one, one thing is clear that fish and chips have spread their influence to many countries in the world, including America.
However, not all fish and chips are identical. One of the most significant differences between them in each country is the accompanying dipping sauce. Americans often eat fish and chips with tartar sauce, while in Britain, people just sprinkle some salt and vinegar on top.
British Cuisine Offers You These Luscious Main Dishes
After the side dishes, here comes the main stars of the show. All the dishes below may come from different times with different origins. But they all share one similarity: Tastiness beyond imagination!
Once a convenient lunch for the miners, Cornish pasty has now become a pillar in British cuisine. It even has its own association to decide all necessary categories for an authentic Cornish pasty.
According to them, your Cornish pasty should include diced beef, Swedish turnips, potatoes, and onions in a D-shaped crust. Aside from that, you are free to be as creative to your dish as you want.
This cornish pasty is a true classic British recipe. Watch this video to know more:
Originating from India, kedgeree has now become a well-loved dish in Britain. While I can't deny its origin, modern kedgeree has changed to the point it's completely different from the initial khichdi rice from India.
One look at kedgeree will make you want to devour it right away. This dish often contains fish from the previous meal or smoked fish, hard-boiled eggs, curry powder, etc. Thanks to those components, kedgeree gains a vivid, colorful appearance.
Calm down; there is no real toad in this dish. In fact, there hasn't been any record saying British people used to use toads to make this. When it was first created, home cooks made it with leftover meat or, according to one theory, pigeon meat.
Calm down, there is no real toad in this dish. People say, due to how sausages look in this dish, it got the name "toad in the hole."
When it was first created, this dish contained mainly leftover meat or pigeon meat. Today, the toad in the hold often appears with sausages baked in Yorkshire pudding batter and served with caramelized onion gravy.
Salty sausages with fluffy Yorkshire pudding and rich onion gravy make a perfect choice for your dinner.
This toad in the hole is really a dream come true. You should see the video below:
You can't say you understand British cuisine if you don't know about cottage pie. This recipe is often mistaken for Shepherd's pie. And in fact, people now tend to use them interchangeably.
However, there's still one massive difference between them: Cottage pie uses ground beef, whereas Shepherd's pie traditionally contains lamb meat. Of course, you can replace the meat with vegetables to create a vegetarian version.
It'd be a waste if this dish didn't include cottage pie. While many also use the word "Shepherd's pie" in this recipe, cottage pie actually doesn't contain ground lamb meat like the other.
Rich meat sauce, mashed potatoes, and tons of cheese on top, one slice of this pie is enough to fill your stomach. If you feel the traditional version too heavy, you can make a vegetarian version by replacing the meat with vegetables.
It gets the "hotpot" in its name, but this dish isn't what you think of Asian hotpot. I think it suits the word "stew" more as this dish needs to be cooked at a low temperature for a long time.
Lancashire hotpot's recipes depend on each British region. Some include lamb kidneys, while others don't. Traditional Lancashire hotpot even replaces the meat with oysters, which were pretty cheap at that time.
If you love British cuisine, you can't skip beef wellington. Simply put, you can make this dish as an English steak with a fillet steak surrounded by mushroom duxelles (or pate) and wrapped in puff pastry. Chefs usually bake it whole before slicing it into each portion.
Just like its name indicates, beef is the most favorite choice for this dish. However, now, there are more wellington options for you to make. For example, you can go with lobster for a high-class dish or choose mushroom and beet if you want to keep it vegetarian.
You can even open a restaurant with this beef wellington. Let's see the video below:
You may already know "mash" means "mashed potatoes," but what do "bangers" refer to? Well, the answer is really simple. They are all kinds of sausages flavored with ground mace and breadcrumbs for a little "bang" feeling in your mouth.
Though its name mentions potatoes and sausages only, many think the most vital element of this dish is the onion gravy, which provides your dish extra richness. Besides that, you can serve bangers and mash with some salads for a balanced lunch or dinner.
You Won't Believe These Flavorful British Desserts And Snacks
Your first thought about this part may be: What a long list! And I can't deny that, either. British people indeed have a soft spot for desserts. And that reflects on all the stunning recipes below.
Have You Known About All These Cakes?
When it comes to desserts, obviously cakes would come first. There are thousands of cakes in the world, but these British ones below are totally out of this world.
You may be surprised when ordering this dish for lunch since what you receive is actually a cake. Then, why call it a sandwich? It's because this dessert includes two sponge cakes with a jam filling, looking just like a giant sweet sandwich.
This cake is also named after Queen Victoria, who is famous for having afternoon tea with cakes. Traditional Victoria sandwich only has jam, but other recipes include cream or fruits as well.
Your tea party will be sweeter with this Victoria sandwich. You should see the video below:
Britain's winters are chilling, and you must want something to warm yourself up. And my suggestion is none other than Yorkshire parkin.
Parkin is well-known for its moist and sticky texture. Many may confuse it with English gingerbread. But parkin contains oats while the latter doesn't.
Besides eating parkin on its own, you can enjoy it with custard or use it in the trifle.
What's better than eating this Yorkshire parkin while sitting by a fire? Watch this video to know more:
Time passes, and numerous desserts don't remain as they once were. But that's not the case with Eccles cakes. No matter how many years are gone or many experiences were carried out, the original recipe is still unbeatable.
That might be because all the elements in this cake are already too perfect for elevating more. A flaky pastry crust with a sour filling of currants that sounds simple but tasty beyond belief. And if you dare to change currants to other dried fruits like raisins, all you get is a mushy, oversweet cake.
It may sound unfamiliar to you, but this pudding is a classic British dessert. Simply put, roly-poly is like a Swiss roll but with a jam filling. Besides baking, British people also steam this pudding.
This cooking method is also the reason for this dessert's other name – shirt-sleeve pudding – as it used to be cooked and served in the sleeve. However, today, you don't have to follow that tradition anymore. Just serve it on a plate so everyone can freely enjoy this sweet treat.
You Must Have These Pies And Tarts For Your Tea Party
If you are a fan of British afternoon tea parties, you must have known one or two dishes among those below. But even if you don't know any of them, that doesn't stop you from trying them now!
Christmas tables in Britain can't lack these mince pies. Or you can call them mincemeat pies, muttons pies, and so on. Until now, you may think they are a savory dessert. But, one bite into these pies can surprise you as they are totally sweet.
How minced meat can be sweet, that must be your first thought. However, actually, there is no meat in this recipe. Their filling is 100% dried fruits and other spices, making these pies sugary with a hint of sourness.
Compared with other British recipes, banoffee pie is pretty young, but it's no less delicious than them. It's a pretty simple dessert with bananas and caramel sauce. On top of this pie is whipped cream.
One interesting fact for you: Actually, British people often use tea biscuits to make this pie. However, graham crackers are an ideal replacement since they have the same texture and flavor as these biscuits.
You won't believe banoffee pie can be this good! Watch this video to know more:
Many know about this dish through the Harry Potter book series as it is the main character's favorite dessert. Basically, treacle tart is a shortcrust pastry filled with treacle, a British-exclusive syrup with a golden brown color.
From that information, you can guess this sweet treat contains tons of sugar. So if you're worried about your weight, just eat a small slice each time with a cup of tea. But for people with a sweet tooth, they often eat it with some ice cream or custard.
Satisfy your sweet tooth with this treacle tart! You should see the video below:
British cuisine is famous for all the tart and pie, and this Bakewell tart is no exception. If you are stuck with nothing to make for the next family gathering, whip up this dessert, and everyone will love you for it.
While it's baked in a standard tart pan just like other tarts, when you slice Bakewell tart, that's when the treasure shows itself. You'll see a red layer of raspberry jam and a nutty frangipane filling. The sourness of raspberries and sweet frangipane make this tart irresistible.
Here Is The Time For British Pastries To Shine!
Britain is not so well-known for its pastries. However, it still has some exquisite breads for you to enjoy whenever you want.
No tea party is complete without some scones. Even if you aren't familiar with British culture, you must have known that scones are a must-have dish to enjoy with tea, though I'm also not sure who proposes that unspoken rule.
You can make scones in both savory and sweet styles. However, most of the time, scones are served plain with some clotted cream, jam, or salted butter to accompany them. They taste best when freshly baked, so don't wait until your scones cool down to enjoy them.
I know this sweet treat from Scotland is called "shortbread," but its texture is more like cookies, or biscuits if you want to follow the British language correctly.
The simplest shortbread includes only flour, butter, sugar, and nothing more. But well, who says you can only stop at the simple? You can add other baking ingredients like vanilla extract or salt for more flavors.
And do you know Scottish people often give shortbread to each other as a present?
These Unique British Desserts Are Waiting For You!
I bet many of you don't know about the existence of those desserts below. Some of them are only famous in a particular region. However, that doesn't mean they are not tasty enough. It'd be the best if you try them yourself.
There's no fool or trick here at all. In fact, "fool" is an English dessert with pureed fruit folded in sweet custard. However, modern recipes often replace the custard with whipped cream to reduce the making time.
Initially, this dish is made with gooseberries, but I often choose strawberries as they are easier to find, and their sour-and-sweet flavor is just my favorite. You can use other fruits to make this fool, like apples, rhubarb, or other berries.
Sometimes I think people name this dessert that way due to its appearance. This sweet dessert is far from all the classic, good-looking sweet treats you meet every day with all the fresh strawberries, meringue, and whipped cream mixed together.
While you can use frozen strawberries, fresh, ripe ones are still the best choice to bring freshness to this dessert. Also, if you want less sweetness and more tanginess, feel free to cut down on the whipped cream and add Greek yogurt.
Many call this confection "Scotch fudge," but in fact, once you try them, you'll realize these tablets are nothing like a soft fudge. They are harder but not too hard to break your teeth. Just kidding!
Scottish tablets don't need many ingredients. Just sugar, butter, and condensed milk are enough. However, making them requires close attention. Don't ever take your eyes off the pot for a second. Or else, all you get is burnt sugar.
No, I'm not talking about pancakes. Instead, these flapjacks look more like your oatmeal bars with a chewy texture and crunchy exterior. You can find them at thousands of bakeries in the United Kingdom.
Besides oats and treacle syrup, you can add other ingredients to your likings like chocolate, dried fruits, nuts, and many more.
This must be one of the weirdest names I've ever heard. Its other names are funny as well: Spotted dog and railway cake.
No one really knows why this dessert deserves those names, but some deduce the first two ones come from its appearance: A cake full of spots made by dried fruits.
Traditional spotted dick requires suet, the fat surrounding cattle's kidneys. However, these days, it's hard to find suet. So modern recipes often swap it with butter.
Have You Gotten A Grasp Of British Cuisine Yet?
You've gone through many British dishes, so I hope you are not so overwhelmed. Take your time to read it multiple times and try them yourself, both the original and modern versions.
And if you have other British recipes to share, feel free to write them down in the comment section for other readers. Also, don't hesitate to introduce this article to your relatives. Maybe they are curious about British cuisine as well.