Have you ever eaten Vietnamese chicken curry? Trust me; if you haven't tried this dish before, you're missing out big time. Compared to the curries in other countries, such as India or Thailand, the one from Vietnam is less spicy and is more on the sweet and fatty side.
With its delightful flavor, this curry is a perfect dish for any occasion. Being less spicy also means that everyone, even your kids, can enjoy this delicacy. Let's get to the kitchen and make Vietnamese chicken curry with me!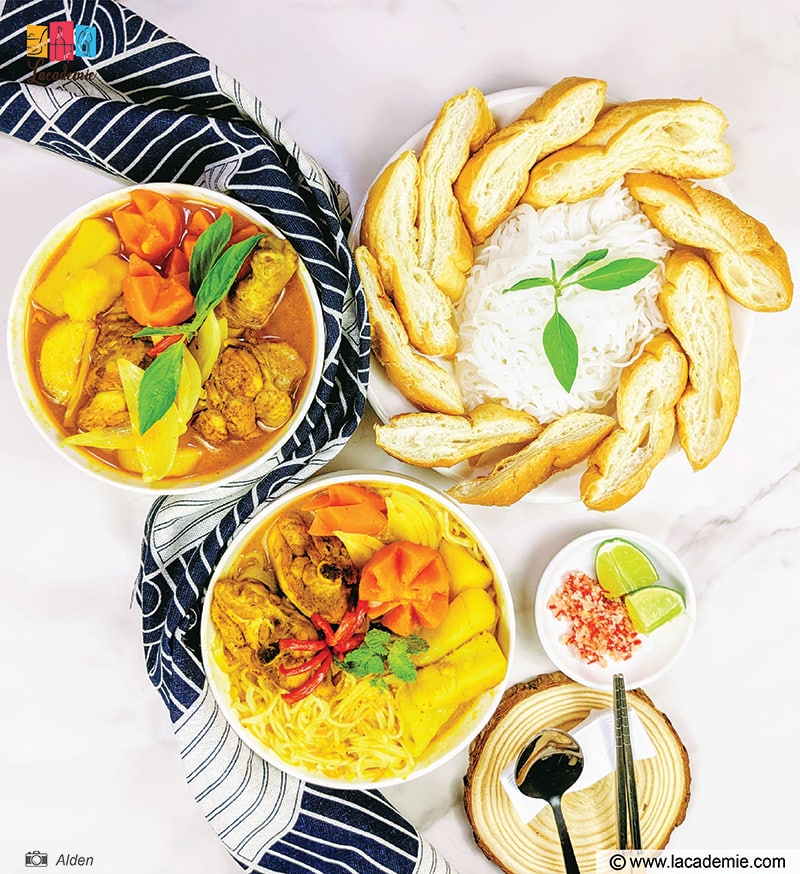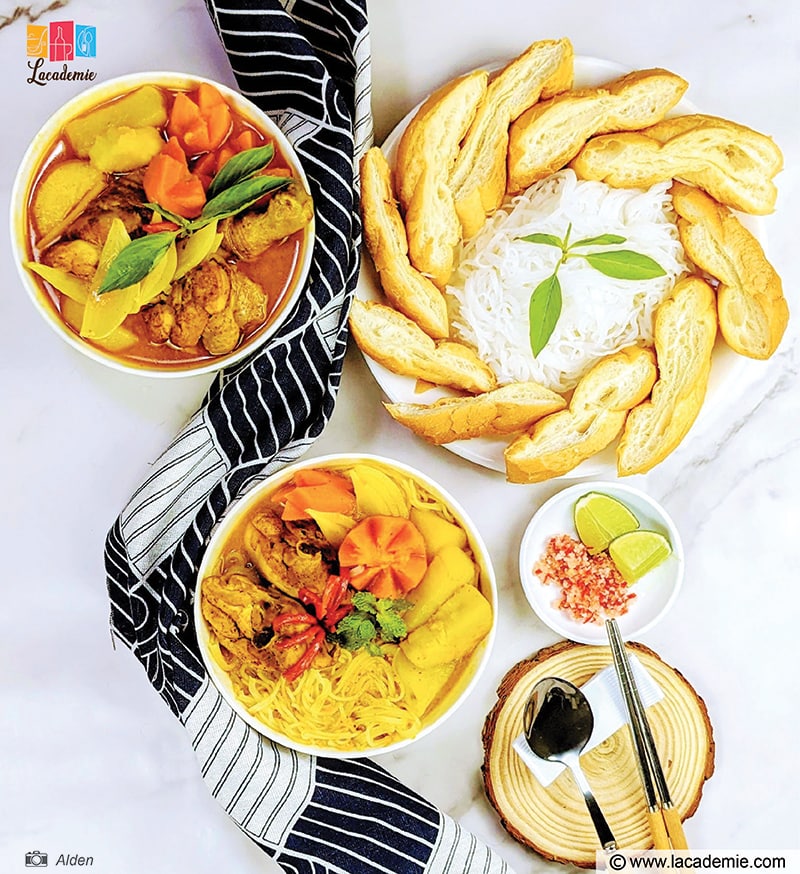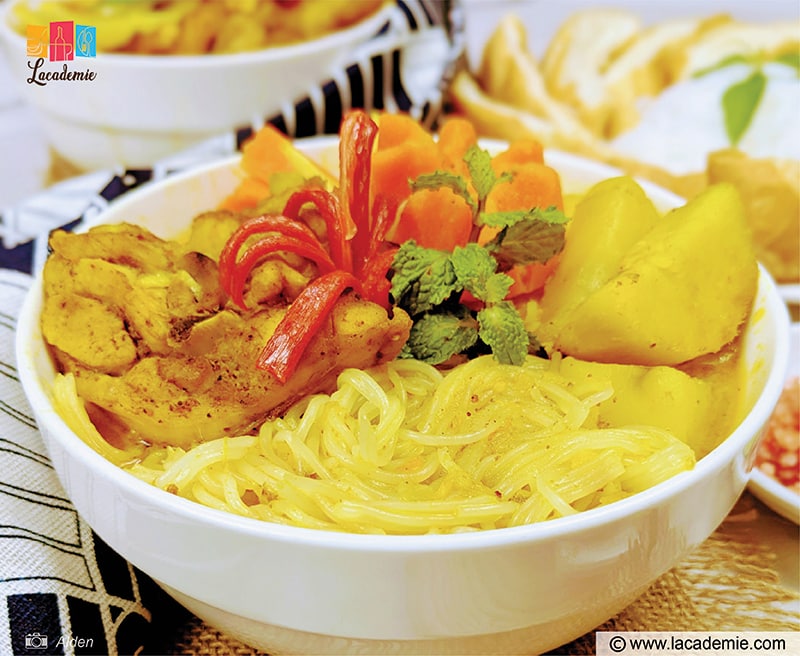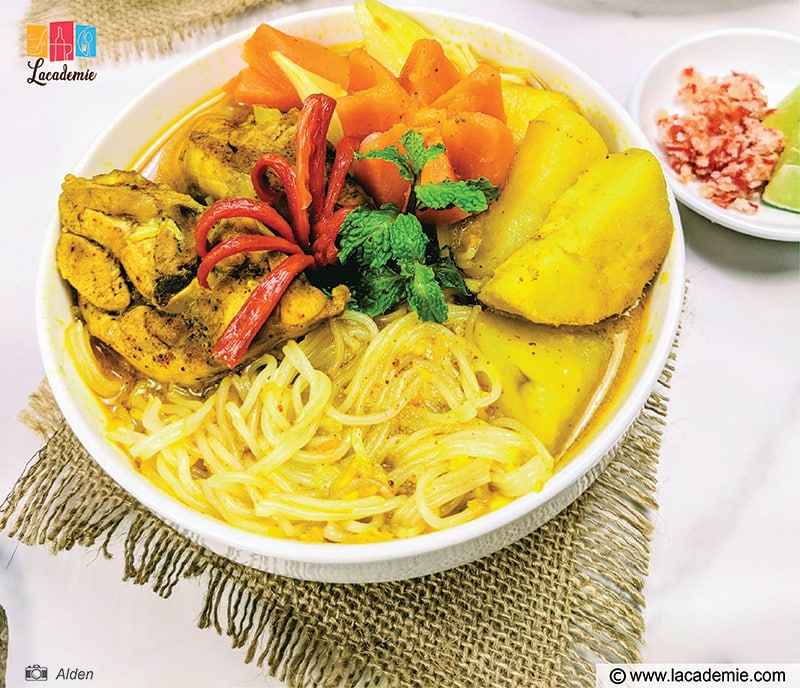 What Is Vietnamese Chicken Curry
Curry is an extremely popular stew treat in Asian cuisine with many variations. The Vietnamese version is made with marinated chicken, sweet and regular potatoes, and a unique broth. The broth is an exceptional combination of coconut milk and soy milk, which is fatty and sweet but not overwhelming.
Like other delicacies in Vietnamese food culture, the curry's flavor is very balanced with just enough savoriness, sweetness, and mild notes of spiciness. The root vegetables and chicken are stewed to perfection and incredibly tender.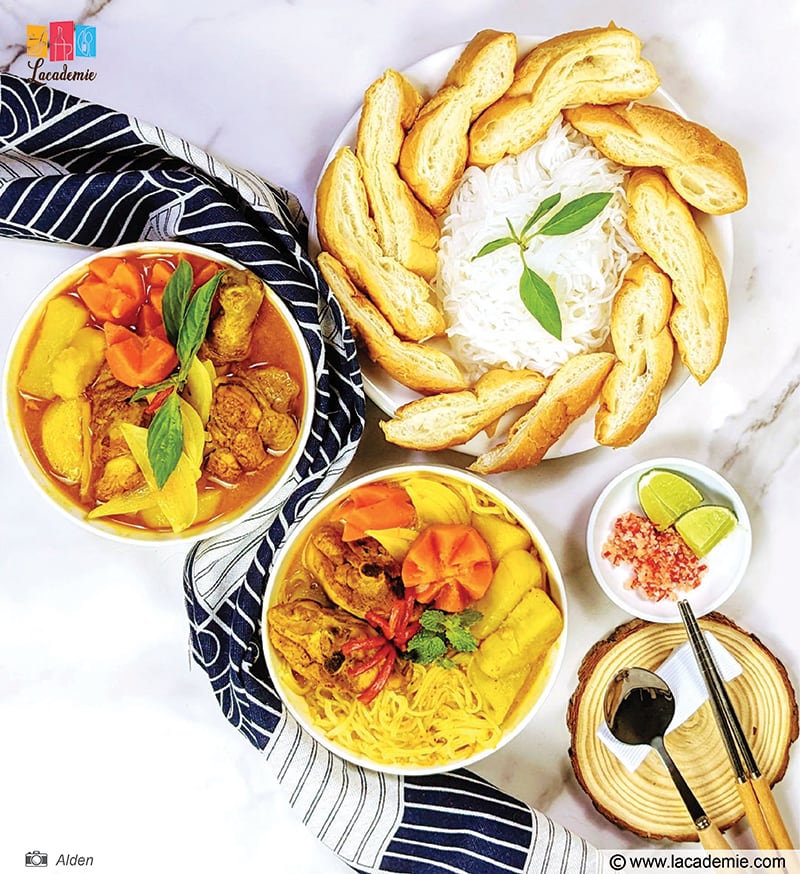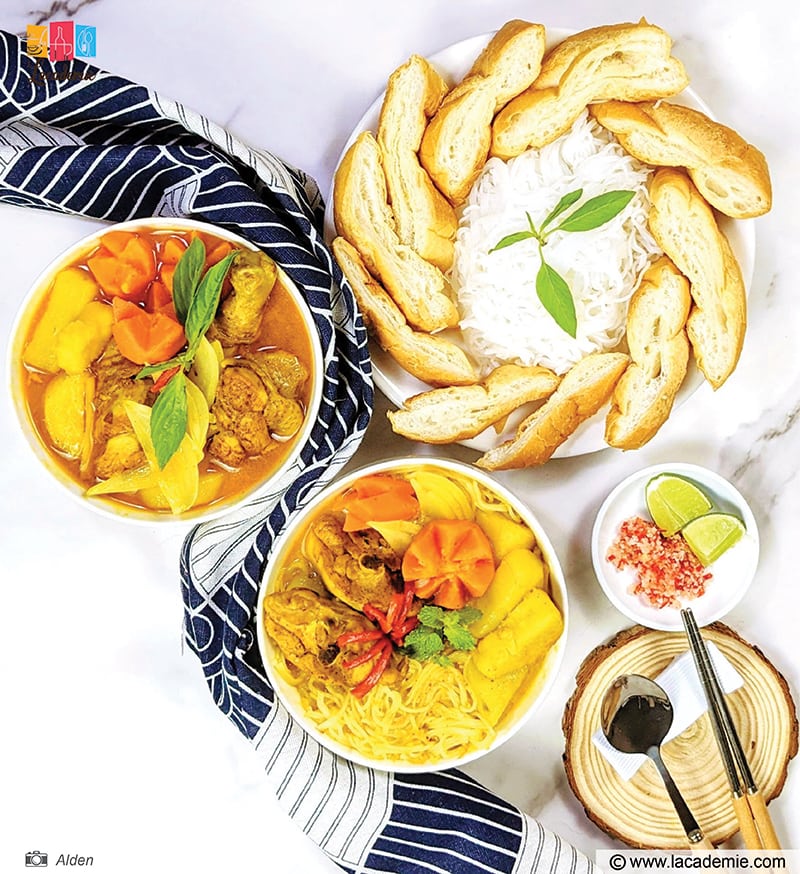 Tools
The tools required for this recipe are very simple. I'm quite sure that you've already had them all in your kitchen.
A large pot and a small pot: Use the large pot for cooking the curry and the smaller pot for blanching the noodles.
Frying pan: For sauteeing the vegetables and chicken.
Ladle: Use this tool to handle the broth.
Spatula: For frying and sauteing.
Knife: A well-maintained goes a long way in the kitchen so make sure that your knife is sharp.
Chopping board: For chopping the ingredients on.
Tongs: For taking the chicken in and out.
Mini chopper: A handy tool that helps you mince shallots and garlic with ease.
Measuring spoons: Make sure that you use the right amount of ingredients.
Sieve: For draining the noodles.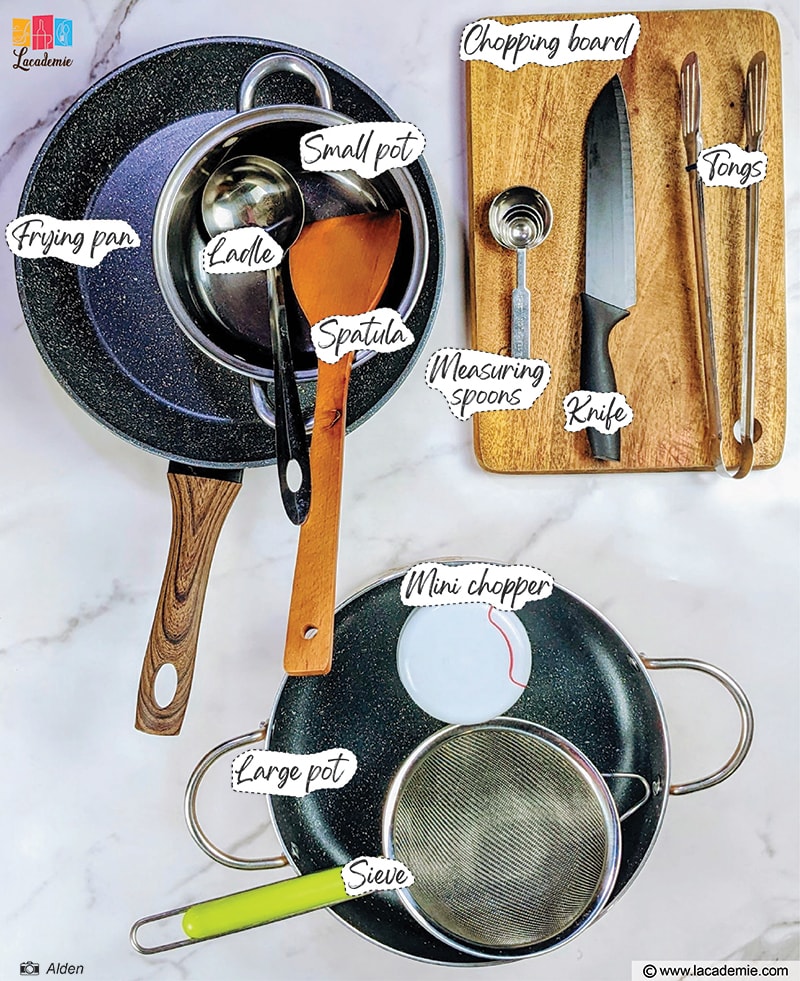 Ingredients
The utmost important ingredient in this recipe is coconut milk. Without it, you won't be able to recreate authentic Vietnamese curry.
Chicken leg quarters (bone-in): Consisting of the drumstick, thigh, and portion of the chicken's back. This is a meaty and flavorful cut.
Coconut milk and soy milk: These two kinds of milk combine beautifully to create a flavorful broth.
Root vegetables: Carrots, potatoes, and sweet potatoes are the traditional choice for Vietnamese curry.
Herbs and spices: You'll need onions, bay leaves, garlic, shallots, and lemongrass to make the chicken marinade and cook the curry.
Curry, turmeric, chili, and ginger powder: Must-have seasonings for any curry recipe.
Vermicelli noodles or bread: The Vietnamese preferred starch side dishes for a curry.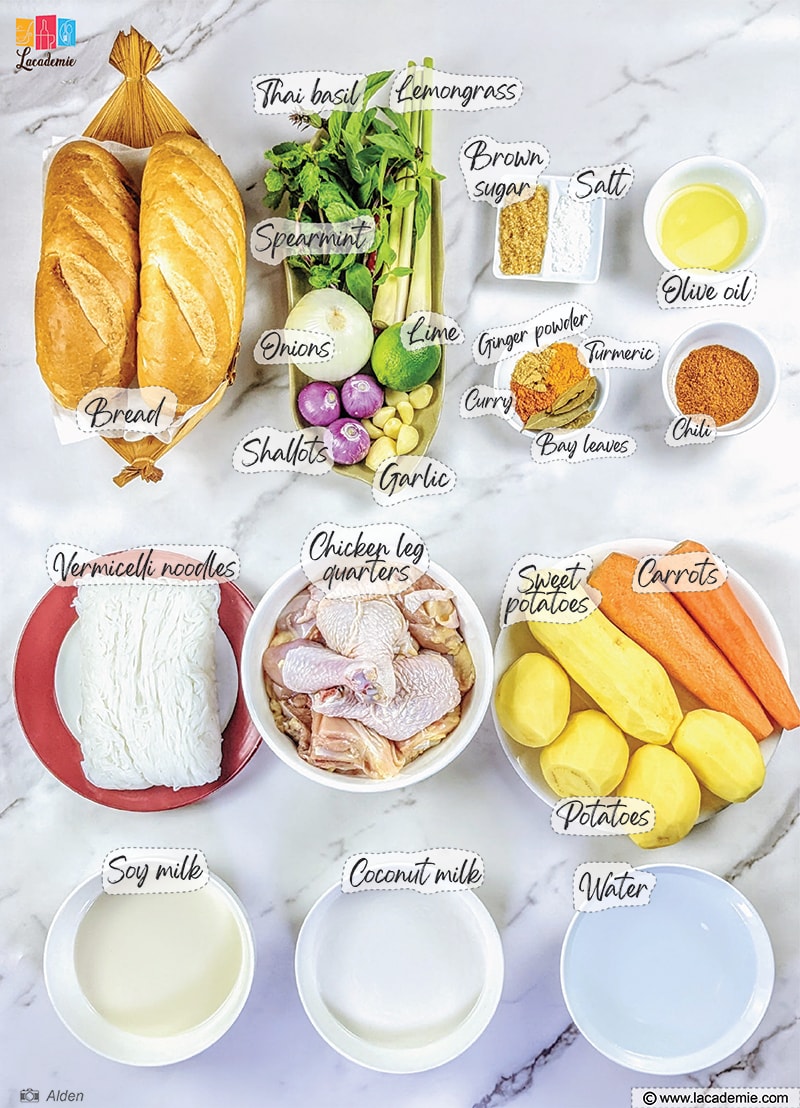 Directions
No more beating around the bush. It's time to make some delicious Vietnamese chicken curry!
Step 1: Prepare The Ingredients
Wash, peel, and cut the potatoes, sweet potato, and carrots into bite-sized pieces. Peel, wash, and cut the onion into bite-sized wedges.
I'd recommend soaking the sweet potato and potatoes in diluted salt water to prevent browning and help them keep their crispness.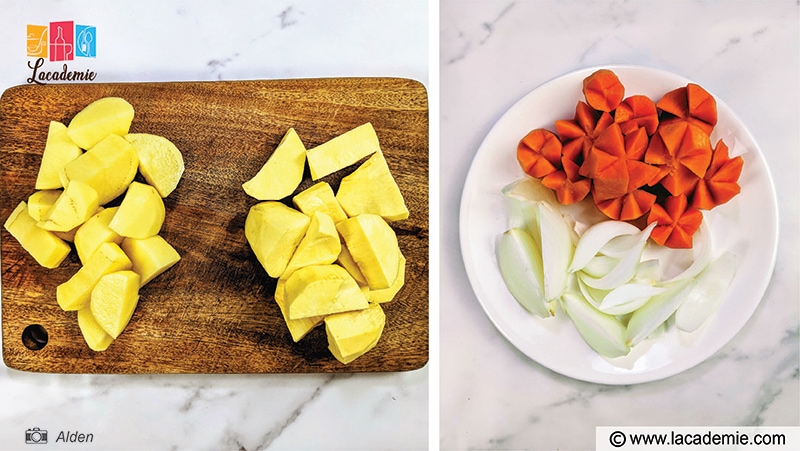 Mince the shallots and garlic using a mini vegetable chopper. Cut the lemongrass into small pieces, then mince with the mini chopper. Cut 2 stalks of lemongrass into pieces.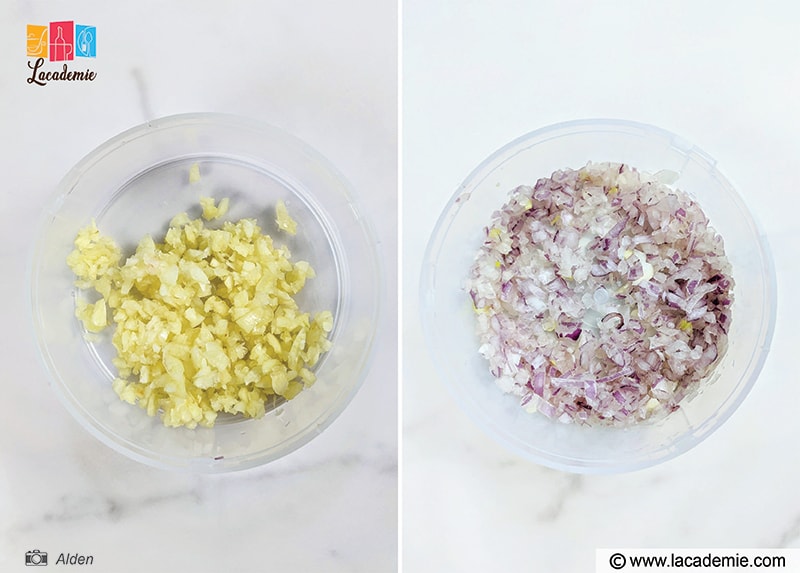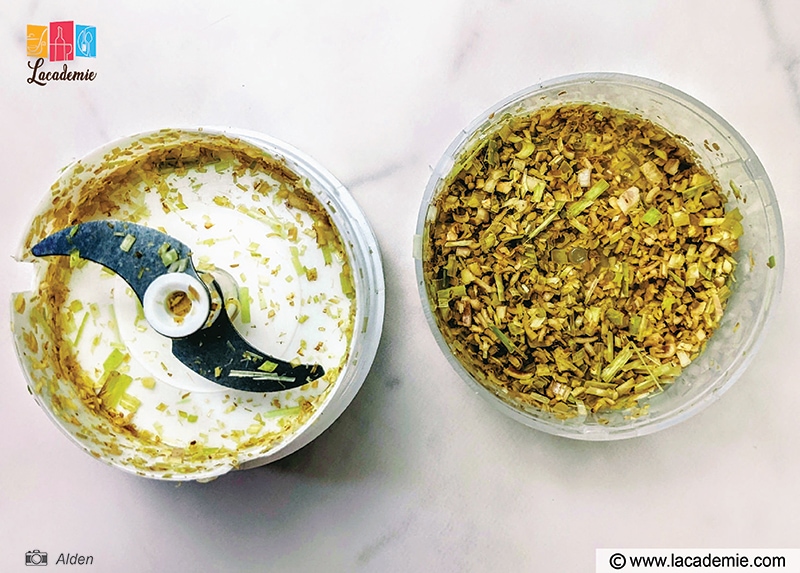 Step 2: Marinate The Chicken
Marinate the chicken with a mixture of cooking oil, salt, brown sugar, minced garlic, minced shallot, minced lemongrass, curry powder, turmeric powder, chili powder, and ginger powder.
Rub the seasonings onto the meat thoroughly to better infuse the flavor. Marinate for at least 45 to 60 minutes. Let the chicken marinate for a night in the fridge if you have time.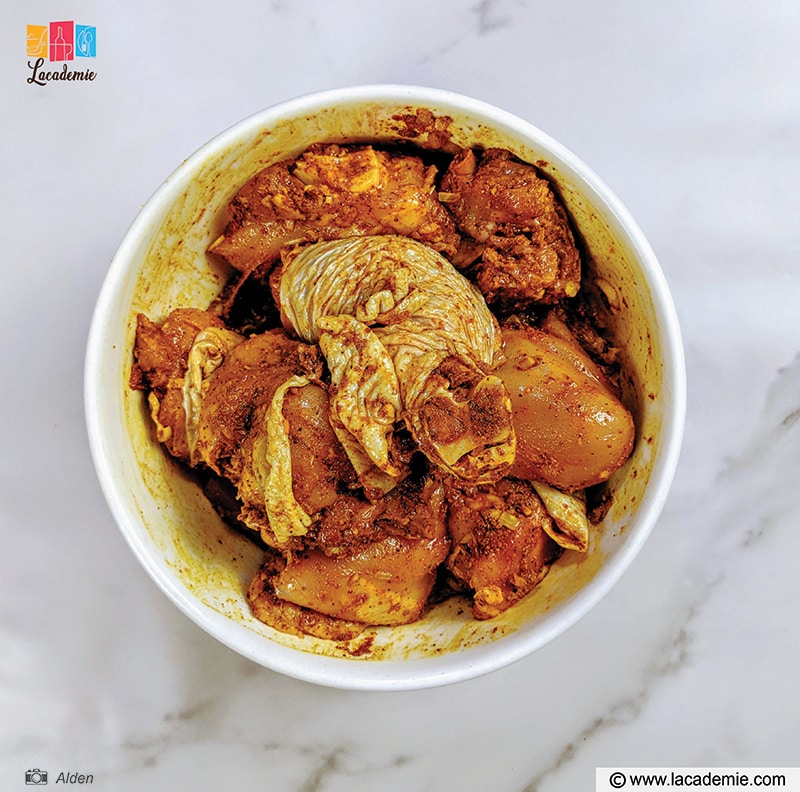 Step 3: Cook The Curry
Briefly fry the sweet potato and potatoes until both sides turn golden. Doing this will help the vegetables keep their shape and shorten the cooking time. Don't fry them for too long, as they can turn bitter. You also don't need to cook them until they are well done.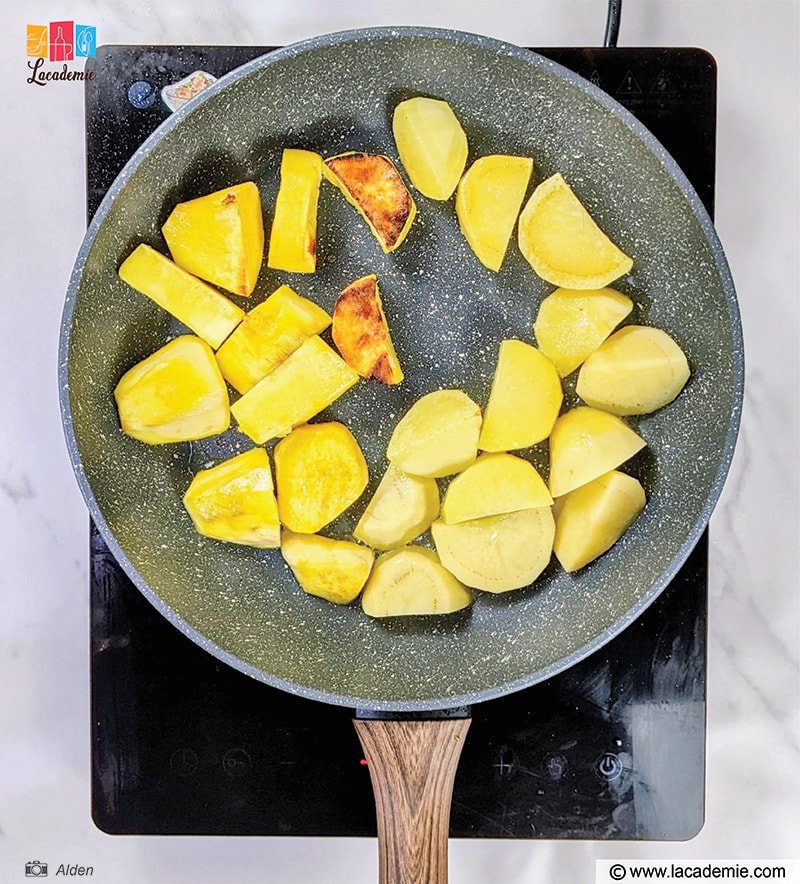 Saute the chicken until golden brown on every side and set aside.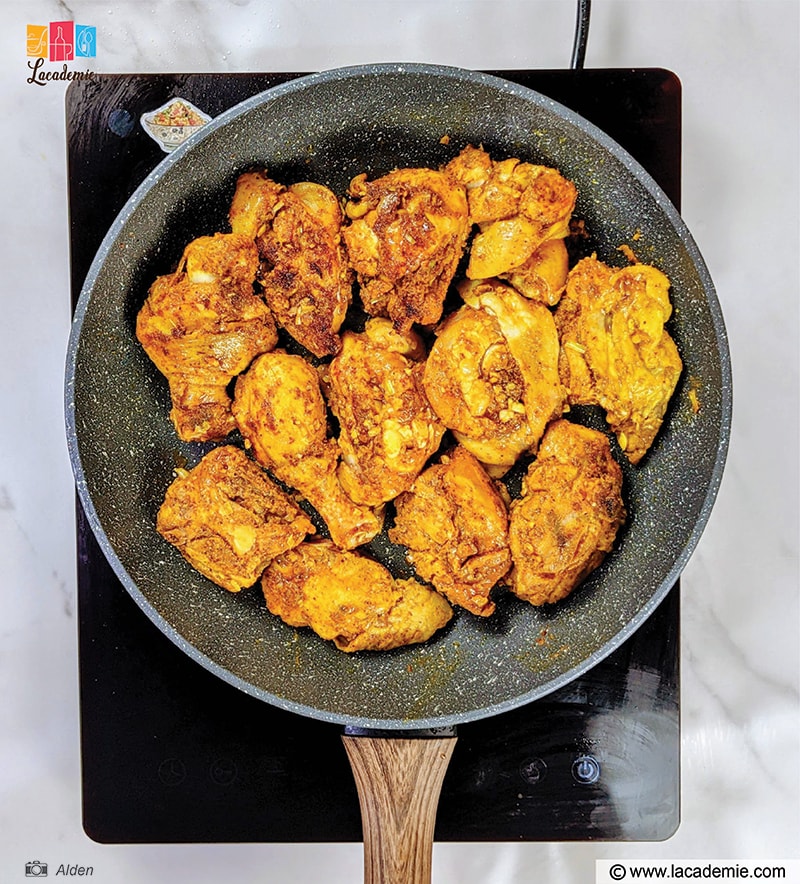 Place your large pot on the stove. Add oil, minced garlic, bay leaves, sliced lemongrass, and a little curry powder. Stir well and put the sauteed chicken in the pot.
Mix half the amount of coconut milk with water. Pour this coconut milk mixture into the pot and cook for 30 minutes.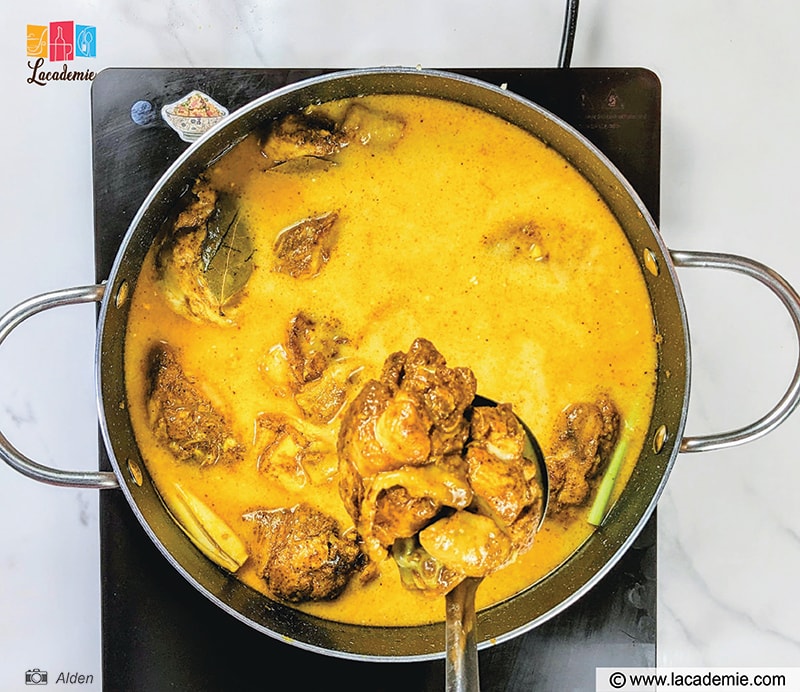 Add the carrots first since this vegetable requires the longest cooking time.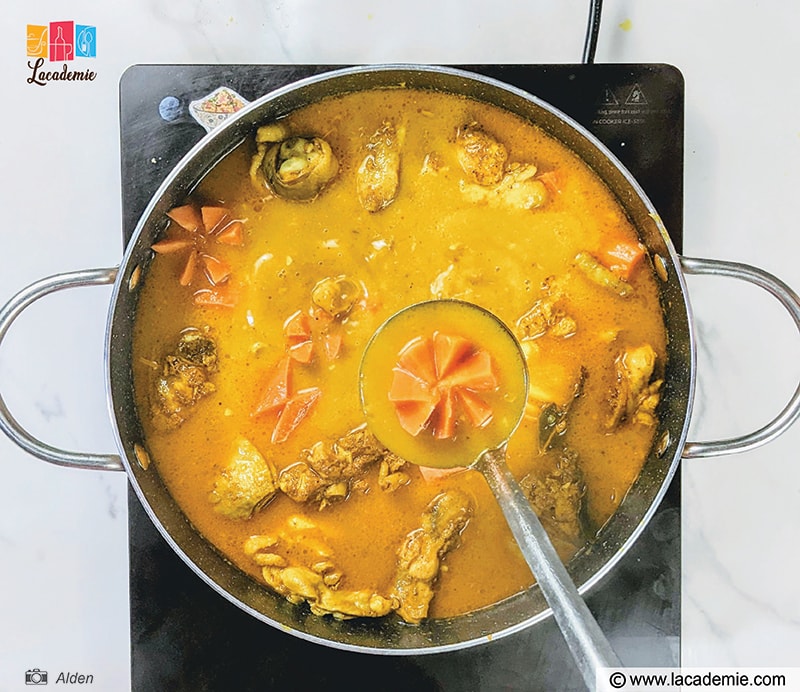 After 10 minutes, toss in the sweet potato and potatoes. Season with 1 tablespoon of salt.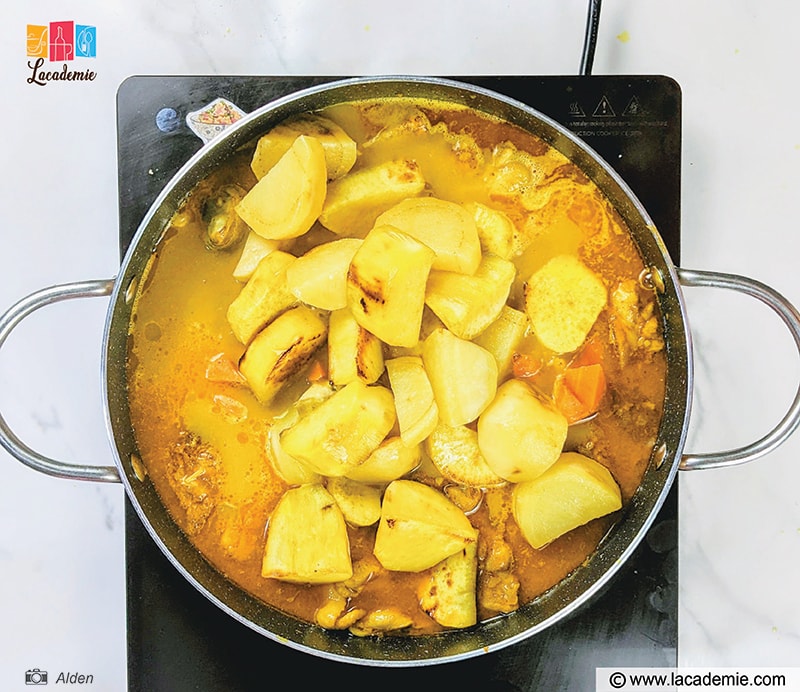 When the vegetables are cooked, mix the rest of the coconut milk with soy milk. Pour the mixture into the pot and add 2 tablespoons of sugar or adjust to taste. Add the onions, and cook for another 1 minute. Turn off the stove.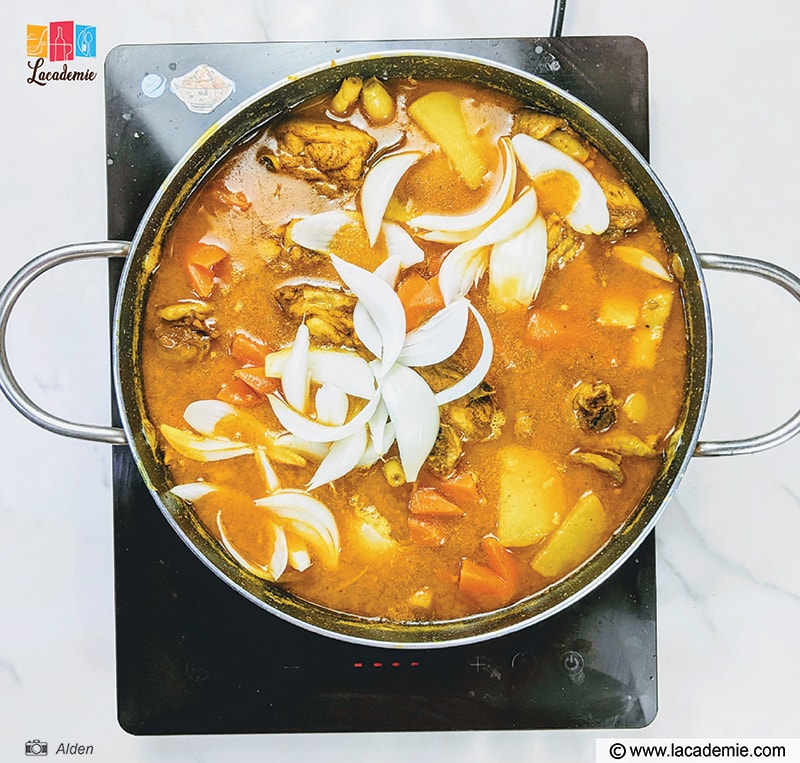 Step 4: Prepare The Side Dish
Bring a pot of water to a boil. Blanch the vermicelli noodles for 30 to 40 seconds. Drain the noodles. Add a little oil to the water to prevent the noodles from sticking together and give them a glossier finish. You can add the oil after or before putting in the noodles.
Garnish the curry bowl with spearmint or basil. Serve it with vermicelli noodles, bread, or rice. If you like, you can mix a little chili salt with lime juice to dip the chicken.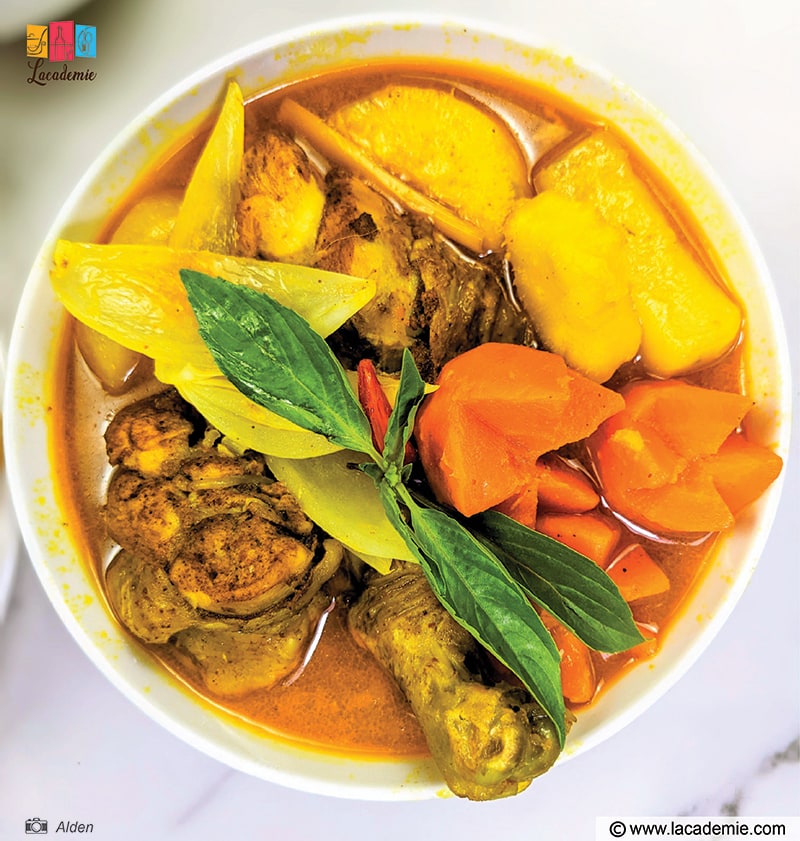 Handy Tips And Tricks
Here are a handful of practical tips and tricks to help your cooking experience smoother.
You can use coconut milk powder instead of coconut milk.
Taro is a great addition to this chicken curry. If you decide to use taro, remember to lightly fry it first before adding it to the pot.
Don't stew the curry for too long, and avoid over-stirring, as doing so can ruin the texture of the vegetables.
If you like a thicker curry, try adding a little cornstarch or tapioca starch.
While soy milk gives your curry a delightful sweetness and fattiness, regular cow's milk or condensed milk are viable alternatives. After the vegetables soften, add the coconut milk and bring to a boil. Then, turn off the heat and add condensed milk.
Remember to stir in the coconut milk and water mixture before adding the coconut milk and soy milk mixture. If you neglect the first step, you can ruin the consistency of the curry.
The Best Way To Store Leftover Curry
For the best taste, I'd recommend enjoying your curry as soon as you're done cooking it. However, if you need to store leftovers, you can transfer the curry to an airtight container and put it in the fridge. It should last 2 to 3 days this way.
Freezing is also a solid choice for storing curry. Frozen curry will generally last for 2 to 3 months.
The Best Way To Store Leftover Curry
For the best taste, I'd recommend enjoying your curry as soon as you're done cooking it. However, if you need to store leftovers, you can transfer the curry to an airtight container and put it in the fridge. It should last 2 to 3 days this way.
Freezing is also a solid choice for storing curry. Frozen curry will generally last for 2 to 3 months.
Try Vietnamese Chicken Curry Today!
What are you waiting for? Let's gather the ingredients and cook up tasty Vietnamese chicken curry for your loved ones today. I'm sure that everyone will be impressed with your cooking skills after tasting this dish!
What do you think about today's recipe? Share your results in the comment down below. I'd love to hear what you guys have to say. Last but not least, please do me a favor and share this article with other people. Thanks a lot!
Nutrition Facts
10 servings per container
---
Amount Per ServingCalories561
% Daily Value *
Total Fat 22.9g

34

%
Cholesterol 76mg

26

%
Sodium 900mg

38

%
Potassium 667mg

20

%
Total Carbohydrate 67.6g

23

%

Dietary Fiber 6.7g

24

%
Sugars 7.2g

Protein 23.6g

46

%
---
* The % Daily Value tells you how much a nutrient in a serving of food contributes to a daily diet. 2,000 calories a day is used for general nutrition advice.