Vietnamese sweet corn pudding is a delicious dessert made with tender corn and rich coconut milk flavored with pandan leaves. This combination of texture and flavor creates an impeccable sweet treat that anyone will love.
One spoonful of Che Bap and your taste buds will be delighted with the refreshing sweetness of corn, coconut milk's fattiness, and aromatic pandan notes. If you like what you're reading, scroll down to learn the easiest recipe to make this dessert at home!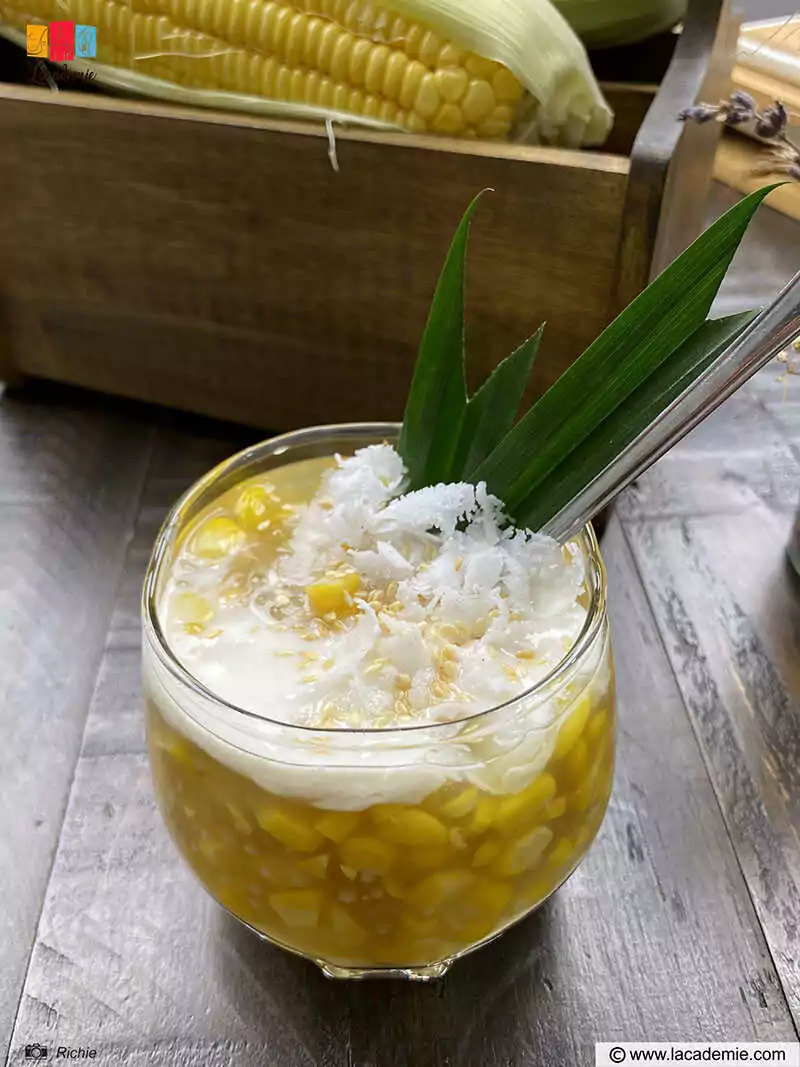 What Is Vietnamese Corn Pudding?
Che Bap belongs to a group of mouth-watering Vietnamese desserts called "Che" (sweet soup). In Vietnam, corn is an important crop cultivated and consumed for generations.
As a result, the Vietnamese people have come up with many incredible ways to incorporate corn into their meals, and Che Bap is undoubtedly one of them.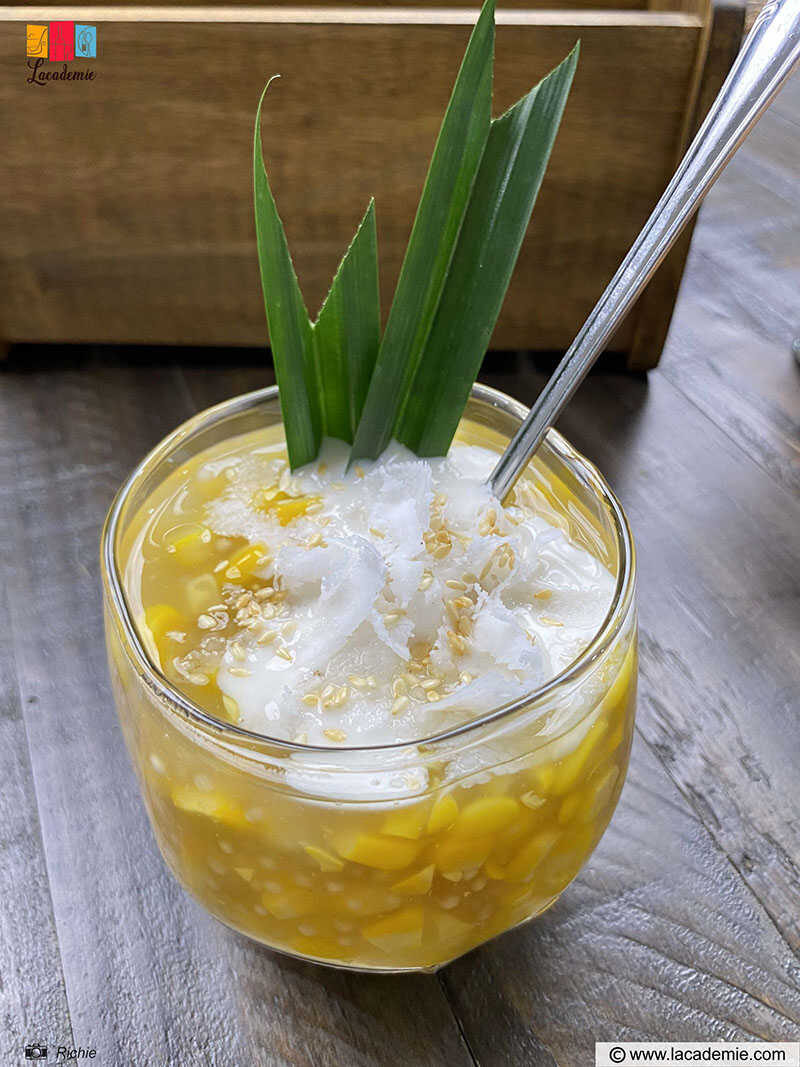 Sweet corn kernels are the core ingredient of Che Bap. The corn kernels are sliced off fresh from the cobs, then cooked until tender in a pot of panda-infused water. The cobs are also not a waste here, as the locals will boil them with water beforehand to extract their sweetness.
Let's not forget about the sweet coconut milk-based sauce, the cherry on top that perfects this dessert. This sauce has a thick consistency and adds a much-welcomed richness to the sweet soup. In addition, people also throw in some tapioca pearls to diversify the texture.
All in all, Che Bap is a fantastic recipe for any occasion, especially when you're having afamily gathering or just want to treat yourself to a refreshing dessert.
Tools
Firstly, let's review the tools you need to prepare to make Vietnamese corn pudding.
Ladle: For stirring the sweet soup and helping the ingredients blend better.
Large pot: For cooking the sweet soup.
Knife: Helps you extract the corn kernels from the ears quickly.
Other valuable tools: Spoon, saucepan, etc.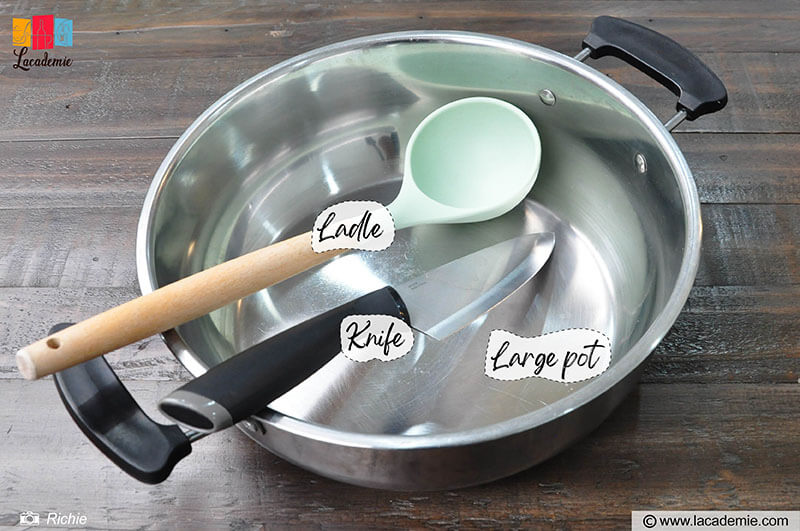 Ingredients
Discover the essential ingredients for this scrumptious Che Bap recipe! These components combine to create a delightful Vietnamese dessert that will impress.
Ears of corn: I find that corn kernels extracted from fresh corn ears yield the best flavor. Opt for fresh, sweet corn with plump, juicy kernels. But you can also purchase frozen corn if that's more convenient. Be sure to thaw and drain it before use.
Tapioca pearls: Give the soup a unique texture. You should use the small types. Sago pearls are great, too, if that's more to your taste.
Pandan leaves: Add a distinct, aromatic flavor to Che Bap. When using fresh pandan leaves, tie them into a knot to release their natural oils and make it easier to remove them after cooking.
If you cannot find fresh leaves, use pandan extract as a substitute.
Cornstarch: For making a slurry that helps thicken the soup slightly. Tapioca flour and kudzu powder are great substitutes.
Roasted sesame seeds: For sprinkling over the corn pudding.
Palm sugar: Rock or brown sugar are good alternatives as well. Still, I like the gentle sweetness of palm sugar the best.
Grated coconut (optional): For garnishing.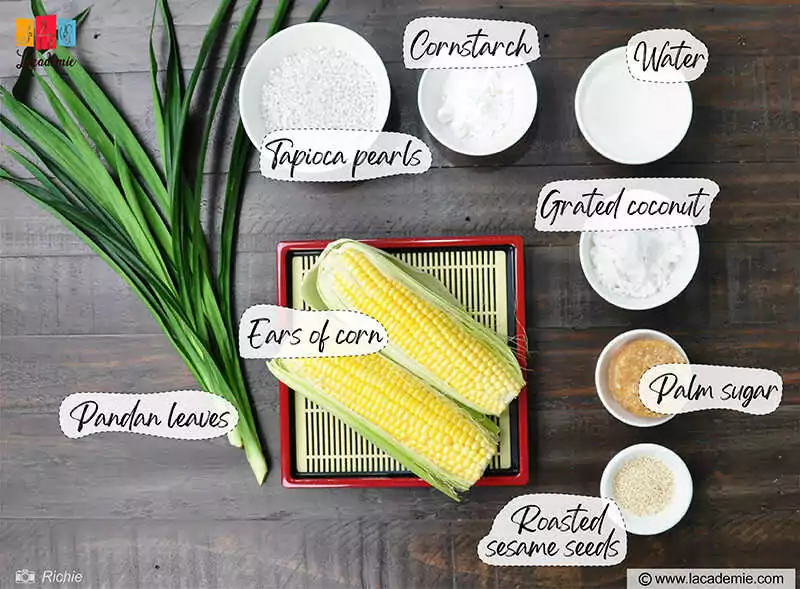 For the coconut milk sauce
Coconut milk: The base of the sauce. Opt for the unsweetened type.
Fresh milk: Likewise, you should buy sugar-free whole milk.
Cornstarch: You will also add a little bit of cornstarch slurry to the sauce.
Sweetened condensed milk: Adds sweetness to the sauce.
Pandan leaves: Infuse the coconut milk sauce with pandan's aroma and flavor.
Other ingredients: Water and salt.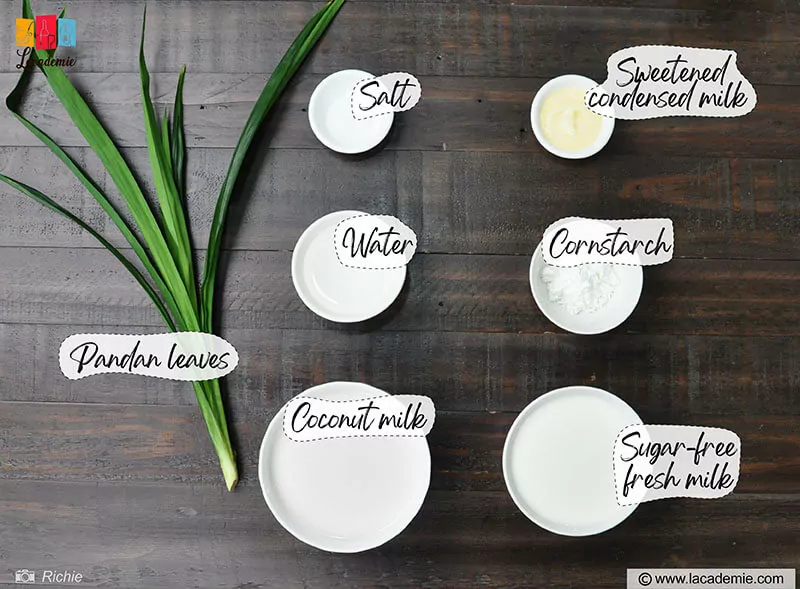 Directions
Bring a touch of Vietnam to your dessert table with Che Bap, a silky corn pudding that's sure to become your new favorite treat, by following these simple steps.
Step 1: Prepare The Ingredients
Rinse the pandan leaves thoroughly. Then, fold them in half and tie them into bundles.
Remove the corn's husk and silk (if needed). Starting from the top, make a straight cut to extract the kernels from the cob (see the included video for a better illustration).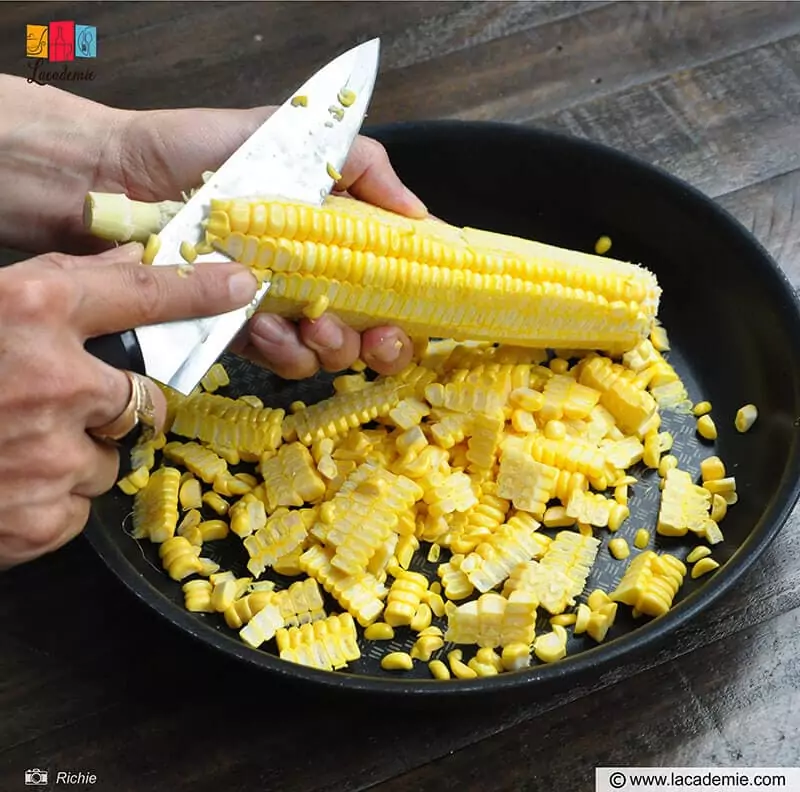 Break the leftover corn cobs in half. Adding them during the cooking of the sweet soup will improve its sweetness and aroma.
Using a sieve, wash the tapioca pearls. Next, soak them in cold water for 20 minutes.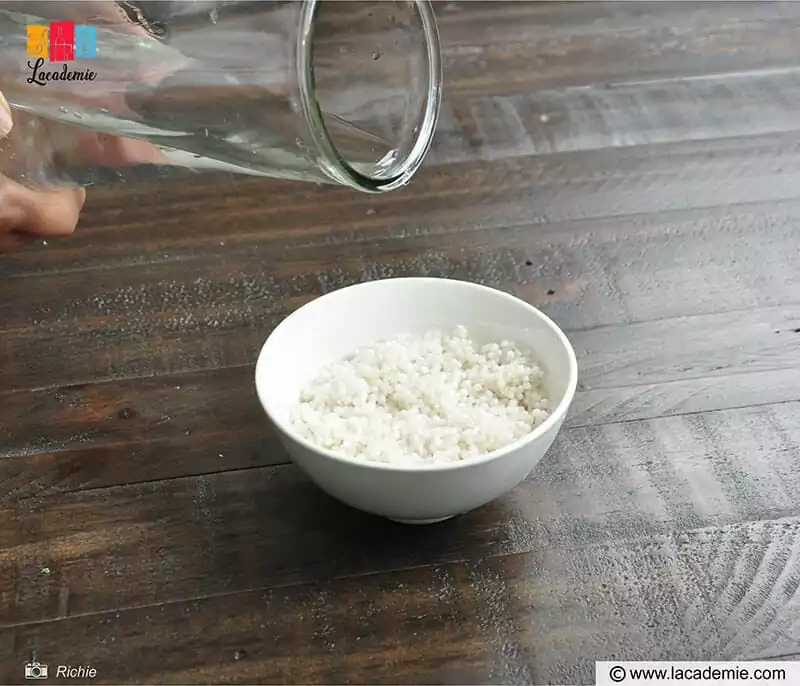 Step 2: Cook The Sweet Soup
Boil 1.5 quarts of water together with the corn cobs, and pandan leaves for 10 minutes over medium-low heat. Cover the pot to prevent the water from evaporating.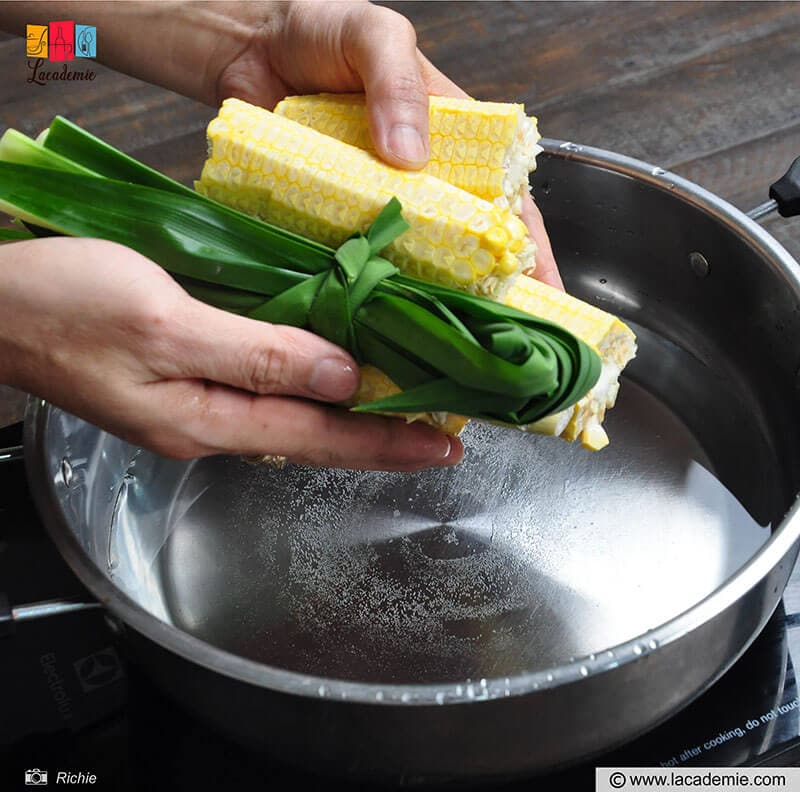 Next, remove the corn cobs and leaves from the pot and add in the corn kernels. Give it a good stir and skim off the foam. Put the lid on and cook the sweet soup for 15 minutes over medium-low heat.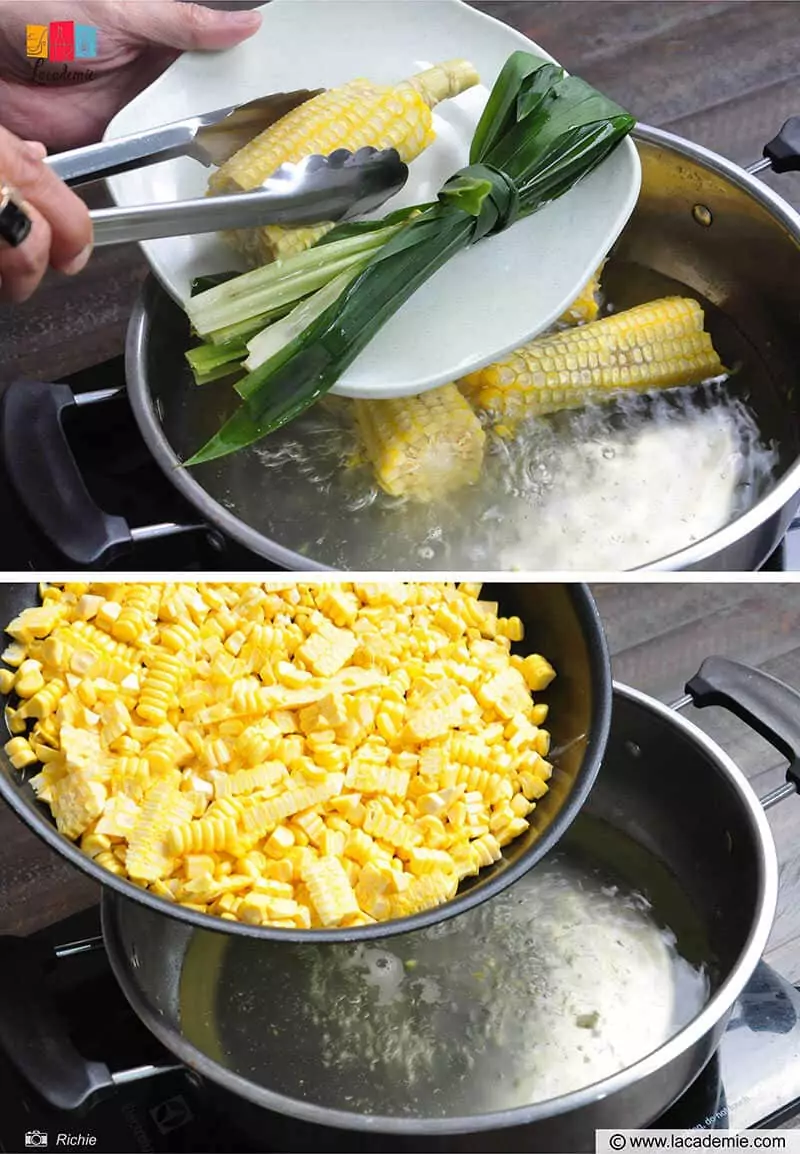 Drain the tapioca pearls and add them to the pot. Season with palm sugar and stir well. Then cover the pot and cook for 10 minutes.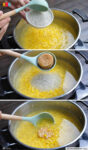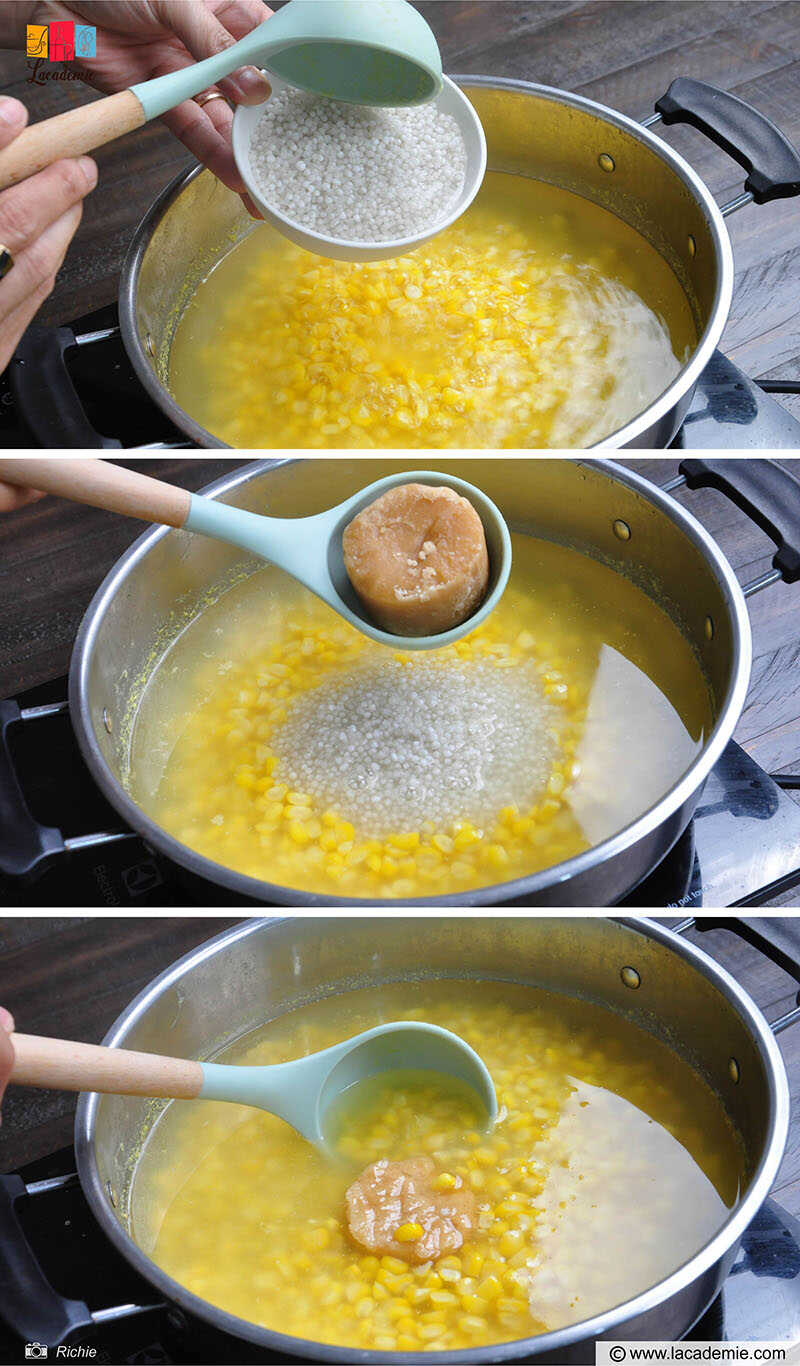 Combine the cornstarch with water to make a slurry. Add the slurry to the pot. Stir well, then cut the heat and allow the sweet soup to cool a little.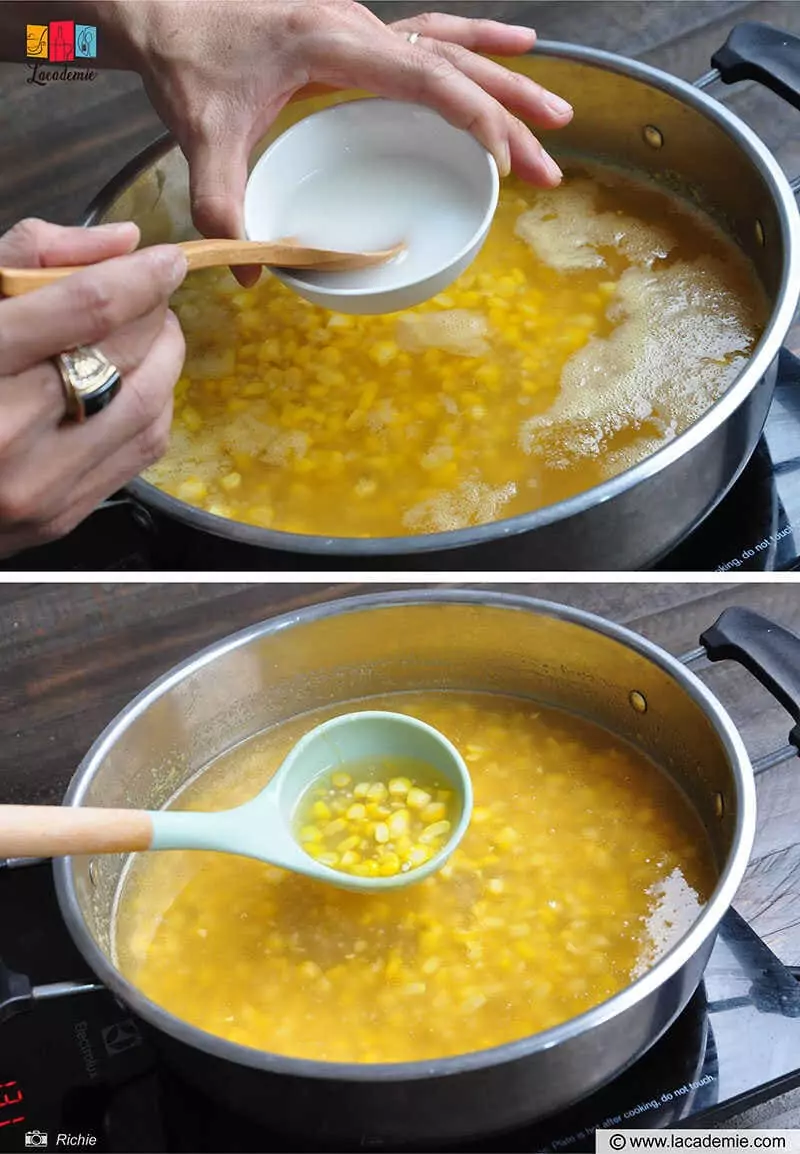 Step 3: Make The Coconut Milk Sauce
Make another bowl of cornstarch slurry using 3 teaspoons of cornstarch and 3.5 tablespoons (about 50 milliliters) of water.
Add the coconut milk into a pot and pour in the fresh milk, pandan leaves, condensed milk, and 1 teaspoon of salt. Bring this mixture to a boil, then reduce the heat to low and pour in the cornstarch slurry.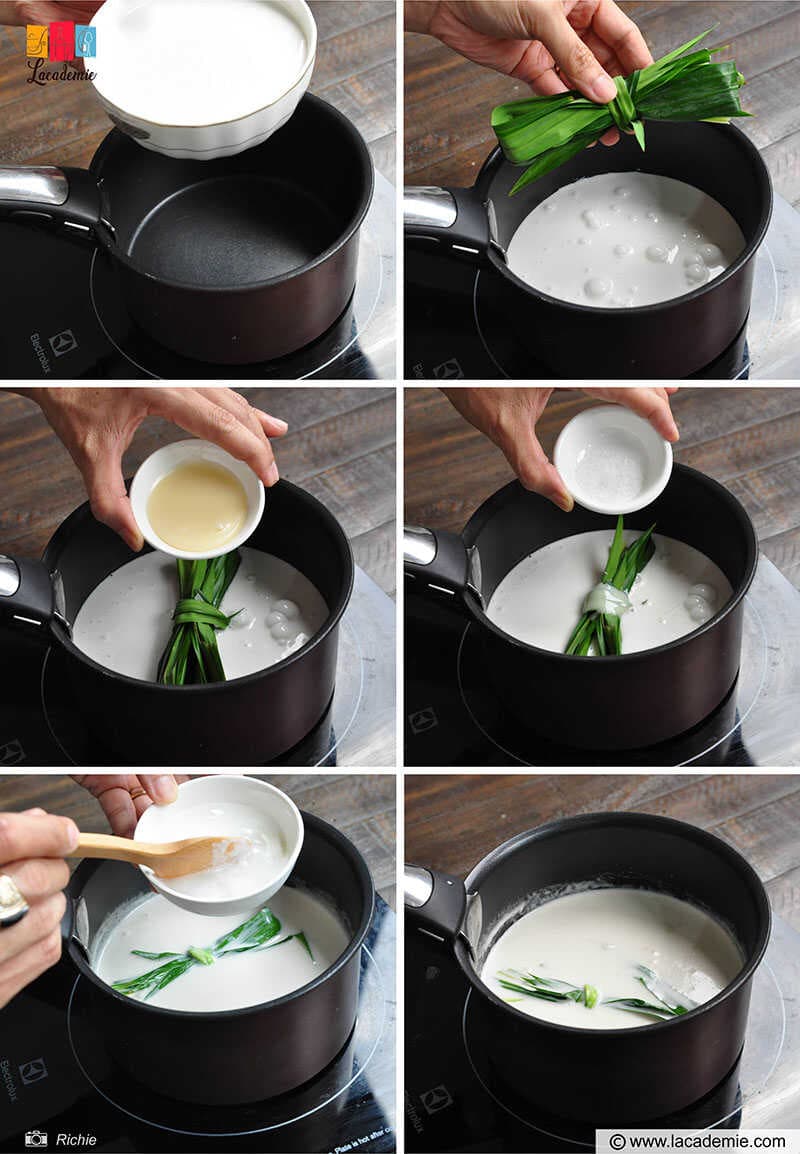 Step 4: Serve The Dish
Wait for everything to cool a little. Then, spoon the sweet soup into a glass or bowl and top it with the coconut milk sauce. Sprinkle some grated coconut and roasted sesame seeds. Enjoy!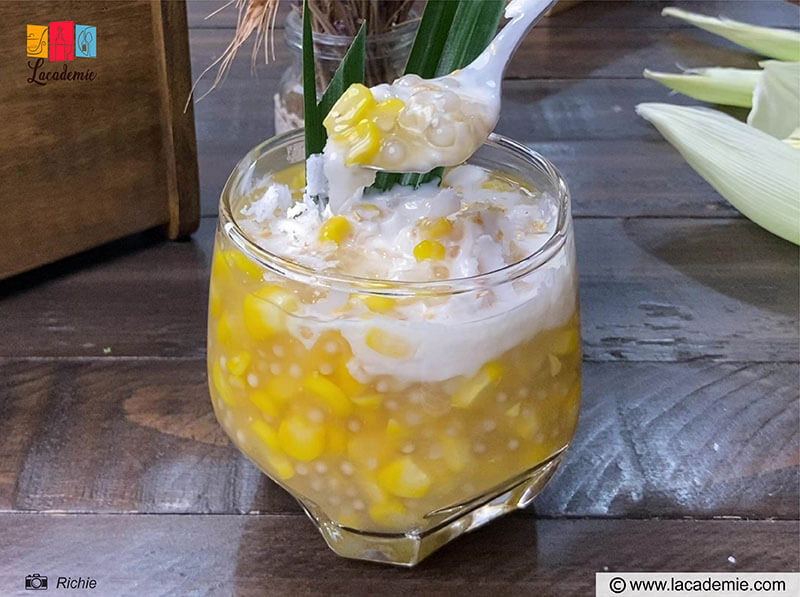 Important Notes
While making Che Bap is quite straightforward, there are a couple of notes you should know to avoid common mistakes.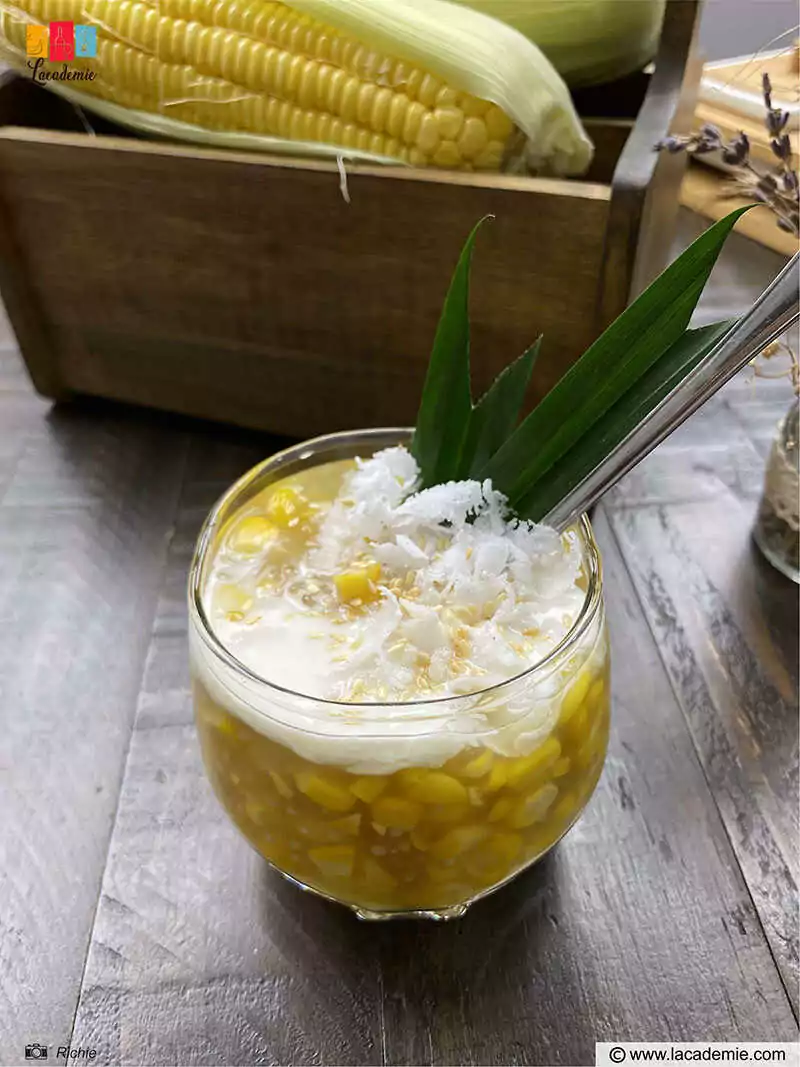 Do not cook the pandan leaves for too long, as the pandan taste might overpower the corn.
Remember to remove the corn cobs from the pot before adding other ingredients. Otherwise, the tapioca pearls and corn kernels will stick to the cobs.
Be mindful of how much cornstarch slurry you add to the sweet soup in order not to thicken it too much.
Traditional Che Bap is moderately sweet, but you can adjust the sugar level according to your preference. You may also use alternative sweeteners like brown sugar or honey.
The Best Way to Store And Make in Advance
One of the things that I like most about this dessert/snack is that you can actually store it in the fridge for up to a week. You just need to keep the coconut milk sauce and the sweet soup in different containers. I don't recommend freezing it, though, as I find the texture to be a little off.
Variations of Che Bap To Try
One more variation of Che Bap that I recommend you try out is the Southern-inspired version. To make this variety, you will use a box grater to shave the corn kernels off the cob, resulting in smaller pieces.
In addition, you'll also add about ¼ cup of glutinous (sticky) rice to the pot after removing the pandan leaves and corn cobs. Cook the rice for about 10 to 15 minutes, then pour in the shaved corn.
Since the sticky rice has slightly thickened the sweet soup, you can choose not to add the cornstarch slurry if the consistency is already to your liking.
Furthermore, you can also add mung beans to the mixture, imparting a deliciously nutty and earthy flavor.
Remember to carefully sift through the mung beans and remove any impurities. Next, soak the beans in hot water for 15 minutes, then drain the water completely. Scoop out the mung beans and let them drain well.
When cooking, you should add the mung beans and simmer them until tender (about 20-30 minutes) before adding the corn kernels.
How To Serve Che Bap
Che Bap tastes phenomenal whether you serve it warm, at room temperature, or chilled. To chill the sweet soup, simply place it in the fridge for about 30 minutes or so. If someone in your family doesn't like the coconut milk sauce, you can leave it out.
Some people prefer eating the whole corn kernel version warm or at room temperature and the shaved corn variation chilled. This is totally a personal preference, so feel free to experiment!
For a more indulgent treat, you can garnish the dessert with toasted coconut flakes or crushed peanuts for added texture and flavor.
Other Vietnamese Che You Should Not Miss
Besides today's dish, Vietnam cuisine also offers many other delectable sweet soups I believe you'll love. Here are a couple of recommendations:
FAQs
Che Bap – A Corn-erstone Of Yumminess
Che Bap is a heartwarming treat that brings people together, creating unforgettable memories over shared plates. The simplicity of its ingredients and ease of preparation make it a must-try for anyone seeking to expand their culinary horizons.
I'd be thrilled to hear about your experience with today's recipe, so please leave a comment below. Also, kindly take a moment to like this recipe and share it on your favorite social media platforms. Thank you so much!
Nutrition Facts
5 servings per container
---
Amount Per ServingCalories397
% Daily Value *
Total Fat 13.6g

20

%
Cholesterol 3mg

1

%
Sodium 1956mg

82

%
Potassium 1566mg

45

%
Total Carbohydrate 68.3g

23

%

Dietary Fiber 3.2g

12

%
Sugars 34.6g

Protein 4.4g

8

%
---
Calcium

62

%
Iron

3

%
Vitamin D

8

%
* The % Daily Value tells you how much a nutrient in a serving of food contributes to a daily diet. 2,000 calories a day is used for general nutrition advice.