Flapjack vs pancake are well-known delicious desserts. However, unlike the key differences between waffles and pancakes, many people have trouble telling flapjacks and pancakes apart. Let me show you all facts related to these two dishes so that you can distinguish them.
Obviously, there are huge differences between flapjack and pancake, beginning from their meanings in different nations, particularly in the US and UK. It entirely depends on where you live, as well as the customs and cultures in your region.
Therefore, there is confusion between flapjack and pancake in the US and UK. Do not worry and keep reading this post since I will reveal how to distinguish these two kinds of cake you are searching for.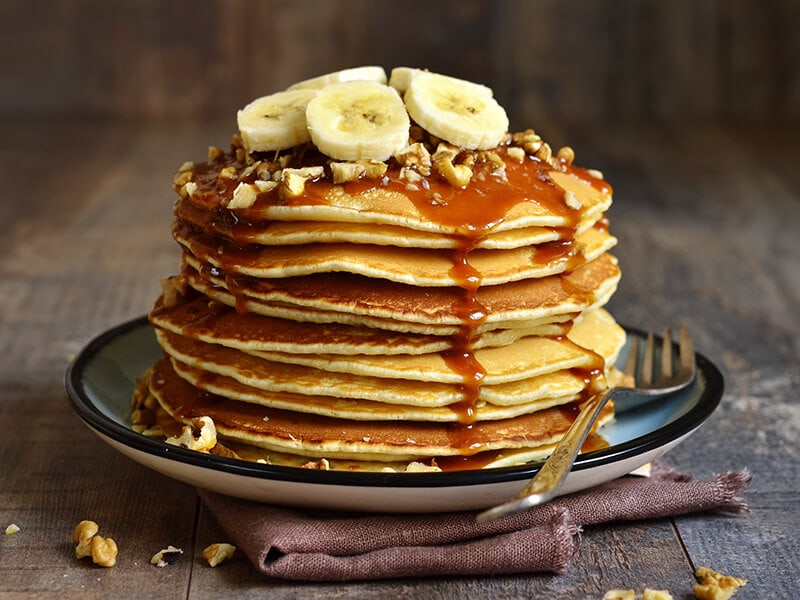 Are Flapjacks The Same As Pancakes?
Flapjack vs pancake can be compared based on the primary factors: appearance, regions, ingredients, and cooking methods. They are similar, but certainly, they are not the same.
In the US, there is no difference. Two terms "flapjack" and "pancake" can be interchanged. The term pancake in the US might also be affected by different regions. In particular, people usually call it "pancake" in the north and west, while "flapjack" is popularly used in the south.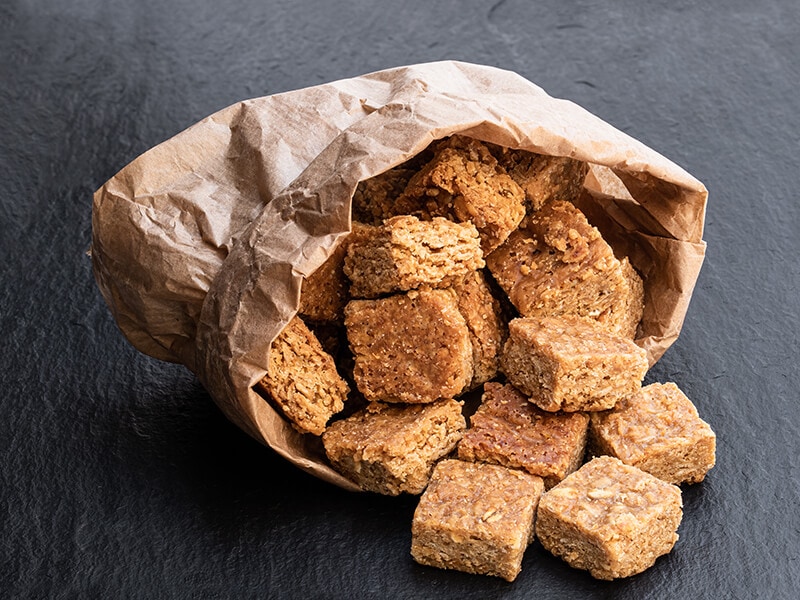 Comparison Chart: Helping You Follow Easier
If the information above makes you confused or difficult to identify, this table will help you to solve your problem. I believe you can easily distinguish flapjacks and pancakes through this chart.
| Aspects of comparison | Pancakes | Flapjacks |
| --- | --- | --- |
| Definition | Thin, round, flat cakes made from butter and fried on both sides with many variations like a crepe, American pancake, or Scotch pancake, etc. | Traybake bars made from oats, golden syrup, honey, butter (UK description). |
| Other names | Hotcakes or griddle cakes | Pancakes in the US, granola bars or muesli bars |
| Reputation | Commonly used | Less-known |
| How many kinds | India with dosa, Europe with palatschinken and crepe, Indonesia with serabi. | No variations |
| In the US and Canada | Flat cake made from thin batter | Flat cake made from thin batter |
| In the UK | Fried cakes with a thin batter and cooked on both sides | Sweet tray-baked bars made from oats |
| Primary ingredients | Flour, eggs, butter, milk, and a bit of baking powder | Brown sugar, oats, golden syrup, and butter |
| Toppings | Sweet fillings like maple syrup, jam, honey, fruit, sugar, or savory ingredients | Chocolate icing, coconut, fruits, nuts |
| Texture | Soft and lighter | Soft inside, but crunchy outside, and heavier than pancakes |
| Appearance | Like a crepe with round shape and stacks of thin cakes | Usually rectangle bars, thicker and denser than pancakes |
| Which meals to serve | Usually used in breakfast | Be suitable for meals including breakfast, lunch, and dinner. |
| Cooking method | Use oil to fry in a pan or cook on a griddle | Baking often by iron skillets |
What Is A Flapjack?
As you know, the definition of flapjack will depend on where you come from and how it is eaten. In this part, I will mention a British flapjack, which is a famous tray baked cut into bars made from oats, golden syrup, sugar, and butter. This mixture will be put in a baking tray in the oven.
Common Names
Flapjack also has other names due to its ingredients, such as muesli bars, cereal bars, oats bars, granola bars. It is effortless to make flapjacks with a bit of time, so flapjacks are ideal to be your breakfast or desserts.
Amazing Further Ingredients
You can also add other healthy ingredients if you would like to make a diet meal. In other words, you can decide on what your flapjack tastes like. For instance, if you want to make your flapjack with richer flavors, brown sugar or demerara sugar is the best choice.
I recommend some delicious ingredients you can use in your flapjack, such as nuts, berries, dried fruit, coconut, bananas, sunflower seeds, or chocolate chips, etc. You can adjust your recipe to make a variety of mouth-watering snacks which are suitable for your lifestyle.
Suitability
You can eat flapjacks with some tea or coffee for your healthy breakfast or a tasty snack. Serving with tea or coffee will make your flapjacks more delicious. Moreover, you can also serve flapjacks in your lunch or dinner.
What Is A Pancake?
Pancake is a type of cake fried on both sides in a pan or on a griddle in oil or butter. Pancake is a thin, flat, round cake made of flour, eggs, milk, and a dash of baking powder.
Common Names
Pancakes are also known as hotcakes and griddle cakes in some regions. Pancakes have a long historical process. This cake takes a thousand years to have the perfect recipes nowadays.
Therefore, there are multiple types of pancakes in the world. Some famous kinds of pancakes are French crepes, American pancakes, Scotch pancakes, Indonesian serabi, etc.
Amazing Further Ingredients
British usually make pancakes for their desserts with sugar, jam if they want a sweeter pancake, and for their main course with meat, cheese if they prefer a savory pancake.
Like flapjacks, pancake recipes also vary depending on your eating habits and cooking styles. Thus, you can easily substitute or remove any certain ingredients.
Suitability
This cake is often served for quick and easy breakfasts. In the US, people usually use pancakes for their breakfast, but you can also enjoy this delicious cake for your snacks or whenever you want.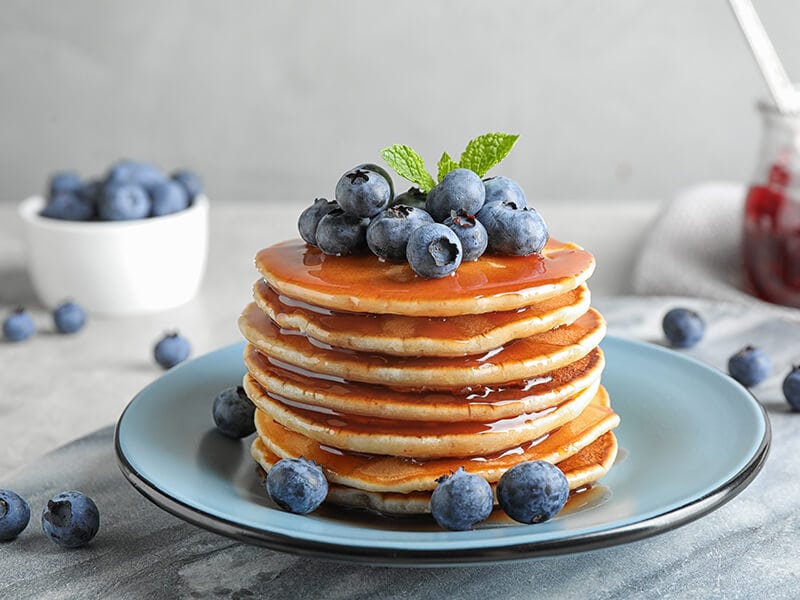 What Are The Differences Between Flapjacks And Pancakes?
If you are still confused about flapjacks and pancakes, let me show you the key differences that help you easily distinguish between them.
Flapjack Vs. Pancake: Key Differences From Geographical Locations
The important difference between flapjacks and pancakes lies in the geography. Different regions and nations will make flapjacks and pancakes inconsistent.
In The Us And Canada
As I mentioned above, flapjacks and pancakes are considered the same in the US and Canada. They are made from batter and fried in a pan on both sides. They are both simple and easy cakes for you to make with basic ingredients that you already have in your pantry.
You can ultimately decide on the ingredients of your cakes. If you prefer sweetness, drizzle syrup, dried fruit, or jam. If you do not like sweet flavors to make toppings of your flapjacks or pancake, you can also make a savory dish with cheese, beef, or chicken toppings.
There is still regional confusion between flapjacks and pancakes in the US. The South and Southeast regions of the US tend to call these thin cakes flapjacks, while in other areas, pancakes are the preferred choice.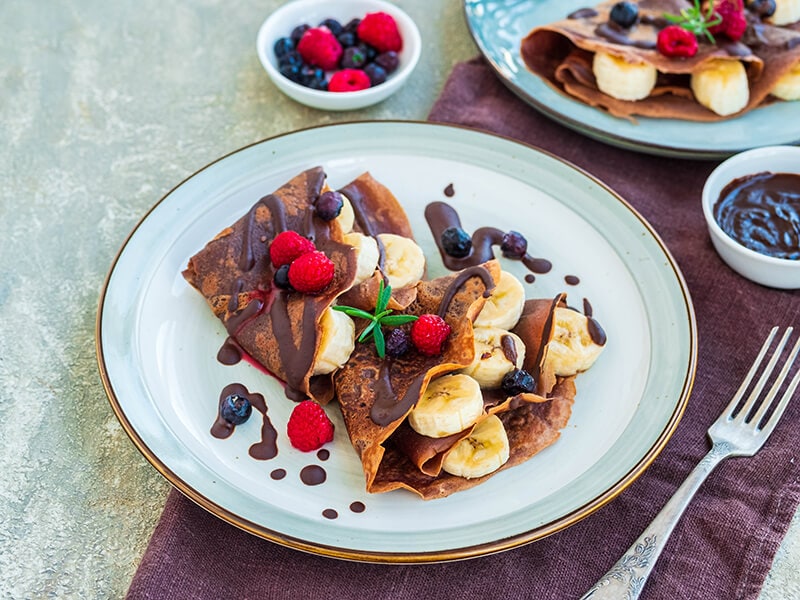 In The Uk
Flapjacks and pancakes in the UK have both similarities and differences from ones in the US. Keep reading to find out interesting facts.
The origin of flapjacks is a British dish made from oats, brown sugar, golden syrup, and butter. They are formed under oat slices, or tray bakes cut into bars. Flapjacks can be added by various tasty fillings, such as dried fruit, coconut, or nuts.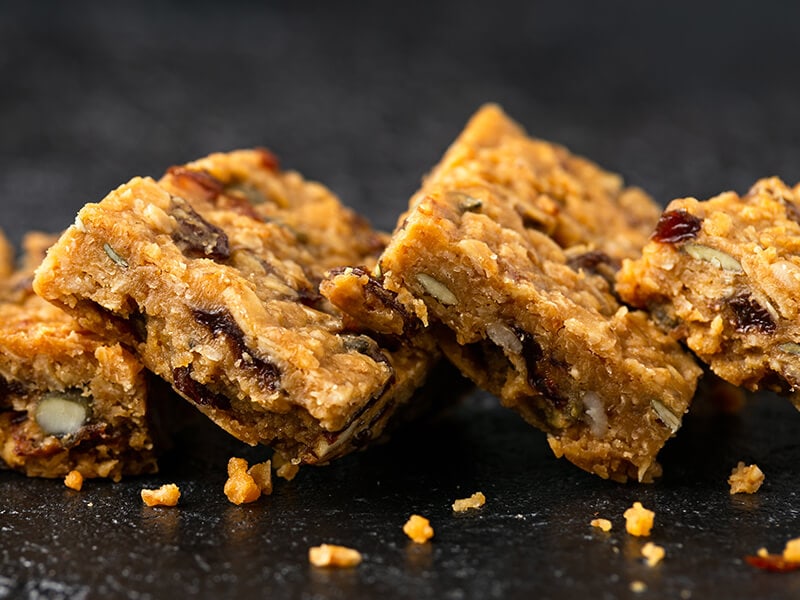 While American pancakes are served in a stack, British pancakes are rolled up like a crepe, but they seem to be thicker than crepes. UK pancakes have less sugar and can be filled with sweet or savory toppings and flavors like US pancakes.
Pancakes are best served warm. So if yours have cooled down considerably, think of what you can do to make pancakes warm again. Also, you may want to learn the various tricks to keep pancakes warm for a long time as well.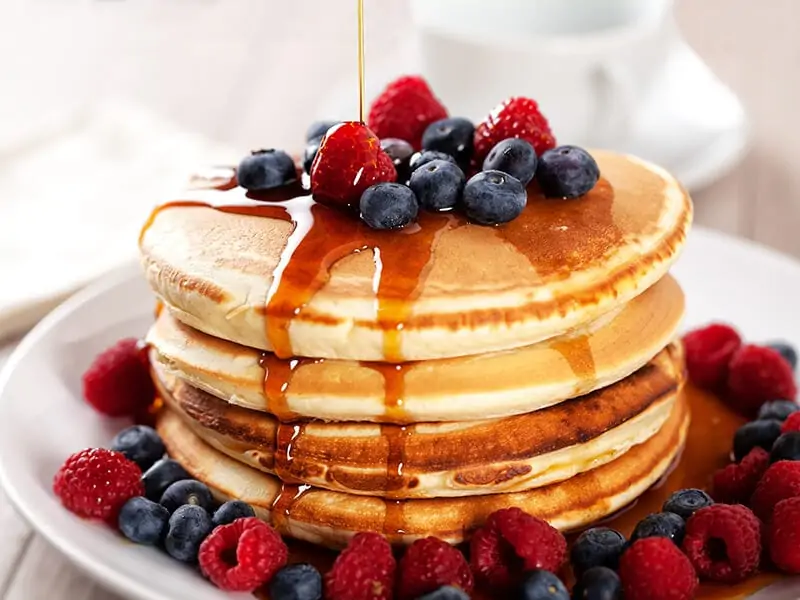 Main Ingredients Of Flapjacks And Pancakes
Right now, I will indicate to you the main ingredients to make a flapjack or pancake. Generally, they both have their primary ingredients, but you can substitute any ingredient to make your cakes.
Do the cakes serve for breakfast or a dessert? The ingredients depend on your purpose of cooking.
Primary Flapjack Ingredients
Let's continue with flapjacks ingredients. flapjacks I mention here are British flapjacks, which are oat bars and baked in the oven. Besides oats, butter, sugar, and golden syrup are essential ingredients to make flapjacks.
The list below is additional flavors to make your flapjacks healthier and more delicious:
Brown sugar or demerara sugar
Chocolate chips
Dried fruit such as cranberries or raisins
Desiccated coconut
Apples or berries
Peanut butter
Chia seeds
Pumpkin seeds
Sunflower seeds
Almonds or walnuts
It is wise to mix apples or bananas into your flapjack recipe to cut out the processed sugar. Additionally, you can be creative to drizzle chocolate icing or add toppings on the top of flapjacks.
The cooking methods of flapjacks to make them fluffy that you might not know. Watch this video:
Basic Ingredients Of Pancakes
Until you reach this point, I guess that you know the essential ingredients to make a pancake. Let me remind you again.
What do you need to prepare?
The below list includes all the essential ingredients to make a pancake. You do not need to choose all of them. Pick up the necessary ingredients for your pancakes as I will provide a complete list of ingredients a pancake may have:
Flour
Eggs
Milk or buttermilk
Butter or oil
A leavening agent
Sugar
Salt
Vanilla essence
Chocolate chips or fruit
The unavoidable ingredients are flour, eggs, and milk. You can use buttermilk in case you do not have milk to make your pancakes have a lighter texture and tangier taste. Besides, butter can be replaced by oil.
You can add some sugar to make a sweeter pancake or sprinkle some salt to make a savory pancake. And if you wonder whether refrigerating pancake batter overnight is acceptable, the answer is yes, but there are some notes that you should know before doing it.
Vanilla essence, chocolate chips, or fruit are great options for you. Some people often choose to add vanilla essence, chocolate chips, or fruit for their sweet pancakes. This is a perfect combination that appetizing pancakes should have.
Or you can serve some side dishes to go with pancakes, for instance, bacon, nuts, fruits, etc. If you prefer drinks, nothing is better than a plate of fluffy pancakes and a hot cup of coffee to start a new day.
This recipe uses vanilla essence. Try making your tasty pancakes with this wonderful recipe. Watch this video:
The Best Flapjack Recipe You Can't Skip
Flapjack is a fantastic snack for you, which provides you with high energy content and essential nutrients. Flapjacks are served in various ways depending on your lifestyle and your purposes.
You can, for example, make flapjacks for your quick breakfast in Irish style or delicious desserts with some tea or coffee. Overall, these treats will make your mouth water.
I will not let you wait any longer. Now I will share the best and the healthiest flapjack recipe with dried dates, which is a good source of fiber, antioxidants, and vital vitamins. Follow me step-by-step: (1)
Step 1: Cut the dates into small pieces. Then, add water or orange juice in a small saucepan . Cover the pan and cook gently for about 5 minutes until they form a thick, liquid paste. Add more water or orange juice when boiling them if they turn dry in the pan.
Step 2: Put butter, honey, and sugar. Stir lightly until butter is melted and sugar has dissolved. Take off the heat, add the oats and spice mixture and stir well.
Step 3: Put the oat mixture into a baking tin, spread it out, and press it down tightly with a spoon. Then add the date mixture on and use a spoon to grind it into a layer. Spread it out and firm it again carefully.
Step 4: Sprinkle a tablespoon of demerara sugar over the top of flapjacks and press down tightly.
Step 5: Bake in the oven for 20 – 25 minutes. If you aim your flapjacks to be soft and chewy, or 30-35 minutes for firm and crunchy flapjacks. Then, use a sharp knife to cut the flapjacks into bars while they are still hot. After that, leave them to cool down and serve.
I think this wonderful flapjack recipe will not disappoint you. Try making it for yourself and enjoy your result.
Try making your flapjacks following this excellent recipe to see the best result. Watch this video:
How To Make A Fluffy Pancake – The Best Proven Recipe
Pancakes are easy to make, but it is also tricky for you since the batter and the time to flip the pancakes have to be perfect. Do not worry as it is not as difficult as you might think. Keep reading to find out helpful tips to make an ideal fluffy pancake.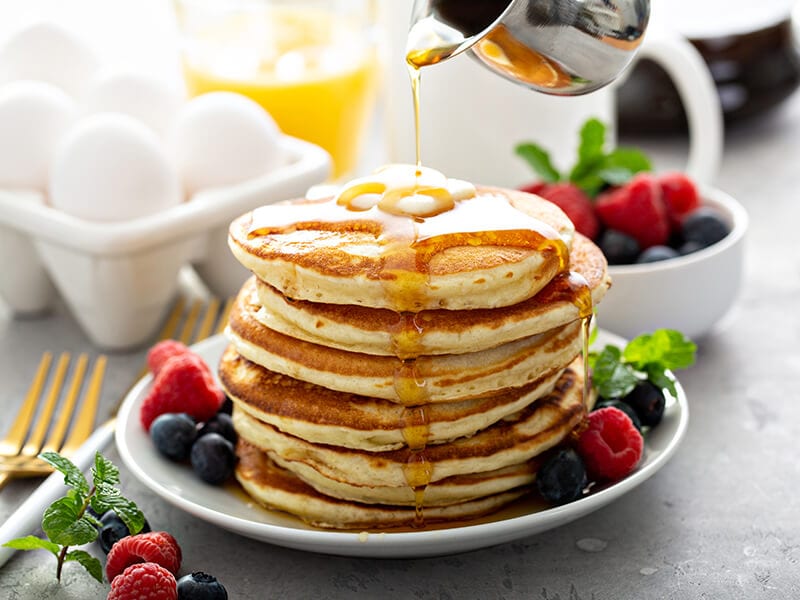 Here is how to make a fluffy pancake step-by-step:
Step 1: Prepare the batter and let the batter rest for a few minutes. You should not add more milk or liquid to the batter since it will be thick.
Step 2: Heat a non-stick frying pan on medium-high heat on the stove. Add some butter or oil. When the butter sizzles, lower the heat. If you have the condition and want your pancakes perfect, you can use a high-quality electric pancake griddle, stovetop griddle, or cast iron skillet. (2)
Step 3: After that, use a ¼ cup measuring cup to spread the batter into the pan and uniform it into a nice circle.
Do not flip your pancake until the underside is ready to flip. The bottom of the perfect pancake should be golden brown. You can know this time when you see bubbles starting to form and pop on the top.
To make your pancakes fluffy, this recipe highly recommends using ½ teaspoons of baking powder, not baking soda, to have the best result.
If you want to adventure and like to try new things, try mixing blueberries into the batter. This helps to prevent your pancakes from bursting.
Step 4: Add your favorite toppings on the top of pancake stacks and enjoy your delicious breakfast. (3)
This best pancake recipe will not disappoint you. Watch this video to know more:
FAQs
If you are still confused and want to know more information about pancakes and flapjacks, here are all frequently asked questions related to both cakes you are expecting.
Extra Tips For Perfect Pancakes
Here you can find out some helpful tips to make your pancakes more perfect. The first important thing that can affect the quality of your pancakes is the batter. You should heat the milk in the microwave and add warm milk to the rest of the ingredients.
This will make your batter smoother as well as prevent lumps. In addition, you should sift the dry ingredients before mixing them to have a lighter pancake mixture without further lumps.
If you want to make a lighter and fluffier pancake, you had better use a fork or a hand whisk to mix the batter. With this tip, you will be successful in making the most delicious pancakes.
Do you find this post helpful? Is there anything you are still confused about? Do you have other fantastic recipes to make pancakes and flapjacks?
Tell me via the comment section. I would like to hear your experiences and your stories related to pancakes and flapjacks. If you are interested in the above exciting information, do not forget to give me a like or share. I hope this post includes all things you are searching for.
References
The Hedgecombers. 2021. The Best Flapjack Recipe in The Whole Wide World. Ever.. [online] Available at: https://hedgecombers.com/the-best-flapjack-recipe-in-the-whole-wide-world-ever/.
2021. [online] Available at: https://www.thekitchn.com/the-best-way-to-cook-pancakes-23171469.
Inspired Taste – Easy Recipes for Home Cooks. 2021. Easy Fluffy Pancakes from Scratch. [online] Available at: https://www.inspiredtaste.net/24593/essential-pancake-recipe/.