If you are a baking lover, have you ever thought about the question: "Can you refrigerate pancake batter overnight?"
You love to eat pancakes at breakfast, but you can't get up early to prepare the ingredients and mix the batter when so much housework, company work, and even crying babies await you in the morning.
Preparing pancake batter the night before is probably a perfect solution for you! Thus, you could have a tasty breakfast that only takes a few minutes to cook on a pan.
Refrigerating pancake batter will allow you to comfortably enjoy your favorite pancakes even on a busy morning, and that's the gist of this article.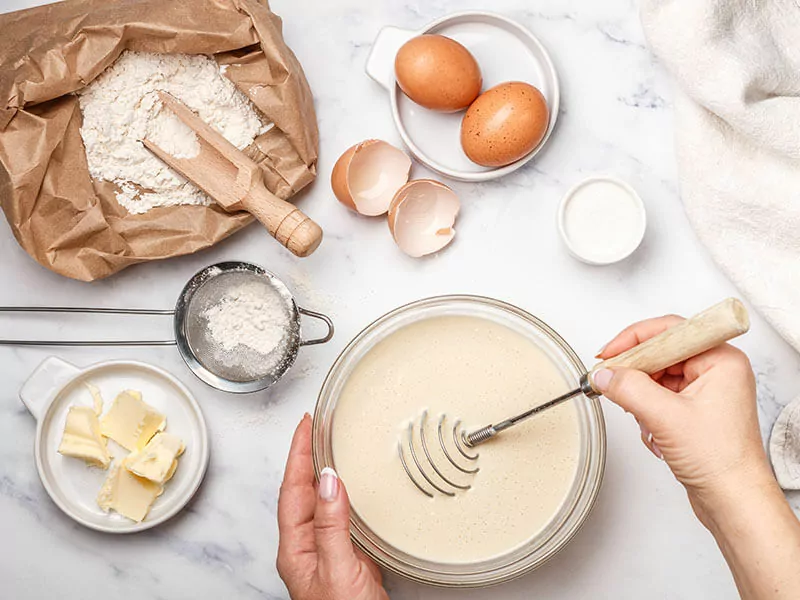 Can You Refrigerate Pancake Batter Overnight?
The answer is Yes! The refrigerator in your home is exactly a "treasure" that helps you preserve pancake batter with a special design to control temperatures below 40 °F.
Keeping it carefully stored in an airtight container and refrigerated can even reduce the risk of being damaged by the "invader" bacteria.
You can absolutely feel free to refrigerate it overnight if the ingredients (eggs, milk, flour) of pancake batter have a long shelf life. Therefore, make sure that all of your ingredients are still within the expiry date!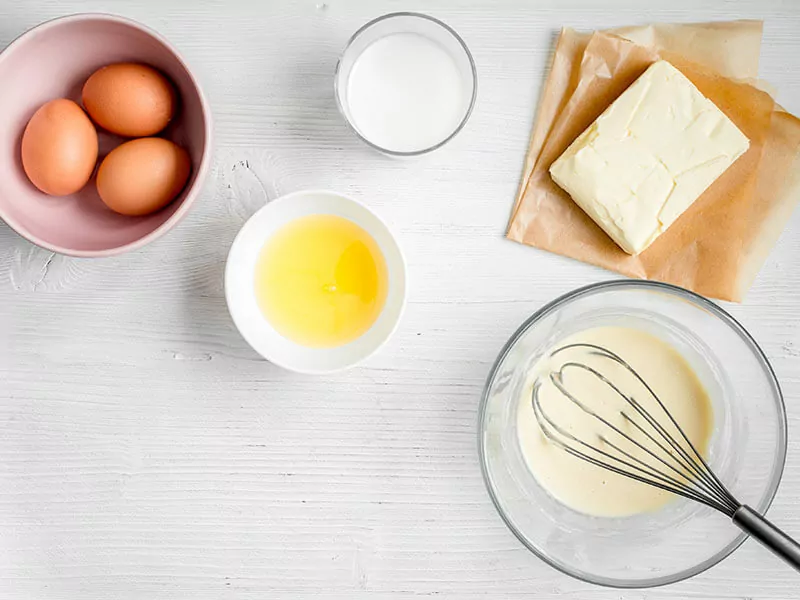 What Happens When You Refrigerate Batter Overnight?
Letting the batter rest overnight will give the starch more time to absorb the moisture from eggs and the liquid from other ingredients. Hence, the batter will rise to be firmer and denser!
Note that you only put the pancake batter in the fridge, not the pancakes! Because when you put pancakes in the refrigerator, your favorite dish will become mushy when used the next day.
Different Types Of Pancake Batters Have Different Refrigeration Methods
Indeed, you can probably leave the pancake batter overnight in the refrigerator. Nevertheless, how different types of pancake batter should be stored is not the same. You should also note that waffles and pancakes are not the same, so do not mistake them.
1. Pancakes Using Egg Whites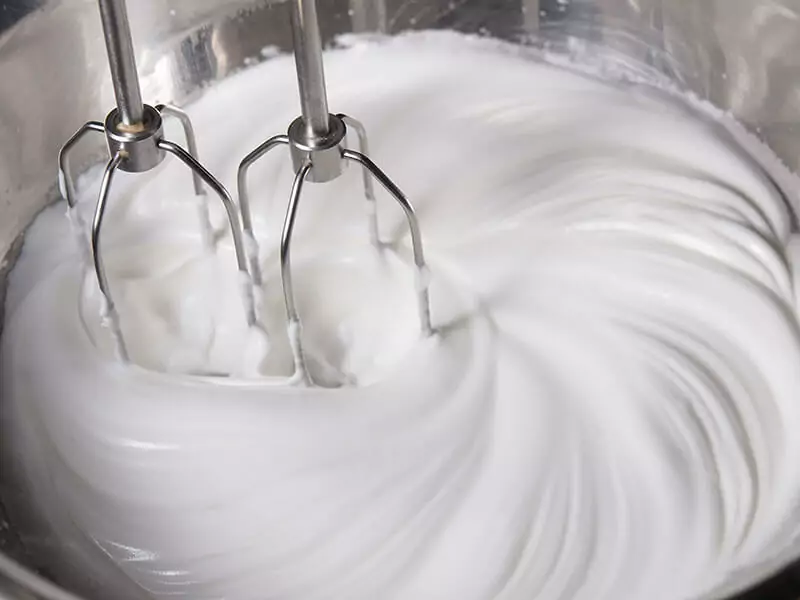 You might like to make your pancakes light and fluffy by adding egg whites. But this ingredient needs to be used immediately after whipping as it may lose softness if left overnight.
Tips: If you love to use egg whites for your pancakes, leave them to mix last, just before you're ready to put the batter in the pan. It only takes you 1 to 2 minutes!
2. Pancakes Using Buttermilk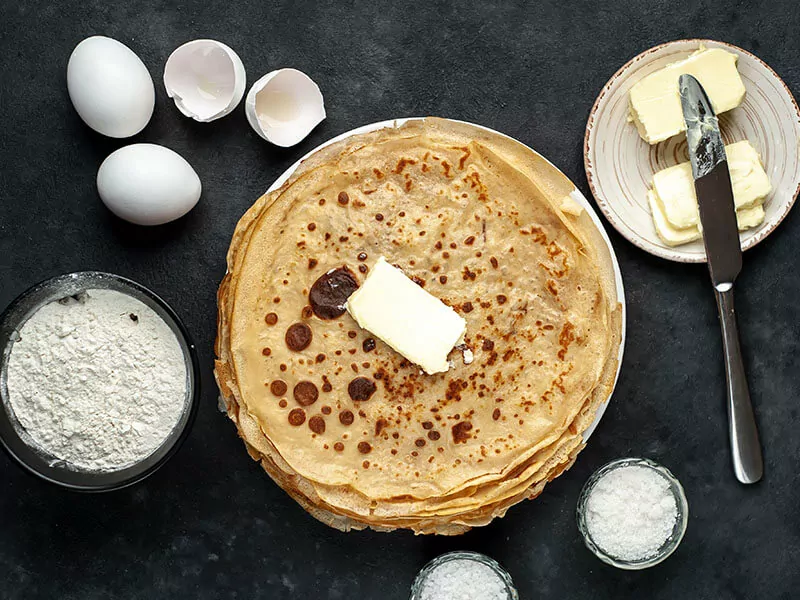 I cannot deny the truth that the involvement of buttermilk will make your pancakes have a very special and attractive taste and aroma. But of course, you have to check if there is any spoilage sign of your buttermilk before using it.
But when using buttermilk, mixing the batter early will require extra care because the batter tends to deflate over time. This makes it difficult for your pancakes to look good!
Tips: If you still want to put them in, try to add a small amount of yeast to the batter before you cook, it will effectively help your batter rise nicely.
3. Pancakes Using Baking Powder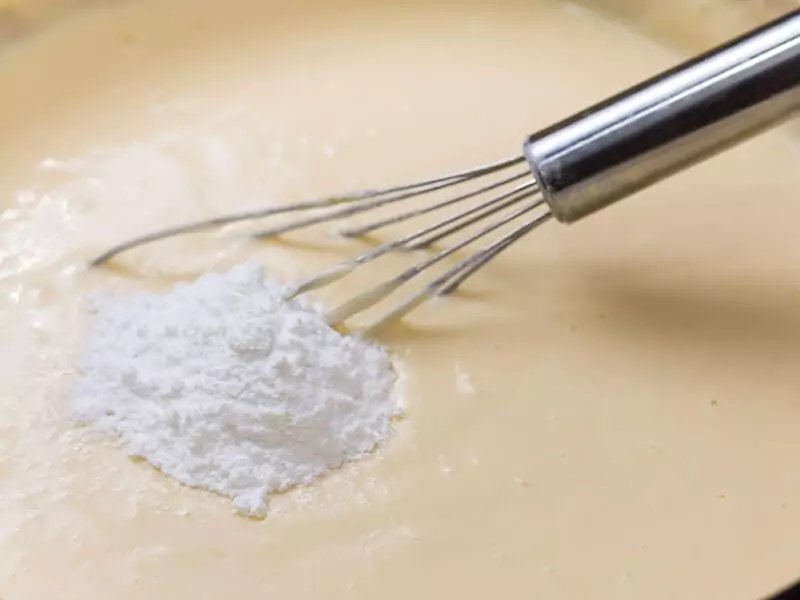 This is a popular ingredient for pancakes and many other cakes to create an effective puff effect. It can keep the puffiness for a long time even if you leave the pancake batter in the refrigerator overnight.
However, the possibility of the pancakes failing to rise much after you take them out of the fridge and cook them should not be ignored.
That's when the baking powder reacts the second time with the ingredients under heat (the first time is as soon as it is added to the batter).
Tips: The thing you need to do is just simply add more baking powder (about 25%) before cooking. Rest assured that it will not affect the appetizing taste of your pancakes!
Let's discover the scientific secret behind the effect of baking powder on pancakes!
4. Pancakes Using Baking Soda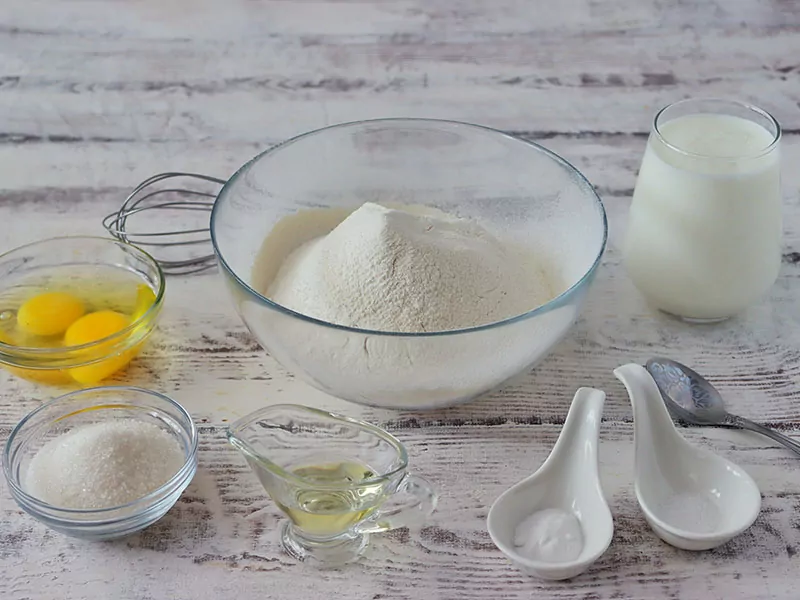 Unfortunately, I need to warn you that if you use baking soda to create fluffy pancakes, you need to cook them right away.
Baking soda reacts with the pancake mix as soon as it is added. Leaving that pancake batter in the fridge overnight will make it hard for the pancake to rise successfully.
Tips: Leave the baking soda out and add to the batter the next morning before you're ready to cook!
5. Crepe Pancake Batter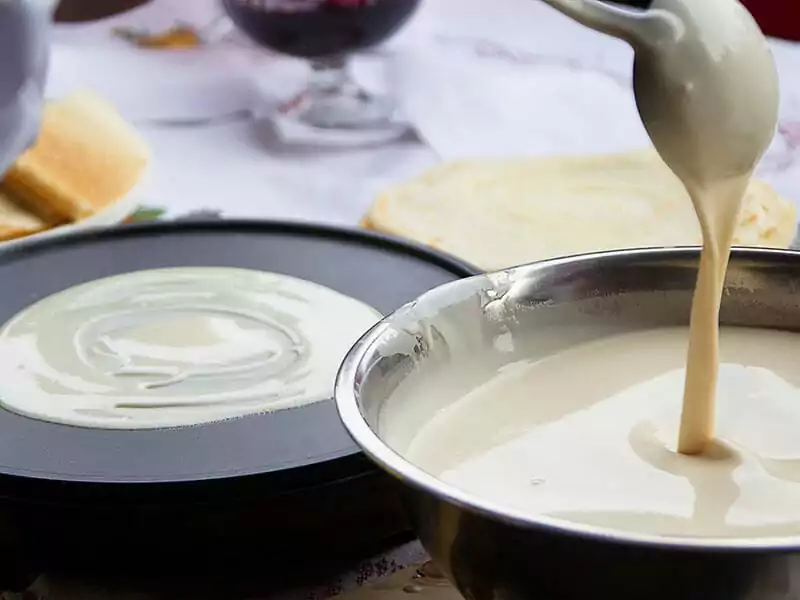 It is not surprising that air bubbles are the key factor that determines the puffiness of your pancakes. They are created when the cake ingredients are mixed.
However, if you love thin pancakes like crepes, you don't want this!
Since no heating agents or butter are used, the longer the pancake batter is left in the fridge, the more bubbles it will deflate! Thereby, with crepe-style pancakes, refrigeration is among the ultimate methods!
Tips: Prepare a simple batter the night before for thin pancakes the next morning. Then just take the batter out of the fridge and heat the pan, they are all ready!
6. Pancake Batter That Contains Yeast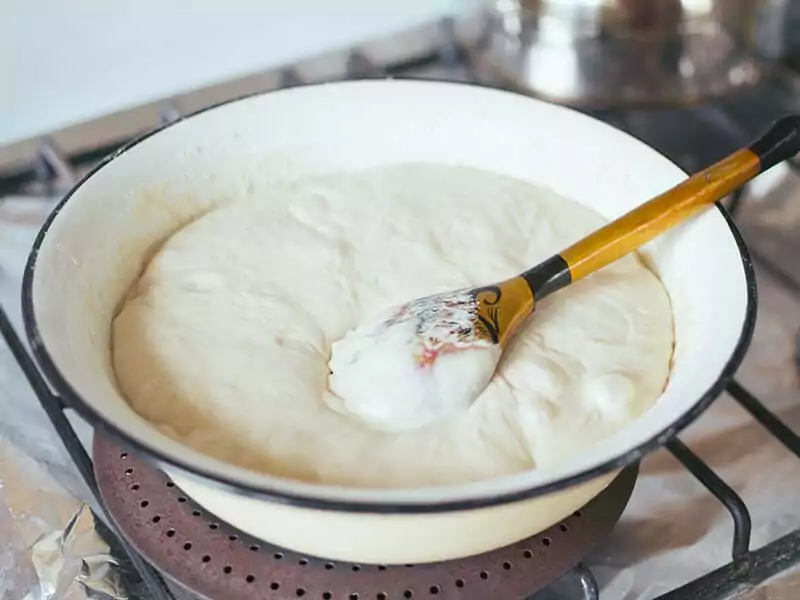 Pancake batter using yeast is also loved by some housewives. Yeast is an effective ingredient to make your pancake smell delicious! (Except in case you don't like its scent.)
Not only that, it works great to help pancakes rise because it has the characteristic of continuous operation.
Then, you don't need to worry about pancake puffiness like when using baking soda or buttermilk. Yeast allows you to leave the batter in the fridge overnight but still maintain its floating effect!
Tips: To achieve the best effect, please let the batter out of the refrigerator 1 hour before cooking!
How Long Is The Ideal Time For Refrigerating Pancake Batter?
As I mentioned above, different batter recipes will require different refrigeration methods. In general, if you cannot cook the cake on the same day, you can keep the batter in the fridge for up to 48 hours.
Remember not to exceed that time as the batter may separate, and the cake may lose its flavor!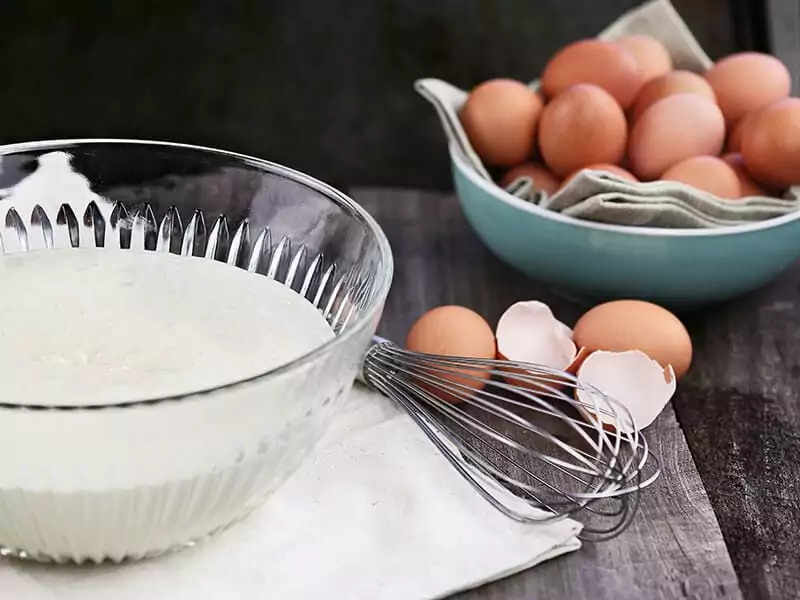 How To Refrigerate Pancake Batter Overnight
Do you want to enjoy mouth-watering, soft, and fluffy golden pancakes for your breakfast, just minutes after you get out of bed?
Refrigerating the pre-made batter from the night before will be an optimal method for you. Let's go through these simple and easy steps with me!
Step 1: Mix The Pancake Batter
Nowadays, thousands of delicious pancake batter recipes are available online.
I'll suggest an original version of pancake batter that some of you may even wonder "Why I haven't tried it before?". Near the end of this article, I will list several interesting recipes, so please read it to the end!
In this recipe, you will use baking powder to puff your lovely pancakes. You can replace it with any ingredients that have the same effect that I mentioned above.
For the first step, you need to sift the flour, salt, sugar, and baking powder into a large bowl. Then just make a well in the center and pour milk, eggs, and melted butter into it. Finally, mix them well until smooth.
Easily make your best traditional pancakes with this guide!
Step 2: Cover The Pre-made Batter
Like other foods, when stored in the refrigerator, pancake batter needs to be covered to reduce the transfer of odors between foods and prevent the possibility of surface over-drying (1).
You can do this by pouring the batter into an airtight container or covering it with cling film.
To ensure food safety, I suggest you use food containers such as plastic or glass that do not contain BPA. I recommend using top-rated freezer-safe containers for food storage!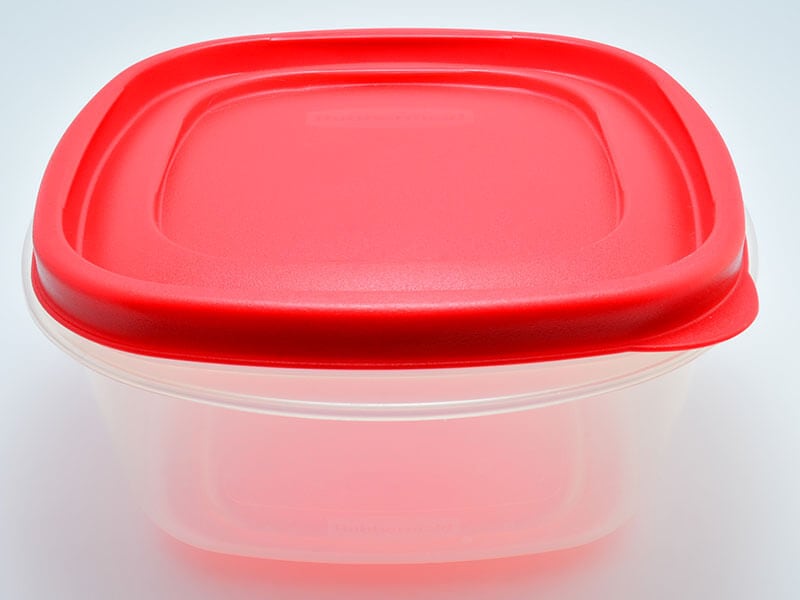 Another familiar and effective option is to use cling film. Please use PE (Polyethylene) instead of PVC because PVC's manufacturing additives include DEHA (Di-Ethylhexyl adipate) or DEHP (Di-Ethylhexyl phthalate), which can contaminate your food. (2)
In another way, you can take advantage of both tools: Pour the batter into the Rubbermaid container and seal it with cling film before closing the airtight lid. This will provide maximum for your batter from the air.
Step 3: Checking Your Refrigerator
The suitable temperature for storing food in the refrigerator is 34 °F to 40 °F. (3)
Some refrigerators have a built-in thermometer to monitor the internal temperature. If your fridge doesn't have it, you should buy a modern digital LCD thermometer.
You also need to pay attention to the position of food in the refrigerator because it affects the circulation and the efficiency of the air.
Please avoid dense food stacking and do not cover the refrigerator shelves with any barrier materials! It will prevent the air circuitry from cooling the food evenly.
Importance note: Meat, especially raw meat, must be stored in a separate location from baking to minimize cross-contamination from meat.
Step 4: Refrigerate Pancake Batter Overnight
Just put the container of batter you just sealed in step 2 in the fridge and leave it overnight.
Tips:
Make a note of the time you put the batter in the fridge to ensure that you will not leave them out of date.
You should take the pancake batter out of the fridge and let it sit at room temperature for a bit before you start cooking.
How Long Does Pancake Batter Last?
The shelf life of pancake batter depends on the different types of mixture and storage temperature. Normally, you have three basic places to store it: in the room, refrigerator, or freezer.
At Room Temperature
In my experience, if stored at room temperature, pancake batter should only sit out 1 to 2 hours before baking to avoid spoilage (due to the peculiarity of ingredients, including eggs and milk).
In another way, if you want to preserve the pancake batter for a longer time, the refrigerator and freezer are better places.
In The Fridge
When refrigerated, pancake batter can be stored overnight or even for 2 days. But note that you have carefully sealed it before the cold storage step!
In The Freezer
Similar to refrigeration, except that you will place the container in the freezer compartment. It will allow you to store the batter for a much longer time: up to 1 to 3 months.
When you want to use it, just leave it overnight in the fridge or deforest it in warm water. Then you can easily make your favorite pancakes.
However, if you use whipped egg whites to make the batter rise, the freezing process will ruin your pancake batter!
Let's freeze pancake batter into "ice queen".
How To Tell If Pancake Batter Is Spoiled?
While preparing the pancake batter the night before will save you quite a bit of time, there's still a risk of the batter going bad. So you need to check them carefully before consuming them, or you may have to deal with food poisoning! (4).
An easy sign that your pancake batter has gone bad is the smell. You should throw it right away if it smells musty, sour, or has any unpleasant odors.
Another obvious sign that warns you that your pancake batter has gone bad is mold growing around the batter.
Otherwise, you can cook a small pancake to test. If the result is a flat pancake with no springiness or no porosity, that means there is no longer active in your mixture.
In case you have followed all the necessary instructions for overnight fridge batter and have not seen any signs of deterioration, you can safely use them.
Best Brands Of Pancake Mix To Buy
Do you want to save even more time right from the preparing ingredients step? What seemed impossible years ago is now very easy and common: Buy ready-made pancake mix!
The thing you need to do is simply mix them with oil, milk, or even just add water. This is the ideal cooking shortcut for you! Moreover, it is also important to learn some tricks to keep pancakes warm so you can enjoy them anytime you want.
But what is the best option for you to make delicious, golden brown, and fluffy pancakes when there are thousands of brands on the market today?
Loyal pancake fans, do not be afraid! I am here to recommend some brands that are trusted by the masses and their most popular products.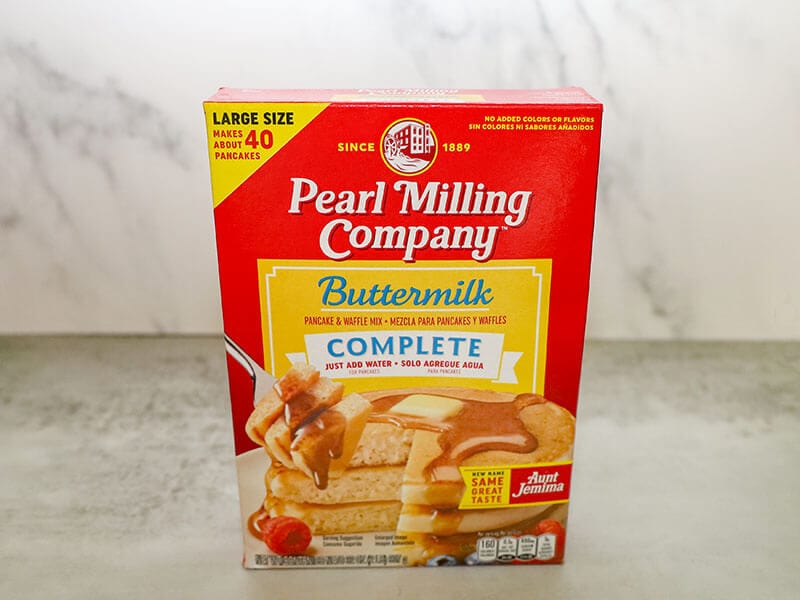 Pearl Milling Company, established in 1889, is a fairly well-known American brand of pancake mixes, syrups, and other breakfast items.
The company has launched pancake & waffle mix products since the 1960s. Nowadays, Pearl Milling Company owns a diverse range of pancake & waffle mixes, from original, buttermilk, whole wheat, and chocolate chip to blueberry flavors.
However, Pearl Milling Company Original Pancake & Waffle Mix is among its best-seller products. One box has a capacity of 32oz, equivalent to about 20 servings of 4 pancakes. It does not contain colorants or any artificial flavors.
This is an easy-to-use product, you only need to mix it with water to make your classic sweet and scrumptious pancakes.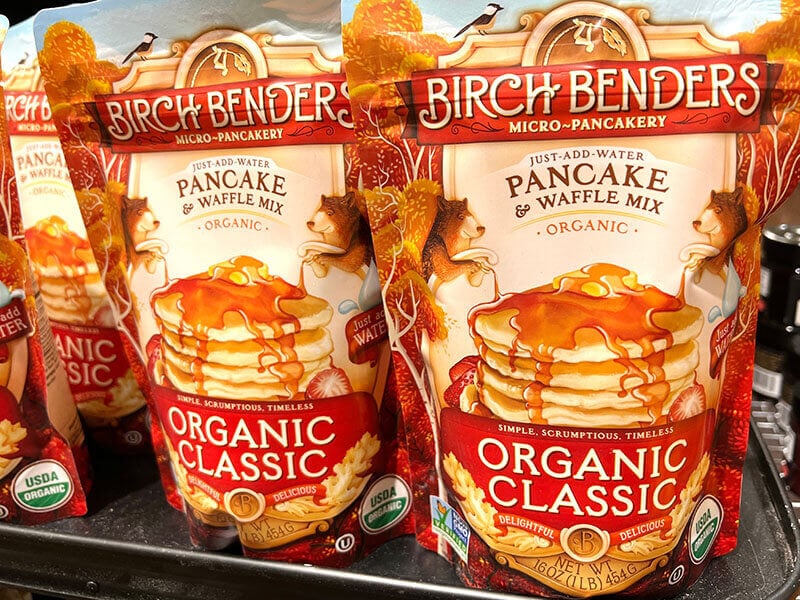 Birch Benders was established in 2011 as a manufacturer and retailer of food and beverage products.
The company is famous for its various natural and organic pancake & waffle mix products. All of them can be simply prepared in a few minutes by adding water.
Birch Benders Organic Classic Pancake & Waffle Mix is rated as an original taste, yummy, convenient, and healthy product of the brand.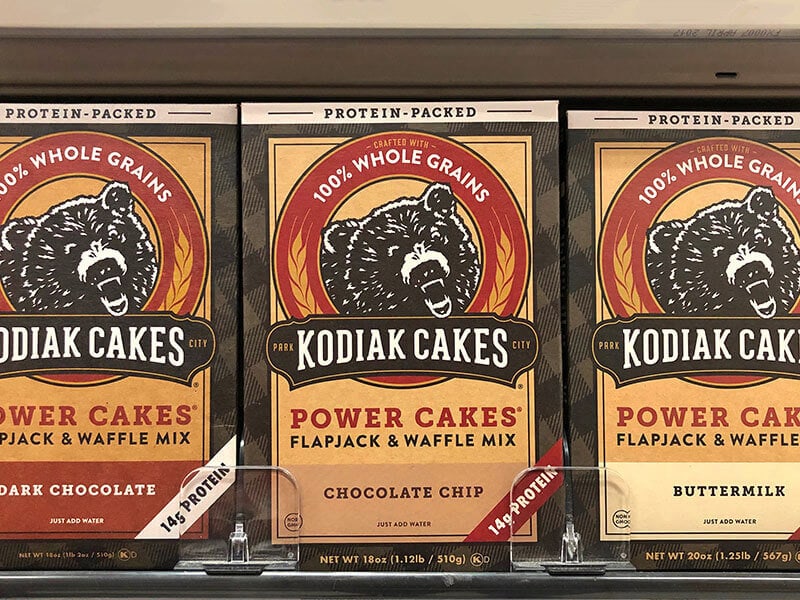 Kodiak Cakes started as a small family business based in Park City, Utah. Today, it has become a $200 million business that produces and sells primarily pancake and waffle mix products.
Normally, wheat is overprocessed and becomes deficient in nutrients. Recognizing this weakness, Kodiak Cakes has developed products made from whole grain, which taste great and provide a wide range of nutrients.
Kodiak Cakes Power Cakes Flapjack and Waffle Mix has created significant success for the company. It is a pancake mix made of whole wheat flour, whole grain oatmeal, buttermilk, dried honey, and egg whites.
The product does not contain any preservatives and is recommended as healthy and high in protein (8 grams of protein in a serving of 4 pancakes).
Similar to the above products, you also only need to add water to use it!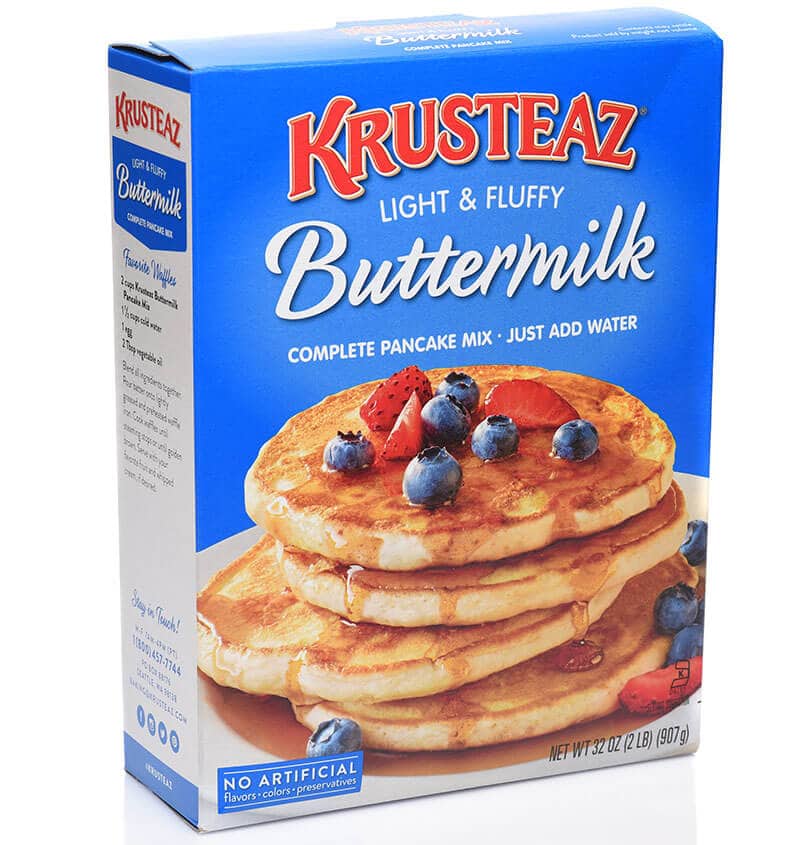 Krusteaz is a Washington state brand of consumer food products, which was founded in 1932 and owned by Continental Mills.
With the slogan "Open a world of endless making possibilities with our easy-to-use pancake and waffle mixes", the brand has launched 12 different types of pancake and waffle mix products and successfully gained the trust of many consumers.
The company's Krusteaz Light & Fluffy Buttermilk Complete product is not only popular with housewives, but also with hotels and schools.
King Arthur Baking is one of the oldest flour companies in the UK, founded in 1790. This East Coast-based retail giant is operating aggressively, expanding its business to the other side of the world.
Consumers often prefer King Arthur over other flour brands due to the high quality of each of its products. It's not surprising that King Arthur's pancake mixes are among the tastiest products rated by users.
With the company's best-seller product- Cloud 9 Pancake Mix, your pancakes will be sweet, savory, light, and amazingly homogeneous.
Pancake Recipes – Let's Become The Best Chefs!
Are you fed up with the original version of pancakes, but not good at cooking? It's okay! I will show you modern and easy-to-follow pancake recipes that even the clumsiest person can do. For a hearty meal, pair your pancakes with other foods, such as fruits, syrup, nuts, etc.
Blueberry cheese pancake is an exceptionally delicious recipe.
I'm not lying! If you love the sweet taste of blueberry, the signature scent, and the greasiness of cheese, this is your paradise.
This recipe is really easy for beginners to try with only 10 simple ingredients!
After mixing dry and wet ingredients, just fry them in the pan as usual. Cook until pancakes are golden brown, then serve them on a plate with syrup, butter, and blueberries on top.
Finally, your lovely pancakes are done!
You are a big fan of chocolate, and you want to use them for your nice breakfast, but not in a normal way?
Try making these super soft chocolate pancakes with the following recipe! Your first step is to whisk eggs and sugar. After that, add milk and oil. In the next step, you need to whisk the flour, cocoa powder, baking powder, and salt with the wet mixture until combined.
In addition to cocoa powder, this type of pancake batter should be mixed with chocolate ganache for extra flavor.
It's a piece of cake, right?
This is exactly my most favorite pancake recipe! I have been using them for the past 1 year and successfully created thick, fluffy, and full of banana flavor pancakes.
They are surprisingly easy to complete in about 30 minutes.
You only need to mix all the ingredients and do it the usual way. The trick here is to add a substantial amount of mashed banana to enhance the flavor and keep the cake moist.
Tips: Use ripe bananas. The riper the banana, the sweeter and easier to mash (Make sure they don't have too many dark spots).
What Are The Benefits Of Letting The Pancake Batter Rest?
Pancakes are usually not baked but are pan-fried. Surely you can think about skipping the resting step.
However, letting the pancake batter rest for at least 10 minutes will help it rise better and the pancakes to be fluffier and softer.
Giving The Batter Time To Hydrate!
While the batter rests, the liquid ingredients (water or milk) will soften the batter and dissolve small clumps of batter (if you haven't mixed it thoroughly).
During that time, some starch and protein in the batter will be released, not only helping your pancakes have a firmness but also not be too chewy.
Shaping A Puffy Look For Your Pancakes!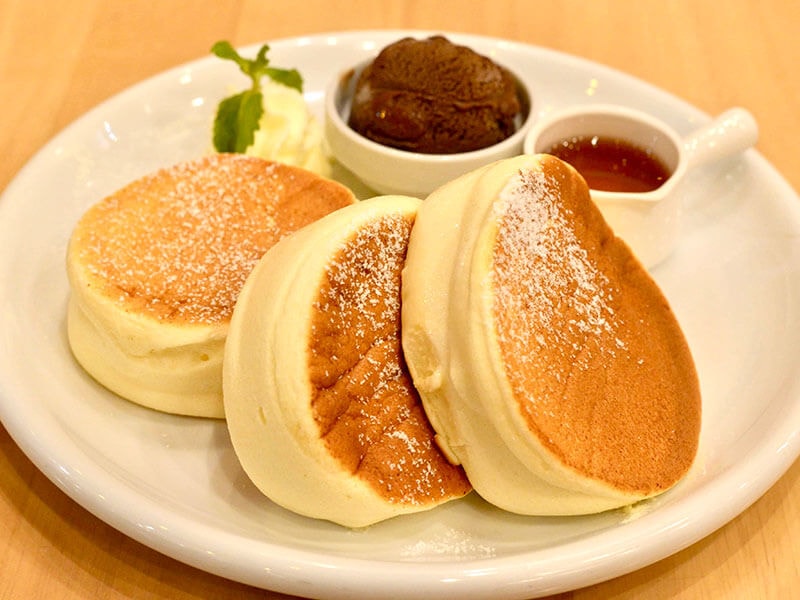 The truth is that no matter if you use baking powder or whipped egg whites, the key factor for puffiness is the air bubbles.
Make sure those bubbles are evenly distributed throughout the batter (this happens while the batter is hydrating).
Refrigerating the batter for an appropriate amount of time will bring you pancakes that are easy to shape and exceptionally soft!
FAQs
I understand that when stored in the refrigerator, you may have many doubts about the shelf life, taste, and impact on your favorite pancake batter. In this part, I will answer questions on this topic that people often ask me, and I believe they will be useful to you!
Refrigerate Pancake Batter For Your Busy Mornings!
If your favorite dish on the breakfast plate is fluffy and scrumptious pancakes, but you worry about the time to make them in the morning? Don't hesitate, prepare the batter the night before and refrigerate it!
However, your ingredients and the way you process them will determine different suitable storage methods. Not all types of batter can result in a beautiful pancake and are safe to consume after a few days in the refrigerator.
The maximum suggested time for refrigeration before using pancake batter is within 2 days, and you should not violate it!
With knowledge sharing as a focus, when you have any questions, let me know in the comment section. I'm always happy to answer them. All in all, if you find this article useful, please share it with your friends and your loved ones!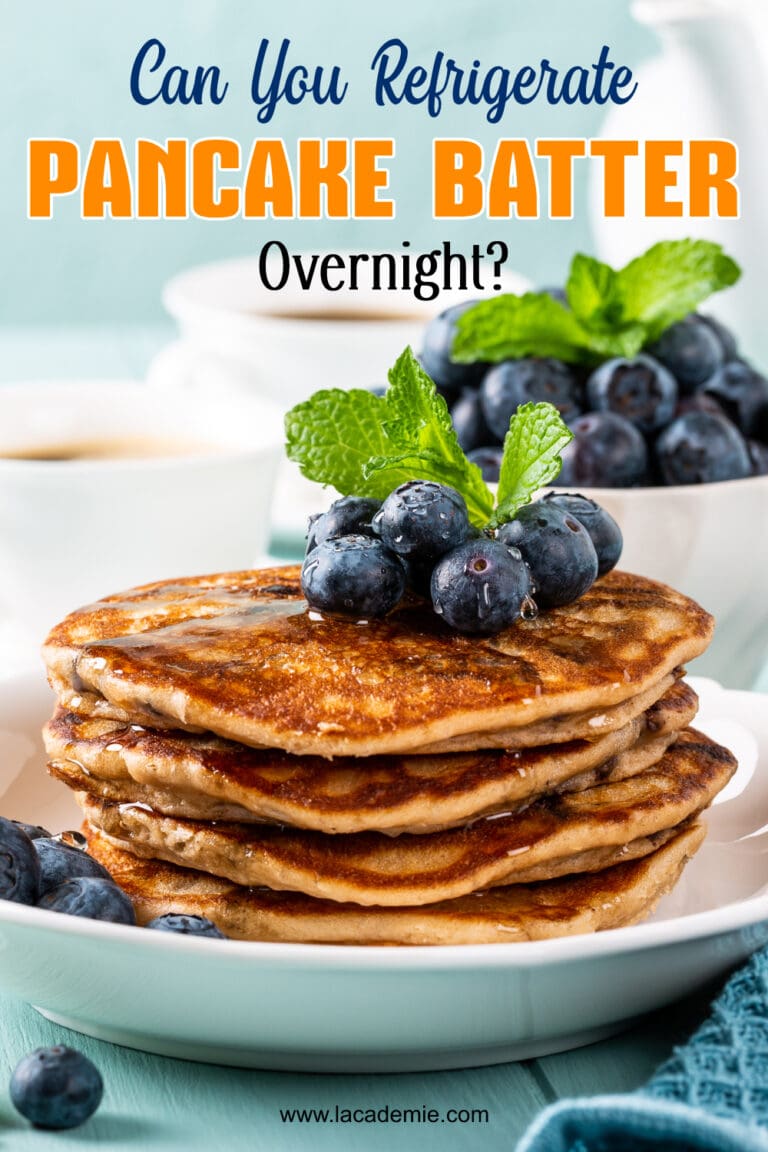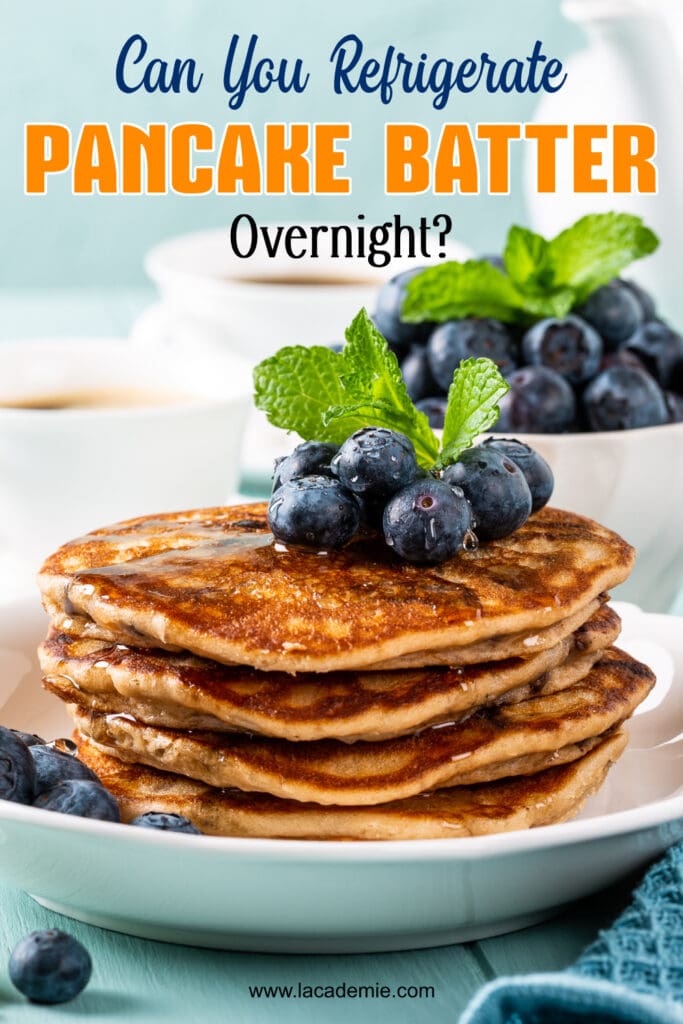 References
Catalog.extension.oregonstate.edu. 2009. Storing food for safety and quality.
ChemicalSafetyFacts.org. 2020. Types of Plastic Food Packaging and Safety: A Close-Up Look.
U.S. Food and Drug Administration. 2021. Are You Storing Food Safely?.
Cornish, R., 2017. The secret to perfect, tender pancakes, and is the sniff test enough to protect you from food poisoning?.