The answer to the question 'How to turn brownie mix into cake?' is right down below, let's roll down to discover this amazing baking method!
This article will show the differences between a brownie mix and a cake mix, provide further knowledge on how to adjust the ingredients, also give some useful tips to make your cake look stunning, and a detailed baking guide.
Don't worry, I'm here to help you. With the instruction I'm about to give you, baking will be just a piece of cake. Now, grab your apron and jump right into your kitchen!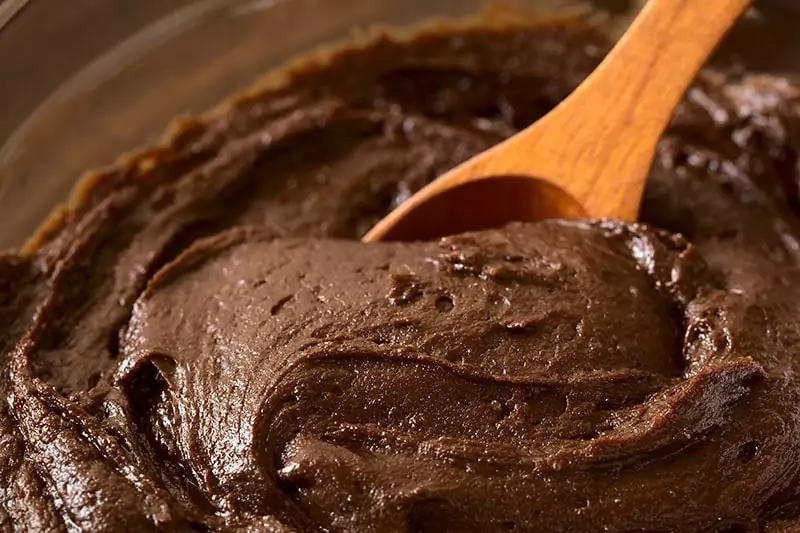 How To Turn Brownie Mix Into Cake?
In the world of sweets, brownies are properly placed at the top favorite options for chocolate lovers. However, if you want to magically turn your brownie mix into a cake, it should be just like a piece of cake.
Follow my instructions below and you will become a master home baker.
Step 1: Prepare The Ingredients
Besides brownie mix flour, there are some vital ingredients you should prepare.
Step 2: Create The Mixture
Mix all the ingredients to create a beautiful cake dough.
Step 3: Prepare To Bake
Spread the mixture nicely into the pan used for baking cakes. You also need to preheat the oven.
Step 4: Baking Time!
Remember to bake in sufficient time and temperature to form a well-structured cake.
Step 5: Check The Cake
Check your cake with a toothpick to see if it is well-baked or not. If not, you should bake for 5-8 minutes more.
The detailed guide is right down below, let's keep rolling.
First, Do You Know What Is A Brownie Mix?
If the answer is no, you are in good hands. For chocolate lovers, a piece of brownie can bring them to heaven. This is because of the quantity of chocolate in brownies. Brownie, in other words, is a chewier version of a chocolate cake.
Although brownies come in different types, you can divide them into three main categories based on their texture: Fudgy, Chewy, and Cakey Brownies.
Fudgy Brownies: This type of brownies contains a large quantity of fat from butter and chocolate. These sweet squares are seriously dense, extremely moist in texture. Bonus for creamy lovers, you can add more egg yolk for extra taste.
Chewy Brownies: This is the classic version of a brownie, its structure is well-baked with a chewy edge and gummy center. The recipe for this brownie is added with more flour than the fudgy brownies, as a consequence, the bite is chewier and the center is less dense.
Cakey Brownies: This version will remind you of a chocolate cake, however, the center is still moist, gooey. You will expect this type of brownie is a little bit fluffier because of the reduction in the proportion of fat and increase in the amount of flour and baking powder.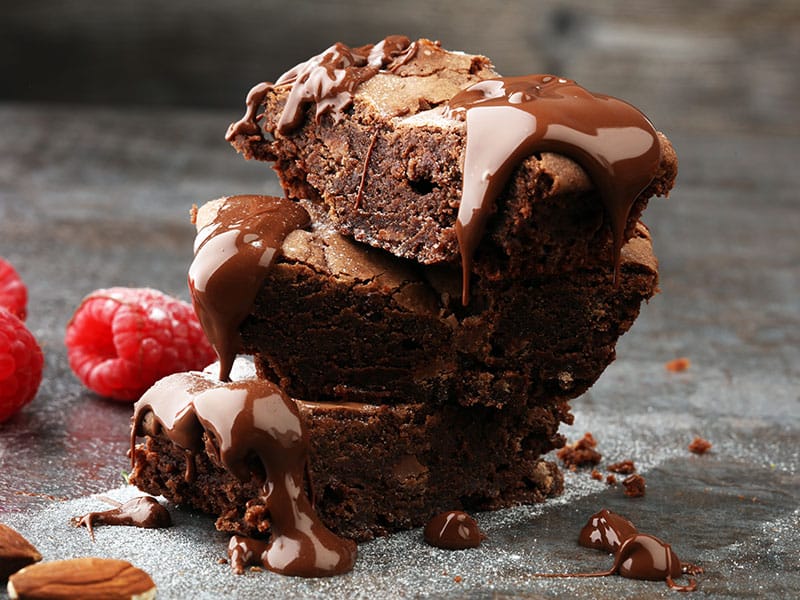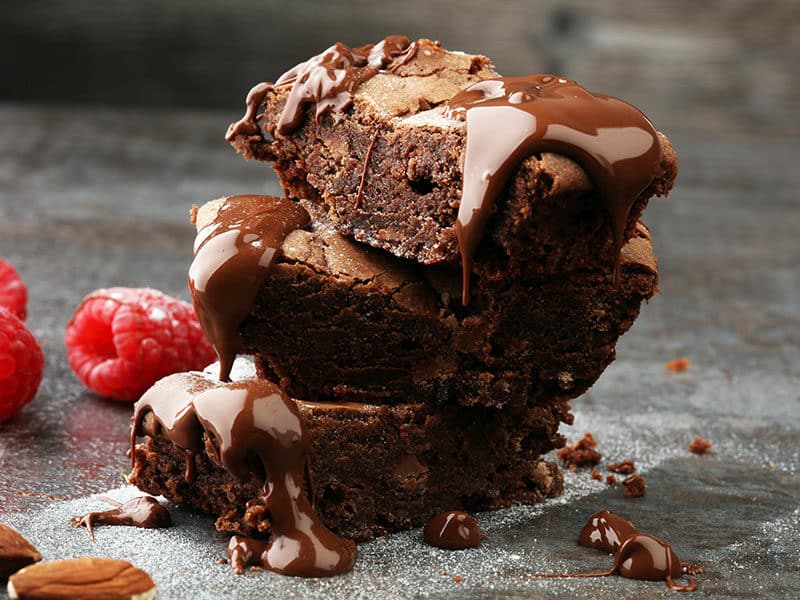 The mix is a combination of ingredients stored in a jar or a Ziplock bag and put in a refrigerator. When the party is coming, just add olive oil, eggs and a dash of vanilla and your dessert is ready to serve.
Brownie And Cake – Let's Compare Them!
To know exactly how to magically alter the brownie mix, you will need to understand how to differentiate between a brownie mix and a cake mix.
Texture: The first noticeable difference is the texture, the density and chewiness texture in a brownie are a lot more than in a cake. Cakes, however, are softer and fluffier compared with brownies.
How do you know this? Just need a bite, that is all. Lesson learned, if you want to make a cake out of brownie mix, you will need to consider decreasing the dense and chewy texture of the mix.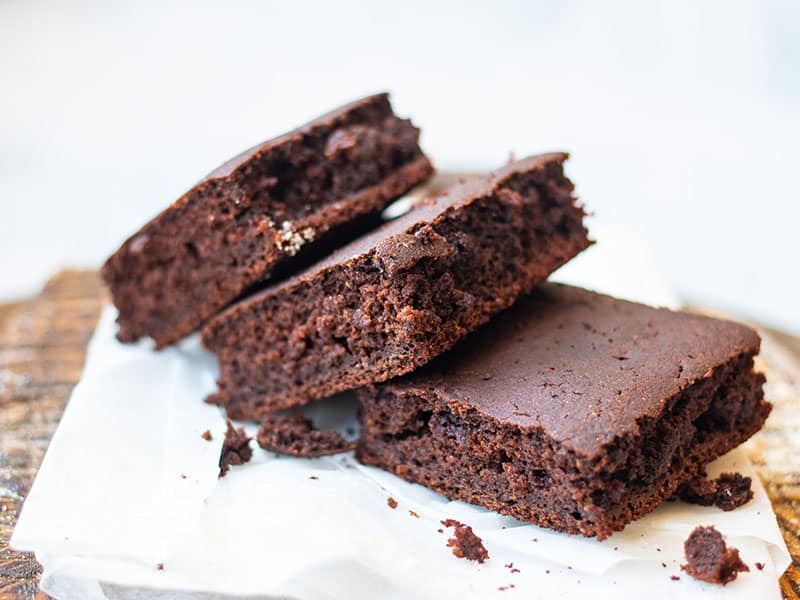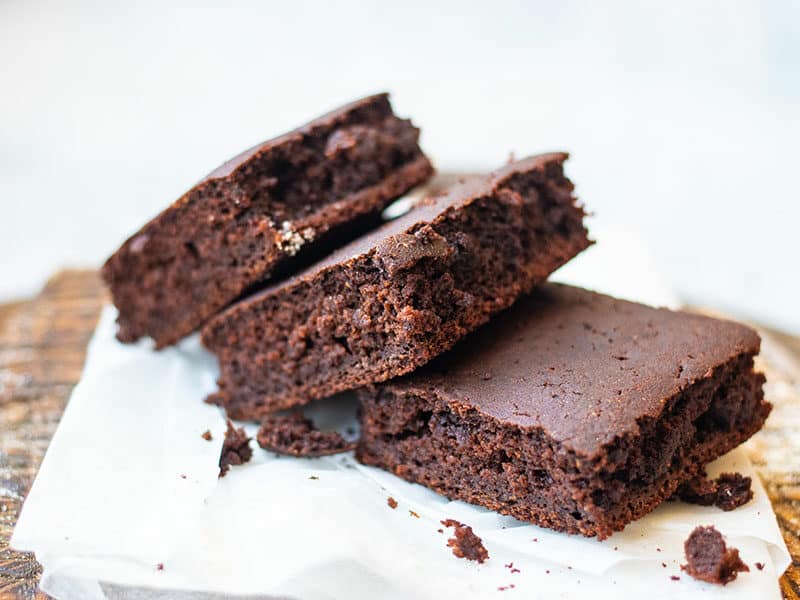 Ingredients: Fortunately, brownies, and cakes are very alike in terms of ingredients. Now, just have a brief look at the package of the brownie mix you have bought, what are some ingredients in it? It properly contains sugar, flour, cocoa powder, baking powder, and some other preservatives for sure.
And can you guess what kind of ingredients are included in the cake mix? The answer might not surprise you because it is the same: some sugar, flour, cocoa, and baking powder and a small proportion for preservatives.
Therefore, the answer to the question 'Is it possible to make a cake out of brownie mix?' is a super big YES.
Alteration In Ingredients
Now that you have known how to identify brownies and cake, let's move to a further step with me and learn how we can customize the ingredients of a brownie mix. Depending on what kind of brownie the mix is intended to bake; we will have different approaches to modify the recipe.
According to the three types of brownies mentioned above, transforming a brownie mix into a cake is like a piece of cake. There are four main criteria you will have to adjust to successfully achieve the cake.
1. Butter And Oil
The most obvious signature in the recipe of a brownie is the amount of fat. To create the density in a brownie, a large quantity of fat will be added. Thus, if you want to bake a fluffy and soft cake, there are some alternative choices besides butter and oil.
Applesauce or corn syrup are perfect replacements to sustain the moist ratio for the cake without feeling so greasy.
It is recommended that you should use a 1:1 ratio of these alternative ingredients to replace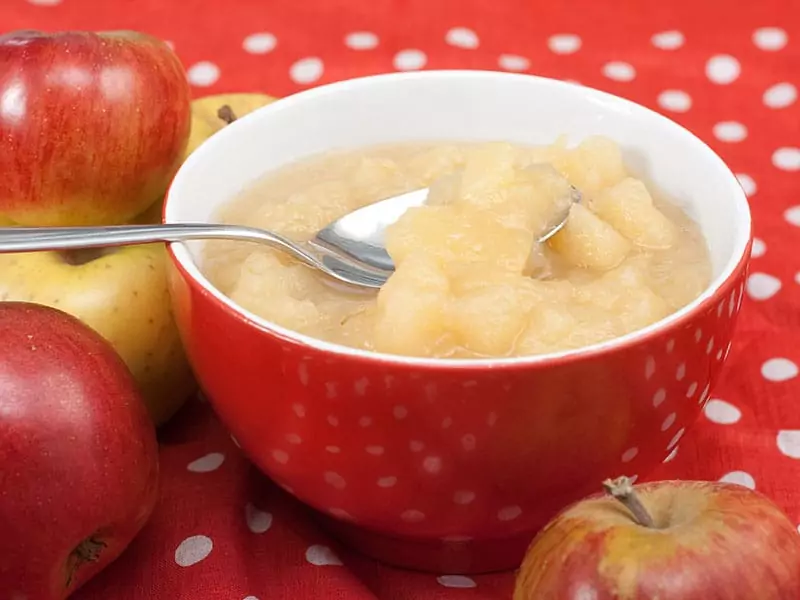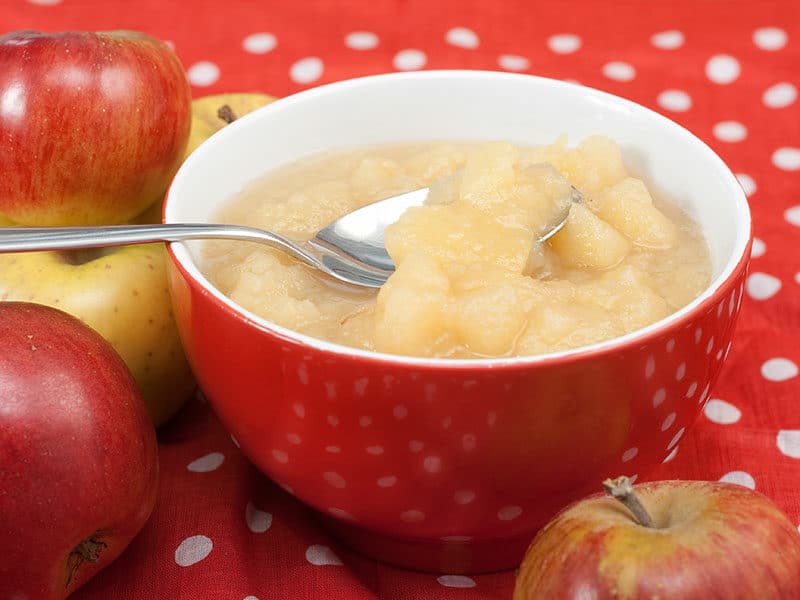 2. Baking Soda/Baking Powder And Flour
This might be the easiest adjustment you will have to make. In the brownie mix, there are some leavening agents (baking powder or baking soda) that have already been added to cause the baked brownies to rise. However, to form a spongy texture of a traditional cake, additional leavening is recommended to create a soft, bouncing cake.
Flour is also needed to create an extra fluffy bite and maybe for those who like a crunchy bite, this will absolutely need adding.
The suggested amount of baking powder or baking soda is around 1 to 2 teaspoons. This is enough to raise the cake height, improve the softness in the texture.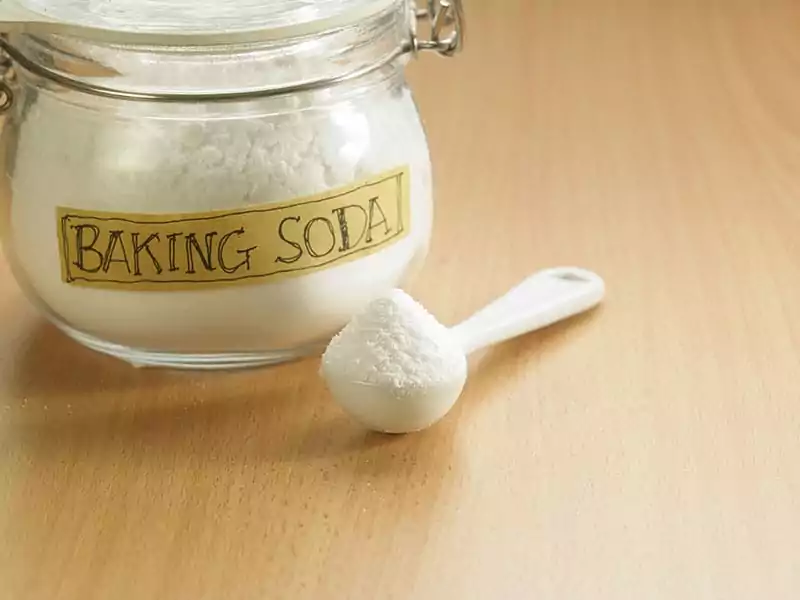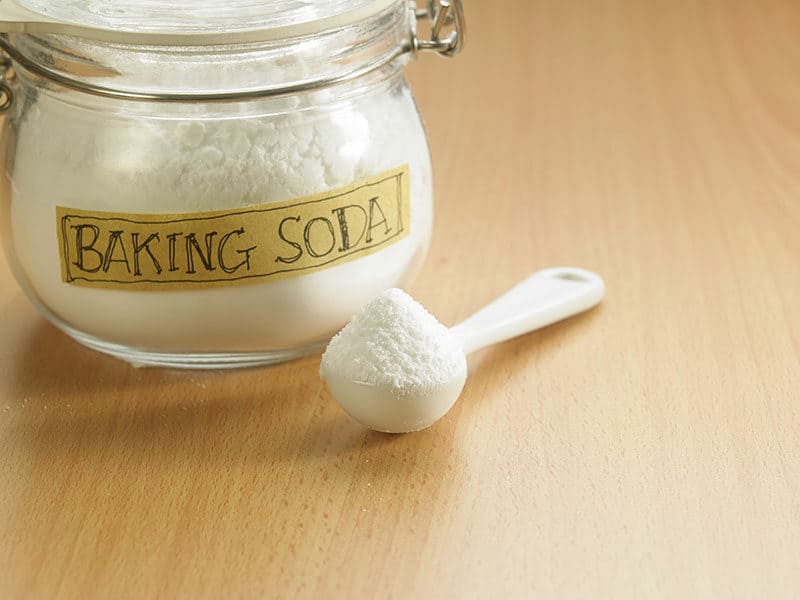 3. Egg Whites
You absolutely cannot bake a cake without this ingredient. Although there are many decent stand-ins for egg whites out there, not many of them can help form a magnificent cake with outstanding structure like egg whites.
So, do not hesitate to add an extra egg white into your brownie mixture. Remember to balance the eggs and flour quantity to provide enough height for your cake.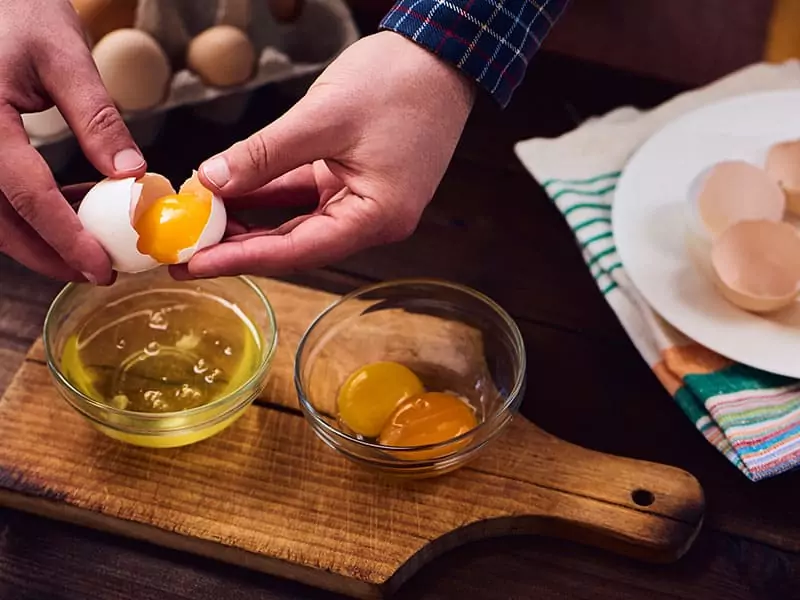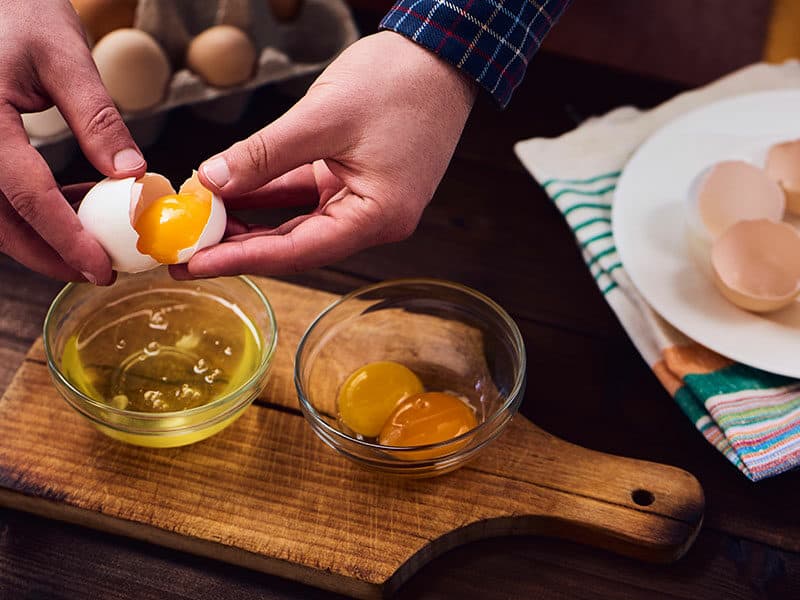 4. Egg Yolks
Egg Yolks, on the other hand, create the thickness in the center of brownies. Therefore, if you want to bake a spongy cake, avoid adding too many egg yolks to your mixed dough.
Even in the instances where you accidentally prepare too many egg yolks, refrain from adding them all to the brownie batter. Instead, try to come up with some dishes to use up unfinished egg yolks. This is a far better solution than trying to mix all the yolks with your brownie batter.
Different brands have different quantities of ingredients inside their brownie boxes, keep in mind that you just need a bit of alteration in the mentioned ingredients, you will become a master baker.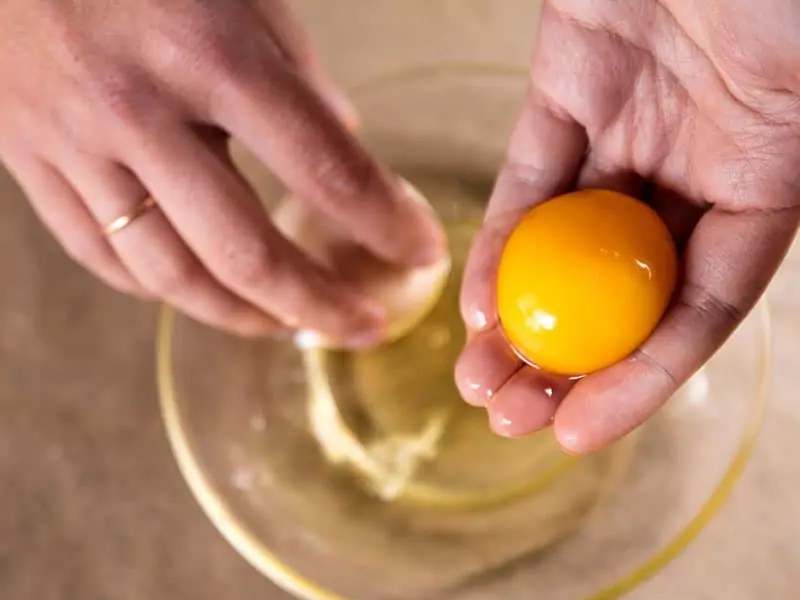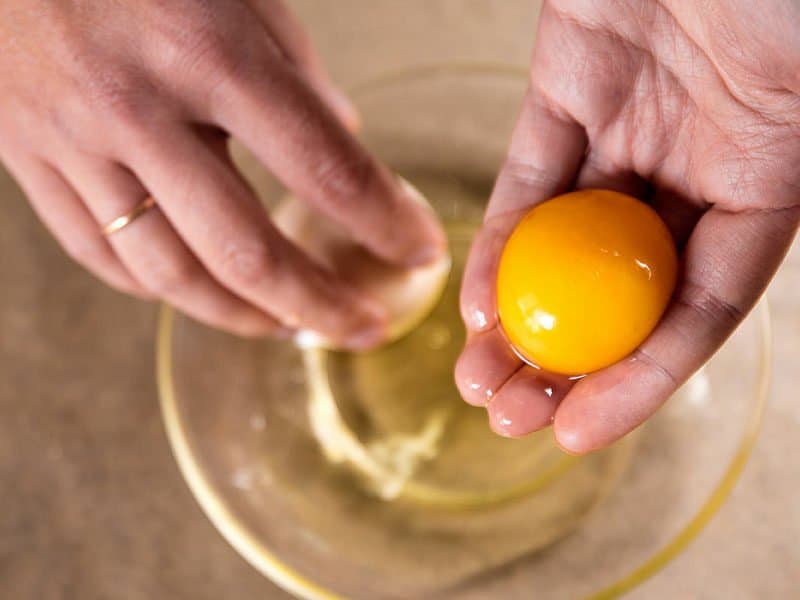 Wait no more, let's jump right into some way that we can magically transform the brownie mix into some common sweet treats, shall we?!
The Equipments You Need
Although there are various tools that you can use in turning a brownie mix into a cake, I will recommend some essential equipment to facilitate the process.
Hand mixer or stand mixer: In my opinion, I prefer a hand mixer to a stand mixer because of the feelings it brings to me. Is it interesting when you can make your cake using your effort? However, if you can get both, go for it, definitely worth it.
In case you must bake many cakes requiring mixing for several minutes, a stand mixer is your lifesaver. For beginners, a hand mixer is a reasonable choice because it is more affordable with outstanding quality.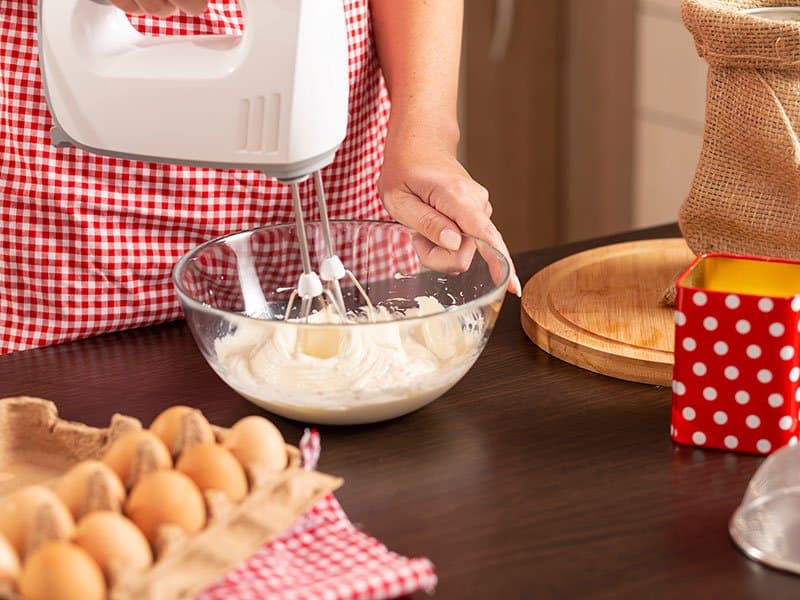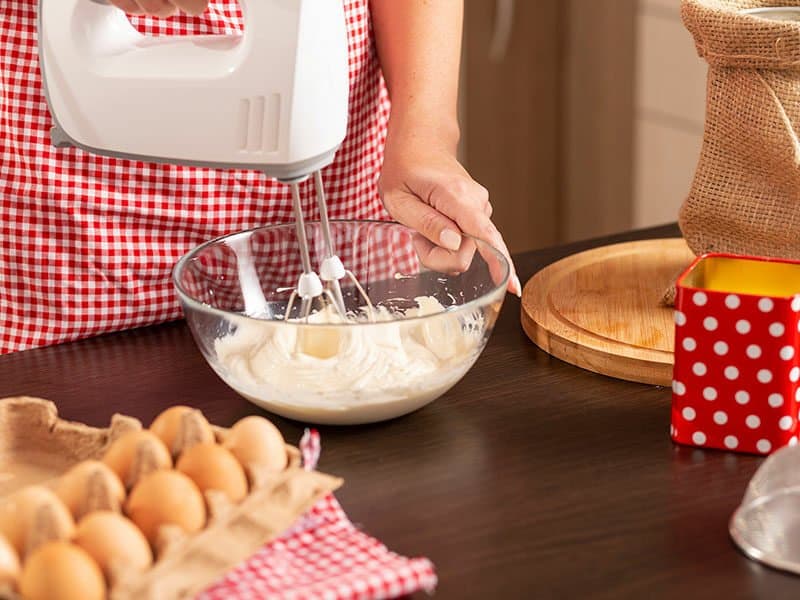 Food scale: I absolutely suggest this one for everyone who likes baking. If you are on a strict diet, you do not want to miscalculate your fat ingredient. Plus, your recipe will be more credible if it is measured by grams.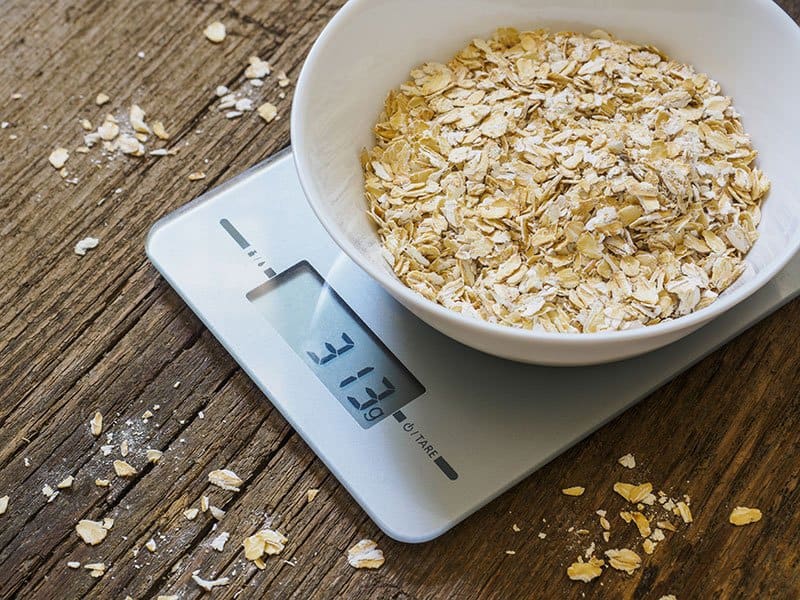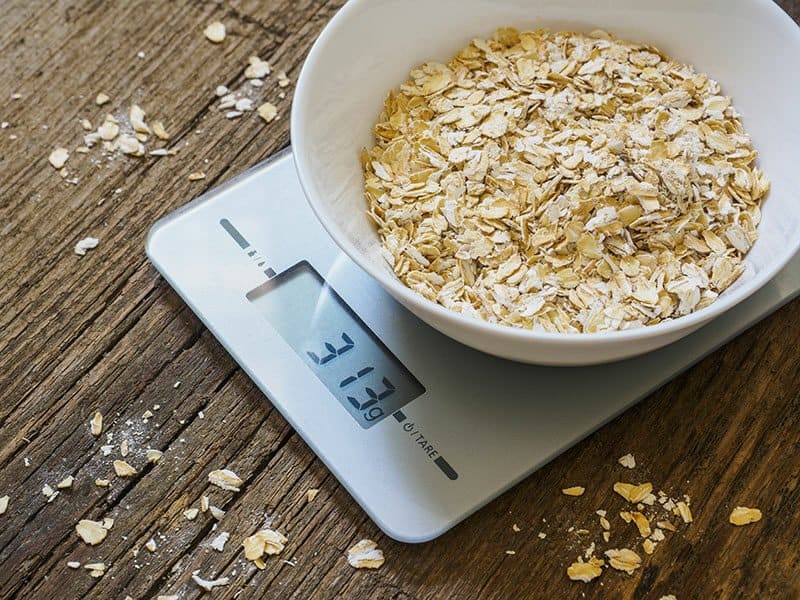 Mixing bowl: Some newbies will properly think that this is just a big bowl, they do not have to purchase an extra bowl. Well, this is wrong, there are different kinds of ingredients and, thus, various kinds of bowl sizes.
There are two common types of mixing bowls on the market: glass and steel. If you are looking for a fancy appearance, go straight for the glass one, but if the duration is your priority steel mixing bowls set is a must.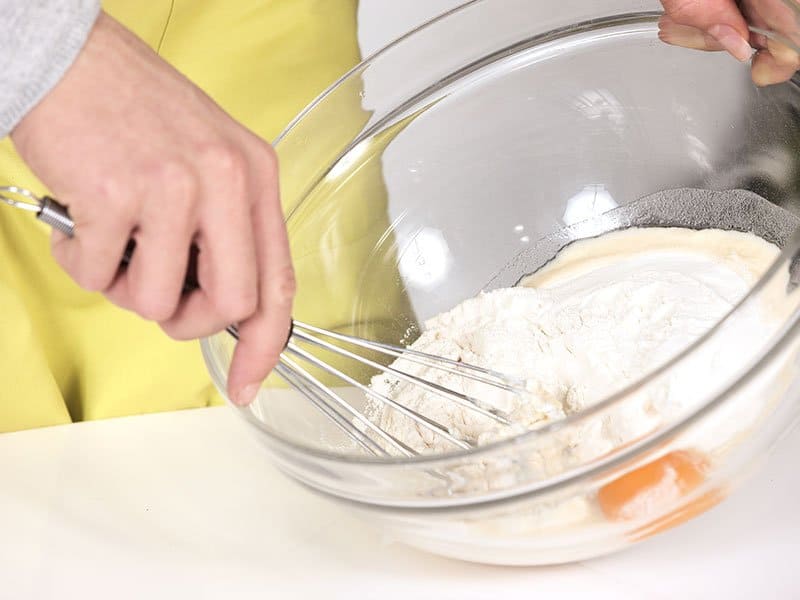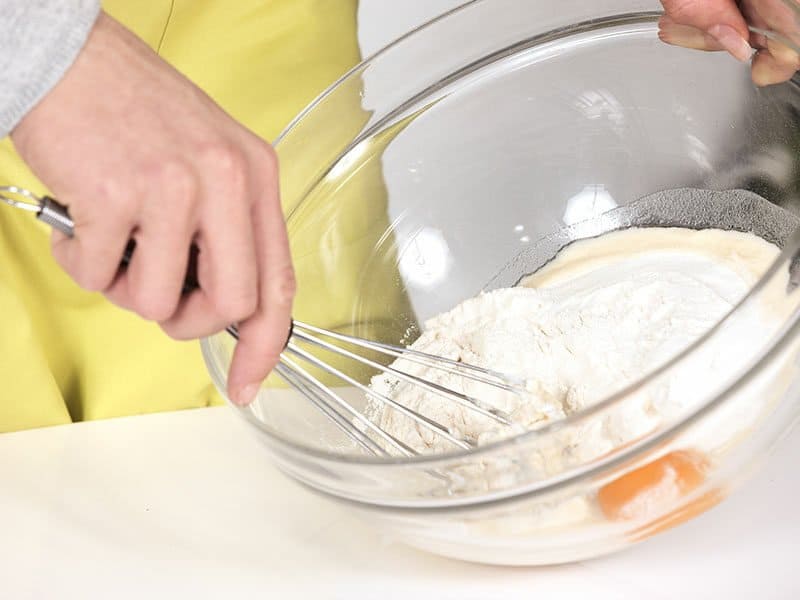 Measuring cups and spoons: Imagine you must calculate and measure your ingredients every single time you bake, it will be a nightmare, right? A set of measuring cups and spoons will be an excellent assistant for your kitchen. A full size of measurable equipment is suggested for various requirements of sweet dessert.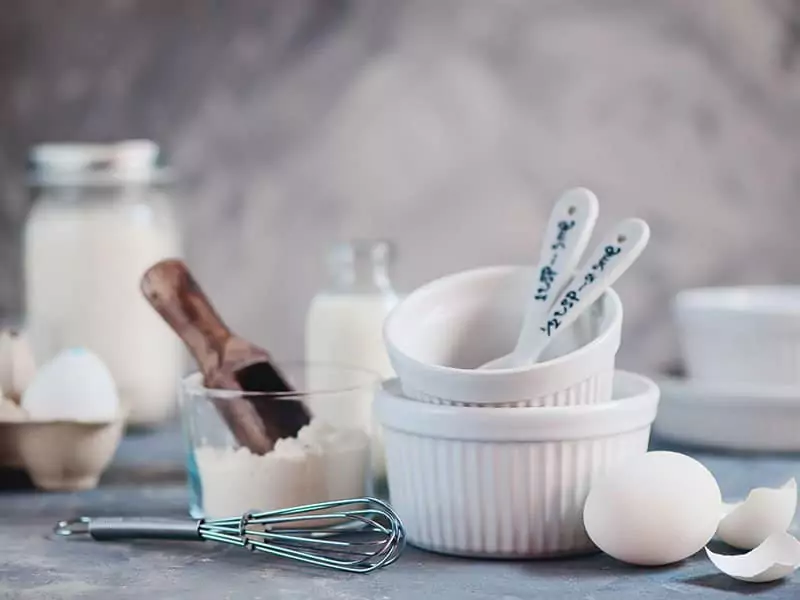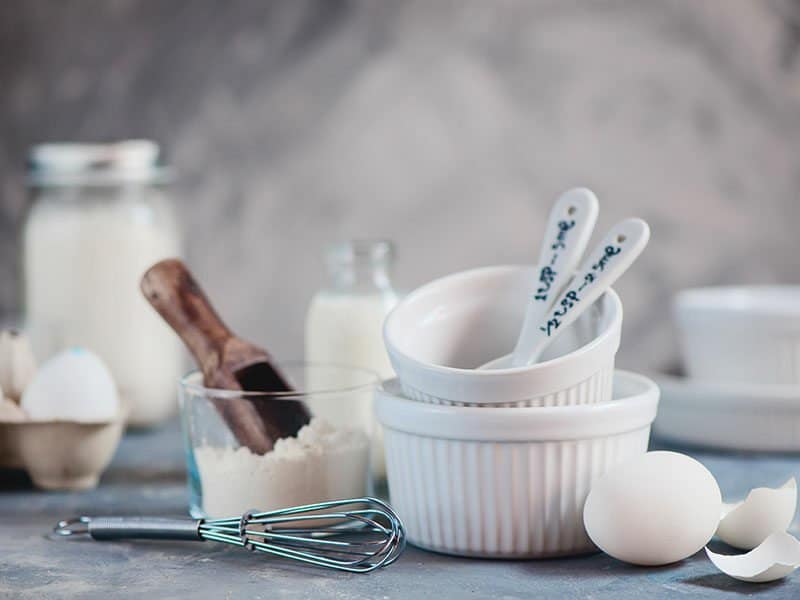 Cake pan: A cake pan is definitely the most suitable choice for baking a large batch of sweet cakes. On the market, there are many types of cake pans such as cupcake pan, doughnut pan, pans for brownies, etc. Pick one you find most comfortable with.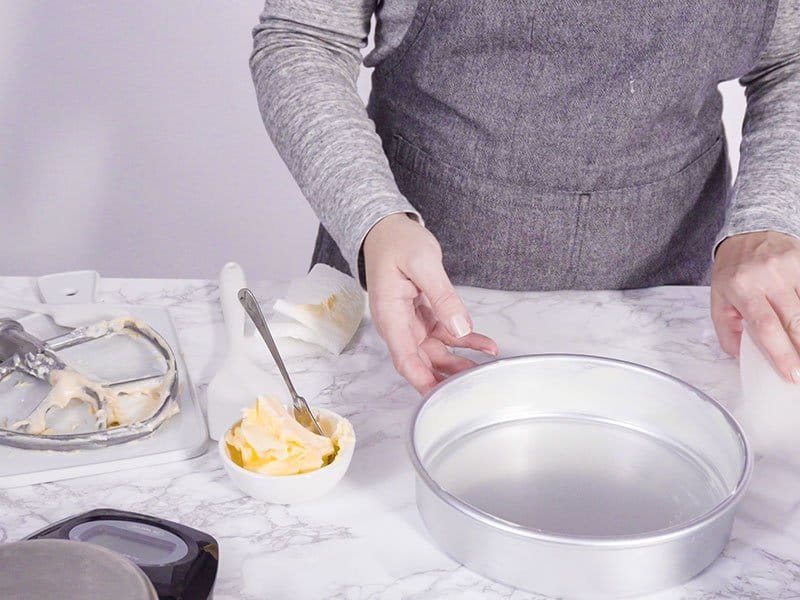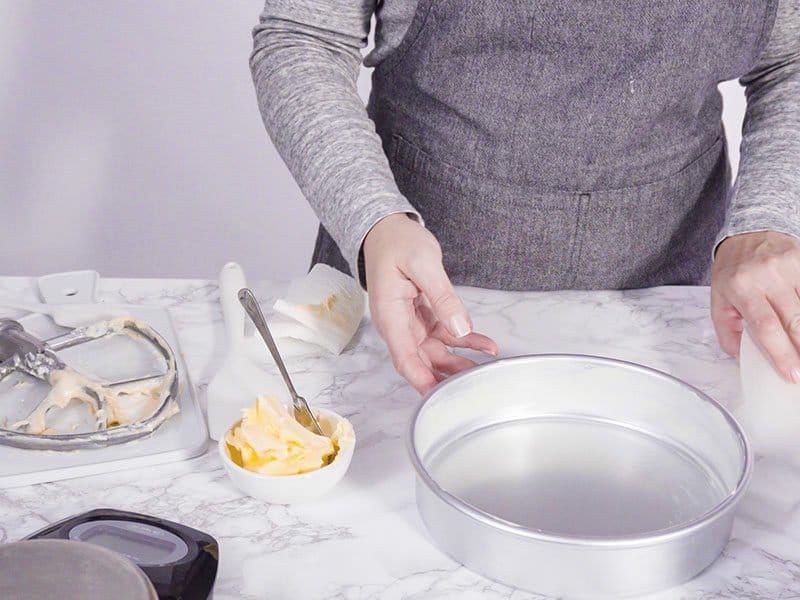 Silicone spatulas: When mixing all the ingredients, remember to use these useful tools, they keep your hand out of those sticky materials. Moreover, silicone tops are especially gentle for your bowl. The probability of making scratch marks on other equipment is zero.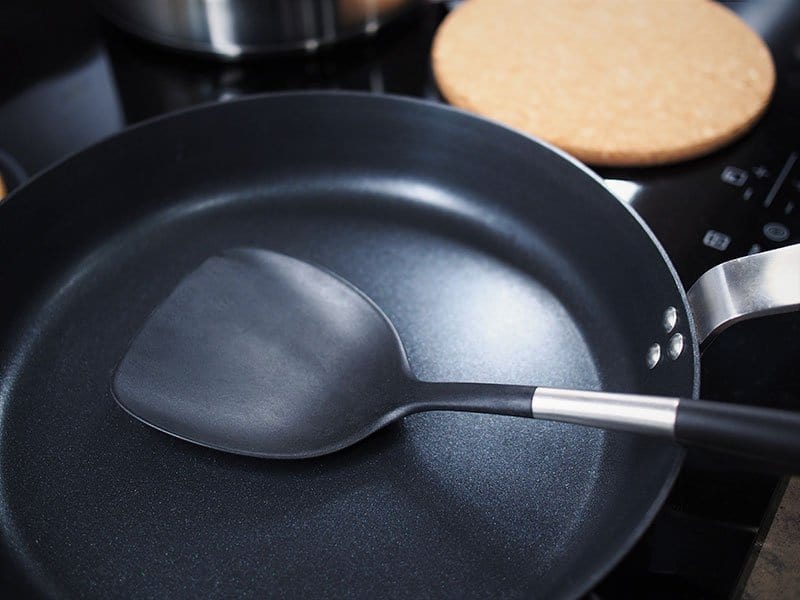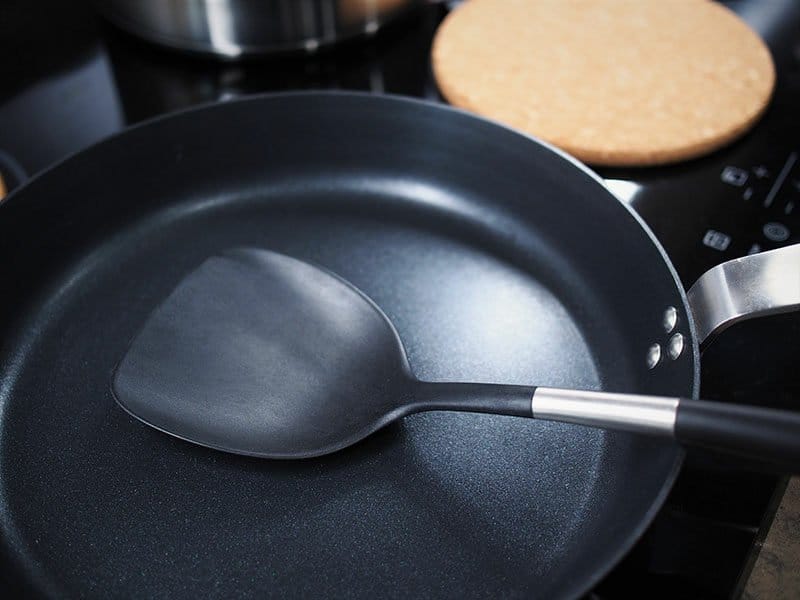 An oven: An oven of any kind should be essential for any baker. Baked cakes are softer and fluffier in texture compared to non-baked cakes. So, you want to taste a cloud-like cake, an oven at home is a must-buy.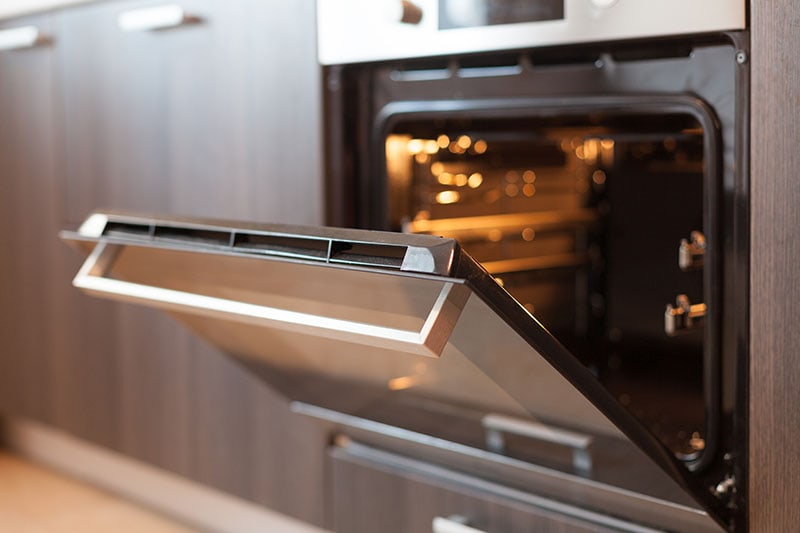 So potential bakers, what are you waiting for? Let me show you how to bake a cake out of a brownie mix.
How To Turn Brownie Mix Into A Cake?
To successfully achieve this sweet masterpiece, remember to follow my step-by-step guide below.
Step 1: Prepare The Ingredients
The following ingredients are altered to make the brownie as cakey as possible without destroying the structure of the cake.
2 Eggs
1/3 cup of oil (can be replaced with applesauce or corn syrup)
2 tablespoons of water
Brownie mix flour
Chocolate chips
1 teaspoon of baking powder (optional, if you want the cake to rise higher)
Step 2: Create The Mixture
You need to pour all the mixed flour into your mixing bowl (chocolate syrup should be included). Then add two eggs, oil, baking powder, and water into the bowl. After that, mix all materials with a mixer until the dough is thick enough to form a nice shape.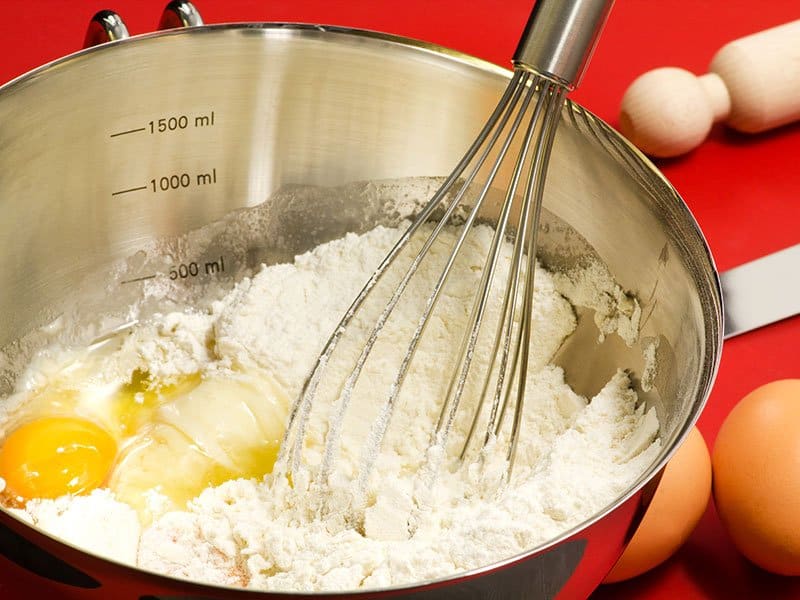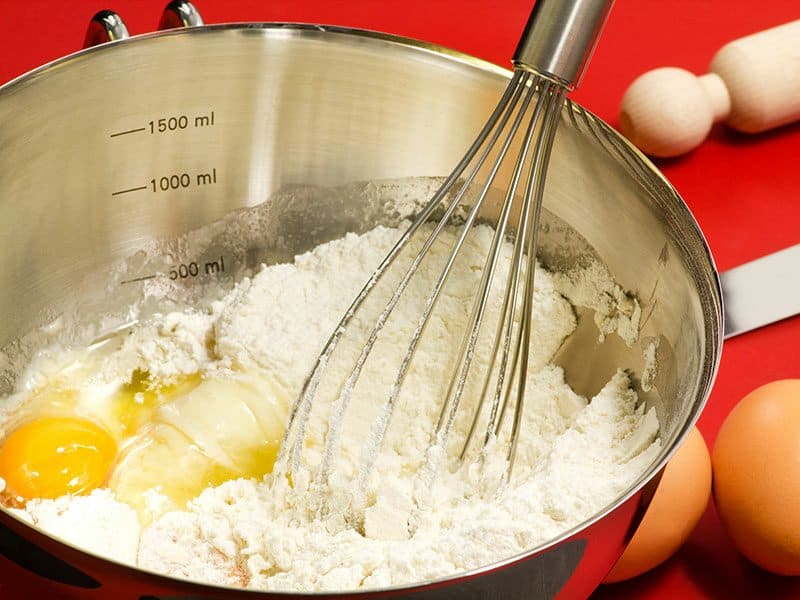 Step 3: Prepare To Bake
Pour the mixture into the cake pan, make sure you spread the substance all over the pan by using the silicon spatula. Remember to add some chocolate chips on the top for extra Choco flavor.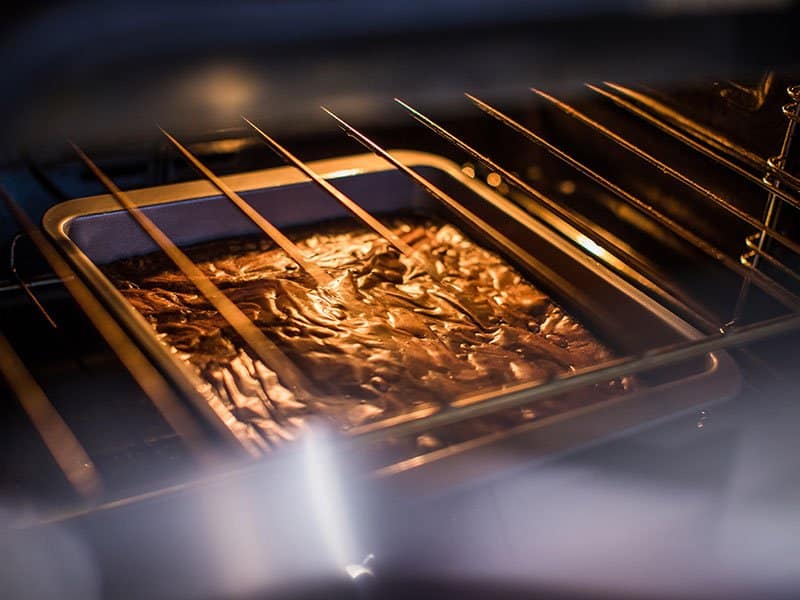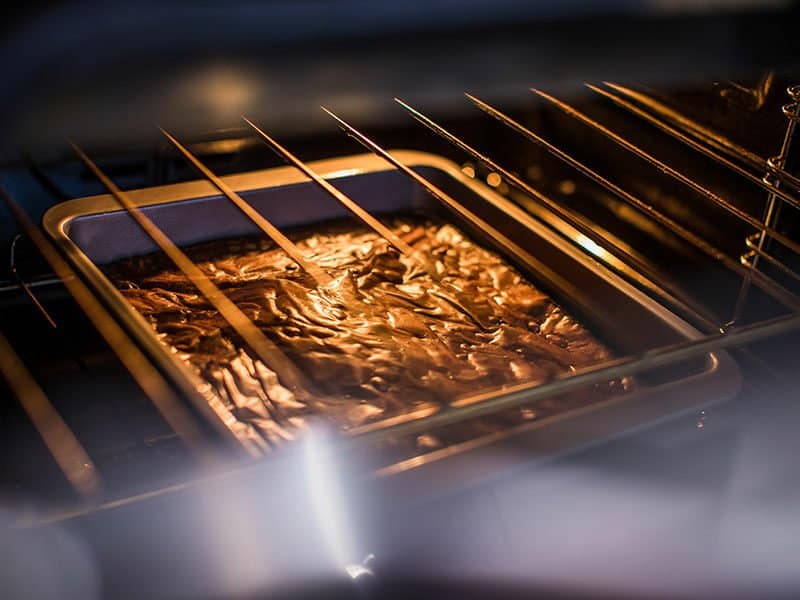 Step 4: Baking Time!
First, preheat the oven to 350°F (150°C). The baking temperature for this cake is 350°F (176°C) in 30 minutes. For those who are familiar with baking a brownie before, the process of baking these two is pretty much the same. Be sure to follow my guide if you are a beginner.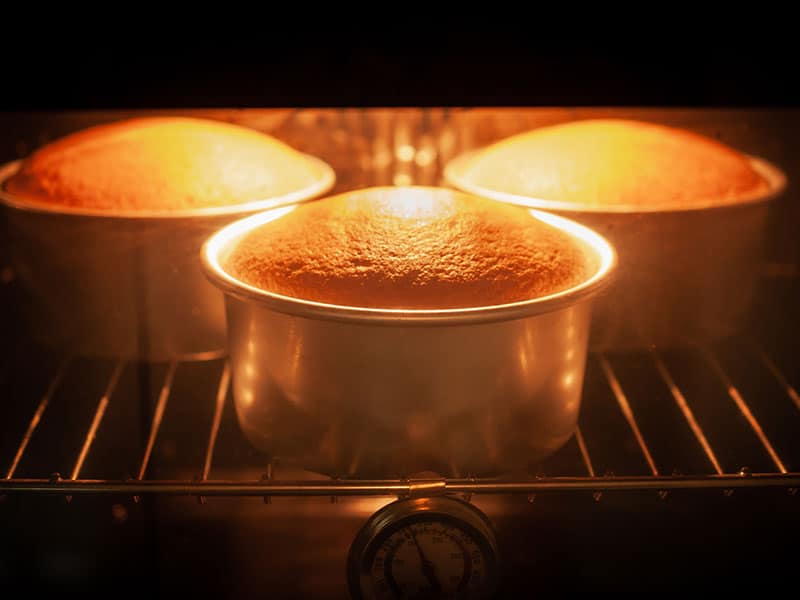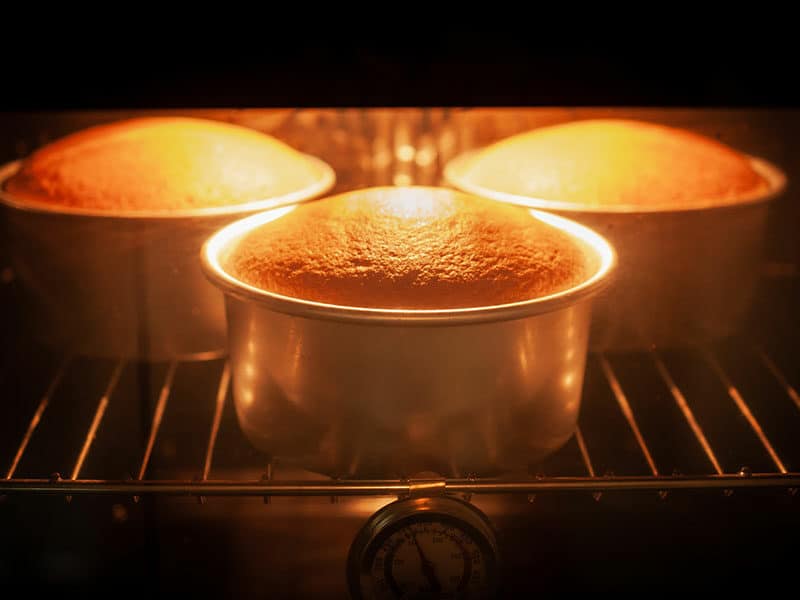 Step 5: Check The Cake
Five minutes after the cake is well baked, you must check it. Among the various ways to check if your brownies are ready, using a toothpick is the easiest one.
Take the pan out and pin your toothpick into the middle of your cake. If there is not any substance that attaches to the toothpick, your cake is perfect, in reverse, you need to bake it for 5 more minutes.
Now, your brownie cake is ready to serve. Follow my instructions, and you'll have a treat so delicious that you won't have to worry about how long the brownie can stay fresh, how to store the brownie, or how to tell if it's stale. Why? Because everyone will finish it within seconds.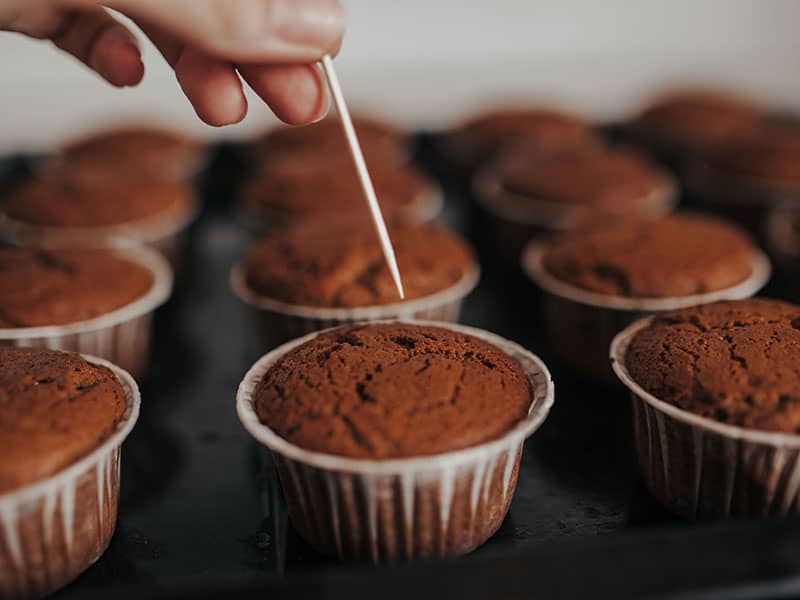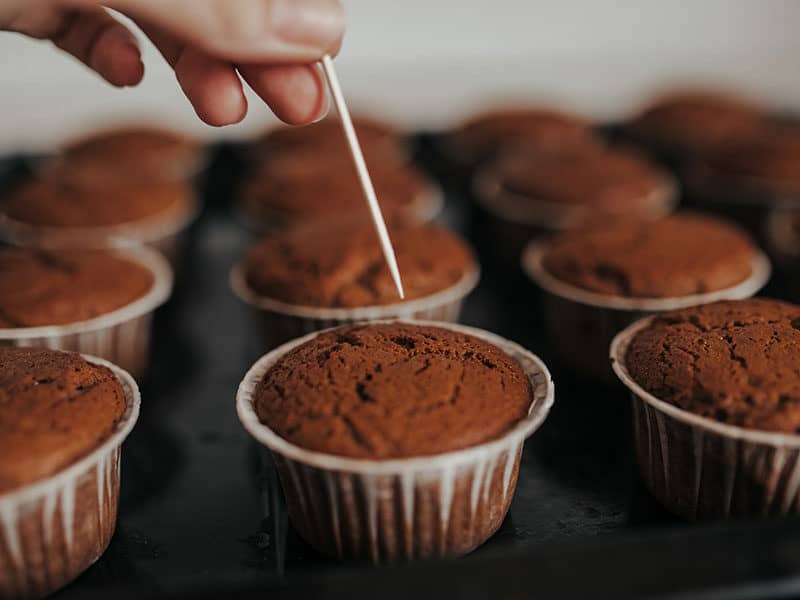 There are some other interesting recipes I want to share with you so you can have diverse options of some types of cake you want to transform the mix into.
4 Simple Steps To Turn Brownie Mix Into A Waffle!
To waffle lovers what do you think of a chocolaty and creamy waffle? An overwhelming idea, right? Now, let's jump right into the first step.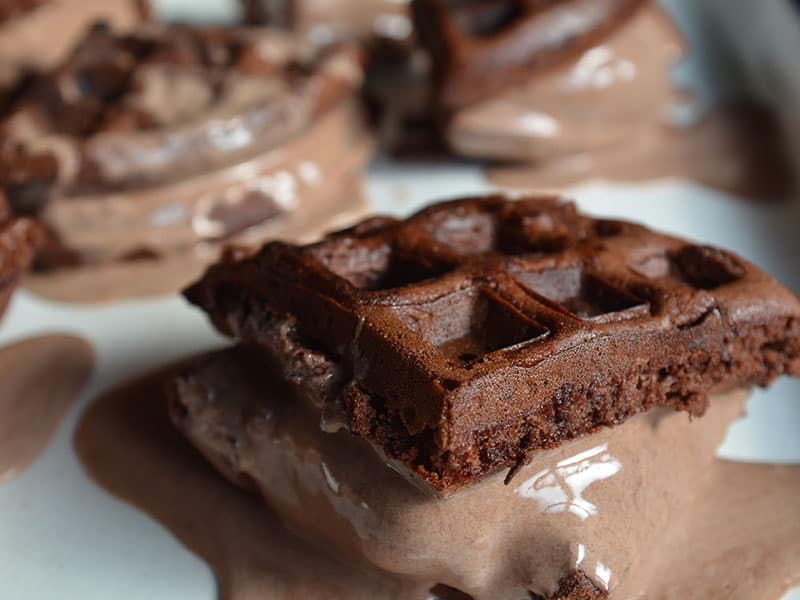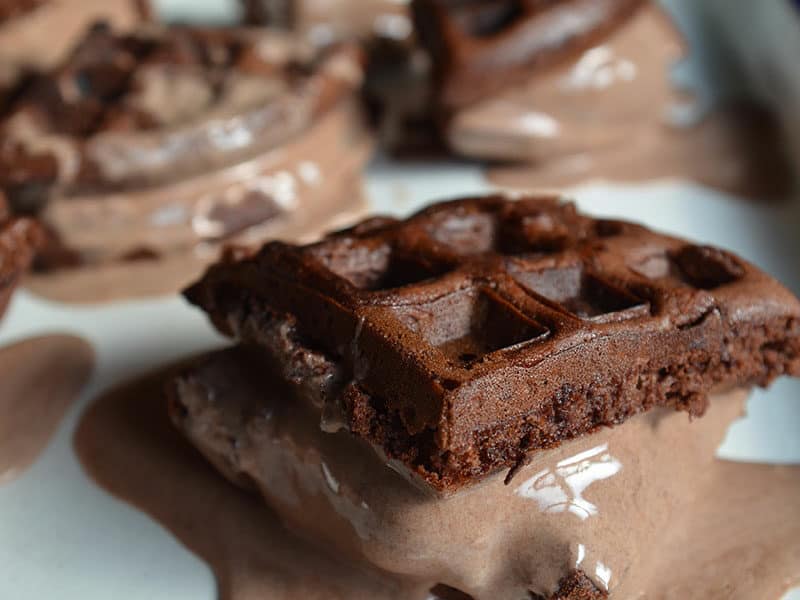 Step 1: Ingredients
3 tablespoons of water
Brownie mix flour
1/2 cup of vegetable oil (can be replaced with applesauce or corn syrup)
3 eggs
Butter
Step 2: Create The Mixture
You need to mix all the ingredients above (except butter) until you feel the dough is thick. Remember to use the hand mixer to have a well-done dough.
Step 3: Bake The Waffle
To bake a beautiful waffle, the essential tool needed is a waffle iron. Without this, we cannot successfully form the signature shape of a waffle. Before pouring the mixture into the waffle iron, keep in mind that you should apply some butter to the surface of the machine. This action is to avoid stickiness after baking the waffle.
Step 4: Let's Bake
Usually, the waffle iron is designed to bake the waffle in a suitable amount of time. So don't worry, you will not have to look out for the cake. Preheat the waffle iron and pour your mix into it. After a few minutes, the waffle should be perfectly cooked.
How To Turn Brownie Mix Into Cheesecakes?
Welcome, all sweet lovers to the tutorial on transforming a brownie mix into a cheesecake. I know this might sound crazy but it is possible. The final product is outstanding. So let's scroll down to explore my cooking direction.
The combination of cheesecake and brownie will blow your mind. Hold on tight if you don't want to have a sugar crush!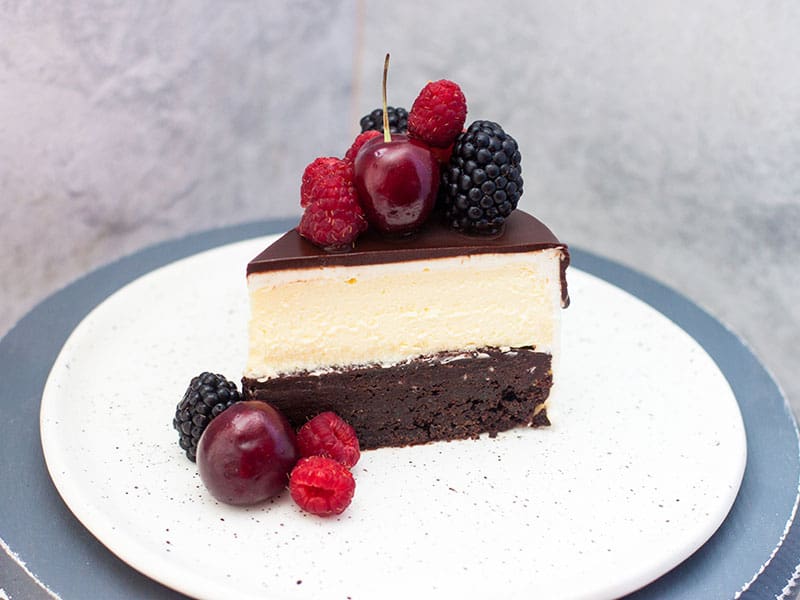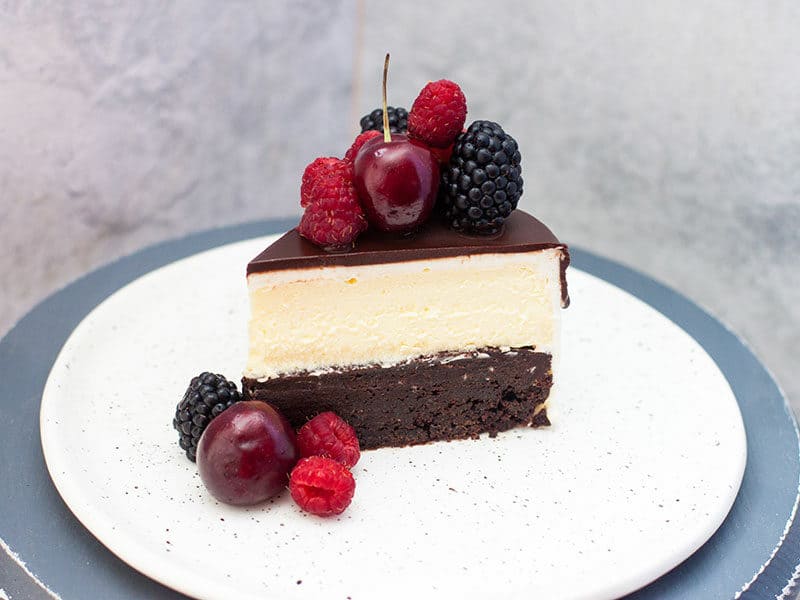 For this cheesecake, we need to create three different layers with different kinds of ingredients.
1. The Bottom Layer
This layer is much like a cakey version of a brownie. So the ingredients are similar to making a brownie
Ingredients:
Brownie mix flour
3 tablespoons of water
½ cup of vegetable oil (can be replaced with applesauce or corn syrup)
2 eggs
Add all ingredients into a mixing bowl and mix until you create a well-done dough. After that, you pour the mixture into the pan and bake the substance for 20 minutes at 350°F (176°C), make sure that you have already warmed the oven.
2. The Middle Layer (The Cream Cheese Layer)
Quick, before the shelf-life of your cream cheese is over, let's make some luscious addition to your brownies. I guarantee that this layer will make your mouth water.
Let's start with the ingredients:
150 gram of Cream cheese (additional 50-100 gram of cream cheese if you are a cheese lover)
½ cup of sugar
2 eggs
Put all mentioned ingredients in your mixing bowl and use a stand mixer to mix the substance. Due to the cream cheese's heaviness and hard texture, a hand mixer is not a great choice. I recommend you should use a stand mixer to properly blend all ingredients. Next, pour the substance on the bottom layer then bake for another 35 minutes.
3. The Top Layer
This is the layer that makes your cake look stunning!
The ingredients are:
½ cup of butter
½ cup of strawberries preservers
2 cups of sugar powder (add 1 cup if you are a sweet lover)
First, blend butter and strawberries preservers. Then, add sugar powder and mix for another 1 minute. Finally, pour this new layer on the previous substance and cool it for 2 to 3 hours.
Some Common Toppings To Decorate The Cake
If you want to make your final products look more appealing, maybe to impress your lovers or surprise your best friends and family members at a party, you are in good hands.
I will provide you some good TIPs to decorate your sweet pies.
Whipped cream/whipping cream: Whipped cream or whipping cream can boost the taste of your cake to a whole new level. For those who like the creamy and buttery taste, these creams will be a reasonable choice.
There are various options on the market recently, but I will recommend you Anchor, Elle & Vire, or Meadow Fresh. The mentioned brands are well-known for the quality of their products.
Sprinkle: What else can be more attractive than the colorful, crunchy candies. A pinch of sprinkle can elevate your audiences' feeling when the cakes touch their month. You should easily find a box of sprinkles in any supermarkets, stores near your place.
Nut: For those who like healthy options, nuts are outstanding. They have lots of vital nutrition, vitamins, and protein1 which is highly demanded from your body. Some common nuts are often used in baking: almonds, cashew nuts, chestnuts, pecans, and so on.
Fruits: Where else can you store more natural vitamins without eating fruits? Fruits are, without question, the best source of vitamins1 on earth. Besides, they are also eye-catching with various colors, which gives you tons of ways to beautify your cakes.
FAQs
To address further concerns, I will answer some frequently asked questions below. Now let's have a look at those questions, shall we?
What To Expect?
Remember, the recommended recipes are modified from the fixed ingredients of a brownie mix. As a result, the texture of these cakes is less dense and softer compared with other traditional brownies. If you are seeking a unique way to surprise your friends, family, or even your lover, this recipe is a cheer maker for your party.
Overall, making a cake out of a brownie mixture is amazingly simple. The ingredients are pretty much the same. The baking procedures are also similar for both. After turning a brownie mix into a cake, your cake's taste will be rich in chocolate and creamier. So let me know your audiences' reactions to the recipe, feel free to share your opinions with me. Cannot wait to hear your responses!
Nutrition Facts
8 servings per container
---
Amount Per ServingCalories451
% Daily Value *
Total Fat 25.7g

39

%
Cholesterol 41mg

14

%
Sodium 212mg

9

%
Potassium 218mg

7

%
Total Carbohydrate 53.7g

18

%

Dietary Fiber 0.9g

0

%
Sugars 2.6g

Protein 5.4g

10

%
---
Calcium

58

%
Iron

2

%
Vitamin D

4

%
* The % Daily Value tells you how much a nutrient in a serving of food contributes to a daily diet. 2,000 calories a day is used for general nutrition advice.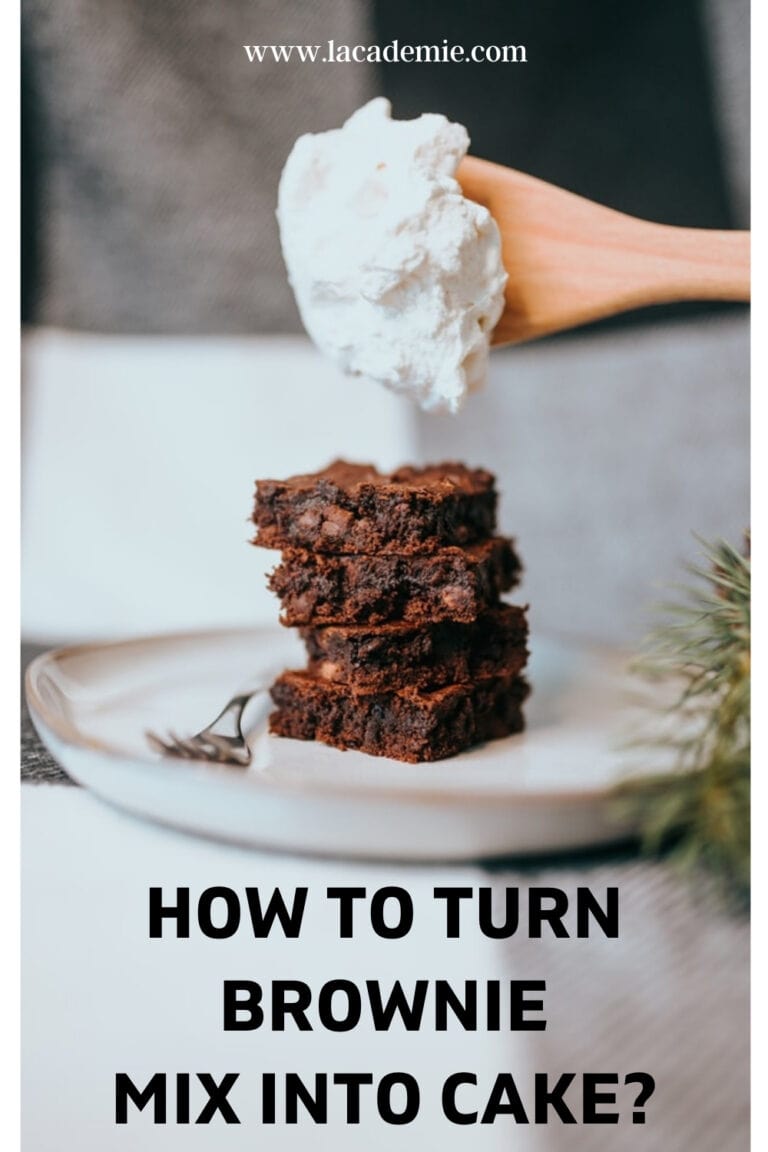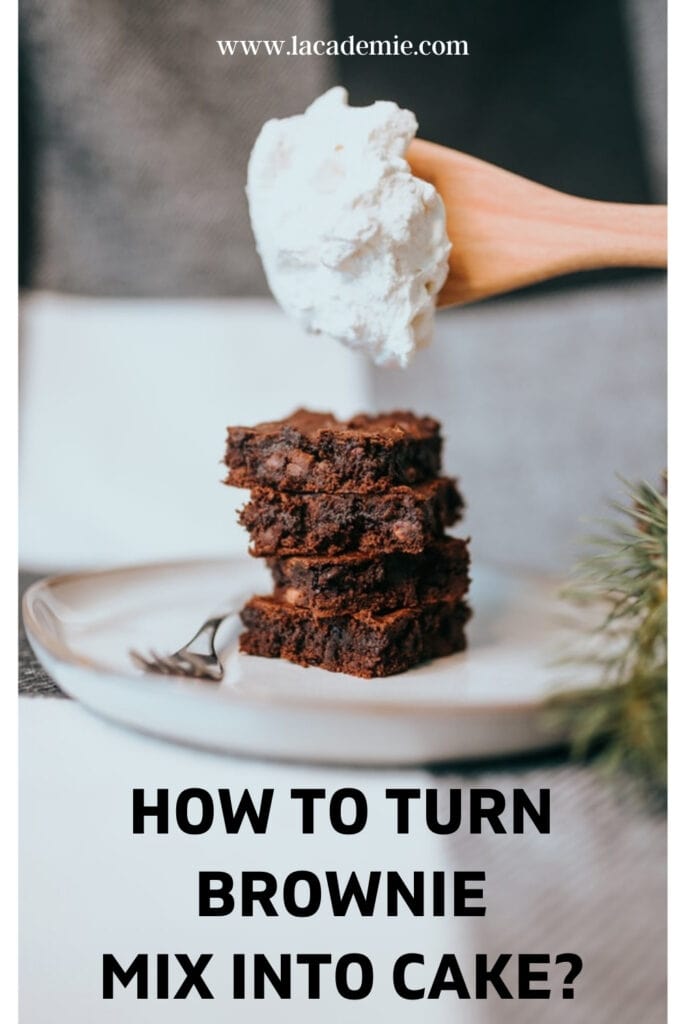 References
1. Nutfruit.org. 2021. Five Benefits of Eating Nuts and Dried Fruits. [online] Available at: <https://www.nutfruit.org/consumers/news/detail/five-benefits-of-eating-nuts-and-dried-fruits>