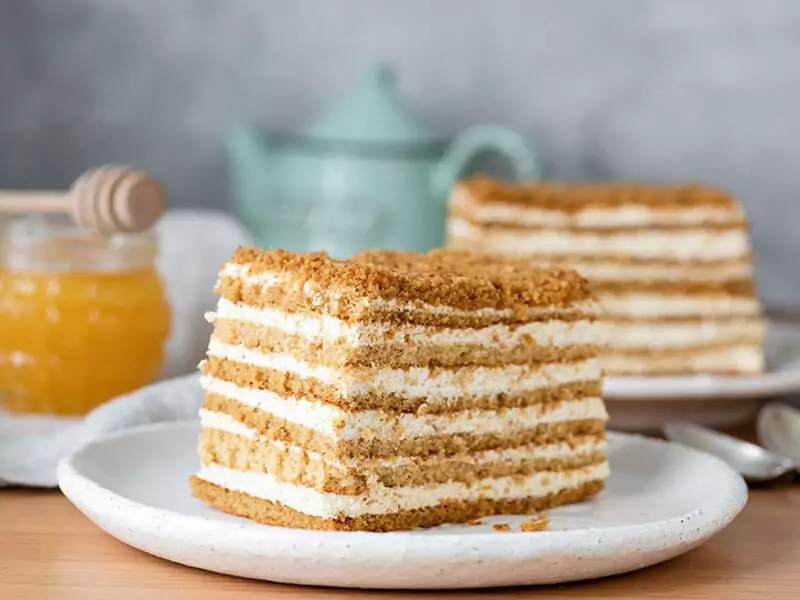 Czech desserts had acquired unique recipes from Austria when they were still in the Austro-Hungarian Empire. That contributes to perfecting the Eastern European sweets tradition of the Slavic people. And the remarkable result of this interference in Czech is to bring the pancakes, pastries, dumplings, or other cakes closer to you!
Baked fruit cakes, honey cakes, or frozen sweets have become widely popular as soon as they appear. Going beyond national borders, let's bring the diversity of desserts with unique flavors to the world.
In general, you can call Czech people Bohemian. You can easily find many indigenous people living in the western part of the Czech Republic in the Bohemia region.
All cakes, pies, and pastries look beautiful and delicious, typical of the beauty of foods in the Czech Republic. The jam-filled chocolate or vanilla icing with pretty unique designs is uncountable. No more waiting; join me to explore tons of staples in this hospitable country.
6 Czech Cakes
Are you happy to see and learn how to make the most famous Czech cakes? Standing in front of cakes of all types to serve after dinner, count down six glorious cakes that you can hardly stop eating even though your stomach is full.
Prep + cook time: 40 minutes
One of the excellent ways Czechs celebrate seasonal fruit is Bublanina. A soft sponge cake with lots of berries and fresh fruits from the garden. And it's great to pair with your coffee.
Why is it called bubble cake? In Czech, the word Bublanina is translated as the bubble; that's where the name comes from. The dough will solidify around the fruit and form tiny bubbles when baking the cake. How unique it is to sprinkle streusel on top of Bublanina!
Feel free to try different creations with this coffee cake. Most commonly get nectarines, cherries of various types, peaches, plums, or apricots. You can also mix other fruits like forest fruit, strawberries, sour cherries, and raspberries.
Frozen fruit is delicate with Bublanina if it's out of season. Keep calm and bake the most lovely coffee cake in the Czech.
Prep + cook time: 45 minutes
How lovely it is to look at these soft Lívance pancakes. Soft as pillows with golden sides and sharp edges!
It's a yeast dough so prepare the Lívance dough a day before. The following day, bring the dough out to room temperature, and right away, you have a delicious Czech yeast pancake for breakfast.
You can use melted butter to spread on both sides, then dip it in cinnamon sugar. At the weekend, try this Czech style instead of simply pouring maple syrup over Lívance as usual. Furthermore, it's endless to pair the pancakes with other dishes!
Here are some notes about the pancake's shape. Feel free to use the egg poaching pan to shape the same rounds or use a special one with crumpet indentations. When using a regular frying pan, the dough is difficult to spread evenly on the surface.
Prep + cook time: 3 hour 10 minutes
You will need a lot of cream and butter for this Medovik as the main layers are made of honey cream and honey cake. This cake is an excellent choice to use up the remaining ingredients of your Christmas cookies. Let's utilize the shelled and blanched walnuts.
If you want a little bit of soft caramel, head to Dulce de Leche. The taste will be delicious if you have some wildflower honey or the honey from Manuka trees in your kitchen.
Let me show you how to make walnut candies for decoration. As soon as the sugar mixture changes color, immediately remove it from the heat and add the walnuts.
It's tastier if you put the cake at room temperature for about 20 minutes, then enjoy. You can store the cake at 32°F to 42.8°F for 21 days. If you freeze it between -0.4°F and -13°F, you can keep this Bohemian honey cake for about three months.
Prep + cook time: 30 minutes
Make Palačinky by pouring a thin layer of dough on a round pan and frying on both sides until golden. Spread the finished Czech crepes on a plate, spread the jam evenly, then roll it up and sprinkle icing sugar on top. If you don't like to roll, you can fold the Palačinka into a triangle.
If you love sweets using Nutella, don't hesitate to spread it; add some fresh cream or berries for a crunchy feeling. Or you can cover it with cinnamon sugar!
If you want a healthier crepe, you can replace all-purpose flour with white flour. Try a gluten-free flour mix to take gluten out of the Palačinky recipe. Adding two tablespoons of milk will make the batter thinner. Are you ready?
The peach-orange mango shell preserve brings a new flair to the Palačinky. Feel free to flavor your crepes with vanilla.
Prep + cook time: 50 minutes
Imagine the caramel condensed milk cream and honey slices in front of your eyes! Marlenka cake is a sweet from Armenia produced and developed for generations in a family business in the Czech Republic. If you are a caramel addict, you will love the icing layer with an almost caramel-like taste.
One of the most typical ways to distinguish Marlena and Medovnik is by looking at their shapes. Medovnik is cut into wedges and circles while Marlenka is cube-shaped, sometimes cut into squares or rectangles.
You can enjoy this honey walnut cake day after day. The honey layer will soften little by little until it melts when put in your mouth. The flavor is beyond expectations when you top it with chocolate glaze or a layer of chopped nuts. What is your choice?
Rising time: 1 hour 45 minutes + Prep + cook time: 25 minutes
Rising time: 1 hour 45 minutes + Prep + cook time: 25 minutes
Many Vdolky cakes, called Vdolečky, are made from yeast, deep-fried, and then spread with jams on top. Add whipped cream, some curd cheese (tvaroh), a scoop of sour cream, or frosting for a more robust flavor.
If making with fresh yeast, mix the yeast well into the milk before adding other ingredients. Most Czechs prefer fresh yeast, but it's outstanding if you use instant yeast.
Note that the round hole does not need to go through the fried cake. You need a shallow hole to be able to fill it with jam. Traditionally, dip the fried cake in jam, top with whipped cream, and serve warm!
7 Czech Republic Breads & Pastries
One of the best times to pass on traditional Czech pastry and bread recipes is gathering time during wedding or picnic season. Even if it's the first time you join in the celebrations or travel to the Czech Republic, never forget fascinating versions of bread and delectable pastries. Just dive in!
Prep + cook time: 2 hours 20 minutes
If you haven't tried Koláče, think of it as a soft bread roll with butter and eggs topped with fruit filling. Try the poppy seed, apricot, prunes, and cream cheese flavors. Lemon, blueberry, or cherry flavors are popular, too!
Do not use thin jams or jellies because they will quickly boil inside the oven. Some good suggestions are thicker preserves or cooked dried fruits.
Remember to reheat this Czech kolache for 20 seconds; the toaster oven- air fryer combo or the oven takes minutes. Don't let them steam or overheat.
You should enjoy Koláče during the day when it's just made, or store it at room temperature with plastic wrap for two days or in the freezer for up to 3 months.
What a great honor to know a Koláče recipe passed down from grandmothers to mothers! Do you love the nutty filling mix of hot milk and poppy seeds?
Prep + cook time: 45 minutes + Bake time: 30- 35 minutes (350°F)
In Czech, apple strudel is called Jablečný Štrúdl. If you peel the apples and then make the strudel, it will taste better. Especially the old apples, the skin will be thick, creating a feeling of lumpiness when chewing.
When grating an apple, take out some juice, but be careful not to let it dry. Soon you will have a smooth filling inside. For a perfect crunch, roll out the dough as thin as paper.
It tastes better when you use egg to spread the edges after rolling. It's ideal for sealing, preventing the crust from bursting. You can swap the puff with shortcrust pastry; the flavor is still delicious. To me, making it from scratch is the best choice!
Prep + cook time: 2 hours 20 minutes
Buchty means buns and Tvarohové means curd. The curd-filling sweet buns are often used as quick and simple desserts, children's snacks, or breakfast sweets. In the Czech Republic, you will quickly see images of busy office workers holding the Tvarohové Buchty.
There are two recipes you can apply for this goodie. Try using Czech smooth flour hladká mouka or American all-purpose flour. You can make raisins juicy and tender if you soak them in rum.
Remember not to place bundles too close together. Use a clean towel dipped in hot water and lightly cover the tray's surface while the dough is resting. You can serve them hot right away, or when they cool a bit, sprinkle them with powdered sugar and enjoy.
Prep + cook time: 1 hour 35 minutes + Rising time: 3 hours
The name "Vánočka" is inspired by the Czech word "Vánoce," which means Christmas. It is a sweet bread with almonds and raisins typically eaten on Christmas morning.
I use whipped cream, whole milk, and water to bind the dough. Be careful not to cook liquids higher than 115°F, or the yeast will lose effectiveness.
The granulated sugar will increase yeast growth, creating a light sweet taste. If you like, choose other kinds of sugar to have more experience.
If you like thick dough, make two small loaves. Just prepare the braids half the usual size, or if you're baking in a small loaf, you should reduce the baking time.
The sign to know that the dough of Vánočka is perfect is when you see the powder is shiny and elastic. Are you impressed by the six snake rollings?
Prep + cook time: 1 hour 20 minutes
Žemlovka is a New Year's Eve bread pudding with apple inside and is delicious when made from brioche instead of regular bread. On cold nights, there's nothing better than a feeling of comfort and warmth!
Simple ingredients include grated apple, cinnamon flavor, milk, and bread dipped in egg. The sweetness of sugar and raisins highlights the richness of the cheese but does not make this apple bread pudding greasy.
Surely you will wish to add new flavors or create a lighter version when cutting down on meringues or cottage cheese. If you want to protect the oven's bottom from burning, place a water tray below to prevent the juice from dripping when your baking sheet has a low edge.
Prep + cook time: 1 hour 5 minutes
You will easily find Trdelnik hawking on the streets of Prague. The outer package of the cylindrical frame is a yeast dough rolled in cinnamon sugar and then baked on an open fire. Instead of using small tin cans, you can use jars to make molds.
To prevent the dough from sticking, you can add flour spoon by spoon while kneading. Place them in ziplock bags to shred walnuts, then use a rolling pin to crush them.
When you look at Trdelnik over an open fire, you will see how interesting it is. Treat it differently by topping Czech cinnamon pastry with ice cream instead of whipped cream and Nutella. Excellent when you have ice cream from Cuisinart maker!
If you like to bake in-house, you can grab a rolled-up magazine. After fixing it by cooking twine, you shape the dough around and let it bake. Fasten the magazine's inner edges and wrap each stick with aluminum foil. You will need about five sticks; grease them all with olive oil to keep the magazine from burning.
Prep + cook time: 50 minutes + Rising time: 2 hours 20 minutes
Besides representing the Vallassko region located in the Northeast of the Czech Republic, Frgal is also a specialty in Europe. You can imagine Valašský Frgál as a round pizza with thin, sweet dough and topped with dry pressed cheese, plum jam, poppy seed, or blueberries.
The standard diameter is about 11.8 inches and is golden brown when cooked. Usually, the dough layer will be lower than the filling and streusel layers. Mix the rum with the butter after taking the Frgál out of the oven.
You can add little breadcrumbs to this sweet pastry Frgale; combine one spoon of sugar and flour with one scoop of butter. Blend until smooth, then sprinkle over the Frgál top. What's your opinion?
Making Czech cookies with the Central-Europe flair is not as difficult as you think; this part will share five types of cookies that you must try. Think of these staples as the warm Christmas atmosphere, the light vanilla aroma, and the crispiness that comes from the oven. Go ahead!
Prep + cook time: 30 minutes
When looking at the powdered sugar and the crescent moons, do you get a festive feeling? The groundnuts help the plain cookie create a unique touch for Vanilkové Rohlíčky. I add ground vanilla beans and some almond extract to enhance the flavor.
Be very careful with cookies that are still warm because they are pretty crispy; use a spatula to remove them from the tray gently. Remember to keep crescent cookies cool and dry!
You should store vanilla crescent cookies in cardboard, glass, or metal containers with lids. Just put it in cool places such as in a pantry, on top of a refrigerator, or the balcony.
Once again, this Vanilkové Rohlíčky making guide reminds us of the importance of resting the dough in the fridge. It's excellent for rolling and forming the crescent cookies.
Prep + cook time: 2 hours
So tempting the creamy Včelí Úly with custard and rum. The bottom is usually covered with a round vanilla wafer and sprinkled with cocoa, powdered sugar, and ganache for coating. You can use walnut shells or a plastic or wooden honeycomb mold to shape.
The secret to blending the custard rum ingredients is choosing the perfect soft butter. Do not use cold butter immediately after taking it out of the refrigerator because custard will easily curdle.
To ensure each hive maintains its shape, mix the dough a day in advance and then let it sit overnight for a firmer dough. If you want the beehive cookie to taste better, make it 2 or 3 days in advance.
Prep + cook time: 25 minutes
Don't hesitate to customize this Vánoční Cukroví cookie; try a variety of jam fillings and cookie fillings, or mix them well. Garnish with colorful icings, leave it basic plain, or top with confectioners' sugar.
A common custom in Czech homes at the beginning of December is baking cookies and preparing traditional Christmas dishes. The most versatile ingredients that go well with this Czech Susenky Christmas cookie include white and dark chocolate, nuts, honey, coconut, marzipan, rum, or jams.
You can shape it into many different designs such as stars and hearts of Christmas trees as long as showing out the jam in the filling. Hurry up; Santa Claus always loves these goodies!
Prep + cook time: 1 hour 20 minutes
Think of black and white eggless cookies when you find it difficult to choose between vanilla or chocolate cookies. Both flavorsome and amazingly delicious! These cookies look amazing and are easy to make as long as you know the ingredients.
What a great candidate when you like to have cookies during coffee or tea time! Linecke Testo Dvoubarevne is crispy on the edges but chewy in the middle.
You can make any cookie in different shapes such as salami (salam), wheel (kolecka s obrouckou), checker board (sachovnice), pinwheel (zavitky), or square (rezy ze cytr pruhu). Let's make a big dough batch and freeze it, then bake it when needed.
Prep + cook time: 2 hours 10 minutes
Anise is the most prominent fragrance in Perníčky. A perfect fusion of star anise, fennel seeds, and anise seeds. Use a pestle, mortar, or spice grinder to grind them into powder.
It is good to chill the dough for about 1 hour in the refrigerator, this helps the dough not be too sticky, and the glutens expand more. Depending on the eggs you choose, get an appropriate amount of powdered sugar. To decorate the gingerbread, use a piping bag.
If you can find a premixed gingerbread seasoning pack called "Kypřící prášek do perníku" from the Czech Republic, use it. Just swap half a tablespoon instead of many different seasonings.
4 Czech Repulic Dumplings
According to Czech tradition, one of the most typical dishes is dumplings. Since it's a dumpling, you can serve it as a dessert or main course.
Whether savory or sweet, they are trendy. It's delicious to dip the dumplings in melted butter or sprinkle poppy seeds, cinnamon sugar, or shredded cheese on top!
Prep + cook time: 50 minutes + Rising time: 60 minutes
You can enjoy Houskový Knedlíky with jam as a dessert or as an afternoon tea. Keep in mind that the dumpling's center will be harder to cook than the outside, so please double-check. Cook each side for 10 minutes by simmering in boiling water.
This traditional Czech bread is made from stale bread balls, milk, flour, and eggs. It is usually rolled or molded into a loaf, boiled, and then cut into slices. Occasionally Houskový Knedlíky is made from yeast, inspired by Poland steamed buns.
How to cut dumplings is also an art; you can cut them with twine or use a dumpling cutter. Suppose you don't have a lot of tools; cut with a clean cooking knife. Be free!
One of the essential techniques to cook this Houskový Knedlíky is boiling the dough. It is not too difficult, but you should focus; the dough will be mushy instead.
Prep + cook time: 35 minutes
Don't be surprised; I will talk about a Czech dumpling with the main ingredient is raw potatoes called Chlupaté Knedlíky. Mix mashed potatoes with flour, salt, and eggs. After kneading, use a small spoon to shape and cook it with boiling water.
Depending on the type of potato, storage time, and method, you add the right amount of flour. Don't worry about adding more flour as long as the potato dumpling keeps its shape.
When cooking dumplings, keep the heat low, don't let it boil, or the buns will break easily. In the Czech Republic, nearly every family, city, or village has its recipe for potato dumplings. However, the characteristic fleshy taste of potatoes will be the first sign!
Prep + cook time: 15 minutes
You will have two typical choices for cream semolina: fresh blueberries as the blueberry sweets or a mixture of butter, cocoa, and cinnamon. Stir with a whisk, and keep an eye as you cook Krupicová Kaše. It helps to keep your sweet porridge from clumping and becoming smoother.
The original flavor of this dessert isn't sweet, so layer it with cocoa and sugar or melted buttercream. Before taking it out, you can also cut the butter into thin slices and drop it right on top of this staple.
Add cocoa, sugar, cinnamon, and butter when you want a pure Czech taste. Sometimes you are crazy about adding other items such as roasted hazelnuts or boiled pears.
Prep + cook time: 23 minutes + Rising time: 30 minutes
Ovocné Kynuté Knedlíky is a sweet treat with yeasted dough and cut into pieces. You take the dough to wrap the fruit mixture and powdered sugar into small portions, then boil in water. When ready, sprinkle with ground poppy seeds, tvaroh, and powdered sugar, and place Czech fruit dumplings on top of melted butter.
The curd cheese dough or raised dough are two famous fruit dumpling doughs available in the store. It is best to use fresh fruit; when you choose frozen or canned fruit, soon the dumplings turn out soft. You can try different fruits like apricots, peaches, berries, or strawberries.
Especially for fruit dumplings, you should not drink beer when enjoying this healthy dessert. It's time to make a quality cup of coffee, and the Ovocné Kynuté Knedlíky will become more harmonious than ever!
Upscale Czech Sweets To A New High
One of the reasons Czechs are widely loved worldwide is Czech desserts. And Prague is one of the ideal places for cake lovers; besides, you shouldn't ignore the taste of beer, clocks, and bridge architecture here.
Nowhere to find a place full of traditional dishes with flavors as diverse as here, from braided sweet bread, beehive cookies, and yeast pancakes to pork with dumplings and sauerkraut, to potato soup. Czech cuisine is a blend of neighboring countries but has not lost its character.
Feel free to share my review with your family and teams if you like these Czech sweet ideas. I'm sure your friends and family members are waiting to know more about the dumplings, whether all dishes should be served with Czech beer and how many types of honey cakes are popular in the Czech Republic. Sharing is caring; let's share!