When it comes to Hungarian recipes, rich, spicy flavors and vibrant colors are what come to mind. With thousands of years of development, the nation is influenced by the heritage of many countries to create a dynamic and copious cuisine that deserves more attention.
You probably have heard of goulash, the country's most quintessential dish. But there's more to this cuisine that's sure to impress even the pickiest eaters, from creamy and indulgent soups to savory, meaty courses and satisfying desserts.
If you plan to discover the iconic Hungarian cuisine, you're in the right place. In today's post, we're taking a culinary trip through the most delicious Hungarian recipes and finding the best ingredients for each dish, so you can whip them up at home like a doddle.
I should warm beforehand not to read on an empty stomach. Whenever you're set, let our journey begin!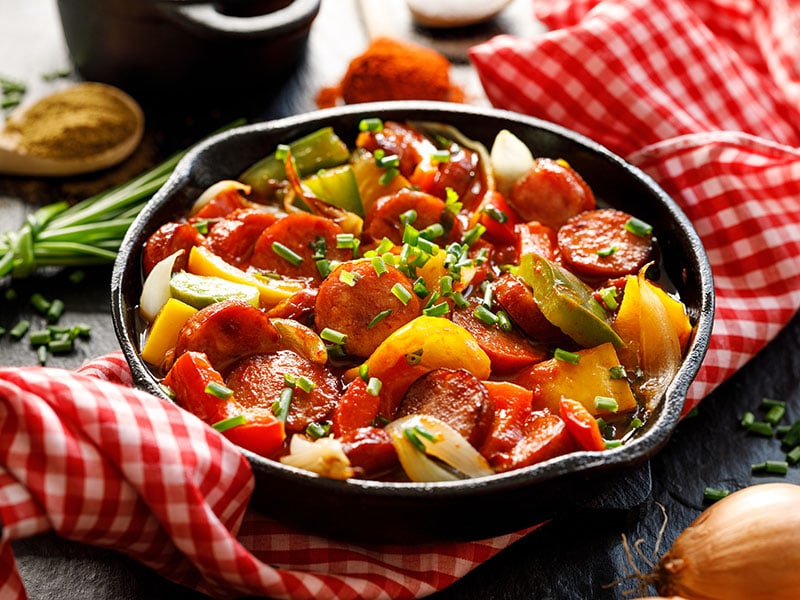 Top 35 Treasured Hungarian Recipes You'll Fall In Love With
Most handed-down Hungarian recipes are similar to other dishes in various European countries. They highlight the uses of meat, bread, and seasonal vegetables. Here're the best dishes to get a taste of Hungarian right in your own kitchen.
Hungarian Breakfasts
Bundás Kenyér (Hungarian French Toast)
Hungarian Scrambled Eggs
Hidegtál (Hungarian Cold Plate)
Kakaós Csiga (Hungarian Chocolate Roll)
Hungarian Main Dishes
Főzelék (Hungarian Vegetable Stew)
Goulash (Hungarian Beef Stew)
Hazi Kolbasz (Hungarian Homemade Sausage)
Hungarian Chicken Paprikash
Hungarian Meatballs
Káposztás Tészta (Hungarian Noodles With Cabbages)
Rakott Krumpli (Hungarian Potato Casserole)
Rántott Sajt (Hungarian Fried Cheese)
Töltött Paprika (Hungarian Stuffed Pepper)
Túrós Csusza (Hungarian Cottage Cheese Pasta)
Szilvásgombóc (Hungarian Plum Dumpling)
Hungarian Side Dishes
Dödölle (Hungarian Potato Dumpling)
Hungarian Spiced Red Cabbage
Körözött (Hungarian Cheese Spread)
Lecsó (Hungarian Tomato And Pepper Stew)
Hungarian Desserts & Snacks
Dobos Torte (Hungarian Layered Sponge Cake)
Kürtös Kalács (Hungarian Chimney Cake)
Lángos (Hungarian Deep-fried Bread)
Palacsinta (Hungarian Sweet Pancake)
Somlói Galuska (Hungarian Trifle)
Hungarian Soups & Salads
Halászlé (Hungarian Fisherman's Soup)
Hungarian Green Bean Soup
Hungarian Mushroom Soup
Karfiolleves (Hungarian Paprika Cauliflower Soup)
Paradicsom saláta (Hungarian Tomato Salad)
Uborkasaláta (Hungarian Cucumber Salad)
Hungarian Christmas Dishes
Apricot Kolaches (Hungarian Christmas Cookies)
Bejgli (Hungarian Walnut And Poppy Seed Roll)
Borleves (Hungarian Wine Soup)
Mákos Guba (Hungarian Poppy Seed Bread Pudding)
Töltött Káposzta (Hungarian Stuffed Cabbage Roll)
What're The Best Authentic Hungarian Recipes Of All Time?
Fingers crossed, Hungarian foods are classic yet always exotic enough to shake things up a bit on your table. If you're down to take your palate on an exotic ride, these Hungarian recipes are in line for today's special treat!
Tasty Hungarian Breakfast Recipes To Start Off Every day
In Hungarian cuisine, breakfast fares play a vital role. Whenever you're running late in the morning, here are some easy recipes to fuel yourself up with little time and effort needed.
Just like the Hungarian version of a good, old-fashioned French toast, Bundás Kenyér is a savory breakfast fix that takes little effort in the making. Thick slices of bread are covered in a mixture of beaten eggs and milk, then lightly pan-fried until crispy and golden brown.
To lightly jazz it up, you can add a sprinkling of cinnamon, parmesan cheese, or some sour cream to create a contrast to the crunchy texture. Bundás Kenyér is best eaten while it's warm out of the pan. This rich and savory dish is simply too good to resist.
Whether it be for breakfast, afternoon brunch, or a quick grab-and-go meal, this Hungarian-style French toast is one of the greatest recipes to treat yourself.
It's not the regular, somewhat boring scrambled eggs that you may be familiar with. To whip up this dish, you still need some essential ingredients like eggs, butter, and salt. But the key to recreating the Hungarian version lies in the use of smoked bacon, sausages, and paprika.
After scrambling the eggs in a separate bowl, pour all these extra elements into the mixture. Once the eggs aren't runny anymore, give it a finishing touch with a drizzle of paprika. In this step, feel free to play with the level of paprika to suit your taste.
From prep to table, this recipe takes less than five minutes, allowing you plenty of time to enjoy your breakfast. Done properly, these eggs are warm, fluffy, silky with a hint of spiciness. Serve it with a cup of tea, and you're all set for the day ahead.
Not the perfect, tidy plate of formal breakfast fare, Hidegtál is, in fact, a generous celebration of charcuteries. You can basically present anything in the back of your fridge or pantry on this cold plate, and it'll be the most satisfying breakfast you've ever had.
From a variety of meat like sausages, bacon, pork salamis to pickled vegetables and slices of bread, Hidegtál is a little bit of everything. There's no right or wrong way to assemble the tray.
When you're in a hurry for breakfast, this dish can be your lifesaver, given how it takes little to no advance planning. With all these components co-existing, the plate is an appetizing blend of all flavors, including sweet, savory, and sour.
An old cutting board is often enough to present this delicatessen for breakfast or any other meal of the day. But if you're preparing it for a gathering or a buffet, a rule of thumb is that the more varieties and abundance, the better.
In the heart of many locals, nothing comes close to beating a warm, delicious Kakaós Csiga as a breakfast fare. This popular pastry makes its appearance in almost any patisserie. But the recipe is so simple. It can be an easy DIY baking project if you have some spare time.
Traditionally, the chocolate rolls are made from a laminated Blundell pastry swirled up with sweet and rich chocolate fillings. Crispy on the edges while remaining a fluffy, soft center, this pastry is sure to be a new favorite for any sweet tooth from the first bite.
To fully enjoy Kakaós Csiga like a local, dust it with powdered sugar pair it with a coffee cup or a glass of cold milk as you desire. Such a heavenly, satisfying sweet treat is probably the best way to get your day started right.
Hearty And Satisfying Hungarian Main Dishes To Try
Nothing completes an indulgent meal like the perfect main course. These Hungarian recipes are mostly based on meat, bread, cheese, and a lot of paprika, which adds vibrant color to the dishes without overtaking the heavenly flavors.
Főzelék is a one-of-a-kind delicacy in Hungarian cuisine that's perfect for when you want to keep your lunchtime light and breezy. Főzelék literally translates to "made by cooking," which means the recipe isn't limited to any certain type of vegetable.
It's safe to say that this veggie-based dish can be whipped up using all kinds of veggies, herbs, and spices that your heart desires. In all cases, the ingredients and cooked and thickened with flour or sour cream. From start to finish, this whole process usually takes half an hour.
Be it a main lunchtime dish or an accompaniment for meaty courses, Főzelék is a tasty, refreshing delight that Hungarians take pride in. What's more, this thick stew of vegetables will do your metabolism a big favor if consumed on a regular basis.
Once a humble peasant food, goulash has claimed its throne as the national dish of Hungary. This rustic bowl of soup has spread to other countries as well. For example, you can find Goulash among the classic dishes in Poland.
Moreover, this dish is possibly the inspiration for Bograč – a delicacy from Slovenian cuisine.
But no matter which country this stew appears in, it's simply a stew made of tender beef, vegetables, and fragrant spices.
If the vibrant red color isn't enough to whet your appetite, its flavor definitely will. Rich, complex, and satisfying, goulash is the ultimate crowd-pleasing dinner for your family on a cozy night
You can serve this fulfilling stew as it is or pair it with some crusty bread, pasta, or a side of mashed potatoes to make the most out of the delicious sauce. The key to success in this dish is hot paprika, which is easily adjusted to your taste.
Let's hear it from the professional to see how you can recreate this authentic goulash at home! You can see this video to know more:
The name Hazi Kolbasz merely translates to "homemade," probably the reason why this recipe varies by region and even household. In general, this sausage often contains ground pork, black peppers, paprika, cumin seeds, and garlic.
You may also find Hazi Kolbasz seasoned with lemon zest and cloves. The mixture is then baked for about an hour until the sausage turns light brown without drying out. If you plan to stock some of it in your kitchen, make sure to freeze it until cooked.
This Hungarian homemade sausage is a nice time-saver and a versatile ingredient that edges its way onto a variety of plates all across the menu. From pasta to salads and casseroles, it'll keep you eating well with little prepping needed.
As the name suggests, this cherished Hungarian dish combines two key ingredients: tender chickens bathed in a thick paprika-infused sauce. Not only is it so simple to make, but the whole process happens in one pot, which makes clean-up such a breeze.
For this recipe, you can lower or raise the amount of sour cream and paprika as your palate desires. This dish goes well with whatever cut of chicken left in your fridge. In less than an hour, this flavorful chicken dish should be ready on your dining table.
A side of Hungarian egg noodles or dumplings makes the perfect contrast to this rich stew. Believe me. It's the kind of comfort food that'll keep you coming back for more, especially during cold weather.
What's not to love about some hearty, tender, and delicious meatballs for a cozy winter dinner? These Hungarian-style meatballs are drenched in a rich, spicy sauce of paprika, mushrooms, and rosemary, which ends up in a bowl of goodness guaranteed to cure the winter blues.
This recipe sure requires lots of time for veggie chopping. But with some efficient vegetable choppers, you don't have to work too hard. All in all, you'll be happy with the final result.
The smooth, creamy sauce perfectly balances the savory and juicy meatballs. Pork is the primary option for the dish, but you can use any type of ground meat on hand.
It's safe to say that the best way to relish these little bites of heaven is over a platter of buttered noodles or some mashed potatoes. For people who have a hectic schedule, having frozen meatballs in your fridge is a great make-ahead meal tactic that you can lean on.
Sometimes, the best pasta turns out to be the simplest. Káposztás Tészta is a classic delicacy combining just two main ingredients: pasta and cabbages. These two are then well-flavored with caramelized onions, peppers, and occasionally fried bacon bits.
It's simple yet so fragrant, delicious, and full of flavor. If you have some leftover cabbages at the back of your fridge and little prep time on hand, this pasta recipe will be your lifesaver.
A bowlful of pasta and cabbages is the iconic comfort meal guaranteed to brighten the gloomiest days. Plus, you can easily turn this quick meal into a big, shared family dinner on busy weeknights.
Nothing screams true comfort meal like an old-fashioned Hungarian layered potatoes dish. A combination of potatoes, smoked sausages, sour cream, and eggs are baked together. The end result is a pleasant, flavorful delight that'll leave you fully satisfied.
Typically, the recipe is quite easy to assemble with a handful of easy-to-find ingredients. However, like other casserole meals, it tends to take a bit of preparation and cooking time. Thus, if desired, you can make a big tray of it and save the leftovers in the fridge for later meals.
Without a doubt, a hearty main course this size is enough to feed at least two people. It's basic yet endlessly customizable to your taste with other elements like peppers or bacon.
Whenever you feel like kicking off a meatless meal, Rántott Sajt is an amazing recipe that'll be a big hit to your family. The most common ingredient is Trappist cheese, thanks to its semi-hard texture, but other varieties like parmesan and halloumi cheese also work in a pinch.
To prepare this dish, a thick block of cheese is covered in a mixture of beaten eggs and breadcrumbs on all sides. It's then deep-fried in hot oil until crispy and golden brown.
You can make various side dishes to compliment this fried chicken. But even if you eat it on its own, this cheesy recipe is still irresistible.
Simple as it is, this fried cheese dish is an all-time favorite for many people. The wonderful, crispy outer coating is followed by a soft and melty center is to die for. Therefore, it's better to eat warm while the inside still remains nice and sticky.
Hungarian stuffed pepper is the most amazing way to use those green peppers in your garden when summertime arrives. Traditionally, the bell peppers are loaded with a savory blend of rice and ground pork, then simmered in a flavorful tomato sauce.
Simple yet satisfying, it's the kind of the main course that'll be a big hit to your family without much effort needed. You can cook it in an oven, a slow cooker, or even on a stovetop, and it'll turn out nicely in about 40 minutes.
At its best, this stuffed pepper recipe is a show-stopping dinner, even without any side dish. However, you'll likely be tempted to mop the hearty sauce with some mashed potatoes or crusty slices of bread till the plate is clean.
Hungarian stuffed pepper can be whipped up like a breeze with this short tutorial!
You probably have never heard of Túrós Csusza, but it's a delightful midweek, last-minute meal that you'll have to make over and over again. With a combination of egg noodles, cottage cheese, sour cream, and crispy fried bacon, what's not to love about this dish?
Simple yet filling, each bite will have your taste buds exploded with its rich and creamy flavor. The unlikely duo of warm pasta and cold cheese makes it an unforgettable meal. Delicious as it is, this pasta comes together in less than 30 minutes from prep to a dining table.
This easy and fancy recipe serves as an amazing delight for a romantic dinner or a cozy, indulgent night in. If you prefer a sweeter version, simply replace the bacon with some powdered sugar or walnuts of your choice.
A versatile delight that serves as a dessert, main course, and side dish, these plum dumplings are a much-appreciated recipe in Hungary. Like Italian gnocchi, these savory pillowy balls are made of mashed potato dough.
The dumplings are then stuffed with sweetened plums. For the finishing touch, most peeps tend to coat them in a mixture of breadcrumbs and cinnamon. This gives the bundles a crunchy texture in contrast to the tender, melt-in-your-mouth interior.
It's safe to say that these sweet, scrumptious plum dumplings are a favorite to all ages. The balls cut in halves, revealing the lovely fruit filling is such a sight for sore eyes. They taste best right after cooking, so be sure to relish them while they're still warm.
Amazing Hungarian Side Dishes That Pair With Just Anything
A simple yet delicate side dish is guaranteed to make the rest of the meal sing. With a handful of easy-to-find ingredients, here are the best accompaniments for a complete meal you can make.
In essence, Dödölle is the old-fashioned potato dumplings. This simple and filling recipe calls for a handful of cheap ingredients like potatoes, lard, onions, and flour. Once a common peasant food in the old-time, these dumplings still remain popular mostly in rural areas these days.
The dish is so delicious and comforting served on its own. However, most peeps garnish it with a dollop of sour cream or roasted onions to create the perfect contrast in flavor. Enjoy it with perkelt or goulash, and the meal is bound to leave you feeling good and satisfied.
This spiced red cabbage dish is believed to hail from Sopron back in the early 19th century. In this traditional recipe, the red cabbages are simmered in a savory sauce of garlic, onions, caraway, and vinegar.
Bite by bite, and this simple delicacy is an appetizing blend of sweetness and sourness. It's almost a ritual in Hungary to present it as an accompaniment for goose or duck roasts in a complete meal.
What's more, this veggie-based dish tends to taste better the day after you make it and keep well for days in the fridge. Hence, it's best to make a large batch of it to eat off all week and take out the stress factor from busy days.
The most classic accompaniment for bread and crackers, Körözött is a wildly popular cheese spread throughout Hungary. Although every household has a unique way of making it, the mix often includes cottage cheese, paprika, butter, sour cream, caraway seeds, and salt.
Usually, you eat it on chunks of bread or crusty buns as a quick appetizer. Serve it alongside some sausages or a simple mix of vegetables, and it's such a doddle to treat yourself to a light meal in no time.
Thus, this cheese spread is a common staple in Hungarians' kitchens for when they crave a fuss-free, cold meal. And the good news is, it tends to keep well for quite some time in the fridge without any preservatives, so you can grab a bite as soon as you tumble out of bed.
One of the prized trademarks in authentic Hungarian cuisine that locals take pride in, Lecsó is a scrumptious vegetable stew. This modest recipe combines tomatoes, peppers, and paprika to create a humble yet so flavorful dish that'll mesmerize you from the first bite.
Many variations of Lecsó exist, with extra elements normally added like smoked bacon and sausages. The result is a soft, smoky, and sweet mixed stew that comes together after 30 minutes. Delicious as it is, there're endless ways to relish this summer delight.
Essentially, Lecsó is the perfect co-star for any breaded meat, an appetizer alongside crusty white bread. Or else, top it off with a sunny-side-up egg or two, and you're good to go.
It's most likely that this stew will leave you cleaning your plate. But if there're some leftovers, simply use it as a pasta sauce, and it'll still taste amazing for your next breakfast.
For an easy visual demonstration, you can find out how to cook up this tomato and pepper stew right here!
Heavenly Hungarian Desserts & Snacks For Last-Minute Sweet Cravings
Fingers crossed, Hungarian is blessed with many delicious desserts and sweets, some of which you probably haven't heard about. Flick through this rundown of the best indulgent treats to satisfy your sweet tooth.
When the weather turns cold and wintry, do yourself a favor and whip up this prominent layered sponge cake. Dobos Torte gets its name from its creator, Jozsef C. Dobos, who kept his recipe a secret for 20 years before finally publicized it in 1906.
From the first glance, this beautiful cake is a work of art with its glistening visual that can mesmerize a sweet tooth even before taking a bite. The sponge cakes are stacked atop each other, bathed in syrup, chocolate, and topped off with caramel.
The making of this delightful winter dessert takes lots of preparation and time. But you can rest assured that the outcome will be so well-worthy. It has a complex texture, and the flavor is simply out-of-this-world to stand out as a showstopper on any dining or party table.
From the old region of Transylvania comes one of the most famous street pastries in Hungary. To make this chimney cake, locals use a sweet yeast dough coated with granulated sugar and melted butter. It's then slowly baked on a wooden spit on an open charcoal fire.
The end result is a tube-shaped pastry with a delightful golden brown shell. Be it whipped cream, ground walnuts, or cinnamon; there're lots of extra toppings that you can choose to suit your taste.
Kürtös Kalács is best relished immediately after baking. Crunchy, sweet, and absolutely tasty, no wonder it's an essential part of any festivities in the country, including weddings and baptisms.
When you need a quick guide on how to make this Hungarian chimney cake at home, here's how!
For any foodie who plans to set foot in Hungary, Lángos is an iconic dessert that you won't want to miss during your travels. This hearty snack is made out of a yeast dough brushed with garlic and smothered in sour cream and shredded cheese.
Besides the simple base, Lángos can be enjoyed with a variety of toppings, including bacon, butter, sausage, roasted peppers, and so on. Warm and freshly made, this fried bread is the perfect cold-weather snack to soothe your soul from the inside out.
Since Lángos is a deep-fried treat, it's not the best bet for a healthy meal. Hence, enjoying it in moderation is the ultimate way to ward off health-related issues without having to skimp on your favorite tasty treat.
Though these thin, crepe-like flat cakes look a lot like your typical breakfast fare, they're most often enjoyed as a dessert in Hungarian cuisine. It's a family favorite that can be done in less than 30 minutes and almost always tastes amazing.
There're endless ways you can customize its fillings. From strawberry, chocolate pudding to cinnamon and a dollop of sour cream, it's up to you to cater this treat to your taste. After the crepes are done, lightly roll them up and drizzle some powdered sugar.
Palacsinta can be made in advance and reheated in an oven in minutes. Warm and decadent pancakes are not only the perfect way to round out your meal but also serve as a delicious brunch or breakfast in a pinch.
Fingers crossed, Somlói Galuska is worth its salt as the most famous dessert in Hungarian confectionary. This treasured sweet treat made its debut in the 1950s, when Károly Gollerits, a headwaiter in Budapest, first envisioned it.
To make this trifle, multiple layers of sponge cake, vanilla pastry, walnuts, and finished with chocolate sauce with whipped cream. To present it on the table, locals usually 2-3 balls and stack them on a plate.
Visually, this treat is a feast for the eyes. The sweet, creamy, and decadent flavor is sure to satisfy your taste buds and leave you licking the plate. Next time you need another impressive dessert to round out your meal and impress everyone, Somlói Galuska is your best bet.
Cherished Hungarian Soups And Salads
It's safe to say that soup and salad courses are a point of national pride in Hungarian cuisine. These rich, delicate, and refreshing recipes will be a welcoming delight to your taste buds, whether served on their own or paired with meaty dishes.
Although Hungary is a landlocked nation, Halászlé is one of their prized specialties, which has been a fisherman's staple food for centuries. It's easily among those hottest, spiciest soups, thanks to a copious amount of paprika added.
Many variations exist, but the original recipe involves a mix of river fishes cooked in a rich broth of bell peppers, paprika, and tomatoes. This blend of ingredients gives the final result a distinctive bright-red color. Besides Hungary, the spicy soup is also an adored dish in Ivory Coast.
Halászlé tastes exactly as it looks: hot, tasty, and scrumptious. Many people also add an extra dimension of flavor by topping it off with parsley and sour cream. When the stew is ready, it's a traditional ritual to always serve it alongside some white, crusty bread.
Hungarians take pride in their fresh soup courses, which is why this green bean soup is so wildly popular during the summertime. This handed-down delicacy calls for fresh green beans, paprika, butter, tomatoes, and sour cream.
The combination of paprika and sour cream gives the soup a distinctive orange color. Though it's best to use fresh summer produce for this dish, canned ingredients also do a great job in a pinch.
A warm, creamy, and easy-to-make dish, green bean soup is a real classic comfort food year-round. To make it even more fillings, you can toss in other elements that your palate desires, such as smoked ham and egg dumplings.
When you crave a soul-soothing recipe to cure a dreary day outside, whip up a bowlful of this mushroom soup. Besides mushrooms as the star of the show, this dish also derives lots of flavors from other elements like sautéed onions, aromatic herbs, and handfuls of spices.
The humble yet earthy blend of ingredients makes up a great cold-weather soup to keep you full and satisfied. Add one dollop or two of sour cream on top and pair it with a crunchy salad or chicken tenders, and you can have yourself a complete weeknight dinner in minutes.
To ensure that this recipe turns out beautifully every time, the secret lies in good-quality mushrooms and sour cream. Also, be sure to take time with your roux until it achieves a nice caramelization.
Hear some tips from the chef to make this Hungarian mushroom soup even easier! You can see this video to know more:
Karfiolleves is a quick-to-fix and heavenly soup that turns the not-so-popular veggie into a real showstopper to satisfy everyone at the table. In this traditional recipe, lots of paprika are added to create a rich, bold flavor and an irresistible red color.
For a fact, anyone who has mastered this delight knows that the secret to success is to let the pure flavor of cauliflower shine through despite the hint of spiciness. At its best, the soup is a soul-soothing bowlful of comfort that you'd yearn for on a chilly day.
You can always add an extra touch to it, whether it be a sprinkle of parsley, some dumplings, or a dollop of sour cream. Light and refreshing, most people serve it as a light side for meaty courses.
This colorful and hearty salad is one of the go-to meals all year round for Hungarians. In essence, it's a bowlful of cherry tomatoes, cucumbers, Hungarian wax peppers, and onions, all sliced into bite-sized pieces and mixed well together.
Then, a simple dressing of white vinegar and some chopped parsley are tossed in to finish off the dish. It yields a nice blend of tangy and sweet flavor that pairs well with virtually anything from creamy pasta to rich meaty dishes.
When those sweltering summer days arrive, nothing lifts you up like an elegant tomato salad. Especially if you're hosting a casual cookout or a BBQ party, this recipe is essential to put on the table.
If you love a healthy summer-made salad option, this Hungarian cucumber salad is something you'll want to make a hundred times or more. Uborkasaláta is a simple, delicate, and refreshing salad that most locals serve as a side for meaty courses like goulash and pork dishes.
With sour cream, paprika, and white vinegar, it's easy to make a delish dressing in a flash. The secret to recreating such an elegant salad is to slice the cucumbers real thin. This allows them to absorb the dressings nicely and lets the fresh, pure cucumber flavor shine through.
Besides tasting incredible, Uborkasaláta also makes a healthy addition to your diet. The dish itself is full of fiber, vitamins, and minerals, so you can incorporate it into your daily menu with peace of mind.
Hungarian Christmas Dishes To Serve The Most Festive Menu
With these fun and scrumptious Hungarian Christmas recipes, you can take the stress factor out of your holiday season and impress all your dinner guests like a doddle.
Nothing can quite get you into the holiday spirit like baking up a batch of Christmas cookies. Apricot Kolaches is a traditional recipe made with a cream cheese pastry dough and filled with a thick, moist apricot jam.
Just the right amount of apricot will enrich the cookies. Meanwhile, the Kiffles are delightfully chewy and soft as a pillow. Bites by bites, these mini desserts are guaranteed a hit with their tasty and satisfying flavor; you won't want to miss them for your next holiday baking project.
Unlike other pastries, Apricot Kolaches doesn't keep well in the fridge for too long. These cookies tend to lose their freshness and flavor quickly, so it's best to finish the whole batch in one day. However, you can easily save the fresh dough for later dates.
If you're looking for an over-the-top dessert to celebrate the holiday season, Bejgli deserves all the attention. Ever since this pastry roll made its debut in the early 19th century, it has become one of the most cherished Christmas specialties.
This delicacy involves a sweet dough rolled with either one of the two fillings: walnuts or poppy seeds. In Hungarian folklore, poppy seeds mean prosperity, while walnuts offer protections against bewitching.
Done properly, the dessert looks so decadent and gives a mouthwatering taste without being overly sweet. Preparation is a time-consuming process. But in the end, this treat will play up your Christmas feast game and impress all your holiday guests.
Originally from the German-speaking world, Borleves now has a steady pace on the Christmas meal table in Hungarian cuisine. This exquisite soup is a combination of white wine, lemon juice, egg yolks, cinnamon, and cloves.
The end result is a tart, sweet, and lightly spiced flavor that can wake up your taste buds. Hence, it's often served as a starter to a heavy, fulfilling Christmas dinner.
Since this wine soup is refreshing with a kick of wine, many peeps also enjoy it in place of a hot cup of coffee on those chilly winter mornings.
When you're whipping up this recipe at home, a good rule of thumb is to simmer the soup on a pan without bringing it to a boil. Otherwise, the egg yolks will start to scramble.
There's just something about poppy seed and its pleasant nutty, fruity flavor that's simply irresistible, especially when featured in desserts. No Christmas in Hungary is completed without Mákos Guba, a mystical classic believed to bring much good luck and money in the new year.
This old recipe usually calls for kifli, a type of semi-sweet crescent rolls. But any other fluffy bread or rolls will work just fine. Combine the chunks of bread, poppy seeds, and sugar before baking the mixture for around 10-20 minutes.
With the addition of poppy seeds, this classic dessert tends to go up a notch or two. At its best, the pudding is sweet, decadent, and super flavorful. It's made its way onto all Christmas tables, but you can have it year-round, given how easy it is to make.
The road to healthy eating doesn't get easier than with the wholesome, nutritious Töltött Káposzta. This stuffed cabbage roll recipe is exactly what it sounds like. Fresh cabbage leaves are stuffed with a savory blend of minced meat, rice, onions, and spices.
These neat rolls are then slow-cooked for roughly an hour to achieve tenderness without becoming mushy. With a bit of sour cream for a final touch, this dish is a hearty, delicious, and healthy delight to please a crowd.
During the winter months, this plate of stuffed cabbages almost feels like a warm, cozy hug that will please your palate and your soul. The recipe is quite simple, but giving the long cooking time, you can make a large batch in advance and keep it ready to go in the fridge.
Let's whip up this stuffed cabbage roll recipe with these detailed guides right now!
Make Home-Cooked Meals Fun Again!
Fingers crossed, traditional Hungarian recipes are the best way to spice up your weekly menu and nourish everyone in your family. With lots of meat, cheeses, vegetables, and spices featured, these delicacies are not only tasty but also full of nutrients for a healthy diet.
Be it an instant craving or a big feast to treat your holiday guests; there're plenty of recipes to fill your dining table with ease. It's safe to say that Hungarians are truly enthusiastic eaters, and they've got just the right way to cure even the gloomiest days: good food.
I hope you've found a new favorite dish to make for tonight's home-cooked dinner.
If I've missed any Hungarian recipes, please don't hesitate to let me know. I look forward to your own delicious recommendation in the comments right down here!
Nutrition Facts
6 servings per container
---
Amount Per ServingCalories308
% Daily Value *
Total Fat 8.1g

13

%
Cholesterol 102mg

34

%
Sodium 639mg

27

%
Potassium 980mg

29

%
Total Carbohydrate 19.3g

7

%

Dietary Fiber 3.8g

16

%
Sugars 4.6g

Protein 37.6g

76

%
---
* The % Daily Value tells you how much a nutrient in a serving of food contributes to a daily diet. 2,000 calories a day is used for general nutrition advice.