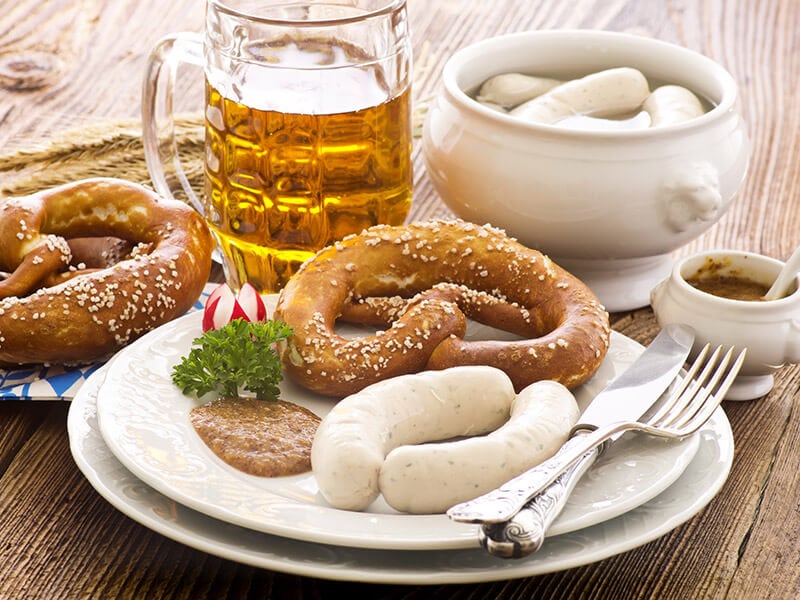 These authentic German breakfast recipes have always been the cultural highlight in this country. Not only are they delectable, but they are also filling and satisfying. Plus, you will never run out of options due to the wide variety of breakfast food items in Germany.
In this article, besides learning about the names of the most iconic breakfast dishes in this country, I will also show you some helpful and beginner-friendly recipes.
So if you don't want to start a day with an empty stomach, take a look at my detailed recipe list; I'm sure these dishes will render your taste buds with enthusiasm.
Start Your Day Like A Local With 16 German Breakfast Recipes
Nowadays, eating breakfast on the go is becoming more common. However, rushing or skipping the most important meal of the day is very harmful to your health. Therefore, I've prepared some fascinating German breakfast ideas that can power your morning. Let's check them out!
Cooking time: Ready in 30 minutes.
What can be more appropriate for breakfast than pancakes? Unlike the American version with a stack of individual fried pancakes, this German dish consists of a single baked pancake with fresh apples and a generous dusting of powdered sugar.
This German oven-baked apple pancake usually comes with a scoop of vanilla ice cream or a splash of caramel syrup. It takes only about 30 minutes to assemble this masterpiece, such a great way to kick off your morning!
Cooking time: Ready in 1 hour and 20 minutes.
If you're looking for a suitable breakfast for every family member, Kartoffelpuffer is the best option for you! It is an excellent dish to start your morning, but it can also be a filling lunch option.
This dish can be eaten sweet with cinnamon apple sauce or savory with light and crisp cucumber salad. You even serve it with a poached egg on top for a more filling breakfast.
Cooking time: Ready in about 30 minutes.
Here is another savory version of pancakes that you cannot miss, especially if you consider yourself a bacon lover.
Speckpfannkuchen is a German pancake made with cubes or strips of bacon. The bacon can be used as a topping or a filling for the pancake, but you must first fry it before adding it to the meal.
You can serve this dish with pickled cucumbers or a salad as a delicious German appetizer or a hearty breakfast. Speckpfannkuchen can also be made with cheese or onions.
Cooking time: Ready in 15 minutes.
Another old classic that you must try during breakfast is the Bircher Muesli. Muesli consists of rolled oats, yogurt, dry and fresh fruits. With these ingredients, this dish stores a host of protein and antioxidants, which are very beneficial for your health.
Furthermore, the healthy German recipe is very simple to prepare. Even if you're not a great chef, you'll be able to nail it in your first attempt. Just remember to soak the oat flakes in water overnight to save time in the morning.
Follow Gordon Ramsay's tutorial to learn more about the fascinating Bircher Muesli.
Cooking time: Ready in about 30 minutes.
Among countless other breakfast recipes in Germany, Bauernfrühstück is perceived as one of the oldest dishes in this country. Plus, due to its generous portion of food, this dish will undoubtedly give you the energy you need for a long working day.
With some essential ingredients such as eggs, fried potatoes, and bacon, Bauernfrühstück is like a warm hug from traditional German cuisine. Many locals also make it for lunch or dinner, despite its name.
Cooking time: Ready in 25 minutes.
Are you having too many leftovers? Here is how you can turn them into a delicious breakfast! Like the traditional Bauernfrühstück – Farmer's breakfast, this dish is only made with potatoes, onions, and pepperoni.
This casserole recipe can easily be altered to suit your taste buds and available ingredients. For example, you can pair it with different types of German cheeses or make it with various meats (ham, bacon, sausage, or beef salami).
Easy to make and quick to serve, this German-inspired casserole is undoubtedly the ultimate dish for an energized morning.
Cooking time: Ready in 35 minutes.
Besides being an excellent dessert, German waffles are also an irresistible breakfast. Crispy on the outside and fluffy on the inside, this German breakfast pastry will surely be the highlight of your entire day.
If you want to save time, you can make the waffles beforehand and keep them in the freezer. Then when you're in the mood for waffles, just warm them in an oven or microwave them before serving. These pastries can last for up to three months in your freezer.
Similar to pancakes, these German waffles work well with various spreads and toppings like jam, Nutella, fruit, or ice cream.
Cooking time: Ready in 30 minutes.
Known as one of the best childhood treats in Germany, Sefeier can fill the Germans with nostalgia after every bite. Made with hard-boiled eggs and thick, creamy mustard sauce, this dish will be a burst of happiness that can light up your morning.
This simple recipe is frequently cooked around Easter since it is a convenient way to use up left over Easter eggs. You can serve Senfeier with potatoes, rice, or salad and eat it for breakfast, brunch, or supper.
Delve into this Senfeier instruction to complete your culinary experience.
Cooking time: Ready in about 3 hours.
Often seen as a predecessor of American cinnamon buns, Schnecken is a traditional morning treat in many German homes. The name of these sweet rolls actually means "snails" in German, referring to its fun spiral shape.
The top of the "snails" is covered with gooey caramelized pecans. The crunchiness from the sweet pecans contrasts the light and fluffy buns, creating a wonderful experience that you can never forget. Overall, Schnecken is the ultimate anti-stress pastry.
Cooking time: Ready in 2 hours and 25 minutes.
Weisswurst is a short, grayish white sausage made out of finely minced veal and back bacon. You can serve Weisswurst in a big bowl of hot water to prevent it from cooling down, just like how the Germans do it in local restaurants.
There are three ways to eat Weisswurst. The traditional way is to cut each end of the sausage and suck the meat out from the skin. Nowadays, people prefer cutting the sausage lengthwise and rolling the meat out with a fork. You can also cut open one end and eat it like a banana.
The firm and bouncy texture of this unique German sausage pairs well with mustard dipping sauce, a soft pretzel, or a light wheat beer. This combo perfectly describes the culinary culture of Germany!
Here is everything you need to know about the iconic Weisswurst
Cooking time: Ready in 1 hour and 30 minutes.
If you think cakes don't belong in breakfast, the delectable cake from Germany will change your mind. Loaded with apple – a common fruit in Germany, Apfelkuchen (apple custard cake) has been one of the must-have breakfast options for a very long time.
This recipe calls for Creme Fraiche, but you can substitute it with Mexican Crema or any regular sour cream if you don't have it. Once baked, this cake can last for about 2 days in the fridge.
Thanks to the custard layer and delicious apple filling, this yummy German dessert has a delightfully moist and creamy texture. Remember to pair this dish with heavy cream or a cup of coffee to make your meal more complete.
Cooking time: Ready in 15 minutes.
Griessbrei (German for "semolina pudding") is a fluffy, not-too-sweet, and outrageously delicious semolina pudding. In just 15 minutes, you will have a super iconic dessert breakfast for your family.
This delicious pudding contains only 3 simple ingredients: semolina, milk, and sugar. You can eat it while it is still warm or chill it.
Griessbrei already tastes terrific on its own however, you can elevate it further by pairing it with cinnamon sugar, fresh fruits, or fruit sauce. If you have kids at home, I'm sure this dish will conquer their hearts.
Take a look at this Griessbrei recipe and make it for your loved ones.
Cooking time: Ready in 1 hour and 50 minutes.
Brötchen, also known as German bread rolls, is a trendy breakfast bun in Germany. Perceived as the ancestor of the American burger bun, the German Brötchen is smaller with a crusty outside and fluffy inside.
This well-loved German bread can go well with countless toppings such as honey, jam, or chocolate spread. This yeast-based bun can be served for breakfast, lunch, or dinner with cheeses, meats and different types of spreads.
Cooking time: Ready in 25-35 minutes.
Looking for a filling yet healthy breakfast option? If your answer is yes, you may be interested in Mushroom Spätzle – German dumplings with mushrooms. This recipe consists of sautéed mushrooms, roasted red peppers, and German egg dumplings.
Although dried Spätzle is available in many supermarkets worldwide, you can challenge yourself by making fresh Spätzle from scratch it is not as hard as it sounds.
Mushroom Spätzle is a vegetarian-friendly dish. However, if you want to add some protein like pork, bacon, or chicken, no one is stopping you.
Cooking time: Ready in 1 day, 12 hours, and 5 minutes (at most).
Despite the odd name, Quark is an excellent choice for breakfast in many German families. Quark is a soft and unsalted German cheese, although some might mistake it for a type of yogurt.
Quark is commonly divided into three types in Germany: Magerquark, Sahnequark, and "ordinary" Quark. While Sahnequark is a common foundation for various mousse or cheesecake, Magerquark can be served for breakfast with fruit or Bircher Muesli.
With its smooth and creamy texture, this unique and lip-smacking cheese will immediately make you fall in love. Not only is it a super delicious treat for busy mornings, but Quark can also be enjoyed as a healthy midday snack, appetizers, or side dish.
Fresh Quark is easier to make than you think.
Cooking time: Ready in 2 hours.
Last but not least, I would like to introduce you to Schwäbischer Zwiebelkuchen. Packed with caramelized onions, butter, and bacon, this savory pie is a hit to both children and adults in Germany.
Schwäbischer Zwiebelkuchen is best served warm. You can pair it with German alcoholic drinks; the most popular one is a white wine called Federweisser. Other German lagers such as Pils, Helles, Marzen, and Dunkel also work well with this fantastic treat.
Eating In The A.M Is Crucial!
After reading this article, I hope you now feel inspired to incorporate these dishes into your morning routine. Although some of them might be difficult to prepare when you're in a rush, you can save them for the weekends and special occasions.
Which of my suggestions has intrigued you the most? Please let me know in the section below. Also, don't forget to forward this article to your friends and family and encourage them to try out these unique German dishes. Thanks for reading, and see you soon!
Nutrition Facts
3 servings per container
---
Amount Per ServingCalories425
% Daily Value *
Total Fat 20.3g

31

%
Cholesterol 193mg

65

%
Sodium 671mg

28

%
Potassium 1223mg

35

%
Total Carbohydrate 41.4g

14

%

Dietary Fiber 6.3g

24

%
Sugars 4.6g

Protein 19.8g

38

%
---
Calcium

84

%
Iron

2

%
Vitamin D

16

%
* The % Daily Value tells you how much a nutrient in a serving of food contributes to a daily diet. 2,000 calories a day is used for general nutrition advice.