It is a great day when you consume these delicious Hawaiian breakfast recipes. They'll help you replenish energy and complete all tasks for the day. Let's learn how to make them and find out what Hawaiians have for breakfast.
I guarantee that there will be nothing too complicated for you to make these beautiful dishes because they are pretty straightforward. Therefore, take some time in the morning to prepare quality and yummy food for your family members.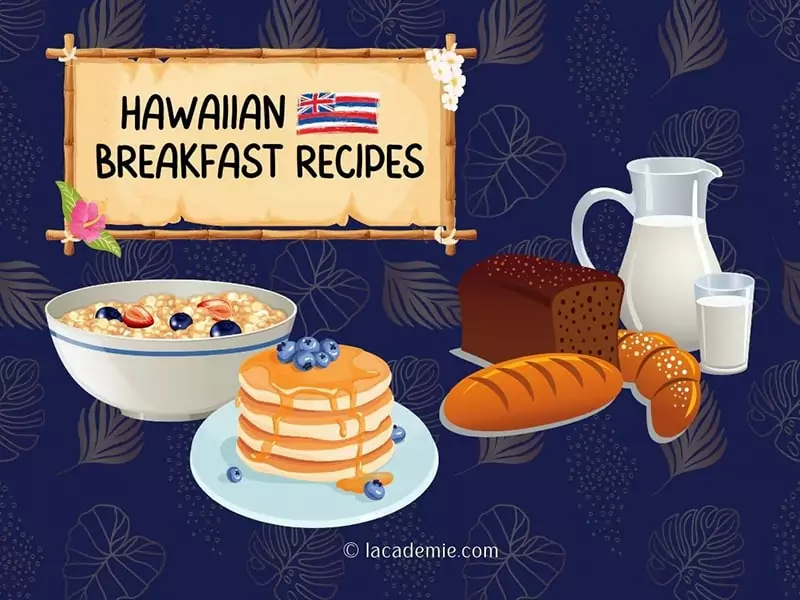 Kick Off Your Day With These Hawaiian Breakfast Dishes
There are many choices you can consider to start a new day in Hawaii. Let's read this section to learn the tutorials for making simple dishes for an energetic breakfast.
Total time: Around 1 hour 10 minutes.
It will be a mistake to miss this excellent bread for breakfast in Hawaiian cuisine. Besides bananas' tenderness and characteristic aroma, this delicacy has a tropical breeze from coconut and pineapples.
I will make this intensely fruity flavor for the dish by using ripe bananas, coconut flakes, and crushed pineapple in the batter. Especially, I believe you will be crazy about the chewiness and moistness of coconut and bananas.
After baking, the outside of bread leaves an indelible impression in your mind with its golden-brown outside and white inside. In particular, there is no need to raise the bread, so you can save time effectively. Plus, it is better with the addition of cream cheese and butter.
Let's check the ways to make Hawaiian Banana Bread With Coconut And Pineapple.
Total time: About 35 minutes.
It is hard to resist the allure of Hawaiian Roll Breakfast Sliders. I was unable to keep my mouth water when standing in front of these soft, squishy, and golden-brown sliders. Their highlight is how the maple syrup glaze on top gives them moistness and sweetness.
Flavorwise, the success of this recipe is also down to the contributions of melted cheese, Hawaiian Rolls, scrambled eggs, and deli ham. All these ingredients dance and melt in your wet mouth when you chew them.
I recommend not making this recipe beforehand to prevent creating soggy bread. Nonetheless, if you do not have much time to prepare breakfast, let's gather the components in advance and bake them in the oven right at breakfast.
Total time: Around 9 minutes.
Acai Bowl is a healthy and quick recipe for your breakfast. Also, it is a delectable recipe for vegan breakfast. Hence, please save this recipe to your cookbook immediately if you are following a flavorful plant-based diet.
You will be hooked on its signature fruity and refreshing flavor with the appearance of strawberries, bananas, and pureed acai. The taste is enhanced thanks to nuts, coconut, and granola toppings.
You will imagine being lost in a tropical garden with countless fresh Hawaiian fruits, a sensation brought about by this smoothie-like breakfast recipe with plenty of antioxidants. To ensure the freshness of the dish, it is best to enjoy it as soon as it is finished.
If you want to change the taste, replacing the berries with fresh fruits like mango, pineapple, peaches, or others is acceptable.
Follow these instructions to have a wonderful and healthy Hawaiian Acai Bowl.
Total time: About 50 minutes.
King's Hawaiian Rolls French Toast Bake is a favorite dish of Hawaiians during the holidays, so everyone enjoys this amazing recipe at Thanksgiving breakfast, Christmas, or Easter. I guarantee you'll fall in love with the soft, creamy, and cheesy texture of this dish.
To get a perfect treat, you need to prepare chopped King's Hawaiian rolls and arrange them on a baking dish. Then, please add the butter and sugar mixture to the dish. Finally, you'll coat the egg, milk, and spice mixture on top and bake in the oven for 45 minutes.
Total time: About 2 hours 20 minutes.
There are many ways to start the day in Hawaii, and consuming Malasadas is one of the most popular methods. This sweet treat is also known as "Portuguese fried dough". And it is loved by many natives and tourists in Hawaii.
This delicious recipe appeared in Hawaii quite a while ago. Portuguese laborers from the islands of Madeira and the Azores introduced this wonderful treat to Hawaii when they came to the island to work on the sugar plantations.
People deep-fry the dough and cover it with sugar to create soft and spongy donuts. In Hawaii, people often consume it as a breakfast or dessert on Fat Tuesday (also known as Mardi Gras). Occasionally, you find fillings like guava, custard, chocolate, or haupia inside malasadas.
To spice up this savory recipe, adding sugar, cinnamon sugar, ice cream, or strawberry sauce on top of malasadas is acceptable. Even better, there is no problem when preserving malasadas in the freezer or fridge.
Learn how to make delicious Malasadas in Hawaiian style properly.
Total time: About 45 minutes.
Do you have any sweet ideas for your breakfast? Let Hawaiian Pancakes satisfy your early sweet cravings. This wonderful recipe is a variation of the famous pancakes recipe of Kona Cafe at Disney's Polynesian Resort.
When preparing them, I often whip the egg whites before combining them with the rest of the ingredients in the recipe. This will increase the sponginess and puffiness of the pancakes. Moreover, making the dough ahead of time brings many benefits.
For example, this can give the dough the time to chill and result in softer pancakes. Do you know how else to improve the quality of this dish? Crunchy coconut and chopped macadamia help you most effectively when coated on top.
One more tip: you also need some sweetness from maple syrup.
Total time: About 40 minutes.
Fried rice is a familiar dish for people in many countries around the world. You will have a delicious breakfast to fill your hungry stomach when making this Hawaiian version with soy sauce, oyster sauce, veggies, and spices in a pan.
The dish looks so colorful with various shades from different veggies. For serving, it will be better when eaten with scallions and fried egg. Canned pineapple is an indispensable ingredient in this dish, but you can use fresh one instead.
In case you do not have much time to fry an egg, it is possible to cook it with rice to save time. Also, sliced ham is a fantastic alternative for cubed ham steak when you run out of this meat in the kitchen.
Let's start your day by making Hawaiian Breakfast Fried Rice with these directions.
Total time: Around 40 minutes.
One of my best-loved breakfast recipes in Hawaii is Loco Moco. It is an age-old recipe for the cuisine of this beautiful island. This delicacy was supposedly born in 1949 at the now-defunct Lincoln Grill restaurant in Hawaii.
Traditionally, white rice, hamburger, fried egg, and savory gravy are the star ingredients of this dish. Also, you can find ham, beef, chicken, tofu, or seafood. And in this recipe, I recommend you use ground beef to supplement protein to your body.
Typically, the components are arranged in a specific layout. The rice will be the first layer, and it will be covered with ground beef and sunny-side-up eggs. In the end, all become rich and blended after you pour the brown and thick sauce over them.
When enjoying this dish, you will dive into the softness and flexibility of the rice. In addition, the gravy made with beef stock, Worcestershire sauce, ketchup, and soy sauce enhances the flavor of ground beef and fried egg.
Total time: Around 55 minutes.
You will no longer need to worry about having anything to eat for breakfast with this tasty King's Hawaiian Maple Breakfast casserole. This wonderful casserole recipe is made with King's Hawaiian sweet rolls, shredded cheese, maple syrup, and maple breakfast sausage.
Like other delicious casserole recipes, this one has a soft, cheesy texture and a rich flavor. The yellow and brown color on the surface makes it look like a masterpiece of fine art. You should wait for this casserole to cool before serving.
When serving it, you can enhance the flavor and richness of this casserole by accompanying it with extra syrup and hot sauce. Not only that, if you want to raise the sweetness and spiciness, Sriracha (chili sauce) is the choice you should consider.
Total time: About 1 hour 20 minutes.
Taro is a famous plant on this island. It is also known locally as "Kalo". This plant has existed in Hawaii for more than 1000 years. Nowadays, this ingredient plays an essential role in bringing the success of many delicious dishes of Hawaiian cuisine.
Taro Rolls are the typical food in Hawaii, and you can purchase them easily at various bakeries and groceries. When you eat them, the tenderness and moistness will captivate you in no time.
This breakfast food is an effective combination of poi, flour, yeast, and other ingredients. In particular, they have a distinctive and eye-catching purple shade thanks to the use of purple food coloring.
It is not complicated to make Taro Rolls with this tutorial.
Total time: Around 45 minutes.
If you have Hawaiian sweet bread on hand, I recommend turning it into a delicious treat for tomorrow's breakfast. All you have to do is to mix this ingredient with breakfast sausage, egg-milk blend, veggies, and cheese in the same casserole dish and bake them.
It is simple to feel the sweet and tangy flavors of Colby and Monterey Jack cheese in this mouthwatering recipe. Moreover, this smooth ingredient combines with sponge bread to bring a perfect texture to the dish, and it can charm any guests.
Have you had breakfast? If not, please go to the kitchen and prepare your favorite recipe according to the detailed instructions in this article immediately to fill your belly. If you have any trouble, let me know in the comments section.
Furthermore, after reading this article, I would love to hear your feedback and opinions. It will be a big mistake if you save this post only for yourself, so let's share it with other people right now. Thanks for that!
Nutrition Facts
4 servings per container
---
Amount Per ServingCalories624
% Daily Value *
Total Fat 24.2g

37

%
Cholesterol 358mg

120

%
Sodium 1787mg

75

%
Potassium 936mg

27

%
Total Carbohydrate 34.5g

12

%

Dietary Fiber 1g

4

%
Sugars 2.9g

Protein 62.5g

124

%
---
Calcium

48

%
Iron

41

%
Vitamin D

69

%
* The % Daily Value tells you how much a nutrient in a serving of food contributes to a daily diet. 2,000 calories a day is used for general nutrition advice.