Korean breakfast recipes are an amazing choice if you want to go Asian on your meal. The country offers plentiful dishes, ranging from mild to bold flavors. Exchanging your conventional breakfast menu for tasty Korean cooking techniques is a great way to begin your morning.
If you're a newcomer to Asian ways of cooking, don't worry, because these recipes are super easy to recreate. So stick around because I'm about to take you on a journey to discover the wonderful morning meal in Korean cuisine.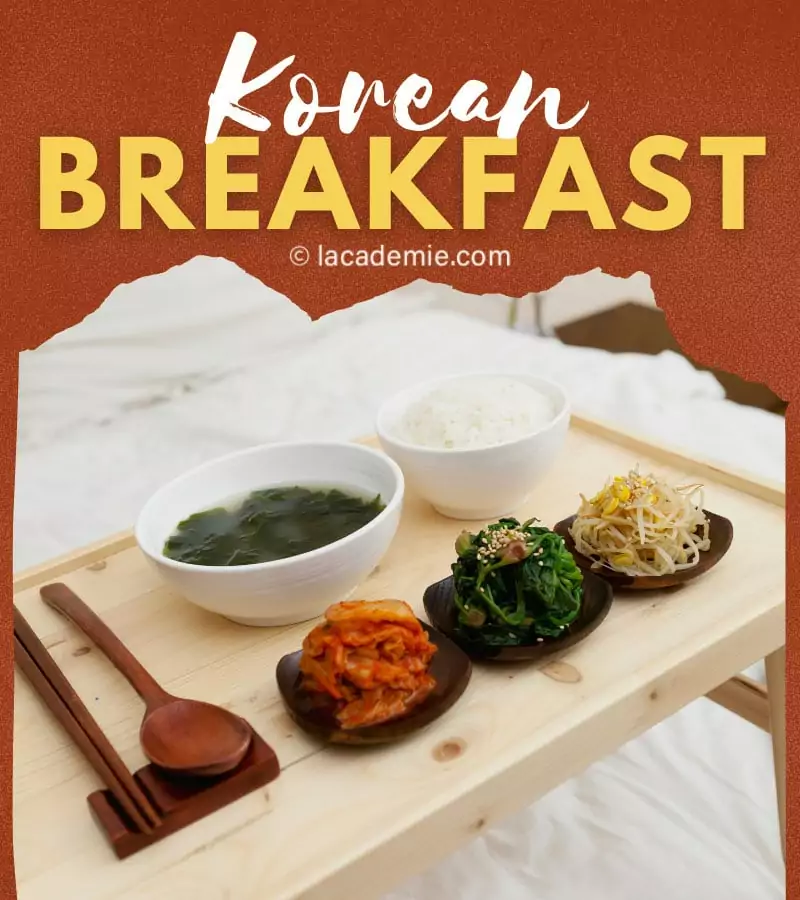 Kick-Start Your Morning With These Wonder Korean Breakfast Meals
Contrary to what people think about the scarcity of Asian ingredients, they are easy to find around you. Most often, you can find them in Asian markets in your area. So there's no reason to deter you from whipping up a wonderful Korean meal for your family in the morning.
Total time: 10 minutes.
Let's start with a light dish for your breakfast. This delicious recipe incorporates delicious Kimchi into your regular scrambled eggs dish. If you're looking to make an easy Asian morning meal recipe with limited ingredients, the Kimchi egg should be your top priority.
For people who are unfamiliar with Kimchi, it's a traditional Korean method of pickling various types of vegetables. Most often, people will use cabbage to pickle in a brine solution of chili powder, Jeotgal (fermented seafood), and basic herbs.
You need to begin heating the skillet to stir fry the Kimchi first. Stir-frying Kimchi quickly will help soften it up before you add the beaten egg to the skillet. It will only take around 2-3 minutes for the egg to set.
Total time: 15 minutes.
Egg-fried rice is a popular breakfast dish in Asian countries. In Korea, the locals call it Gyeran Bokkueumbap, which is a big part of the country's cuisine. The high heat from the cooking process helps the rice grains to possess a certain crunchy texture.
When it comes to egg-fried rice, the dish is highly customizable with different ingredients. However, the most basic part of any Gyeran Bokkeumbap is rice and eggs. Better yet, you can even make use of your left-over rice to make this dish.
Don't forget you need to break up the rice so other condiments can evenly coat individual rice grains. A small helpful tip: You should stir fry the egg first until almost cooked before adding the rice. That way, you end up with more egg texture while eating.
Tweak your regular egg-fried rice recipe with Gyeran Bokkeumbap from Korea.
Total time: 15 minutes.
Believe it or not, a toasted sandwich is a popular dish to start the day in Korea. You can easily find many Korean vendors selling delicious Gilgeori toast anywhere in the country. The toasted sandwich is a favorite choice for Korean students before going to school.
The nice thing about Gigeori toast is the highly customizable filling of the dish. Most often, locals use eggs to combine with a variety of vegetables like carrot, onion, and cabbage for the filling. For extra protein, you can slide in some additional ham slices.
Before toasting your sandwiches, make sure to spread a light layer of butter on the surface for a fragrant sandwich. You should toast the bread until it turns light brown. Finally, you can begin assembling your Gilgeori.
Total time: 12 minutes.
Gyeran Mari is not your regular omelet recipe. Instead, the dish is delicious fried egg rolls that have various diced ingredients. People often serve the egg roll as a flavorful Korean side dish with a thickness of around 2 – 3 centimeters.
To make the eggs more creamy and fragrant, you can utilize milk while beating up the egg mixture. For the vegetable blend, I recommend adding diced carrot, onion, and bell pepper. When the egg is almost cooked, you can start rolling up the egg.
However, you need to leave around a quarter egg unrolled to keep it connected with the new egg mixture. Gyeran Mari has a soft, creamy texture with tasty vegetable flavors.
Total time: 30 minutes.
Enoki, sometimes called Velvet shank, is a type of mushroom that contains a high amount of carbohydrates and protein. The mushroom is often characterized by a firm texture with a little bit of crispiness. Enoki mushroom is extremely versatile as many Asian dishes often feature it.
For this recipe, you will be making a pancake by utilizing enoki mushroom and eggs. I suggest adding all-purpose flour to enhance the crispiness of your pancake. Remember, you can whip up a delicious sauce concoction by combining soy sauce, sesame oil, and Chinese vinegar.
Total time: 5 minutes.
For some people, it's perfectly normal to have a warm cup of coffee for their morning meals as caffeine can instantly put them in the mood to work. While Dalgona coffee is relatively new in the market, the drink has left a great impression with its caramelized flavor.
The name "Dalgona" is derived from the word "Dalgona", a type of honeycomb candy in Korea. The drink made its way to Korean cuisine in 2020 as an online trend, while people were forced to stay home because of the COVID-19 pandemic.
The main attraction of this Korean beverage is the fluffy whipped coffee. People create the creamy coffee puff by whipping a mixture of instant coffee with sugar and hot water. The mixture will need to have a consistency similar to whipped cream before pouring it over milk for serving.
Dalgona coffee has a similar taste to traditional whipped cream but with a strong kick of coffee flavor. Although the coffee puff is quite sweet on its own, the overall flavor is quite balanced when mixed with the milk.
Dalgona is super easy to make for a quick creamy breakfast.
Total time: 50 minutes.
Gyeran Bbang is a popular Korean street food that vendors often sell as snacks. The concept of the dish is to have an egg in the middle of the bread dough mixture. In Korea, you will often see big molds of the dish that can produce dozens of Gyeran Bbang in the blink of an eye.
Gyeran Bbang is a popular Korean street food delicacy that appears across night markets and food stalls around the country. To recreate Gyeran Bbang right at home, you can use a big-size muffin tray to hold the dough mixture.
Your batter concoction should be a simple blend of flour with melted butter, eggs, and milk. After evenly dividing the batter into individual molds, you can start cracking eggs on each bread container.
Your morning Gyeran Bbang should come out of the oven with a beautiful golden brown color. Most locals say that the Gyeran Bbang has a taste similar to corn muffins with a light sweet and salty flavor.
Total time: 20 minutes.
Don't you just love to start your morning with a tasty soup? The Korean pumpkin porridge will provide you with the exact experience. In Korean cuisine, Hobakjuk is considered an outstanding healing food.
The Hobakjuk is a fine addition as a healthy meatless recipe from Korea for your vegetarian diet. I promise the creamy texture of Hobakjuk is more mesmerizing than any greens you've ever had.
Commonly, locals favor using kabocha pumpkin to make Hobakjuk thanks to the velvety texture. To simplify the peeling process of the kabocha, I suggest roasting the pumpkin in an oven for a couple of minutes before removing the skin.
People tend to resolve to a blender to make the silky texture of the Hobakjuk. If you want extra chewing experience for your Hobakjuk, you can use homemade rice balls. All you need is to knead sweet rice powder well with hot water and boil it until fully cooked.
Finally, serve the rice balls along with Hobakjuk for an exciting morning filled with earthy and sweet flavors from the kabocha pumpkin.
Total time: 10 minutes.
Are you looking for a refreshing drink that boosts your morning? Try making this recipe of Korean strawberry milk at night so they are ready to go for your morning meal. Commonly, Korean locals serve this fruity drink during the summertime to beat the heat.
The main star of this Korean strawberry milk is the strawberry chunks infused in a creamy milk blend. The strawberry pieces help enhance the additional chewing experience of the drink. In addition, locals even pour in some thick strawberry syrup for sweetener.
For the milk blend, you can use any type of dairy product, but my best recommendation is coconut milk for the extra creamy texture. If you're looking to store Korean strawberry milk for later consumption, use an airtight container and the drink will last at least 2 days in the fridge.
How about trying a tasty strawberry drink to start your day?
Total time: 7 hours 45 minutes (with 7 hours 20 minutes of chilling).
In Korea, Dubu Jorim is a braised tofu dish that locals commonly serve as a side dish. People usually serve Dubu Jorim with dumplings, Kimchi soup, or dried pollack soup. Dubu Jorim tends to have a savory flavor since the tofu pieces are simmered in various Korean condiments.
You must be wondering about the type of tofu that suits Dubu Jorim right? I got you covered: There are 3 types of tofu that fits Dubu Jorim: soft, silken, and firm tofu. However, I usually use firm tofu since it is easier to work with.
For the marinate mixture, you should combine various Korean seasonings like chili powder with soy sauce, sesame oil, and lime juice. You need to sear both sides of the tofu pieces for around 3 – 4 minutes before pouring the marinating sauce over them.
To get the best flavor out of Dubu Jorim, I suggest storing the marinated tofu in a fridge for around 6 – 8 hours before serving. Dubu Jorim often has a mild kick from the red pepper powder with a savory sauce mixture.
Total time: 1 hour.
Rice is the cornerstone in the daily meals of many Asian countries, including Korea. Bibimbap is the most popular way that Korean residents usually consume their rice. The term Bibim means "mixing rice" in Korean.
Amazingly, Bibimbap offers various ways that you can personalize your rice bowl. As long as you have rice, then you can pick whatever toppings for your Bibimbap. Typically, Koreans will prefer putting beef slices, sunny-side-up eggs, and a variety of mixed vegetables.
No Bibimbap bowl will be completed without having a special sauce mixture. Locals usually combine honey with Gochujang (Korean chili sauce), minced garlic, and sesame oil for a viscous sauce blend. The sauce tends to go on top after assembling all the toppings.
To get the best experience out of Bibimbap, you need to mix the rice bowl up well so the sauce can coat all the ingredients evenly. The rice bowl is an explosion of savory sauce with flavorful ingredients that can turn any meal into a hearty one.
Total time: 30 minutes.
Dakjuk is the Korean version of chicken porridge. Although many Korean recipes tend to overwhelm their consumers with the bold flavor of chili powder, Dakjuk is the polar opposite of that. The soup has a light flavor and is usually served warm.
In many Asian countries, variations of Dakjuk are everywhere. Asians usually have the soup while they're sick because it is easy to digest. Dakjuk gains popularity amongst Koreans because of its high nutritional value.
Different from regular chicken soup recipes, Dakjuk has a much thicker consistency, thanks to the rice. To make Dakjuk, Koreans will add more water to the rice than normally. Therefore, the rice will get softer and expand to its maximum size.
For the best flavor, I recommend cooking the rice using chicken stock. Then, you can start adding shredded chicken and vegetables to the mix. Because of the light nature of Dakjuk, anyone can enjoy the porridge at any mealtime of the day.
Dakjuk is a perfect choice for a nutritional and hearty breakfast.
Total time: 35 minutes.
If you're getting tired of regular morning pancakes like I do, then you should try altering your recipe by making Pajeon instead. In Korea, Pajeon is a type of pancake that utilizes scallion as the main ingredient of the dish.
Pajeon is usually made with a batter of all-purpose flour, vegetables, and cornstarch. You will need to fry the batter over your pan for a little bit before scattering scallion and vegetables over it. Also, I want you to pay attention to the heat because the batter can easily get burned.
Your Pajeon should finish frying with a beautiful yellow and a slight aroma from the scallion. I suggest making a dipping sauce by mixing honey with soy sauce, vinegar, and red pepper flakes to accompany the Pajeon.
Total time: 12 minutes.
In Korean cuisine, the term Jjim is to refer to dishes cooked by steaming or boiling. Gyeran Jjim is eggs cooked by using the same method. The result is a light and fluffy dish that fits to begin your morning.
Gyeran Jjim is unique from other conventional recipes because of its silkiness and smooth texture. In Korea, Gyeran Jjim is an excellent Korean starter before any main meal. As for the ingredients, they are a basic combination of eggs, scallion, and salt.
Despite the simple ingredients, Gyeran Jjim is a bit demanding in the cooking process as people tend to overcook the dish. Ideally, your Korean steamed egg should have a soft and silky texture in the middle.
Total time: Around 18 minutes.
The true origin of how Mandu came to Korea remains a topic for debate. Many speculate that Mandu first appeared in the 14th century when the Yuan Mongols brought it into Korea. Others believe that the dish made its way to Korea from the Middle East through the Silk Road.
Whatever the case, these dumplings were so popular that people added them to various Korean cookbooks, even those from the 17th century. In today's cuisine, Korean locals create Mandu by wrapping a layer of dough over a mixture of vegetables and meats.
There are many ways to cook Mandu, like boiling, steaming, and frying. A standard filling of Mandu consists of a variety of minced meat with finely chopped mushrooms, cabbage, and zucchini. Mix the filling well with an egg to bind the ingredients.
For this recipe, you can either fry or boil the Mandu. Fried Mandu will produce a crunchy crust with a savory filling while the boiled version has a soft texture. Don't forget to whip up a quick dipping sauce concoction by combining soy sauce with vinegar, pepper flakes, and sugar.
If you're looking to store Mandu, then your freezer will do the job wonderfully. You only need to find an airtight container and transfer the Mandu into it.
Discover how you can bring that delicious Mandu to your kitchen.
Total time: 38 minutes.
Originating in the Joseon period, Bossam was served as pork to go along with freshly made Kimchi. In today's cuisine, Bossam is gradually growing as a popular dish to have along with various types of vegetables.
In South Korea, locals usually have Bossam as a bar snack with traditional Soju alcohol. Preferably, you want to use pork belly as it contains high fat and complements well with vegetables.
You can also use an instant pot to boil the pork belly chunk quicker. To cure the pork belly, I recommend adding ginger, Doenjang (Korean soy paste), and peppercorn into the water.
To accompany the pork belly, you can quickly mix a combination of radish, oyster, and Gochugaru (Korean pepper flakes) for a little twist from the Korean Kimchi. When served, Bossam is best accompanied by lettuce for wrapping the pork.
Total time: 3 hours (including 2 hours of marinating).
Originally, Bulgogi was called Maekjeok, a skewer grilled beef dish that was invented in the Northern area of the Korean Peninsula. In terms of meaning, Bulgogi is roughly translated as "fire meat", a dish that is popular around Korea.
The key to a delicious plate of Bulgogi is to cut the beef as thin as possible for the most savory grilled dish from Korea. This allows the condiments to fully coat the slices of beef.
To make a quality marinating blend, then you need to include soy sauce with brown sugar, sesame oil, and Gochujang (Korean pepper paste).
Even when you're in a rush, you should let the sauce blend work its magic for some hours before cooking the beef. Additionally, you can cook Bulgogi using a cast iron pan if you don't have access to a griller.
The beef will only take around 2-3 minutes to fully cook on each side. Bulgogi has a savory flavor with the saltiness from condiments and the umami-packed sweetness of the beef.
Total time: 1 hour.
Japchae is a Korean noodle recipe that utilizes glass noodles to stir fry with various types of ingredients. In the past, people only served Japchae during special occasions like holidays, weddings, or birthdays.
If you're unfamiliar with glass noodles, it's a type of noodle made with various kinds of starch. Commonly, glass noodles appear on the market in dried form. The most distinct feature of glass noodles is, of course, their transparent nature.
Although many countries consider Japchae a popular Asian side dish, you can still consume it for breakfast. Besides the glass noodles, you should add some protein such as sirloin or ribeye steak. For the vegetables, my suggestion is spinach with some mushrooms and carrots.
Making Japchae is relatively easy as you process ingredients individually. The glass noodle will need blanching for a couple of minutes before transferring to the pan for stir-frying with the rest of the ingredients.
Japchae will impress you with the unique texture of glass noodles.
Total time: 2 hours 20 minutes.
Most often, Gamjatang is a bar snack in Korea. This amazing Korean soup recipe takes advantage of the flavorful Doenjang to set the tone for the broth. Many believe Gamjatang made its debut in the Jeolla province of Korea.
The extracted pork neck bones normally have some pieces of meat that cling stubbornly around it. To strip off the meat, you need to get close and personal with the bone by eating it with your hands if using chopsticks isn't your thing.
Typically, Gamjatang has a deep-red broth from the generous amount of chili.
To add some greens to your Gamjatang, it's best to use cabbage with some big potato chunks. Aside from the Doenjang paste, you will need a splash of rice wine to balance out the flavor of the Gamjatang.
Normally, locals will have various dipping sauces to adjust the Gamjatang to their liking. My favorite is a blend of fish sauce with Gochugaru, sesame seeds, and Doenjang. Despite being a bar snack, you can still feature Gamjatang on cold mornings to warm yourself up.
Total time: Around 30 minutes.
Nothing beats the traditional flavor of Kimchi for your morning. Better yet, Kimchi Jjigae is a stew that Koreans often serve hot, making it a perfect choice for your breakfast. The stew combines beautiful red Kimchi with various ingredients for a flavorful experience.
Commonly, a standard Korean stew cooking procedure with Kimchi Jjigae will produce a tasty rich taste with flavorful broth. The stew's beautiful red color can be achieved by using Gochujang pepper paste.
Kimchi Jjigae stock is dictated by the Kimchi brine solution and chicken broth. In addition, you can add thinly sliced pork belly for some additional meat to the stew. Tofu chunks will also provide extra texture to your Kimchi Jjigae.
If you love Kimchi, then you need to give Kimchi Jjigae a go in your kitchen.
Total time: 25 minutes.
Doenjang Jjigae is a classic stew in Korean cuisine. A simple recipe for the stew includes vegetables, meat, and tofu. However, the main star of Doenjang Jjigae is the broth made from Doenjang (Korean fermented soybean paste).
Interestingly, the fermented soybean is a byproduct of Korean soy sauce production. Locals create the Doenjang by combining soybeans with a brine solution. The soybean paste imparts an earthy and salty taste to the stew.
Besides using Doenjang to flavor the broth, you can also add dried kelps to provide an extra layer of flavor. In addition, the daikon will bring a slight touch of sweetness to the Doenjang Jjigae. Then, tofu and zucchini are cooked along with some chili powder to enhance the heat.
Finally, my advice is to have Doenjang Jjigae with a hot bowl of rice for the best experience.
Start Your Day With Delicious Korean Breakfast
I hope that you already have some inspirational ideas for your breakfast. Honestly, these recipes are amazing at giving you a boost of energy to start your day. So don't hesitate to give it a try from the comfort of your kitchen.
That's all I have to bring to this post. If you want to share more about your knowledge of Korean breakfast, please let everyone know in the comment section. Also, you may want to share this post with your close ones to let them know what to expect for their next meal.
Nutrition Facts
5 servings per container
---
Amount Per ServingCalories649
% Daily Value *
Total Fat 18.3g

28

%
Cholesterol 137mg

46

%
Sodium 1061mg

45

%
Potassium 507mg

15

%
Total Carbohydrate 65.9g

22

%

Dietary Fiber 2.7g

8

%
Sugars 1.5g

Protein 50.9g

100

%
---
* The % Daily Value tells you how much a nutrient in a serving of food contributes to a daily diet. 2,000 calories a day is used for general nutrition advice.