Italian cuisine has always been famous for its simplicity and elegance, reflecting on their breakfast foods. If you don't believe me, just scroll down to see all the recipes I've prepared for you. Whether they are sweet or savory, or even a drink, you can easily make them at home.
Maybe that's the reason why Italian people always look so relaxed even on their busiest mornings. With these ideas, you can quickly finish your breakfast to go to work or school on time but still have enough energy for a whole day.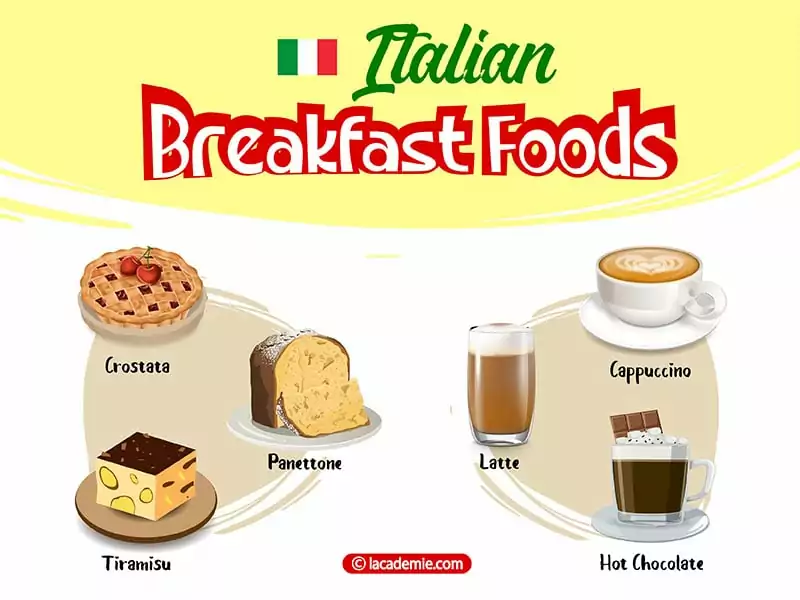 22 Recommended Italian Breakfast Recipes For Homecooks
This list contains my 22 hand-picked Italian breakfast foods that are suitable for both adults and children. That's why you can make these dishes for your family or friends without worrying about whether they like them or not.
Cantucci Biscuits
Cornetto
Sicilian Brioche
Ricotta Pancakes
Bread, Butter and Jam
Maritozzi
Crespelle
Tiramisu
Fette Biscottate
Panettone
Cannoli
Zeppole
Ciambella
Crostata
Frittata
Rustico Leccese
Cold Cut Sandwiches
Timballo
Cappuccino
Latte
Italian Hot Chocolate
Orzo Coffee
Let's dive in right now!
14 Sweet Italian Recipes That Can Wake You Up Instantly
Compared to Americans, Italian people tend to keep their breakfast simple and elegant with just some types of sweet pastry, depending on where they enjoy their meal. Below are some of the most well-liked pastries in Italy.
While biscuits are often related to Britain people and their tea parties, they are also an irreplaceable part of Italian breakfast. You can easily find an Italian leisurely enjoying their biscuits with a cup of coffee. And one of the most famous biscuits is the Cantucci.
This biscuit type is what Italian cuisine admires: simple yet delicious. Containing only eggs, flour, almonds, and honey, a traditional Cantucci can make you crave for more. If possible, get a jar of Manuka honey from reputed brands for more nutritious breakfast.
Moreover, because this dish's baked twice, Cantucci is suitable for any drinks, but it's mainly served with Vin Santo, a sweet wine from Tuscany.
The below video will show a full description on how to make Cantucci biscuits.
Don't mistake it with the croissant. Cornetto is a guilty pleasure of the Italians as it contains more sugar than a croissant. Besides that, cornetto uses less butter, hence a softer, less flaky texture than the French counterpart.
Pastry chefs also add other ingredients to cornettos, like vanilla seeds and orange peel to enhance their flavor and aroma. Though it's no doubt delicious, remember cornetto is not a healthy breakfast. So, only eat it from time to time, or make it at home to reduce the sugar.
And do you know that cornettos is also one of various classic Italian desserts to enjoy after every meal. In general, its versatility is a big plus.
Once you see this unique treat from Sicily, you'll never confuse it with the regular Brioche anymore. Why? It's because those Italian ones have a tuppo (which means a woman's bun) on top of each bread.
The eating method of these brioches is pretty strange itself. First, you need to remove the "bun" to see what filling is inside. And yes, Sicilian brioches never go alone. There's also something inside them, such as chocolate, jam, almond paste, cream, and many more.
Some even fill them with gelato and serve them as ice cream sandwiches. My advice is to buy several mini brioches with different fillings to try as many as possible. Use them with coffee, and you have an authentic Italian breakfast.
Why not elevate your usual pancake breakfast with Ricotta cheese? Ricotta cheese is made from sheep, cow, goat, or water buffalo milk whey. Therefore, it has a creamy texture and a slightly sweet flavor. Adding Ricotta cheese helps pancakes gain a richer, fluffier feel.
Ricotta pancakes are good enough on their own that you can enjoy them with just some maple syrup and butter. However, if you want a lavish breakfast, feel free to serve these pancakes with jams, cream, and fresh fruits from Italy.
Plus, I usually make them with a multi-purpose pancake griddle because this appliance can help me create consistent-cooked and fluffy pancakes. And I can also make other dishes with this cookware, like toasts, pizza, sandwiches, etc.
Let's see how they make these fluffy Ricotta pancakes: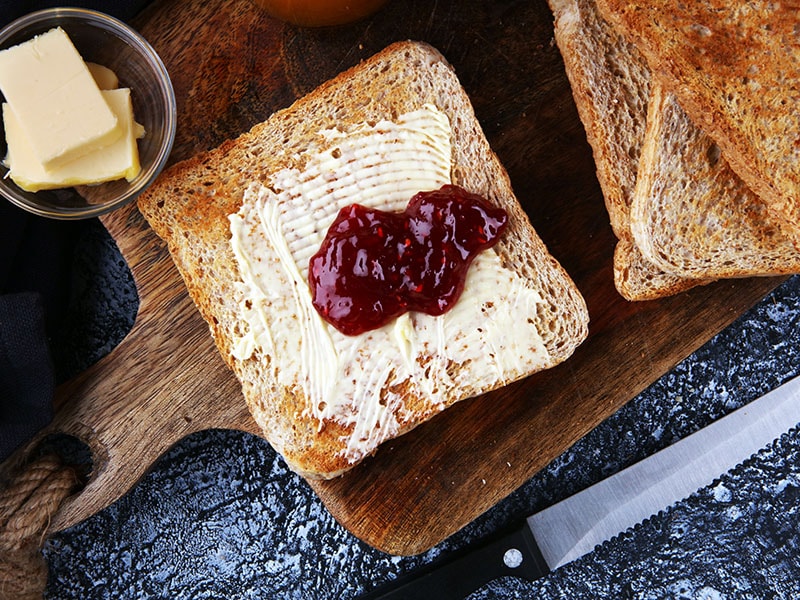 Though it sounds simple, this is a traditional breakfast combo in Italy called "pane, burro e marmellata". Every hotel offers it for the breakfast buffet with several types of bread and various jams or spreads. You can choose whatever types you want and see how they combine with each other.
While there are numerous choices, Italian people prefer freshly baked bread over the packaged ones. So, it's no strange sight to see bread lining up in bakeries and coffee shops every morning, waiting to be chosen.
There's a quote, "When in Rome, do as the Romans do". And in this case, I'll understand it as you'd better eat maritozzi, a Roman sweet treat. Simply put, maritozzi is a sweet bun sliced in half and filled with whipped cream. I may say this is a valid showcase of sweetness!
But what got my interest is another thing besides the rich, sweet flavor. Do you know "maritozzi" means "almost husband" in Italy? It turns out this dish used to be a gift from a man to his girlfriend to vow his love for her.
Nowadays, maritozzi has changed significantly with many versions, including pine nuts, raisins, chocolate, and even savory foods. And people tend to eat it as a breakfast or a midday dessert.
If you're thinking just what I'm thinking, then you're right! Crespelle is exactly an Italian version of regular crepes but thinner and crispier. And just like the French equivalent, crespelle can be served with either sweet or savory foods as fillings and toppings.
For sweet versions, choose fruit salad, whipped cream, cream cheese spread, Nutella, or chocolate. And Ricotta cheese, prosciutto, or mushrooms are perfect choices when you want a savory dish but not too heavy.
And not only is whipped cream used in breakfast, but there are also a variety of mouthwatering desserts with whipped cream that you can try out.
I know tiramisu is a sweet Mediterranean dessert after meals. But no rules state that you can't make it for breakfast. I often make one in the morning when I want a sweet and bitter dish at the same time.
Not to mention, tiramisu doesn't require baking, so it's suitable for hot summer days. You just need to layer ladyfingers with a mixture of eggs, sugar, and Mascarpone cheese. Remember to dip the biscuits into coffee beforehand.
Learn how to make Tiramisu with Gennaro Contaldo, an Italian chef. You should see the video below:
While all the above suggestions receive love and adoration from Italy and the world, this raises quite an argument. Some enjoy them and praise them as a healthy breakfast. Whereas others just can't handle this bread's taste. They say it tastes dry, stale, and overall unappetizing.
So, what's true? Well, that's up to your palate! However, I do agree that fette biscottate is dry since it's baked several times until dried completely. That's why this bread goes perfectly with any dips or drinks.
Although panettone is widely known as a Christmas dessert, you can still make it for your breakfast. Panettone is a hybrid between a cake and bread, so it's all your decision on how to eat it.
As for me, I'd like to slice a portion, then spread some butter on it, and enjoy it with a cup of coffee for breakfast. Panettone can survive up to 5 days at room temperature and a week in the fridge. So, don't be afraid if you can't finish it right away.
First appearing as a street treat in Sicily island, Cannoli has become a favorite of many Italian people. The dish has gained a worldwide reputation outside of Italy and holds a special position in Maltese culinary culture.
Filled with Ricotta cheese, cannoli doesn't taste too sweet, suitable for anyone who isn't much of a sweet tooth. There are other options to replace Ricotta cheese in case you do not like its flavor.
Or you can improve its flavor by adding other ingredients like chocolate chips, cream cheese, or vanilla to boost sweetness.
At the same time, cinnamon or orange zest can provide different layers of flavor. However, there's one problem with cannoli. That is, it takes lots of time to make, especially if you haven't made it before.
The secret to master these delicate sweet cannoli rolls lies in this video:
If you love doughnuts, you'll love these zeppoles. They are bite-sized dough balls that are deep-fried in vegetable oil until the exterior turns crispy. These foods with "Z" as the starter are usually covered with sugar before serving.
You can elevate these zeppoles by filling them with custard, jelly, pastry cream, butter, or honey. You can even make them in bigger sizes for more filling. Or you can enjoy zeppoles as a yummy Neapolitan dessert. There's no limit, except for your imagination.
You can't talk about Italian breakfast without ciambella. This humble cake has appeared on famous Italian cookbooks and breakfast menus since… forever. Containing just essential baking ingredients like flour, baking powder, eggs, sugar, and milk, ciambella is not challenging at all.
Not to mention, Italian people are pretty forgiving with this cake. Even if your cake comes out unattractive, they won't blame you. While ciambella is delicious enough on its own, you can top it with whipped cream or berries. Serve it with a cup of coffee, and there's your ideal breakfast.
When you can't decide between sweet treats or savory dishes to start your day, crostata is what you should look for. It's because this signature Italian pie and cake comes in both styles. Sweet versions usually have fruit preserves for fillings like berries, cherries, peaches, etc. Modern variations even use Nutella.
As for the savory crostata, you'll find either meat or seafood in the filling, such as pork jowls, prosciutto, crayfish, or oysters. But, before eating, don't forget to admire its rustic appearance as an open-faced tart.
4 Savory Italian Breakfast Dishes To Start Your Day Beautifully
Although Italians' true love for breakfast is all these sweet treats, that doesn't mean there's no place for savory dishes. Being simple just as what Italian cuisine stands for, those recipes can still wake you up with their flavors.
Bacon, cheese, eggs, and vegetables, all sound like a typical breakfast. But if you put all those ingredients in eggs and cream, then bake them in the oven, you'll get a high-class frittata in just several minutes.
If you have an air fryer at home, frittata is a perfect choice among many air fryer breakfast dishes. And this kitchenware can cook your foods in the shortest amount of time.
Some people call it an Italian version of quiche or omelet, and I can't agree more. Just imagine your fluffy omelet but now unfolded, that's precisely frittata. From the basic recipe above, you can freely add any ingredients to it based on your preferences or seasons.
Follow this instruction and start making your own frittata!
Though it's more famous as street food, you can enjoy rustico leccese as a savory breakfast, just like people in Salento. Only appearing in the 1700s, now rustico has been considered as a part of Italian cuisine.
This treat consists of two pieces of puff pastry, the upper is slightly bigger than the lower. Between them is a filling of mozzarella cheese, tomatoes, and bechamel sauce. Some even add spinach or Ricotta cheese to it for more flavors.
For a satisfying breakfast, nothing beats a cold-cut sandwich. Do you know that cold cuts are precooked or cured meat? That means you don't need to cook them beforehand to eat them, which is suitable for a convenient breakfast.
In this sandwich recipe from Italy, there's no requirement for meat. You can choose from genoa salami, prosciutto to deli ham, or mortadella. Or if you want, combine them all in a sandwich. Put some cheese, veggies and olive oil, salt, pepper, and you have what I call a perfect meal.
Timballo's appearance is pretty shocking, but you can take it as an Italian casserole. Timballo has tons of ingredients baked together. Among those, pasta, cheese, and sometimes eggplants are the must-have.
Other components vary based on people's preferences. But most of the time, they are meatballs, sausages, peas, eggs, and many more. You'll need lots of time and patience to make a timballo. So, my recommendation is make it the previous night and use the leftovers for the next morning's breakfast.
Let's find out how to make a traditional timballo with Oliver Babish, a well-known Youtube chef:
4 Fantastic Italian Drinks To Go With Your Breakfast
You know what I mean. Italian people often eat their breakfast with some drinks. Most of the time, their choice would be coffee. But let's dive in to see what exactly matches perfectly with these ideas above!
You may have heard that Italians don't drink cappuccino after 11 am. Let me correct it, there's no rule like that. However, indeed, they don't prefer it in the afternoon or after a meal. The reason is that cappuccino contains fatty milk, which can be too heavy for your stomach.
This is also why Italians tend to drink it alone as a breakfast when they don't have time to eat. However, you can enjoy it with a cornetto for a sweet breakfast. Add some cinnamon on top if you want some kick in the flavor.
Latte is another famous coffee in Italy. Since it contains more milk than coffee, even children can enjoy it. Even people who can't handle caffeine sometimes drink it at breakfast for a quick wake-up call, especially when using them with Italian pastries.
Also, remember this, never order just a "latte" in an Italian cafe. In Italian, "latte" means "milk". So if you order like this, the waiter will bring out a milk glass for you. Instead, you should ask for a "caffe latte".
However, if you are opposed to the idea of getting some caffeine right in the morning, well, I have a better option for you. This is Italian hot chocolate, also known as cioccolata calda. And no, this hot chocolate is not some dull, instant chocolate out there.
Just one sip, and you'll fall head over heels with this thick, pudding-like beverage. Not to mention, it only takes several minutes to make this luxurious drink. All you have to do is mix cornstarch into the melted chocolate until it thickens.
You can easily make Italian hot chocolate with this guidance:
No, I'm not talking about the orzo pasta. What I'm saying here is caffeine-free coffee. Yes, you heard me right. Orzo, or barley coffee, is a drink that doesn't contain any caffeine, though people still call it coffee.
It's because orzo is made from roasted barley, a caffeine-free grain. People who can't handle caffeine often enjoy it in place of espresso. Orzo is also a typical choice for breakfast as both adults and children can drink it.
Do You Know About This?
The reason why Italian breakfast is so simple like this is that they often have dinner later in the day. Sometimes, their dinner is only a few hours away from the bedding time. Thus, they don't feel hungry when waking up the next day, and a light meal for breakfast is enough.
So, among those ideas, what is your favorite? Have you tried any of them before? And are there any breakfast dishes that I haven't mentioned yet? Feel free to comment all your thoughts in the section below. And please share this article with your mates!
Nutrition Facts
4 servings per container
---
Amount Per ServingCalories546
% Daily Value *
Total Fat 32.7g

50

%
Cholesterol 383mg

128

%
Sodium 1177mg

50

%
Potassium 920mg

27

%
Total Carbohydrate 30.9g

10

%

Dietary Fiber 4.3g

16

%
Sugars 4.2g

Protein 33.5g

66

%
---
Calcium

223

%
Iron

3

%
Vitamin D

31

%
* The % Daily Value tells you how much a nutrient in a serving of food contributes to a daily diet. 2,000 calories a day is used for general nutrition advice.